Dallas Cowboys:

Brandon Banks
September, 2, 2014
Sep 2
8:00
AM ET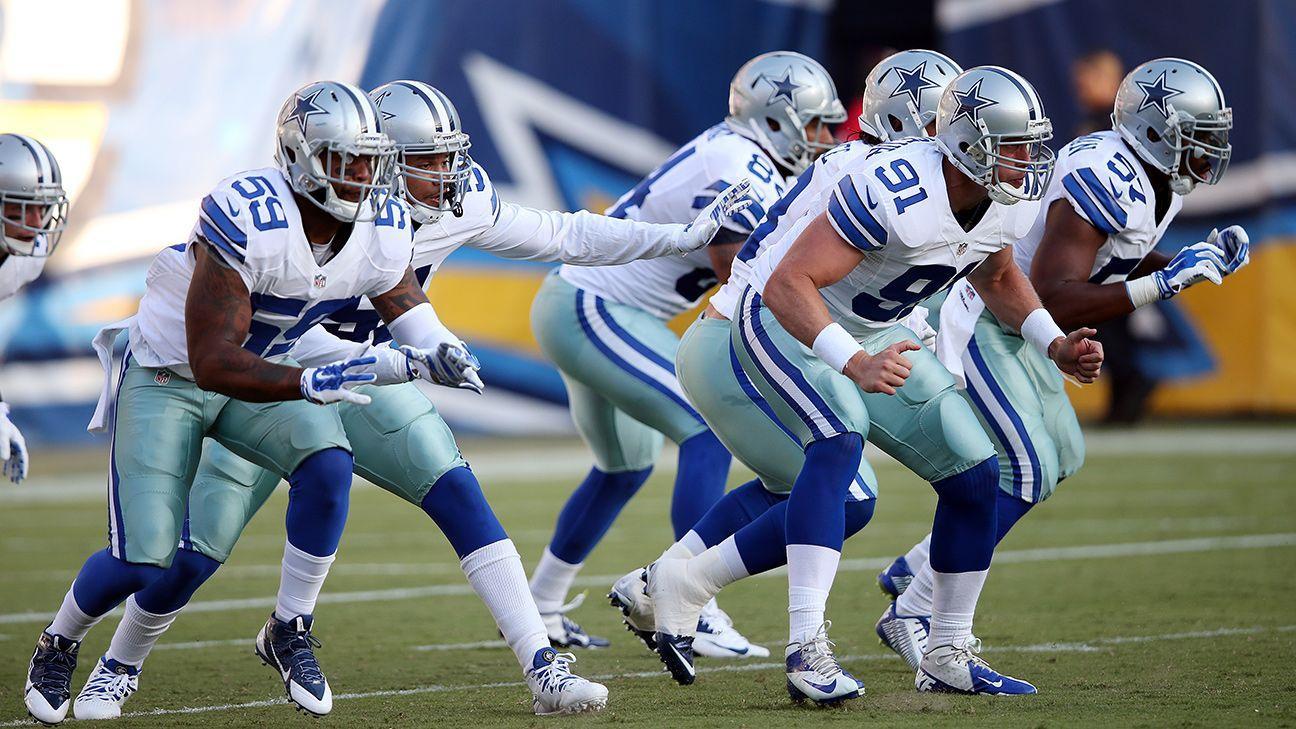 ESPN.com
Dallas Cowboys
reporter Todd Archer makes his game-by-game picks for the 2014 season.
Week 1: San Francisco 49ers
Surprise. The Niners have been among the best teams in the NFC the past few years, but they won't have NaVorro Bowman and Glenn Dorsey and likely Aldon Smith on their tough defense. That's good news for Tony Romo and the offense. Prediction: Win
---
Week 2: at Tennessee Titans
The last time the Cowboys played in Nashville, Jerry Jones was signing autographs in his suite during the game. He should be fortunate to do the same again with the Cowboys off to their first 2-0 start since 2008. The Titans don't have the passing game to keep up with the Cowboys, even with a subpar defense. Prediction: Win
---
Week 3: at St. Louis Rams
If this game was at home, it would be a win and DeMarco Murray would have a huge game on the ground. But it's at the Edward Jones Dome and the Rams' defensive front will provide a huge test for the Cowboys' offensive line. Prediction: Loss
---
Week 4: New Orleans Saints
The Saints annihilated the Cowboys last year, picking up 40 first downs and 625 yards in a 49-17 win that wasn't even that close. This game will be closer but Drew Brees will be able to pick apart a secondary that will be facing the best quarterback to date. Prediction: Loss
---
Week 5: Houston Texans
J.J. Watt and Jadeveon Clowney are a nightmare duo for offensive lines, but the Cowboys won't be afraid. New Texans coach Bill O'Brien will succeed but Ryan Fitzpatrick isn't the answer at quarterback. This is one of those early-season must wins for the Cowboys. Prediction: Win
---
Week 6: at Seattle Seahawks
There are all sorts of bad memories at Seattle, starting with Romo's bobbled snap in the 2006 playoffs. But the Cowboys' most recent visit to CenturyLink Field was a 27-7 drubbing in 2012. The Legion of Boom will be looking forward to Dez Bryant. This will be another day of bad memories. Prediction: Loss
---
Week 7: New York Giants
The Cowboys finally beat the Giants at AT&T Stadium last year and will make it two in a row in Arlington. Eli Manning doesn't look comfortable in the new offense and the Giants' defense does not match up well against the Cowboys' strengths. Prediction: Win
---
Week 8: Washington Redskins
Jon Gruden will be in the house calling the game for ESPN on "Monday Night Football," to see his brother Jay lose in a low-scoring, hard-hitting game like most of the contests between the Redskins and Cowboys. Dwayne Harris makes the difference again on special teams. Prediction: Win
---
Week 9: Arizona Cardinals
The Cowboys put together their first three-game winning streak since late in the 2012 season to get to 6-3. If they want to stay in the playoff conversation, this is the kind of start they would need, but it does not guarantee them a postseason appearance. Prediction: Win
---
Week 10: at Jacksonville Jaguars
The Jaguars have the kind of defense the Cowboys would like to have: young, fast, aggressive, angry. This game will surprise many people, but Gus Bradley is building something in Jacksonville worth noting. The Cowboys might be America's Team, but they're not London's Team. Prediction: Loss
---
Week 12: at New York Giants
The Cowboys have fared well at MetLife Stadium with some surprising wins, but the doubts start to creep in after the Jacksonville loss and the bye week does not help them get things corrected. Playing the second time in five weeks, New York will have better answers at home. Prediction: Loss
---
Week 13: Philadelphia Eagles
The NFL did the Cowboys no favors by giving them a night game on Sunday in New York to make a short week even shorter. Despite their defensive woes a year ago, the Cowboys were OK against Chip Kelly's offense. They'll be better than OK here to temporarily right the ship. Prediction: Win
---
Week 14: at Chicago Bears
Last year's visit to Soldier Field was a mess. Josh McCown lit up the Cowboys for four touchdowns and 348 yards. He's now in Tampa Bay and Jay Cutler is a better quarterback to feature wide receivers Brandon Marshall and Alshon Jeffery. Prediction: Loss
---
Week 15: at Philadelphia Eagles
Like the Giants in Week 12, the Eagles come up with the answers in the rematch. The Cowboys will have a 10-day break leading into the game to help prepare for Kelly's pace of play, but it won't help. Tight ends Zach Ertz and Brent Celek have big days against the Dallas linebackers. Prediction: Loss
---
Week 16: Indianapolis Colts
The Cowboys are in must-win territory with four losses in their past five games. The offense will be able to do its part, but the defense will not have any answers for Colts quarterback Andrew Luck, who will be making his first visit to AT&T Stadium. Prediction: Loss
---
Week 17: at Washington Redskins
The Cowboys can make history with a win. It's just not the history they want. With a win, the Cowboys will become the first team with four straight 8-8 finishes. Is this the last game of the Jason Garrett era, or does Jerry Jones give him an extension? Prediction: Win
---
Predicted Record: 8-8
November, 22, 2012
11/22/12
10:48
PM ET
ARLINGTON, Texas -- Sometimes you need a defense to stop the other team's momentum. That didn't happen Thursday in the second quarter.
Trailing, 14-3, with 5:55 left in the half, the Cowboys had to stop Washington to keep the game close, but on their only third-down try, they could not get off the field with
Brandon Banks
catching an 8-yard pass from
Robert Griffin
III.
Cornerback
Orlando Scandrick
was hurt on the play, sending the defense into a tizzy. With Scandrick out, the Cowboys tried to come after Griffin two plays later with a blitz and did not get home.
Griffin rifled a crossing pass that was nearly deflected by
Bruce Carter
and behind wide receiver
Pierre Garcon
, but Garcon made a terrific grab and was in the clear.
Brandon Carr
, who moved to safety in the nickel defense for the first time in the game because of Scandrick's absence, slipped and sent Garcon off to the end zone.
Not only could Carr not catch him, but neither could
Mike Jenkins
.
The end result was a 59-yard touchdown and a 21-3 lead for Washington.
October, 31, 2012
10/31/12
10:29
AM ET
None of the NFC East's quarterbacks played especially well this weekend, so there's no change at the most scrutinized position on our All-Division Team. We did have some changes this week, including an interesting one at outside linebacker and the first in quite a while on the offensive line.
More on all of that later. First, the disclaimer that no one will read: This is an All-Division Team
based on overall season performance to date.
It is not --
repeat, NOT
-- simply a rundown of the best individual performances from the past week. That's why
Cedric Thornton
isn't on it.
Here's this week's update to the team, and my explanations are at the bottom:
Quarterback:
Robert Griffin III
,
Washington Redskins
(Last week: Griffin)
Running back:
Alfred Morris
, Redskins (Morris)
Wide receiver:
Victor Cruz
,
New York Giants
;
Miles Austin
,
Dallas Cowboys
(Cruz,
DeSean Jackson
)
Tight end:
Jason Witten
, Cowboys (
Martellus Bennett
)
Fullback:
Henry Hynoski
, Giants (Hynoski)
Left tackle:
Trent Williams
, Redskins (Williams)
Left guard:
Evan Mathis
,
Philadelphia Eagles
(Mathis)
Center:
Will Montgomery
, Redskins (Montgomery)
Right guard:
Chris Chester
, Redskins (
Chris Snee
)
Right tackle:
Todd Herremans
, Eagles (Herremans)
Defensive end:
Jason Pierre-Paul
, Giants;
Jason Hatcher
,
Dallas Cowboys
(Pierre-Paul, Hatcher)
Defensive tackle:
Cullen Jenkins
, Eagles;
Linval Joseph
, Giants (Jenkins, Joseph)
Outside linebacker:
DeMarcus Ware
and
Anthony Spencer
, Cowboys (Ware,
Ryan Kerrigan
)
Inside linebacker:
Sean Lee
, Cowboys;
DeMeco Ryans
, Eagles (Lee, Ryans)
Cornerback:
Prince Amukamara
, Giants;
Josh Wilson
, Redskins (Amukamara,
Dominique Rodgers-Cromartie
)
Safety:
Antrel Rolle
and
Stevie Brown
, Giants (Rolle, Brown)
Kicker:
Lawrence Tynes
, Giants (Tynes)
Punter:
Sav Rocca
, Redskins (Rocca)
Kick returner:
David Wilson
, Giants (Wilson)
Punt returner:
Brandon Banks
, Redskins (
Rueben Randle
)
How good are the Cowboys' linebackers? They occupy three of the four linebacker spots on this week's team, and one of them didn't even play this week and is out for the season with a foot injury. Lee won't be on this list forever, and the guy who's pushing hardest for his spot is Washington's Perry Riley, but his overall body of work this season is still better than that of any inside linebacker in the division but Ryans, so in spite of his injury he keeps the spot.
As for outside linebacker, yeah. Kerrigan was one of the best defensive players in the league in September. He was not the same player in October, and Spencer has played at an extremely high level. He still doesn't get as much pressure on the quarterback as you'd like your 3-4 outside linebackers to get, but he's a wonder in the run game. And with Lee out, especially, that's invaluable.
Austin has kind of been threatening Jackson's spot at wide receiver for a while now, and with the Eagles' passing game going nowhere Jackson (who's having perhaps his finest season as a receiver) slips behind him. They have an identical number of catches (34), and Austin has 37 more yards and three more touchdowns.
Washington's Darrel Young was a fixture at the fullback spot last year and early this year, but what Hynoski is doing as a blocker in New York is on another level. He and Bennett have been huge in the run game, though Witten takes over Bennett's tight end spot this week due to the rapidly increasing gap in their relative productivity as receivers.
Been thinking for a while about Chester at right guard, and watching his performance against the Steelers on Sunday finally convinced me to pull the trigger. Almost pulled it at left tackle, too, where the Giants' Will Beatty has been excellent.
Josh Wilson got his cornerback spot after Rodgers-Cromartie's lousy game Sunday. Wilson overall has been much better this year than that one play at the end of the Giants' loss showed. He lost his spot last week to Amukamara, and now he's back at the expense of another September star whose October was less inspiring.
If I needed a big kick made and I had to pick someone in the division, I'd pick Dallas' Dan Bailey. He's also better than Tynes is on kickoffs. But Tynes has attempted 12 more field goals, made 11 more field goals and kicked 10 more extra points than Bailey has this year. He's almost doubled him in each category. Tynes is having an excellent season, and the sheer volume of opportunity he's received and cashed in puts him well ahead of the rest of the division's kickers.
As always, I welcome your thoughts.
September, 12, 2012
9/12/12
10:00
AM ET
One of the in-season features I really liked last year was our weekly, running All-Division Team, where we'd pick the best player at each starting position in the division and continue to update it as the weeks went along. Over the course of the year, some things changed from week to week (I could never seem to figure out cornerback, mainly because very few NFC East cornerbacks were having good years) and some players solidified their positions with consistent excellence (
LeSean McCoy
jumps to mind).
Anyway, it's back. We'll do this every Wednesday. And while it is meant to be an All-Star team based on cumulative season performance to date, each team has so far played only one game. So
for this week only
, yes, this All-Division Team is based only on the performances of the past week. This week's team includes nine Eagles (they did play very well on defense), seven Redskins, five Cowboys, five Giants, one DeMarco, one DeMarcus, one DeMeco and a Dominique.
I'll give you the team and then offer some comments at the end. Enjoy.
Quarterback:
Robert Griffin
III,
Washington Redskins
Running back:
DeMarco Murray
,
Dallas Cowboys
Wide receiver:
Kevin Ogletree
, Cowboys;
Jeremy Maclin
,
Philadelphia Eagles
Tight end:
Martellus Bennett
,
New York Giants
Fullback:
Darrel Young
, Redskins
Left tackle:
Trent Williams
, Redskins
Left guard:
Evan Mathis
, Eagles
Center:
Jason Kelce
, Eagles
Right guard:
Chris Snee
, Giants
Right tackle:
Todd Herremans
, Eagles
Defensive end:
Jason Pierre-Paul
, Giants;
Jason Hatcher
, Cowboys
Defensive tackle:
Rocky Bernard
, Giants;
Fletcher Cox
, Eagles
Outside linebacker:
Ryan Kerrigan
, Redskins;
DeMarcus Ware
, Cowboys
Inside linebacker:
Sean Lee
, Cowboys;
DeMeco Ryans
, Eagles
Cornerback:
Dominique Rodgers-Cromartie
, Eagles;
Josh Wilson
, Redskins
Safety:
Kurt Coleman
, Eagles;
Antrel Rolle
, Giants
Kicker:
Billy Cundiff
, Redskins
Punter:
Chas Henry
, Eagles
Kick returner:
Brandon Banks
, Redskins
Punt returner:
Brandon Banks, Redskins
Quarterback was obviously very close between Griffin and the Cowboys' Tony Romo, who both had excellent games in big road victories. Griffin edged out Romo because of his rushing yards and a little bit of added degree of difficulty for the venue in which he won. Both quarterbacks excelled at keeping plays alive and finding success downfield in difficult circumstances. Each handled the rush well. Could have flipped a coin.
Maclin was a close call over Washington's Pierre Garcon for that receiver spot, but Maclin played more and caught more passes, so he got the nod.
Bennett might or might not continue to catch passes for the Giants, but regardless of whether he does, he's going to merit a look here each week. That guy can seriously block.
Williams' and Kelce's were the only performances among the offensive linemen that I thought were particularly strong. The other three offensive linemen were kind of best-of-a-bad-bunch selections on a week in which none of the lines played very well. The Eagles' linemen do stand out at bit when you watch the games back, though. I wonder how much of that is the difference between Howard Mudd's blocking schemes, which require linemen to push upfield and establish new blocking points, and a more standard scheme. Washington's line played okay, and I thought about Will Montgomery at center over Kelce.
Defensive end was tricky. Pierre-Paul didn't get a sack, but he was clearly the most disruptive player among the 4-3 ends this week and required an overload of attention from the Cowboys. Hatcher gets the other spot over Jason Babin, which I admit is rare -- a 3-4 end beating out a 4-3 end on a team like this. But that word "disruptive" again is the best to describe Hatcher's night against the Giants.
Ditto Kerrigan at outside linebacker. What a game he had.
Rolle played the run very well, which is something the Dallas safeties didn't do in the same game. Now, maybe they weren't asked to. I understand that's possible. But Rolle's individual performance deserves the recognition.
Fine debut for Cundiff, who showed on kickoffs why they got him. Six of his nine kickoffs were touchbacks.
So that's the first one of these. I welcome your thoughts.
December, 1, 2011
12/01/11
9:45
AM ET
Five-star question:
Will
Patrick Peterson
, averaging 19.2 per punt return the past four games with three touchdowns, hit his average or return a punt for a touchdown Sunday against the Cowboys?
His old buddy and LSU teammate, Danny McCray, who just happens to be easily the Cowboys' best special teams player, will make sure Peterson doesn't celebrate against the Cowboys.
Or hit his average.
McCray knows Peterson's strength and weaknesses, which are few. For McCray and the rest of the punt coverage team to have a chance, Mat McBriar must be terrific. This is a week for long hang times and directional kicks.
Peterson must be pinned to a side of the field because if he gets it in the middle of the field, it's going to be a long day. The initial reaction is to think the Cowboys' punt coverage team has been bad this season.
The reality is that it's been pretty good, but it had an awful day against Washington's Brandon Banks last month. That won't happen again.
It can't, if the Cowboys are going win.
The Cowboys have yield just three returns of 20 yards or more this season. The only way the Cardinals can beat Dallas is with Peterson having a big game.
McBriar and McCray won't let him.
November, 21, 2011
11/21/11
11:35
AM ET
LANDOVER, Md. -- On Friday, punter
Mat McBriar
joked with some reporters about having to tackle someone on a punt return. McBriar didn't think it would happen.
Well it did Sunday when McBriar, playing with a bad left foot, had to move toward his left and push
Brandon Banks
out of bounds after a 55-yard return in the third quarter.
Banks' return set the Redskins up at the Cowboys 34 and the drive stalled when kicker
Graham Gano
's 49-yard field goal was wide right, which could have given the Redskins a 10-point lead. Instead, the lead remained seven.
"Downfield, I'm OK," McBriar said. "It's just the side-to-side [stuff]. Not really good especially going to the left."
When McBriar was told he made one of the biggest plays of the game, he had a bewildered look.
"Biggest play of the game?" he said. "I don't know about that."
It was a rough day for the talented punter, who shanked a 23-yarder, the shortest of the season, which put the Redskins in position to get their first score of the game.
After that, McBriar was on target, booming punts of 51, 60 and 30 yards. His 60-yarder was returned 55 yards by Banks. McBriar shouldn't have kicked it to him, but his 30-yarder landed at the Redskins 11 and was downed by deep snapper LP Ladouceur.
"I was just trying to get it out of bounds," McBriar said of his 23-yarder. "I ended up hitting it [short]."
But everything was good for McBriar. He smiled like a big brother when kicker
Dan Bailey
was talking to reporters about his game-winning field goal in overtime.
"The rookie is doing great," McBriar said. "For a young guy, he's capable of kicking [well]. He's had to deal with a lot. Six field goals last time. He's a heck of a rookie."
November, 21, 2011
11/21/11
11:22
AM ET
Back from D.C. and the Cowboys' 27-24 victory over the
Washington Redskins
has pushed them into first place in the NFC East. As always we have our weekly Stock Report where we tell you who is playing well and who isn't.
STOCK UP
Dan Bailey
. The man can't miss. He's made 24 consecutive field goals including the game-winner in overtime. His kickoffs are pretty good too. Of his six kickoffs, five reached the end zone and there were two touchbacks. Bailey's calm demeanor allowed him to block out the Redskins timeout prior to the game-winning kick.
Tony Romo.
Romo threw for 292 yards on Sunday but converted three touchdowns and hit
Martellus Bennett
and
Dez Bryant
on some big plays on the game-winning drive. Romo isn't forcing throws into coverage and is taking command of not only the offense but the team.
Dez Bryant.
The second-year receiver broke off his route and made himself available for Romo to make a pass in overtime that eventually setup a Bailey field goal. Bryant finished with just three catches for 68 yards, but defenses are worried about him and that's giving opportunities for other players to produce.
STOCK DOWN
Mat McBriar.
He's playing with a bad left foot and he made a key stop of
Brandon Banks
on a return by pushing him out of bounds. He booted a season-low 23 yard punt and his net average of 24.1 was the lowest of the season. McBriar is normally money but Sunday he was off.
Special teams unit.
McBriar punting the ball directly to Banks, who returned one 55 yards, there was a 27-yard kickoff return, another special teams penalty,
Phillip Tanner
for holding, and the poor return game. While there is so much praise for Bailey, the return game and coverage units have struggled.
Orlando Scandrick.
Yes he did have an interception, but he struggled in the slot and covering outside on Sunday. Scandrick said it was not one of his best efforts and he might be pressing a little bit. The return of
Mike Jenkins
could take some pressure off Scandrick.
October, 6, 2011
10/06/11
11:00
AM ET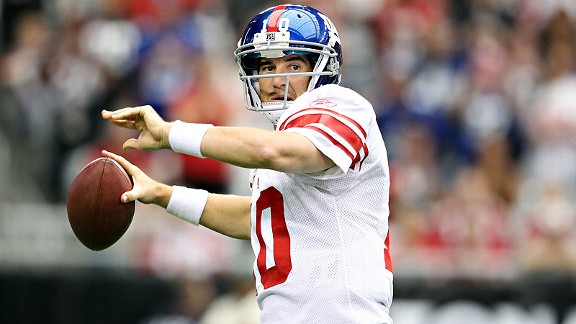 Christian Petersen/Getty ImagesAfter two straight interception free performances, New York Giants quarterback Eli Manning takes the top spot in the divisional rankings.
Back with another edition of the NFC East's rolling All-Division Team, which this week features yet another change at quarterback. The
New York Giants
'
Eli Manning
has taken over the top spot after a second straight interception-free victory.
Tony Romo
has more yards and a better completion percentage, but Romo has also cost his team two games with second-half interceptions while Manning has been the steady leader his team has needed him to be while recovering from its early-season injury problems. Since the second quarter of the Week 2 game against the Rams, Manning has been unflappable and, when it's been needed, excellent.
The Eagles'
Michael Vick
had the best individual Week 4 game among division quarterbacks, but while I'm sure the vast majority of people who comment on this post and harass me on Twitter about it will ignore what I am about to type here:
This list is meant as an overall evaluation of the way the players have played to date, in all four games this season
. It is not --
I repeat, NOT
-- based solely on performance in this past week's games. (For example:
Ryan Torain
is not the running back, because
LeSean McCoy
has had the better year.)
That out of the way, here is the list to which you're all scrolling down anyway. Some notes will follow:
Quarterback
: Eli Manning, Giants (Last week: Tony Romo)
Running back
: LeSean McCoy, Eagles (McCoy)
Wide receiver
:
Hakeem Nicks
, Giants;
Jeremy Maclin
, Eagles (Maclin,
Miles Austin
)
Tight end
:
Jason Witten
, Cowboys (Witten)
Fullback
:
Owen Schmitt
, Eagles (
Darrel Young
)
Left tackle
:
Jason Peters
, Eagles (Peters)
Left guard
:
Evan Mathis
, Eagles (
Kory Lichtensteiger
)
Center
:
Will Montgomery
, Redskins (
David Baas
)
Right guard
:
Chris Snee
, Giants (Snee)
Right tackle:
Tyron Smith
, Cowboys (Smith)
Defensive end
:
Trent Cole
, Eagles;
Jason Pierre-Paul
, Giants (Cole, Pierre-Paul)
Defensive tackle
:
Cullen Jenkins
, Eagles;
Jay Ratliff
, Cowboys (Jenkins, Ratliff)
Outside linebacker
:
DeMarcus Ware
, Cowboys;
Brian Orakpo
, Redskins (Ware,
Ryan Kerrigan
)
Inside linebacker
:
Sean Lee
, Cowboys;
London Fletcher
, Redskins (Lee, Fletcher)
Cornerback
:
Asante Samuel
, Eagles;
Aaron Ross
, Giants (Samuel,
Mike Jenkins
)
Safety
:
Kenny Phillips
, Giants;
LaRon Landry
, Redskins (Phillips, O.J. Atogwe)
Kicker
:
Dan Bailey
, Cowboys (Bailey)
Punter
:
Sav Rocca
, Redskins (Rocca)
Kick returner:
Devin Thomas
, Giants (
Brandon Banks
)
Punt returner:
Brandon Banks, Redskins (Banks)
Austin and Darrel Young lose their spots due to injury, and Nicks and Schmitt delivered performances worthy of those spots anyway.

On the offensive line, I'd had Mathis and Lichtensteiger very close for the past couple of weeks, but I just think Sunday moved Mathis past the Redskins' guard ever so slightly. Washington's offensive line has been underappreciated as a reason for the early success, and they get consideration at every position. (Chris Chester is playing great at right guard but trapped on this list behind maybe the best one on the league). Will Montgomery at center has been a revelation, and replacing Casey Rabach with him might have been one of the critical moves the Redskins made in the offseason. Don't begrudge Tyron Smith that big late sack. He's been a monster all year and done much more to help the Cowboys win than to help them lose. And yes, I'm interested to see who steps up and takes the left tackle spot with Peters out a few weeks. No one's really pushed him for it yet this year, though Doug Free finally had a good game Sunday.

Did some Redskin-shuffling on their excellent defense. I doubt Kerrigan will mind losing his spot to Orakpo, his mentor, who had a monster game. Those two could trade off all year. And I thought about rewarding Rocky McIntosh for his big game by giving him Fletcher's spot, but Fletcher's been that defense's heart and soul all year and has done nothing to lose it. Oh, and I moved Landry in at safety over Atogwe because, while it's only been two games... wow.

Cornerback was tough, as it's been all year because so few in this division are playing it well. Ross' assignment wasn't as tough Sunday as was that of Corey Webster, who had to take on Larry Fitzgerald. But Ross has been delivering excellent, reliable coverage all year for the Giants with very few (if glaring) mistakes, and I think he deserves this spot. Jenkins has been fine, but I think overall Ross has played a little bit better and should be acknowledged, especially since he's outperformed the expectations that attended his ascension to the role when Terrell Thomas got hurt.

I keep waiting for Brandon Banks to break a big kick return, but he hasn't done it, and I think Thomas has looked a little better overall. Banks still remains unchallenged in the punt-return category.
Okay, fire away. Let me know where I screwed up.