Dallas Cowboys:

brandon lloyd
October, 23, 2011
10/23/11
9:46
PM ET
ARLINGTON, Texas -- Mike Jenkins' second-quarter interception of St. Louis quarterback
A.J. Feeley
was the first he has had since Week 3 last season at Houston.
"It's been a long time," Jenkins said. "I think I've had some of it on credit. I've been working for it and it came back to me. I'm going to try to keep it going."
Jenkins was able to corral a Feeley pass to
Brandon Lloyd
that was low and to the middle for the pick at the St. Louis 30. The Cowboys converted the turnover into a 30-yard field goal by
Dan Bailey
. The Cowboys converted both turnovers and a fourth-down stop into 17 points.
"We just want to keep the turnovers coming," Jenkins said.
October, 22, 2011
10/22/11
10:30
AM ET
IRVING, Texas -- After a surprising 7-9 finish to the 2010 season, many people picked St. Louis to be one of the up-and-coming teams in 2011, led by quarterback
Sam Bradford
.
The Rams are 0-5 entering Sunday's game against the Cowboys.
"It's miserable," Bradford said. "I'm not going to lie. It's not enjoyable. It's not fun. There's nothing I like about it. It's definitely not the position we thought we'd be in at this point in the season. I think I'm doing everything I can to make sure we change that. I think everyone in this building is doing the same thing. I don't think there is anyone here who likes this."
In a new offense run by coordinator Josh McDaniels, Bradford, the former Heisman Trophy winner from Oklahoma, has completed 104 of 196 passes for 1,177 yards with three touchdowns and two interceptions in five games. He has been sacked 21 times and has a 72.2 passer rating. As a rookie Bradford threw for 3,512 yards with 18 touchdowns and 15 picks and was sacked 34 times.
Bradford, however, has been
ruled out
of Sunday's game with a high ankle sprain.
"Obviously, I'm still learning a lot of things about how this game is played in this league, but I think I've gotten much better each week this year," Bradford said. "I've gotten more comfortable in our offense. That's something I'm going to continue to try to do week to week, and I think you can always become a better football player."
Losing
Mark Clayton
and
Danny Amendola
to injuries last year and this year has not helped Bradford's development. But the Rams this week traded for veteran
Brandon Lloyd
, who excelled under McDaniels in Denver.
"I feel like I'm much more comfortable in the pocket," Bradford said. "I feel like just running the offense I'm more comfortable. I've been asked to do a lot more this year. There's been a lot more put on my plate. I feel fine with that because I am more comfortable seeing things during a game. I feel more comfortable pretty much in every aspect of the game. Even though my numbers might not be as good as they were last year, I still feel like I'm a better player. As long as I continue to work hard, we're going to get this offense going."
October, 21, 2011
10/21/11
9:00
AM ET
By
Bryan Broaddus
| ESPNDallas.com
After two difficult losses against the Lions and the Patriots, the Cowboys face the
St. Louis Rams
in a contest where both teams need a win in the worst way.
The Rams were picked by many as preseason NFC West favorites with
Sam Bradford
at quarterback. Instead they are 0-5 and really not doing anything well on offense or defense.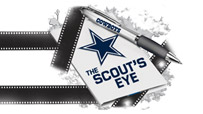 RAMS OFFENSE
The Rams are hurting the most on the offensive line, which is surprising because they have invested high draft picks in tackles Rodger Saffold and
Jason Smith
. Safford is the starter at left tackle and is the best of the Rams' offensive linemen. Smith was drafted with the third overall selection of the 2009 NFL Draft and really hasn't lived up to the billing.
At 6-foot-4 and 318 pounds, Saffold looks a lot longer on tape. Tends to come off the ball high at times and without much bend in the knees. Saffold is a catch blocker more than a puncher. He will place his hands on the rusher then try to steer them away from the ball or up the field. He will do a nice job of running his man up the field.
Smith tends to play without power but can run, which is his way of getting out of trouble. Cowboys rookie right tackle
Tyron Smith
already plays like a better player than Jason Smith, who is going into his third season with the Rams. Of the two St. Louis tackles, Smith is the one that gets the most help from tight ends and backs that stay in the game to block.
The weakest position on the offensive line for the Rams is at right guard.
Harvey Dahl
was signed as a free agent by the Rams from the Falcons on July 31, and the more you study him, the more you feel like that is was money poorly spent.
I am going to be real honest, there is nothing about Dahl's game to like. If you think that the Cowboys have had problems at left guard, the Rams have had it worse with the way that Dahl has played. Dahl will pull and miss. He is not athletic enough to execute the cut-off block or keep his man from overpowering him in the passing game.
I have talked about for weeks how Rob Ryan has done a nice job of identifying the offensive line's weakest link that needs to be attacked to create the best matchups to win. Ryan should take advantage of Dahl several times this game.
The two best players on the Rams offense are Bradford and running back
Steven Jackson
. I have always been a big Bradford supporter. Watching him play down after down, there is no reason to change that thought.
Bradford, who might not play Sunday due to a high ankle sprain, had better offensive talent around him college at Oklahoma. Despite all that, he is able to make all the throws. He is accurate and mobile, but this ankle injury that might limit him from making some plays with his legs.
Bradford has a nice feel in the pocket and is able to slide and move to buy a second chance. The Rams like to run waggles, dragging the tight ends from the opposite side, so it will be interesting with this injury if offensive coordinator Josh McDaniels will still make this part of the game plan.
The Rams are last in the NFL in rushing offense, but if you use the Jason Garrett theory, the Rams run the ball poorly because they are always behind in games and need to pass to try to get back into games. The problems I see again fall more on the offensive line than they do on Jackson.
While I am on the subject of Jackson, our scouting department had a first-round grade on him, but there some medical concerns at the time with a back injury. When it came our time to pick, the
Buffalo Bills
called and wanted to offer us the next year's first-round selection for our pick at that time. The discussion in the draft room at the time were that
Julius Jones
, who we had in the second round, was just as good of a back. Jerry Jones and Bill Parcells agreed and we made the deal with the Bills. For that selection the following year, we drafted
Marcus Spears
.
In looking back in that draft, we made a mistake on Jackson. I believe that we had the right grade on the board, but we had the wrong vision for the player and what he would become in his career.
Jackson is not an explosive player, but he is consistent in the way he attacks. Will try to bounce more balls to the outside than he will take inside. The Rams have some success with him when they get in the gun, then hand the ball to him on the inside.
McDaniels also likes to try and throw him the ball on screens. He will sneak out of the back field, then mesh with the line.
If Jackson does struggle, it is as a pass protector. As much as Ryan likes to bring pressure from all angles, this will be a difficult task for him. As the game develops, watch how many screens that the Rams run and if they use Jackson in pass blocking.
On the outside, the Rams made a deal at the trade deadline for some help.
Brandon Lloyd
joins the squad after a stint with the Broncos. There are a couple of ways to look at this for the Rams. The most important way is that it's another weapon for Bradford on a team that has failed to address the wide receiver position the last two years.
Sure, the Rams have drafted receivers but none that could be a difference maker. Lloyd has that chance and should be ready to hit the ground running in this offense because he was with McDaniels at the Broncos.
The one thing that the Cowboys on defense might not be able to count on is turnovers from the quarterback. Bradford is one of the best in the league at not throwing interceptions.
RAMS DEFENSE
When you study the Rams, it's a defense that appears to be very talent poor. There are two players that really stood out: middle linebacker
James Laurinaitis
and defensive end
Chris Long
.
The Rams drafted defensive end
Robert Quinn
in the first round in 2011, but like tackle Jason Smith, he hasn't made the impact that they had hoped for. When you are playing with 14-year veteran
Al Harris
at corner, your defense is going to have some issues.
Laurinaitis is a very similar to what
Sean Lee
is for the Cowboys. He can run, he reads the play quickly, he reacts and he tackles well. Laurinaitis has a real nose for the ball. He is a sideline to sideline player. He does a nice job in coverage. Did not see an effective blitzer in the early games I studied against the Giants and Ravens.
As a pass rusher, defensive end Chris Long is a relentless player but doesn't play with the rush skill of what the Cowboys offensive tackles have seen the early part of this year. Tyron Smith needs to have a bounce-back game after not being at his best last week. Long will not be able to use power against Smith, which is the one area that gives him the most trouble.
The Cowboys should be able to move the ball on the ground against the Rams' down linemen, who struggle getting off blocks. Again, the key here will be the inside players for the Cowboys, mainly
Montrae Holland
working with
Phil Costa
and
Kyle Kosier
to not allow Laurinaitis to make all the tackles.
I also look for the Cowboys offensively to have some success throwing the ball. The Rams' secondary have struggled with coverage at the corner with Harris and
Justin King
. Against the Ravens, King was beaten badly on several deep, vertical routes that went for touchdowns.
Look for Garrett to test this secondary to try and make some deep throws down the field to try and stretch this Rams defense that has limited range with safeties
Quintin Mikell
and
Craig Dahl
.
October, 20, 2011
10/20/11
11:15
AM ET
St. Louis Post-Dispatch
St. Louis Rams
beat writer Jim Thomas is a good man. He gave us his take on the 0-5 St. Louis Rams in this week's version of The Other Side.
Q: What's happened to the Rams? Are they taking steps backward in their development as a team?

A:
The early-season schedule has been brutal. The Rams first five opponents are a combined 19-9 so far. Nonetheless, it looks like the team has regressed. The run defense has been a major disappointment, and the offense can't get into the end zone. Lots of penalties and dropped passes, too.
Q: Sam Bradford. Is he going to be good?

A:
Yes. He's fighting it some with the new offensive scheme of first-year Rams coordinator Josh McDaniels. The system is a lot different than Pat Shurmur's West Coast scheme of last year. Many more downfield throws and lots more responsibility at the line of scrimmage. But I think Bradford is the real deal, and eventually it will show.
Q: What should we expect from Mark Clayton and Brandon Lloyd on Sunday?

A:
Lloyd will play and I'd be surprised if he doesn't start. He's a guy who can get downfield and make the tough catch in traffic. He knows the offense very well since he played for McDaniels in Denver in 2010 and '09. For Lloyd, it's simply a matter of getting in sync with the QB, which could be
A.J. Feeley
Sunday because of Bradford's high ankle sprain. As for Clayton, he's coming off the PUP list following last season's knee surgery and until now hadn't practiced since early October of 2010. So he's less certain to play Sunday; got some rust to knock off.
Q: The Rams have yet to play within the division, has this hurt them?

A:
It sure has. The don't play a division game until November. It would've been good for the team's confidence and won-lost record to get a Seattle or Arizona at home in the early going.
Q: Is Steve Spagnuolo on the hot seat or is he OK?

A:
Everyone knew these first seven games would be tough _ with Dallas and New Orleans following the first five. So nobody expected a sparkling early-season record. But nobody expected this either. So yes, unless Spagnuolo and the Rams start posting some wins, he is on the hot seat.
October, 17, 2011
10/17/11
3:04
PM ET
IRVING, Texas – The NFC's worst team might not have one of its best players Sunday at Cowboys Stadium.
PODCAST
Former Cowboys great Drew Pearson joins Ben and Skin to break down the Cowboys' loss against the Patriots.

Listen

The
St. Louis Rams
announced that quarterback
Sam Bradford
suffered a high left ankle sprain in the loss to the
Green Bay Packers
. The team said Bradford would be day to day but "certainly limited" in practice this week.
The Rams (0-5) are the NFC's lone winless team. They are ranked last in the NFL in scoring, averaging only 9.8 points per game.
Bradford, the No. 1 overall pick out of Oklahoma, hasn't been able to build on an encouraging rookie campaign. He is completing only 52.8 percent of his passes – down from 60.0 percent last season – and ranks 32nd in the league with three touchdown passes.
The Rams acquired some help for Bradford by trading a conditional sixth-round pick to Denver for receiver
Brandon Lloyd
on Monday. But Bradford won't be able to get much, if any, work with Lloyd before the Rams play the Cowboys.
October, 14, 2011
10/14/11
3:15
PM ET
Calvin Watkins has an item on
ESPNDallas.com
that says the Cowboys could look to trade either running back
Tashard Choice
or tight end
Martellus Bennett
in advance of Tuesday's trade deadline. Both are high-talent guys who haven't panned out and now seem extraneous in Dallas, so it makes some sense to see about getting a good draft pick for one of them. Watkins talked to Choice, who said he'd like to stay in Dallas but whatever, and he seems to think they have reason to keep Bennett around. Choice has shown a flash or two here and there, so a running back-needy team could take a chance, you never know.
Of course, the two biggest names being thrown around on the trade market today are those of
Denver Broncos
receiver
Brandon Lloyd
and
Indianapolis Colts
receiver
Reggie Wayne
. And those are big enough names to catch anyone's attention. It's hard to imagine the Giants, Eagles or Cowboys making a trade to get a big-time receiver, since all three of those teams seem fine with what they have at receiver right now and the price for guys like Lloyd and Wayne is likely to be high. I guess Wayne would be the second-best receiver on the Giants if they got him, but that doesn't feel like a move the Giants would make.
People will connect these names to the Redskins, since Washington's wide receiver corps has plenty of numbers but no real big names. A field-stretching guy would be a nice complement to the precision, route-running possession guys the Redskins have, but prior negative experience with Lloyd (with the Redskins and with Redskins coach Mike Shanahan while both were in Denver) almost certainly makes Lloyd a no-go. And since the Redskins' plan all offseason seemed to be to conserve resources to continue their rebuilding project next spring and summer, I'd be surprised to see them make a big move for a guy like Wayne. Sure, if they win this week and get to 4-1 the temptation will be to "go for it." And they should. But the Redskins are more likely to "go for it" by sticking with the plan that got them to where they are this season -- good defense and an uncomplicated offense designed to minimize the chance for mistakes. I don't think asking
Rex Grossman
to throw downfield more, no matter who they bring in for him to throw to, is in the plan.
But I could be wrong, and we'll surely talk plenty more about this stuff between now and Tuesday.