Dallas Cowboys:

Brian Dawkins
March, 8, 2013
3/08/13
11:33
AM ET
»
NFC Eight in the Box
:
East
|
West
|
North
|
South
»
AFC
:
East
|
West
|
North
|
South
Welcome to Eight in the Box, an NFL Nation feature that will appear each Friday during the offseason. This week's topic: Who should be the primary target (including trades) for each team when free agency begins?

Dallas Cowboys:
Louis Vasquez
, G, Chargers. Cap-space problems likely price the Cowboys out of the top offensive line names available, but the line is their most desperate need and Vasquez is much more than a fallback option. Pro Football Focus ranked him as the eighth-best right guard in the league last year -- better than either of the midrange free-agent guards the Cowboys signed last year -- and he doesn't turn 26 for another month. He's the kind of free agent in whom it makes sense to invest -- a guy who's proven he can play in the league but is still hungry to prove more and young enough that they'd have him in his prime. I do still believe the Cowboys need to address the offensive line in the draft, but there's nothing wrong with a smart upgrade like this in the meantime to augment that plan.

New York Giants:
Dannell Ellerbe
, LB, Ravens. Yes, the Super Bowl champs will try to keep him. No, the Giants don't prioritize the linebacker position. If you're asking me if this is a player the Giants
will
sign, I'd have to say no. But what we're asking today is which player they
should
sign, and Ellerbe is a perfect fit. He's only 27 and has leadership experience and a championship ring earned while filling in for
Ray Lewis
this past year. The Giants' defense has drifted in and out too much the past few years in terms of focus and intensity, and Ellerbe would help with that from a position at which the Giants always seem to have a need.

Philadelphia Eagles:
Kenny Phillips
, S, Giants. So much uncertainty in the secondary, where the Eagles could be looking for four new starters. Phillips is as versatile a safety as there is on the market and would allow them to go in any number of directions with their cornerbacks or their other safety. He can cover. He can move up in the box and play the run. He's got Super Bowl experience. And if you're the Eagles or an Eagles fan, wouldn't it be fun to sign him away from the Giants and play him against them twice a year? Phillips has had some knee problems, which is his only red flag. If he checks out medically, then as a player who doesn't turn 27 until November he's a big-time answer for the Eagles at a position that has been driving them crazy since they let
Brian Dawkins
leave.

Washington Redskins:
Ryan Harris
, OT, Texans. Cap constraints will prevent the Redskins from dreaming big free-agent dreams, and I am fully aware that their greatest need is on defense in the secondary. But they need a right tackle as well, and Harris and Mike Shanahan know each other well from their days together in Denver in 2007 and 2008. Harris turns 28 on Monday and has zone-blocking, run-game experience. Best of all, he's not likely to cost much. If Shanahan liked Harris early in his career and still sees something, Harris could be an easy answer at an important position and allow the Texans to commit greater resources to the secondary and other needs.
December, 18, 2012
12/18/12
10:39
AM ET
Former
Philadelphia Eagles
great
Brian Dawkins
, who now does NFL analyst work for us at ESPN, was asked on "SportsCenter" Tuesday morning to predict which of the three teams currently tied for first place will win the NFC East. The former Eagle couldn't pick his own team, which is 4-10 and not in the tie. So he says he's leaning toward the
Dallas Cowboys
because of something they're doing that they don't normally do.
"Usually, when they have those tight games, they find a way to lose those games," Dawkins said. "But for whatever reason, they're finding ways to win ballgames as of late."
He's right about that. The Cowboys are playing against their reputation -- tough and clutch when they need to be. Obviously, though, this is not an easy call, as they're tied with one team that's won five games in a row and another that won the most recent Super Bowl. I have no idea what's going to happen, but I think what I'll do is a three-part series of posts making the case for each of the NFC East's first-place teams -- the Cowboys, the
Washington Redskins
and the
New York Giants
-- and why their fans should feel optimistic about their team's chances. What do you guys think? That sound like a good idea?
December, 9, 2010
12/09/10
11:00
PM ET
By
Bryan Broaddus
| ESPNDallas.com
The Cowboys have faced several outstanding quarterbacks already this season, but they have yet to face one that has the talents of
Michael Vick
.
When I see Vick play, I have to laugh at the fact that any team in the NFL could have had Vick's numerous skills on their roster if they had only offered the Eagles enough in the form of a draft pick. Last offseason, the Eagles made the commitment of playing
Kevin Kolb
, but when Kolb was banged up against the Packers opening day, Vick was pressed into the starting lineup and Kolb quickly became a backup quarterback.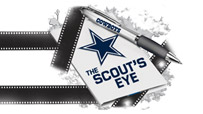 It is truly amazing that Vick was gone from the game for two seasons then spent one season as the "wildcat" quarterback. He now is nowhere near that quarterback that struggled to read defenses or to make accurate throws that he was in Atlanta.
The ability to escape the rush and make plays with his feet is still there, but he now can beat you throwing the football. Vick no longer has to play with just a simple high-low read on the boot. He can stand in the pocket and hit receivers on vertical routes or across the middle. He can throw screens and checkdowns with touch. He can fit balls into tight spots with the confidence of
Drew Brees
or
Peyton Manning
.
Vick has become the quarterback that scouts thought he would be, except no one believed that he had the ability to make all the throws and can be successful executing them. When you now watch Vick throw, there is some snap to it. He can deliver the ball on the line. The ball isn't all over the place, and receivers don't have to make adjustments to catch each throw like his teammates in Atlanta did.
These Eagles' receivers,
DeSean Jackson
and
Jeremy Maclin
, are outstanding in space. Any time they get the ball on the move, it's difficult for defenders to deal with. Both Jackson and Maclin have speed, but their most impressive trait is their quickness.
The Eagles like to use Jackson on screens or misdirection sweeps. Maclin is the better route runner of the two and appears to have the better hands. Maclin gets in and out of breaks without any wasted movements.
You have heard me talk about
Miles Austin
and the way he runs routes without changing speeds; Maclin is the same type of player. He runs his routes all the same speed and makes it difficult for corners to get a read on him.
[+] Enlarge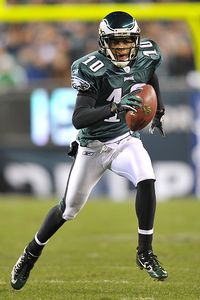 Drew Hallowell/Philadelphia Eagles/Getty ImagesEagles receiver DeSean Jackson is fast, but it's his quickness that really creates issues for defenses.
At tight end, the Eagles have a nice player in
Brent Celek
, who is an upfield player and is always a factor in the red zone. Celek has more than dependable hands and is usually a mismatch for linebackers in coverage.
Would not be the least bit surprised to see Paul Pasqualoni have
Anthony Spencer
try to hammer Celek all night off the line of scrimmage. Any time you give Celek free access in a route, he is going to be a problem.
Other than quarterback, the area that I feel like the Eagles have made the biggest jump is at running back. For many years, I was a
Brian Westbrook
fan for all the ways he could hurt you in a game, but with
LeSean McCoy
in that role now, the Eagles have an even more dynamic player.
McCoy is an explosive ball carrier that can make you miss in the open field or punish you with power. He is good in space, and his hands are steady. Vick likes to throw him the ball in the flat on simple plays, and he has the ability to turn them into large gains. Would not call him a killer as a pass blocker, but he will chip and then get in the route. Does a nice job of running the stretch play, finding the hole and then making the cut inside.
The Cowboys' defenders need to get to him before he can get started. He hits the hole in a hurry and can extend the run. The Eagles like to run a play-action game with boots and waggles off action involving McCoy.
The Eagles' offensive line benefits from players like Vick, McCoy, Celek and the two receivers. These players that I have mentioned all hide the sins of this line, whether it's Vick's ability to scramble and avoid the rush, McCoy busting through a defense that is not cleanly blocked or Jackson running with a screen.
[+] Enlarge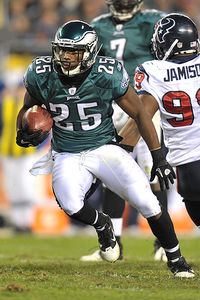 Drew Hallowell/Philadelphia Eagles/Getty ImagesLeSean McCoy has skills in the open field similar to former Eagles running back Brian Westbrook, but he can also punish you with power.
There are some flaws along this line when it comes to pass protection. The Eagles' line doesn't handle movement all that well and will set on different levels in pass protection. Teams have been able to create pressure because the longer this line has to hold a block, the more trouble it has finishing the block.
The Bears were able to get pressure with a four-man rush and movement up front. Pasqualoni will try to do the same, keeping his rushers wide and playing coverage behind the rush. If the Cowboys can hold up on the back end, the opportunity to get someone home on the rush will increase.
*Week 16 and the Wild Card game last season against the Cowboys are two games that Eagles defensive coordinator
Sean McDermott
would like to forget.
In neither of those two contests was his defense ready to play or did he and the staff manage to come up with any type of answers to slow down this Jason Garrett-led Cowboys offense.
McDermott is in his second season since taking over for the late Jim Johnson, who was a master at creating all types of blitz packages and schemes to get your offense off the field. McDermott will give you different looks defensively, but he isn't close to the exotic blitzer that Johnson was.
The defensive line likes to be active up front with movement, and the linebackers will play tight to the line of scrimmage. When the Eagles do blitz, it's usually through the double "A" gap with linebackers
Stewart Bradley
and
Ernie Sims
.
From the secondary, McDermott will bring safety
Quintin Mikell
. who is playing the role of
Brian Dawkins
but is nowhere near as effective as Dawkins once was in this scheme.
The Eagles' best pass rusher is defensive end
Trent Cole
. Cowboys left tackle
Doug Free
once again draws the assignment of handling the opponent's best rusher. Unlike Colts defensive end
Dwight Freeney
, Cole plays the run well, so Free will need to be at his best each snap and work to finish his blocks and not allow Cole to chase down the play.
In the secondary, the ball-hawking cornerback
Asante Samuel
returns to the lineup after missing the Chicago and Houston games with a knee injury. In Samuel's place, nickel man
Joselio Hanson
has been the starter at left corner.
Samuel has a history as a gambling player. Samuel loves to bait quarterbacks into thinking their receivers are open, then driving on the football to make a play.
Samuel also has a history of not wanting anything to do with the tackling side of the game. There have been times where he flies forward on a play to miss badly.
I would expect this Cowboys offense to test him on the outside early to see the condition of his knee and also see how committed he is in playing in a physical game. Any ball that spills to his side of the field will be a soft force and will be something worth watching.