Dallas Cowboys:

Britt Brown
August, 26, 2013
Aug 26
12:36
PM ET
IRVING, Texas – As the Cowboys begin the process of whittling down their roster from 88 players to 53 by Saturday, one option under consideration is moving
Jay Ratliff
to the reserve/physically unable to perform list.
If the Cowboys choose to put Ratliff on the reserve/PUP list, he would miss the first six games. He would be eligible to play Oct. 20 at Philadelphia, but the Cowboys would have three weeks to practice Ratliff and then another three weeks to move him to the active roster.
PODCAST
Stretch Smith joins Galloway and Company to discuss five positive and five negative things he took away from the Cowboys' fourth preseason game.

Listen

Coach Jason Garrett did not rule out the possibility on Monday.
"We're just going to take it day by day," Garrett said.
Ratliff declined comment in the locker room.
When the Cowboys placed Ratliff on the active/PUP list to open training camp, it was under the notion it would be a short stay and he would practice once a strained hamstring suffered in the conditioning run healed.
Mackenzy Bernadeau
suffered a hamstring injury in the same run and was placed on active/PUP but has been practicing since Aug. 2.
That Ratliff is still recovering from a sports hernia surgery from December raises serious questions, starting with what did he do in the offseason? He did not go through his rehab at Valley Ranch and was extremely limited in the organized team activities and June minicamp.
In Oxnard, Calif., all the injured players worked rehab on the field with associate athletic trainer Britt Brown or strength and conditioning coach Mike Woicik. Ratliff did not do any on-field rehab work, but he did some individual pass-rush work with assistant defensive line coach
Leon Lett
.
"He does a lot of stuff in the weight room or by himself on the side with some of the guys that we have helping him with the rehab," Garrett said. "Really, the biggest thing with him is gaining some strength to get to the point where he can start doing some stuff on the field."
Linebacker
Alex Albright
had a sports hernia surgery after the season ended and was able to practice in the spring. Former cornerback
Terence Newman
had the surgery in 2008 and was back on the field in six weeks.
"I just think you've got to be careful comparing injuries," Garrett said. "They can be the same kind of injury, but sometimes different people respond to the different severity of the injury. With Jay, we're going to make sure he's healthy and ready to go before we bring him back, like we would do with any player."
Last year the Cowboys did not put Ratliff on injured reserve after he had the surgery because they held out hope he could return for a possible playoff run.
Not only did the Cowboys not make the playoffs, but eight months later Ratliff still can't get on the field, and the Cowboys could keep him out -- at the latest -- until Nov. 28 when they play Oakland on Thanksgiving.
July, 31, 2013
Jul 31
9:30
AM ET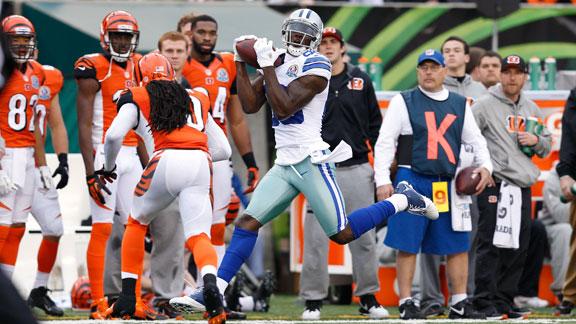 OXNARD, Calif. --
Dez Bryant
missed his fourth straight day of practice because of a hip/quadriceps injury, but if the work he was doing on the side Tuesday was any indication, he should be back to the field soon.
What Bryant went through on the sidelines might have been more difficult than practice, especially one that featured wide receiver-friendly short-yardage and goal-line situations.
Bryant went through a rigorous session of resistance training with associate athletic trainer Britt Brown, and he ran a number of cross-field sprints. Never once did he appear to labor.
The Cowboys are being extra cautious with Bryant, who was off to an impressive start to training camp. Coach Jason Garrett said the team sometimes has to protect players from themselves, such as with
Miles Austin
,
Jason Witten
and
Sean Lee
. Bryant, who is the subject of this week's
Hot Button
debate, is in that category as well.
February, 26, 2013
Feb 26
11:37
AM ET
IRVING, Texas – The Cowboys medical staff received another honor when the team's orthopedic surgeon, Dr. Dan Cooper, was named the winner of the Jerry "Hawk" Rhea Award, which is given to the outstanding NFL team physician.
Associate athletic trainer Britt Brown was named the NFC's assistant trainer of the year.
The awards are selected by the Professional Football Athletic Trainers Society. Rhea was the head athletic trainer in Atlanta from 1969-94.
Dr. Cooper has been the Cowboys' head physician for the last 13 years since joining the organization in 1992.
The Cowboys had 11 players end the year on injured reserve, including starters
Sean Lee
,
Bruce Carter
,
Barry Church
and
Phil Costa
.
Jay Ratliff
wasn't placed on injured reserve but was limited to six games because of ankle and groin injuries.
Jason Witten
opened the season with a lacerated spleen.
February, 24, 2013
Feb 24
4:54
PM ET
INDIANAPOLIS –
Dallas Cowboys
associate athletic trainer Britt Brown was named the winner of the NFC's assistant trainer of the year award, given out by the league's athletic trainers.
Head athletic trainer Jim Maurer presented Brown, who has been with the team for 17 years, the award at the NFL scouting combine. The award takes into account the athletic trainer's work and his contributions to the Professional Football Athletic Trainers Society. Since 1995, Brown has coordinated the PFATS Ethnic Minority Scholarship.
"We have a great staff and so for me to win that, there's so many guys that deserve the award that it easily could've done to (assistant athletic trainer Greg Gaither) too," Brown said. "It's a staff thing I feel like."
Brown said the award did not have to do with the season. The Cowboys had a number of injuries in 2012 that led to 11 guys being placed on injured reserve, including five defensive starters.
Jay Ratliff
had late-season sports hernia surgery and was not placed on injured reserve. Nose tackle
Josh Brent
finished the year on the non-football injury list.
Brown serves as the Cowboys' director of rehabilitation and the players often joke that a session with Brown is worse than practicing.
"A love-hate relationship? It is," Brown joked. "But I think ultimately they feel like I'm taking care of them because I've got their best interests. Like it or not they have to go through me to get back to practice. If I'm not looking out for them and requiring them to prove to me they're OK, they'll just get thrown back out there. Guys know in order to get back to practice they have to show they can do it. I think they feel like there's checks and balance there."
August, 10, 2012
8/10/12
4:28
PM ET
OXNARD, Calif. –
Morris Claiborne
won't be back in pads Friday afternoon.
Claiborne, a first-round cornerback who is recovering from a sprained MCL in his left knee, has participated in the walkthrough sessions the last couple of days. He is not ready to practice full speed yet, however.
"He's working his way back and he's feeling better," said coach Jason Garrett, who has ruled Claiborne out of Monday night's preseason opener. "We'll anticipate him working back into it here in the next few days."
Claiborne spent much of Thursday afternoon's practice working with director of rehabilitation Britt Brown on resistance cords, running, backpedaling, planting and cutting.
"I felt pretty good coming out of the breaks and stuff," Claiborne said. "It's better."
November, 15, 2011
11/15/11
9:30
AM ET
By
Bryan Broaddus
| ESPNDallas.com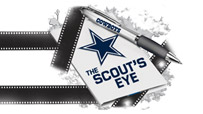 Jason Garrett has received much criticism for his play calling this season. In my view, not all of it has been fair because of the poor execution of the offense at times.
Garrett has struggled the most in the red zone, but on Sunday against the Bills, every play that he dialed up on his call sheet seemed to work just fine.
The DeMarco Murray Effect
I mentioned on 103.3 FM ESPN that not only has
DeMarco Murray
made this offensive line better, he has helped
Tony Romo
and made Jason Garrett a better play caller. The goal of any offensive coordinator is to stay ahead of the chains, no negative plays. Murray has allowed Garrett to calls plays at manageable downs and distances.
When you now study the Cowboys on offense, you do see the same plays: the draw, toss, and power. Garrett and this staff are running the same plays, they just have a back that is doing a better job of using his patience, vision and power to finish runs.
There are still plenty of times where
Montrae Holland
misses when he pulls or
Phil Costa
gets over powered on the front side or
Tyron Smith
doesn't quite get his head across the man on the backside. Murray's running style helps this offensive line when things aren't exactly blocked well or clean.
Something that I also want to point out about Murray that others have failed to mention is his ability as a pass protector. I counted three different times where Murray was asked to pick up a blitzing linebacker and all three times he was a square protector that did his job with solid skill and technique. One of the biggest things you worry about with rookie running backs is their ability to pass protect, but what you really worry about the most is their ability to block the right guy. Murray had no problem doing this.
Great grab: WR Robinson continues to impress
When the Cowboys signed wide receiver
Laurent Robinson
before the start of the season, I can honestly say that I didn't know much about his game or what he could have brought to the team. Robinson has been more than just a reliable third receiver. He functions well as the No. 2 guy.
Robinson has come in, learned the playbook and been super productive. Robinson runs nice routes and adjusts well to the ball on the move. More importantly, he has become a target that the quarterback feels very comfortable throwing the ball to in any situation.
PODCAST
Bryan Broaddus, official scout of ESPNDallas.com, breaks down the film from the Cowboys' impressive win over the Bills.

Listen

On his first of his two touchdowns against the Bills, the Cowboys go empty formation with three wide receivers and two tight ends.
Jason Witten
is lined up in line to the left,
Martellus Bennett
in line to the right.
Dez Bryant
is lined up wide right with
Kevin Ogletree
slot left and Robinson wide left. Romo is lined up in the shotgun, and by the alignment of the Bills defense, he knows that he is going to get pressure from his left side.
At the snap, Robinson is met two yards deep in the end zone by cornerback
Drayton Florence
, who carries Robinson deep into the end zone. Robinson feels himself getting cut off in route by Florence. Robinson, running hard to his left, stops after seeing that Romo has now rolled to his side. Robinson shifts his weight, and comes back to the right. Florence loses Robinson on the adjustment, allowing Robinson to gain space in the back of the end zone.
In the blocking scheme up front for the Cowboys, Witten is staying in to block, but it looks like he doesn't slide down inside with Free to pick up the safety
Bryan Scott
. Instead he is blocking on the outside on linebacker
Arthur Moats
. Scott now has a free run at Romo, who sees what is happening and spins to his left out of the pressure. Romo is able to square his shoulders and deliver the ball to Robinson in the back corner of the end zone with no one around him.
Nice adjust by Robinson, great read from Romo and the first of two touchdowns for a player that was picked up off the street before the season that is making a big difference in this offense.
Nowhere to run: Cowboys defense plugs the holes
There are times when you study an opponent and believe there are potential problems that you will have to deal with throughout the day if you are going to find a way to win that game.
My belief going into this game against the Bills was that they would give the Cowboys problems defensively with
Fred Jackson
running the ball and
Ryan Fitzpatrick
delivering it quickly from the pocket. I had seen the Bills move the ball with a wide-open attack that stretched defenses to their edges to defend the entire field. This is an offense that uses four- and five-wide sets that features screens and crossing routes at different levels.
The more I studied this Bills offense, the less I fully trusted that this Cowboys defense could truly defend them down after down.
On the other side, the Bills defense did not present that much of a problem from what I was able to observe. Sure this was a team that was ranked first in the league in takeaways but I felt that if the Cowboys protected the ball offensively, they could create some problems of their own.
Defensively, the biggest question for the Cowboys was whether the run defense could contain Jackson, who on tape played with impressive power and explosiveness. He was one of those backs that made you pay if you were not in good position to make a wrap-up tackle.
In the previous two weeks, the Cowboys really struggled in the stopping the run. The primary problem was at defensive end, but run fits with their linebackers were an issue as well. When you have outside linebackers like
DeMarcus Ware
and
Anthony Spencer
, they want to get up the field in a hurry. This puts pressure on your ends to hold the point of attack while taking on blocks.
Kenyon Coleman
,
Marcus Spears
,
Jason Hatcher
and
Sean Lissemore
had been getting moved off their spot and not stacking the point of attack.
When the ends are able to hold that point, it makes the jobs of
Sean Lee
,
Keith Brooking
and
Bradie James
much easier to get to the ball and finish plays.
When I studied this Buffalo line, I was not impressed with their ability to get push but was impressed with their ability to stay on their feet and sustain their blocks. The Cowboys had success in the first half against Jackson, not allowing him any room to run or the lanes to make those cutback runs. Jackson is at his best when he can attack the hole and if nothing is there, then bounce the ball outside.
Spears and Coleman were able to hold the point and physically take the game to this offensive line, not allowing any type of movement. The Cowboys defensive ends were physical in this game and that is why the Bills were unable to move the ball in the first half when the game was still in the balance.
In the second half, Jackson was able to hit on some runs that were more a product of spreading the Cowboys out and defenders missing tackles.
Jay Ratliff
had a missed tackle in the hole, Lee was trying to get Jackson down with one arm and was unable to. Carter got trapped inside and out of position, which led to a good gain, and he also had trouble getting off a block on another play that helped Jackson pad his numbers.
After the game, Rob Ryan said not to worry about what we saw from the run defense. I tend to agree because of what I saw in the first half and the way the Cowboys played at the point of attack. As long as Coleman, Spears, Hatcher and Lissemore can hold up on the outside, then you will see a team that was best in the NFL against the run through the first six weeks.
Sean Lee was much more than a cast player
When Lee dislocated his wrist two weeks ago against the Eagles and had to sit out the Seattle game, there was no question in my mind that if the swelling would go down and the pain would lesson, he would attempt to get back on the field as soon as possible. There was not going to be any questions of Lee's toughness. It was a matter of whether trainers Jim Maurer and Britt Brown could fit him with a cast that allowed him to play.
What Lee played with Sunday on his left hand and wrist did nothing more than protect his injury. For a linebacker like Lee who is outstanding at playing with his hands, it truly was a handicap. Without the use of his fingers, Lee was reduced to a one-armed football player.
But what you have to remember about Lee is his incredible desire to get to the ball and also the football smarts that he possesses. A player that doesn't have these two traits would have been no good to his team with the condition he was trying to play under.
Lee had a plan to how he was going to tackle in this Bills game. He is so quick reading the play that it allowed him to almost hesitate just a bit to get his body in position to make the tackle with his shoulder. Once Lee was able to get close enough to the ball carrier, you could see him try to wrap his arms as quickly around the man as he could.
Lee played like he had no fear of using his hands, hurt or not. There were several times where as he was moving down the line, he was able to fire his hands inside, control the blocker, shed and make the tackle.
Watching him drop in his coverage and play in the red zone, you would have never known that he had a club on his hand. I mentioned before that he had one missed tackle of Jackson, but that was the only one that I saw. To his credit, he had an opportunity for several more misses, but it did not happen.
Going into this game, there was so much unknown of how Lee would be able to function in the defense and still be productive. At the end of the day, he was anything but a liability.
One mistake: Only 10 defenders on the field
The only touchdown that the Cowboys defense gave up against the Bills came with only 10 defenders on the field.
With the Cowboys leading 21-0, the Bills break the huddle with four receivers and one running back. Ryan counters with six defensive backs, two defensive linemen and two linebackers, which means there are only 10 players on the field.
In the previous two plays, DeMarcus Ware was not on the field and
Victor Butler
and
Alex Albright
were. At the snap, Lee, Hatcher, Ratliff and Spencer all rush. On the left side of the Cowboys defense, Bills wide receivers
Donald Jones
and
David Nelson
are lined up with Nelson in the slot and Jones outside.
Frank Walker
is lined up over Jones with
Orlando Scandrick
on Nelson and safety
Abram Elam
two yards deep in the end zone.
When the Bills receivers break off the ball, Elam and Scandrick switch responsibilities. Jones carries Walker into Scandrick. Elam has Nelson on the goal line. Fitzpatrick, feeling the rush, sprints to his right. Jones is now open in the back corner of the end zone but Fitzpatrick makes the more difficult throw to Nelson, who is covered well by Elam. Nelson is able to snatch the ball away from Elam and gets into the end zone for the touchdown.
Garrett wouldn't say what happened on the play, but I have to feel like that either Ware or one of the backup linebackers were not on the field when they were supposed to be.
August, 28, 2010
8/28/10
5:08
PM ET
HOUSTON -- Dez Bryant targeted this trip to Reliant Stadium for his preseason debut. He settled for running routes full speed for the first time since suffering a high ankle sprain July 30.

Bryant ran routes and caught passes from Stephen McGee under the supervision of receivers coach Ray Sherman for at least 15 minutes before other players started warming up.

A similar session, in which Bryant ran three-quarters speed, was halted Thursday by associate athletic trainer Britt Brown. Bryant jogged through the rest of his routes that afternoon.

There were no signs that Bryant's right ankle gave him any trouble Saturday afternoon. He made several sharp cuts off his right foot without problems.

Bryant plans to push to play in the preseason finale Thursday against the Miami Dolphins. The Cowboys' training staff is likely to exercise caution with the first-round pick, but there's no question he'll be ready for the Sept. 12 season opener against the Washington Redskins.
August, 25, 2010
8/25/10
10:12
AM ET
By
Bryan Broaddus
| ESPNDallas.com
My thoughts from Tuesday's practice:
*The scout in me wants cornerback
Bryan McCann
to make this team.
PODCAST
ESPN NFL analyst Mark Schlereth answers the five big NFL questions on Doug Gottlieb's mind. Schlereth also says Cowboys offensive coordinator Jason Garrett needs to do a better job protecting QB Tony Romo with his playcalling.

Listen

McCann has come in and done everything that Dave Campo and
Brett Maxie
have asked him to do. He has played with quickness, smarts and competitiveness. McCann has shined against the club's top receivers on a daily basis and has done well in the Cowboys three preseason games.
McCann is one of my bubble players and has been for the last couple of weeks. The problem McCann faces is that he is in a secondary where fellow rookies
Barry Church
and
Danny McCray
have also proved that they belong on this final 53 as well.
McCann is a talented player, but he also plays a position where the Cowboys have three outstanding corners in Newman, Jenkins and Scandrick.
Cletis Gordon
, who makes an interception a day, has locked down the fourth corner spot.
Alan Ball
and
Akwasi Owusu-Ansah
are safeties that can also play outside as well.
In this secondary, the numbers don't favor McCann.
If he is released and he clears waivers, he will find a spot on the practice squad with
Jamar Wall
. On the practice squad, both McCann and Wall will benefit from working on a daily basis against receivers like Austin, Bryant and Crayton, so that will be a positive experience.
As much as I want this team to carry five corners and five safeties, I now believe that it's going the route of four corners and six safeties with the position flexibility coming from Ball and Owusu-Ansah.
Maybe there are other Bryan McCann's out there that you can find next year if he doesn't make it to the practice squad. There were several years where the evaluation of defensive backs on this squad was poor, but it now appears that the Cowboys scouting staff is going the right way.
The days of drafting corners like
Kareem Larrimore
,
Derek Ross
and
Dwayne Goodrich
appear over and for this team that is a good thing.
*Tuesday was the first day that the Cowboys had practiced in pads since last Wednesday. After two straight practices of hats and jerseys, it was nice to see them working in helmets and shoulder pads.
I always feel like this team gets more out of this dress than when they go without the pads. The half speed correction practices are necessary, but this team does a good job of working and protecting each other when they have the pads on.
When this team practices in hats and jerseys, it tends to look sloppy and unfocused. When you see this team practice in pads, your see the development of the scheme and the execution of the plays. To me, corrections are easier to make because you see the play being run how it was meant to be.
I had the opportunity to sit down with
Tony Romo
on our nightly "Training Camp Report" on 103.3 FM ESPN and ask him if the practices that Wade Phillips and the staff put together difficult enough to get this team ready.
Romo, being the old-school player that he is, said that practicing is never difficult for him and he enjoys it but you also have to take into account that he has teammates that play positions in the offensive and defensive line that endure constant banging and contact. Those big bodies get worn down so you have to be smart.
Romo makes a good point, Phillips does have to try and protect his guys for the long season but the work is better when this team is in its shoulder pads and helmets
*Noticed something new at practice today, with all the knee injuries to the offensive linemen (Colombo and Kosier) in practice, all the linemen were wearing their knee braces in shorts.
Usually when the team has a helmet and shoulder pads practice, the line will take the field without their braces. This practice of going onto the field without their braces appears will no longer be the case.
How important are these knee braces? I remember a game when I was working for the club when offensive tackle
Flozell Adams
came into the locker room at halftime with what appeared to be a knee injury. The play looked bad from the press box and I feared the worst. As Adams was sitting on the training table and the doctors were working on him, there was no structural damage and Adams was able to gather himself and return for the second half.
I remember trainer Britt Brown showing me the brace that was on Adams' knee that day and it was bent and twisted. It truly was a miracle that we didn't lose Adams to a serious knee injury. Without that brace, the scouting staff would be searching for the impossible task of finding a starting left tackle for the remainder of the season.
This training staff is usually ahead of the curve when it comes to injuries. This is just another example of their form of preventive medicine.
July, 27, 2010
7/27/10
5:44
PM ET
SAN ANTONIO – Wade Phillips announced during his afternoon press conference that
Felix Jones
would sit out a practice for precautionary reasons due to swelling in his knee. Minutes later, there was Jones wearing his helmet and shoulder pads and joining his teammates on the field.
Jones begged associate athletic trainer Britt Brown to let him practice. The swelling in the knee went down, so Brown gave his approval as long as Jones' reps were limited.
"I hate to miss practice," Jones said. "I feel like I'm losing ground. But I felt good. I just decided to practice."
Jones said he has no concerns about the knee, but the athletic training staff will closely monitor it. It's his left knee, which is the one that suffered a torn posterior cruciate ligament to cause him to miss two games last season.
There are doubts about the durability of Jones, who bulked up to 220 pounds and will probably get an increased workload this season. He missed a total of 20 games with a hamstring tear, torn toe ligament and the knee injury in his first two seasons.
"The guy is a tough guy," running backs coach Skip Peete said. "The injuries that he's had, I don't care who you are, you're not going to play."
Jones talked his way onto the practice field Tuesday afternoon, but he'll have to sit if the swelling returns.
June, 11, 2010
6/11/10
1:16
PM ET
IRVING, Texas – Rookie receiver
Dez Bryant
declared himself ready to practice after missing the first workout of the Dallas Cowboys' three-day minicamp due to a sore left hamstring.
Bryant, the Cowboys' first-round pick, felt soreness in his hamstring during the early portion of Tuesday's voluntary workout and hasn't practiced since then. He has done conditioning drills on the side with associate athletic trainer Britt Brown while his teammates practiced.
Brown put Bryant through a strenuous workout with resistance chords Friday morning, a test to determined whether he could participate in the rest of the minicamp.
"I feel 100 percent," Bryant said. "I'll be ready to go this afternoon."
Bryant has dealt with a variety of ailments since missing most of last season at Oklahoma State due to an NCAA suspension. His hamstring bothered him during the pre-draft process, leading him to push back his pro day. He has had a twisted ankle, sore hip, stomach virus and sore hamstring since the beginning of the Cowboys' rookie minicamp last month.
"I just feel like it's all part of football," Bryant said. "I'm going to get my injuries taken care of and get back and join my teammates. I'm just ready to get back to practice."
December, 18, 2009
12/18/09
11:06
AM ET
During his Friday radio show, owner/general manager Jerry Jones didn't offer anything new on
DeMarcus Ware
's status.
"The good news is that, aside from his soreness, he certainly does physically have the ability to play," Jones said. "We'll just determine that as to how he's feeling at game time."
Wade Phillips had hoped that Ware's status would be determine before the Cowboys left for New Orleans. That didn't happen. Ware is listed as questionable for Saturday night's game against the Saints.
Phillips said a key would be how Ware performed during Thursday's practice. However, Ware did not participate. He wore a helmet and worked out on the side with associate athletic trainer Britt Brown and strength and conditioning coach Joe Juraszek.
In other injury news, free safety Ken Hamlin is listed as questionable, but he is expected to play after missing four games with a high ankle sprain. Hamlin had limited participation in all of the Cowboys' practices this week.
Fullback Deon Anderson did not participate in Friday's walkthrough because of an illness, but he is listed as probable.