Dallas Cowboys:

bryce brown
May, 7, 2014
May 7
9:00
AM ET
IRVING, Texas -- The
Dallas Cowboys
have 11 picks in the upcoming NFL draft. Over the next two days we will look at the players taken at those 11 spots in the past five drafts to get an indication of the type of player who could be available.
Today we look at Rounds 4-7:
Fourth round (No. 119 overall)
2009 S
D.J. Moore
, Chicago
2010 LB
A.J. Edds
, Miami
2011 RB
Delone Carter
, Indianapolis
2012 LB
Keenan Robinson
, Washington
2013 S
Phillip Thomas
, Washington
Notable:
Moore has played in 47 games -- three starts -- in his career and has two interceptions. He might be the best pick. Carter had 499 yards in two years with the Colts and was with Jacksonville last season. The Redskins have not gotten much from their last two fourth-rounders. Thomas suffered a foot injury in the preseason and was on injured reserve in 2013. Robinson has torn both pectoral muscles in his first two seasons.
Fifth round (No. 158)
2009 LB
Cody Glenn
, Washington
2010 C
Matt Tennant
, New Orleans
2011 DB
Jermale Hines
, St. Louis
2012 DE
Jack Crawford
, Oakland
2013 TE
Luke Willson
, Seattle
Notable:
Crawford played in 15 games last season for the Raiders but does not have a sack yet in his career. Willson played in every game last season for the Seahawks and caught 20 passes for 272 yards and a touchdown. Glenn, Tennant and Hines are out of the NFL.
Seventh round (No. 229)
2009 WR
Manuel Johnson
, Dallas
2010 C
Erik Cook
, Washington
2011 DB
Jonathan Nelson
, St. Louis
2012 RB
Bryce Brown
, Philadelphia
2013 DL
Everett Dawkins
, Minnesota
Notable:
Johnson kicked around mostly on the practice squad for the Cowboys. Dawkins spent a brief stint with the Cowboys last season. Brown is a talented runner but he's behind
LeSean McCoy
and
Darren Sproles
. Cook's older brother, Ryan, spent the last two seasons with the Cowboys.
Seventh round (No. 231)
2009 DB
Jamarca Sanford
, Minnesota
2010 OT
Selvish Capers
, Washington
2011 DL
Frank Kearse
, Miami
2012 WR
Toney Clemons
, Pittsburgh
2013 DE
Ty Powell
, Seattle
Notable:
Kearse is with the Cowboys and could be a rotation player in 2014 after spending a few weeks with the team last season. Powell is now with the
Buffalo Bills
. Clemons caught three passes for 41 yards last year for Jacksonville and is now with Carolina.
Seventh round (No. 238)
2009 DB Stoney Woodson, NY Giants
2010 DT
Ricardo Mathews
, Indianapolis
2011 TE Daniel Hardy, Tampa Bay
2012 WR
Junior Hemingway
, Kansas City
2013 WR
Aaron Mellette
, Baltimore
Notable:
Mathews is the most accomplished player and signed as a free agent with Houston after making six starts for the Colts. Hemingway caught 13 passes for 125 yards and two touchdowns last season. He caught one pass for 10 yards vs. the Cowboys.
Seventh round (No. 248)
2009 TE
Cameron Morrah
, Seattle
2010 DT Kade Weston, New England
2011 DB
Eric Hagg
, Cleveland
2012 OL
Kelvin Beachum
, Pittsburgh
2013 S
Daimion Stafford
, Tennesse
Notable:
Beachum has worked into a starting role with the Steelers after his career at SMU. He started 12 of 15 games in 2013. Hagg and Morrah are now teammates in Denver.
Seventh round (No. 251)
2009 WR Derek Kinder, Chicago
2010 DB
Stevie Brown
, Oakland
2011 DB
Tommie Campbell
, Tennessee
2012 K
John Potter
, Buffalo
2013 OL
T.J. Johnson
, Cincinnati
Notable:
Brown found a home with the
New York Giants
in 2012 and had a two-interception game against the Cowboys. He did not play last year because of a knee injury but re-signed with the Giants in March.
Seventh round (No. 254)
2009 OL Trevor Canfield, Arizona
2010 LB
Josh Hull
, St. Louis
2011 DL
Cheta Ozougwu
, Houston
2012 No selection
2013 TE
Justice Cunningham
, Indianapolis
Notable:
Ozougwu was Mr. Irrelevant and is now with the Bears. He had one sack in seven games last year. Cunningham made it to the Colts active roster last year but was a late-season pickup by St. Louis. Hull recently signed with New England and has mostly been a special teamer.
June, 28, 2013
6/28/13
12:43
PM ET
»
NFC Eight in the Box:
East
|
West
|
North
|
South
»
AFC:
East
|
West
|
North
|
South
Other than the quarterback, which player could each NFC East team least afford to lose to injury? Here's a look:

Dallas Cowboys: OT Tyron Smith
Smith is a great talent in his own right, a rising 22-year-old star who's quick and strong and physical enough to develop into one of the league's top tackles. His issues with penalties last season likely can be blamed on the transition from right to left tackle, and because he won't even turn 23 until Week 15 of this coming season, it's fair to believe he'll only get better. But what makes him truly indispensable is how much better he is than anyone else on the Cowboys' offensive line. Dallas has tried to patch together its line with second-tier talent for quite a while now, and it's become a major annual weakness. Using a first-round pick on Smith in 2011 and another on center
Travis Frederick
this year shows that it's finally willing to address it by spending more significant resources, but there's still a big drop-off in talent level to the Doug Frees, Nate Livingses and Mackenzey Bernadeaus in the room. If the Dallas line had to play without Smith, the weaknesses of the other linemen would become more apparent and more damaging.

New York Giants: WR Hakeem Nicks
We saw what happened to the offense last season when Nicks was either missing time or playing hurt. As great as
Eli Manning
and
Victor Cruz
are, Nicks at the No. 1 wideout spot is a major, versatile weapon who makes the offense function at a higher level when he's on the field. The Giants' running back corps this season is unproven, and they have a new tight end, as usual, so the wide receivers have to be the guys on whom Manning can rely. And then there's this off-field matter to consider: Nicks is the Giants' main leverage in their ongoing contract negotiations with Cruz. If Nicks is healthy and great, they can get away with offering Cruz less because he's less of a player. But if Nicks is hurt, their need to keep Cruz gets more dire, and he's likely to demand and get more.

Philadelphia Eagles: RB LeSean McCoy
When McCoy went down with an injury in the second half of last season, backup
Bryce Brown
showed plenty of explosiveness and big-play ability. Unfortunately, he also showed a disturbing tendency to fumble the ball at the worst possible times. Even if Brown were more reliable, McCoy would be a difficult player to replace. His running style is unique among the star running backs in the league today -- no one makes quicker cuts or finds holes more efficiently. And considering how questionable the Eagles' quarterback situation is and the extent to which Chip Kelly's offense is expected to lean on the run game and the short-passing game, there's no player on the Eagles' offense more important to their point-scoring prospects this season than their star running back.

Washington Redskins: NT Barry Cofield
The popular Redskins answer when I put this question on Twitter on Thursday was left tackle
Trent Williams
. And while I agree that Williams is an outstanding player whose absence would hurt the offense and
Robert Griffin III
, I also think Griffin's running ability at quarterback helps the Redskins combat whatever issues the offensive line may have. So in a close call, I'm giving this to Cofield, whose impact on the Redskins' 3-4 defense at the nose tackle position is a bit underappreciated. It seemed like an odd fit when the Redskins signed Cofield to play nose tackle, a position he hadn't played in the NFL, but his strength, athleticism and leadership have helped him grow quickly into one of the best nose tackles in the league and a vital piece on Washington's defensive line. If the Redskins lost Cofield, they could find someone to plug up the middle, but whoever it is wouldn't bring the same kind of speed and versatility. Cofield makes plays in the backfield that other interior defensive linemen can't make.
May, 24, 2013
5/24/13
11:07
AM ET
»
NFC Eight in the Box
:
East
|
West
|
North
|
South
»
AFC
:
East
|
West
|
North
|
South
How does each NFC East team look at running back, and what still needs to be done?
Dallas Cowboys

After a season in which they ranked third in the league in passing yards and 31st in rushing yards, the Cowboys seek greater balance in their offense. Any balance, actually. The starting running back remains
DeMarco Murray
, whose toughness and physical style give the Cowboys an extra dimension when he's on the field. Murray's problem is staying on the field, as he's had to miss nine games over his first two NFL seasons due to injury. The team let
Felix Jones
leave as a free agent and drafted Oklahoma State's
Joseph Randle
in the fifth round. It's no coincidence that Randle is a back who didn't miss a single game in his college career. The Cowboys needed someone durable and reliable to back up Murray, who's already struggling with hamstring problems this offseason, and neither
Lance Dunbar
nor
Phillip Tanner
showed enough in limited work last year to prove he was the backup they needed. What the Cowboys need at running back is to get and keep Murray as healthy as possible and to get Randle up to speed so he's ready to step in when he's inevitably needed as the fill-in starter.
New York Giants

The Giants let starting running back
Ahmad Bradshaw
depart via free agency, a difficult choice necessitated by salary and health concerns. That likely leaves the running game in the hands of 2012 first-round draft pick
David Wilson
, who opened eyes as a big-play threat and a kick returner in his rookie season, and
Andre Brown
, who functioned as a reliable goal-line back before an injury ended his season. Either should be able to handle full-time starter duties, and it's likely the team will split carries somewhat between them anyway. What the Giants need to do is establish whether Wilson and/or Brown can handle the pass-blocking duties at which Bradshaw excelled for so long. If one of them demonstrates superior performance in blitz pickup, that's likely to give him the edge for playing time over the other. With fullback
Henry Hynoski
out now with a knee injury, and with excellent run-blocking tight end
Martellus Bennett
now a Chicago Bear, the Giants remain on the lookout for reliable blocking backs. The recent injury to
Tim Hightower
shows that, and it remains to be seen whether
Ryan Torain
,
Da'Rel Scott
or seventh-round draft pick
Michael Cox
can be part of the solution.
Philadelphia Eagles

Every prediction about Chip Kelly's offense claims certainty that the Eagles will use the run game and the screen game more this year than they did in the past.
LeSean McCoy
remains the starter, and one of the best running backs in the league when healthy.
Bryce Brown
showed when McCoy got injured last year that he could handle starter's responsibilities brilliantly, but his fumble problems obviously must be overcome if he's to be trusted with significant carries. The Eagles signed Cowboys castoff Felix Jones for depth, and they still have
Chris Polk
, so the candidates for carries are plentiful this offseason. What remains for the Eagles is to establish the manner in which they'll distribute those carries (and catches) among their backs in an offense that will try to run as many plays as possible every game.
Washington Redskins

Sixth-round pick
Alfred Morris
came from the back of the depth chart last offseason to overtake Hightower,
Roy Helu
and
Evan Royster
to claim the starting running back job, and he quite literally ran with it. A perfect fit in Mike Shanahan's one-cut zone-blocking run schemes, Morris finished second in the NFL with 1,613 rushing yards as a rookie and delivered a 200-yard, three-touchdown masterpiece in the regular-season finale/division-title game against the Cowboys. Shanahan does love to play the volume game at running back, and he still has Helu and Royster as well as late-round 2013 draft picks
Chris Thompson
and
Jawan Jamison
. What remains for the Redskins is to figure out the pecking order behind Morris and work to find ways to use the talent they have at running back to ease some of the physical pressure on quarterback
Robert Griffin III
. It's also important to note that Washington was able to re-sign fullback
Darrel Young
, a key figure in a run game that led the league with 169.3 yards per game in 2012.
March, 8, 2013
3/08/13
9:08
AM ET
After reading
this from Calvin
about whether the Cowboys would pursue
Michael Turner
, and then
this Monday from Mike Jones
about the Redskins' running back depth chart, I thought to myself, "That's a good idea. Let's do a post on the NFC East running back situations." So, let's.

Dallas Cowboys
Assuming they move on from
Felix Jones
, the Cowboys will be in the market for a running back who can spell starter
DeMarco Murray
and, if need be, replace him when he gets injured. Unlike Calvin, I actually think someone like Turner or former Giants running back
Ahmad Bradshaw
would work here. They need someone who's used to carrying the load, since it doesn't appear as though they can count on Murray lasting a whole season. And even if he did, they'd need someone who can replace him for long stretches during the game in order to help keep him healthy. I understand the temptation for a speed back as a change of pace, but Jones was supposed to be that and it didn't work. Why not a veteran grinder who runs with power and is used to playing in a passing offense? Someone like
Phillip Tanner
or
Lance Dunbar
could develop into what they need behind Murray, but it's not a bad idea to bring in someone with experience just in case they don't.

New York Giants
After cutting Bradshaw, the Giants appear set to go with second-year man
David Wilson
as the lead back and, assuming they re-sign him,
Andre Brown
as the goal-line guy. Maybe Brown's duties increase over what they were last year behind Bradshaw. And maybe Wilson isn't (a) ready or (b) the right kind of back to handle the running and pass-protection responsibilities in the Giants' offense. They ended the season with guys like
Ryan Torain
and
Kregg Lumpkin
on the roster for depth, and they could go back to one or both of them. I imagine they'll give Wilson the shot at the lead-back role, but they'll want to be protected in case he can't handle it. So don't be surprised if they bring a few backs to camp that you've heard of.

Philadelphia Eagles
The Eagles look pretty well set with
LeSean McCoy
and
Bryce Brown
as electric playmakers in the backfield. They also still have
Dion Lewis
and
Chris Polk
kicking around for depth. I don't see this as a need area for the Eagles this offseason.

Washington Redskins
As Mike points out in that link up there, it appears the Redskins would like to find someone who can fill in for workhorse starter
Alfred Morris
on third downs. That could certainly be
Roy Helu
if he could manage to stay healthy, but to this point he has not done that, and Mike Shanahan will surely want to bring four or more backs to camp for depth and competition purposes. As great as Morris' rookie season was -- and it was fantastic -- this is a position at which Shanahan has a well-known history of trying to stay ahead of the curve. If the Redskins' running game hierarchy is altered in 2013 from what it was in its very successful 2012, it would not be a surprise.
January, 8, 2013
1/08/13
11:30
PM ET
At some point this offseason, Jason Garrett will lean back in his favorite chair, close his eyes and ponder what might have been.
There were 2,035 plays in the Cowboys' 2012 season, but some are considerably more memorable than others - and it doesn't matter whether they went for Cowboys or against them.
What if
Dez Bryant
's pinkie hadn't come down out of bounds against the
New York Giants
in the final minute? Or what if a Washington safety hadn't knocked the ball out of Bryant's arms, breaking up an apparent touchdown, in the fourth quarter on Thanksgiving Day?
What if
Eric Frampton
had recovered New Orleans receiver
Marques Colston
's fumble instead of tight end
Jimmy Graham
?
If, if, if. That's the story of the NFL every year.
A play here or there and the Cowboys would've made the playoffs. It's the reason Garrett is forever saying every play in every game matters.
"It allows you to argue your point to your players that it's really really close each and every week in this league," Garrett said. "All these things that happened to us this year where plays went against us.
"If that play had been different we would've won that game. Or, similarly, plays that went for us that helped us win ballgames. There were a number of those too. It's the nature of the NFL."
Without further ado,
let's continue the countdown
:
[+] Enlarge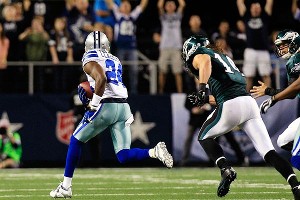 AP Photo/LM OteroMorris Claiborne's game-clinching 50-yard fumble return for a touchdown was one of the few bright spots in Week 13 for the Cowboys defense, which allowed the Eagles a season high in points scored.
Situation:
Second-and-7 from Philadelphia 44
Score:
Dallas, 31-27
Time:
4:03 left in fourth quarter
Taylor's Take:
Bryce Brown
had ripped through the Cowboys' defense for more than 150 yards, so their four-point lead felt tenuous. But as Brown burst through yet another hole, nose tackle
Josh Brent
dragged him down and poked the ball loose. Morris Claiborne scooped it up and sprinted untouched into the end zone for the game-clinching touchdown.
Season Impact:
Having lost the week before to Washington, dropping their record to 6-6, the Cowboys were essentially in a must-win situation. Philadelphia, playing without
Michael Vick
and
DeSean Jackson
, made Brown the focal point of the offense -- and he nearly delivered a win. The Cowboys' inability to stop the run proved to be a harbinger.
December, 8, 2012
12/08/12
10:00
AM ET
»
NFC Final Word
:
East
|
West
|
North
|
South
»
AFC
:
East
|
West
|
North
|
South
Five nuggets of knowledge about Week 14:
Rookies making history.
The
Washington Redskins
are the first team in NFL history to feature both a 2,000-yard rookie passer (
Robert Griffin III
) and a 1,000-yard rookie rusher (
Alfred Morris
). Griffin is poised to join Morris as a 1,000-yard rusher if he can average 71.5 rushing yards per game the rest of the way. Griffin already is just the fourth player in league history to pass for at least 2,500 yards and rush for at least 700 yards in a single season, joining
Cam Newton
(2011),
Michael Vick
(2002) and
Randall Cunningham
(1990). The Redskins are 6-6 and pushing for a playoff spot, and the success or failure of the rookie engines of their offense over the final four games could determine whether they can get in.
[+] Enlarge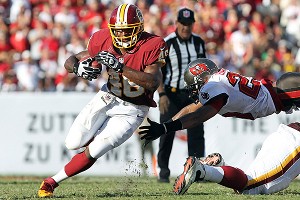 Kim Klement/US PresswireRookie running back Alfred Morris has rushed for 1,106 yards and six touchdowns this season.
Outside the numbers.
Per ESPN Stats & Information, the top two wide receivers in the NFL this season on passes thrown outside the painted numbers are the
Dallas Cowboys
'
Dez Bryant
and the
Cincinnati Bengals
'
A.J. Green
, who will be on the same field Sunday in Cincinnati. Green leads the NFL with 49 receptions and eight touchdowns on such throws, and is averaging 13.8 yards per reception outside the numbers. Bryant has 42 catches and six touchdowns, and is averaging 14 yards per reception on throws outside the numbers. These two are going to be a nightmare for the opposing cornerbacks in this game if they're trying to cover them man-to-man.
Flipping the rookie script?
Philadelphia Eagles
rookie running back
Bryce Brown
has been more impressive since taking over for concussed starter
LeSean McCoy
than rookie quarterback
Nick Foles
has been filling in for concussed starter Vick. But that could change this week in Tampa Bay. The Buccaneers are allowing just 82.3 yards per game on the ground this season, the lowest figure in the NFL. They are allowing an NFL-high 309.4 yards per game through the air, which could turn out to be historically bad. No team in NFL history has allowed an average of 300 or more passing yards per game over a full season. So Foles has a chance for his best game yet, while Brown is likely to find the going tougher this week.
Not going to be a Brees.
New Orleans quarterback
Drew Brees
is 4-0 with 11 touchdown passes and no interceptions in his four career games against the
New York Giants
, who host the Saints on Sunday in New Jersey. ESPN Stats & Info tells me the 11 touchdowns are tied for the most any player has had against a team that has not intercepted him.
Drew Bledsoe
had 11 touchdown passes and no interceptions in his career against the Cardinals. Of course, the Giants could be catching Brees at the right time. He threw five interceptions and no touchdowns in Week 13 against the Falcons in Atlanta. It broke a league-record streak of 54 consecutive games in which Brees had thrown at least one touchdown pass.
On the ground.
Neither the Saints nor the Giants have been very good at stopping opposing runners in the backfield. New Orleans is allowing an average of 3.4 yards per rush before initial contact, which is the second-highest figure in the league, while New York's 3.2 yards allowed per rush before initial contact is third worst in the league. So
Ahmad Bradshaw
and whichever Saints running backs are active this week could have an easier time than usual making it to at least the line of scrimmage.
December, 4, 2012
12/04/12
2:00
PM ET
IRVING, Texas -- One of the more productive players for the Cowboys this season has been backup nose tackle
Josh Brent
. In the
Philadelphia Eagles
game on Sunday night, Brent forced a fumble of running back
Bryce Brown
, leading to cornerback
Morris Claiborne
to return the fumble 50-yards for a touchdown.
Claiborne's score sealed the game for the Cowboys, giving them a 38-27 lead at the time, but it was Brent's play that led to it.
Out of 28 snaps on Sunday night, Brent had two tackles, faced constant double-teams and of course forced the fumble. Brent is getting extensive playing time with
Jay Ratliff
out with a groin injury for the second consecutive game.
"He's really matured as a player," coach Jason Garrett said of Brent. "He's been a spot player for us in the past, a handful of snaps here and there in each of the ballgames, but because Ratliff has been out for a large part of the season, he's played a lot more. He's matured a lot. That can happen with players. You give them an opportunity to play more and some guys expose themselves and some guys rise up and become better players and prove to you that, 'Hey, I can be a starter in this league.' I think he's shown that."
Brent has position flexibility because he's also played some defensive end because of injuries to
Sean Lissemore
and
Kenyon Coleman
. But with Ratliff out mainly, he's missed a total of six games because of injuries, Brent's value has risen with the Cowboys.
"He's a natural nose tackle," Garrett said of Brent. "He's a two-gapping nose tackle, that's the body type, but he's also a pretty good athlete. He can make plays from side to side. I think he's grown every week. I think he's taken advantage of the opportunity we've given him."
December, 3, 2012
12/03/12
1:23
AM ET
November, 30, 2012
11/30/12
10:00
AM ET
Because we all spend way too much time each week working on our fantasy teams anyway, here at the NFC East blog we like to take one post a week and focus it entirely on fantasy football. This is that post. It shows where our division's key players fall in this week's rankings by ESPN.com's fantasy football experts. Click on the position to see the full rankings for that position.
QUARTERBACKS
T5.
Robert Griffin III
,
Washington Redskins
vs.
New York Giants
(Mon.)
9.
Tony Romo
,
Dallas Cowboys
vs.
Philadelphia Eagles
10.
Eli Manning
, Giants at Washington (Mon.)
I honestly think Romo's too low. The past two quarterbacks to play the Eagles have won NFC Offensive Player of the Week awards. Romo himself was 19-for-26 for 209 yards and two touchdowns against the Eagles three weeks ago, but Philadelphia's pass defense has reached new depths since then. They're literally not covering anyone. On the flip side, neither
Nick Foles
nor
Michael Vick
is in this week's top 25. Vick looks to be out again with a concussion, and Foles isn't doing anything in his stead.
RUNNING BACKS
9.
Alfred Morris
, Redskins vs. Giants (Mon.)
13.
Ahmad Bradshaw
, Giants at Washington (Mon.)
14.
Bryce Brown
, Eagles at Dallas
T27.
Felix Jones
, Cowboys vs. Eagles
41.
David Wilson
, Giants at Washington (Mon.)
43.
DeMarco Murray
, Cowboys vs. Eagles
I picked up Wilson in a league in which I've already secured a playoff spot, but I didn't do it because I expect him to assume
Andre Brown
's touchdown-maker role. I did it because of the reasonable chance he's the Giants'
starting
running back in at least one of the next four games. If you're desperate, you could use him this week on the off chance he breaks a big one, but Bradshaw's likely to get those goal-line carries Brown was getting, as long as he stays healthy. Speaking of healthy, it appears Murray might play Sunday night, but that situation is murky enough that I might stay away from it and just play the Cowboys passing-game guys this week against Philly. Especially since you might not know Murray's status until after all of the early games are over.
WIDE RECEIVERS
8.
Dez Bryant
, Cowboys vs. Eagles
T9.
Victor Cruz
, Giants at Washington (Mon.)
11.
Hakeem Nicks
, Giants at Washington (Mon.)
24.
Pierre Garcon
, Redskins vs. Giants (Mon.)
28.
Miles Austin
, Cowboys vs. Eagles
39.
Jeremy Maclin
, Eagles at Dallas
46.
Santana Moss
, Redskins vs. Giants (Mon.)
Nicks and Cruz are every-week musts, and the matchup against the Redskins' pass defense is enticing. But man, those Redskins have a way of giving the Giants' passing offense fits. Other than the one big play that won the Giants the Week 7 game, Manning hasn't thrown a touchdown pass against Washington over the past two seasons. Austin's low ranking is health-related, I have to assume. Ed Werder has been reporting this week that Austin will play, and if he does I would start him. Garcon as a low WR2/high WR3 in 12-team leagues seems about right, especially with 10 days' rest.
TIGHT ENDS
3.
Jason Witten
, Cowboys vs. Eagles
12.
Martellus Bennett
, Giants at Washington (Mon.)
22.
Brent Celek
, Eagles at Dallas
25.
Logan Paulsen
, Redskins vs. Giants (Mon.)
Starting to feel redundant, but yeah, Witten. If I'm trying to make the fantasy playoffs and I can start a guy who's going to be running pass routes against the Eagles, I'm going to start him.
KICKERS
1.
Lawrence Tynes
, Giants at Washington (Mon.)
9.
Dan Bailey
, Cowboys vs. Eagles
T17.
Kai Forbath
, Redskins vs. Giants (Mon.)
All of the division's kickers have been good, including unranked
Alex Henery
of Philadelphia. Tynes' team gives him the most chances, though.
TEAM DEFENSE
9. Cowboys vs. Eagles
16. Giants at Washington (Mon.)
24. Redskins vs. Giants (Mon.)
T27. Eagles at Dallas
Yeah, Cowboys are the only NFC East defense I'd start this week. But I'd feel pretty good about doing it.