Dallas Cowboys:

Carson Palmer
April, 24, 2014
Apr 24
11:00
AM ET
IRVING, Texas -- For a team that has lived in an 8-8 neighborhood the past three seasons and missed the playoffs in Week 17 each time, every game is a key game.
But there are five that stand out as musts for the Cowboys if they want to make the playoffs for the first time since 2009. And it might not be the five you are thinking of, such as the season opener against the
San Francisco 49ers
or the season ender against the
Washington Redskins
.
Let's take a look:

Sept. 21 at St. Louis Rams:
You might think this is an odd choice, but the Cowboys need to win games they are supposed to win. If this game was at AT&T Stadium, then you could book
DeMarco Murray
for at least 150 yards and the Cowboys winning big. Since it is in St. Louis, it will be more difficult but not impossible. The last time the Cowboys visited the Arch, they were pasted 34-14 in 2008 with
Tony Romo
out because of a busted pinky. The Cowboys missed the playoffs that year by one game. The Rams were a different team at the end of last season than they were when they played the Cowboys in Week 3, but if Dallas wants to be serious, then this is a game they must win.
Oct. 5 vs. Houston Texans:
The Texans were 2-14 last year and have a new coach and will have a new quarterback, potentially even a rookie. But Houston has more talent than most 2-14 teams. Last year just snowballed on them and they could do nothing about it. This will be only the second trip to the area to play the Cowboys. In 2006, Tony Romo threw the first passes of his career against Houston in a 34-6 win. Why is this game important? It's sandwiched between a visit from the
New Orleans Saints
, who embarrassed the Cowboys last year, and a trip to take on the Super Bowl champion
Seattle Seahawks
. The Cowboys can't afford a three-game losing streak this early in the season.
Nov. 2 vs. Arizona Cardinals:
The easiest way to make the playoffs is to win the NFC East. In order to have a wild-card chance, the Cowboys need to win their out of division matchups in the NFC. The Cardinals finished 10-6 last year and look like a team that can contend for a postseason spot even in a division with the Seahawks and 49ers. For the Cowboys to have wild-card hopes, they will need to hold off
Larry Fitzgerald
,
Carson Palmer
& Co. in what concludes a three-game homestand.
Nov. 23 at NY Giants:
The NFL did not do the Cowboys any favors with this game being on NBC's "Sunday Night Football," which will mean the Cowboys have a quick turnaround on Thanksgiving against the
Philadelphia Eagles
. As much as we have discussed the Giants' success in Arlington, the Cowboys have won three of four games at MetLife Stadium. Coming off the bye week following their trip to London to take on the
Jacksonville Jaguars
, the Cowboys would be best served to continue their road success in the Meadowlands with the Eagles coming to AT&T Stadium four days later.
Dec. 4 at Chicago Bears:
The Cowboys were embarrassed at Soldier Field last year and
Jay Cutler
didn't even play.
Josh McCown
threw four touchdown passes against Dallas, and the Cowboys' offense was equally as abysmal. It might have been the worst effort of the season. If the Cowboys can win this game, then they could gain a wild-card edge. They would also have a 10-day break before heading to Philadelphia for a key NFC East matchup at Lincoln Financial Field on Dec. 14.
March, 13, 2014
Mar 13
9:00
AM ET
IRVING, Texas -- On Wednesday the
Dallas Cowboys
signed
Jeremy Mincey
to a two-year deal worth $4.5 million to be part of their defensive line rotation.
So who is Mincey?
I watched him play two games from last year while with the
Jacksonville Jaguars
against the
Tennessee Titans
and
Arizona Cardinals
. The Jaguars defense figures to look more like what the Cowboys defense will use in 2014 than what he did when he ended the season with the
Denver Broncos
.
According to an AFC personnel man, Mincey is mostly a left defensive end and is better against the run than the pass.
In those two games, he played all four spots on the defensive line but mostly played left defensive end. He moved into defensive tackle in passing situations and was able to generate a decent push up the middle. One thing I noticed: He was not on the ground a lot.
At times he would hesitate off the ball and wait to engage with a blocker, but he did not stop moving. While at right defensive end he was able to chase down
Chris Johnson
from the backside. At left defensive end he was able to handle the tight ends for the most part and was able to walk the tackle back into the quarterback.
His sack against the Cardinals came after
Carson Palmer
tripped pulling away from the center but he forced a sack when he bulled a tight end back into Palmer. When the Jaguars went to third-and-short distances, he was on the field.
Against the Titans he played 35 of 73 snaps. Against the Cardinals he played 26 of 69 snaps. It would not be wise to play him that many more snaps and the sense is the Cowboys would like to keep their snaps among their defensive linemen fairly even.
Mincey's versatility could allow
George Selvie
to spend more time on the right side, but I don't know if he is built to be a full-time right defensive end.
Selvie proved to be a find last year, picking up seven sacks. Mincey has a lot of Selvie's traits but he might not play with the same amount of thump.
October, 7, 2013
10/07/13
12:30
PM ET
IRVING, Texas – The Dallas Cowboys' 51-48 loss to the
Denver Broncos
was highly entertaining and highly frustrating, and there are plenty of statistical nuggets to pull from the game.
Thanks to the folks at Elias here are a few:
0-5:
Tony Romo
has passed for at least 400 yards in a game five times in his career, thanks to his franchise-record 506 yards Sunday, and lost all five games. The only other NFL quarterbacks to lose five games in which they passed for at least 400 yards are
Carson Palmer
(five of five),
Drew Brees
(five of 10), and
Dan Marino
(five of 13).
99: Combined points, the 4th-highest scoring game in NFL history that ended in regulation (14 shy of NFL record set in 1966 by Redskins and Giants, 113 points).
884: Combined passing yards by both teams tied for 3rd-most in an NFL game (most: Jan 1, 2012-- Lions at Packers, 971).
48: Points by the Cowboys, one shy of the NFL record for points in a loss (1963 Oilers scored 49 against the Raiders).
5: Romo is the 5th QB in NFL history with 500 passing yards and 5 TD passes in a game. The others are
Matt Schaub
,
Matthew Stafford
, Y.A. Tittle and Norm Van Brocklin.
120: Three Cowboys had 120 receiving yards. It's just the 2nd time in AFL/NFL history a team had three players with 120 receiving yards and a receiving TD in a game.
August, 18, 2013
8/18/13
4:00
PM ET
GLENDALE, Ariz. -- While the
Dallas Cowboys
' first-team offense didn't score in Saturday's loss to the
Arizona Cardinals
, the first-team defense did its part.
It forced a three-and-out on the first drive, but a turnover, a muffed punt by
Dwayne Harris
, forced the defense to defend just 22 yards and it gave up a field goal. The second possession, a long drive, ended when
Carson Palmer
threw an incomplete pass on fourth down to finish the first quarter. Defensive end
Jerome Long
provided the pressure.
The final time the first-team defense was on the field, it gave up a first down, an 11-yard pass, but forced the Cardinals to punt.
"It's certainly a positive when you get that at the end of the drive," coach Jason Garrett said of holding the Cardinals to a field goal. "Force them to kick field goals. But we are going to go back and look at it as trying to get stops earlier in the drive, you know, get them off the field and go from there."
During practice, the Cowboys prepared for the deep passes the Cardinals threw in their first preseason contest. For the game, the Cowboys allowed 365 yards to the Cardinals.
"We're still trying to be consistent," cornerback
Brandon Carr
said. "Each and every play, you gotta bring that attitude where the ball is coming your way. Guys are still learning the ins and outs of this defense of where everybody is supposed to be."
April, 4, 2013
4/04/13
11:00
AM ET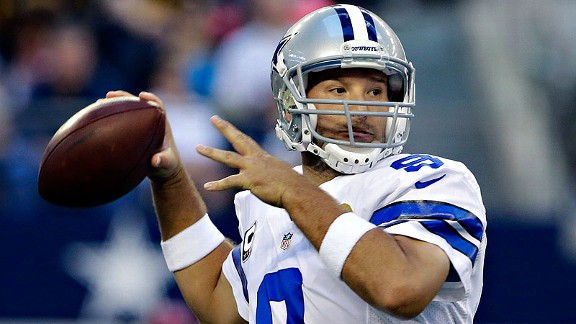 AP Photo/Tony GutierrezTony Romo has 18 fourth-quarter comebacks and 19 game-winning drives, including five last season.
Last week ended with the news of a massive contract extension for
Dallas Cowboys
quarterback
Tony Romo
. Although this news had been expected for some time, it was accompanied by the predictable wailing and gnashing of teeth about how Romo has never won anything, always blows it in the big games and isn't worth that kind of money. Few players are as polarizing as Romo, and everybody from
Dez Bryant
to Donovan McNabb offered a reaction of one extreme or the other.
PODCAST
Fitzsimmons & Durrett discuss Tony Romo's contract extension and what it says about Jerry Jones.

Listen

Then came the quarterback news from the early part of this week, and with it a heavy dose of perspective about just what Romo is and how thankful the Cowboys are to have him locked up long-term.
In case you missed it, the
Oakland Raiders
acquired
Matt Flynn
from Seattle in a trade, then traded
Carson Palmer
to Arizona.
Kevin Kolb
, formerly of Arizona, signed with the
Buffalo Bills
, who recently released
Ryan Fitzpatrick
. This week has been a big game of mediocre quarterback musical chairs, desperate teams settling for the least lousy options they can find on a market bereft of franchise quarterbacks.
Romo is not one of the elite quarterbacks of the NFL. That tier is reserved for record-breakers and champions. But he is a franchise quarterback -- someone around whose skills and ability a team can confidently build. Do the Cowboys wish he hadn't thrown three interceptions in the regular-season finale against the Redskins with the division on the line? Of course they do. But when they step back and see the big picture, they find ample reason to believe Romo is the quarterback for them.
PODCAST
ESPN Insider Ed Werder joins Fitzsimmons & Durrett to discuss Tony Romo's contract extension and what needs to happen for Romo to lead the Cowboys to a championship.

Listen

He has delivered for them. Not on the level Cowboys fans demand, which is to say a playoff and championship level, but Romo's career is not simply a laundry list of choke jobs. He has 18 career fourth-quarter comebacks and 19 game-winning drives, including five this past season alone. The Cowboys were 3-5 at one point in 2012 but won five of their next six to get back into contention for the division. The wins in that stretch included Romo-led comebacks against the Browns, Eagles, Bengals and Steelers. During that stretch, he threw 11 touchdown passes and three interceptions.
None of this erases or excuses Romo's miserable flop in Week 17 in Washington, but it does serve to illustrate that he can play quarterback at a high level. He isn't completely clueless about how to win games that need to be won when things aren't going well. If a quarterback shows he can do that, you have reason to believe that someday he might come through in that really big game that always has seemed to vex him. Romo is certainly good enough to win playoff games and a championship for the Cowboys. The fact that he hasn't done it yet doesn't rule out the possibility that it could happen someday. The Cowboys have seen enough good from Romo to warrant hope that he won't always be bad when they need him the most.
If that sounds like damning with faint praise, just look around and tell me who is both available and better. The main reason the Cowboys locked up Romo long-term is because they like him and believe they can win with him. But the deal also helps them against this year's salary cap and, more important, gives them the peace of mind. They won't have to sift through dispiriting, insufficient options year after year at the most important position on the roster.
Romo can't hide his flaws. His term as starting quarterback of the Dallas Cowboys has coincided with a down period in franchise history. He bears some responsibility for this, as does everyone connected with the team. Although the criticism of Romo can be over the top at times, it is not always without merit. He has flopped too many times in critical spots.
But oh, could it be worse, Cowboys fans. Whatever else he is, Romo is a quarterback who gives you a chance to win every week. He's a quarterback you've seen come back in the fourth quarter, many times. You've seen him make brilliant throws on the run after the play breaks down. You've watched him succeed and thrive, for weeks at a time, behind poor offensive lines and in spite of incompetent performances by injury-ravaged (or simply incompetent) defenses. He is exciting, and regardless of how many times he has played poorly in big games, he offers you legitimate reason to believe you're never out of it.
And when it comes right down to it, this week's NFL quarterback news poses the question quite clearly: Would you rather be stuck with Romo for the next half-decade or be one of these teams that has to play in the Flynn/Palmer/Kolb/Fitzpatrick end of the quarterback pool every year? Put it that way, and Romo's contract extension makes a lot more sense. The Cowboys are, in fact, lucky to have him.
August, 13, 2012
8/13/12
7:54
PM ET
OAKLAND -- The Cowboys and Raiders are scoreless after the opening quarter at O.co Coliseum.
*It's never good when the quarterback has to tell the referees where to spot the ball. The replacement refs spotted the ball on the infield dirt, nowhere near the hash marks.
Tony Romo
had to tell the refs where the ball should be placed.
*
Marcus Spears
, getting work with the second team, picked up two tackles and almost recovered a fumble.
*Cole Bealsey is getting early snaps. He was the slot receiver on the first three-receiver set and the Cowboys threw a pass to him but he was covered well by
Michael Huff
.
*Romo faced pressure on the second offensive possession. He avoided some pressure to get a pass to
Jason Witten
, but it led to a two-yard loss. The next play, Romo was trying to set up a screen pass to
DeMarco Murray
, but nose tackle
Tommy Kelly
slipped past
David Arkin
for the sack.
*The Cowboys started the first two defensive series using
Dan Connor
,
Sean Lee
and
Bruce Carter
at inside linebacker. When the Cowboys went with the second unit,
Barry Church
remained as the safety.
*The Cowboys had three special team penalties, allowing the Raiders' offense to stay on the field. Fullback
Jamize Olawale
ran into the punter,
Kevin Ogletree
was called for holding and
Teddy Williams
was offsides. Bad plays for three guys looking for roster spots.
*I didn't like
Dez Bryant
playing tonight, but he made a 24-yard reception on the first pass play of the game. Bryant looked like he had a bounce in his step and seemed mostly recovered from his hamstring injury.
*
Gerald Sensabaugh
did a nice job of getting the first turnover of the preseason. He moved over from center field to help
Orlando Scandrick
intercept a
Carson Palmer
pass.
April, 26, 2011
4/26/11
4:10
PM ET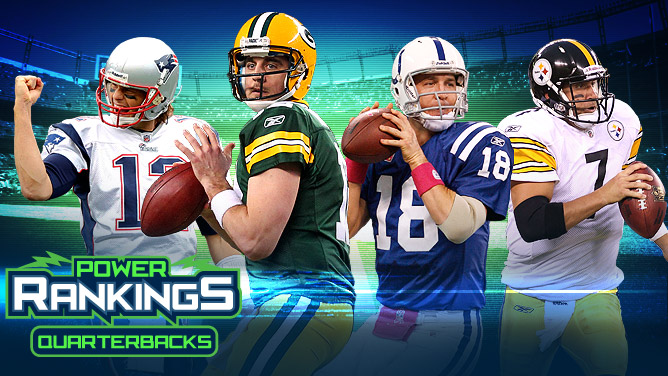 ESPN.com IllustrationNew England's Tom Brady received six of the eight first-place votes to edge out Peyton Manning.
ESPN.com's NFL writers rank the top 10 quarterbacks in the league today.
Next week: Top 10 safeties.
Take eight football writers scattered from Seattle to Tampa and ask them to come up with a list of the top 10 quarterbacks in the National Football League.
Sounds easy enough, in theory. You take the golden gunslingers,
Tom Brady
and
Peyton Manning
, and let everyone else fall naturally into order after that. Well, it didn't quite work out that simply in ESPN.com's Power Rankings for quarterbacks.
Heck, we couldn't even come up with a top 10. We're going with a top 11 because Baltimore's
Joe Flacco
and Dallas'
Tony Romo
tied for No. 10 with five points each in our voting system.
Even at the top, there was more disagreement than you might expect. Brady emerged as No. 1, but it wasn't unanimous and, although Manning finished a strong second, two ballots had a man some consider the best quarterback ever at No. 3.
But let's start analyzing the rankings by focusing on just Brady and Manning. Six voters put Brady at No. 1, but Paul Kuharsky and Mike Sando put Manning in the top spot. Let's hear them out.
"Brady's fantastic, let's start with that,'' said Kuharsky, who covers the AFC South, also known as "The Division Manning Built and Owns." "But no one is asked to do more or does more as a quarterback than Peyton Manning. He almost plays a different position. And while Brady's got three rings to Manning's one and is the reigning MVP, look at their touchdown and interception numbers in their last four playoff games. Manning's are better.''
Sando has no horse in this race, because voters unanimously agreed the NFC West is the division that forgot quarterbacks, at least until
Sam Bradford
gets another season under his belt.
"Brady has the better stats over the last couple seasons, but the Colts would undoubtedly be far worse off than the Patriots if both teams had backups under center,'' Sando said. "Once that was established, Brady's recent postseason struggles became a deciding factor. These quarterbacks have, to an extent, switched roles recently. Manning has won a championship more recently than Brady has won one. Brady has seven touchdowns, seven picks and one victory in his last four playoff games. Manning has seven touchdowns, two picks and two victories in his last four.''
For rebuttal, let's head up to the AFC East, to the man who covers Brady and the
New England Patriots
.
"I'm not sure why everybody needs to consider career achievements when filling out a Power Rankings ballot,'' Tim Graham said. "Power Rankings are a snapshot of the moment and are expected to change regularly, not encompass years of work. But if the reason for selecting Manning ahead of Brady is recent playoff performances that go back a few years, then
Ben Roethlisberger
should be ahead of Manning with that logic. Roethlisberger has been to a pair of Super Bowls and won his second title more recently than Manning's only championship.''
We'll come to Roethlisberger in just a moment, but nobody put him ahead of Manning on his ballot. Kevin Seifert and I each put a quarterback ahead of Manning.
Seifert put Green Bay's
Aaron Rodgers
at No. 2.
"Mostly, I didn't think I could face NFC North blog readers if I voted any other way,'' Seifert said. "Seriously, I think the big advantage Manning and
Drew Brees
have over Rodgers is time. They've been playing longer and therefore have mostly better career numbers and a bigger frame of reference for knowing how they will perform in the long term. But when you take out longevity, Rodgers is right there with them. All three have one Super Bowl victory. Rodgers has a higher career passer rating than any quarterback in the history of the NFL with qualified attempts, better than Manning and Brees and Brady for that matter. So to break the tie, I think you can look at what they did most recently. I think Rodgers had a better 2010 season than Manning or Brees, and that's how I would justify this order.''
I put Brees at No. 2 and don't really want to write a story in which I quote myself, so I'll just say Brees and Manning each have one Super Bowl ring and Brees' numbers over the last four years are just as good or better in most categories. Plus, Brees hasn't spent most of his career surrounded by the likes of
Marvin Harrison
,
Reggie Wayne
,
Dallas Clark
and
Edgerrin James
.
In the final analysis, Brees finished third and Rodgers fourth. Roethlisberger, who has two Super Bowl rings, came in at No. 5. San Diego's
Philip Rivers
, who has zero Super Bowl rings and some gaudy statistics, is No. 6. Relatively speaking, the order from Brees to Rivers, the guy who took his place with the Chargers, was pretty clear-cut.
After that, we had some close calls, strong differences of opinion and one very big coincidence. At No. 7, we've got a tie between Philadelphia's
Michael Vick
and Atlanta's
Matt Ryan
, who each finished with 26 points. For those who don't see the irony in that, Vick was the face of Atlanta's franchise for a long time and Ryan now holds that role.
Eli Manning
of the
New York Giants
came in at No. 9, and Flacco and Romo tied for the final spot. Only three other quarterbacks received votes. They were Tampa Bay's
Josh Freeman
, who I think could be near the top of this list in another year or two, Houston's
Matt Schaub
and Kansas City's
Matt Cassel
.
On to some other notes about the Power Rankings.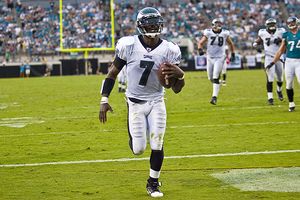 Michael DeHoog/Sports Imagery/Getty ImagesOne recent year of success wasn't enough to put Eagles quarterback Michael Vick on John Clayton's ballot.
The Vick factor
. Despite a hugely productive season last year, Vick was left off one very important ballot. John Clayton, the dean of all of us, didn't have the Philadelphia quarterback on his ballot and was the only one of us who didn't.
"The only reason Michael Vick didn't make my top 10 is because I, after an offseason of thinking, have Michael Vick as my No. 11 quarterback,'' Clayton said. "That still makes him elite. I have 12 elite quarterbacks. Vick moved into the elite category with his performance last year, but it's just one year. He can clearly move up the list this season, but he's in the mix and knocking on the door of the top 10. A year ago, he wasn't a consideration.''
Fighting the Eli fight.
Speaking of Clayton, let's continue to ride that train as we discuss Eli Manning. Seifert, Sando, Graham and I didn't even include Manning in our top 10, but he still made the list.
"I will continue to fight the argument Eli Manning is an elite quarterback,'' Clayton said. "I moved him to No. 8 above Tony Romo, but if Romo had a full season last year, he might have been ahead of Eli. Remember that
Carson Palmer
,
Brett Favre
and
Donovan McNabb
dropped from my elite quarterback categories, which moved guys like Eli up in the mix. Eli has a Super Bowl ring. He's a 4,000-yard quarterback. He wins.''
No tiebreaking here.
Speaking of Romo: Clayton and Sando each had him at No. 9. AFC North blogger James Walker had Romo at No. 10. That was good enough to get Romo five points and a tie with Flacco. One interesting note here: Flacco wasn't on Walker's ballot. I respect James for not doing the easy thing and being a "homer," although I'm sure some Baltimore fans might have different opinions.
"Joe Flacco is a good quarterback, but I don't consider him an elite, top-10 quarterback just yet,'' Walker said. "I need to see more consistency, especially in the playoffs and other big games against the Steelers. Flacco has a lot of natural ability, and I believe he's ready to break through. But, in my book, Flacco needs to first prove it on the field in the biggest games to be elite."
The final analysis.
If you look at this list from a distance, you could say the
Atlanta Falcons
,
San Diego Chargers
and New England Patriots are the big winners. The Patriots, of course, have Brady, but they also drafted Cassel, whom they later traded to Kansas City. If you want to get really technical, the Chargers drafted Brees and Eli Manning and worked a draft-day trade with the Giants to end up with Rivers. If you count the few minutes Manning and Rivers were crossing paths, you could say the Chargers, at one time or another, had three guys on this list. You also could say the Falcons drafted Vick, Ryan and Schaub, who finished in a tie with Freeman for No. 12.
August, 10, 2010
8/10/10
11:01
AM ET
By
Bryan Broaddus
| ESPNDallas.com
Here are the things that stood out when I studied the Hall of Fame Game:
*Offensive tackle
Doug Free
was able to carry over the nice two weeks of camp that he had in San Antonio into the game against the Bengals.
Free was patient, athletic and played with power. His footwork was solid and his hand placement was dead on. Free showed the ability to adjust on the move and mirror
Antwan Odom
without any difficulty. When he had to get push in the running game, he was able to work his hands inside and play with leverage.
There is a real ease of movement in his game. He did not play out of balance or on the edge at all.
*With
Marcus Spears
out of the game with a knee injury, it was an opportunity for
Jason Hatcher
and
Stephen Bowen
to get some work with the first group. Was impressed with Bowen and not with Hatcher.
Bowen was an up-the-field player and was a huge factor in the pass rush with his ability to work in the games that Phillips was using against the Bengals in passing situations. Bowen was relentless in his effort to get to Palmer and O'Sullivan.
Bowen played with nice technique the running game as well. He can be difficult to handle when he is on the move. Bowen has a feel for how to free himself from blocks.
Thought it was a missed chance for Hatcher. Like the player and what he brings, but there were limited flashes as compared to Bowen. Hatcher didn't play off the blocks as well.
Don't know if his elbow might have been a factor, but he seemed to get tied up at times. Didn't see him control the blocker like he had in the past. Know he is a better pass rusher than what he showed.
Hatcher was a solid nickel player in 2009. Needs to play better with this chance.
*Outside linebacker
Victor Butler
was all over the field on Sunday night. Run or pass, it didn't matter.
Butler plays with high effort, motor and intensity. Butler is always chasing the ball and he knows how to finish plays. He is a difficult player to block because he keeps coming at you. He doesn't take plays off.
Butler was solid in coverage in showing the ability to adjust to the back in the flat and drive on the ball to make the play.
As a pass rusher, he plays with a burst to and around the corner. He doesn't give blockers much of a hitting surface as he rushes. Able to move and twist his body on the move without losing speed.
The area you that you have to like the most about this player is that he is always around the action.
*Thought that
Mike Hamlin
played well at safety, but the player that caught my eye was rookie
Danny McCray
.
McCray was having a quiet camp until the lights came on at Fawcett Stadium. Watched him in practice as special teams coach Joe DeCamillis worked him on several units but really didn't think much of it. McCray showed the ability to release off the two-man jam as the "gunner" and make two tackles in the second quarter on the punt team.
On defense, McCray showed some good awareness to read quarterback J.T. O'Sullivan as wide receiver
Andre Caldwell
went vertical and from the middle of the field was able to work himself into position to make the interception that ended the half for the Bengals. If there was an area that the Cowboys struggled with in 2009, it was their ability for the safeties to show range and make plays on the ball. McCray gave the coaches some hope that might change.
Liked the way that McCray also showed physical play in the flat. Ball goes to the outside, and he is coming forward, driving the ball carrier out of bounds.
In my book, McCray went from a player that might not have been a factor to one you have to keep your eye on the next four games.
*Just from what I have seen in camp and what took place during the game, this club can not afford an injury to any of their inside offensive linemen on the first unit.
I know that guard
Montrae Holland
was out with a hamstring injury, but that doesn't change my view at all. To see
Pat McQuistan
and
Mike Tepper
struggle is a cause for concern.
Granted, Tepper is only a rookie but there were far too many plays where he was overextended and off-balance and unable to sustain his blocks. McQuistan will fight you, but he really is limited. There are times where he also gets overextended and really struggles when he has to deal with a power rusher. McQuistan really has a hard time getting any type of movement in the running game.
Quarterback
Stephen McGee
was required to move in the pocket way too often because of breakdowns inside.
I didn't feel like that
Travis Bright
and
Phil Costa
played poorly at center, which was somewhat of a bright spot here.