Dallas Cowboys:

Champ Bailey
January, 22, 2014
Jan 22
11:00
AM ET
IRVING, Texas -- Somewhat lost amid
Peyton Manning
's return to a Super Bowl is the first trip to the big game
Denver Broncos
cornerback
Champ Bailey
will make.
Bailey has been among the best cornerbacks of his generation, and after 15 seasons, he is finally getting a chance to win a title.
When 320 players across the league were asked which player -- active, non-teammate -- they would like to see in the Super Bowl in the NFL Nation survey,
Minnesota Vikings
running back
Adrian Peterson
was the top answer. He earned five of the Cowboys' 10 votes in the survey. Eighty-eight players league-wide received a vote.
Bringing this to the Cowboys,
Tony Romo
earned the most votes with nine.
Jason Witten
and
Dez Bryant
earned two votes.
DeMarcus Ware
earned one. Somehow, so did
Danny McCray
.
Romo has said over and over again that winning is the only way quarterbacks are judged. He has one playoff victory and has missed the playoffs in his past three seasons when he has had 90 touchdown passes and 39 interceptions.
He receives a ton of grief from opponents, media and fans for what he hasn't done yet. The 2007 season in which the Cowboys went 13-3 but lost in the divisional round of the playoffs to the
New York Giants
looms as the biggest missed opportunity.
Romo turns 34 in April and the chances are running out on finally making a Super Bowl, like Bailey has, but he is not about to stop trying. With three straight 8-8 finishes, it is hard to imagine the Cowboys making it to Super Bowl XLIX, but that is what drives Romo and Witten as they enter their 12th seasons.
December, 12, 2011
12/12/11
12:56
PM ET
IRVING, Texas -- If you regularly come back to the thought that, 'Man, the Cowboys sure come up with some inventive ways to lose games,' you're right.
Since 2005, I have come up with 13 head-scratching losses that seem to define this franchise. And that does not include the humiliating 44-6 defeat at Philadelphia to close the 2008 season, which knocked the Cowboys out of a playoff spot.
Three of those losses have come this year. Three came last year. Two each in '09, '08 and '06, and the one that kicked it off came on Sept. 19, 2005 (against Washington), when the Triplets –
Michael Irvin
,
Troy Aikman
and
Emmitt Smith
- were inducted into the Ring of Honor.
It has been quite a roller-coaster ride, but without the fun part.
Sept. 19, 2005 – Washington, 14-13.
The Cowboys lead, 13-0, with 6:01 to play, and the 65,207 in attendance, the largest crowd at Texas Stadium at the time following the 1985 renovations, was enjoying the moment. The Triplets were inducted into the Ring of Honor. The defense was dominating.
Then
Santana Moss
happened.
Moss caught touchdown passes of 39 and 70 yards in the final 3:46, bringing to light Roy Williams' deficiencies in coverage. The second touchdown came with 2:35 to play. Oh, by the way, the Cowboys missed the playoffs by a game that year.
Nov. 5, 2006 – Washington, 22-19
Tony Romo's second start was about to end with a fourth-quarter drive for a game-winning field goal, but
Troy Vincent
blocked
Mike Vanderjagt
's 35-yard try.
Sean Taylor
scooped up the loose ball and returned it 30 yards. Another 15 yards was added because of a
Kyle Kosier
facemask penalty.
With no time on the clock,
Nick Novak
kicked a 47-yarder to beat the Cowboys.
Jan. 6, 2007 – Seattle, 21-20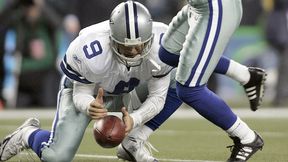 AP Photo/John FroschauerTony Romo bobbled the snap for the game-winning field goal versus the Seahawks, preventing Martin Gramatica from making the 19-yard attempt.
This one was the most heartbreaking because it was in the wild-card round of the playoffs. It was also Bill Parcells' final game as a head coach. The Cowboys maintain to this day that had they won that game, they could have gone to the Super Bowl.
Instead
L.P. LaDouceur
's snap for a 19-yard field goal try slipped through Romo's hands. Conspiracy theorists point to the slippery "K-ball" that was put in play before the snap. Others point to a
Jason Witten
first down that was overturned by the replay official, which negated the possibility to run the clock out or score a touchdown.
Oct. 12, 2008 – Arizona, 30-24 (OT)
The Cowboys somehow tied this game at the end of regulation on a 52-yard field goal by
Nick Folk
, but on the opening series of overtime, they lost
Tony Romo
to a broken pinky finger and punter
Mat McBriar
to a broken foot. On the play in which McBriar broke his foot,
Sean Morey
blocked his punt and
Monty Beisel
fell on the ball for a touchdown. The game started with a special teams touchdown (a 93-yard kick return) for the Cardinals, and ended with one.
Dec. 20, 2008 – Baltimore, 33-24
In what was a struggle for the offense for most of the game, twice the Cowboys pulled to within two points of the Ravens.
Terrell Owens
made the score 19-17 by scoring with 3:50 to play. Baltimore answered with a 77-yard touchdown run by
Willis McGahee
. Jason Witten cut the gap again with a TD grab with 1:36 to play.
Le'Ron McClain
answered with an 80-yard touchdown run.
It was not the way Jerry Jones wanted to see Texas Stadium close.
Sept. 20, 2009 – NY Giants, 33-31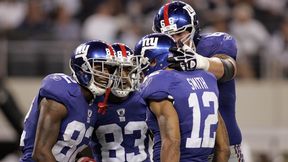 Tim Heitman/US PresswireMario Manningham, left, and Steve Smith, right, combined for 20 catches and 284 yards in the Cowboys Stadium opener.
If Jones didn't want to see Texas Stadium close that way, he didn't want to see Cowboys Stadium open this way.
Felix Jones
gave the Cowboys a 31-30 lead with a touchdown run with 3:40 to play.
Then
Eli Manning
happened.
Manning completed 7-of-9 passes for 64 yards, helping the Giants overcome a 1st-and-20 situation from their 15 and leading to a 37-yard game-winning field goal by
Lawrence Tynes
with no time left.
Oct. 4, 2009 – Denver, 17-10
The Cowboys blew a 10-0 lead when Broncos wide receiver caught a 51-yard touchdown pass from
Kyle Orton
with 1:46 to play. However, Romo had the Cowboys in position to tie the game after a 53-yard completion to
Sam Hurd
.
At the Denver 2-yard line with nine seconds to play, Romo went to Hurd (unsuccessfully) on back-to-back plays while the wideout was defended by Pro Bowler
Champ Bailey
.
Cowboys Pro Bowler Jason Witten did not even run a route.
Sept. 12, 2010 – Washington, 13-7
The Cowboys dominated defensively, but were done in by Jason Garrett's decision to call a play with four seconds left in the first half and a mile away from the Redskins' end zone. Romo flipped the ball to
Tashard Choice
, who fumbled while fighting for extra yards. Cornerback
DeAngelo Hall
scooped up the loose ball and ran it back for a 32-yard touchdown. It was the Redskins' only touchdown of the game.
In position to win the game,
Alex Barron
happened.
With three seconds left, Romo hit
Roy Williams
for an apparent game-tying touchdown with the point-after attempt being the difference in a win. Not so fast. Barron, starting in place of an injured
Marc Colombo
, was called for holding
Brian Orakpo
on the touchdown pass, wiping out the comeback.
Nov. 25, 2010 – New Orleans, 30-27
The Cowboys were not in the playoff chase, but they were fighting under Garrett, who took over for Wade Phillips as the interim coach. They led 27-23 and were in position to salt the game away as Roy Williams raced down the field toward the Saints end zone. As he switched the ball to his left hand away from a New Orleans defender, he allowed
Michael Jenkins
to strip it away for the turnover.
Five plays and 89 yards later,
Drew Brees
hit
Lance Moore
with the game-winning touchdown pass.
Dec. 25, 2010 – Arizona, 27-26
Stephen McGee
was shaping up as the hero, filling in for an injured
Jon Kitna
. He hit
Miles Austin
with a 37-yard touchdown pass with 1:41 to play to give the Cowboys the lead. Unfortunately
David Buehler
missed the PAT, giving Arizona hope.
John Skelton
converted a 4th-and-15 with a 26-yard pass to
Larry Fitzgerald
, and
Jay Feely
won the game with a 48-yard field goal.
Sept. 11, 2011 – NY Jets, 27-24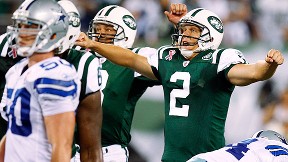 Ed Mulholland/US PresswireNick Folk kicked the go-ahead 50-yard field goal with 27 seconds left in the 2011 opener.
The Cowboys led, 24-10, two plays into the fourth quarter following a Felix Jones touchdown. They were in position to answer a Jets touchdown with at least a field goal when Romo fumbled while diving to the New York goal line for his first of two fourth-quarter turnovers.
On the Cowboys' next series,
Joe McKnight
blocked McBriar's punt and
Isaiah Trufant
returned it 18 yards for the tying touchdown.
Late in regulation, Romo was intercepted by
Darrelle Revis
on a poor throw to
Dez Bryant
. That was turned into a game-winning field goal by former Cowboy Nick Folk.
Dec. 4, 2011 – Arizona, 19-13 (OT)
Sensing a trend with Arizona here?
Tied at 13-13, Romo put the Cowboys in position to win the game with another
Dan Bailey
field goal. His 15-yard completion to Bryant had the Cowboys at the Cardinals' 31-yard line. Yet with two timeouts and roughly 25 seconds to go, the Cowboys did not stop the clock until Romo spiked the ball with seven seconds to play.
As Bailey lined up for the game-winner, Garrett called a timeout because the play clock was running out. Bailey's second attempt fell short, and in overtime the Cowboys would never get the ball.
LaRod Stephens-Howling
raced 52 yards on a short flip from
Kevin Kolb
for the game-winner.
Dec. 11, 2011 – NY Giants, 37-34
Bryant's 50-yard touchdown pass gave the Cowboys a 34-22 lead with 5:41 to play. All seemed well with the world.
Then Eli Manning happened. Again.
He shredded the Dallas defense on an eight-play, 80-yard drive that ended in a
Jake Ballard
touchdown catch and then directed New York on a six-play, 56-yard drive that ended in a Brandon Jacobs touchdown. The subsequent two-point conversion gave the Giants a three-point cushion.
During the second drive, Garrett let crucial seconds go off the clock again by failing to call a timeout until 1:00 remained.
Despite all that, two Romo-to-Miles Austin completions had the Cowboys at the New York 29-yard line with six seconds to play.
Before Bailey went in for the game-tying 47-yard try, Giants coach Tom Coughlin called a timeout, negating what turned out to be a good kick. Bailey's second attempt wasn't close to going through the uprights.
Defensive end
Jason Pierre-Paul
pushed between LaDouceur and
Montrae Holland
and deflected Bailey's kick.
October, 7, 2009
10/07/09
3:06
PM ET
New England Patriots quarterback Tom Brady was just asked on a national conference call about how smart it is to throw at Denver CB Champ Bailey.
Said Brady: "It's not smart at all."
He said he saw Dallas' approach last Sunday and was surprised because Bailey is such an elite corner. Brady assured that will not be the Pats' approach this Sunday.
October, 5, 2009
10/05/09
2:08
PM ET
The fact that the Cowboys tested perennial Pro Bowl cornerback Champ Bailey 16 times Sunday - including in the last two throws of the game - has folks scratching their head across the country.
Bailey welcomed the action. The Cowboys completed some short throws in front of him, but Bailey made them pay for coming his way. He picked off a Tony Romo pass in the third quarter, when Miles Austin ran the wrong route in the red zone, and deflected a fourth-down throw to Sam Hurd in the final seconds.

"Please do!" Bailey said when asked about Romo repeatedly targeting him. "That's the only way I get a chance to make plays."
Patriots quarterback Tom Brady wondered what the heck the Cowboys were thinking.
"Late in the game I was watching, and they threw those two slants at the end and I'm just thinking, 'Man, if there's one guy you don't want to pick on, it's Champ,'" Brady said Monday during an appearance on Boston's WEEI radio. "I can't imagine you go into a game thinking, 'Oh, let's really go after this guy, see if he can make some plays.'"
Why test Bailey so often?
"That's not my call, bro," Cowboys receiver Patrick Crayton said.

While walking to a meeting room Monday afternoon, offensive coordinator Jason Garrett declined to answer a question about throwing at Bailey so many times.

"Most passes are reads from the quarterback as for what they're playing and what the open route could or should be," head coach Wade Phillips said.
In the locker room Sunday night, Romo said the Cowboys "got what we wanted" on their final snap of the game.

That was a matchup that pitted No. 4 receiver Sam Hurd (28 career receptions) against Bailey (44 career interceptions). Why would the Cowboys like that matchup on back-to-back plays with the game on the line?

"It wasn't like we specifically said we wanted to attack him," said Hurd, who was on the field because Roy Williams was sidelined by bruised ribs. "It was just we took what they were giving up. Some coaches are scared and intimidated by a guy. But you can't be that way. It's football. We got what we wanted and tried to take advantage of it."

The result was predictable. And this came after Bailey reminded the Cowboys of his ability by making a diving interception on the throw to Austin (23 career catches) early in the third quarter.

"Even when he got the pick down near the goal line I said to myself, 'Probably one of the greatest cornerbacks in history and you choose to throw the ball to his side?'" Denver linebacker D.J. Williams told reporters. "It really didn't make that much sense to me."