Dallas Cowboys:

Chan Gailey
March, 7, 2014
3/07/14
1:30
PM ET
IRVING, Texas -- Wade Phillips has the second-best winning percentage of any coach in
Dallas Cowboys
' history. Better than Tom Landry's. I think Phillips might know that.
On Thursday, Phillips
tweeted this
:
Jason Garrett is tied with Wade Phillips for 56 games as the @dallascowboys head coach. Phillips: 34 - 22; Garrett: 29 -27. #suprisesMe

— Wade Phillips (@sonofbum) March 6, 2014
And later followed up with
this addendum
:
My surprise was that Jason and I had coached the same number of games. Not the record - time passes quickly -I wish Jason & Cowboys well

— Wade Phillips (@sonofbum) March 7, 2014
Like most things with Phillips, he lacked context.
When Phillips took over in 2007 as head coach, he inherited a team from Bill Parcells that was ready to win. QB
Tony Romo
was going into his first year as a full-time starter. The defense had DE
DeMarcus Ware
at his best. WR
Terrell Owens
was putting up big numbers.
The Cowboys went 13-3 and had the best record in the NFC. Phillips was the perfect antidote to Parcells and the players responded. Well, they did to a point. The Cowboys were not the same after beating the
Green Bay Packers
to move to 11-1 and effectively clinch home-field advantage.
They got lucky to beat the
Detroit Lions
the following week. They lost two of their last three games, but they were in shutdown mode against the
Washington Redskins
with nothing to gain from a win.
Other than momentum they had lost.
The Cowboys lost to the
New York Giants
in the divisional round at Texas Stadium, and the Giants went on to win the Super Bowl.
That's basically when the Romo narrative started. Maybe you heard that Romo went to Cabo during the wild-card weekend. Did it affect the outcome of the Giants' game? Of course not, but the perception machine was rolling, and has been rolling ever since.

You can track most of the Cowboys' woes to that lost opportunity. If they simply beat the Giants and make the NFC Championship Game, things would be different. Could they have beaten the Packers for a second time at Texas Stadium? It's the best what-if of the Romo era.
In 2008, the Cowboys acted as if they were predestined to not only make the playoffs but win the Super Bowl. Go back and watch the "Hard Knocks" episodes, and you see a team full of itself. They finished 9-7, missed the playoffs and were a mess late in the season.
Phillips could not pull it all together and looked inept as he attempted to deal with the fallout from the
Adam "Pacman" Jones
' incident. Phillips earned a reprieve in 2009 when Dallas posted an 11-5 record, won the NFC East title, and recorded a playoff win -- but that was the high point.
The Cowboys went 1-7 to start the 2010 season, including an embarrassing home loss to the
Jacksonville Jaguars
and a gutless loss to the Packers (45-7) the following week. After that game, Jerry Jones made the switch to Garrett, and the Cowboys are 29-27 since and have not made the playoffs.
Garrett did not inherit a team ready to win the way Phillips did in 2007. By the time Garrett took over, the Cowboys were growing old on the offensive line, and there were too many people (especially those in offices at Valley Ranch) who believed they had the best talent in the league.
The head coach of the Cowboys has tremendous sway with Jones. The Cowboys did not take
Randy Moss
in 1998 at least in part because then-coach Chan Gailey didn't want Moss.
On that premise, the 2008 draft -- with Dallas' two first-round picks -- was a mess because the Cowboys didn't even attempt to re-sign those first-rounders (
Felix Jones
and
Mike Jenkins
) when their contracts expired. The 2009 draft was a colossal failure in part because Jones was convinced that it could be a "special-teams draft," which is as ludicrous as the "draft for backups" the team had when Barry Switzer was the coach in 1995.
This is not in defense of Garrett. He has made plenty of mistakes on the field and in the draft.
Phillips has had a tremendous career in the NFL that has spanned decades. He is a terrific coordinator, but is he in the same conversation as guys like Dick LeBeau, or even Monte Kiffin? I'm not sure a Phillips defense scared offenses the way LeBeau's defenses in Pittsburgh and Kiffin's defenses in Tampa Bay did. Phillips was a good head coach but could not get his teams in Denver, Buffalo or Dallas past a certain point.
Phillips knows his resume inside and out. He can cite team stats and all the Hall of Famers he has coached.
He can claim his tweet was more about the number of games he and Garrett have coached, but it looked more like a passive-aggressive shot at the guy who replaced him, and a way for him to remind everybody of his record.
By the way, his winning percentage is .607. Landry had a .605 winning percentage.
January, 25, 2013
1/25/13
10:18
AM ET
IRVING, Texas -- Cowboys owner and general manager Jerry Jones has said many times his biggest regret was firing Chan Gailey after only two seasons.
PODCAST
Ed Werder joins Ben and Skin to talk about Troy Aikman's recent comments about Jason Garrett, the ties the new Cowboys coaches have with Jon Gruden and Jerry Jones' continued unwillingness to fire Garrett.

Listen

Gailey went 18-14 from 1998-99 and the Cowboys went to the playoffs both times, but Jones decided to make a move anyway and hired Dave Campo, who delivered three straight 5-11 seasons.
Jones felt he wasn't fair to Gailey and perhaps listened to the players too much in deciding to fire him.
Jason Garrett is 16-16 in two full seasons as the Cowboys' coach and missed a chance to make the playoffs both times with Week 17 losses with the NFC East title on the line. But Garrett will get a third year as coach in 2013.
At least in some form he will get that chance.
[+] Enlarge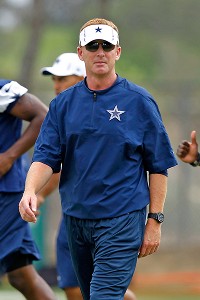 AP Photo/James D SmithJason Garrett will have to deal with the shadow of Jon Gruden in his third season.
With Jones promising to make things "uncomfortable" at Valley Ranch this offseason, he is not exactly being fair to Garrett, either.
You can be tired of all the "process" talk, but how Garrett was (is?) trying to build the program is correct. It takes some time to put things in place, but this is a win-now league. Jones gave Garrett two years and now it is as if he is saying, 'We tried it your way, but now we're going back to my way.'
Jones can say Garrett is OK with giving up the play-calling even if it sounds ridiculously far-fetched, since the day after the Washington loss Garrett said he would likely keep on calling the plays.
When Bill Callahan was hired as offensive coordinator last year, Garrett said he could envision a time in which he gave up the play-calling, but there is no way he wanted it to happen this way. He would have wanted to do it the way Sean Payton did in New Orleans -- minus the serious leg injury -- after building up years of work with coordinator Pete Carmichael. Callahan was not in a passing game meeting in 2012.
I don't doubt that Garrett was on board with making a change at defensive coordinator or with the hiring of the assistants, but this defensive staff has everybody connecting the dots to Jon Gruden in 2014, or maybe even Lovie Smith.
Garrett had to deal with the shadow of Payton for the second half of last season when it looked like Payton could have opted out of New Orleans.
Now Garrett might have a staff with four former Gruden assistants on board in Callahan, Monte Kiffin, Rod Marinelli and Rich Bisaccia, who could be the special teams coach, and he will have to deal with the shadow of Gruden this season.
It doesn't matter that Gruden might not have the best of relationships with some of his former assistants or that people want to overlook how bad things got under Gruden after Tampa Bay won the Super Bowl.
It's the perception that Garrett is teetering on the edge that will become an almost story with his firing almost an inevitability.
Maybe Jones isn't doing Garrett much of a favor at all by giving him the third year he never gave Gailey.
February, 26, 2012
2/26/12
1:00
PM ET
INDIANAPOLIS -- What few people want to believe about how Jerry Jones operates the Cowboys is how much say the head coach has.
Most of the time if a head coach does or does not want a player, Jones will listen. And I realize now everybody is thinking
Terrell Owens
and Bill Parcells, but too many people at Valley Ranch have said that if Parcells was completely against adding Owens in 2006 that Jones would not have signed him.
Remember, Jones didn't draft
Randy Moss
for a lot of reasons but one of them was Chan Gailey didn't want him.
When the Cowboys have succeeded they have had a strong head coach in Jimmy Johnson and Parcells.
I thought Jason Garrett had a revealing answer when he was asked at the NFL scouting combine how involved he is in the money decisions.
"I'm very involved in it," Garrett said. "As you know the economics of the NFL is an important part of the decision making process and every player as a price tag and a price tag might be where you draft him, how are you using that resource, in our case, the 14th pick of the first round or a second round pick or a third round pick. The other price tag is just dollars. What are they going to cost you this year? What are they going to cost you in the future? How much is that player going to cost you over the lifetime of the contract? If it's a large sum, how does that impact the rest of your football team? Every team in the league makes decisions first and foremost by evaluating the player and how he fits in on your football team. But another part of that is economics. I'm involved in the decision making process, as is Tom Ciskowski, as is the Joneses. And the evaluation comes first but the money part of the decision making process, I'm involved in a lot of those discussions."
November, 12, 2011
11/12/11
10:30
AM ET
IRVING, Texas -- Buffalo's
Fred Jackson
wears No. 22 in honor of the running back he grew up idolizing,
Emmitt Smith
.
Jackson, who is third in the NFL with 805 rushing yards, has yet to meet the NFL's all-time leading rusher, but he hopes it happens.
"That's something I definitely want to do," Jackson said. "I think that's one of the things I'm going to try to do throughout my career is get in contact with as many of the greatest backs in the league as possible."
Jackson has yet to discuss Smith with his coach Chan Gailey, who said the running backs are different in that Smith had better lateral quickness while Jackson is a bigger back.
"But I'm sure that'll be something at some point at my career I'll definitely want to sit down and talk to him about," Jackson said. "Just to see some of the stuff he did coming to work. You always want to grow as a player. Who better to talk to with than your head coach who's worked with some of the best athletes in the world?"
November, 11, 2011
11/11/11
10:28
AM ET
Sunday's game against Buffalo will be a homecoming for a number of Buffalo players and head coach Chan Gailey but also for Bills assistant head coach/inside linebackers Dave Wannstedt.

Wannstedt was the Cowboys' assistant head coach under Jimmy Johnson when they won Super Bowl XXVIII before becoming Chicago's head coach in 1993.

As Miami's head coach in 2000, Wannstedt hired Gailey as the Dolphins' offensive coordinator and Gailey reciprocated by giving Wannstedt a job after Wannstedt was let go at Pitt.

"He's meant a ton," Gailey said. "He's a confidant for me. We can talk about things that head coaches talk about. He knows problems that I need to see from time to time that I don't see. I appreciate his input. He's an excellent defensive coach. I think he's helped our defense over on that side of the ball as well. He's been a super addition for our football team."

Wannstedt has a 3-2 record against the Cowboys since leaving Valley Ranch.
November, 10, 2011
11/10/11
9:09
AM ET
IRVING, Texas -- Sorry for the delay, but this week we bring you Mark Gaughan of the Buffalo News in our weekly The Other Side post to break down the Bills' 5-3 start.
Archer -
Jerry Jones has said he regretted firing Chan Gailey after two seasons, how has Gailey gone about turning things around apparently in his second year with the Bills?
Gaughan -
The Bills had been in a decade-long offensive slump before Gailey arrived. They've finished in the bottom eight in the NFL in yards gained eight straight seasons entering this year. ... Gailey has brought a cohesive offensive philosophy and identity to the team, which was sorely lacking under previous coaches. The Bills have aimed to get bigger and more physical on the offensive line. They've changed personnel to reach that end. They have utilized the spread offense. ... But they're not as much of a pass-happy spread as some teams. They've kept a good commitment to run out of the spread. Gailey has adjusted to his personnel, and he has squeezed great production this season out of unheralded players.
Archer -
Fred Jackson
is coming home this week and I don't know the people in Arlington knew he could be this good. How is he doing it?
Gaughan -
Jackson has been underestimated throughout his career because he's not a "speed" back. But don't be mistaken, he is a big-time talent. He's a big man, and he runs with great strength. He has a great ability to get yards after contact. He has incredible vision.
Archer -
How much of a revelation has
Ryan Fitzpatrick
been and are you surprised at the amount of an extension he received?
Gaughan -
You can't knock the results Fitzpatrick has produced since being paired with Gailey. In his first 16 games as a starting QB in Gailey's offense (through the first 3 weeks of this season), Fitzpatrick passed for 3,841 yards, with 32 touchdowns and 18 interceptions. ... His contract extension makes him the 16th highest paid QB in the NFL. It's very similar to the deal Kansas City gave
Matt Cassel
. ... It's the cost of doing business in the NFL.
Archer -
Dave Wannstedt won a Super Bowl here. What has he meant to the Bills defense?
Gaughan -
The Bills defense is improved this season, so there's no doubt he has helped (as have
Marcell Dareus
and
Nick Barnett
). ... Wannstedt is the assistant head coach and inside linebackers coach. He is Gailey's right-hand man and he helps defensive coordinator George Edwards put together the game plan. So he has a ton of input. Edwards calls the defensive plays.
Archer -
Clearly
Scott Chandler
is doing something right. He couldn't get on the field with the Cowboys. Is it a product of the right time and right place for him?
Gaughan -
Everyone would agree there's no shame in the fact Chandler could not beat out
Jason Witten
. Chandler can move pretty well for such a big man (he's 6-7) and he is a better than average blocker at tight end, too. So that has been a huge addition to the Bills' offense, which has not had a tight end of note since 2001. Chandler is a big target and an asset in the red zone.
November, 9, 2011
11/09/11
4:10
PM ET
IRVING, Texas -- On Monday coach Jason Garrett said the offensive coaching staff would look at things the Cowboys have done in the past successfully in the red zone as well as look at what other teams do well in order to correct a flaw.
If Garrett wants, he can look at what Buffalo has done inside the opponents' 20 for a guide.
Only Tennessee has a better touchdown percentage in the red zone than the Bills. Buffalo has scored a touchdown on 18 of 28 red-zone drives for a 64.3 percentage. Tennessee has scored touchdowns on 14 of 19 tries.
Buffalo is even better on goal-to-go situations, scoring a touchdown on 12 of 14 times.
The Cowboys have scored touchdowns on just 10 of 26 trips inside the opponent's 20. Only Tampa Bay (3.4%) has a worse percentage than the Cowboys. In goal-to-go situations, the Cowboys have scored touchdowns on eight of 19 tries. Only Jacksonville has a worse percentage at 37.5.
"Your quarterback has to play good in the red zone," Gailey said. "Your receivers have to go to the right place and you've got to have some guys down there who make some plays. [
Ryan Fitzpatrick
] and the receivers have done a great job of making plays in the red zone. We were fortunate early in the year to play extremely well there, and we've done OK lately. We need to get back to where we were earlier this season."
November, 9, 2011
11/09/11
3:53
PM ET
IRVING, Texas -- Chan Gailey must have an affinity for Ivy League quarterbacks.
Gailey was Miami's offensive coordinator with Dartmouth grad
Jay Fiedler
in 2000 when the Dolphins went to the second round of the playoffs.
Now in his second year as Buffalo's coach, Gailey's offense is led by a Harvard man,
Ryan Fitzpatrick
, and the Bills are in playoff contention.
Should Gailey have given the Princeton grad a chance during his two-year run with the Cowboys in Jason Garrett?
"Well, the UCLA guy was pretty good," Garrett joked.
Troy Aikman
went 14-11 with Gailey has his coach from 1998-99. Garrett went 4-3 to help the Cowboys salvage two playoff seasons.
A few weeks ago Aikman, now Fox's lead analyst, asked Gailey about Fitzpatrick, which prompted the coach to say, "He's certainly the smartest quarterback I've had."
"He set that one up," Gailey said. "That one was so easy. He said tell me about Ryan Fitzpatrick. It was just a setup. I was able to hit the ball out of the park on that one. Troy was a great quarterback and extremely smart. I was fortunate to be around some good quarterbacks in my career."
November, 9, 2011
11/09/11
1:16
PM ET
IRVING, Texas – Tight end Scott Chandler bounced between the bottom of the roster and the practice squad during his tenure with the Cowboys.

Now he's near the top of the NFL leaders in touchdown catches.

Buffalo picked up Chandler off waivers when the Cowboys tried to move the Southlake Carroll product back to the practice squad in December last year. He's blossomed with the Bills this season.

The 6-foot-7, 263-pound Chandler is a major reason the Bills rank second in the NFL in red-zone efficiency, having scored on six of his 18 receptions for the Bills this season. Detroit's Calvin Johnson is the only player with more touchdown catches.

"He is very smart about how to play the game," Bills coach Chan Gailey said of Chandler. "He's a huge target. He runs the routes the way we ask him to run them and he's in the right spot. When you've got a big target that can catch the ball, you can put it in a lot of places and he'll come down with it. He's been able to fool them and get in the right spots and make plays.

"I don't think I envisioned that to be honest with you, coming into the season. I hoped he might be a weapon down there, but he's turned out to be even better than I thought."

Chandler has turned into the type of weapon the Cowboys, who rank second to last in red-zone efficiency, expected Martellus Bennett to become. Bennett, by the way, has four touchdowns in 54 career games and none since 2008.
January, 6, 2011
1/06/11
5:00
PM ET
ARLINGTON, Texas -- It's not like Jerry Jones has never listened to a head coach's input on personnel before now.
And it hasn't only been Bill Parcells.
For better or worse, Jones has always given coaches a lot of power in personnel decisions. For instance, if you're still ripped about the Cowboys not drafting
Randy Moss
, direct your anger toward Chan Gailey. He's the guy who talked Jones out of selecting one of the most spectacular receivers in NFL history.
"I'm trying to think back when I've ever really insisted that someone be a part of this team and the coach didn't agree," Jones said. "I'm having trouble."
In an attempt to be helpful, I suggested
Terrell Owens
as a possibility. Jones responded with a death stare and a firm denial.
"No. We both agreed on T.O.," he said. "We both agreed. Bill and I agreed that he ought to be on the team."
In the past, Jones has said that he owns the tiebreaker in personnel decisions. He's given that up to Garrett, a tremendous sign of trust and respect for a first-time head coach.
"The thing I want you to understand is how much I value his judgment," Jones said.
October, 13, 2010
10/13/10
9:25
AM ET
Randy Moss
warned the Cowboys. He vowed that he'd make them pay every time he played Dallas if Jerry Jones didn't draft him.
Moss has been a man of his word, torching the Cowboys for 734 yards and 11 touchdowns in seven games, including one playoff meeting. The Cowboys are 0-7 against arguably the greatest receiver since
Jerry Rice
.
[+] Enlarge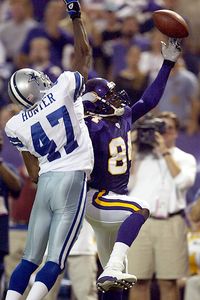 Jeff Gross/Getty ImagesRandy Moss is 7-0 when facing the Dallas Cowboys during his career.
"I'm sorry that we have to play him again," Jones said after Moss was traded last week to the Vikings, the Cowboys' opponent Sunday in a playoff rematch/potential elimination game.
A quick look at each of Moss' performances against the Cowboys:
Vikings 46, Cowboys 36 (Nov. 26, 1998):
The rookie made the most of his opportunities during a Thanksgiving shootout. He caught only three passes, scoring on touchdowns of 51, 56 and 56 yards. He also drew a 50-yard pass interference penalty. Cowboys cornerback
Deion Sanders
sat out with a sprained big toe, leaving past-his-prime
Kevin Smith
and the forgettable
Kenny Wheaton
to try to cover Moss. Troy Aikman's 455 passing yards weren't enough to keep up with a Minnesota team on its way to the NFL scoring record.
Vikings 27, Cowboys 17 (Nov. 8, 1999):
Moss caught six passes for 91 yards and two touchdowns, playing the starring role as the Vikings rallied from a 17-0 deficit. The Cowboys had no offensive firepower after
Emmitt Smith
and
Troy Aikman
were knocked out of the game by midway through the third quarter.
Vikings 27, Cowboys 10 (Jan. 9, 2000):
Moss caught five passes for 127 yards and a touchdown despite consistent double-teams in the NFC Wild Card Game, which was Chan Gailey's not-so-grand finale as the Cowboys' head coach. Moss' 58-yard touchdown on a bomb in the final minute of the first half gave the Vikings the lead for good.
Vikings 27, Cowboys 15 (Nov. 23, 2000):
Moss ruined another Thanksgiving at Texas Stadium, catching seven passes for 144 yards and two touchdowns. "I just try to go out there and make it happen," Moss said after the game, "but I do like to show them that they did mess up on draft day."
Vikings 35, Cowboys 17 (Sept. 12, 2004):
The Cowboys made Moss the primary focus of his game plan, holding Moss to four catches for 27 yards in the season opener. He still scored two touchdowns. And Vikings quarterback
Daunte Culpepper
threw for five TDs, the most against the Cowboys in 35 years.
Raiders 19, Cowboys 13 (Oct. 2, 2005):
This is the only time Moss failed to get in the end zone against the Cowboys, but he caught four passes for 123 yards. It was one of five 100-yard games for Moss during his disappointing two-year tenure in Oakland.
Patriots 48, Cowboys 27 (Oct. 14, 2007):
After all the hype about the "Other 81," as
Terrell Owens
referred to Moss in a note to reporters taped to his Valley Ranch locker that week, it was
Wes Welker
(11-124-2) and Dante Stallworth (7-136-1) who really killed the Cowboys. Moss contributed six catches for 59 yards and a touchdown for the Patriots, who would break the 1998 Vikings' scoring record.
February, 25, 2010
2/25/10
11:44
AM ET
INDIANAPOLIS -- Jerry Jones has said repeatedly that his biggest regret as the Cowboys owner is that he canned Chan Gailey after only two seasons.
Gailey had to wait more than a decade to get another NFL head coaching job, but he has no bitterness toward Jones.
"Jerry was very good while we were in Dallas," said Gailey, who was recently hired by the
Buffalo Bills
. "I will not disagree with his statement, but at the same time, he's the owner and he's got to do what he thinks is best and right at the time.
"If you haven't made a mistake in this world – and I'm not saying he did or he didn't – but if you haven't made a mistake in this world, then you haven't made decisions."