Dallas Cowboys:

Charles Tillman
July, 9, 2014
Jul 9
11:30
AM ET
IRVING, Texas -- Rod Marinelli likes what he saw from his
Dallas Cowboys
defense in the spring.
The defensive coordinator liked that he has more players along the defensive line. He likes the linebackers' "movement skills." He likes how cornerbacks
Brandon Carr
,
Orlando Scandrick
and
Morris Claiborne
can play man-to-man. He likes the growth
J.J. Wilcox
made at safety opposite
Barry Church
.
[+] Enlarge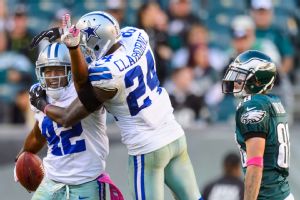 Howard Smith/USA TODAY SportsDallas defensive backs Barry Church and Morris Claiborne didn't have much to celebrate during 2013.
But there's something else Marinelli likes about the group.
"I think there's something to prove a little bit," Marinelli said. "Not something to prove from last year, but there are some guys coming here off the street with something to prove. There are some guys in contract years with something to prove. There are some guys coming out saying, 'I want to be a better player,' who have something prove.
"You get that many guys wanting to prove something, then you can become better. Right now what I like is how hard they're going after their craft."
Last season was a mess for the Cowboys' defense. It has been referenced so many times this offseason that "32nd-ranked defense" has been tattooed on everybody. The Cowboys gave up 6,279 yards in 2013 a year after giving up a franchise-record 5,687 yards. Five quarterbacks had four-touchdown games against the Cowboys. Two times in a three-week span, they allowed more than 620 yards. The
New Orleans Saints
had 40 first downs.
"It definitely bothers us," Church said. "I'm speaking for myself, but it definitely bothers me. But there's nothing we can really say or prove different. We were 32nd in the league and we weren't that good on the defensive side of the ball. This year, the only way we can counter that is by playing good and becoming one of the better teams in the league at taking the ball away and against the run and the pass."
It's not just the players. The tag falls on the coaches, too.
"Nobody wants to look at last year and take ownership of that, but we have to," secondary coach Jerome Henderson said. "And we've got to get better from there, and we cannot let that happen again."
Oh, and now the Cowboys have to show they can be better in 2014 without the franchise's all-time leader in sacks,
DeMarcus Ware
, who was cut, last year's leader in sacks,
Jason Hatcher
, who signed as a free agent with the
Washington Redskins
, and their best playmaker,
Sean Lee
, who suffered a torn anterior cruciate ligament in organized team activities.
But the sense is that Marinelli likes it this way. He had ubertalented defenses with the
Chicago Bears
with guys like Brian Urlacher,
Julius Peppers
,
Lance Briggs
and
Charles Tillman
. He won a Super Bowl with the
Tampa Bay Buccaneers
with guys like Warren Sapp, Derrick Brooks, Simeon Rice, John Lynch and Ronde Barber.
He doesn't have an Urlacher, Sapp, Brooks, Briggs, Rice or Lynch with this group.
He has
Henry Melton
, whom he coached to the Pro Bowl with the Bears, trying to prove he can come back from a torn anterior cruciate ligament. He has
Bruce Carter
trying to prove he is a big-time player in a contract year. He has Claiborne, a former sixth overall pick in the draft, trying to prove he is not a bust. He has Carr trying to prove he is worth the five-year, $50 million contract he received in 2012. He has
George Selvie
trying to prove he was not a one-year wonder after putting up seven sacks last season. He has
Tyrone Crawford
trying to prove he can come back from a torn Achilles.
He has low-cost free agents such as
Terrell McClain
,
Jeremy Mincey
and
Amobi Okoye
trying to prove they can be prime-time players. He has
Justin Durant
trying to prove he can be a middle linebacker and
Kyle Wilber
trying to prove he can be a strongside linebacker. He has Rolando McClain trying to prove that a player who has retired twice in the past year has the desire to keep playing. He has
DeMarcus Lawrence
trying to prove that a second-rounder can make an impact as a rookie. He has Wilcox trying to prove he can play strong safety.
He has guys like Church and Scandrick trying to prove that they can put up solid seasons in back-to-back years.
So much to prove. So much to forget.
"The first thing you do is you take it as coaches and players and you take accountability for it," Marinelli said. "And no excuses. Now we look forward. Now it's about the expectations of this group and with expectations you have to execute. It's that simple. That simple, yet that hard."
April, 25, 2014
Apr 25
1:00
PM ET
IRVING, Texas -- Part 1 of the
Dallas Cowboys
' Twitter mailbag is ready.
In it we discuss the Cowboys possibly taking a safety in the first round, why
Caleb Hanie
was brought in, drafting a cornerback in the first round, Rod Marinelli's ability to adapt and
Tony Romo
as a free agent.
Part 2 of the mailbag will be delivered on Saturday. If you have a question, fire one off to me via Twitter (@toddarcher).
Away we go:
.
February, 11, 2014
Feb 11
11:30
AM ET
IRVING, Texas -- Since Rod Marinelli was named the
Dallas Cowboys
' defensive coordinator, I've been asked more than a few times if the defense will look different in 2014.
Since Marinelli worked with Monte Kiffin in Tampa Bay for so long, the easy answer is no, it won't.
From 2010-12, Marinelli served as coordinator for the
Chicago Bears
after his stint as the head coach of the
Detroit Lions
. He had incredibly successful defenses. They forced a ton of turnovers (59 fumbles, 65 interceptions), scored 13 touchdowns and, most importantly, allowed the fourth-fewest points (904).
In 2012, the Bears had four Pro Bowl players in cornerbacks
Tim Jennings
and
Charles Tillman
, defensive end
Julius Peppers
and defensive tackle
Henry Melton
. They had a league-high 44 takeaways and finished in the top 10 in rush defense, pass defense and points allowed.
I wanted to get a feel for a Marinelli defense versus a Kiffin defense, so I watched two Bears games from 2012 against the Cowboys and
Green Bay Packers
. The Bears intercepted
Tony Romo
five times and forced a sixth turnover in their 34-18 win at AT&T Stadium in Week 4. The Packers game came in Week 15 and Chicago did not have
Brian Urlacher
. The Packers won, 21-13.
[+] Enlarge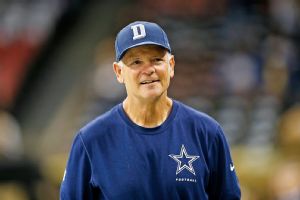 AP Photo/James D. SmithThe Cowboys' defense under Rod Marinelli shouldn't differ much schematically from the one the Cowboys ran under Monte Kiffin.
Like Kiffin, Marinelli did not employ a dime defense (six defensive backs) in either game. He played a nickel defense when faced with three-wide-receiver sets or empty packages. He brought five or more on a pass rush just 17 times in 98 pass plays.
Here's the breakdown:
Green Bay
Three-man pressure: None.
Four-man pressure: 34
Five-man or more pressure: 9
Dallas
Three-man pressure: 1
Four-man pressure: 44
Five-man or more pressure: 8
The Bears sacked
Aaron Rodgers
three times. They got Tony Romo once. While the Bears showed A-gap pressures with Urlacher and
Lance Briggs
against the Cowboys, they never brought both of them up the middle. Twice they brought the cornerback off the slot for a blitz. Most of the time Briggs was the extra rusher. The only time the Bears brought six rushers in the game came on Tillman's pick-six of Romo after a miscommunication with
Dez Bryant
.
Against the Packers, Marinelli used some zone blitzes, dropping Peppers into coverage with the slot corner and Briggs or
Nick Roach
bringing the pressure. He was more willing to bring both linebackers on blitzes up the middle against the Packers. Most of the pressure packages came on third-and-long, however the one time he brought seven rushers against Rodgers came on third-and-5 and the Bears got a stop.
Chicago played mostly zone in the two games I watched, which might not make guys like
Brandon Carr
and
Morris Claiborne
happy. Kiffin was reluctant to play man coverage at times and Carr and Claiborne never really earned trust to play it more.
Against the Cowboys, Marinelli allowed his cornerbacks to press more (12 times, including eight in the first half). He did not want Bryant and/or
Miles Austin
to get a head of steam going off the line of scrimmage, which helped put pressure on Romo almost from the outset.
Against the Packers, the Bears played only four snaps of press coverage, two in each half.
The key to the defense was the line play. That's nothing new. That's what helped the
Seattle Seahawks
win a Super Bowl. That's what helped the Bears lead the league in takeaways in 2012. For this defense to work, the front four must get pressure, as witnessed by the low total of blitzes.
The Bears could get pressure with or without playing games up front with twists and stunts. It wasn't necessarily sacks. Remember, Romo was sacked just once in the game, but the Bears took it to the Cowboys' offensive line by just being active. Rodgers also felt pressure, although not as much.
So I'll go back to the original question: Will the Cowboys' defense look different in 2014? Schematically, I'd say not so much. And that's OK. The key, as it always is, will be the players playing it better.
"There's a certain philosophy, a certain defense they believe in," linebacker
Sean Lee
said, "but we obviously have to get great at that base [defense] if we want to be able to build off that. I think Coach Marinelli has had a ton of success in the past. He's a great coordinator and we're going to have to find a way to improve individually if we want to play well within this defense."
December, 9, 2013
12/09/13
1:00
PM ET
CHICAGO -- The
Chicago Bears
and
Dallas Cowboys
can feel each other's pain.
The Monday night game features a pair of defenses that rank among the worst in the league in large part because they have been decimated by injuries. In this case, the Cowboys arguably have a significant advantage.
The injury woes for the Dallas defense have been bad. There's no doubt that medical issues have played a major role in the Cowboys ranking last in the NFL in total defense (421.6 yards per game) and 21st in scoring defense (25.3 points).
That's especially true for the Cowboys' defensive line, with projected starters
Jay Ratliff
and
Anthony Spencer
playing a grand total of 38 snaps this season, all by Spencer in his one outing before going on IR. Key reserves
Tyrone Crawford
and
Ben Bass
have spent the entire season on injured reserve.
DeMarcus Ware
missed three games, the first time in his career an injury sidelined him.
Jason Hatcher
missed a game.
Four other key players -- linebackers
Sean Lee
and
Justin Durant
, cornerback
Morris Claiborne
and safety
J.J. Wilcox
-- have missed a combined 12 games due to injuries. The good news for the Cowboys is that all of those players except for Claiborne are available Monday night against the Bears, although star middle linebacker Lee is the only one who is still a starter.
The good news for the Bears? Um, Ratliff is ready to roll after chipping off some rust last week, having signed with the Bears after a miraculous recovery on the heels of being released by the Cowboys when he insisted he wouldn't be able to play this season.
Chicago's defense, which was dominant last season, is still in shambles. They Bears have fallen to 29th in total defense (386.0 yards) and 29th in scoring defense (27.7 points) after ranking in the top five of both categories last season.
The Bears are missing Pro Bowlers at each level of their defense. Defensive tackle
Henry Melton
has been on injured reserve since Week 3 due to a knee injury. Cornerback
Charles Tillman
, who has forced the most turnovers of any NFL defender the last decade, has been on IR since Week 10 due to a triceps injury. Outside linebacker
Lance Briggs
(shoulder) will miss his sixth consecutive game.
Middle linebacker
D.J. Williams
, who was signed to replace retired
Brian Urlacher
, has been on IR since Week 6. Nickel back
Kelvin Hayden
has missed the entire season due to a hamstring injury.
The Bears' leftovers have been pretty bad against the pass and awful against the run. Chicago's rushing defense ranks dead last in the league, allowing 153.6 yards per game. According to ESPN Stats & Information, the Bears have allowed 3.9 yards per carry with Briggs and 6.6 yards per carry without him.
The Cowboys' injury woes have been exploited often this season. It's time for them to benefit from another team's pain Monday night.
July, 5, 2013
7/05/13
8:00
AM ET
The last in ESPNDallas.com's 10-part position series:
Roster locks:
Brandon Carr
,
Morris Claiborne
,
Orlando Scandrick
,
B.W. Webb
On the bubble:
Sterling Moore
Long shots:
Xavier Brewer
,
Devin Smith
,
Brandon Underwood
What's new?
Monte Kiffin's known as the architect of the Tampa 2, but it's not like the Dallas Cowboys will be solely a Cover 2 defense now. Brandon Carr and Morris Claiborne will still play a lot of man and Cover 3.
They won't play off of receivers very often, though. Kiffin's corners will play press on a regular basis, a challenge they welcome. As Carr likes to say, they'll be in the faces of receivers who will find out the coverage after the snap.
Unlike last season, Claiborne had a healthy offseason. He was behind the curve when he reported to his rookie training camp because he missed all of the offseason practices while recovering from wrist surgery. He's more comfortable and confident entering his second season.
Fourth-round pick B.W. Webb gives the Cowboys another natural slot cornerback, something the team lacked when Orlando Scandrick suffered a season-ending injury last year.
Camp competition:
Webb would have to be phenomenal in Oxnard to challenge Scandrick for the nickel corner role. That should be a camp competition at some point, but probably not this year.
For this year, we'll have to settle for Sterling Moore trying to hold off the undrafted rookies for the fifth corner job.
2013 hope:
The starting corners need to live up to their billing. That didn't happen in 2012, when Carr and Claiborne combined for only four interceptions, one forced fumble and two fumble recoveries.
That's not good enough for a tandem that features a $50 million man and the No. 6 overall pick in a draft.
After Kiffin's hiring, the Cowboys' corners were told to study the schemes in Chicago and Seattle from last season. They saw the standard for cornerbacks in the modern-day version of the Tampa 2. They watched tough, physical playmakers in Seattle's
Richard Sherman
and
Brandon Browner
and Chicago's
Charles Tillman
and
Tim Jennings
.
The Cowboys believe Carr and Claiborne can be that of corner tandem.
Future forecast:
The starters are set for the foreseeable future.
Carr, 27, is entering the second season of a five-year deal that was actually negotiated with the expectation that he'd play the entire contract. Claiborne, 23, has three seasons remaining on his rookie deal.
Scandrick's future job security, on the other hand, isn't so certain. He should be a roster lock again next year, when the Cowboys would lose a little more than $100,000 in cap space if they cut him. In 2015, Scandrick will probably have to beat out Webb to keep his spot on the Cowboys' roster.
The Cowboys could create about $3.5 million in cap space if they cut Scandrick in 2015, which would be the fourth year of his five-year, $27 million deal. Webb is due to count only $695,845 against the salary cap that season.
The Cowboys ranked Webb as the No. 47 player on this year's draft board. If they're right about him, he'll be a cap-friendly slot corner by his third season, and Scandrick will move on to another team.
May, 17, 2013
5/17/13
2:11
PM ET
Monte Kiffin told his players to study two teams' defenses from last season: the
Chicago Bears
and
Seattle Seahawks
.
A couple of Kiffin disciples (new Dallas defensive line coach Rod Marinelli and new
Jacksonville Jaguars
head coach Gus Bradley) coordinated those two units, which ranked among the NFL's top five in scoring defense, total defense and turnovers forced.
PODCAST
Cowboys safety Barry Church joins Fitzsimmons & Durrett to discuss the new defensive scheme and the impact it will have on him, how much more intense he expects practice to be with Monte Kiffin and his expectations.

Listen

Another thing the Chicago and Seattle defenses had in common: They featured tough, playmaking cornerbacks. In fact, those were arguably the best two cornerback combos in the league last season.
Chicago's
Tim Jennings
led the NFL with nine interceptions. His counterpart,
Charles Tillman
, forced a league-high 10 fumbles, recovered two and returned all three of his interceptions for touchdowns.
Seattle's
Richard Sherman
tied for second behind Jennings with eight picks and tied for second among corners with three forced fumbles.
Brandon Browner
, the bully who plays opposite of Sherman, also forced three fumbles and had three picks despite missing four games due to a suspension.
See why the Cowboys were so dismissive about the discussion that Kiffin's scheme didn't put a premium on cornerbacks?
The corners in Chicago and Seattle set the standard for
Brandon Carr
and
Morris Claiborne
.
"They're aggressive. They're physical. They're always attacking the ball," Carr said. "They're showing press with Seattle. With Chicago, they're playing the hard Cover 2 scheme, but they're up there dictating the flow of the receivers. That's what we want to do. We want to dictate the flow and not let them attack us. We're going to attack them."
The Cowboys didn't get enough of a return on their investments in the corners last season. After giving Carr a five-year, $50 million deal and packaging their top two picks to move up to sixth overall to select Claiborne, the Cowboys' starting corners combined for only four interceptions, one forced fumble and two fumble recoveries in 2012, when Dallas forced the second-fewest turnovers in the NFC.
That's one of the primary reasons Rob Ryan no longer reports to work at Valley Ranch. As the defense's injuries stacked up throughout the course of the season, the corners were assigned to play soft zone coverage more frequently, which caused some behind-the-scenes grumbling.
Despite the Tampa 2 tag, the Cowboys will blend in several other looks with the Cover 2 staples. The corners have been told that they'll consistently be lined up within breath-smelling distance of receivers.
"This defense kind of caters to Claiborne's and my abilities out there, our traits, our qualities," Carr said. "It allows us to go up there and press pretty much the whole game. Whether we play Cover 1, Cover 2, Cover 3, you'll have to find out after the (snap), but it allows us to be aggressive and go out there and dictate the game."
Are Carr and Claiborne worth the price the Cowboys paid for them? They'll have a chance to prove they are in a scheme similar to ones that feature star corners in Chicago and Seattle.
January, 10, 2013
1/10/13
11:30
PM ET
At some point this offseason, Jason Garrett will lean back in his favorite chair, close his eyes and ponder what might have been.
There were 2,035 plays in the Cowboys' 2012 season, but some are more memorable than others -- and it doesn't matter whether they went in the Cowboys' favor or against America's Team.
What if
Dez Bryant
's pinkie hadn't come down out of bounds against the
New York Giants
in the final minute? Or what if a Washington safety hadn't knocked the ball out of Bryant's arms, breaking up an apparent touchdown, in the fourth quarter?
What if
Eric Frampton
had recovered New Orleans receiver
Marques Colston
's fumble instead of tight end
Jimmy Graham
?
That's the story of the NFL every year.
A play here or there and the Cowboys would've made the playoffs. It's the reason why Garrett is forever saying every play in every game matters.
"It allows you to argue your point to your players that it's really really close each and every week in this league," Garrett said. "The importance of getting all of the details right and making sure you're on point can make a difference in this ball game and here's why.
"All these things that happened to us this year where plays went against us. If that play had been different we would've won that game. Or, similarly, plays that went for us that helped us win ballgames. There were a number of those too. It's the nature of the NFL."
[+] Enlarge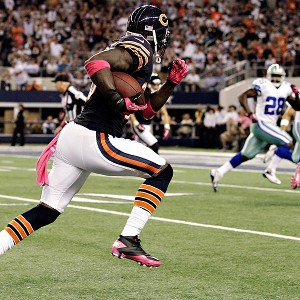 AP Photo/Tony GutierrezCharles Tillman baited both Dez Bryant and Tony Romo and returned an interception for a 25-yard touchdown -- one of two defensive scores in the game for the Bears.
Without further ado,
let's continue the countdown
:
No. 6: Tony Romo interception
Situation:
Third-and-9 from Dallas 21
Score:
Chicago, 3-0
Time:
2:46 left in second quarter
Taylor's Take:
The veteran tricked the youngster and the result was yet another defensive touchdown for Chicago. Cornerback
Charles Tillman
tricked
Dez Bryant
into thinking he was playing a coverage that called for Bryant to run a deep route instead of a curl. Romo threw the curl and Bryant wasn't even in the screen when Tillman intercepted the pass. He returned it 25 yards for a game-breaking touchdown and a 10-0 lead.
Season Impact:
This was among the low-points of Bryant's season. He made a poor read on his option route and the result was a game-changing interception. He had one 100-yard game in his career and there were questions about whether he'd ever get it. Of course, he wound up with 92 receptions for 1,382 yards and 12 touchdowns. This loss dropped the Cowboys under .500 for the first time this season.
January, 7, 2013
1/07/13
12:30
PM ET
IRVING, Texas -- The Cowboys showed a remarkable ability to come back from double-digit deficits throughout the course of the season.
[+] Enlarge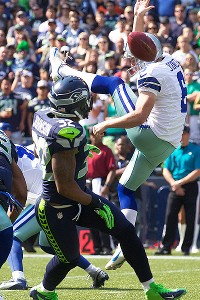 Stephen Brashear/Getty ImagesThe Cowboys' three disastrous opening drives in Week 2 at Seattle included a blocked punt, and Dallas found itself down 10-0 early on.
Unfortunately, they were mostly caused by their poor starts. Whatever Jason Garrett was selling before the game, the Cowboys were not buying at the beginning, especially early in the season.
In Week 2 at Seattle, the Cowboys fumbled the opening kickoff, allowed a blocked punt return for a touchdown and had an interception on their first three drives, which led to a 10-0 deficit and 27-7 loss.
In Week 4 against Chicago, the Cowboys found themselves down 24-10 thanks to interception returns for touchdowns by
Charles Tillman
and
Lance Briggs
.
In Week 8 against the
New York Giants
, they trailed 23-0 thanks in part to two interceptions, including a 28-yard pick-six by
Jason Pierre-Paul
.
On Thanksgiving, the Cowboys allowed 28 second-quarter points, falling behind by 25 at halftime against Washington.
For a team that had little margin for error, the poor starts were too much to overcome and played a big part in why the Cowboys finished 8-8 for the second straight year.
October, 4, 2012
10/04/12
9:45
AM ET
IRVING, Texas – This could have been Dez Bryant's breakout game. It should have been.
Bryant got open all night against Chicago cornerback
Charles Tillman
, whom the Bears had shadow him. Bryant caught eight passes for a career-high 105 yards, but nobody was talking about the plays he made after the Cowboys' lopsided loss.
The killer mistakes that marred Bryant's Monday night performance dominated the discussion about No. 88.
A mental bust by Bryant led to a pick-six for Tillman. And Bryant had three drops: one that made the Cowboys punt, one that forced them to settle for a field goal and one that could have been a touchdown pass on a deep ball.
Bryant frequently talks about earning the trust of quarterback
Tony Romo
by proving that he's reliable. You reckon this was a leap in the wrong direction for their quarterback-receiver rapport?
"Not at all," Bryant said. "I don't think so, because I think Tony believes in me. He knows what kind of guy I am."
Bryant is a flawed receiver with freakish physical gifts.
The flaws overshadowed the freakish talent in what could have been the first real dominant Dez performance in a Cowboys uniform. Instead, it was the biggest Dez disappointment so far in his NFL career.
The weekly throw-by-throw breakdown:
INCOMPLETION:
Lined up wide right on third-and-4 from the Dallas 42 and ran a stop route against press coverage by cornerback Charles Tillman. Romo threw a perfect pass to Bryant's back shoulder, but Bryant didn't appear ready for the ball that went through his hands. Tillman got away with a quick grab of Bryant's facemask just before the ball arrived, as Bryant pointed out to the side judge after the play.
16-YARD GAIN:
Lined up split right on first-and-10 from the Dallas 26 and ran a deep crossing route against zone coverage. Made a diving catch in front of safety
Chris Conte
.
10-YARD GAIN:
Lined up wide left on second-and-6 from the Dallas 46 and ran a hitch route against Tillman, who was playing off coverage. Caught the ball at the sticks and gained four yards after the catch.
INCOMPLETION:
Lined up in the right slot on third-and-4 from the Chicago 38 and ran a fly route, getting wide open after beating Tillman's press coverage with an inside move at the line of scrimmage and bending his route away from the safety in Cover 2. Romo overthrew the ball, costing the Cowboys a probable touchdown.
INTERCEPTION:
Lined up wide left on third-and-9 from the Dallas 21 and ran a go route, reading the coverage incorrectly and allowing Tillman to make an easy interception that he returned 25 yards for a touchdown. With the Bears blitzing the safety on that side, Romo is relying on Bryant to adjust his route based on the corner's coverage, running a hitch if the corner plays off or a go if the corner presses. Tillman fooled Bryant by lining up in press and bailing just before the snap. Tillman, knowing Romo had to make a quick throw with the safety unaccounted for by the Cowboys' protection, just read the quarterback's eyes and broke on the ball as Bryant ran by him.
11-YARD GAIN:
Lined up wide left on second-and-6 from the Dallas 40 during a two-minute drill and ran a shallow crossing route. Caught the ball at the 43 and made Tillman miss, gaining eight yards after the catch.
7-YARD GAIN:
Lined up in the right slot on first-and-10 from the Chicago 17 in the final minute of the first half and ran a shallow crossing route against zone coverage. He's on the opposite side of the field by the time Romo, who scrambled away from pressure, delivered the ball. Bryant caught the ball at the line of scrimmage and turned upfield, getting tackled by three Bears instead of stepping out of bounds to stop the clock.
25-YARD GAIN:
Lines up split left and ran a deep crossing route against Cover 2, getting wide open in the middle of the field after Tillman's bump didn't disrupt his route. Gained 10 yards after the catch, including five after contact by the safeties.
20-YARD GAIN:
Lines up wide left on first-and-10 from the Chicago 36 and ran a flag route against Cover 2. Caught the ball in front of Conte and got both feet down before being shoved out of bounds.
INCOMPLETION:
Lined up third-and-6 from the Chicago 22 and ran a slant route against Tillman. Romo's pass went through Bryant's hands and hit him in the chest before falling to the ground, killing the drive and forcing the Cowboys to settle for a field goal. Bryant made a nice move to cross over Tillman, but that didn't matter due to an inexcusable drop.
9-YARD GAIN:
Lined up wide right on first-and-10 from the Dallas 15 and ran a quick in cut against a deep Cover 2 look. Caught the ball in front of the linebackers and was tackled immediately.
INCOMPLETION:
Lined up wide right on first-and-10 from the Dallas 31 and runs a slant-and-go against man coverage. Bryant gets wide open by torching Tillman, who bites on the double move, but drops a perfect pass from Romo for what might have been a touchdown. Bryant's explanation: "I felt the sideline and I just wanted to stay in. I just focused a little bit too much on that sideline instead of making a play on the ball."
7-YARD GAIN:
Lined up wide left on second-and-10 from the Dallas 31 and ran a hitch against Tillman's off coverage. Gained a couple of yards after contact, which came immediately after the catch.
2-POINT CONVERSION:
Lined up wide right and ran a slant against
Tim Jennings
, catching the ball in the end zone.
October, 2, 2012
10/02/12
11:42
AM ET
Jerry Jones didn't defend wide receiver
Dez Bryant
on Tuesday morning, but he also didn't place all the blame on him for one of the five interceptions thrown by quarterback
Tony Romo
.
PODCAST
Cowboys WR Dez Bryant says DB Charles Tillman made a good play when he intercepted Tony Romo's pass.

Listen

Bryant ran a different than Romo anticipated, allowing cornerback
Charles Tillman
to intercept the pass and return it 25 yards for a touchdown, giving the
Chicago Bears
a 10-0 lead.
In all, the Bears turned two of Romo's interceptions into scores en route to a 34-18 victory. But the toughest pick to accept, for some, was the play to Bryant.
"We'll look at it again this morning, but that corner basically did a pretty good job and he intercepted it in no-man's land," Jones said on his weekly radio show on KRLD-FM Tuesday morning. "Now Romo has a split second to make this decision. But Dez thought he was coming up and of course Romo read it as if he was staying back. Again I saw the replay of it, knew what both were looking at. Dez obviously thought he was going to step it up and it was not that Dez didn't know there was a blitz and he didn't know his read, he simply read the corner coming up and when you look it on tape that may be hard to see, especially when you're out there with a split second."
Before the play, Romo and Bryant looked at each other to acknowledge Tillman was making a change in the coverage. If Tillman pressed Bryant, he was supposed to run a go route. If Tillman played back, Bryant was supposed to run a stop route.
Romo and Bryant are supposed to make this read quickly, and bad things can happen if both players can't recognize what the corner is doing at the snap of the ball.
You could say Bryant ran the wrong route, but you could also say Tillman just baited the receiver into thinking one thing and doing another.
"Just got to give credit to the DB. We thought he was going to go in something else and he stopped and he played it and he just made a good play on me," Bryant said.
Romo added: "You just have to give great credit to the defensive back. We thought that he was going (to press) and he stopped and he played it (zone) and he just made a good play on (the ball)"
Tillman said it was a hard play to make because he caught Romo and Bryant on different pages.
"I think when quarterbacks throw the ball like that, that's probably one of the hardest plays in football because it takes so long and you're thinking like, 'alright, alright, oh, oh, don't drop it. Don't. Okay, I got it, just out run everybody.' I don't know, I got lucky on that play, I suppose."
If anything, Bryant might be to blame for his inexperience by failing to see what Tillman was doing. But at the same time the other team makes plays, too.
September, 17, 2010
9/17/10
8:00
AM ET
By
Bryan Broaddus
| ESPNDallas.com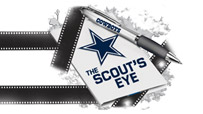 The Cowboys will face a defense that will present them a different set of challenges as opposed to what they faced last week in Washington.
Lovie Smith and former Lions head coach Rod Marinelli have once again hooked up and continue to put the Bears in the Tampa 2 scheme that they ran with great success for the Buccaneers under Tony Dungy.
In 2009, the Bears were a banged up defense and struggled without several key members in the lineup. This year, with the addition of
Julius Peppers
from Carolina, it gives them a much more dynamic pass rusher than you have to deal with off the edge.
Peppers tends to play the open side of the formation which is away from the tight end, so a matchup against just one of the offensive tackles is possible if the Cowboys want to set the formation to one side or the other. Peppers is one of those defenders that doesn't give you much of a hitting surface when blockers set on him. He has shown the ability to dip his shoulder and work underneath the tackle. He can be explosive from the backside as Lions quarterback Matthew Stafford learned.
Peppers does a nice job in the running game because he is difficult to hook or reach. He has very long arms and he uses them to keep blockers off him as he works down the line and into the backfield.
At the other end is
Mark Anderson
. Anderson is not a bulky player, but he is very quick. When Smith and Marinelli slant this line, Anderson is a problem to block on the move because he is a feel for how to beat blocks.
Anderson is the type of player that just keeps coming at you. He doesn't want to fight these tackles toe to toe, so he needs to be on the move.
The type of player that tends to give
Andre Gurode
and
Leonard Davis
fits are the ones with quick movement off the snap. Davis and Gurode will struggle because they have to move their feet and extend the blocks. It's the big inside guys that try to bull rush them that tends to be easier for them to block. The Bears have two of these types of players inside.
Tommie Harris
and
Anthony Adams
are both quick, up-the-field guys. Their game is based on movement more than strength.
The linebackers for the Bears are a veteran group.
Brian Urlacher
was throwing his body around.
Lance Briggs
was effective on the blitz, causing a turnover on the Lions' 1, and
Pisa Tinoisamoa
can really run. This group was very active attacking the Lions.
That's understandable because of a second-year quarterback at the controls for Detroit. It will be interesting if they try to blitz Tony Romo and allow this secondary the responsibility of playing coverage.
It's a Cover 2 look (safeties on the hash) with the corners playing short and the safeties behind. The Bears secondary will also use a technique of the corners turning their rears to the sideline and trying to funnel the receivers inside. In the Cover 2 look as well, you will a see deep drop by Urlacher in the middle of the field.
Romo always talks about patience when playing a Cover 2 team and taking what they give you.
Charles Tillman
is the better of the two corners. Zackary Bowman was picked on by the Lions. I would think that the Cowboys might do the same.
*The Bears on offense were able to move the ball on the Lions, but turnovers and red zone problems allowed to Lions to hang in the game and even have a chance to win it in the end.
The Bears will struggle to block the Cowboys' front. Tackles
Chris Williams
and Frank Omiyale will have a difficult job of blocking
DeMarcus Ware
and
Anthony Spencer
in the passing game.
Williams is the better player here because he plays with some strength. Omuyale just doesn't play with much upper- or lower-body strength at all. You see him come out of his stance then get worked back. He is always fighting just to sustain his block. The Bears will chip with their backs out of the backfield.
At center for the Bears is veteran
Olin Kreutz
, who is an old-school type of player. Kreutz is one of those guys who skills have left him, but he gets by because he has the ability to hold, trip and clip. Kreutz will have his hands full with
Jay Ratliff
. Ratliff just plays with too much quickness for Kreutz, who will have a hard time adjusting.
The Bears might not have big names at wide receiver, but what they do have is a group that can really run.
Johnny Knox
is a 4.29,
Devin Hester
a 4.41 and
Devin Aromashodu
a 4.35.
Knox is a smooth route runner that will go all over the field to catch the ball, Hester is outstanding in the open field with the ball in his hands, but the interesting player to me is Aromashodu. This player can cover some ground on the outside and does a nice job in the slot. In the Lions game, Cutler was going to him more than the other receivers.
It will be interesting if the Cowboys try to press these receivers and not allow free access in the routes. If the secondary can hold up on the outside, it will make Cutler have to face this pass rush and the possibility to creating turnovers. In the Lions game there were several times where Cutler was under pressure and just unloaded the ball.
Running back
Matt Forte
had two huge plays in the passing game for the Bears that resulted in touchdowns. Forte's running style is that of a slasher. If he had a problem in the Lions game, it was his inability to punch it in from the 1, but the Bears really didn't do a very good job of securing the hole. The Bears like to pull guards in short yardage, which was a big problem against the Lions. The Cowboys need to be careful in this game not to allow Forte to have a similar game to what he did against the Lions.