Dallas Cowboys:

Cliff Avril
February, 25, 2014
Feb 25
9:00
AM ET
Jason Hatcher
Position:
Defensive tackle
Type:
Unrestricted
2013 salary:
$2 million
Hatcher
Summary:
Hatcher picked the right time to have the best year of his career. He was added to the Pro Bowl after putting up 11 sacks. In his first seven seasons he had 16 sacks and never more than 4.5 in a season. The move to the 4-3, as well as Jay Ratliff's health issues, was of great benefit to Hatcher.
Why keep him:
Hatcher was their best defensive lineman last year and it makes good sense to keep your better players, even those on a unit that finished last in the NFL in 2013. The three-technique is a major force in the 4-3 scheme and the Cowboys do not have an in-house replacement.
Why let him go:
Cost. In a perfect world the Cowboys would have been able to put the franchise tag on Hatcher, which would pay him more than $9 million, but they are not in a perfect world because of their salary-cap situation. Hatcher also turns 32 in July, and it's rarely good business to commit big-time money to an older player.
Best guess:
Hatcher has put himself in position to cash in and he has said he will take the best deal. The best deal almost assuredly will come from another team. If the Cowboys want to remain in the mix to keep Hatcher, they have to hope the defensive line market is as soft this year as it was last year where somebody like
Cliff Avril
received two years for $15 million from the
Seattle Seahawks
. Hatcher could see the benefit of remaining with the Cowboys, even on a shorter deal, when all factors are considered.
February, 4, 2014
Feb 4
12:20
PM ET
IRVING, Texas -- In this copycat league that is the NFL, all of a sudden everybody needs tall and long conerbacks like Seattle's
Richard Sherman
. One problem, there aren't that many of those kinds of guys around.
Plus from a Dallas Cowboys' perspective, they have already allocated their cornerback resources in
Brandon Carr
,
Morris Claiborne
and
Orlando Scandrick
. So scratch that possible remodel.
Where the Cowboys can attempt to emulate the Super Bowl champion
Seattle Seahawks
is with their defensive line.
[+] Enlarge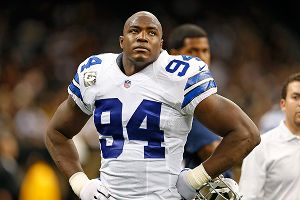 AP Photo/James D. SmithFor years, Dallas has relied on DeMarcus Ware to provide a pass rush. Adding depth to the defensive line could be a priority this offseason.
The Seahawks do what Rod Marinelli wants to do with the Cowboys. He just did not have enough quality players, rolling through 20 defensive linemen in 2013 because of injuries and poor play.
Seattle's defensive line accounted for 33.5 sacks from eight players. The Cowboys defensive line had 28 sacks from six players.
Michael Bennett
led the Seahawks with 8.5 sacks. Fellow free-agent pickup,
Cliff Avril
, was second with eight.
Clinton McDonald
had 5.5, and
Chris Clemons
had 4.5
Jason Hatcher
led the Cowboys with 11, followed by
George Selvie
with seven and
DeMarcus Ware
with six.
Kyle Wilber
had two sacks from his defensive end spot before he was switched to outside linebacker later in the season.
Everette Brown
and and
Jarius Wynn
each had one sack.
The Cowboys want to rotate defensive linemen as much as possible to keep them fresh. That is a great approach when you have players worthy of being in the rotation. In the Super Bowl win against the
Denver Broncos
, the Seahawks had four linemen take at least 41 of 69 snaps, led by Bennett, who played 47. In the NFC Championship Game against the
San Francisco 49ers
, they had four linemen take at least 31 of 55 snaps. In the divisional-round win against the
New Orleans Saints
, they had five linemen take at least 43 snaps.
That rotation kept opposing quarterbacks
Peyton Manning
,
Colin Kaepernick
and
Drew Brees
under pressure. The pressure could come from the inside or the outside. And it would come with mostly just four rushers, which allowed that back seven to be even more aggressive.
For far too long the Cowboys' pass rush has been Ware and nobody else. This past season it was Hatcher, and sometimes Selvie and Ware. The Cowboys hope
Tyrone Crawford
can develop after missing last season with an Achilles injury, but the defensive line needs a ton of help.
For the Cowboys to make a jump in the defensive rankings -- forget being a top-five or 10 unit -- they need a better pass rush. For a better pass rush, they need better players. To get better players in free agency they need to hope the defensive line market is as slow as it was in 2013 when Bennett received a one-year, $5 million deal, and Avril received two years and $15 million from the Seahawks. That could allow Dallas to either keep Hatcher (unlikely), or get lucky with some other prove-it type deals. The easier way to get better players is the draft, but will the right players be available at the right time?
If the Cowboys get a better pass rush, their secondary will look a lot better.
May, 28, 2013
5/28/13
2:28
PM ET
IRVING, Texas – Playing under the franchise tag for the second straight year,
Anthony Spencer
is taking the same approach he took last season.
PODCAST
ESPN Dallas Cowboys Insider Nate Newton joins Fitzsimmons & Durrett from Valley Ranch with the latest news from Cowboys OTAs.

Listen

"I'm really not worried about it," Spencer said. "I come here, work and go home and relax. If it gets done, it gets done. It's the same attitude I had last year and it ended up working out for me."
Spencer had a career year in 2012, recording 11 sacks and earning his first trip to the Pro Bowl while earning $8.8 million as the franchise player. The Cowboys decided to place the tag on Spencer again, guaranteeing him $10.6 million as the makes the move from outside linebacker to defensive end.
Had Spencer hit free agency he might not have received as much guaranteed money considering how the market went. Seattle signed
Cliff Avril
for two years and $15 million.
Paul Kruger
left Baltimore for Cleveland for a five-year, $40 million deal that included $20 million guaranteed.
Spencer would like a long-term deal to secure his future, and the Cowboys and Spencer's agent, Jordan Woy, have until July 15 to work out a contract. If they don't, then Spencer will play out the season on the tag. A longer deal would give the Cowboys more salary-cap space and help them potentially address the futures of linebacker
Sean Lee
and wide receiver
Dez Bryant
.
"The way I saw it, defensive ends and outside linebackers pretty much most of them got what I got for the first two years that I've been franchise tagged. It worked out."
May, 8, 2013
5/08/13
3:00
PM ET
IRVING, Texas – As the Cowboys and
Doug Free
work toward either a breakup or an altered marriage,
Anthony Spencer
waits patiently.
PODCAST
Ed Werder joins Fitzsimmons & Durrett to discuss potential past conflicts between Jason Garrett and Tony Romo regarding Romo's involvement in the offense and what changes will be made in the 2013 season.

Listen

Spencer is scheduled to make $10.627 million this year after the Cowboys placed the franchise tag on him for the second straight season. The Cowboys and Spencer would like to work out a longer-team deal this offseason, but other concerns ranked higher for the club so far, like re-signing
Tony Romo
, the draft and now Free's future.
Spencer's agent, Jordan Woy, expects to talk with the Cowboys in the near future in hopes of working out a deal.
The sides would have to reach an agreement on a new deal by June 15 or Spencer would play this season under the tag and become an unrestricted free agent next March.
The free-agent defensive end market did not heat up the way some thought. Seattle signed
Cliff Avril
to a two-year, $15 million deal.
Michael Bennett
got a one-year, $5 million deal. Both players were expected to command more money and years.
Spencer, coming off a career-high 11 sacks and his first Pro Bowl appearance, will move from outside linebacker to defensive end as the Cowboys switch to a 4-3 scheme.
With a new contract, the Cowboys would gain cap space that would give them a better chance to sign
Sean Lee
to a new deal. Lee is set to become a free agent after this season.
March, 6, 2013
3/06/13
11:30
PM ET
Fifth in a a 10-part series breaking down the Cowboys' free-agency needs, position-by-position:
Defensive ends

Who's on the roster:
DeMarcus Ware
,
Anthony Spencer
(franchise tag),
Tyrone Crawford
,
Ben Bass
.
Analysis:
Ware and Spencer will be moving from outside linebacker to defensive end in Monte Kiffin's new scheme, but they are not completely unfamiliar spots since they had their hands on the ground as pass rushers in the nickel defenses. The difference will be the play-to-play grind of lining up against tackles, which could wear them down. Crawford showed some promise as a rookie in the 3-4 and plays with an energy that should help him get to the quarterback. The Cowboys have some flexibility with the players on their roster.
Jason Hatcher
,
Sean Lissemore
, Crawford and Bass could play tackle and end if needed.
NFL free agents of interest:
Cliff Avril
,
Michael Bennett
,
Osi Umenyiora
,
Dwight Freeney
,
Israel Idonije
,
Amobi Okoye
.
Need meter: 7.
In the 3-4 scheme, a defense can never have enough linebackers. In the 4-3 scheme, you can never have enough pass rushers. New defensive line coach Rod Marinelli worked with Idonije and Okoye in Chicago and might want to bring them to the Cowboys. Neither will be break-the-bank free agents, which makes them a better fit, and they have the ability to get to the passer. Idonije had 7.5 sacks last year for the Bears and also has some position flexibility. Umenyiora and Freeney are situational pass rushers at this point in their careers. If they understand that, then they could be a fit. However, the price tag could be too steep.
February, 13, 2012
2/13/12
11:00
PM ET
This is the seventh installment of our 12-part series breaking down the Cowboys roster. Today we look at the defensive line.
[+] Enlarge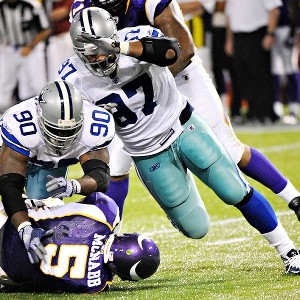 Hannah Foslien/Getty ImagesJason Hatcher (4.5) and Pro Bowler Jay Ratliff (2.0) had the lion's share of the 10.5 sacks compiled by the Cowboys' defensive line last season.
Players:
NT
Jay Ratliff
(signed through 2017), DE
Jason Hatcher
(signed through 2013), DE
Marcus Spears
(signed through 2014), DE
Kenyon Coleman
(signed through 2012), NT/DE
Sean Lissemore
(signed through 2013), NT
Josh Brent
(signed through 2013), DE
Clifton Geathers
(exclusive rights free agent), NT/DE Robert Callaway (signed futures contract)
Top free agents:
DE
Calais Campbell
,
Arizona Cardinals
; DE
Mario Williams
,
Houston Texans
; NT
Sione Pouha
,
New York Jets
; DE
Jason Jones
,
Tennessee Titans
; DE
Cliff Avril
,
Detroit Lions
.
Top draft prospects:
DE
Quinton Coples
, North Carolina; DT/DE
Michael Brockers
, LSU; NT
Brandon Thompson
, Clemson; NT
Jerel Worthy
, Michigan State; DT
Devon Still
, Penn State.
2011 review:
The defensive line performed respectably against the run for the most part. However, it left a lot to be desired in the pass-rushing department. The Cowboys' defensive line combined for only 10.5 sacks, led by Hatcher (4.5). Ratliff made his fourth consecutive Pro Bowl appearance despite his sacks total declining for the fourth consecutive year. He finished the season with two sacks, tied with reserve Lissemore for second among the team's defensive linemen. Coleman and Spears were solid against the run but nonfactors against the pass, which is particularly a problem with a secondary as vulnerable as the Cowboys'.
Offseason preview:
The Cowboys need more playmaking at this position. Maybe they get that by moving Ratliff to defensive end, a subject that gets discussed every offseason but has not been seriously considered since he established himself as the starting nose tackle. Coples and Brockers, the best 3-4 defensive end prospects in the draft, are likely to be gone by the time the Cowboys get on the clock with the 14th overall pick. Arizona's Campbell, who dominated
Doug Free
when the Cowboys played the Cardinals this season, would be a major upgrade in free agency. However, there's a decent chance that the Cardinals will use the franchise tag to prevent one of the NFL's best 3-4 ends from testing the open market this offseason.
Bryan Broaddus' Scout's Eye:
When the Cowboys played well on defense last season it was usually because the defensive line was handling the run and getting pressure on the quarterback. When things were going badly, I could usually tell on tape it was because the line wasn't getting off blocks and struggling with the pressure. The biggest problem I had with the line was at defensive end. The team lost Stephen Bowen to the Redskins and in my view, that was a tough blow for the defense. The club brought back Spears and Hatcher but also signed Coleman. Hatcher moved into Bowen's role with Spears and Coleman as the starters. As the season wore on, Coleman wore down and his play hurt the defense. Spears was up and down as well. Where there is a need of an upgrade would be at end. I am a big fan of Lissemore and I would not be surprised to see him in the starting lineup next season for Coleman or at nose if Ratliff shifts to end. Speaking of nose, Ratliff made the Pro Bowl which surprised me. I like Ratliff and respect the way he played, but there were times where he was clearly better than the centers that he was playing against and he didnt always take advantage of the matchup. Ratliff doesn't always face double teams. Where Ratliff struggles the most is when he gets wore down. That's why guys like Brent and Lissemore are key to keeping him as fresh as possible. I like the nose men on this team but the front office needs to find some upgrades at end to give the defense a chance.
Need meter (0-5):
3
October, 1, 2011
10/01/11
8:00
AM ET
By
Bryan Broaddus
| ESPNDallas.com
Cowboys OG Kyle Kosier vs. Lions DT Ndamukong Suh:
I have this listed as a matchup of Kosier against Suh, but it really could become a matchup of Suh against Kosier and center
Phil Costa
.
Suh can be a dominant player inside. The traits that make him so impressive are his ability to get pressure and push inside with sheer power and strength. When you study Suh, you always see him attacking the blocker with a wide variety of moves. He is relentless in his effort and pursuit. He plays with quickness with his hands and feet. There is explosiveness to his game.
The Cowboys have to be careful if the scheme or the situation requires that Costa has to help Kosier with Suh, and that leaves left guard
Bill Nagy
one-on-one with
Corey Williams
or Sammie Hill. When Nagy struggles, it is with bigger players. Both Williams and Hill go 320-plus pounds and can get inside push.
In the running game, look for the Cowboys to try to down- or angle-block Suh, working to his outside. The Vikings had success some success against Suh when they didn't try to block him straight up in the running game and allowed him to run up the field.
The plan for the Lions will be simple: use their four man line, get push in the middle with Suh and close the edges with
Kyle Vanden Bosch
and
Cliff Avril
, giving
Tony Romo
no room to operate. The Cowboys could counter by doubling Suh when they can to control, while but making sure Nagy doesn't have to fight Williams and Hill one-on-one for many snaps.
Cowboys CBs Terence Newman and Mike Jenkins vs. Lions WR Calvin Johnson:
This matchup appears better for the Cowboys with Newman in the lineup than it would have two weeks ago with
Alan Ball
potentially making a start. Newman and Jenkins will have an all-day fight on their hands with one of the most physical and dynamic receivers in the game.
What makes Johnson so difficult is his outstanding hands and his ability to use his body to go get the football. He has legitimate speed down the field and can eat up a corner's cushion quickly. He is the type of player that is on you right now. You feel him when he runs his routes. He attacks the ball whether it's in the open field or in the red zone.
He has a quarterback in
Matthew Stafford
that is not afraid to throw it to him on any point in the drive. Johnson is most dangerous when he is able to get separation because he can cover some serious ground when he catches the ball on the move.
Both Jenkins and Newman have the speed to run with Johnson, and I like Jenkins' more physical style to match up better than Newman when fighting for the ball in the air. Stafford is an accurate quarterback, but Newman and Jenkins need to make those throwing windows as tight as possible and not allow Johnson to take this game over.
Cowboys OLB DeMarcus Ware vs. Lions OTs Jeff Backus and Gosder Cherilus:
Rob Ryan has done an outstanding job of taking his pressure players and putting them in a situation where they can take advantage of weaker opponents. This week, the Cowboys face an offensive line that has issues.
At tackle, Backus and Cherilus aren't good enough to block Ware -- or
Anthony Spencer
, for that matter. I don't see the Lions being able to run the ball against the Cowboys, but they can make plays in the passing game. The key will be how much pressure Ware and Spencer can get on Stafford.
Look for Ryan to really try to attack the pocket and force this Lions' offensive line to have to pick up blitzes. Ryan will have to try to get rushers home before the ball gets out of Stafford's hand. Ware can cause problems over Backus, who can't bend and adjust, much-like the broken-down version of
Marc Colombo
we watched all last season. Ware is just too athletic for Backus, and if the Lions do not try and help him, the left tackle could be in for a long day.
If the Lions do help Backus, look for Ryan to continue to move Ware around until he finds the matchup he likes. If not over Backus, then Cherilus is an option, too.
September, 30, 2011
9/30/11
8:00
AM ET
By
Bryan Broaddus
| ESPNDallas.com
After gutting out a difficult victory over the Redskins, the Cowboys face a new challenge of a short week to prepare to play one of the league's most talented teams in the
Detroit Lions
.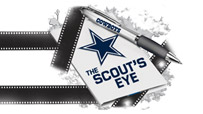 The Lions will present problems on both sides of the ball. If you follow the NFL, we all know the names of
Calvin Johnson
,
Ndamukong Suh
and
Matthew Stafford
, who have helped this team to get off to a fast start. But there is more to it than just those three players.
Detroit defense
The Lions play a true 4-3 front, which will be the first time this season that the Cowboys faced this kind of look. Suh will mainly line up over right guard
Kyle Kosier
and will work across from
Tyron Smith
when the Lions go to a three-man line.
There will be times where Suh will move to the right side, but usually that spot is manned by
Corey Williams
or Sammie Hill. The problem for the Cowboys in that look is that
Bill Nagy
, who struggles with power players now, has to deal with two players that go 320-plus pounds. Nagy's primary weakness is his technique against the down linemen that have size and power.
Kosier will have another set of problems in dealing with Suh, who plays with power and quickness. Suh has outstanding technique as a pass rusher with a wide variety of moves. Kosier has had to deal with power players before in his career, but the way that Suh uses swims, slaps and rips makes him hard to handle because he is playing with this technique as he is working his way to the quarterback.
Most teams like to sub their two down players inside, but the Lions keep their big bodies in the game and will push the front of the pocket then squeeze from the outside with
Kyle Vanden Bosch
and
Cliff Avril
.
The last two weeks
Doug Free
hasn't played some of his better football. I have talked before that I felt that it was more technique problems than any other area. When Free gets in trouble, it's when he is playing over the top of his left foot and he gets overextended. When Free gets overextended, his feet stop and rushers are able to get pressure.
In the Redskins game, it looked like Free was worried about
Brian Orakpo
taking him on the inside rush. This week, Free will line up over Vanden Bosch, who plays in a wide 9 technique and doesn't quit on a play. He is relentless, run or pass.
Free will need to beware of not finishing his blocks against Vanden Bosch, because there will be times where Vanden Bosch looks like he is out of the play but will fight his way back into the picture. Vanden Bosch likes to fight wide and slap the tackles hands down, then work for the corner. Vanden Bosch, like Suh, is able to do this without slowing down or stopping his rush.
Tony Romo
spoke of his receivers having to find a way to win on routes. Guys like
Miles Austin
and
Jason Witten
can win, but it is a little tougher is guys like
Dez Bryant
and
Kevin Ogletree
. They will match up against corners
Chris Houston
and
Aaron Berry
, who like to play press man and be physical at the line of scrimmage.
The Lions played more man coverage against the Bucs than they did against the Vikings. I believe that they will line up and force these Cowboys receivers to beat them off the line. If Romo has to hold the ball against this Lions defense, it will be a struggle for his line. This group can get four-man pressure and it's more intense than what they faced against the 49ers and Redskins.
Where the Vikings and Bucs had some success was running receivers down the field on vertical routes when the Lions did play zone. There also were two nice opportunities for tight ends to make plays against Cover 2 working between the safeties down the field.
The game plan for Garrett against the Lions running the football will be similar to what he had against Washington. He will need to take advantage of how aggressive this front seven will be.
The Vikings had success running the ball against the Lions by getting the ball on the edge but using down or angle blocks to handle the power and quickness of the Lions. Look for the Cowboys to try to shield the Lions from the ball more than trying go toe to toe with them. The Vikings were able to make plays on the edge with
Adrian Peterson
by taking advantage of the way that the Lions chase the ball.
Detroit offense
The challenge for Rob Ryan and his defensive staff in this game will be trying to dial up pressure against Matthew Stafford when he gets in the shotgun. The Lions have had their share of blocking problems, but the answer for those issues has been Stafford's ability to get rid of the football quickly.
Stafford has major weapons with Calvin Johnson and
Brandon Pettigrew
, and the Lions also have a nice screen package with running back
Jahvid Best
, who catches the ball well out of the backfield.
Stafford is an impressive quarterback to study because he never looks like he doesn't know where to go with the ball. He is mobile to a point and can buy time with his ability to move. The trait that is the most impressive about Stafford is his ability to be an accurate passer. Rarely do you see his receivers have to work for the ball. Has touch with the ability to lead his receivers down the field.
Stafford has a real understanding of the strengths of his skill players. Can make all the throws and puts the ball in position that they can go get it.
If there is a knock on Stafford, it has been his ability to stay healthy. When he does not play, the Lions are a very ordinary team on offense even with all the talented players.
If the Cowboys are going to win this game, it won't be about stopping the run but more how they will be able to limit the number of big plays that the Lions can make. Johnson will make his share of plays because he always does no matter how outstanding the coverage is. Stafford knows that he can throw the ball down the field and Johnson will find a way to go get it. If Johnson gets separation, he is going to make the play.
Last week,
Terence Newman
and
Mike Jenkins
played well against the Redskins. They will need a similar effort against Johnson and
Nate Burleson
.
Safeties
Gerald Sensabaugh
and
Abram Elam
will also be a factor in this game, not only because of their responsibilities of helping carry Johnson deep in coverage, but also having to deal with tight end Pettigrew. This is the fourth game where this defense has had to deal with an athletic tight end that can get down the field.
Fred Davis
and Chris Cooley did not kill the Cowboys last week.
The Cowboys have to be careful is putting so much attention to Johnson and allowing Pettigrew or even Burleson to make plays.
If the Lions have a real weakness, it is with this offensive line. Despite their 3-0 record, the Lions have issues at offensive tackle. Longtime veteran left tackle
Jeff Backus
is on his last legs as a pass protector and a run blocker. There is nothing that he really does well anymore. It's not as bad as watching
Marc Colombo
playing last season, but there are some similar traits that you are now seeing.
At right tackle, Gosder Cherilus was replaced in the Minnesota game by Corey Hilliard because he couldn't even get out of his stance to handle the edge. Cherlius once again will be in the starting lineup and it is a road game for the Lions, so keep an eye on him to see if he struggles again.
Through the first three weeks of the season, Ryan has done a nice job with his scheme, in finding those offensive players that will struggle against his pressure players. Look for Ryan to continue to move
DeMarcus Ware
and
Anthony Spencer
around to attempt to make Stafford uncomfortable in the pocket.