Dallas Cowboys:

Colin Kaepernick
September, 8, 2014
9/08/14
1:00
PM ET
After Week 1, the
Dallas Cowboys
are 0-1 after a loss to
San Francisco 49ers
.
We review three things in our weekly Beat Writers Report.
Smith
1.
Tyron Smith
's day started off badly with a false start. When it ended, Smith allowed one sack and was penalized twice. You might credit him with two sacks allowed, but you don't know the responsibilities of the line on the first one. Overall, the starting left tackle had a nice game and was engaged one-on-one with a defender more than 50 plays on Sunday. Smith also helped left guard
Ronald Leary
six times, pulled twice and reached the second level for blocks numerous times. Smith does a nice job with his long arms to keep defenders such as
Justin Smith
and
Ray McDonald
from reaching
Tony Romo
. One of Smith's best plays was handling linebacker
Dan Skuta
on a stunt. While Skuta rushed inside, Smith kept his lateral movement and pushed him away with no problems. It's easy to view the penalties and the sacks as negatives, because they're glaring, however, Smith proved once again that he is a solid leader for this offensive line.
Romo
2.
Romo's three interceptions weren't about his missed practice time when the Cowboys were being cautious with him as he recovered from back surgery. Romo's picks were mainly about poor decisions. Yes, Romo is what he is, a guy who will take chances, much like his idol Brett Favre. Romo, given the delicate state of his team, should know better than to throw passes into coverage on a consistent basis. On the first interception, Romo throws a deep pass to
Dez Bryant
, who clearly isn't open. Romo doesn't see
Terrance Williams
running a route where he gets open deep into the secondary. Quarterbacks can't see everything, but Romo should have noticed safety
Eric Reid
moving toward Bryant. The late throw, which sailed, allowed Reid to make the play. The second pick was another example of missing an open receiver.
Dwayne Harris
was open as he ran into the end zone. Romo hesitated when he clearly saw Harris and while there was nobody open on the backside, he moved toward the corner of the end zone. Romo's throw floated and was picked off by athletic linebacker
Patrick Willis
. If Romo wanted to reach
Jason Witten
, a higher throw was needed where only the tight end could get it.
Romo's last pick of the day was another result of decision-making. Bryant was doubled by
Perrish Cox
and Reid and not open, yet Romo, with plenty of time, let the ball fly. It was slightly underthrown and picked off.
Romo had some other throws that were late or he just missed receivers. It happens to every quarterback. But the interceptions, at least the three he threw on Sunday, should not have been thrown.
3.
The Cowboys love linebacker Bruce Carter's athletic ability, that's why they drafted him. An example of this is a sack on a delayed blitz in the first half and a pass breakup to start the second. Carter, however, allows receivers too much space in front of him and reacts late to some passes. Carter was called for holding on tight end
Vernon Davis
on a pass play down the field in the third quarter. As the game progressed, the front seven did get better for the Cowboys, but it seems there was indecisiveness against the run. San Francisco quarterback
Colin Kaepernick
's ability to sprint out of the pocket and his strong arm causes defenses to play jittery.
June, 5, 2014
6/05/14
2:50
PM ET
There is one thing we've learned from the
Colin Kaepernick
contract, worth $110 million with $61 million guaranteed: It protects the
San Francisco 49ers
, unlike the deal
Tony Romo
signed with the Dallas Cowboys.
From 2014-2018, Kaepernick's base salaries are guaranteed only if he gets injured and can't play that particular season.
However, on April 1 of each year, the guarantee moves from injury to fully guaranteed. So if the 49ers decide in March not to keep Kaepernick, they can let him go without any major cap hits.
Romo
This is a smart move for a franchise that appears to have found its quarterback of the future. If Kaepernick isn't what the 49ers believe he is, then he's gone and the huge salary-cap hits are minimized.
The Cowboys have no such insurance, if you will, regarding Romo.
When he signed his six-year, $108 million contract two years ago, it was filled with huge cap hits for the franchise.
Team executive vice president Stephen Jones has said the quarterback position takes up the bulk of the cap. At the time that Romo signed his deal, it was needed because the Cowboys didn't have another player at his position ready to take over.
But with Romo now coming off back surgery -- he's signed until 2019, when he'll be 39 years old -- it raises some questions about the type of deal he signed.
Romo's base salary is just $1 million in 2014 and his cap hit is only $11.7 million because it was a restructured deal.
In 2015, Romo will have the highest cap number for any quarterback in the league at $27.7 million. It's in this season where the Cowboys will have to restructure his contract, yet again, to lower his cap figure.
Romo's final year with the Cowboys might be in 2016 when he's 36 and he could become a post-June 1 cut.
Of course, it's easy to second-guess what the Cowboys have done with Romo's contract. It was worth it at the time, and with his back issues of the last year, it raises questions about his health long term.
If we've learned anything this offseason, NFL teams are protecting themselves more than ever. The Cowboys have done this in contract deals with
Sean Lee
and Henry Melton.
Romo was a different situation. And now after seeing what the 49ers have done, maybe the contract should have been done differently.
February, 4, 2014
2/04/14
12:20
PM ET
IRVING, Texas -- In this copycat league that is the NFL, all of a sudden everybody needs tall and long conerbacks like Seattle's
Richard Sherman
. One problem, there aren't that many of those kinds of guys around.
Plus from a Dallas Cowboys' perspective, they have already allocated their cornerback resources in
Brandon Carr
,
Morris Claiborne
and
Orlando Scandrick
. So scratch that possible remodel.
Where the Cowboys can attempt to emulate the Super Bowl champion
Seattle Seahawks
is with their defensive line.
[+] Enlarge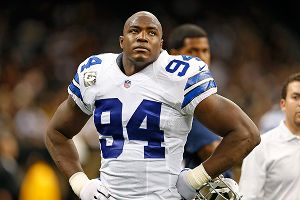 AP Photo/James D. SmithFor years, Dallas has relied on DeMarcus Ware to provide a pass rush. Adding depth to the defensive line could be a priority this offseason.
The Seahawks do what Rod Marinelli wants to do with the Cowboys. He just did not have enough quality players, rolling through 20 defensive linemen in 2013 because of injuries and poor play.
Seattle's defensive line accounted for 33.5 sacks from eight players. The Cowboys defensive line had 28 sacks from six players.
Michael Bennett
led the Seahawks with 8.5 sacks. Fellow free-agent pickup,
Cliff Avril
, was second with eight.
Clinton McDonald
had 5.5, and
Chris Clemons
had 4.5
Jason Hatcher
led the Cowboys with 11, followed by
George Selvie
with seven and
DeMarcus Ware
with six.
Kyle Wilber
had two sacks from his defensive end spot before he was switched to outside linebacker later in the season.
Everette Brown
and and
Jarius Wynn
each had one sack.
The Cowboys want to rotate defensive linemen as much as possible to keep them fresh. That is a great approach when you have players worthy of being in the rotation. In the Super Bowl win against the
Denver Broncos
, the Seahawks had four linemen take at least 41 of 69 snaps, led by Bennett, who played 47. In the NFC Championship Game against the
San Francisco 49ers
, they had four linemen take at least 31 of 55 snaps. In the divisional-round win against the
New Orleans Saints
, they had five linemen take at least 43 snaps.
That rotation kept opposing quarterbacks
Peyton Manning
,
Colin Kaepernick
and
Drew Brees
under pressure. The pressure could come from the inside or the outside. And it would come with mostly just four rushers, which allowed that back seven to be even more aggressive.
For far too long the Cowboys' pass rush has been Ware and nobody else. This past season it was Hatcher, and sometimes Selvie and Ware. The Cowboys hope
Tyrone Crawford
can develop after missing last season with an Achilles injury, but the defensive line needs a ton of help.
For the Cowboys to make a jump in the defensive rankings -- forget being a top-five or 10 unit -- they need a better pass rush. For a better pass rush, they need better players. To get better players in free agency they need to hope the defensive line market is as slow as it was in 2013 when Bennett received a one-year, $5 million deal, and Avril received two years and $15 million from the Seahawks. That could allow Dallas to either keep Hatcher (unlikely), or get lucky with some other prove-it type deals. The easier way to get better players is the draft, but will the right players be available at the right time?
If the Cowboys get a better pass rush, their secondary will look a lot better.
July, 8, 2013
7/08/13
3:05
PM ET
Tony Romo
insists that he isn't an 8-8 quarterback. But one prominent quarterback expert considers Romo to be just an average starter at this point of his career.
Romo came in at No. 15 in ESPN analyst Ron Jaworksi's quarterback rankings, falling five spots since last summer. A handful of quarterbacks with only one season of starting experience –
Andrew Luck
,
Robert Griffin
III,
Russell Wilson
and
Colin Kaepernick
– are among those whose names have yet to be called as Jaws works his way from No. 32 to No. 1.
Why does Jaworski sees Romo as a middle-of-the-pack starter?
"I have always liked Romo, but his play in the final regular season game of the 2012 season with the NFC East title on the line still bothers me," Jaworski said. "You just can't make mistakes, regardless of whose fault it is.
"It was the fourth-quarter interception with three-and-one-half minutes remaining and the Cowboys trailing by three. That I just can't forget. You can't make a throw with no definition in that particular situation, regardless of the pressure.
"Then I look at Romo one week earlier. Two big-time drives in the final five minutes against the Saints, tying the game with 21 seconds remaining.
"Back-to-back weeks, two different Romos. Those kinds of peaks and valleys is why Romo is No. 15 on my board. I love his talent, and there's no doubt perception has overtaken reality in the negative world view of Romo, but I would like to see more overall consistency in his play. He's capable of it."
April, 9, 2013
4/09/13
1:00
PM ET
The
Dallas Cowboys
signed
Tony Romo
to a seven-year contract extension worth $119.5 million, giving the team security at the position for the next four to five years.
But does that mean the Cowboys won't draft a quarterback for the future? Or that the Cowboys won't draft a quarterback this year?
The Cowboys have drafted 28 quarterbacks in franchise history, producing two Hall of Famers -- Roger Staubach and
Troy Aikman
. They have drafted two in the first round -- Craig Morton and Aikman -- and three total since Aikman retired in 2000.
One of the quarterbacks drafted since Aikman's retirement,
Isaiah Stanback
, was moved to wide receiver.
The Cowboys don't have an immediate need for a quarterback, but Romo will be 33 in Week 1 and backup
Kyle Orton
(30) is signed only through 2014.
The quarterback class is considered weak this year, but there are some intriguing names projected to go in the second and third rounds.
Ryan Nassib
,
EJ Manuel
,
Tyler Wilson
,
Mike Glennon
,
Landry Jones
and
Tyler Bray
are all projected to go in the middle rounds.
The perception is the Cowboys don't need a quarterback because they locked up Romo and have other areas of need (offensive and defensive line, safety and running back). But there's nothing wrong with adding to the position with young talent.
Stephen McGee
was a fourth-round pick in 2009 who was groomed to be a No. 2, but he never developed.
You could blame McGee or the coaching staff for the lack of progress.
Since 2000, NFL teams have drafted 14 quarterbacks in the fourth round, with the most notable names being Orton and
David Garrard
.
However, notable second-round selections since 2000 are
Andy Dalton
,
Colin Kaepernick
,
Kevin Kolb
and
Drew Brees
. Brees has won a Super Bowl and Kaepernick played in one this year.
Quality quarterbacks can be found in the early portions of the draft and even the middle rounds --
Russell Wilson
and
Matt Schaub
were third-round picks -- but making that commitment to the future is key for any NFL team.
While the Cowboys do have other needs, getting a quarterback this April could make just as strong a statement as giving Romo $55 million guaranteed.
January, 27, 2013
1/27/13
12:30
PM ET
It's the offseason, so we've decided to open the mailbag and see what the people have to say.
Enjoy.
Q: So how come Jerry Jones won't trade Tony Romo for some high draft picks or better yet a quarterback? junior805, Santa Maria, Calif.

A:
It doesn't make sense to trade Tony Romo. He's still the best option the team has at quarterback and while yes, I see an influx of rookie quarterbacks come into the league that produce big numbers, the Cowboys have bigger issues. Offensive line and defensive line, running back and tight end are bigger holes to fill than quarterback. I'm not against drafting one, just not in the first round. Remember
Russell Wilson
and
Colin Kaepernick
were not first-round picks and you see the success each had in 2012. In a weak quarterback class, the Cowboys are better suited to find one in the later rounds instead of forcing it in the first.
Q:Calvin, I'm all for Jerry Jones making changes to this team as the owner of the Cowboys. My question is with the defense (Monte Kiffin) moving to a 4-3, and the offense moving from a timing-based offense to the West Coast (Bill Callahan), with all this movement happening, do you feel Jerry is trying to force these transformations down the Cowboys fans' throats, just to prove a point that he will do anything to make sure that Romo has a legacy of success as the quarterback of the Dallas Cowboys? Instead of allowing the franchise to rebuild for the long term? What happens, if all these moves backfire on Jerry (I hope I didn't jinx the franchise). Will he be force to start over? Robert, Denver

A:
Jerry Jones said he's not making these changes for the sake of change. I believe him. However, the way he's going about things is leading to confusion. He won't admit he's moving Jason Garrett out of the playcalling business and giving it to Bill Callahan. Just say it and end all the drama. I do like the move with a 4-3 under Monte Kiffin, the father of the Tampa 2 defense. If these moves don't work, Jones will have no choice but to start over with the coaching staff. No choice at all. He already has a good young group of players in
Dez Bryant
,
Tyron Smith
,
Sean Lee
,
Bruce Carter
and
DeMarco Murray
to work with. It's up to this coaching staff to make this work.
Q: Mr. Watkins, I am a Cowboys fan and try to read everything I can about the team, but I have never read an article that breaks down the management chain of the Cowboys. Meaning who chooses personnel at the draft and who approves that choice? What is the avenue a player takes to get to talk to Jerry about problems? This interests me coming from a military background and we call this a chain of command. All fans blame Jerry for the Cowboys' spiral downward and if we knew this it can help giving us insight. Gabriel, Tucson, Ariz.


January, 16, 2013
1/16/13
12:38
PM ET
Monte Kiffin's worst nightmare came true: He'll have to face Chip Kelly's offense twice per season now.
Kelly, who was hired Wednesday as the
Philadelphia Eagles
' head coach, schooled the 72-year-old Kiffin in the college game. Kelly's Oregon offenses averaged 601 yards and 50 points against Kiffin's USC defenses, with the Ducks winning two of those three games.
Kiffin simply never figured out how to stop Kelly's zone-read-intensive spread offense. The most humiliating USC-Oregon matchup for Kiffin was the last time they met, when the
Ducks rolled up 730 yards in a 62-51 Oregon win
in November.
Oregon quarterback
Marcus Mariota
had 400 total yards in that game, completing 20-of-23 passes for 304 yards and four touchdowns and rushing for 96 yards on 15 carries. Oregon running back
Kenjon Barner
rushed for 321 yards and five touchdowns on 38 carries.
Sure, the Cowboys have a heck of a lot better defensive personnel than USC did. But you don't reckon that
LeSean McCoy
,
DeSean Jackson
and
Jeremy Maclin
, among other Philadelphia offensive players, would look pretty good in those wild Oregon uniforms?
Oh, and Oregon isn't the only zone-read spread team that lit up Kiffin's defense last season. Unranked Arizona racked up 588 yards in a 39-36 upset over USC, when the Wildcats had a 350-yard passer, a 250-yard receiver and two 100-yard rushers. The Trojans weren't at a talent disadvantage in that game.
It remains to be seen how much zone read the Eagles will run under Kelly. That will likely be determined in large part by whether he keeps
Michael Vick
– and whether Vick can stay healthy – or goes with
Nick Foles
as quarterback.
There's little doubt, however, that the Eagles will feature a fast-paced offense. The Patriots, who picked Kelly's brain and borrowed heavily from his system, had the NFL's fastest average snap time at 24.9 seconds last season, according to ESPN Stats and Information. Oregon's average snap time last season was 20.9 seconds.
Even if the Eagles don't run much zone read, the Cowboys better get ready for it.
It's a staple for the team they're chasing in the NFC East, the
Washington Redskins
, although
Robert Griffin
III's serious knee injury could certainly slow that down. Same with the
Carolina Panthers
and
Cam Newton
. The
Seattle Seahawks
and
San Francisco 49ers
, a couple of teams that look like contenders for years to come, also run some zone read with electrifying young quarterbacks
Russell Wilson
and
Colin Kaepernick
. And there are more of those dynamic dual-threat quarterbacks coming up through the college ranks.
The NFL game has changed since Kiffin's legendary tenure with Tampa Bay. Unfortunately for him, it's starting to look a lot like those Pac-12 teams that gave him so many problems.