Dallas Cowboys:

Cotton Bowl
July, 25, 2013
7/25/13
12:39
PM ET
OXNARD, Calif. -- For the first time in franchise history, the
Dallas Cowboys
have chosen cash over cachet, and it's hard to blame them.
As their $1.2 billion home begins its fifth football season, it will now be
known as AT&T Stadium
, and no longer Cowboys Stadium, as part of a deal with the telecommunications company.
PODCAST
Tim MacMahon joins Richard Durrett and Landry Locker from Oxnard, Calif., to discuss the latest news from Cowboys training camp.

Listen

Whatever AT&T has paid the Cowboys for the naming rights, it will be significant and obviously a lot better than the $0 they received in the stadium's first four years.
But when you said Cowboys Stadium, people knew what it was, if not necessarily where it was. With AT&T Stadium, will everybody immediately know what and where it is? Maybe.
Think about the most famous stadiums or arenas across the country. Yankee Stadium doesn't have a naming-rights deal. Fenway Park, Lambeau Field, Soldier Field and the Rose Bowl are iconic and without naming-rights deals.
Do people know the difference between the American Airlines Center and AmericanAirlines Arena?
From 1960 to 1971, the Cowboys called the Cotton Bowl home. Early in the 1971 season, they moved to Texas Stadium in Irving, where they remained until 2008.
They have called Cowboys Stadium in Arlington home since 2009.
Already the most-valued NFL franchise and the fifth-highest-valued franchise in the world, according to Forbes Magazine, maybe this deal will push the Cowboys ($2.1 billion) back into the top three ahead of the New York Yankees ($2.3 billion) and FC Barcelona ($2.6 billion).
This isn't to blame owner and general manager Jerry Jones for doing what he's doing. He's the NFL's best marketer, and it had to pain him to not have a naming-rights deal for so long. The economy was terrible when the stadium opened but has gotten better. He put a lot of his own money into the stadium and has a debt that he has to pay off -- and he is supposedly close to paying it all off if he wants to do so.
Some of the in-fighting among NFL owners over the years has been about teams' inability to sell. Legend has it that Jones famously told Cincinnati owner Mike Brown to come up with a naming-rights deal for his stadium if he wanted more money. The Bengals' home is known as Paul Brown Stadium, named after the franchise's founder.
There was some irony when Jones could not sell the name for the price he wanted, putting him in the same company with Brown.
So now Jones and AT&T have come up with an agreement.
But will you call it AT&T Stadium? Or has Cowboys Stadium earned its way into the lexicon?
January, 27, 2011
1/27/11
2:09
PM ET
By
Jeff Caplan
| ESPNDallas.com
A potential football feast is being lined up at Cowboys Stadium over Thanksgiving weekend.
The Dallas Cowboys will kick off the festivities with their annual Thanksgiving Day game, and negotiations on two fronts are in the works to bring two college football games to Arlington.
Texas Tech
and
Baylor
hope to soon finalize their Big 12 Conference game at Cowboys Stadium for Saturday, Nov. 26. Those two teams played in North Texas the last two seasons, at Cowboys Stadium in 2009 and at the Cotton Bowl last season.
On Friday, Nov. 25, how about
TCU
vs.
BYU
?
Th0se two schools, no longer Mountain West Conference rivals now that BYU has gone independent, are
in negotiations to play a non-conference game at Cowboys Stadium
, according to two sources. The Thanksgiving date is not a firm one, but one that makes sense. The Frogs initially offered to play Tech at JerryWorld after the Red Raiders last week dropped TCU from the 2011 schedule. Tech didn't take the offer, likely because it was already negotiating to play Baylor there. Two games in one season at The Big Yard is unnecessary.
A TCU-Tech mathup would have been played in September. However, BYU's 12-game 2011 schedule is booked through Oct. 29, the first of two bye weeks. The other bye week is Nov. 26. Because of a provision that allows teams that travel to Hawaii, which BYU does, to add a 13th game, the Cougars' Thanksgiving bye is rather convenient.
TCU has just two non-conference games scheduled (at Baylor, Sept. 3; vs. SMU, Oct. 1) and would have flexibility within its Moutain West Conference schedule, which won't be set for likely another month, to play BYU at Cowboys Stadium on Thanksgiving Friday. That matchup would seem a perfect fit for ESPN, which struck a deal with BYU once it left the MWC.
April, 8, 2010
4/08/10
1:55
PM ET
By
Matt Mosley
| ESPNDallas.com
For reasons I can't recall, my best friend Danny Terry and I were once called upon to work the sideline for the Miami Dolphins at Texas Stadium. I was 13 at the time and the Cowboys' veteran equipment manager Bucky Buchanan signed us up for duty.
[+] Enlarge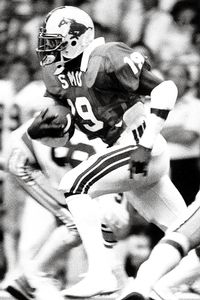 Getty ImagesEric Dickerson and the Pony Express frequently galloped across the Texas Stadium turf during their heyday.
Looking back, I should have been blown away in the presence of coach Don Shula and a young quarterback named Dan Marino. But all I knew about Marino is that he'd fallen short to SMU in the Cotton Bowl.
Offensive tackle Ronnie Lee gave me a practice shirt that day and linebacker Bob Brudzinski provided me with some gloves that I kept for six or seven years.
Before the game, I actually warmed up quarterback Don Strock, who appeared to be older than most of the assistant coaches. We also shagged punts for the late, great Dolphins punter Reggie Roby, a man who would have hit Jerry Jones' new HD screen on a regular basis.
I would end up covering games for a living at Texas Stadium 18 years later, but that wasn't as fun as working the sideline on "Monday Night Football."
Dad always said Texas Stadium was either the hottest or coldest place in the world. And we've endured both extremes. Probably my favorite games to watch at Texas Stadium were between Baylor and SMU in the late 1970s and early 1980s. Baylor had linebacker Mike Singletary and the Mustangs had the Pony Express.
For a brief period of time, we had one of the best college teams in the country and the most recognizable pro team sharing the same home.
Texas Stadium is one of the most iconic structures in the state. And tearing it down is not going to erase the memories.
Oh, one more thing: My first date with my future wife was attending a playoff game between Lake Highlands and Waco High School at Texas Stadium. Perhaps I should have led with that.