Dallas Cowboys:

Craig Morton
January, 13, 2014
1/13/14
2:00
PM ET
IRVING, Texas --
Tom Brady
and
Peyton Manning
will meet for the 15th time in their careers on Sunday when the
New England Patriots
play the
Denver Broncos
in the AFC Championship Game.
It will be their fourth playoff, which are the most postseason matchups between quarterbacks since 1950, according to Elias.

Maybe there will be some Brady-Manning (or Manning-Brady) fatigue this week, but the matchup got me thinking about the
Dallas Cowboys
.
Roger Staubach had Terry Bradshaw.
Troy Aikman
had
Steve Young
and
Brett Favre
.
In the early 1970s, the Cowboys knocked out John Brodie's
San Francisco 49ers
three straight years, but Staubach (1971) started just one game and Craig Morton started two (1970, '72). Staubach eliminated the Los Angeles Rams in 1973, '75 and 76 but he faced three different quarterbacks in John Hadl, Ron Jaworski and Pat Haden.
That's why Bradshaw is the pick.
Was there a better rivalry in the NFL than the Cowboys and
Pittsburgh Steelers
? They were the magical teams of the 1970s and the Steelers can lay claim to the team of the decade because of their wins in Super Bowl X and Super Bowl XIII. That last loss still stings members of the 1978 Cowboys.
Staubach and Bradshaw met only twice in the regular season with the Steelers winning those matchups, too.
Aikman had a 4-3 record against Young in the 1990s. The Cowboys went through the Niners in back to back NFC Championship Games in 1992 and '93 on their way to Super Bowl wins against the
Buffalo Bills
.
Young broke through in 1994 by beating the Cowboys in the NFC title game to win his only Super Bowl as a starter.
They played in four regular-season games against each other with the quarterbacks splitting the meetings.
In order to get to the 1993 and '94 NFC Championship Games, the Cowboys had to go through the
Green Bay Packers
, beating Favre twice in the divisional round. Aikman beat Favre in the NFC title game in 1995.
Aikman had a 6-1 record against Favre in head-to-head meetings. The only loss in the series came in the only meeting at Lambeau Field on Nov. 23, 1997, a 45-17 decision.
October, 27, 2013
10/27/13
7:33
PM ET
DETROIT --
Tony Romo
had three touchdown passes in a game for the 31st time in his career as the
Dallas Cowboys
' starting quarterback.
It might have been an historic day for Romo, passing Craig Morton and Ken Stabler for 51st in NFL in passing yards (27,953) and Bob Griese and Stabler in touchdown passes (195), but it might have been the least impressive three-touchdown game of his career.
Romo completed only 14 of 30 passes for 206 yards in the Cowboys' 31-30 loss to the
Detroit Lions
, and 110 of those passing yards came on touchdowns to
Terrance Williams
(60) and
Dez Bryant
(50) in the fourth quarter.
"That was a very good front we just played against," Romo said. "It felt eerily similar to the Minnesota game up in the dome in the playoffs (in 2009), scheme-wise and a little bit with the way they were able to rush the passer. If you can rush the passer like that in this environment it's going to be a very tough place to play. You're not going to be able to get to your progressions and you're not going to be able to get the ball to certain spots. I thought the guys did a good job as the game went on, giving us a little more time to get to the second and third reads. We were able to exploit that a little bit more."
Romo completed only 46.6 percent of his passes, the third-worst of his career when he has started and finished a game. For the third time this season he was not able to throw for more than 210 yards in a game. After completing at least 69.4 percent of his passes in each of the first five games, Romo has completed 60 percent, 59.6 percent and 46.6 percent of his passes in the last three games.
He wasn't sacked for the first time in a game this season, but according to ESPN Stats & Information he was under duress 38 percent of his total drop backs. In the first seven games, he was under duress on 22 percent of his drop backs.
"I thought they did a good job of pressuring the quarterback and winning on the line of scrimmage," coach Jason Garrett said. "They've got some good players up front and Tony had to get the ball out of his hands. We didn't have the rhythm we wanted in the passing game and they had a lot to do with it."
January, 17, 2012
1/17/12
2:30
PM ET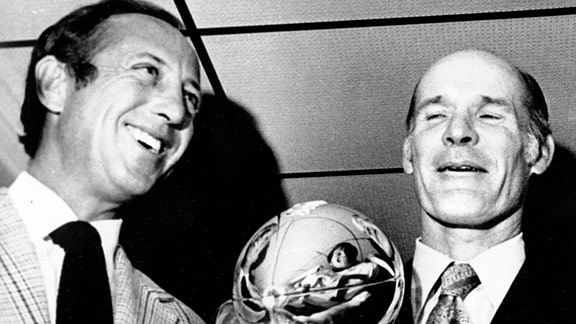 AP PhotoForty years ago, Pete Rozelle handed Tom Landry and the Cowboys their first Super Bowl trophy.
Monday marked the 40th anniversary of the
Dallas Cowboys
' first Super Bowl title.
An event was held at Studio Movie Grill in Dallas to honor the team and promote a book written by former Associated Press sportswriter Jaime Aron, "Breakthrough Boys."
The core of that team was labeled a bunch of underachievers for their failure to win big games in previous seasons, including losing Super Bowl V to the Baltimore Colts.
"We just came back and committed to work harder and be better," said Lee Roy Jordan, a Cowboys linebacker. "After we lost in Super Bowl V, I tell people we didn't lose it, we gave it to them. We had five turnovers, three in the last five minutes or so, but we still lost. But we were committed to come back and do it and we did. We had a lot of ups and downs."
The 1971 season had its share of problems. The season started with a quarterback controversy surrounding Roger Staubach and Craig Morton.
Star running back Duane Thomas was upset he was sent back to the Cowboys after a failed trade with New England. Thomas didn't speak with coach Tom Landry or his teammates for the bulk of the 1971 season.
Of course, there was the season itself. Somehow, the Cowboys managed to turn things around after a team meeting following a loss to the
Chicago Bears
.
The Cowboys won their final seven games to win the NFC East and then allowed just nine points in the postseason, capped with a 24-3 victory over the
Miami Dolphins
in Super Bowl VI.
"When things started to get bad, you forget about your personal issues," Staubach said. "You start thinking about the team issues and we really got it together and started playing together and it had a lot to do with we were 4-3, and if we didn't have the talent we wouldn't have gotten it turned around. Our personal issues became secondary."