Dallas Cowboys:

Curtis Johnson
August, 2, 2010
8/02/10
6:17
PM ET
SAN ANTONIO -- The Cowboys worked on their short-yardage and red-zone offense Monday. There were situations where the offense took snaps against a 4-3 defensive alignment because Cincinnati, Dallas' first preseason opponent, runs that scheme.
*The injury report:
Montrae Holland
(hamstring),
Dez Bryant
(ankle),
Pat Watkins
(knee),
Akwasi Owusu-Ansah
(shoulder),
Sean Lee
(quad),
Stephen Hodge
(knee) and
Sean Lissemore
(groin) all missed. Coach Wade Phillips said Lee and Owusu-Ansah might return this week. Lee has a good chance of playing in Sunday's preseason opener. Owusu-Ansah might not play until the second preseason game against Oakland.
[+] Enlarge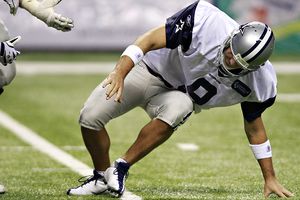 AP Photo/Eric GayA small stumble aside, Tony Romo finished Monday's practice with no problems.
*
Tony Romo
didn't have as many throws downfield Monday because of the practice situations, but his sore right biceps wasn't an issue. He also made fewer throws during individual drills. He had just one scare Monday when he was tripped up handing the ball off to
Marion Barber
. Romo got up slowly and shook his right foot but was OK and finished practice with no problems. The trainers didn't tend to him. Phillips said Romo was fine.
*Kicker
David Buehler
went 4-for-6 on field goal attempts Monday. He was wide right on a 44-yard attempt and wide left from 53 yards. Buehler made kicks from 30, 38, 48 and 50. He is 2-for-3 on kicks from 50-yards or more. He's 20-of-24 on field-goal attempts in camp this summer.
*Marion Barber ran with a burst and was physical during the short-yardage and red-zone drills. Barber has dropped 10 to 15 pounds this summer to gain some speed and elusiveness in the hope that he can survive a 16-game season. However, after Barber gained two first downs on consecutive plays, he spun the ball and then flicked it downfield. Both of those moves would have been penalties.
*
Alan Ball
continues to make plays. On a completed pass from Romo to
John Phillips
, Ball came from the middle of the end zone and knocked Phillips down short of the end zone. The Cowboys like Ball's athletic ability, speed and smarts.
*During a three tight-end formation, Romo found
Jason Witten
for a touchdown which set off Phillips to correct something linebacker
Jason Williams
didn't do on the play. Secondary coach Dave Campo yelled at safety
Barry Church
for moving to the right spot late before the snap of the ball.
*Sometimes
Roy Williams
just can't catch a break.
Terence Newman
did a nice job of stripping Williams of a completion. The receiver was trying to tuck the ball when Newman made a smart play and forced a turnover.
*Fullback
Chris Gronkowski
is inconsistent. On one play he did a nice job blocking but then on several others he was knocked down.
Deon Anderson
, the projected starter at that position, held his own against
DeMarcus Ware
and also caught a touchdown pass. Anderson also had a drop.
*Notable: Nose tackle Josh Brent who returned to practice over the weekend with a cast on his right hand because of a broken hand, left practice briefly. He later returned and said he needed the cast to retaped.
Jay Ratliff
was pulled out of the second-to-last play of practice after he was shaken up. Ratliff jogged to the middle of the field for the final stretching exercise and appeared to be OK.
Curtis Johnson
, the backup defensive end, experienced a leg problem, but it didn't appear serious. ... Former Cowboys pass rusher,
Charles Haley
attended practice and received plenty of love from the fans. ... One fan hung a bra over the end-zone wall hoping for an autograph.
July, 29, 2010
7/29/10
9:04
AM ET
By
Bryan Broaddus
| ESPNDallas.com
My thoughts from the Wednesday practice:
*When you watch offensive tackle
Alex Barron
play, the one area that strikes you is how good of a foot athlete he is. On the other hand, another area you notice is he doesn't display much upper or lower body strength.
When studying offensive tackles, you not only look for a player that has quality footwork but more importantly, uses strength to control the defender. You have to be able to stop a defender's charge or get push in the running game.
[+] Enlarge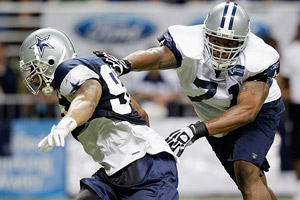 AP Photo/Tony GutierrezNew offensive tackle Alex Barron uses quality footwork to compensate and ride a defender out of the play when he's overmatched by a stronger player.
To compensate for this, Barron leans on the defender then works his feet in order ride the defender out of the play. He really has trouble extending his arms but his footwork saves him.
Barron is a very lean 316 pounds and really has trouble when defenders take a hard inside charge on him. This happened in the one-on-one pass rush drill when linebacker
Curtis Johnson
ran a twist stunt inside and Barron was locked onto him man for man. Once Johnson committed to the inside, Barron didn't have the power to stop him.
It was something that showed up on tape with him. When Barron played with the Rams, against the Saints and Vikings, he was always much better taking the rusher up the field then down inside.
*It will be real interesting if
Kevin Ogletree
develops into a quality special teams player.
We know he has skill with the ball in his hands, we saw that in the game played in Philadelphia last season. My question: Does he really have the burning in the gut to make tackles as a gunner on the punt team or as a member of the kickoff team? To play special teams in the NFL takes a great deal of passion and desire, it's not for the meek.
Ogletree runs well enough to have an impact on teams. Heck, he runs a 4.36 40.
With how tight roster spots will be on this squad, special teams play and what you bring to the game every week will determine if you make this roster.
Patrick Crayton
is a proven return man and steady receiver.
Sam Hurd
is a trusted core special teams player trying to become more of a part of the offense.
Right now, Ogletree is being placed in roles on special teams that require determination and toughness. He will have to be more than a guy that catches "bubble screens" on Sundays to help this football team.
*The scout in me is enjoying watching backup fullback
Chris Gronkowski
practice. There are certain players that just catch your eye when they walk on to the field and go to work. Gronkowski is one of those guys for me.
He is a square built player (240 pounds) that looks and plays with power. Whether it's in the 9-on-7 drill where he is the lead back trying to dig
Bradie James
out of the hole or as the wing on the punt team, working outside blocking on the edge or using his 4.70 speed to hustle down the field on the kickoff team. He is an interesting player to watch.
Where coaches play you on special teams will tell you what they think of a player. Gronkowski is only one of three rookies that see action on the punt team.
Sean Lee
and
Danny McCray
are the others.
With five games this preseason, Gronkowski will have an opportunity to make a good run at this roster.
February, 22, 2010
2/22/10
9:45
AM ET
The ninth in a series looking at each of the Dallas Cowboys' position groups:
Players:
DeMarcus Ware
(signed through 2015),
Anthony Spencer
(signed through 2011),
Victor Butler
(signed through 2012),
Brandon Williams
(signed through 2012),
Steve Octavien
(exclusive rights free agent),
Curtis Johnson
(signed through 2010)
[+] Enlarge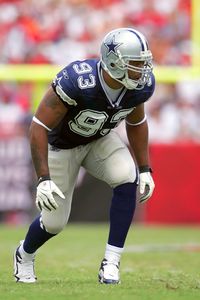 Cliff Welch/Icon SMI Anthony Spencer was arguably the Cowboys' best player during the second half of 2009 with eight sacks in the final eight games. He finished with 79 total tackles.
What went right:
Spencer justified the decision to release veteran
Greg Ellis
by emerging as an impact player.
Spencer was sackless through 10 games, but he was a consistent force against the run (team-high nine tackles for losses) and arguably the Cowboys' most dominant defensive player down the stretch. He had eight sacks in the final eight games, including the playoffs, serving notice that blocking schemes better also account for the guy on the opposite side of Ware.
Ware was an All-Pro again despite battling through an assortment of injuries that included a stress fracture in his foot, a chip fracture in his wrist, a strained neck and a sore back. He still didn't miss a game, racking up 11 sacks, 45 quarterback pressures and five forced fumbles.
Ware's performance in the win over the previously undefeated
New Orleans Saints
ranks among the most inspirational in franchise history. Six days after being carted off the Cowboys Stadium turf into an ambulance with a neck injury, Ware had two sack-strips, including one that sealed the win.
What went wrong:
The Cowboys were counting on one of their fourth-round picks to be a reliable pass-rushing specialist who could spell the starters. That didn't happen.
Williams, out of Texas Tech, suffered a season-ending knee injury during the preseason. His power and quickness had given him a slight edge over Butler coming out of training camp.
Butler had three sacks in limited playing time, but he failed to earn the coaches' trust. Wade Phillips, who usually goes out of his way to emphasize the positives about his players, did not hesitate to say he didn't believe Butler was ready for a significant role.
What's next:
The Cowboys locked up Ware with a six-year, $78 million contract extension that includes $40 million guaranteed. While Spencer won't get that kind of money, he also has a prominent place in the Cowboys' long-term plans.
The starting outside linebackers are set for years.
The Cowboys are counting on the development of Williams and Butler, so they don't believe that they need to draft an outside linebacker. However, the presence of last season's two fourth-rounders won't prevent the Cowboys from selecting another player at their position if they think it's a good value pick.
November, 9, 2009
11/09/09
9:50
AM ET
It's our weekly look at who's up and who's down following the Dallas Cowboys' victory against the Philadelphia Eagles.
Stock Up
Roy Williams: Why not? Williams caught five of the eight passes thrown his way for 75 yards. It was the most passes he's caught since the Cowboys traded for him last year.
Marcus Spears: If you ever wondered where Spears has been this year, you're not looking hard enough. His tackle on Eagles quarterback Donovan McNabb on a fourth-and-1 was one of many big plays for the Cowboys.
Mike Jenkins: The Cowboys' secondary shut down the quick-strike, big-play attack of the Eagles. Jenkins grabbed another interception, his team-leading third of the year, and he handle his business against DeSean Jackson and Jeremy Maclin.
Stock Down
Martellus Bennett: It's hard to find some negative after a game like this but the second-year tight end had two drops on the only throws directed his way.
Curtis Johnson: He gets called up to the active roster for the first time in four weeks and is flagged for an illegal man downfield on a punt.
Terence Newman: The veteran cornerback earned a delay of game penalty for kicking the ball after an incompletion. He knows better than that.
November, 8, 2009
11/08/09
4:24
PM ET
PHILADELPHIA -- It's official, Eagles running back Brian Westbrook has been declared inactive for tonight's game against the Cowboys.

Westbrook, who missed last week's game due to headaches as a result of a concussion, practiced twice this week but didn't on Friday and coach Andy Reid said he was OK.
LeSean McCoy will start in Westbrook's place.

Other Eagle inactives: CB Dimitri Patterson, RB P.J. Hill, LB Chris Gocong, G Max Jean-Gilles, G Mike McGlynn, WR Kevin Curtis and DE Victor Abiamiri.

Now the for the Cowboys' inactives: CB Allen Rossum, S Michael Hamlin, LB Steve Octavien, LB Jason Williams, G Montrae Holland, C Duke Preston and T Pat McQuistan.
For the first time this season, Octavien was listed as inactive. Curtis Johnson, inactive the last four weeks, is active a linebacker.
October, 21, 2009
10/21/09
3:30
PM ET
Here's the Cowboys' injury report and what it means.
First, everybody practiced in the rain Wednesday at Carrollton's Standridge Stadium.
Now, the injuries:
Starting running back Marion Barber has a fractured left thumb. He practiced with a soft cast on Wednesday and is expected to play against Atlanta. For your information, Barber is right-handed and carries the ball on that side.
An MRI revealed that starting outside linebacker DeMarcus Ware has a stress fracture on his left foot; he is playing with pain. Coach Wade Phillips said Ware should play Sunday against Atlanta.

Phillips said the foot problem isn't a reason why Ware has only two sacks this season.

Running back Felix Jones is practicing with a bulky left knee brace. He said he's still sore but he's able to make cuts, which is a good thing as far as his recovery is concerned.

Safety Gerald Sensabaugh has a cast over his right thumb and said he should be able to grab wide receivers and catch passes.

Wide receiver Roy Williams was still sore following practice as he recovers from three bruised ribs. Phillips didn't guarantee Williams would start Sunday against Atlanta. If Williams is out, Patrick Crayton and Miles Austin will get the call.

Other injuries of note: Right tackle Marc Colombo (sprained ankle), right guard Leonard Davis (broken thumb), center Andre Gurode (sprained knee), safety Michael Hamlin (broken wrist) and linebacker Curtis Johnson (hamstring) should all play on Sunday.