Dallas Cowboys:

D.J. Fluker
April, 25, 2013
4/25/13
3:08
PM ET
IRVING, Texas – With the 18th pick in the first round, the Cowboys could make their pick sometime around 10 p.m. That's a lot of time to sit around and wait.
PODCAST
Todd Archer joins Fitzsimmons & Durrett to discuss what we can expect in the first round of the NFL draft and how it relates to the Dallas Cowboys.

Listen

Throughout the week, the Cowboys have run through every possible scenario so when they are on the clock (or even a little earlier than that) they will have a pick ready. It's like going in with multiple game plans on a Sunday.
Best-case scenario:
Somehow, some way
Jonathan Cooper
or
Chance Warmack
are available. History says they will there because five offensive linemen have not gone so early in thirty-plus years, but it seems like there is a lot of evidence to the contrary.
Cooper would be the preference but Warmack would be a nice pickup, too. They would walk in as Day 1 starters, which has become something of a catch-phrase around the Cowboys here this week. They would upgrade the weakest part of the team.
The only way this happens is if a quarterback or two or a wide receiver or two go early. Perhaps a running back. They need some unexpected moves that would push Warmack (most likely) down to them.
Likely scenario:
The Cowboys take a defensive lineman, like
Sheldon Richardson
or
Sylvester Williams
, or safety
Kenny Vaccaro
.
As of this moment, I believe they would take Richardson if they cannot move back and the offensive linemen are gone. He can play both interior spots with the idea of him becoming the
Warren Sapp
for this Monte Kiffin defense. Williams is more of the traditional run stopper. Both would bring value to the defense.
Vaccaro is the top safety and he would fill an immediate need. Does he slip to No. 18? The Cowboys worked him out privately and had him at Valley Ranch for a visit.
Of the three, Williams figures to be the guy most likely to be available.
Second-best case scenario:
Trade down in the first round and pick up extra picks.
Some might believe this would be the best-case scenario, but the offensive line needs big help.
If the Cowboys can move down, then that would open up more players to them and fit with their draft board more. They are in a no-man's land right now where there is a gap in talent.
Depending on how far back they go, this would give the Cowboys looks at offensive lineman
D.J. Fluker
and
Justin Pugh
, defensive end
Bjoern Werner
and safeties
Eric Reid
and Jonathan Cyprien.
A pick of Fluker would seem to mean
Doug Free
would not be back. Pugh could be a walk-in starter at guard. Werner would fill a need as a backup defensive end with the eye on him starting in the future with
Anthony Spencer
on a one-year deal. Reid and Cyprien would be walk-in starters, too.
Worst-cast scenario:
Everybody listed above is gone and they can't trade down.
They must be willing to make a pick and this is where Notre Dame tight end
Tyler Eifert
comes into the mix. He could be their best player available but drafting a first-round tight end doesn't help them that much in 2013 or give Jason Garrett the best chance to win now.
Eifert will be a terrific player, but Garrett has not shown the ability to work multiple tight end packages effectively like New England has. The Cowboys couldn't make it work with second-rounders
Anthony Fasano
or
Martellus Bennett
behind
Jason Witten
.
Wide receiver
Cordarrelle Patterson
, Werner, Cyprien and Fluker would also be in this mix. Picking any of them at No. 18 would likely be higher than the Cowboys would want.
April, 24, 2013
4/24/13
10:43
AM ET
There was concern, I won't lie, as I sat there with the No. 18 pick for the
Dallas Cowboys
in the ESPN.com
blogger mock draft
. Dallas absolutely needs to come out of the first round with a new starting offensive lineman, and they were going off the board quickly. The top three tackles went in the top five picks, and when guard
Chance Warmack
went to Arizona at No. 7, I got worried.
Eyeing North Carolina's
Jonathan Cooper
, who was still on the board at No. 10, I reached out to Paul Kuharsky to ask if the Titans wanted to trade down. He said they did. I offered Dallas' first-round pick and third-round pick (Picks 18 and 80) for the No. 10. Paul countered by offering Picks 10 and 142 (fifth round) for Picks 18 and 47 (second round). I said I couldn't do that, after ripping the Cowboys for giving up their second-round pick last year to move up for
Morris Claiborne
. Don't want to be hypocritical, right?

Fluker
So Paul and I talked about some possibilities involving 2014 compensation, but we couldn't agree on it, and he ended up taking
Sharrif Floyd
for the Titans at No. 10. My next move was to reach out to Bill Williamson, who was picking for the Chargers at No. 11. I made the same offer to him -- the 18 and the 80 -- but he said he was going to stay put and make a pick. He picked Cooper, which obviously disappointed me-as-Cowboys.
Now I had my eye on
D.J. Fluker
, the Alabama tackle who would allow the Cowboys to bid goodbye to
Doug Free
and help solidify the run game. I think he's the absolute perfect guy for the Cowboys at 18 if the guards are gone by then, and the only team I was still afraid might snatch him away was Carolina at 14. Fluker didn't feel worthy of trading up for, so I decided I'd stay put and hope he fell to 18, and if he didn't, I'd look into trading down and going after someone like Syracuse's
Justin Pugh
.
But Pat Yasinskas took
Sheldon Richardson
for Carolina at 14. And (because I know you guys want to know) Mike Sando took safety
Kenny Vaccaro
for the Rams at 16. And lo and behold, there was Fluker still sitting there at 18 for the Cowboys. I ran to the podium.
Will the Cowboys do the same if the same situation plays out Thursday night? It doesn't sound like them. But I think they'd be wise to take Fluker. And I don't even think they'd be nuts to take an offensive lineman in the second round as well. The need -- short term and long term -- is that significant.
April, 23, 2013
4/23/13
1:31
PM ET
IRVING, Texas – Let me start the post this way: I love Dan Graziano's work. Somehow he keeps track of four teams in the NFC East and seems to be able upset fans of all four at the same time, so he's doing something right.
PODCAST
Nate Newton joins Fitzsimmons & Durrett to discuss the Cowboys and the upcoming NFL draft.

Listen

But I think Dan is over the top in the view that the Cowboys must take an offensive lineman with their first-round pick. In today's #bloggermock, Dan picked Alabama tackle
D.J. Fluker
with the 18th pick.
Fluker may well be the Cowboys' pick Thursday, but the vibe is they don't have Fluker that high on their board.
Here's what the Cowboys should do: take the best player regardless of the position.
If at No. 18 the Cowboys' draft board has an offensive lineman as the 29th-best player -- and that's not how they configure their draft board, by the way, but just go with it for now -- don't reach on that player.
When you reach, you're taking a lesser player and end up with a lesser roster overall.
In a draft that does not have the "sexy" skill players, I don't see one of the team's top line targets making it to No. 18.
The Cowboys have taken one offensive lineman in the first round since 1981 and that was
Tyron Smith
two years ago. They have found players like
Larry Allen
,
Flozell Adams
and
Andre Gurode
in the second round.
But the Cowboys' problems along the offensive line are not because they haven't taken enough first-round picks. The problem is they can't identify offensive lineman in the early and middle rounds where other teams have.
Despite the last year-plus,
Doug Free
(fourth, 2007) had a decent enough run, but the Cowboys have received nothing or next to nothing from
David Arkin
(fourth, 2011),
Robert Brewster
(third, 2009),
James Marten
(third, 2007),
Jacob Rogers
(second, 2004) and
Stephen Peterman
(third, 2004).
For months the Cowboys agonize over their draft board. They try to fit everybody in where they believe they should go. If you just skip that process on draft day, then you have wasted energy, time and money.
There is no doubt that the Cowboys have a need along the offensive line. There's no doubt they should take an offensive lineman at No. 18 -- if he's the best player.
But "should" and "must" are two different things.
Here's my must: stick to the board.
April, 19, 2013
4/19/13
11:46
AM ET
»
NFC Eight in the Box
:
East
|
West
|
North
|
South
»
AFC
:
East
|
West
|
North
|
South
What would be the ideal first-round scenario for the Cowboys in next week's NFL draft?
Dallas Cowboys
PODCAST
Arlington and Texas A&M product Luke Joeckel, the potential No. 1 overall pick in the NFL draft, joins Ian Fitzsimmons and Richard Durrett to discuss the draft, coaches and advice from his dad.

Listen

Because of the perceived lack of top-level skill-position talent in this year's draft, a lot of the mock drafts and projections have the top offensive linemen going off the board early.
Mel Kiper Jr.'s latest mock

, for example, has six offensive linemen going in the top 12 picks, which means well before the Cowboys pick at 18 and probably too early for them to make a sensible trade-up to grab someone like Alabama guard
Chance Warmack
or North Carolina guard
Jonathan Cooper
. This would be unfortunate and far from ideal for the Cowboys, but history offers hope. The last time six of the first 17 picks in the draft were offensive linemen was 1966, when there were only 15 teams in the league. Only three times since then -- 1977, 1985 and 2008 -- have as many as five offensive linemen been picked in the top 17. The Cowboys probably can't expect any of the top three tackles to fall to them, but their ideal first-round situation would be for Warmack, Cooper or even Alabama tackle
D.J. Fluker
to fall to 18 and allow them to shore up their most significant area of short-term and long-term need. If only one of those guys is still available by 14, the Cowboys should look into trading up to get him.
To see the ideal first-round scenario for the other NFC East teams, click here.
March, 28, 2013
3/28/13
4:00
PM ET
Yes, ladies and gentlemen,
Todd McShay's latest mock draft

is out and it covers the first
two
rounds, which means Redskins fans get to play too! Here's what Todd projects, along with my thoughts on his picks for each NFC East team:
Philadelphia Eagles

4.
Eric Fisher
, OT, Central Michigan
35.
EJ Manuel
, QB, Florida State
Yes, even with cornerback
Dee Milliner
still on the board, I like Fisher for the Eagles at 4. I think they need to get a long-term building block at that spot, and an elite tackle is just that. As for Manuel at 35, I like it find if they think he has franchise quarterback potential. If not, they're just adding to a stable of caretaker backups and developmental guys, and the pick could be used better. I do know which of those categories fits Manuel, and I imagine if the Eagles are talking about him, they're trying to figure that out as well.
Dallas Cowboys

18.
Kenny Vaccaro
, S, Texas
47.
Kyle Long
, G, Oregon
I have no problem with the Cowboys coming out of the first two rounds with a safety and an offensive lineman. I just think they need to pick them in the reverse order. In Todd's mock, the top five offensive linemen go in the first 17 picks -- something that's only happened once in the last 15 drafts. But even if that happens, I'd have no issue with the Cowboys taking the tackle Todd projects to go with the very next pick to the Giants. They need elite offensive line talent more than they need this draft's top safety.
New York Giants

19.
D.J. Fluker
, OT, Alabama
49.
Jamar Taylor
, CB, Boise State
Got to be honest, I have no idea what the Giants will or should do in the first round, and it doesn't seem as though most of the draft analysts do either. Offensive line seems to make sense, but they don't like to draft offensive linemen in the first round. I keep thinking they'll take the highest-ranked defensive lineman on their board in the first round, or maybe a defensive back. But maybe I'm relying too much on Giants draft history and this is a year in which they'll go against it.
Washington Redskins

51.
Gavin Escobar
, TE, San Diego State
Obviously, this is a pick that assumes they don't re-sign
Fred Davis
. If they do, I have to think they look for a safety here like D.J. Swearinger or Jon Cyprien.
March, 24, 2013
3/24/13
11:30
PM ET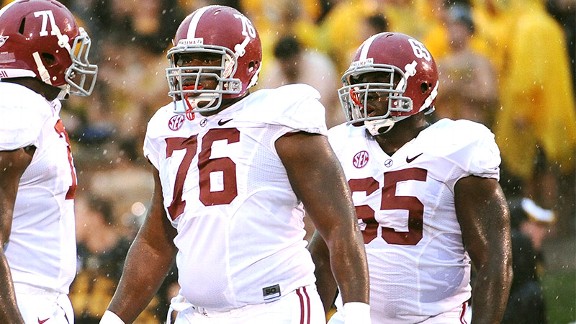 Dak Dillon/USA TODAY SportsAlabama's D.J. Fluker (76) is projected as a right tackle and has the size and athletic ability needed.
To help preview who might be on the Dallas Cowboys' board for the NFL draft, ESPNDallas.com has identified five players at five key positions that we'd like to learn more about. Along those lines, we've asked former Cowboys assistant coach Glenn "Stretch" Smith – the official scout of Galloway & Company – to study tape of each player and give his thoughts.
No. 4 offensive lineman: D.J. Fluker
Position:
Tackle
Height/weight:
6-foot-5, 339 pounds
School:
Alabama
Why he's on the radar:
The Cowboys are looking for upgrades along the offensive line because of the inconsistent play of starting right tackle
Doug Free
last year. Getting a rookie with tremendous upside to be either the swing tackle or compete for a starting job should be viewed as a positive for the Cowboys. Fluker is projected as a right tackle and has the size and athletic ability for the position. Coach Jason Garrett respects what Nick Saban has done at Alabama and he'll listen to his evaluation of this prospective first-round pick.
Projection:
Late first round, second round
Stretch Truths:
The big, strong, physical tackle has 36.75-inch arm length and 10.5-inch hands. ... If he gets those hands on you, it's over. ... Tends to get a little top heavy at times and his balance is inconsistent. My concern is that he is a little heavy-legged. ... Has to play on the right side only as it's not natural to kick and slide from the left tackle position. ... Overall, I question his smarts to play guard at the next level.
February, 22, 2013
2/22/13
9:00
AM ET
INDIANAPOLIS – With workouts commencing today at the NFL scouting combine, the Cowboys could find themselves in an enviable position in April because their needs seem to match up with the strengths of the draft.
PODCAST
Todd Archer joins Galloway & Company to discuss who the Cowboys should draft in the first round and how far the team can go with Tony Romo at quarterback.

Listen

The Cowboys have what would appear to have early-round draft needs on the defensive and offensive lines, as well as safety.
"We just got out of eight days of draft meetings and preset our board as we come down here and feel this is, at least in my opinion, one of the strongest defensive tackle classes that have come out in a while," Minnesota general manager Rick Spielman said.
There could be as many as a dozen defensive lineman selected in the first round, and the Cowboys have a need with their move to the 4-3 under new coordinator Monte Kiffin. Pass rush is at a premium because Kiffin and defensive line coach Rod Marinelli would rather be able to bring pressure with four players than have to blitz.
On the offensive line, the Cowboys could be looking for tackle, guard and center help and there are players who will fit at all three spots, including Oklahoma's
Lane Johnson
, Alabama's
D.J. Fluker
, North Carolina's
Jonathan Cooper
and Alabama's
Barrett Jones
who could be had in the top three rounds.
Chicago general manager Phil Emery said he sees up to five safeties who can become starters.
"There are five or six starters in this class at safety," Emery said, "and that's rare to me."