Dallas Cowboys:

Danny Amendola
May, 23, 2014
May 23
10:00
AM ET
IRVING, Texas -- Part 1 of the Dallas Cowboys' Twitter mailbag is ready.
In it we discuss:
When Dez Bryant might sign an extension.
Lance Dunbar's roster spot with the addition of Ryan Williams.
The team's best free-agent pickup
The state of the defensive line.
The best of the undrafted receivers.
Look for Part 2 of the mailbag on Saturday.
Away we go:
January, 14, 2014
Jan 14
1:00
PM ET
IRVING, Texas -- ESPN's
Mel Kiper recently conducted a re-draft

of the first round in 2008, and
Felix Jones
and Mike Jenkins were not among the top 32 picks, nor were they among the 14 players he considered in the first round.
The Cowboys have had serious drafting issues over the years, but 2008 represents two misses in the first 25 picks.
The Cowboys could have had
Chris Johnson
,
Ray Rice
or
Matt Forte
with the 22nd overall pick but took Jones in part because he came from a two-back system in Arkansas and showed he could do more with less. Johnson has had a 2,000-yard season and has had more than 1,000 yards in every season. Rice and Forte have four 1,000-yard seasons apiece.
Jones topped out at 800 in 2010 and the Cowboys chose not to re-sign him after the 2012 season.
The Cowboys moved up to get Jenkins with the 25th pick in a trade with the
Seattle Seahawks
.
Jenkins is remembered more for tackles he chose not to make rather than gutting out a 2011 season in which he played with a badly damaged shoulder. He was named to the Pro Bowl in 2009 after he had five interceptions.
The Cowboys signed
Orlando Scandrick
to an extension in 2011 and moved up to take
Morris Claiborne
with the sixth overall pick in 2012 as Jenkins rehabbed from the shoulder surgery mostly away from Valley Ranch. The Cowboys made no effort to re-sign Jenkins, and he ended up with a one-year deal from the
Oakland Raiders
in 2013.
Teams can't miss on first-round picks. They have to get two contracts out of them, but the last first-round pick they have extended with a multiyear deal before the rookie deal expired was
DeMarcus Ware
(2005).
Anthony Spencer
, their first-rounder in 2007, was given the franchise tag in back-to-back years but is a free agent this March.
Dez Bryant
(2010) figures to break that trend soon.
Kiper had the Cowboys choosing wide receiver
Pierre Garcon
, who went No. 205 overall to the
Indianapolis Colts
, and defensive tackle
Kendall Langford
.
The Garcon pick is interesting because it likely would have meant the Cowboys would not have dealt for Roy Williams in the middle of the 2008 season and thus saved themselves from a disastrous deal. Langford has been solid for the
Miami Dolphins
and
St. Louis Rams
.
Fear not, however, because the Cowboys do have Kiper's No. 24 pick on their roster. He had
Brandon Carr
, who was a fifth-round pick of the
Kansas City Chiefs
, going to the
Tennessee Titans
. Of course, Kiper also mentioned Carr's play the past two seasons has been "middle of the road." Among the players Kiper also considered for the first round was wide receiver
Danny Amendola
, who was an undrafted free agent by the Cowboys that year.
So there's that.
March, 16, 2013
3/16/13
3:00
PM ET
In the early days of free agency we've seen slot receivers become a hot topic.
Wes Welker
left the
New England Patriots
and signed a two-year deal with the
Denver Broncos
.
The Patriots found his replacement before Welker got his new deal when they signed
Danny Amendola
from St. Louis.
The Cowboys haven't really had a typical No. 3 slot receiver with the body type of Welker and Amendola.
Patrick Crayton
,
Kevin Ogletree
,
Laurent Robinson
and
Dwayne Harris
were No. 3 receivers who played in the slot, but didn't have that small frame.
Last year, the Cowboys found one in
Cole Beasley
, a player who fits Welker's and Amendola's body type. Beasley is 5-foot-8, 177 pounds. In his rookie season, Beasley finished with 15 catches for 128 yards with no touchdowns. He made a bulk of his catches out of the slot and going forward the Cowboys should use him more often from this area.
New England utilized Welker for several years from the slot to beat teams in the middle of the field. His speed allowed him to get past defenders for yards after catch.
Maybe Beasley can be used in the same fashion in 2013.
Dez Bryant
and
Miles Austin
can stretch defenses deep with their speed and
Jason Witten
can also command the middle of the field. What about Beasley? If defenses take Bryant and Austin out of the game with their coverages, which has happened, Beasley is a player who should get some run.
There have been teams who have used short receivers from the slot to make plays in different areas of the field and the Cowboys have Beasley who might fit that role.
March, 14, 2013
3/14/13
10:00
AM ET
Done with Day 2 of free agency and on to Day 3. We have some observations.
PODCAST
Randy Galloway and Matt Mosley discuss the latest free-agency moves going on around the NFL.

Listen

Dez Bryant looks at Mike Wallace's contract:
Wide receiver Mike Wallace left the
Pittsburgh Steelers
and singed a five-year $60 million deal with $30 million guaranteed with the
Miami Dolphins
. Wallace is just 26 years old and becomes the third-highest paid wide receiver in the NFL. What does it all mean? Well, the Cowboys have an emerging young talent in Dez Bryant, who is 24, and coming off his first 1,000 yard season. Bryant is signed through 2014, and who knows what the market will look like then given the money Wallace got this week. Bryant needs to stay out of trouble, which he's done so far this offseason, and if he continues to produce, a big money contract awaits him. Should the Cowboys let Bryant get to the final year of his contract? Or do the Cowboys make sure after the 2013 season, he gets an extension?
Cowboys send three to Alabama:
Coach Jason Garrett didn't attend Alabama's Pro Day on Wednesday, however, two scouts and Tom Ciskowski, the director of college and pro scouting, watched the talent. Former NFL scout Bryan Broaddus, who works for the Dallas Cowboys web site offers these thoughts on Alabama's Pro Day
here.
Jeff Reynolds of NFL Draft Scout send
in this report
of what went down. Mel Kiper Jr., ESPN's NFL Draft expert, has the Cowboys taking guard Chance Warmack with the No. 18th overall pick next month.
Remember when Danny Amendola was a Cowboy?:
It seems like years ago, but it was just 2008 when wide receiver Danny Amendola was in Cowboys training camp trying to make the roster. Amendola was trying to make the 53-man roster that had
Miles Austin
,
Patrick Crayton
,
Terry Glenn
,
Sam Hurd
,
Terrell Owens
and
Isaiah Stanback
on the roster as well. Amendola didn't make the roster, he was cut that summer, but later added to the practice squad, but in 2009 he played in 14 games for the
St. Louis Rams
after being signed from the Eagles practice squad. Wednesday, Amendola signed a five-year deal worth $31 million with $10 million guaranteed with the
New England Patriots
. He's come a long way from trying to surpass Austin and Hurd, who were then at the bottom of the receiving depth chart. Amendola has been injury prone of late, but is an excellent receiver in the slot, and because he's younger than
Wes Welker
, it's probably one of the reasons he's with the Pats. ESPNBoston's Mike Reiss gives
his take
on the Patriots signing.
Overtime:
S
Gerald Sensabaugh
is getting interest from Arizona and Tennessee. He visited the Titans on Wednesday. ... No word yet on CB
Mike Jenkins
visits. ... The Cowboys saw Bennett twice last year with the Giants and they'll see him again when they visit Solider Field. The Cowboys, however, won't see
Percy Harvin
when they host Minnesota. Harvin is now with Seattle.
November, 22, 2012
11/22/12
9:00
AM ET
»
Final Word
:
Texans-Lions
|
Redskins-Cowboys
|
Patriots-Jets
Three nuggets of knowledge about the Redskins-Cowboys Thanksgiving Day game:
The history:
The
Dallas Cowboys
have won five of their past six Thanksgiving Day games, the only loss in that stretch coming against the
New Orleans Saints
in 2010. This will be the eighth time the
Washington Redskins
have played a Thanksgiving game, and the seventh time they've done so against the Cowboys. And while they did beat the Lions 20-0 on Thanksgiving in 1973, they are 0-6 all-time against the Cowboys in Thanksgiving games. The previous time they played one was 2002, when the Cowboys beat them 27-20.
[+] Enlarge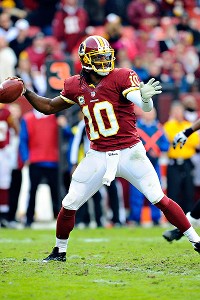 Brad Mills/US PresswireWhen the Eagles didn't send extra pressure in Week 11, Robert Griffin III made them pay for it.
To blitz or not to blitz?
The Cowboys must decide how they want to put pressure on Redskins rookie quarterback
Robert Griffin III
, and it won't be an easy decision. Through the first nine games, the book on Griffin was that he'd pick you apart if you sent extra pass-rushers, but that he struggled against standard pressure and the key was to contain him in the pocket and limit his options. However, in Sunday's victory against the Eagles, Griffin was 11-for-12 for 184 yards and three touchdowns against four or fewer pass-rushers. That's a 91.7 percent completion rate, and according to ESPN Stats & Information, a significant improvement from his 67 percent completion rate against standard pressure in his first nine games. In those, he averaged 7.4 yards per attempt and threw just three touchdowns and three interceptions against four or fewer. Sunday, his average was 15.3 yards per attempt, and he did not throw an interception.
Coverage improving:
In their first seven games this season, the Redskins allowed eight opposing players to rack up 100 receiving yards in a game. That included staggering totals such as
A.J. Green
's 183 for the Bengals in Week 3;
Danny Amendola
's 160 for the Rams in Week 2;
Percy Harvin
's 133 for the Vikings in Week 6; and the Week 4 game in which two Tampa Bay receivers reached the century mark. However, in their past three games, no opposing player has more than 82 yards against the Redskins' defense. What does this mean for Dallas pass-catchers
Miles Austin
,
Dez Bryant
and
Jason Witten
, who have combined for seven 100-yard receiving games this season? History says at least one will have a big game, but it's also possible the Redskins' coverage schemes have improved enough to limit the damage.
August, 26, 2012
8/26/12
7:00
AM ET
I don't know. Maybe the preseason is finally getting to me. Maybe I was brainwashed by the beautiful California weather at their training camp. Maybe they just looked really good against a lousy
St. Louis Rams
team in their
20-19 preseason victory
Saturday night. Maybe it's all of the above, but as crazy as this looks to me even as I type it, I kind of like this
Dallas Cowboys
' defense.


The cornerbacks are covering their men.
Brandon Carr
was a star of last week's game, and rookie
Morris Claiborne
made plays on second and fourth downs on a goal-line stand Saturday. Safeties
Barry Church
and
Gerald Sensabaugh
are both playing well, patrolling their zones and making their tackles. The linebackers (of which injured
DeMarcus Ware
was not one on this night) have been active and aggressive, led by
Sean Lee
on the inside.
Jason Hatcher
was back on the defensive line and disrupting things in the backfield. Coordinator Rob Ryan was showing off more options, scheme-wise, for the pass rush, and the improved coverage on the back end has been helping with with that. The only points the Rams scored in the first half were on field goals of 52 and 55 yards.
Now, the postgame news of
Jay Ratliff
's ankle sprain certainly puts a damper on things for the Cowboys going forward, as it sounds like the season opener is in doubt for him. And yeah, I know those guys on the back end were covering
Donnie Avery
and
Danny Amendola
and that it's going to be 100 times tougher 10 days from now when it's
Hakeem Nicks
and
Victor Cruz
instead. I get it. I write all the time that we can't draw long-range conclusions from preseason games, and I'm not doing that. But it's completely fair to like the way the Cowboys' defense has performed on the practice field and in these preseason games. And if they're building confidence based on those performances, that's the kind of thing that could conceivably carry into the regular season. So, good for them. Neither matters in the long run, but playing well in preseason is better than playing poorly in the preseason.
Here's what else I saw Saturday night:
Tony Romo
was excellent, dodging the rush, extending plays and completing 9 of 13 passes for 198 yards, including touchdowns of 61 and 38 yards to
Dwayne Harris
. Romo's starting receivers in this game were Harris and
Kevin Ogletree
, and his starting tight end was
John Phillips
. Romo is ready to start the season.
So is Harris, by the way. Ogletree went into the game the favorite to be the No. 3 wide receiver, and he might still be, but Harris more than made his case. Yes, the touchdowns were partly the result of poor tackling by the Rams in the secondary, but Harris made the catches and the plays, he looks good in the return game and he made a key block on a
DeMarco Murray
run one play before his 61-yard touchdown catch. He's certainly made the team, I'd have to think, and he could continue to play himself into more time. Ogletree led the team in targets with six, and he caught five passes for 75 yards, so you can't exactly consider him out of the picture. He had a bad third-down drop, but he caught a ball up the right sideline that you couldn't help but thing looked like the one
Miles Austin
didn't catch in the first Giants game last year. You know the one I mean. I know you do.
Murray also looked very good against the team that let him rush for 253 yards in his starting debut last year. Murray had 26 yards on five carries and 16 yards on two catches before leaving the game with a hand injury that he said afterward is not serious. Next you'll see him is Sept. 5 in the Meadowlands, I'd imagine. The Cowboys plan to run a lot of their offense through Murray this year.
I'm sorry, but the offensive line still looks awful to me, and I commend Romo and Murray for succeeding in spite of its performance.
David Arkin
can actually snap the ball to the quarterback now, but he still doesn't look strong enough to hold up at center. The guards looked like they were getting pushed back into the pocket all night.
Doug Free
is a mess, and even
Tyron Smith
got beaten on the outside by
Robert Quinn
on a play early in the game. If the best thing you can say about the offensive line is that it'll be better when
Phil Costa
gets healthy, you've got a problem. At offensive line, I believe the Cowboys have a significant problem.
The Ratliff injury is a big deal if it lingers deep into the regular season. The Cowboys expect to know more about its severity Sunday. My guess is
Josh Brent
would fill in at nose tackle, but it could also be
Sean Lissemore
. Lissemore is also in the mix at defensive end.
I'd take
Bruce Carter
over
Dan Connor
as the starting inside linebacker next to Lee. Connor may look better going forward, and maybe they can use him in certain pressure packages. But Carter looks faster and better in coverage, and I think that's going to matter more at that spot.
Felix Jones
made a nice blitz-pickup block on Harris' second touchdown, but he whiffed badly on one later that resulted in a
Kyle Orton
sack.
Phillip Tanner
also missed in blitz pickup with Orton behind him. Orton has to be wondering what he did to make the backs not like him.
Rookie tight end
James Hanna
continues to look good as a receiver, and
Adrian Hamilton
continues to make plays on defense. Remains to be seen what roles the team will have for them this year.
Special-teams ace
Danny McCray
left with a neck injury, but he told reporters after the game that he should be fine.
August, 13, 2012
8/13/12
12:07
PM ET
FREMONT, Calif. -- The Cowboys open the preseason Monday night against the
Oakland Raiders
, and coach Jason Garrett has said the playing time will be similar to what it's been in the past.
PODCAST
Tim MacMahon and Nate Newton discuss the possibility of the Cowboys signing Chad Johnson. Tim says there is no way it will happen.

Listen

So that means look for the first-team offense and defense to get a series or two.
Attempting to determine how new starters like
Barry Church
and
Bruce Carter
and some others look in such a small sample size doesn't make sense.
Instead look more at the backups and see if they can show the ability to handle roles when the games count.
Here are five guys to watch:
David Arkin:
Yes, he will start but I'm not contradicting my earlier statement. He will be the center because of
Phil Costa
's absence but he will also see time at guard. He has seen more snaps in training camp than any other offensive lineman, and plenty of questions remain. He was a fourth-round pick last year and did not play a game. Is he a lock to make the 53-man roster? I wouldn't think so. But if he can show the ability to play both positions, he can help his cause and make a way onto the 45-man roster.
Cole Beasley:
There is a ton of intrigue in the organization around Beasley. He quit for a couple of days only to return and work his way into the first-team three-wide receiver package with
Miles Austin
out because of a hamstring injury. He has done nothing but make plays in whatever circumstance. Can he do it against another team?
Danny Amendola
was having a good camp then fumbled a punt in his preseason debut a few years ago and seemed to lose favor. Beasley has a chance.
Tyrone Crawford:
The Cowboys believe they may have stolen a player here. A lot of times rookies don't have the strength to play much right away. Crawford has plenty of strength to go with a relentlessness the coaches knew they were getting. He can be more than just a fence post as a 3-4 end. He has quickness to be trouble at tackle in the nickel defense.
James Hanna:
As
John Phillips
recovers from a sprained ankle, Hanna has taken advantage of the extra work. The sixth-round pick came to the Cowboys with the reputation for not being a good blocker. The team is surprised at how well he has done over the last week. And he's caught just about every pass thrown in his direction. The more he has played, the better he has gotten. Can it continue? If it can, then the Cowboys will have good depth behind
Jason Witten
.
Clifton Geathers:
He certainly looks the part, and the coaches believe he has really benefitted from Leon Lett's teachings the last two training camps. Now he needs to produce in the game because the potential tag is something that can hang a player. As you look at the final defensive line spots, Geathers is in that mix with
Marcus Spears
and
Kenyon Coleman
.
June, 15, 2012
6/15/12
9:45
AM ET
IRVING, Texas -- It's become a tired cliché to compare every short, white, undrafted slot receiver to
Wes Welker
. It's also unrealistic.
[+] Enlarge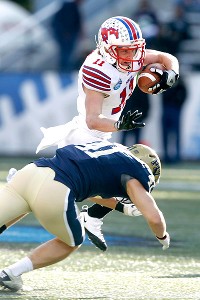 AP Photo/Butch DillCole Beasley caught 173 passes for 2,100 yards in his last two seasons at SMU.
Maybe we should call
Cole Beasley
the next
Danny Amendola
.
"He falls into that family of receivers," Garrett said of Beasley.
Amendola caught eyes during the Cowboys' 2008 training camp and spent a chunk of that season on the Dallas practice squad before the Eagles signed him to their 53-man roster. He signed with St. Louis that offseason and has been in the Rams' receiver rotation when healthy since, catching 85 passes in 2010.
Beasley, the 5-foot-8, 175-pound SMU product, has looked like a slot receiver with a chance to stick this spring and summer. He's a quick, pesky little fella with sure hands and a knack for getting open, especially on short and intermediate routes, although he capped minicamp by getting behind a safety to make a play on a post route.
Coach Jason Garrett describes Beasley, who caught 173 passes for 2,100 yards his last two seasons at SMU, as a slot receiver who has a "good feel" for playing inside. That's to be expected from a coach's son who was a quarterback for his dad's team at nearby Little Elm High and played for passing guru June Jones in college.
"You're never going to keep them because he's big, he's strong, fast, jumps through the roof, all that kind of stuff," Garrett said. "The way he stays in this league is every day he catches five balls. Every day he beats a guy you don't think he can beat. And he does it today, tomorrow and the next day, the next day, the next day. There are a lot of guys who made their way in this league that way, and he's going to be one of those guys."
October, 22, 2011
10/22/11
10:30
AM ET
IRVING, Texas -- After a surprising 7-9 finish to the 2010 season, many people picked St. Louis to be one of the up-and-coming teams in 2011, led by quarterback
Sam Bradford
.
The Rams are 0-5 entering Sunday's game against the Cowboys.
"It's miserable," Bradford said. "I'm not going to lie. It's not enjoyable. It's not fun. There's nothing I like about it. It's definitely not the position we thought we'd be in at this point in the season. I think I'm doing everything I can to make sure we change that. I think everyone in this building is doing the same thing. I don't think there is anyone here who likes this."
In a new offense run by coordinator Josh McDaniels, Bradford, the former Heisman Trophy winner from Oklahoma, has completed 104 of 196 passes for 1,177 yards with three touchdowns and two interceptions in five games. He has been sacked 21 times and has a 72.2 passer rating. As a rookie Bradford threw for 3,512 yards with 18 touchdowns and 15 picks and was sacked 34 times.
Bradford, however, has been
ruled out
of Sunday's game with a high ankle sprain.
"Obviously, I'm still learning a lot of things about how this game is played in this league, but I think I've gotten much better each week this year," Bradford said. "I've gotten more comfortable in our offense. That's something I'm going to continue to try to do week to week, and I think you can always become a better football player."
Losing
Mark Clayton
and
Danny Amendola
to injuries last year and this year has not helped Bradford's development. But the Rams this week traded for veteran
Brandon Lloyd
, who excelled under McDaniels in Denver.
"I feel like I'm much more comfortable in the pocket," Bradford said. "I feel like just running the offense I'm more comfortable. I've been asked to do a lot more this year. There's been a lot more put on my plate. I feel fine with that because I am more comfortable seeing things during a game. I feel more comfortable pretty much in every aspect of the game. Even though my numbers might not be as good as they were last year, I still feel like I'm a better player. As long as I continue to work hard, we're going to get this offense going."