Dallas Cowboys:

Darren McFadden
August, 27, 2014
Aug 27
2:30
PM ET
The end of the season has not been kind to the
Dallas Cowboys
in recent years. It's not been just a Jason Garrett problem, but the Cowboys lost three of their last four in 2013, their final two in 2012 and four of their last five in 2011 to finish 8-8 all three years. This year's late-season
schedule
is difficult -- five of the last seven away from home -- but the pivotal stretch will be early in the year to make sure the end of the year is relevant. Six of the Cowboys' first nine games are at AT&T Stadium, which has not provided the greatest of home-field advantages since opening. The Cowboys have a three-game homestand from Oct. 19-Nov. 2 against three NFC teams that they almost have to sweep to stay in contention in the division or help in the wild-card standings.
Complete Cowboys season preview
.
November, 28, 2013
11/28/13
1:24
PM ET
ARLINGTON, Texas – Welcome to AT&T Stadium where the
Dallas Cowboys
hope to take sole possession of first place in the NFC East with a win against the
Oakland Raiders
.
At 6-5 off Sunday's win against the
New York Giants
, the Cowboys share the top spot with the
Philadelphia Eagles
but own the tiebreaking edge thanks to their October win against the Eagles.
Quick turnaround:
The Cowboys spent about three hours on the practice field leading into kickoff -- without helmets -- in getting ready for the Raiders.
The challenge this week is more mental than physical. Adrenaline can carry the players through the short week, but knowing exactly what Oakland does on both sides of the ball is a little different.
"They do a lot of stuff," quarterback
Tony Romo
said. "They send a lot of different pressures, a lot of exotic looks and it will be a great challenge for us. We've got to have great communication. We've got to do some things to combat that."
The unknown QB:
Rookie
Matt McGloin
will be making just the third start of his career. The Raiders are 1-1 with McGloin as the quarterback and he has four touchdown passes and on interception.
Oakland is mostly a running team but lose some juice with McGloin at quarterback over Terrell Pryor.
Rashad Jennings
is the leading rusher, averaging 5.1 yards per carry and
Darren McFadden
could make his first appearance in three weeks.
"He's a young guy who has command," coach Jason Garrett said. "For a guy who hasn't played that many snaps and is in his first year playing, he plays with confidence. He seems to understand what they're trying to do. He throws the ball and makes some positive plays for them both underneath, down the field. They want to run the football but he does a good job in a complimentary role but also when the burden is on him he's done a nice job."
According to Elias, the Cowboys are 3-1 against rookie quarterbacks on Thanksgiving, beating Tampa Bay's
Bruce Gradkowski
in 2006, Chicago's
Craig Krenzel
in 2004 and
Kent Graham
of the New York Giants in 1992. The only loss came last year to Robert Griffin III and the
Washington Redskins
.
November, 27, 2013
11/27/13
7:00
PM ET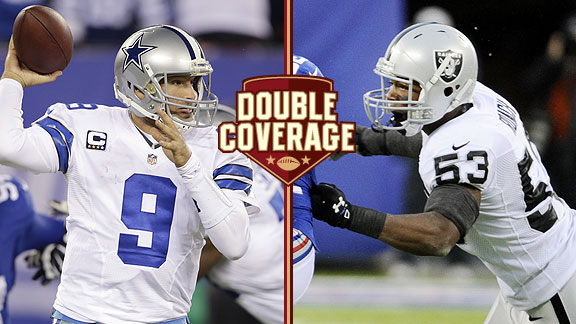 AP PhotoTony Romo's Cowboys host Nick Roach and the Raiders in a Thanksgiving Day duel.
IRVING, Texas -- For the second time in five years, the
Dallas Cowboys
and
Oakland Raiders
meet on Thanksgiving at AT&T Stadium.
The Cowboys won the 2009 matchup 24-7 with
Tony Romo
throwing for 309 yards and two touchdowns and
Miles Austin
catching seven passes for 145 yards. Since that game Austin has had more yards in a game just twice.
ESPN.com's Raiders reporter Paul Gutierrez and Cowboys reporter Todd Archer bring you this week's holiday version of Double Coverage.
Todd Archer:
The Cowboys are bad in most areas defensively, but they have given up 200 yards rushing in three games this season. The Raiders' strength, from afar, seems to be their running game. What makes it so good and how has it differed with
Terrelle Pryor
out?
Paul Gutierrez:
Hey, Todd, it's not just Pryor being out, but also
Darren McFadden
, who has missed three straight games and four overall with a strained right hamstring. He said Monday night he hopes to play after practicing (limited) for the first time since Nov. 1. The run game, though, has not missed a beat with underrated
Rashad Jennings
picking up the slack. In the past four games, he has run for 413 yards while averaging 5.7 yards per carry. In fact, the running game has been so surprisingly solid without McFadden and Pryor that the play-action pass game has picked up with undrafted rookie
Matt McGloin
under center.
Speaking of passing games ... no doubt Tony Romo can rack up stats, but has he decided to assume more of a leadership role yet as the QB of America's Team, or is that just not in his makeup?
Archer:
He has developed over the years as a leader, but there's no question that this has been "his" team the past three seasons. He is the veteran. He is the guy the Cowboys look to. The guys on this team now don't know of the Romo who burst on the scene in 2006 or had to deal with the
Terrell Owens
stuff. He's the guy who led the lockout practices and has been the big voice in the room. This year he has been given the added responsibility of being more involved in the game plan. The Cowboys' past two wins have come on last-minute drives led by Romo to beat Minnesota and the
New York Giants
. I don't think there's anybody questioning his leadership anymore. And if they did, well, the $106 million extension Jerry Jones gave him in the offseason should be more than enough proof to those guys that this is Romo's team.
Let's stick with the quarterback theme. Before the Cowboys lucked into Romo, they ran through a ton of guys after
Troy Aikman
's departure. Is there any reason to believe McGloin or Pryor can be a solution or do the Raiders need to go after one of these guys in next April's draft?
Gutierrez:
Well, the way I put it earlier in the season, before Pryor hit his purported ceiling and sprained his right knee, robbing him of his greatest strength (running) while accentuating his biggest weakness (passing), if Pryor was not the Raiders' Mr. Right, he was their Mr. Right Now. McGloin is a pure quarterback, a pocket passer whom Dennis Allen prefers for what he wants to accomplish offensively. It's hard to give Allen and GM Reggie McKenzie much credit for their evaluation of QBs, though, what with their misses on
Matt Flynn
and
Tyler Wilson
, not caring much for Pryor early on and then, similar to the Cowboys with Romo, stumbling upon McGloin. But it's hard to see them going all in with the undrafted rookie from Penn State, too. At least hard at the moment. Unless McGloin continues to improve and wins a few games, it would behoove the Raiders to draft another QB if they see one as a can't-miss prospect. I know, I know, they really wanted USC's
Matt Barkley
but Philadelphia traded in front of them so they traded back and selected Wilson. Oops. There is no doubt, though, that this Raiders regime prefers McGloin as a prototypical QB over the more electric Pryor.
No matter who is under center for Oakland, though, the Raiders' QB is going to have to keep an eye on
DeMarcus Ware
. Is he rounding back into shape as a dominant pass-rusher, or is he more decoy as he rehabs from his quad strain?
Archer:
I think he's still feeling his way through it. The fact that he made it through the Giants game healthy was a plus. He has been dinged up in just about every game with stinger and back strains earlier in the season before the quadriceps injury. We'll see how he fares on a short week, but the defense is a lot better with even the threat of Ware on the field.
Jason Hatcher
had two sacks against the Giants at least in part because of the attention Ware received. Ware has talked about wanting to make up for lost time. He has five sacks so far, his fewest this late in a season since his rookie year in 2005. Thursday would be a good time to look like the DeMarcus Ware of old.
This game is a homecoming of sorts for guys like
Mike Jenkins
,
Andre Gurode
,
Kevin Burnett
and Tony Sparano, but it's a real homecoming for Dennis Allen. How is he perceived in Oakland and will McKenzie be more patient with him than, say, Al Davis would have been?
Gutierrez:
The jury, so to speak, is still out on Allen in the streets of Silver and Blackdom. Of course, when the Raiders win a game, he's the man. When he loses, the fans turn on him and start pining for Jon Gruden ... again. But isn't that the nature of the beast? Even Allen himself said this was a results-oriented business. Of course, he was referring to the quarterback position at the time, but it still applies. Make no mistake about it, Allen is McKenzie's "guy" and he's going to roll with him and have patience with him. The plan coming in was to give Allen at least three years to right this ship and really, the only thing that could damage Allen's chances of lasting another year would be if the team quit on him, like it did last November before playing hard again at the end. Then again, it might not be McKenzie's choice. Owner Mark Davis is a more patient owner than his father and wants McKenzie to handle all football-related decisions. But a year after stating he was fine with just about anything but regression, Davis wants progress. Stagnancy won't cut it, either. So, stay tuned.
Sticking with the coaching theme, is Jason Garrett in Jerry World for the long haul, or was Jerry Jones' support merely the dreaded vote of confidence?
Archer:
Jerry has publicly backed Garrett, but he's also been a guy who's said, "Just because I say something, doesn't mean it's true." I do know this: He wants Garrett to be the guy. He desperately wants it to work. I really believe that. He believes in Garrett's approach and how he builds a team. Garrett will provide some blow-back to Jerry but not as much as, say, a Bill Parcells. Garrett knows what makes Jerry work and knows how to work around it to a degree or push Jerry in a certain direction. Honestly, Cowboys fans should want the Garrett deal to work out because it might be the best combination to mitigate the bad parts of Jerry and keep the good parts of Jerry.
August, 14, 2012
8/14/12
3:30
PM ET
SAN FRANCISCO – If you're looking to nitpick the first-team defense's work in only a handful of snaps in Monday's preseason opener against Oakland, look at the run defense.
Darren McFadden
had 20 yards on two carries with the run defense unable to get off blocks. Had
Orlando Scandrick
not tackled McFadden on the second carry, he might have had a touchdown. But it should be noted that the Cowboys were without starting defensive linemen
Jay Ratliff
and
Jason Hatcher
because of injuries.
"We've got to fit the run better, which I think we will," linebacker
Sean Lee
said. "The run game takes time, so in the first experience we'll look at the film and see what we can do better. When it comes to the season, we can't have runs like that. I don't think it was horrible, but it needs to be better."
The Cowboys opened in a three-inside linebacker set with Lee,
Bruce Carter
and
Dan Connor
on the field against Oakland's pro personnel group.
"We've used it some in camp. We have a lot of different packages that, as we play more and more packages, we'll get more and more comfortable," Lee said. "I think we did a good job on the few times we had it and the more we play and practice it, it'll be better."
August, 13, 2012
8/13/12
8:42
PM ET
OAKLAND -- The Cowboys and Raiders are scoreless at the break in the preseason opener.
Here are some thoughts on what has transpired in the first half:
*
David Arkin
remained at center when the Cowboys brought in their second-team offensive line. The Cowboys want to give Arkin has many snaps as possible at center until starter
Phil Costa
returns from his lower back injury. While his snaps were fine, he did get called for holding.
*
Tony Romo
and the first-team offense got zero scores out of three possessions. Romo finished his night 3-for-6 for 30 yards. The Cowboys' first-team couldn't run the ball well and other than a reception by
Dez Bryant
for 24 yards and a six-yarder from
Jason Witten
, there wasn't much to be impressed with.
* The Raiders rushed for 57 yards in the first half. Their offensive line got a strong push and running backs
Darren McFadden
and
Lonyae Miller
reached the second level way too often.
* Outside linebacker
Kyle Wilber
came off the edge and forced
Matt Leinart
to throw a pass away, leading to a field goal attempt.
* The Cowboys' special teams unit had been called for four penalties with 12:40 to play in the first half. Three were accepted.
* The Raiders had three dropped passes in the first half, and the Cowboys had two -- by tight end
Andrew Szczerba
and fullback
Jamize Olawale
.
* Coach Jason Garrett could have taken a knee to end the first half, but made a good decision to run his two-minute offense. We saw a 20-yard grab by
Andre Holmes
during the drive, but
Kyle Orton
was picked off by safety
Mike Mitchell
to end the drive with five seconds left. We're not sure if Orton made a bad read here, but his pass sailed over
Dwayne Harris
.
June, 27, 2012
6/27/12
2:05
PM ET
We'll wrap today's run of fantasy football video content with this roundtable discussion about
Dallas Cowboys
running back
DeMarco Murray
. He took the NFL and fantasy worlds by storm last season once he got the job as the Cowboys' starting running back, and before he broke his ankle in the December game against the Giants he'd emerged as a top fantasy option. He says he's healthy and will have no training camp limitations. So if we take him at his word, where do we draft him?
Eric Karabell starts off the discussion by saying he won't rank Murray in the top 10 because he fears a timeshare with
Felix Jones
. I think such fear is unfounded. When everyone was healthy last year, Murray was clearly the starter and Jones clearly the backup. Murray even showed enough pass-catching ability to keep Jones on the bench in those situations. So assuming he gets and stays healthy, I don't think there's any fear about Murray as the clear No. 1 back in Dallas.
Christopher Harris ranks Murray No. 9 among running backs. He has reservations because of the extent to which Murray's numbers were inflated by the one huge game against the Rams (as were the numbers of any good back who played the Rams, hello,
Ryan Torain
). And he qualifies his ranking by pointing out the questionable value of the other backs around him in the rankings (injury-recovery cases
Darren McFadden
and
Jamaal Charles
, to name two). But he says he's "willing to take a chance on the upside," and I agree. I think Murray should be viewed as a very good second-tier option after the elite guys are off the board. He plays in one of the league's top offenses. He performed as one when given the chance, and if he's healthy he has that experience on which to draw. I'd shy away a bit in keeper leagues, because I have this fear that he's not the kind of back that holds up long-term. But in the short term, I think Murray can be extremely productive, and he has a rare quality among fantasy running backs: There's no real threat to his starting job.
August, 12, 2010
8/12/10
7:06
PM ET
ARLINGTON, Texas -- The temperature is 104 degrees outside. Inside here at Cowboys Stadium, it's a nice 75 degrees. Very nice.
Oakland visits the Cowboys in the second preseason game. Let's update you on what's going on.
Who is not playing?
Dallas: S
Pat Watkins
, S
Cletis Gordon
, LB
Sean Lee
, G
Montrae Holland
, T
Alex Barron
, TE
Scott Sicko
, WR
Dez Bryant
, TE
John Phillips
, DE
Marcus Spears
and NT
Sean Lissemore
.
Oakland: RB
Darren McFadden
, QB
Charlie Frye
.
Teams that were scheduled to send scouts:
Buffalo, Miami, New Orleans, Baltimore, Indianapolis and St. Louis.
Game officials:
Referee Tony Corrente, umpire Fred Bryan, head linesman Dana McKenzie, line judge Adrian Hill, field judge Gary Cavaleto, side judge Allen Baynes, back judge Greg Wilson, instant replay Howard Slavin.
Notes:
Bryant still has a walking boot on his right ankle. It could come off Friday. ... CB
Bryan McCann
(sore chest), who was questionable for the game, will play. ... K
David Buehler
made attempts from 45 and 50 yards in pregame warmpus.