Dallas Cowboys:

Darren Sproles
March, 13, 2014
Mar 13
1:30
PM ET
IRVING, Texas -- About three days into free agency and the
Dallas Cowboys
are not a better team today than they were on Monday.
They cut
DeMarcus Ware
. They cut
Miles Austin
. They have signed two defensive linemen in
Jeremy Mincey
and
Terrell McClain
that figure to be rotation parts, not cornerstone pieces.
Meanwhile elsewhere in the NFC East …
The
Philadelphia Eagles
have added Malcom Jenkins and Noland Carroll and traded for
Darren Sproles
. The Eagles also did some nice special teams' shopping with
Chris Maragos
and
Bryan Braman
and also re-signed their punter,
Donnie Jones
.
The
New York Giants
added a piece to their offensive line in
Geoff Schwartz
and brought in running back
Rashad Jennings
. The key move, however, was re-signing linebacker
Jon Beason
. They backed out of a deal with
O'Brien Schofield
.
The
Washington Redskins
have added wide receiver
Andre Roberts
, guard
Shawn Lauvao
and linebacker/special teamer
Adam Hayward
.
Bruce Campbell
is a low-risk help to the offensive line.
Too often we get caught up in the splashes in free agency only to see them not live up to the billing down the road.
Before free agency started Stephen Jones said the Cowboys would be efficient with their spending in free agency. To see them sit back and wait should not be surprising, but that doesn't mean fans can't be aggravated.
There are good players still to be had. The Cowboys could still re-sign
Jason Hatcher
or add
Henry Melton
. While they can afford both, I don't think signing both would make sense. They could keep
Anthony Spencer
and hope his repaired knee comes around. They could take fliers on some of the bigger names you want if those prices come down as free agency rolls along.
As maddening as the 8-8 finishes have been, the Cowboys have been the only team in the NFC East to compete for a division title the last three years. It's a hollow accomplishment for sure, especially when stacked up against the franchise's history, but spending for spending sake is not the best solution.
There is a plan and it has to be more than Mincey and McClain, right?
November, 15, 2013
11/15/13
3:15
PM ET
IRVING, Texas -- The bye week is a good thing for the
Dallas Cowboys
, considering their injuries, but it will be costly for linebackers
Bruce Carter
and
Ernie Sims
.
Carter was fined $15,570 for a horse-collar tackle of
New Orleans Saints
running back
Darren Sproles
, and Sims was fined $7,875 for grabbing the face mask of Saints running back
Mark Ingram
. Both penalties came on New Orleans' third-quarter drive that ended on Ingram's 4-yard touchdown run. The Saints did not throw a pass on the eight-play drive.
Cornerback
Orlando Scandrick
was not fined for a second-quarter face mask penalty.
Carter and Sims are the fourth and fifth Cowboys to be fined this season.
Dez Bryant
was fined $7,875 for a throat-slash gesture versus the
St. Louis Rams
. Safety
Barry Church
was fined $5,250 for throwing a football into the stands after his touchdown versus the
New York Giants
. Linebacker
Cameron Lawrence
was fined $21,000 for a blindside block against the
Washington Redskins
.
November, 10, 2013
11/10/13
11:46
PM ET
NEW ORLEANS -- A few thoughts on the
Dallas Cowboys
' 49-17
loss
to the
New Orleans Saints
on Sunday.
What it means for the Cowboys:
By the time the Cowboys play again on Nov. 24 against the
New York Giants
they could be out of first place in the NFC East.

They are currently tied with the
Philadelphia Eagles
at 5-5 and are technically in first place because of their 17-3 win at Lincoln Financial Field on Oct. 20. The Giants and
Washington Redskins
are only one game back in the loss column.
This was the worst loss of the Jason Garrett era. The previous one was a 34-7 loss at Philadelphia in 2011.
Stock watch:
Jerry Jones, falling. On a night in which nothing went right it's too easy to point out a player or a coach. The owner and general manager is in the crosshairs tonight. He put together this lot and believes there is a chance to compete for a championship. The defense was awful. The offense was stone cold. Other than that Jones had a fine time in New Orleans.
Defense shredded again:
The Saints scored on eight of 11 possessions and one ended on a missed field goal. The Saints showed mercy on their final possession and took a knee.
They had 40 first downs, setting an NFL record. The Cowboys gave up 625 yards. They allowed
Mark Ingram
to rush for 145 yards. They saw
Marques Colston
get 107 receiving yards.
The good news:
Drew Brees
did not throw for 400 yards. He finished with 392 yards and threw four touchdowns.
Blame the absences of
Jason Hatcher
,
J.J. Wilcox
and
Morris Claiborne
at the start of the game and the in-game absences of
Sean Lee
(hamstring) and
Justin Durant
(hamstring). Know that
DeMarcus Ware
was in and out in his return to the lineup after a three-game absence with a quadriceps strain.
It wouldn't have mattered. Maybe it would've made the outcome a little closer, but the Saints rolled all over Monte Kiffin's defense the way the
Denver Broncos
and
Detroit Lions
did.
Missed opportunity:
On a night when the Cowboys knew it would be a struggle for the defense, they needed to take advantage of every chance they got.
Darren Sproles
' fumble gave the Cowboys a chance at the Saints' 22 in the first quarter, but the Cowboys had to settle for a
Dan Bailey
field goal. A third-and-1 play was turned into third-and-6 after a
James Hanna
false start.
Tony Romo
's third-down pass was incomplete and would have been wiped out anyway by a
Ronald Leary
hold.
In the past five games the Cowboys have had 11 takeaways and scored just two touchdowns after those turnovers, and both of those drives started inside the opponents' 5.
What's next:
The Cowboys are off until Nov. 24, when they visit the New York Giants. Players will practice on Tuesday and Wednesday before getting their first prolonged break since their first training camp practice on July 21 in Oxnard, Calif.
November, 10, 2013
11/10/13
7:23
PM ET
NEW ORLEANS -- Welcome to the Mercedes-Benz Superdome where the
Dallas Cowboys
will look to knock off the
New Orleans Saints
and maintain their one-game lead in the NFC East going into the bye week.


The last time the Cowboys visited they were able to end the Saints' run at an undefeated season in 2009.
Welcome back:
In that 2009 win,
DeMarcus Ware
had his most memorable game. Six days after leaving a game with his head strapped to a board with a neck injury, Ware was able to play against the Saints. He did not start, but he certainly finished. He sacked
Drew Brees
twice, including the clincher with a forced fumble in the fourth quarter.
Ware will make his return to the lineup after a three-game absence because of a quadriceps strain, and the Cowboys need him to be a disruptive force. With
Jason Hatcher
's status iffy and a line full of no-names, Ware has to get pressure on Brees almost by himself.
He had four sacks in the first six games, but was hampered by stringer and back injuries that limited his playing time and effectiveness. The time off was not only good for his quad, but perhaps for his entire body.
Maximize the possessions:
The best way
Tony Romo
can help a defense that will be under pressure from Brees,
Jimmy Graham
,
Marques Colston
and
Darren Sproles
is to control the ball. But winning the time of possession battle only goes so far.
They also must score touchdowns when available and get field goals at the worst. In their 51-48 loss to the
Denver Broncos
, the Romo-led offense was able to keep up with eight scoring possessions (six touchdowns, two field goals), but were done in by a fourth-quarter interception.
Scoring early would also help. The Cowboys jumped out to a 14-0 lead in their 2009 win at the Superdome.
Run the ball?
The Cowboys ran it a franchise-low nine times last week in their win against the
Minnesota Vikings
. Take away a Romo scramble and they called only eight runs.
Jason Garrett, Bill Callahan and Romo all say they want to run it more and run it better. They said that at the start of training camp as well.
The Saints have the NFL's 25th-ranked run defense, giving up 121.3 yards per game on the ground. Coordinator Rob Ryan is so sub-package heavy that the Cowboys could be able to work their running game with a spread look out of a three-wide receiver package.
That would make
DeMarco Murray
happy.
November, 8, 2013
11/08/13
3:10
PM ET
IRVING, Texas -- It seems as if everybody is expecting a shootout Sunday between the
Dallas Cowboys
and
New Orleans Saints
.
At some point we might be right. A shootout never materialized against the
Philadelphia Eagles
. The Cowboys had a special-teams touchdown and a 3-yard scoring drive against the
Washington Redskins
in another prescribed shootout. The game against the
Detroit Lions
did not become a shootout until the fourth quarter.
The Cowboys and
Denver Broncos
followed through on a predicted shootout with
Peyton Manning
delivering a 51-48 win.
Facing an offense like New Orleans on Sunday with
Drew Brees
,
Jimmy Graham
,
Darren Sproles
and
Marques Colston
, the Cowboys might have to rely on the offense to pull out a victory.
Not that
Tony Romo
looks at it that way.
"You trust your defense. You trust your special teams. You play the game that's played that day," Romo said. "If we have to score a lot of points then we have to be willing to do that. If you're in some tough spots, you got to be patient and they're scoring, you got to stay true to the plan and go when the time has come to give your team a chance."
The Cowboys scored on eight of 11 possessions against the Broncos. They had two turnovers and one punt. And it wasn't enough. The Cowboys will have to maximize their possessions against the Saints.
"You want to run what you want to run," coach Jason Garrett said. "The best way to handle any situation is simply execute ball plays as best as you can whether they're runs or passes, who's playing defense, who's on their offense. That's your objective every week: move the ball, make first downs, give yourself some scoring opportunities."
November, 7, 2013
11/07/13
10:00
AM ET
.
There might not be a more compelling game on this week's NFL schedule than the Sunday night showdown between the NFC South-leading
New Orleans Saints
(6-2) and the NFC East-leading
Dallas Cowboys
(5-4) at the Mercedes-Benz Superdome.
Both teams are jockeying for position in the NFC playoff race. They both offer offensive fireworks, led by the Saints'
Drew Brees
and
Jimmy Graham
and the Cowboys'
Tony Romo
and
Dez Bryant
. They've both got something to prove: The Saints will be focused on rebounding from their ugliest performance of the season in a 26-20 loss at the
New York Jets
; the Cowboys are looking to beat a team with a winning record this season.
There's even a revenge factor. Saints defensive coordinator Rob Ryan was fired by Cowboys owner Jerry Jones after last season. And he's never been shy about expressing his displeasure with that decision.
ESPN.com's Saints reporter Mike Triplett and Cowboys reporter Todd Archer break down the matchup.
Triplett:
Rob Ryan has been such a huge addition for the Saints. Players love playing for him. He's putting them in good positions to succeed, and his versatile schemes have worked great for the most part. What wasn't working for him in Dallas?
Archer:
Injuries played a big part in his demise here. He was down six starters at the end of the season and
DeMarcus Ware
was playing with one arm. He had them competitive. But, honestly, Ryan played a big part in it, too. He tried to junk it up with so many different looks and schemes and packages that the players couldn't just go play. They had to think. Maybe he felt like he had to junk it up because so many guys were hurt, but he left them unsound a lot of times. He was also way too emotional. He lacked poise when the defense needed it most. I think he was too worried about becoming a head coach. Maybe it has changed down there, or maybe Sean Payton has more control of him.
Is there any reason to think that what happened against the Jets could be the start of something for the Saints?
Triplett:
The Saints have had a few nagging issues that all seemed to creep up at once in that Jets loss. Their pass protection has been inconsistent. Their run game has been nonexistent at times. The run defense has been up and down. But I think it was rare for the Saints to have all of those things come up and bite them at once at New York, and they were a little out of their element in some chilly weather against a physical team. Playing at home against the Cowboys seems like a matchup that suits them better. They're more than happy to engage in a shootout.
What's the biggest threat the Cowboys pose? I assume Romo and Bryant are involved?
Archer:
Since they just don't want to run the ball, after just eight carries last week (the ninth was a Romo scramble), I'll go with Romo-to-Bryant, but the Romo-to-
Jason Witten
combination is pretty good. The Cowboys can throw the ball well even without a running game. They might be happy to get into a shootout as well. The last time the offense was good was a month ago, in their 51-48 shootout loss to Denver. Romo knows Brees is going to score points, so he'll have to match it. Remember, the last time the Cowboys were at the Superdome they ended New Orleans' run at perfection by being aggressive early. I can see them trying to do that again.
The Cowboys have allowed four 400-yard passers this season, and I'm penciling in Brees as the fifth.
Calvin Johnson
went for 329 receiving yards against the Cowboys a couple of weeks ago. What will Graham do?
Triplett:
You could have been talking about the Saints when you said they "can throw the ball well even without a running game." The Saints might try to establish the run a little bit since Sean Payton said that one of his biggest regrets in the Jets loss was that he was too unbalanced. But the Saints are always willing to exploit a shaky pass defense.
Some teams have been defending Graham with top cornerbacks (which worked for the Patriots but not for the Jets). But the Saints have clobbered teams whenever they leave Graham in single coverage. Meanwhile, if defenses sell out to stop Graham, Brees will happily throw to any open man. Two weeks ago, he completed passes to 10 different receivers. And it looks like
Darren Sproles
and
Marques Colston
may both be back from injuries Sunday.
Why has Dallas' pass defense been so bad?
Archer:
Mostly, it's taken time for the players to get a grasp of Monte Kiffin's scheme and it's taken time for the new defensive coordinator to know how to best use his players. They have man corners in
Brandon Carr
,
Orlando Scandrick
and
Morris Claiborne
, but they have played a lot of zone and been exposed. There have been just too many creases. The pass rush has not helped, either. They went into the season thinking
Anthony Spencer
,
Jay Ratliff
,
Jason Hatcher
and Ware would be their rocks. Spencer played in one game. Ratliff didn't play in any before getting cut. Ware has missed the last three but is set to return this week. Hatcher is having a career year with seven sacks. When they have played average quarterbacks they have held up. When they have played elite quarterbacks they have given up 400 yards. For the fantasy-football owners out there, go with Brees Sunday.
You get this every week, but play calling is a big topic here. How have things been different with Payton calling the shots again?
Triplett:
You're right to mention play calling in that question. Most people ask about Payton's leadership, which is obviously a huge deal; he instills a lot of confidence in this team and seems to press all the right motivational buttons. But his greatest strength is his offensive brain. He's so good at using a ton of different formations to find and exploit mismatches, usually with Graham and Sproles. The offense hasn't quite hit its peak like it did in 2011, but it has been excellent at times.
You mentioned Ware coming back. Will he be close to 100 percent? Folks around here won't soon forget how well he played in 2009, when the Saints didn't expect him to come back from injury so soon. He singlehandedly spoiled their undefeated season.
Archer:
I think so, but he has had a couple of nagging things this season (a stinger and strained back). Missing three weeks might have Ware as fresh as he has ever felt entering Week 10 of a season. They'll need him to be the Ware of that night in 2009 to succeed. He looked great in training camp, overpowering
Tyron Smith
in practice all the time, but he hasn't been as explosive when he has played. What he'll do is make the other guys around him better because he'll command so much attention.
Ware is making the move back to defensive end from outside linebacker. How has the Saints' defense transitioned from the 4-3 to Ryan's 3-4?
Triplett:
The transition has been outstanding, in large part because Ryan has adapted his 3-4 to fit the Saints' personnel (after a ton of injuries this summer, including one to former Cowboys linebacker
Victor Butler
). As a result, the Saints have actually spent most of the season in nickel and dime defenses with a four-man front. Ryan likes to use three safeties at once in versatile roles, disguising what they do and sending them on occasional blitzes.
End
Cameron Jordan
and outside linebacker
Junior Galette
are having breakout seasons as edge rushers. And veteran cornerback
Keenan Lewis
has been a great pick-up in free agency, too. He's a bigger, long-armed guy. I wouldn't be surprised to see him shadow Bryant on Sunday night.
We've hit on Romo, Bryant, Witten and Ware. Any under-the-radar Cowboys who might have a big impact on this game?
Archer:
I'll go with
Cole Beasley
. He might get stopped by stadium security before the game because he just doesn't look like an NFL receiver at 5 feet 8 and 180 pounds, but Romo loves the kid. He's a real threat in the slot. He's super quick, has a great feel for getting open underneath and knows how not to take a hit. He had six catches last week against Minnesota. The Cowboys' third-down offense has been pretty bad, but Beasley can take some pressure off Witten and Bryant in the slot.
.
December, 26, 2012
12/26/12
12:00
PM ET
Play:
Darren Sproles
44-yard reception
Situation:
First-and-10 from New Orleans 30
Score:
Tied, 14-14
Time:
:47 left in second quarter
Taylor's Take:
After the Cowboys burned just 15 seconds on their last possession of the first half, it gave New Orleans a chance to take the lead. Sproles circled out of the backfield and beat cornerback
Sterling Moore
inside, catching the ball at the 40.
Gerald Sensabaugh
missed a tackle at the Dallas 45 and Sproles gained another 19 yards, setting up a field goal as time expired in first half.
Play:
Drew Brees
incompletion
Situation:
Third-and-8
Score:
Tied, 17-17
Time:
8:13 left in third quarter
Taylor's Take:
It would've required a great play, but the Cowboys missed an opportunity to get a game-changing turnover. Sterling Moore, blitzing on the play, couldn't get past the line of scrimmage but deflected Drew Brees' pass.
Mike Jenkins
changed directions and made a diving attempt to intercept the pass, but could only get one hand on it.
Play:
James Hanna
fumble recovery
Situation:
Second-half kickoff
Score:
New Orleans, 17-14
Time:
15:00 left in third quarter
Taylor's Take:
Dwayne Harris
muffed the opening kickoff and it ricocheted off his knee and into a pile of players. Somehow James Hanna fell on the ball, otherwise the Saints would've been in prime position to extend their lead to 10 points. Instead, the Cowboys drove for game-tying field goal.
Play:
DeMarco Murray
fumble
Situation:
First-and-10 from Dallas 3
Score:
Tied, 17-17
Time:
4:25 left in third quarter
Taylor's Take:
The Cowboys were trying to move the ball off the goal line, when Murray's body was twisted at the end of short run and the Saints ripped the ball out. It's only the second fumble Murray has lost with the Cowboys, but each has occurred in the past two games. New Orleans turned the turnover into the go-ahead touchdown.
Play:
Tony Romo
incompletion
Situation:
Third-and-5
Score:
Tied, 31-31
Time:
13:47 left in overtime
Taylor's Take:
The way the Cowboys' defense was playing, they needed to score a touchdown on the first possession of overtime to win. Instead, they managed just one first down before punting. Romo went to
Dez Bryant
on a slant, but he ran a poor route and the play never had a chance.
December, 23, 2012
12/23/12
7:42
PM ET
December, 22, 2012
12/22/12
10:30
AM ET
IRVING, Texas – The Saints are averaging 27.8 points per game, which is good for fourth in the NFL.
PODCAST
How far away from elite quarterback status is Tony Romo? Tim MacMahon, Jean-Jacques Taylor and Landry Locker discuss on the Ben & Skin Show.

Listen

Drew Brees
has thrown 36 touchdown passes.
Jimmy Graham
,
Marques Colston
,
Darren Sproles
and
Lance Moore
all have at least five touchdown catches.
Mark Ingram
has four rushing touchdowns. In 574 pass attempts, Brees has been sacked just 24 times, so the line can block.
That should tell you defensive coordinator Rob Ryan has a tough task ahead of him.
But it also means something to Jason Garrett, as well, as the offensive play-caller.
"The best way to help the defense is to execute ball plays and drive the ball and score points," Garrett said. "A lot of people say, 'Do you want to play a slow down game and keep those guys on the sidelines?' You just want to be able to execute, make first downs, move the ball and score points. However you can do that is a good thing. Every week we try to do that. We game plan accordingly. We'll try to attack their defense."
More important than winning time of possession is scoring touchdowns inside the red zone because of the Saints' offense.
During the Cowboys' three-game winning streak they have scored touchdowns on five of their last nine possessions inside the opponents' 20. In their last six games they have scored touchdowns on 10 of their last 20 red zone drives.
"You must take advantage of the opportunities you do get in a game," Garrett said. "You don't get that many drives in a game. We've got to make sure we cash in on them."
February, 15, 2011
2/15/11
7:45
AM ET
Players:
Felix Jones
(signed through 2012),
Marion Barber
(signed through 2014),
Tashard Choice
(signed through 2011),
Lonyae Miller
(signed through 2011)
[+] Enlarge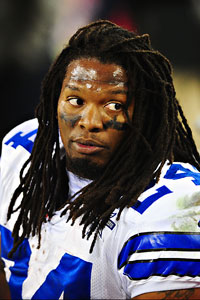 Mark J. Rebilas/US PresswireWith no guaranteed money left on his contract, it makes sense for the Cowboys to release running back Marion Barber, who butted heads with coach Jason Garrett last season.
Top free agents:
DeAngelo Williams
,
Carolina Panthers
;
Ahmad Bradshaw
,
New York Giants
;
Cedric Benson
,
Cincinnati Bengals
;
Joseph Addai
,
Indianapolis Colts
;
Darren Sproles
,
San Diego Chargers
Top draft prospects:
Mark Ingram
, Alabama;
Ryan Williams
, Virginia Tech;
Mikel Leshoure
, Illinois;
Daniel Thomas
, Kansas State;
Demarco Murray
, Oklahoma
2010 review:
Felix Jones failed to wow after becoming the lead horse in September. He finished the season with a respectable 1,250 total yards (800 rushing and 450 receiving), but he wasn't the gamebreaker he had been in a lesser role. He averaged 4.3 yards per carry – down from 5.9 as a change-of-pace back the previous season – and scored only two touchdowns. Marion Barber had the worst year of his career while cashing $7.8 million of Jerry Jones' checks. He had career lows in every major rushing and receiving category. His average of 3.3 yards per carry ranked 45th of 47 backs who had enough carries to qualify. Tashard Choice didn't make much of an impact other than his terrific performance in the road win over the Colts, when he rushed for 100 yards and a touchdown on 19 carries. Lonyae Miller did a solid job on special teams when promoted from the practice squad late in the season.
Offseason preview:
It's time to bid farewell to Barber. His production hasn't come close to justifying his seven-year, $45 million contract and continues to trend down. He has butted heads with head coach Jason Garrett, most notably by his defiant refusal to adhere to the travel dress code before Garrett's interim coaching debut. And there's no more guaranteed money left on his deal. It would make no sense to pay him his $4.25 million salary next season. Even with Barber's departure, running back isn't a pressing need. Jones and Choice should be able to form a respectable tandem, especially if the Cowboys can address the issues on the offensive line. Maybe the Cowboys use a mid- to late-round pick on a back to challenge Miller for the No. 3 role, but it'd be surprising if they invested heavily in this position this offseason.
Need meter (1-5):
2