Dallas Cowboys:

David Carter
January, 6, 2014
Jan 6
3:30
PM ET
IRVING, Texas -- No team in the NFL needed more players on defense than the
Dallas Cowboys
in 2013.
They had 41 defenders with cornerback
Brandon Carr
playing the most (1,116 snaps) and
Dez Bryant
playing the least (three). The
Indianapolis Colts
and
New Orleans Saints
had the second most with 32 players on defense.
In training camp, the Cowboys' projected defensive line was
Anthony Spencer
,
Jason Hatcher
,
Jeremiah Ratliff
and
DeMarcus Ware
. Hatcher played the most snaps (747) but that was only 66 percent of the snaps. Ware missed three games and played 628 snaps (55 percent). Spencer played 34 snaps in one game before his season ended. Ratliff, of course, played none before his release.
Nick Hayden
played the most snaps on the defensive line (821).
George Selvie
did not join the team until training camp began and played 744 snaps.
With Hatcher and Spencer set to be free agents and Ware coming off a career-low six sacks, the Cowboys need to refurbish their defensive line in a way where Hayden and Selvie are not playing as much.
The Cowboys used 20 defensive linemen during the season, although
Kyle Wilber
moved to linebacker late in the season and played 501 snaps.
It might not have seemed this way, but
Jeff Heath
played only 79 more snaps than
J.J. Wilcox
.
Defensive snaps:
1,116 – Brandon Carr
1,088 –
Orlando Scandrick
1,015 –
Barry Church
874 –
Bruce Carter
821 - Nick Hayden
747 – Jason Hatcher
744 – George Selvie
702 –
Sean Lee
628 - DeMarcus Ware
594 - Jeff Heath
515 - J.J. Wilcox
506 –
Morris Claiborne
501 – Kyle Wilber
380 –
Ernie Sims
275 –
Jarius Wynn
254 -
Drake Nevis
207 –
DeVonte Holloman
197 –
Justin Durant
178 –
B.W. Webb
163 –
Will Allen
153 –
Everette Brown
144 –
Caesar Rayford
117 –
Corvey Irvin
81 –
Sterling Moore
72 -
Edgar Jones
63 –
Cameron Lawrence
49 –
David Carter
46 –
Jason Vega
45 –
Jerome Long
38 –
Landon Cohen
34 – Anthony Spencer
34 –
Frank Kearse
24 –
Kyle Bosworth
22 –
Micah Pellerin
20 –
Everett Dawkins
20 –
Martez Wilson
16 –
Jakar Hamilton
15 –
Marvin Austin
8 –
Danny McCray
6 –
Orie Lemon
3 – Dez Bryant
November, 6, 2013
11/06/13
11:50
AM ET
IRVING, Texas -- Since May 16, the
Dallas Cowboys
have signed, traded, acquired, put on injured reserve or released 28 defensive linemen. They saw another,
Josh Brent
, retire on July 18.
Everett Dawkins and
Hall Davis
are the latest additions. Dawkins was signed off the
Minnesota Vikings
' practice squad to the active roster, and Davis filled the final practice-squad vacancy.
There has been an incredible amount of movement on the Cowboys' defensive line. If you remember the Travis Chappelear era consider yourself fortunate.
Check out these transactions by date involving only the defensive line:
May 16 – Signed
Anthony Hargrove
June 5 – Waived/injured Robert Callaway
June 11 – Signed
Jeris Pendleton
June 20 – Cut Hargrove
June 25 – Signed
Jerome Long
July 18 – Josh Brent retired
July 26 – Signed
George Selvie
and
Landon Cohen
July 31 – Cut Ike Igbinosun, signed Toby Jackson
Aug. 1 – Waived/injured
Cameron Sheffield
Aug. 6 – Waived Monte Taylor, signed Jabari Fletcher
Aug. 12 – Signed Travis Chappelear
Aug. 13 – Claimed
Thaddeus Gibson
Aug. 19 – Waived Chappelear, Jackson
Aug. 21 – Signed
Jason Vega
Aug. 26 - Cut Pendleton
Aug. 27 – Placed
Tyrone Crawford
on injured reserve,
Jay Ratliff
on reserve/PUP
Aug. 31 – Cut Fletcher, Gibson, Long, Vega; acquired
Edgar Jones
from Kansas City
Sept. 1 – Traded
Sean Lissemore
to San Diego
Sept. 2 – Signed Vega to practice squad
Sept. 3 – Acquired
Caesar Rayford
from Indianapolis
Sept. 5 – Chappelear waived off injured reserve
Sept. 7 – Placed
Ben Bass
on injured reserve; re-signed Long
Sept. 17 – Cut Cohen, signed
David Carter
Sept. 24 – Cut Long, signed
Drake Nevis
Sept. 25 – Placed
Anthony Spencer
on injured reserve
Oct. 15 – Cut Carter, Signed
Jarius Wynn
Oct. 16 – Released Ratliff off reserve/PUP
Oct. 18 – Signed Vega off practice squad; placed Jones on IR to return list
Oct. 21 – Signed
Marvin Austin
Oct. 29 – Released Vega; signed
Everette Brown
Oct. 31 – Signed Vega to practice squad
Nov. 5 – Cut Austin
Nov. 6 – Signed Everett Dawkins off Minnesota practice squad; signed Hall Davis to practice squad
October, 23, 2013
10/23/13
2:15
PM ET
IRVING, Texas – Of the 10 defensive linemen the
Dallas Cowboys
have on their 53-man roster, six joined the team after training camp started.
After
DeMarcus Ware
,
Jason Hatcher
,
Kyle Wilber
and
Nick Hayden
,
George Selvie
is the veteran of the bunch, and he joined the team in Oxnard, Calif. on July 24.
Jason Vega
joined the team Aug. 21 and spent the first six weeks on the practice squad. The Cowboys traded for
Caesar Rayford
on Sept. 3. They signed
Drake Nevis
on Sept. 24. They added
Jarius Wynn
last week.
Marvin Austin
was brought on board on Monday.
This does not include guys they signed after camp and have since cut, like
Landon Cohen
(signed July 24, cut Sept. 17),
David Carter
(signed Sept. 17, cut Oct. 15) and
Edgar Jones
(acquired Aug. 31, placed on short-term injured reserve Oct. 18).
Finding players is not easy. As Bill Parcells said, you just can't go to Texaco and find one. Yet the Cowboys have had great success the last few years in finding guys off the street to perform. Two years ago it was wide receiver
Laurent Robinson
. Last year it was linebacker
Ernie Sims
. Hayden was signed in January after he did not play in 2012 and has 25 tackles and 10 quarterback pressures.
"The first thing you're looking for is the best player available," coach Jason Garrett said.
The personnel conversations are constant.
"You talk about these guys, you watch them," Garrett said. "A lot of times you have history with the player, whether it's direct history or you've spent a lot of time with him prior to the draft. You try to get all of those thoughts and impressions out there. You watch the tape and see where he is right now and what his role might be coming into our football team and how he'll be able to help us."
Garrett wants the "right kind of guy." The player needs to fit the system. And the Cowboys also prefer that they were at least in training camp with another team or playing earlier in the season to be in some semblance of conditioning.
Nevis and Wynn were with the
San Diego Chargers
earlier in the year. Austin was with the Miami.
Nevis and Wynn played in just their first week with the team after three practices. Austin will likely do the same Sunday against the
Detroit Lions
.
"You certainly have to learn scheme and technique and all of those things," Garrett said. "The one thing I would say, defensive linemen are typically used to being rotational players. The idea that they have to come in and play 65 plays in a game, like maybe an offensive linemen would, you're more used to have those guys sub in and out. That's been their mentality. That's always been their mentality."
October, 14, 2013
10/14/13
3:00
PM ET
A review of four hot issues from the Dallas Cowboys' 31-16 win over the
Washington Redskins
:
[+] Enlarge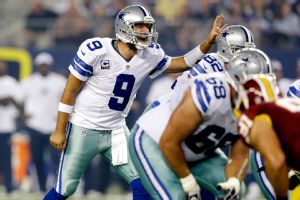 AP Photo/LM OteroTony Romo and the Dallas offense stepped up their production in the third quarter.
Man, what coverage:
If you're looking for a change in how the Cowboys played defensively, it was in the secondary. Cornerback
Brandon Carr
followed
Pierre Garcon
all over the field.
Morris Claiborne
and
Orlando Scandrick
were matched up in man coverage more. The result was three pass breakups apiece for Carr and Claiborne and two for Scandrick.
"I think that takes us back to what we're all here for," Scandrick said. "Whether it's man or zone, it's our job to play the scheme, but Brandon Carr was brought over from Kansas City, gave him a bunch of money to play man-to-man. Mo, traded up for him to play man-to-man. Signed me long-term to play man-to-man, so …"
Answering the call:
In a Sept. 22 loss to the
San Diego Chargers
, the Cowboys ran just seven plays in the third quarter and lost 30-21. On Sunday they ran only eight plays in the third quarter but managed to score a touchdown thanks to Dwayne Harris' kickoff return. After that, however, the offense had two three-and-out drives. After
Kai Forbath
missed a 49-yard field goal early in the fourth quarter, the Cowboys answered with a nine-play drive that ended with a 30-yard field goal from
Dan Bailey
for an eight-point lead. For six of those nine plays, the Cowboys went with their "empty" personnel, spreading the field.
Tony Romo
completed four of six passes for 42 yards with no running back on the field with
Cole Beasley
catching three of the passes.
Need line help:
The trade deadline is two weeks away, and the Cowboys will be open for business but face salary-cap restrictions when thinking about making a deal. While
DeMarcus Ware
felt confident his strained quadriceps would be OK, there is little proven help along the defensive line, leading to a question about adding a defensive lineman through a trade or free agency. The Cowboys have about $2 million in cap room, making the acquisition of a name player difficult. At one point the defensive line Sunday was
Caesar Rayford
,
Drake Nevis
,
David Carter
and
Kyle Wilber
, who did have his first career sack. They pressured Robert Griffin III at times, but can this "no-name" group, as Jerry Jones called it, get it done every game?
Quiet return:
After missing two games with a hamstring injury,
Miles Austin
was held without a catch against the Redskins. He was targeted four times and nearly had a touchdown, but Redskins cornerback
DeAngelo Hall
managed to deflect the Romo pass at the last second. It was the second straight game Austin was held without a catch by the Redskins. It also happened in last year's season finale, but he missed a lot of action in that game with an ankle injury. For the offense to be at peak efficiency, Austin will need to make some plays. The good news is that he did not aggravate his hamstring injury, so he should improve as he grows more confident in his legs.
October, 9, 2013
10/09/13
10:50
AM ET
IRVING, Texas -- Cowboys owner/general manager Jerry Jones, who made the mistake this summer of declaring that he was sure
Jay Ratliff
would be ready for the season opener, is steering clear of any firm projections about the former Pro Bowl nose tackle's return from the physically unable to perform list.
Ratliff
"I don't know, and I don't know that he knows," Jones said Tuesday on KRLD-FM. "I don't know that anybody knows. He is beginning to work through on what we all hope is a secure injury area that has hopefully healed. I don't know that. I can't speak to that, and I don't know that anybody does.
"We will painstakingly go slow here in trying to work him back in."
Ratliff, who is still recovering from the sports hernia surgery he had in December, is eligible to come off the PUP list Monday. The Cowboys could wait as late as Nov. 4. Once Ratliff is activated from the PUP list, he would have three weeks to practice before the Cowboys put him on the 53-man roster or sideline him, so his season debut could come as soon as next week or as late as Thanksgiving.
Ratliff, who has clashed with Cowboys management and the team's medical, athletic training and strength/conditioning staffs over the last year, did not rehabilitate at the team's Valley Ranch facility this past offseason. Coach Jason Garrett said Ratliff has split his in-season rehab work between Valley Ranch and an off-site location.
The depleted Dallas defensive line could desperately use some help from Ratliff, a four-time Pro Bowler whose sack totals have declined for five straight seasons, bottoming out with zero during his injury-shortened 2012 campaign.
Nick Hayden
, who had played a total of 33 snaps in the previous two NFL seasons, is starting in Ratliff's place. Both backup defensive tackles,
Drake Nevis
and
David Carter
, were signed after the season started.
September, 18, 2013
9/18/13
12:25
PM ET
IRVING, Texas -- Tuesday afternoon the Cowboys released defensive tackle
Landon Cohen
, who played in the first two games as a backup, and signed
David Carter
.
Carter, 6-foot-5, 300 pounds, was cut by the
Arizona Cardinals
before the start of the season. Coach Jason Garrett isn't sure if Carter, who played against the Cowboys in the preseason, will be ready for Sunday's game against St. Louis.
"We just like him and our [personnel staff] tracks a lot of players," Garrett said. "Guys on rosters, guys on practice squads and guys on the street. You're always trying to upgrade your football team. I think our guys do a really good job of that when there's an opportunity to upgrade or bring a guy in to see where he is. To see if he can possibly upgrade [your team] you want to take advantage of that."
The Cowboys' defensive line has been hammered by injuries. Defensive tackle
Jay Ratliff
is currently on the physically unable to perform list still recovering from wrist and groin injuries, and defensive end
Anthony Spencer
made his debut in Week 2 at Kansas City after missing the first game because of knee surgery.
Toward the end of the Week 2 loss to the Chiefs, defensive end
DeMarcus Ware
suffered a stinger in his shoulder after hitting quarterback
Alex Smith
. Ware left the game and didn't return, yet team officials don't consider it serious.