August, 23, 2014
Aug 23
11:20
PM ET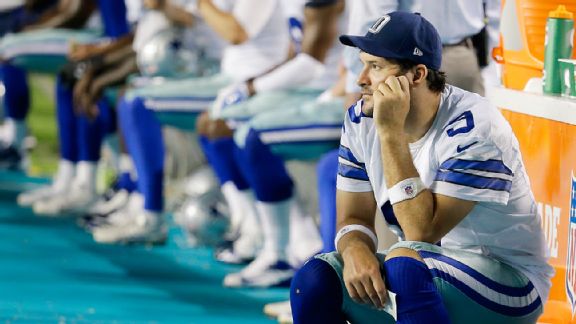 AP Photo/Lynne SladkyCowboys starter Tony Romo finished Saturday's game with a quarterback rating of just 68.5.
MIAMI GARDENS, Fla. -- The
Dallas Cowboys
' offense we saw against the
Miami Dolphins
on Saturday night isn't going to be nearly good enough during the regular season to offset their raggedy defense.
The offensive line, fortified with three first-round picks in the past four seasons, struggled against Miami's defensive line.
In the process, the unit allowed Miami to hit quarterback
Tony Romo
way too often. The Dolphins sacked him three times -- and he played only a half.
Oh my.
Miami beat the Cowboys
25-20
at Sun Life Stadium, but Romo absorbed the beating Miami put on him. Even though the 34-year-old needed a trip to the cold tub immediately after the game, overall it remained a successful evening.
At least we found out Romo can take such a beating. Hey, that's important when you consider that Romo has had two back surgeries in the past year, and that the club has been extremely cautious with him during training camp.
The Cowboys have consistently given Romo days off during training camp to ensure he has no issues with his back. Romo didn't play in the first preseason game, and he played just 14 snaps in the second.
And it's unlikely that he'll play in Thursday's final preseason game against Denver. Baltimore jostled him a bit last weekend, but the Ravens didn't pound him the way Miami did.
"It was good to see Tony out there playing," Dallas coach Jason Garrett said. "He got knocked around a little bit, and that could be good and bad.
"You want the protection to be clean, but at the same time for him, in his preparation for [the Sept. 7 opener versus] San Francisco, it's good to have him feel the physical part of the game."
[+] Enlarge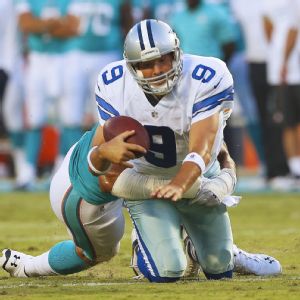 Mike Ehrmann/Getty Images"It's good to have him feel the physical part of the game," Cowboys coach Jason Garrett said of quarterback Tony Romo, sacked three times Saturday.
The consistent pressure on Romo is the biggest reason the Cowboys couldn't sustain drives Saturday, which is troubling since most of their offensive starters played the first half.
The Cowboys ran 32 plays in five series but managed only a pair of long field goals -- 52 and 50 yards -- from
Dan Bailey
. The Cowboys gained just 110 yards, an average of 3.4 per play.
Romo completed just 10 of 18 passes for 87 yards, with a long of 17. He finished with a passer rating of 68.5.
Yuck.
The Cowboys were 2-of-8 on third down under Romo. Twice, Miami sacked Romo on third down, ending a drive. Another time, Romo was hit hard as he delivered the ball, leading to an incompletion.
"I'll be very candid with you, their defensive front was doing a pretty good job, and that concerned me," owner Jerry Jones said. "He took those three sacks, and that concerned me. Not that we couldn't correct what it takes to block them, but it concerned me that he was taking those sacks."
At the end of the first half, the Cowboys had moved from their 20 to the Miami 24. On first-and-15, defensive end
Cameron Wake
sacked Romo for an 8-yard loss, thwarting the drive and setting up Bailey's second field goal.
"We wanted to put more points on the board, but we hurt ourselves with penalties," Romo said. "The game is always going to be hard if you keep putting yourself behind."
Here's the deal: This team has no chance if its offense doesn't play well. What you saw from the Cowboys' defense against Miami is what you're going to see all season. The unit is going to give up a ton of yards and hope it forces turnovers and makes teams kick field goals.
Any thoughts the Cowboys have of making the playoffs depends on them fielding a dynamic offense. And when you consider the plethora of playmakers Romo and playcaller Scott Linehan have at their disposal, there's no reason Dallas shouldn't have one of the league's top offenses.
The best way for the Cowboys to win games is to use their offense to grab leads, then use the running game, led by
DeMarco Murray
and the offensive line, to protect the defense and close out games in the fourth quarter.
To do that, however, the offensive line can't get manhandled the way it was by the Dolphins. This is the preseason, so there's zero reason to overreact, although this is the last time we'll see most of the team's key starters before the season begins.
Romo would tell you that a tad better execution on a couple of plays and the offense would've looked just fine Saturday. Romo would also tell you he didn't feel as though Miami overwhelmed the Cowboys' offense, otherwise he'd be concerned.
Still, it's clear the Cowboys have much work to do to get ready for San Francisco.
Garrett has spent all offseason talking about having an offensive line that will enable the Cowboys to play a more physical style. He's said the line will make Romo better and the defense more efficient.
We didn't see that against Miami. We'd better against San Francisco in two weeks.