Dallas Cowboys:

Dominique Easley
June, 11, 2014
Jun 11
10:30
AM ET
IRVING, Texas -- When
Dominique Easley
walked in for his interview at the NFL scouting combine last February,
Dallas Cowboys
coach Jason Garrett offered a handshake and hello.
"Dominique, nice to meet you," Garrett said.
Easley quickly responded, "Coach, I've met you already. I came to your camp at Princeton University when I was in high school."
[+] Enlarge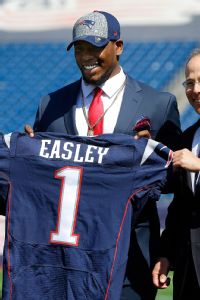 AP Photo/Steven SennePatriots No. 1 pick Dominique Easley attended Jason Garrett's football camp in New Jersey while in high school.
Every June Garrett holds a football camp for kids from the area at his alma mater in New Jersey. Easley attended Curtis High School in Staten Island, New York, and made the drive to Princeton.
Last weekend, Easley served as a counselor at Garrett's camp along with Cowboys
Dez Bryant
,
Morris Claiborne
and
DeMarco Murray
, as well as former Cowboys running back
Phillip Tanner
.
If things worked out a little differently Easley could have been a Cowboy, but the
New England Patriots
took him with the 29th pick in the first round.The Cowboys had him in for a pre-draft visit because they liked him as a player and they wanted to check out this surgically-repaired knee.
"The Easley story is a really good story," Garrett said. "He talked to the kids and when he stands up there, there is the 29th pick in the first round and he said, 'I sat in that seat five years ago, so don't tell me you can't do this.' And there's another kid there every year named Freddie Santana, who also sat in those seats. He ended up going to Holy Cross, graduated from there, was their team captain and was selected for Teach for America and did a couple of years down in Atlanta. Now he's teaching in Brooklyn. The big challenge with those kids, there's about 300 of them, and they come from really tough places. So the idea that they belong and can do something like this, you put Dominque Easley up there, you put Freddie Santana up there and say, 'I was in Row 3 five years ago,' I think it's effective."
Easley's team ended up winning the round-robin 6-on-6tournament.
"He won when he was a player and he won as a coach, so that was the big story line," Garrett said.
The football is a nice component of the camp, but Garrett hopes something bigger develops. Perhaps in the future he will meet another graduate of his camp at the combine.
"We've got them for 10 hours one day out of the year, but I challenge our coaches," Garrett said. "I tell them, 'I believe we can make a difference in these kids' lives, OK, so they're going to show up here at 8 and we're going to send them on their way tonight at 6 and we have this window to try to make a difference.' We try to say the right things, do the right things and hopefully make some kind of impact."
May, 8, 2014
May 8
4:00
PM ET
IRVING, Texas -- If the past is any indicator, the
Dallas Cowboys
will make their draft selections from players that were among their national visitors.
In the past nine years, the only top picks not to visit the Cowboys were
DeMarcus Ware
(2005) and
Morris Claiborne
(2012).
Last year, five picks --
Travis Frederick
,
Terrance Williams
,
J.J. Wilcox
,
B.W. Webb
and
Joseph Randle
-- met with the coaches, scouts, medical staff and front-office personnel before the draft.
Here are the 25 known visitors to Valley Ranch before the draft.
Keep this list handy over the next three days:
.
May, 7, 2014
May 7
1:45
PM ET
IRVING, Texas -- The
Dallas Cowboys
have drafted players with varying degrees of injuries over the years, hoping they found value where others saw risk.
They did it with
Sean Lee
and
Bruce Carter
in the second rounds of back-to-back drafts in 2010 and '11.
Morris Claiborne
had wrist surgery before the 2012 draft, and Dallas had no qualms trading up to get him.
Joseph Randle
was picked in the fifth round last year despite a thumb surgery that kept him out a good portion of the offseason.
Despite not wanting to use it as an excuse the past few years, the Cowboys often cite injuries as the major reason as to why they have finished 8-8. With just a little bit of luck in the health department, owner/general manager Jerry Jones hinted on Tuesday, the Cowboys would have been a playoff team and will be a playoff team this year.
So would the Cowboys be as willing to draft players with injury flags, such as Florida defensive tackle
Dominique Easley
, who tore both of his anterior cruciate ligaments in college?
"I think you have to always measure the value that you're getting, but at the same time I think one of issues at the top of the list the last couple of years have been injuries," executive vice president Stephen Jones said. "That was brought up in the draft room and we have to be cognizant of that injuries have been a little bit of what's put us behind the eight ball a little bit. We'll certainly have to take a long, hard look at that before we pull that trigger but that doesn't mean we won't do it. I wouldn't say it's out of the question."
May, 2, 2014
May 2
11:30
AM ET
ESPN Insiders Mel Kiper Jr. and Todd McShay held a three-round mock draft on Thursday in which they alternated picks.
You have to be an Insider to see all of the picks. If so,
click here.

Here were their rules:
1. We rotate picks: Todd has odds, Mel has evens, and picks are made for each slot through Round 3.
2. These are our picks: Each selection reflects our call, not what we think teams want.
3. It's about the board: The analysis is less a scouting report, and more about why the pick was made.
For the
Dallas Cowboys
, Kiper took Alabama safety
Ha Ha Clinton-Dix
in the first round (No. 16 overall). In the second round, McShay took Florida State defensive tackle
Timmy Jernigan
(No. 47) and in the third round Kiper took Stanford guard
David Yankey
(No. 78).
The picks hit on the Cowboys' needs in the secondary and defensive and offensive lines.
Remember, this is what Kiper or McShay would do; not what they think the Cowboys will do.
In examining their mock, the Cowboys will not be happy with the
St. Louis Rams
. At No. 13, the Rams took Notre Dame offensive lineman
Zack Martin
. In the second round (No. 44 overall), they took Northern Illinois safety
Jimmie Ward
, and in the third they took LSU guard
Trai Turner
(No. 75). All three were pre-draft visitors to Valley Ranch.
Let's take a closer look at the picks:
First round

In Cinton-Dix, the Cowboys get a safety to pair up next to
Barry Church
. In his reasoning for the selection, Kiper acknowledged he would rather take a defensive lineman here but he doesn't see the value.
UCLA's
Anthony Barr
did not go off the board until No. 30 to the
San Francisco 49ers
. Missouri defensive end
Kony Ealy
lasted until No. 37 to the
Atlanta Falcons
in the second round.
If those two are available – and Martin is gone – I'd go with Barr or Ealy before Clinton-Dix, but I'd really consider Ealy because of his position flexibility.
Second round
In Jernigan, McShay took a player that he twice projected to the Cowboys in the first round. If this scenario played out, then the Cowboys would be OK with it. They view Jernigan as a one-technique, which is not valuable enough to take in the first round. They would be getting a disruptive player in the second round.
But let's say the Cowboys do not select a defensive lineman in the first round next week. In this mock they have
Demarcus Lawrence
(No. 54,
Philadelphia Eagles
),
Daquan Jones
(No. 61, San Francisco) and
Dominique Easley
(No. 66,
Tampa Bay Buccaneers
) available.
I'd go with Lawrence, who would be the best available right defensive end. Easley is intriguing but the knee injuries are troubling, even if the medical re-check went fine for him. To me, No. 47 is a little rich for Jones.
Since I went with Barr in the first, then I think Jernigan would be a good pick here.
Third round
The Cowboys can use a guard, and the third round seems to be a good chance to get one. Yankey had a good career at Stanford. He started 40 games. He is smart. But is he athletic enough? He was slooooow at the combine. Hey, so was
Travis Frederick
and that worked out for the Cowboys last year.
The Cowboys like Turner, but he's gone.
Brandon Thomas
will require a redshirt year with his knee injury, but he was available, going to Cleveland at No. 83.
Billy Turner
, another Valley Ranch visitor, went No. 92 to the
Carolina Panthers
. He might be a better fit than Yankey.
There are some receivers available, like Penn State's
Allen Robinson
. Princeton defensive tackle
Caraun Reid
is there, too. There is a safety I like, Minnesota's
Brock Vereen
, available. If they don't take Clinton-Dix, and can't get Ward, then he would be a decent pickup but perhaps a little rich for him in the third. Oregon State defensive end
Scott Crichton
was also available. I'd consider doubling up at end even with Barr in the first round.
I'd go with Robinson or Rutgers receiver
Brandon Coleman
, who went a pick later to the
Baltimore Ravens
.
So that would be Barr, Jernigan and a receiver (Robinson or Coleman) with the first three picks.
Thoughts?
May, 1, 2014
May 1
1:45
PM ET
IRVING, Texas -- Another lively chat Wednesday with more than 100 questions from you guys wanting to know this, that and everything about the
Dallas Cowboys
.

In the chat we talked about:
To read the whole chat,
click here.
Let's talk about the whole 'need vs. best player' debate some more:
Kyle from Virginia asked:
With Will McClay playing a bigger role in this draft, do you see Dallas taking the best player available regardless of position more often this year or just filling their needs? I am hoping they are focusing on the long-term, not just the upcoming season.
Here is my answer:
I'm not being a wise guy here, but the answer is: Yes. We always speak in this perfect world of taking the best player available, but you have to factor in need. The key is to not make the need overwhelm the evaluation process so you're inflating a player's worth. I do believe the Cowboys look at the draft as a multi-year deal not specific to one year, but need will always play a part in the process. It just has to. You can't eliminate it.
To elaborate, much of the draft operates in a gray area. Ideally everything is crystal clear. I'm sure in the past I've said, 'You always take the best player available.' Heck, I probably said it two weeks ago, but I'd like to add two caveats:
You always take the best player in the first round. You always take the best player when the best player's grade is much higher than the player you are going to take.
It's clear the Cowboys need defensive line help, though I think the signings they've had in free agency helps steer them away from reaching for a player at No. 16. If they are unable to get one of their top defensive linemen at No. 16, be it
Anthony Barr
,
Aaron Donald
or whomever, then don't reach for the next-best defensive linemen if you don't believe he is better than somebody at another position.
That's why I've had the Cowboys taking
Zack Martin
in the mock drafts I've been asked about. The Cowboys look to be in no-man's land at No. 16 when it comes to the top defensive linemen. Too low for Donald and Barr. Too high for Ealy or Easley. If they trade back in the first round, then it becomes a little more palatable to take one of the lower-ranked guys.
In 2009, the Cowboys should have drafted
LeSean McCoy
in the second round. They had a first-round grade on McCoy but instead of taking him they traded down to get third- and fourth-round picks from the
Buffalo Bills
.
At the time the Cowboys had
Marion Barber
on a big-time deal and drafted
Felix Jones
in the first round in 2008. They also liked
Tashard Choice
. They probably thought they were stacking it up at the position if they took McCoy. So what? You had a chance to get a first-round player with a pick in the 50s. Do it.
We want everything to be black and white when it comes to the draft, but it's not that easy.
April, 21, 2014
Apr 21
9:45
AM ET
IRVING, Texas -- Florida defensive tackle
Dominique Easley
was scheduled to visit the
Dallas Cowboys
last week, but the trip was postponed so he could focus on his workout in Gainesville, Fla.
Instead Easley will visit with the Cowboys' coaches, scouts and medical staff this week, according to sources.
Of the known visitors to Valley Ranch, Easley will be the 13th defensive lineman. The team brought in more than 20 prospects last week as part of their top-30 visits and also held its Dallas Day workouts for local prospects.
Teams have serious medical concerns about Easley. He tore his right anterior cruciate ligament in practice last season. He tore his left ACL in 2011. If healthy, he would be a first-round pick. Even with the issues, he could go in the second round.
The Cowboys have shown a willingness to spend early picks on players coming off serious knee injuries, doing it with linebackers
Sean Lee
(2010) and
Bruce Carter
(2011).
The other defensive linemen with official visits to Valley Ranch include:
Kony Ealy
, Davon Coleman, Jerrod Black,
Anthony Barr
,
Aaron Donald
,
Demarcus Lawrence
,
Timmy Jernigan
, Will Clarke,
Scott Crichton
,
Ken Bishop
,
Chris Whaley
and
Kerry Hyder
.
April, 21, 2014
Apr 21
9:00
AM ET
Each day over the next 10 days, we will focus on one position in the NFL draft by highlighting a prospect in Rounds 2-7 who might fit for the Dallas Cowboys. With so much attention placed on the first round in mock drafts, "Beyond the first round" focuses on lesser-publicized options after the first 32 picks. We open the series with defensive tackles.
Second round, Dominique Easley (Florida):
If not for health concerns, he would be a first-round pick. He tore both anterior cruciate ligaments in college, and teams will be concerned about his long-term viability. The Cowboys have shown a willingness to take a chance on injured players in the past, and Easley could be the type of disruptive defensive lineman Rod Marinelli craves.
[+] Enlarge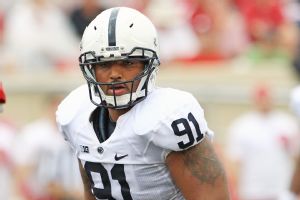 Pat Lovell/USA TODAY SportsAt 6-foot-4 and 322 pounds, Penn State's Daquan Jones would fit Dallas' 4-3 scheme.
Third round, Daquan Jones (Penn State):
At 6-foot-4, 322 pounds, he is ideally suited to be the one technique in the Cowboys' 4-3 defense. He is strong and can control the interior against the run. He has strong hands that allow him to dictate the action. He has some pass-rush, skills but his fit here would be as a two-down player as a rookie.
Fourth round, Caraun Reid (Princeton):
A Princeton coach in Jason Garrett, drafting a Princeton player. Perfect. Reid, however, has ability and scheme flexibility. He is more of a three-technique with his quickness and ability to work in short areas. He helped himself at the Senior Bowl against better competition to show teams he can make the jump in levels.
Fifth round, Justin Ellis (La. Tech):
He is just a massive player at 6-1, 334 pounds. He is the prototype nose tackle, which is OK for a fifth rounder. His ability to hold up in the middle would help the linebackers flow to the plays. He had 48 tackles, 1.5 sacks and 5.5 tackles for loss last season. Some off-field concerns, but he would bring size the Cowboys need in the middle.
Sixth round, Kerry Hyder (Texas Tech):
He was among the national visitors to Valley Ranch. He is an active player with a nose for the ball. A second-team All Big 12 pick, he had 65 tackles, 11.5 for a loss, two sacks, five hurries, three forced fumbles, two blocked kicks, two hurries and one pass breakup. He started his final 38 games.
Seventh round, Chris Whaley (Texas):
He arrived in Austin as a running back, but moved to the defensive line. Maybe he could be another
Henry Melton
, who did the same with the Longhorns. He missed the final four games last season with a knee injury, but he had four tackles for loss, two sacks an interception and 23 tackles.
April, 12, 2014
Apr 12
12:00
PM ET