Dallas Cowboys:

Donavon Kemp
April, 18, 2013
4/18/13
8:37
PM ET
PODCAST
ESPN's Ed Werder joins Fitzsimmons & Durrett to discuss the upcoming NFL draft and the best strategy for the Cowboys.

Listen

The Cowboys released wide receiver
Donavon Kemp
on Thursday.
Kemp finished the 2012 season on injured reserve with a knee injury.
The Cowboys wide receivers are as follows:
Anthony Armstrong
,
Miles Austin
,
Cole Beasley
,
Tim Benford
,
Dez Bryant
,
Danny Coale
,
Jared Green
,
Dwayne Harris
and
Carlton Mitchell
.
August, 27, 2012
8/27/12
10:12
AM ET
IRVING, Texas – The Cowboys have one more roster move to make before the 3 p.m. deadline to reach the 75-man limit after releasing eight players, waiving two injured players and placing guard/center
Kevin Kowalski
on the reserve/physically unable to perform list. (UPDATE: The Cowboys released long snapper Charley Hughlett Monday afternoon to get down to the limit.)
Kowalski has been bothered for most of the offseason by a severe case of tendinitis in his ankle and has been in a cast for most of training camp. He will miss the first six weeks of the regular season.
Linebacker
Caleb McSurdy
(Achilles) and wide receiver
Donavon Kemp
(knee) will move to injured reserve if they clear waivers.
The following players were cut:
Levy Adcock
,
Delbert Alvarado
,
Harry Flaherty
,
David Little
,
Tyrone Novikoff
,
Raymond Radway
,
Javarris Williams
and
C.J. Wilson
.
August, 25, 2012
8/25/12
6:55
PM ET
ARLINGTON, Texas -- The Cowboys will be without nine players tonight against St. Louis, including six key players. However, none are surprise scratches.
Miles Austin
(hamstring),
Phil Costa
(back),
Jason Witten
(spleen),
Dez Bryant
(knee),
Mike Jenkins
(shoulder) and
DeMarcus Ware
(hamstring) are the starters not available. They will be joined by guard/center
Kevin Kowalski
(ankle), wide receiver
Donavon Kemp
(knee) and
Kyle Wilber
(thumb).
Costa worked out before the game and the hope is he can return to practice Monday after missing two-plus weeks with a back strain. Bryant, who has a case of patella tendonitis, was active in the pre-game warm-ups mainly throwing passes to his fellow wide receivers.
August, 20, 2012
8/20/12
7:23
PM ET
SAN DIEGO – When wide receivers
Dez Bryant
,
Andre Holmes
and
Donavon Kemp
went down in Monday's practice against San Diego,
Danny Coale
's involvement increased to a training camp high.
"I think that's safe to say," Coale said.
A stress fracture in his foot kept Coale out for most of the offseason and the early part of training camp. A sore quadriceps kept him out for a couple of days last week and he has yet to see action in the preseason.
With increased work, Coale will get a better chance to claim a roster spot.
"I'm just worried about this practice rght here," Coale said. "With the injuries I've had with my foot I was curious to see how it would respond, and it responded well. You take one day at a time and I'm happy the way it felt. There's a lot of work to be done on the football side of things, but I'm happy how it felt physically."
Coale caught four of the five passes thrown his way Monday with the lone miss coming on a deep ball from
Kyle Orton
that was just out of his reach.
August, 6, 2012
8/06/12
8:55
PM ET
OXNARD, Calif. --
Jason Witten
called Monday's practice one of the dog days of camp because of the number of reps from Sunday's practice and the focus on short-yardage and goal-line running in the afternoon.
** Fans cry out for the end zone fade to WR
Dez Bryant
whenever the Cowboys get near the end zone. You would've been happy Monday. Bryant caught a fade from QB
Tony Romo
for a touchdown over CB
Mario Butler
in two-minute work. The play was set up by what seemed to be a somewhat dubious pass interference call on CB
Orlando Scandrick
** The second-team offense also scored in its two-minute work with
Cole Beasley
working the slot to get the score after the defense failed to line up properly. That score was also set up by a dubious pass interference call on S
Mana Silva
on a throw to Beasley that seemed uncatchable. Beasley had three catches on the drive.
** It was a shaky day for the contenders in the backup receiver role.
Dwayne Harris
had a drop that led to assistant head coach
Jimmy Robinson
throwing his play sheet in the air.
Kevin Ogletree
had a drop and
Andre Holmes
was invisible.
** Newly-minted starting S
Barry Church
made a nice break on a throw to FB
Lawrence Vickers
, but secondary coach
Jerome Henderson
has higher standards. He wanted Church to go for the interception.
** TE
James Hanna
did a nice job sealing DE
Sean Lissemore
on two runs to start the team-run period. Hanna also had a couple of catches on the day in getting more work with the regular offense.
** CB
C.J. Wilson
had a good day with a number of breakups, including one to Hanna in the flat. One of his teammates told him to go for the pick instead of the knockdown and he might have been correct. The drive ended in Beasley's touchdown.
** It's a Penn State thing. LB
Dan Connor
slid by G
David Arkin
to stop
Felix Jones
behind the line, then
Sean Lee
shrugged off Vickers to stop
DeMarco Murray
on the next play.
** G
Mackenzy Bernadeau
must have passed his conditioning test because owner and general manager Jerry Jones said the guard will get some work Tuesday. Bernadeau took some walkthrough snaps for the first time Monday morning.
** Something to note:
Pat McQuistan
and
Ronald Leary
did some pre-practice snapping, which is a sign the team isn't pleased with the in-house work of the backups so far. They don't seem ready to look outside for help.
**Veteran Gs
Derrick Dockery
and
Daniel Loper
were in pads for the first time since signing and DE
Kenyon Coleman
had a rude welcoming to Loper in one-on-one pass rush drills, shucking him to the ground to get to the passer.
** WR
Raymond Radway
was yanked from a play when he lined up on the left side when he was supposed to be on the right. He was replaced by
Donavon Kemp
. Radway has had some issues in lining up in the correct spot.
July, 26, 2012
7/26/12
1:30
PM ET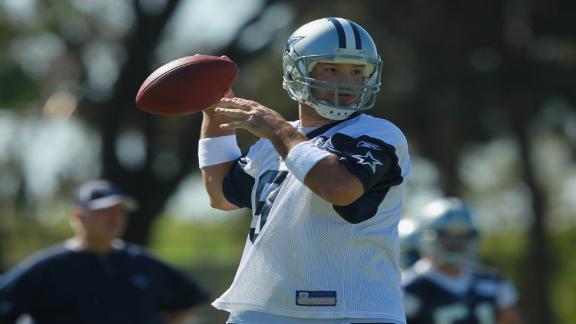 IRVING, Texas – Jason Garrett was imploring players early in Thursday's practice to get through Day 2 of the pre-training camp workout at Valley Ranch with the same bounce in their steps as they had on Day 1.
Even with the early starting time, the heat was taking its toll on some players, with several cramping up and needing rest. With only four healthy players, the wide receivers are getting a ton of work and feeling it.
At different times,
Cole Beasley
,
Tim Benford
,
Saalim Hakim
and
Donavon Kemp
needed to take a few minutes.
On to the observations:
** For the second straight day,
Kyle Orton
went deep with his first throw on seven-on-seven, this time connecting with undrafted rookie WR Cole Beasley, who ran past CB
Teddy Williams
, a former NCAA sprint champion. Beasley made a nice adjustment on the throw to his outside shoulder, holding on to the football as he fell to the ground.
** The secondary and linebackers are aggressive in coverage, coming up with a number of deflections. LB Ashton Whiteside, undrafted out of Abilene Christian, had two, batting down
Stephen McGee
passes to tight ends
James Hanna
and
Andrew Szczerba
.
** CB
Lionel Smith
, undrafted out of Texas A&M, was able to break on a
Rudy Carpenter
pass to the flat for a deflection, coming off his receiver for a nice play. CB
Mario Butler
had the only interception of the session when a Carpenter pass across the middle sailed into his arms.
** FB
Jamize Olawale
might have a chance to make this team after earning a roster spot following a rookie camp tryout. He was able to grab a low pass almost off the ground without losing a step and turning upfield. It was an athletic play that speaks to his receiver skills at North Texas. His true test will come when the pads come on and he has to lead block.
** TE James Hanna had a nice afternoon, snatching two passes with linebackers closing on him fast. His first came on an Orton pass near the sideline, beating Butler to the ball. The second came from Orton as well with LB
Orie Lemon
on his hip.
** CB
Mike Jenkins
did some conditioning work and if his ability to throw a football means anything, then his right shoulder needs some work. Jenkins could hardly throw an overhand pass 10 yards, not that that is in his job description. But it was a little unsettling to see after months of rehab.
** RB
Lance Dunbar
has some quick feet. During team run drills, the North Texas back was able to adjust to the back side of the running play after a hole closed quickly. With Ed Wesley on hand for Thursday's practice, Dunbar was able to stay a little fresher.
June, 12, 2012
6/12/12
4:42
PM ET
IRVING, Texas -- We bring you some observations from the two-hour session on Day 1 of the Cowboys' three-day minicamp:
* If there was an MVP for the day it would go to
Dez Bryant
. The third-year wide receiver was all over the field, catching passes from
Tony Romo
. His most impressive came on a leaping left-handed grab on a bubble screen. That the play picked up all of a couple of yards meant little. It was an impressive play. The best catch was on a back-shoulder throw from Romo, adjusting around the corner to make the play. Unofficially, Bryant had seven catches in the practice.
* Jason Garrett is big on situational play and brought out a late-game situation with the No. 1 offense going against the No. 1 defense. With the defense leading by four points, the offense had four plays to score from the 18 and was unable to come through. Defensive coordinator Rob Ryan, however, had to remind the defenders to protect the goal line.
* WR
Kevin Ogletree
had a "wow" moment with a one-handed grab on a deep ball from Romo. It was made better (depending on the perspective) by the fact that it came against
Brandon Carr
, the Cowboys' No. 1 corner. It was the first deep-ball reception Carr has allowed this offseason.
* OLB
DeMarcus Ware
had two would-be sacks of Romo, both coming from the quarterback's blindside.
* Ryan is preaching to his defense to get turnovers. The No. 3 unit forced back-to-back fumbles, with LB
Caleb McSurdy
punching the ball free from
Darrell Scott
on a pass to the flat.
* The Cowboys have some running backs on their roster even without
Felix Jones
practicing.
Phillip Tanner
continues to show quickness in hitting the holes, and rookie free agent
Lance Dunbar
has some make-you-miss moves, as well. That will be a good battle to watch in training camp.
* CB
Teddy Williams
heard it from the coaches when he had a poor reaction to an out-route throw to
Andre Holmes
. He nearly got beat on the same play on the next snap, but
Donavon Kemp
let Stephen McGee's pass slip through his hands.
* QB
Rudy Carpenter
, practicing for the first time in a month because of an oblique strain, hit
Saalim Hakim
with a nice out route just out of the reach of CB
Isaac Madison
. Hakim had a difficult time catching the ball early in the OTAs but has done a better job lately.
* An interesting note among the players who did rehab work during practice (
Tyrone Crawford
, Felix Jones,
Dan Connor
,
Kyle Wilber
,
Alex Albright
and
Morris Claiborne
): they did so wearing their helmets.
June, 6, 2012
6/06/12
3:17
PM ET
IRVING, Texas --
Dallas Cowboys
fifth-round pick
Danny Coale
said Wednesday afternoon he's disappointed he's missing organized team activities because of surgery to repair a broken little toe.
Coale, who is competing for one of the final wide receiver spots on the team, said his goal is to return for training camp that starts in late July.
"It's not what I wanted to happen," said Coale, who will wear a walking boot for a week to 10 days. "I see it as a minor setback."
Coale is not the first person in his family to suffer a broken toe. His brother broke his toe twice in college playing lacrosse and Coale's father did the same thing.
"I thought I was immune to it," Coale said.
The rookie receiver suffered the injury at the end of a conditioning drill when he planted his foot.
"I kind of knew it right away," he said. "It's not the best start, but it will be OK. I'd like to be out here getting reps. I'm taking it day-by-day right now."
Behind
Miles Austin
and
Dez Bryant
, there are a slew of receivers fighting for three possible spots.
Dwayne Harris
,
Raymond Radway
,
Kevin Ogletree
,
Andre Holmes
and of course Coale.
The Cowboys also have receivers
Saalim Hakim
,
Cole Beasley
,
Tim Benford
and
Donavon Kemp
on the 90-man roster.
"I'm going to try my hardest and focus on (getting healthy)," Coale said.
May, 5, 2012
5/05/12
5:22
PM ET
IRVING, Texas -- Rookies and selected veterans had their last chance to impress Saturday as the minicamp came to an end, and here are some lasting impressions from both practices:
** Each year it seems the focus of the Cowboys' defense is to create more turnovers and it has not happened nearly enough. If possible, defensive coordinator Rob Ryan is even more committed to the cause. He was constantly reminding the defense to force a fumble or pick off a pass. He got his wish on the first play of team run in the afternoon when
Darrell Scott
put the ball on the ground on a run up the middle.
** Rookie free-agent linebacker
Adrian Hamilton
, a Dallas Carter grad, opened up a lot of eyes. He had a would-be sack coming off the edge and then pressured quarterback
Nathan Dick
into running to his right before throwing the ball away. In the morning practice, he also displayed the ability to drop in coverage to get in the throwing lane on a slant to
Cole Beasley
for a deflection.
** Wide receiver Saalim Hakim had a rough afternoon, dropping two passes in on-air drills. In the morning, Hakim was slow to get up after he was pushed in the air by cornerback Isaac Madison. The referees called pass interference on the play.
** North Texas running back
Lance Dunbar
and Scott showed some quick feet without many holes to get through. Dunbar's quick change of direction hurt a defense that overpursued on a run to the right, while Scott used a spin move to create space on his best run of camp.
** Rookie free-agent tackle
Jeff Adams
struggled with Tyrone Crawford's power on a pass rush, allowing the third-round pick to push him back in the pocket. But on the next play, Adams got his hands on Crawford first and was able to hold his ground.
** Wide receiver
David Little
, who was in camp on a tryout basis, made a nice adjustment on a deep pass from Dick down the sideline, turning his body in mid-air to come down with a throw to his outside shoulder.
** Secondary coach Jerome Henderson is going to be fun to watch. He is active at practice and instructive. At one point, he told the secondary that they never should catch a ball with their pinkies together. He wants them to catch the ball with their thumbs together because that means they are getting the ball at the highest point and not allowing the wide receiver to make a play on the ball.
** Wide receiver
Donavon Kemp
(hamstring) and tight end Andrew Szczerba did not practice Saturday.
May, 4, 2012
5/04/12
5:27
PM ET
IRVING, Texas -- Making instant evaluations off two rookie minicamp practices can be dangerous to a person's health, but here are some observations from the Cowboys sessions Friday:
**
Kyle Wilber
is active. That's what the Cowboys thought they were getting in the Wake Forest linebacker. He has a quick first step off the ball and was able to track down running back Darrell Scott from behind in the morning practice.
** Defensive end
Tyrone Crawford
had a would-be sack of Nathan Dick in the first workout thanks to being unblocked, but he was able to get up the field in more competitive situations.
** Linebacker
Caleb McSurdy
was able to knock away a
Larry Smith
pass to tight end
James Hanna
but on the next play was not as fortunate, with Hanna getting a step on him on an out cut.
** Troy Woolfolk is listed as a cornerback but he played safety Friday. He intercepted a pass that was tipped by linebacker Adrian Hamilton. On the next play Wilber deflected a pass that Lionel Smith intercepted.
** It was difficult to get a read on the wide receivers and tight ends because the timing of the passing game was a mess.
**Tight end Andrew Szczerba made a nice one-handed grab down the middle of the field in the morning practice but was unable to finish the session because of an injury. He practiced in the afternoon. Wide receiver Donavon Kemp sat out of the afternoon workout.
** Cornerback Isaac Madison made a nice breakup of a deep ball from Smith to Cole Beasley.
** Like he did at training camp and all through last season, Jason Garrett had officials at practice. At different times flags were flying, including a handful for lining up offside.
April, 30, 2012
4/30/12
12:02
PM ET
IRVING, Texas – After the draft ended Saturday, owner and general manager Jerry Jones said the Cowboys would be aggressive in the college free agent market, particularly on the offensive line since the team did not draft a lineman.

He wasn't kidding.

The Cowboys signed six, highlighted by Memphis guard Ronald Leary, whom the team almost drafted in the sixth round but backed off because of concerns over a knee injury. The other undrafted lineman signed were: Columbia tackle Jeff Adams, Oklahoma State tackle Levy Adcock, Notre Dame tackle Taylor Dever, Miami guard Harland Gunn and Idaho tackle Tyrone Novikoff

Here are the additional signings:

Cole Beasley WR Southern Methodist
Tim Benford WR Tennessee Tech
George Bryan TE North Carolina State
Lance Dunbar RB North Texas
Saalim Hakim WR Tarleton State
Adrian Hamilton LB Prairie View A&M
Charley Hughlett LS Central Florida
Donavon Kemp WR UTEP
Isaac Madison CB Arkansas
Darrell Scott RB South Florida
Lionel Smith CB Texas A&M
Andrew Szczerba TE Penn State
Aston Whiteside LB Abilene Christian
Eddie Whitley S Virginia Tech
Troy Woolfolk CB Michigan