Dallas Cowboys:

Dontari Poe
November, 15, 2013
Nov 15
11:30
AM ET
With the Dallas Cowboys off this week at the bye week, we take a look at how the Cowboys draft picks have fared.
Travis Frederick
Pick:
Second round (No. 31 overall)
What he's done:
Since the day Frederick arrived at Valley Ranch, he has been the starting center. Much was made of the Cowboys trade down at the time and the over-drafting of Frederick with the 31st pick, but he has the looks of a building block on the line for many years to come.
Season outlook:
There have been no regrets about the move to get Frederick from inside Valley Ranch. It has not gone perfectly for Frederick, who struggled badly in Week 2 versus
Dontari Poe
, but he has been a stabilizing force on the interior of the offensive line.
Shotgun snaps had been an issue for years with
Andre Gurode
or
Phil Costa
snapping to
Tony Romo
. Despite coming from a run-oriented offense at Wisconsin, Frederick has had few poor snaps. He has a good understanding of when to offer help to his guards in pass protection and he does a good job of sorting through the fronts pre-snap.
He might be a rookie, but Bill Callahan said Frederick is playing like a 10-year veteran.
September, 13, 2013
Sep 13
11:00
AM ET
IRVING, Texas – One of the biggest reasons the
Dallas Cowboys
drafted
Travis Frederick
in the first round was his intelligence.
Frederick
Frederick, the rookie center, will be tested Sunday at Kansas City. The Chiefs run a 3-4 scheme similar to the one the
New York Jets
use, one that is designed to confuse with the multiple looks.
"Each particular front throws its own problems at you, but I think the big issue is there's so many of them," Frederick said. "They're going to throw a lot of different fronts at us and a lot of different pressures."
Frederick had five months to study up on the Cowboys' first opponent of the season, the
New York Giants
. But he has just a week to get ready for the Chiefs.
"I think it's interesting to watch [
Dontari Poe
], their nose tackle," offensive coordinator/offensive-line coach Bill Callahan said. "He's got the traits that you look for out of the run stoppers, the two-gappers that can control the point of attack. [Frederick] has got his work cut out for him and I would say that it's good he got some experience in the preseason, blocking against a zero-technique-type nose tackle, [Paul] Soliai from Miami. He's just got that exposure that helps him with his technique. I think it's going to be a really good matchup that'll be really interesting to see. He's obviously challenged."
April, 30, 2012
4/30/12
11:52
AM ET
IRVING, Texas – The award-winning 5 Wonders is back for a post-draft look. Today we talk about
Morris Claiborne
,
Bruce Carter
,
Mike Jenkins
and the missing nose tackle?
** The Cowboys traded up for Claiborne because he was the second player on their draft board and they could not believe he slipped out of the top five. In 2003 the Cowboys drafted
Terence Newman
with the fifth overall pick and said part of the decision was based on Newman's return abilities. In nine seasons, Newman had 38 punt returns for a 7.5-yard average and one touchdown. They never really let him do it. I wonder if the Cowboys will let Claiborne return punts and/or kicks. He averaged 25 yards per kick return last year at LSU and had a 99-yard touchdown. He's not
Patrick Peterson
as a returner, but he could be a good one and the Cowboys' return games need to improve in 2012. Here's a bonus wonder: I wonder if
Dez Bryant
actually becomes more of a full-time returner this season. It's Year 3 for him and I wonder if the team will sign him to a second contract down the road.
** Claiborne's arrival has Jenkins' future in question. Jenkins is in the last year of his contract and is scheduled to make a little more than $1 million. He is also coming off shoulder surgery and as I wrote on Friday, the team is a little concerned at how much rehab time he's spending in Florida and not at Valley Ranch. But I wonder what you could get for Jenkins. The money is palatable but he will be an unrestricted free agent in 2013. And he's coming off major surgery and won't be ready until training camp. Jerry Jones likes to say a player's value is lowest at the draft, so they could not get equal value for Jenkins or close to it. I wonder if the Cowboys let Jenkins play out the year, hope he does well, signs a big contract elsewhere and then hope they can get a compensatory back in 2014. The team doesn't wonder about this (they say) but I wonder if they would like a do-over on Orlando Scandrick's contract.
** I have to take Jones' word for it that
Bobby Wagner
would've been the Cowboys' pick in the second round had the team not made the move up for Claiborne. But I wonder what that means about Carter, last year's second rounder. At every opportunity the Cowboys have said they liked how Carter progressed last season off a torn anterior cruciate ligament, that he met every goal they planned knowing that he was injured. Well, now he's healthy and I wonder if he's really a fit. The Cowboys added
Dan Connor
in free agency to a two-year deal and Jones said they would've taken Wagner, an inside linebacker. That would seem to be a little redundant, unless Rob Ryan is drawing up some sort of special scheme or maybe Wagner could play outside. There will be a lot of eyes on Carter during the organized team activities and minicamp.
** Where's the true 3-4 nose tackle? As good as
Jay Ratliff
has been, many of you want the Cowboys to grab a huge nose tackle and slide Ratliff to defensive end. That's why some fans wanted
Dontari Poe
in the first round or even Alameda Ta'Amu in the third round. I wonder if the need for that type of plugger is as important nowadays. Think about it. The NFL is a passing league and if you have a 330-pound nose tackle to stop the run, he will play about 30 percent of the snaps. Is it worth it? I don't know, but it looks like the Cowboys don't believe so. The good nose tackles in 3-4 defenses now also have some pass rush and flexibility, like
Vince Wilfork
or
Haloti Ngata
. Those guys aren't available all the time and run defense was not the Cowboys' downfall last year. I also wonder this: The Cowboys might be higher on
Josh Brent
than many people know.
** I wonder how many undrafted players make this roster. You can almost lock up Ronald Leary, the Memphis guard, after how Jones talked about him Saturday. Heck, you wonder if Leary could be a candidate to start. Last year four undrafted players made the 53-man roster and a fifth,
Raymond Radway
, would have if not for an injury.
April, 4, 2012
4/04/12
9:36
AM ET
The Cowboys will host Mississippi State defensive tackle
Fletcher Cox
.
Cox, a 6-foot-4, 298-pounder, can play defensive tackle in a 4-3 scheme or end in a 3-4 formation.
While the Cowboys use a base 3-4 defense, coach Jason Garrett has said they will use four-man fronts at times.
The Cowboys will host 30 draft-eligible players this week and host 20 more players at their annual Dallas Day for area players.
Mel Kiper has Cox ranked the third-best defensive tackle in the draft behind Memphis'
Dontari Poe
and LSU's
Michael Brockers
. Poe, whom Cowboys owner/general manager Jerry Jones said he was impressed with, is not scheduled to visit Valley Ranch.
Here's another scouting report
on Cox from NFL Draft Scout.
Cox is ranked 19th among the best players in the draft, according to Scouts Inc.
March, 28, 2012
3/28/12
11:00
PM ET
The 14th installment of our draft preview series focuses on Memphis defensive tackle Dontari Poe.
Scouts Inc. ranks:
No. 1 defensive tackle, No. 11 overall
Bio:
Star of the scouting combine was a second-team All-Conference USA selection as a junior last season. Poe played 35 games at Memphis, including 30 starts, and finished his college career with 101 tackles (21.5 for losses) and five sacks.
[+] Enlarge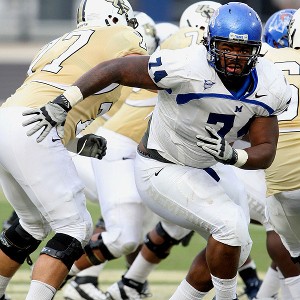 Douglas Jones/US PresswireMemphis' Dontari Poe is the top-rated defensive tackle in the draft and was the star of the scouting combine.
Size:
6-foot-3 ½, 346 pounds
40-yard dash:
4.91 seconds
225-pound bench press reps:
44
Vertical jump:
29.5 inches
Broad jump:
8-foot-9
20-yard shuttle:
4.56 seconds
Three-cone drill:
7.90 seconds
Broaddus Breakdown (viewed Mississippi State, Central Florida and SMU games):
Usually lined up at defensive tackle for the Tigers, but also played some defensive end when they went to a three-man line. … Plays with some initial quickness off the snap but tends to catch more blocks than play with his hands. Surprises me that he is as powerful as he is, but he just doesn't use his hands as well as he needs to. If he really knew how to use his hands, he would be a more dominant player. … Can be a hard man to move at the point of attack because of his upper- and lower-body strength. … Have seen him take on double-team blocks and split them. Is a tough player to block when he is on the move. If he can get a head of steam coming down inside, he has too much power to slow down. When he attacks the gap, he can get some push and get up the field. … Best pass-rush moves are when he can go arm over or arm under. Those are his go-to moves, but on the majority of his pass rushes he tries to just use power and strength and bull-rush his man. Again, the fact that he doesn't use his hands to control blockers really hurts him here. … For a large man, he shows some good change of direction. Will work down the line of scrimmage to make a tackle, but this can run a little hot and cold. … Thought he could have done a much better job of busting his rear when he needed to chase the play, which I saw in the Central Florida game. He will play with really good effort, then he goes away for several plays. … There were also times where he needed to do a better job of locating the ball. Would see him fighting the blocker and the ball would go by him. Wasn't as quick reacting to the play as some of the other defensive linemen that I have studied in this draft. … Thought he was a much better player when they used him as 3 technique over the guard than when they tried him at end. Can be a handful to have to deal with inside for guards and centers that struggle with power. … Two things bother me about this player: the hot and cold play, and the use of his hands. I know that he can be coached in this league to play better with his hands, but effort is something that is going to be on him. … If you are a general manager, you can hit the home run with this player because there are traits that you see in some of the top players in this league, but there is also that side that scares you to death. Would not be one bit surprised if a team takes a shot at him in the top 10, or he slides.
March, 28, 2012
3/28/12
9:20
AM ET
PALM BEACH, Fla. -- Cowboys owner/general manager Jerry Jones said the team is open to drafting a defensive player with the 14th pick of the first round.

The Cowboys' signings of two offensive linemen in free agency,
Mackenzy Bernadeau
and
Nate Livings
, has moved the franchise to look at defensive players in the draft as possible selections with the first pick.
"It would look like it was going to be potentially top defensive players there as opposed to a receiver or as opposed to a running back," Jones said. "But you're going to have some good depth or some good selection opportunities at that level where we are on the offensive line. So all of those areas you'd have to look at. We'd have to take into consideration that we've done pretty well in free agency relative to our offensive line. We have to take that into consideration if we had the alternative of taking it on the defense. So you're not off base when you ask is it likely that would be a defensive player."
Jones said he was impressed with Memphis defensive tackle Dontari Poe. Scouts Inc. has him ranked as the 10th best player in the draft and ESPN's Mel Kiper's Big Board has Poe going to the
Carolina Panthers
at No. 9.
"I'm impressed with him," Jones said. "I'm real impressed. I'm particularly impressed cause he looks like a nose [tackle] and has the skill and has some pass rush about him at the five technique. I'm impressed with him."
LSU's Michael Brockers and North Carolina's Quinton Coples are also possibilities.