Dallas Cowboys:

Dwight Freeney
March, 17, 2014
Mar 17
11:30
AM ET
IRVING, Texas -- So far in their chase for veteran pass rushers, we know what the
Dallas Cowboys
wouldn't do.
Allen
They were not going to re-do DeMarcus Ware's contract to the point where he would actually make more money in 2014 than he was scheduled to, which is what the
Denver Broncos
did in signing the Cowboys' all-time sack leader to a three-year, $30 million deal. Ware will make $13 million this season and is guaranteed $20 million.
They were not going to give
Julius Peppers
a contract worth a maximum of $30 million over three years and guaranteed him $7.5 million, which is what the
Green Bay Packers
have reportedly done. Peppers was looking at the Cowboys in part so he could be reunited with Rod Marinelli, but the Packers came in with a solid offer.
So now the Cowboys will look at Allen, who has 128.5 sacks in his career.
Two questions: How far will they go in trying to sign him? How far should they go in trying to sign him?
In Ware and Peppers, the Cowboys had players they knew. Ware was a Cowboy for nine years. Peppers played for Marinelli with the
Chicago Bears
. The Cowboys only know Allen from afar.
Desperation can do funny things to teams. Are the Cowboys desperate for a pass rusher now? Would they pay him the Peppers' deal or something close to it?
The model I had been working off on what the Cowboys would do with a veteran pass rusher was based off what
Osi Umenyiora
,
Dwight Freeney
and
John Abraham
got from the
Atlanta Falcons
,
San Diego Chargers
and
Arizona Cardinals
.
Freeney got a two-year deal worth $8.75 million. Umenyiora got two years and $8.5 million. Abraham got two years at a max value of $6 million. Abraham had 11.5 sacks last year. Umenyiora had 7.5. Freeney had a half sack but played in only four games.
If the Cowboys can get Allen, who turns 32 in April, at their price, that would be a good move. He has had at least 11 sacks in seven straight seasons, but he was fairly pedestrian against the Cowboys last season.
If the Cowboys are forced to sign Allen at a big price, then they should have kept Ware or made a larger play for Peppers. It is always better to sign a player you know than a player you don't.
The Cowboys did not let Ware go and not make a harder for Peppers because of a lack of cap space. They can sign anybody they want and make it work against the cap. They let Ware go and did not make a play for Peppers because they weren't willing to exceed the price they set.
Can they maintain their discipline?
March, 11, 2014
Mar 11
4:30
PM ET
IRVING, Texas -- Now that the
Dallas Cowboys
have
decided to part ways
with
DeMarcus Ware
, their all-time leader in sacks, they must figure out a way to replace his production and more than just the six sacks he recorded in 2013.
The Cowboys will gain $7.4 million in salary cap space by releasing Ware, which will give them enough room to add whoever they want to add on a defense that is in need of even more help without Ware.
As a point of reference, the Cowboys signed cornerback
Brandon Carr
to a five-year, $50 million deal in 2012 and his first-year cap number was $3.2 million.
The best way to replace Ware is with a number of players. The key to the Cowboys' 4-3 scheme is sustained pressure with their front four. Bringing those players in waves is what works best. With Ware scheduled to make $12.75 million in base salary and offseason workouts in 2014, the Cowboys have to re-configure that money to multiple players.
The chances of re-signing
Jason Hatcher
have improved, but he will receive interest from other teams and will want to check out what others have to say.
If the Cowboys can get a veteran pass-rusher at the price that teams paid
Dwight Freeney
and
Osi Umenyiora
a year ago (two years, a little more than $4 million annually), then that is a route they will go.
If they want to spend a little more, then keep an eye on
Willie Young
of the
Detroit Lions
. He is something of a forgotten man on the Lions' defensive line, but he has had his moments against the Cowboys.
This point, however, has to be perfectly clear: the defensive line has gone from a need to a must for the Cowboys.
It is quite possible
George Selvie
will be their top returning defensive lineman in 2013, and he did not join the roster until training camp started.
May, 29, 2013
5/29/13
10:30
AM ET
IRVING, Texas – Like
DeMarcus Ware
,
Anthony Spencer
has used the offseason to gain more weight as he moves to defensive end in the Cowboys' switch to the 4-3 scheme.
"A strong 10," Spencer said of how much weight he gained.
Spencer was listed at 250 pounds last season but said he played at about 253. He said he weighs about 263 pounds now.
"I changed my diet for the first couple of months," Spencer said. "I usually don't eat a lot of red meat, burgers. I just ate whatever I wanted to and then after that I got back to the weight room and leaned up."
Defensive coordinator Monte Kiffin has acknowledged that Ware (262 pounds) and Spencer are slightly undersized from what he had in Tampa Bay when
Simeon Rice
(6-foot-5, 268 pounds) and
Greg Spires
(6-foot-1, 265). Indianapolis excelled in the same defense with
Robert Mathis
(235 pounds) playing Spencer's left defensive end spot and
Dwight Freeney
(268) playing Ware's spot on the right side.
"They pretty much preach speed," Spencer said. "The thing is getting off and using speed and athleticism to beat blocks. But at the same time we went down in weight to be outside linebackers, so this pretty much gets us back to our ideal weight."
May, 18, 2013
5/18/13
4:30
PM ET
We're going to play the "What If" game for a moment.
The Cowboys placed the franchise tag on
Anthony Spencer
, costing them $10.6 million. If the Cowboys had let Spencer test the free agent market, that's at least 10.6 million that could have gone to another free agent.
There's no telling how much Spencer would have gotten on the market, he would have been the best pass rusher out there coming off a career-high 11 sack season.
If the Cowboys had let Spencer walk there are two players who might have signed with the Cowboys.
Dwight Freeney
and
Osi Umenyiora
. Freeney left the
Indianapolis Colts
and signed a a two-year $8.7 million deal with the
San Diego Chargers
. Umenyiora left the
New York Giants
and inked a deal with the
Atlanta Falcons
for two years and $8.5 million.
Now Freeney and Umenyiora will be one-hit wonders for these teams, because veteran players, unless its a elite quarterback, will not receive big money deals in free agency.
It's easy to second-guess the decision to franchise Spencer. The Cowboys weren't confident enough in
Sean Lissemore
's abilities to take over at defensive end or move
Tyrone Crawford
there. The new defensive staff, led by defensive coordinator Monte Kiffin wants Crawford to play tackle and end in 2013.
Kyle Wilber
has also been moved to end.
The Cowboys bypassed three quality defensive linemen in the draft to keep the current defensive line intact.
But allowing Spencer to test the market it might have saved the Cowboys some money, and quite possibly, allowed them to get one of the top defensive ends in the NFL draft last month.
Of course, we're just speculating here on a Saturday afternoon, as Freeney and Umenyiora begin playing for new teams and Spencer continues to participate for the one who drafted him in 2007,
The biggest thing against Spencer is sacks. He finally came through on that last season, and now, barring a new contract getting completed, he enters the final year of his contract with the hope of putting up big numbers again.
If Spencer doesn't then you have to play the "What If" game again.
March, 19, 2013
3/19/13
10:00
AM ET
PHOENIX -- Some Dallas Cowboys-related news and notes after the first day of the NFL owners meetings.
PODCAST
Pro Football Hall of Famer Emmitt Smith comments on the proposed rule change that would make it illegal for runners to lower their heads and initiate contact with tacklers.

Listen

Brian Urlacher a Cowboy?
Executive vice president Stephen Jones was asked about the possibility of signing veteran free agent linebacker Brian Urlacher. Jones expressed a fondness for Urlacher, calling him a Hall of Famer, but said it was doubtful it would happen. Jones' point is it wouldn't make sense to sign Urlacher to backup
Sean Lee
, only to cut him after a year. "You don't ever dismiss Hall of Famers in my book," Jones said. "It would be difficult. He obviously plays what Sean plays. To move everything around for a year doesn't really make a lot of sense. But at the same time, you don't ever rule it out."
Jones was also asked about wide receiver
Laurent Robinson
, who was released by Jacksonville last week. Robinson has lingering concussion and ankle issues that give the Cowboys pause. "We got to look at the big picture with Laurent," Jones said. "He had some injuries that we're going to be doing our homework on and be going from there."
Can you spare a dime?
The Cowboys are down to $102,050 in salary cap space. To make any moves, the Cowboys would have to restructure some contracts or release more players. Of course, signing quarterback
Tony Romo
to a long-term deal, which would lower his 2013 cap number, is a priority and would create some space.
A crazy training camp:
With
Larry Allen
and former coach Bill Parcells getting inducted into the Pro Football Hall of Fame this summer, the Cowboys have been invited to play in the Hall of Fame Game, which gives them five preseason games. It creates a crazy travel plan for the Cowboys. Camp would start in Oxnard, Calif., then the team would travel to Canton, Ohio. After the game, the Cowboys most likely would travel back to the West Coast. The team would play one or two preseason games before coming back to Dallas to finish the preseason.
Running back rule changes:
NFL officials showed reporters video of legal and potential illegal hits used by ball carries with the crown of their helmet as the league is promoting player safety. "I don't think Emmitt (Smith) ever violated it," said Jones, a member of the NFL's competition committee. "When people first hear it they say, 'Oh my God, we can't do that.' Then they see what the league is talking about in terms of really being in the open field and really dropping that head and using your head as a weapon." If a ball carrier uses his head and isn't penalized, he's still subject to a fine if the rule change is passed. "As a runner in this league, you don't last long if you run tall," said
St. Louis Rams
coach Jeff Fisher, who added that the NFL wants to bring the shoulder back into the game instead of players leading with their heads.
Financial market for pass rushers down:
Some big-name pass rushers --
John Abraham
,
Osi Umenyiora
,
Elvis Dumervil
and
Dwight Freeney
-- are still on the free agent market.
Cliff Avril
and
Michael Bennett
signed with Seattle. It would have been interesting to see what
Anthony Spencer
would have commanded on the market, which seems slow. "Obviously, whatever happens in the markets affects others," Jones said. "You have to look at those things. But to say how it effects him and get into the details, that's unfair."
March, 10, 2012
3/10/12
4:47
PM ET
Peyton Manning
may not be the only superstar mainstay the
Indianapolis Colts
can no longer afford.
Adam Schefter is reporting
that the Colts are entertaining trade offers for defensive end
Dwight Freeney
, one of the dominant NFL pass-rushers of the past half-decade. It's not a slam-dunk that they can deal Freeney, as he's 32 years old and scheduled to make about $14 million this year. But he's a big enough name that it's worth imagining whether he'd fit with the teams about which we care.
Freeney
Freeney is a 4-3 defensive end, and the only two teams in the NFC East that play 4-3 defenses are set at defensive end. Sure, if the
New York Giants
traded
Osi Umenyiora
, they might look to replace him, but they have their own salary-cap issues and it's unlikely they'd look for an expensive 32-year-old replacement when they could just slide
Mathias Kiwanuka
back up front to supplement
Justin Tuck
and
Jason Pierre-Paul
. The
Philadelphia Eagles
start
Trent Cole
and
Jason Babin
at end and have some depth, including the ability to play defensive tackle
Cullen Jenkins
there. The Eagles' needs on defense are at linebacker and safety, and maybe in the middle of the line.
The
Washington Redskins
and
Dallas Cowboys
are 3-4 defense teams, and the Redskins like their young outside linebacker pass-rush duo of
Ryan Kerrigan
and
Brian Orakpo
. That leaves Dallas, which needs pass-rush help but may not be a fit. I doubt it's reasonable to acquire Freeney in the hopes of making him either a 3-4 defensive end or a standup outside linebacker. Guys have done it, but at this point in Freeney's career it's hard to know whether he could make the transition. Plus, the Cowboys just franchised outside linebacker
Anthony Spencer
, which likely limits their ability to pursue expensive pass-rushers on the free agent or trade market.
So maybe Dallas kicks the tires on Freeney if they have some creative idea about how to use him, but the likelihood is that the Colts don't have an NFC East suitor for him.
March, 22, 2011
3/22/11
12:24
PM ET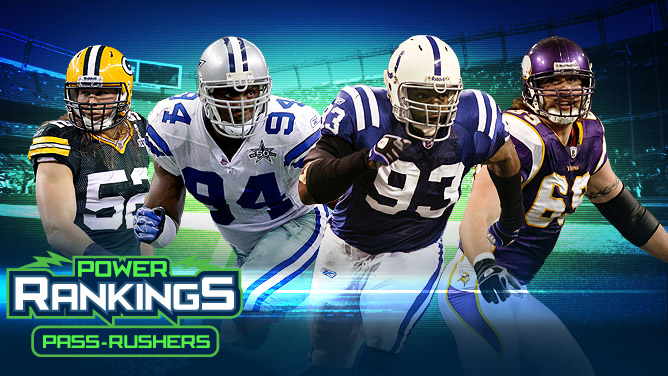 ESPN.com IllustrationDeMarcus Ware (94) was the clear choice for the top spot when our writers ranked the best pass-rushers in the game.
ESPN.com's NFL writers rank the top 10 pass-rushers in the league today. Next week: Top 10 tight ends.
ESPN.com's panel of power rankers had no trouble identifying the best pass-rusher in football. The rest of our Top 10 list? It was easily the most difficult to compile so far in what will be a 10-week project.
Dallas Cowboys
linebacker
DeMarcus Ware
received seven of eight first-place votes. AFC South blogger Paul Kuharsky ranked him No. 2, putting
Indianapolis Colts
defensive end
Dwight Freeney
at the top of his ballot. Overall, a total of 17 players received votes, and the crowd was dense enough to exclude established veterans such as
Houston Texans
defensive end
Mario Williams
,
New York Giants
defensive end
Justin Tuck
,
Baltimore Ravens
linebacker
Terrell Suggs
and Colts defensive end
Robert Mathis
.
The category was tough, explained NFC West blogger Mike Sando, because "sack numbers tend to fluctuate from year to year and it's tougher to know which pass-rushers are truly the best. I think the proliferation of 3-4 defenses also made this a tougher call. We weren't evaluating defensive ends exclusively. We were also looking at 3-4 outside linebackers. That deepened the pool while forcing us to compare players at more than one position."
Ware, for one, wasn't a difficult choice -- as long as sacks are the primary statistical representation of pass rushing. Ware led the NFL in sacks last season with 15.5, and he has also had more combined sacks over the past two, three and five seasons combined than any other NFL player. At 28, he would seem to have several ultra-productive seasons remaining in his career.
Beyond Ware, however, the debate was fierce. The
Green Bay Packers
'
Clay Matthews
received the second-most votes (61), but there wasn't much separating him from Freeney (58) or
Minnesota Vikings
defensive end
Jared Allen
(52).
[+] Enlarge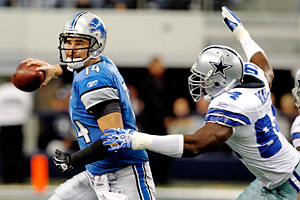 Tom Pennington/Getty ImagesDeMarcus Ware had 15.5 sacks last season and has 80 sacks in six seasons in the NFL.
Kuharsky's familiarity with Freeney gave him a unique perspective.
"I've had coaches and scouts I trust tell me, repeatedly, that Freeney is the best pure pass-rusher in the league," Kuharsky said. "They say he's the guy they'd want if they could have anyone and the most difficult guy to stop because of the way he plots out his game. That's stuck with me and was a big factor for me as I put together my ballot."
From an NFC North perspective, I think it's interesting that Ware is the only NFL player who has recorded more sacks than Allen over the past five seasons. Allen's total of 11.0 last season was his low-water mark over the last four seasons, however, and the explicit instructions for voters were to base judgments on what we can expect for the 2011 season.
Given a choice between Allen, Matthews or Freeney in building a Super Bowl team for 2011, whom would you choose? With all due respect for Freeney (and Kuharsky, such that he deserves it) Matthews, 24, seems the right answer to me.
Matthews, Allen and
Chicago Bears
defensive end
Julius Peppers
gave the NFC North a league-high three members of this exclusive group. Peppers' all-around contributions last season earned him a spot on The Associated Press' All-Pro team, but his total of eight sacks left him ranked eighth on our list.
Illustrating the difficulty of this exercise, two voters left Peppers off their ballots entirely and a third -- AFC North blogger James Walker -- ranked him No. 10. The
Atlanta Falcons
'
John Abraham
, The Associated Press' other first-team All-Pro defensive end, ranked a composite No. 7.
NFC South blogger Pat Yasinskas, who covers Abraham and until 2010 covered Peppers as well, ranked Peppers No. 5 and said: "I know the sack numbers can rise and fall, but he has the ability to completely take over a game at any time." Meanwhile, a younger Abraham would have ranked higher.
"He had 11 sacks last year but 5.5 the year before," Yasinskas said. "At 32, you have to at least question whether he would sustain 2010 numbers in 2011."
Finally, if you're outraged about the absence of Williams, Tuck, Suggs, Mathis, the
Philadelphia Eagles
'
Trent Cole
or even the
Denver Broncos
'
Elvis Dumervil
, you probably need to focus your ire at the inclusion of
Miami Dolphins
defensive end
Cameron Wake
. In his second NFL season, Wake exploded for 14 sacks.
Does one elite season merit inclusion on this list? Opinions varied widely among our voters. Wake was left off three ballots and voted No. 10 on three others. AFC East blogger Tim Graham, who saw more of Wake last season than any other voter, placed him No. 4.
"If we're ranking the best overall defensive ends or outside linebackers, then maybe Cameron Wake doesn't make my list," Graham said. "He's not a run-stuffer and is lacking when it comes to pass coverage. But we're rating pure pass-rushers, and that's the one thing Wake does on an elite level. He's a freakishly gifted athlete who creates havoc in the backfield.
"I also don't view Wake as a one-year wonder because he had a strong season in 2009 despite playing behind
Joey Porter
and
Jason Taylor
in most situations and under a different defensive coordinator. He should continue to thrive under Mike Nolan's guidance. I view Wake as a legitimate star who was overlooked on a mediocre team."
Your thoughts? I'm expecting them.
December, 8, 2010
12/08/10
8:46
AM ET
For the rest of the season, we'll give Princeton graduate Jason Garrett weekly grades in his crash course as the Cowboys' head coach.
Here's a look at how Garrett passed his tests with flying colors in the Cowboys' 38-35 overtime win over the Colts:
Game plan:
Garrett emphasized that the Cowboys needed to do two things to win at Lucas Oil Stadium: establish the run and win the turnover battle. They excelled in those two areas. The Cowboys rushed for a season-high 217 yards on 46 carries and established a smashmouth tone right away, running five times for 39 yards and a touchdown on the nine-play opening possession. Their four picks against
Peyton Manning
, including touchdown returns by
Orlando Scandrick
and
Sean Lee
, were the difference in the game.
GRADE:
A
Play-calling:
The Cowboys forced the Colts to defend the entire field, running a wide variety of plays out of several different formations without getting too cute. Garrett's best play-call was probably a counter-flip to
Tashard Choice
that gained 26 yards around the left end. That used defensive end Dwight Freeney's aggressiveness against him. Garrett also came up with a gem on a crucial two-point conversion, getting Roy Williams wide open in the corner of the end zone to force the Colts to score a touchdown to send the game into overtime.
GRADE:
A
Game management:
Garrett gets marked down for poor clock management at the end of the first half. The Cowboys twice let several seconds go off the clock before calling timeouts during a possession that began at the Dallas 17 with 3:10 on the clock. They were forced to burn their final timeout – instead of having the half end -- after
Jason Witten
was called for a false start while the Cowboys were lining up to spike the ball with seven seconds remaining. That resulted in
David Buehler
attempting a 48-yard field goal that sailed wide right. Had the Cowboys managed the clock better, the kick could have been much closer. Those three points could have cost the Cowboys the game. But Garrett did a good job managing the rest of the game.
GRADE:
C-plus
Intangibles:
The Colts seized momentum and the lead in the second half. The Cowboys kept their poise and composure. It's amazing how much more mentally tough this team has become in the last month. That's a credit to Garrett.
GRADE:
A-plus
December, 7, 2010
12/07/10
10:16
AM ET
By
Bryan Broaddus
| ESPNDallas.com
Coming off the disappointing Thanksgiving loss, Jason Garrett continued to preach to all those that would listen about finding a way to handle adversity.

As bad as the loss was to the defending Super Bowl champ New Orleans Saints, the NFL schedule-makers did the Cowboys no favors with a trip to face the defending AFC champion Indianapolis Colts. In studying the Colts, injuries had taken a toll in several key areas, except for quarterback Peyton Manning.

Despite lacking a running game and a playmaking tight end and having some banged-up wide receivers, Manning still presented a challenge to a Dallas defense that was making the transformation from Wade Phillips' blitzing, man-coverage style to Paul Pasqualoni's zone coverage and assignment-first scheme.

The Colts have been terrible running the football. You could make an argument that the loss of Joseph Addai was a huge hit for this offense, but breaking down the previous games the Colts played against the Patriots and Chargers, you would see an offensive line that struggled to get any type of push at the point of attack. The Colts are a zone-blocking team that gets no movement up front.

When the Colts did try and run the ball on Sunday, Cowboys linebackers Bradie James, Sean Lee and Anthony Spencer were in position to make plays.

James was a physical tackler, attacking the line of scrimmage and not allowing any room for the Colts to run. Lee had some nice plays clearing blocks as well and playing with his hands.

But Lee was even more of a factor in the passing game with the two interceptions, tackles on the edge against backs out of the backfield and blows delivered to receivers crossing underneath.

Lee also made the last tackle on the punt team to keep the Colts pinned in their own end. That was before the series that Manning had the tipped ball by Mike Jenkins that Lee played well for the game-clinching drive for the Cowboys.

To the naked eye, it would have appeared that DeMarcus Ware had a quiet game against the Colts because he didn't have any sacks. Coming into this game, the Colts were first in the NFL in protecting Manning. There had been some games this season where he had taken hits in the pocket, but not many sacks.

Ware was a handful for tackles Ryan Diem and Charlie Johnson, who coming into the game I thought played soft on the edge. Ware was able to take advantage of some opportunities with his rush that affected Manning in the pocket by using a spin move on Johnson. Ware at times was held but still managed to fight through and get pressure. He also ran down a screen and was able to play off blocks to help in the running game along with the other linebackers.

In the secondary, we all saw the huge game that Reggie Wayne had against this Cowboys secondary and mainly Jenkins.

Jenkins started the game well by doing a nice job of running with Wayne on the route as they both worked down the field, allowing Alan Ball to work over from the middle of the field for the first interception of Manning.

On the touchdown catch that Wayne had, it looked like Jenkins was expecting from the inside from Ball. Jenkins is playing outside technique as Wayne heads inside on the route. Ball is late reacting, giving up the play.

The second big play also involved Wayne, who once again takes his route inside of Jenkins, who appears to be in position to make the play in the middle of the field without safety help. But it was just an outstanding throw and catch.

On the Colts' drive for the game-tying touchdown, Wayne had been running routes inside during the two-minute drill. Wayne fakes the slant, which makes Jenkins react drawing him inside. Wayne then heads up the field as Manning fits the ball between Jenkins and Sensabaugh, who is a little late arriving. Wayne dives to make another big-time reception.

Where Jenkins also struggled once again was as a tackler. He did have one low tackle on the outside, but he also had two misses in space.

With the concussion suffered by Orlando Scandrick in the game, look for rookie Bryan McCann to get the nod as the nickel corner. In the times he was in the game, he wasn't tested as much as I thought he would be, but look for the Eagles to maybe make it a part of the game plan with their receivers.


On offense, Garrett did a nice job of making the Colts have to defend the entire field with his play-calling. He took advantage of the Colts' lighter front seven by using misdirection to get them moving, then bringing the ball on the edge with Felix Jones and Tashard Choice.

The offensive line did a much better job of combo blocking, securing the down linemen then getting a blocker up on the linebackers. This allowed the backs to find the hole without having to deal with a defender in their face immediately.

In the passing game, Jon Kitna did a nice job of moving and buying time when things broke down in the pocket.

There was no doubt in my mind that there would be some struggles on the outside with Dwight Freeney and Robert Mathis, but I thought it would be more over Colombo and what he was facing in Mathis.

Colombo wasn't pretty and never is, but for the Cowboys to run over 70 offensive snaps, I thought he played as well as could be expected. That was my same view of what I thought with Free. Like Colombo, gave up a sack and also had two holding calls (one accepted).

Freeney is such a difficult player to play at Lucas Oil Stadium because of the crowd noise and his explosive first step. Freeney can also get you with his bull or power rushes.

There were several times where it took all Free had to stay in front of him, but in the end, Free and Colombo both managed to survive where others had failed.


There are those that feel that the fumble recovery of Cowboys rookie Lonyae Miller on the kickoff return was the key point in the game. There is no doubt that it was huge, but I want to point out three other plays that might have been just as an important.

With the Cowboys leading 17-14 with 5:52 remaining in the third quarter, the Cowboys lined up for a 46-yard field goal. At the snap, Colts DT Daniel Muir tried to jump onto the back of Andre Gurode, who was lined up at guard. Muir halfway got up on Gurode's back, then fell off. After the kick, Gurode asked umpire Rueben Fowler about what Muir had done, trying to get a call for leverage, but didn't get it.

In the fourth quarter, the Cowboys, trailing 28-27, moved the ball to the Colts 1 and again opted for a field goal. David Buehler made the kick to give the Cowboys the lead, but a flag on the field and a delay of game call against the Cowboys wiped out the kick.

On the play, Muir once again jumped on the back of a Cowboys blocker -- this time, snapper LP Ladouceur. Again Gurode pointed to Fowler, who did nothing. After the penalty was assessed, Buehler again tried the kick, but this time DE Eric Foster jumped squarely on Gurode's back in plain sight of Fowler, who had no choice but to throw the flag and give the Cowboys a first down.

The Cowboys got a fresh set of downs, ran clock and were able to cap the drive with a touchdown and a 2-point conversion instead of settle for three points. Under Wade Phillips, the Cowboys played like a dumb football team. But now, under Jason Garrett, they appear to be a little smarter -- thanks to a heads-up play by Gurode.
December, 4, 2010
12/04/10
8:00
AM ET
By
Bryan Broaddus
| ESPNDallas.com
A look at Sunday's key matchups between the Cowboys and Colts:
Colts QB Peyton Manning vs. Cowboys defensive coordinator Paul Pasqualoni:
If you were going to do a Grudge Match each week against the Colts, you could probably mention Peyton Manning against the opponent's defensive coordinator and just go from there. There is an understanding going into a game each week that your defense will be looked at and studied by the opponent's quarterback, but not to the level of when you play Manning.
In his preparation, there is no stone that is left unturned. Going into the game as the defensive coordinator, you are most likely not going to be able to fool him with a look or show him something that he hasn't seen in his 13 seasons in the league.
Where Pasqualoni has to be careful is the way he matches his front with his coverages. He has to have a feel for when to attack the pocket or play coverage.
Of the elite quarterbacks in the NFL, Manning has the most freedom to adjust the offense as he sees fit. Pasqualoni's defense cannot survive with giving Manning the same look down after down and at presnap. They must be able to disguise what they are playing coverage-wise.
This week will be a huge mental challenge for the Cowboys' defense because it will have to line up in one front or one coverage and in the presnap shift to another.
Where Manning has struggled in the past against the 3-4 defense is picking out the fifth rusher. The last two weeks, Pasqualoni has been able to study the success of the Patriots and Chargers and tailor his game plan to mirror situations that gave the Colts troubles the last two weeks.
*Colts DE Robert Mathis vs. RT Marc Colombo:
It would be really easy for me to focus on the matchup of
Doug Free
against
Dwight Freeney
, but I really see those two cancelling each other out. The matchup that I am going to watch is Mathis against Colombo.
[+] Enlarge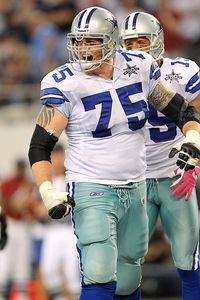 Matthew Emmons/US PresswireMarc Colombo will have his hands full Sunday with the slippery Robert Mathis of the Colts.
Where Colombo has really struggled is with those players that have explosive quickness to the edge. Colombo just doesn't move as well as he once did, and when he doesn't get his hands quickly on the rusher, he struggles with control.
One of Mathis' best moves is when he takes the tackle up the field, getting his weight on the outside foot, then spins inside to the quarterback.
The Cowboys can help Colombo by pounding Mathis in the running game, making him deal with tackles and tight ends. Continuing to fight blocks is the way to soften him up. Every chance that they can hit both Mathis and Freeney would be a step in the right direction to slow their pass rush down.
The Colts ends are really effective when they can rush the passer with a lead. When they don't have to worry about the run, they pin their ears back and really attack you. There is no doubt in my mind that Colombo will need more help in this game than Free from a protection stand point.
*Colts WRs Reggie Wayne and Pierre Garcon vs. Cowboys CBs:
The Colts are in a similar situation when it comes to running the ball as the Cowboys. Neither team really gets any type of push or movement at the point of attack on a consistent basis, so it makes it difficult to sustain a running game. The Colts have also had to deal with the neck injury to
Joseph Addai
, which has also hurt.
But the Colts can really hurt you in the passing game with Reggie Wayne and Pierre Garcon.
Wayne will catch the football all over the field. He is a smooth route runner that has an outstanding ability to create opportunities. In the two games I viewed, Wayne had some drops that you would normally not see coming from him, but still Manning has the utmost confidence in him.
Garcon, according to the scouts I have spoken with, has been in the doghouse some, but you can't tell by the way he plays. Like Wayne, he is smooth and can turn on a dime when running his routes. He will adjust to the ball and is a threat in the red zone and when converting third downs.
The Cowboys will be in nickel the majority of the game to handle these receivers and how they match up down after down will be the difference whether they win or lose this game.
February, 27, 2010
2/27/10
2:09
PM ET
INDIANAPOLIS --
Jerry Hughes
made a dramatic position change after arriving at TCU, moving from running back to defensive end. He doesn't anticipate any problem if he's asked to make another position change in the NFL.
"Wherever they ask me to play, I'll be more than happy to play," Hughes said when asked about the possibility of becoming a 3-4 outside linebacker.
Hughes, who stands a fraction under 6-2 and weighs 255 pounds, resembles a pair of stocky, speedy pass-rushers who have been dominant in 3-4 schemes. He certainly doesn't mind the comparisons to Pittsburgh's James Harrison and Denver's Elvis Dumervil, but his favorite player is Indianapolis' Dwight Freeney, who has racked up 84 sacks in eight seasons as a defensive end in the Colts' 4-3 scheme.
Hughes, who added 55 pounds during his TCU career, said he's comfortable playing in space. However, he understands that the reason he could go as early as the second round is because of his ability to blow by offensive tackles.
February, 7, 2010
2/07/10
6:22
PM ET
MIAMI -- Southlake Carroll's finest,
Garrett Hartley
, just made a 46-yard field goal to bring the Saints within 10-3 of the Colts with 9:40 left in the first half. It was Hartley's longest made field goal of the postseason.
Hartley is 3-for-3 this postseason from 40-49 yards.
The field goal was attempted because the Colts'
Dwight Freeney
sacked the Saints'
Drew Brees
near the 30 on a third-down play.
February, 3, 2010
2/03/10
11:51
AM ET
FORT LAUDERDALE, Fla. -- The Colts best pass rusher
Dwight Freeney
said he's frustrated by an ankle injury that is slightly getting better.
"There is a little frustration there, definitely," Freeney said Wednesday morning. "You never want to get hurt, especially in the fourth quarter with two minutes left. Maybe if it was in the first quarter or the second quarter, you're like okay, you know what, it's the beginning of the game. This is part of the game and this is what happens. No one knows when this type of thing is going to happen, you just have to think positively after the fact and just keep on getting better."
The Cowboys can relate.
When outside linebacker
DeMarcus Ware
suffered a neck injury vs. San Diego in December there was a thought he might miss a few games, especially after getting taken to the hospital on a stretcher. But Ware returned for the next game vs. the Saints and recorded two sacks.
Ware said at the time he was worried about his neck, but when he awoke the next day he felt a million times better. As the week progressed, his opportunity to play got bigger and his worries subsided.
"Well for me the way I look at things, I never really worry," Freeney said. "This kind of thing is not in my hands. I just take it one day at a time. I just continue to focus my energy on positive things and getting my ankle right. It's day-to-day. It's hard for me to put numbers on it, percentages on it, of where exactly it is, but it's definitely getting there."