Dallas Cowboys:

East Carolina
June, 24, 2011
6/24/11
1:59
PM ET
By
Bryan Broaddus
| ESPNDallas.com
DWAYNE HARRIS
Picked:
Sixth round (176th overall)
Position:
WR
School:
East Carolina
Bio:
Conference USA's MVP as a senior, when he caught 101 passes for 1,123 yards and 10 touchdowns. … First-team All-CUSA as a junior, when he caught 83 passes for 978 yards and seven touchdowns, rushed for 149 yards and five touchdowns on 31 carries and averaged 27.0 yards and scored three touchdowns on kickoff returns. … High school quarterback set East Carolina records for receptions (268) and receiving yards (3,001).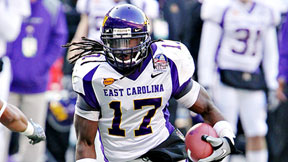 Mitch Stringer/US PresswireReceiver Dwayne Harris won't blow defenders off the line of scrimmage with his speed, but his hands are his best trait.
Size:
5-foot-10 3/8, 203 pounds
40-yard dash:
4.55
Arm length:
31 1/8 inches
Hand size:
10 inches
225-pound bench press reps:
10
Vertical jump:
34 inches
Broad jump:
9-foot-3
20-yard shuttle:
4.21
60-yard shuttle:
11.68
Three-cone drill:
6.77
Broaddus Breakdown (viewed North Carolina, Central Florida and SMU games):
Played in same type of four- and five-receiver sets that were run at Texas Tech when Mike Leach was coach. Played in the slot the majority of the time, so was a part of screens and hitches. ... Hard to judge as a route runner because you see very few of them. ... Would not call him an overly quick or shifty receiver with the way he runs routes. However, when you see him return punts, he has some of those traits. ... He catches a ton of balls with a defender on his back. Tries to buy himself space on routes, but he just doesn't always do it. ... Is a natural at catching the football. Solid, dependable hands. Also looked comfortable as a punt returner catching the ball. ... He does a nice job of adjusting to the ball when it was poorly thrown. He'll also come back for the ball. ... Is a nice runner in the open field. I was impressed with him physically when he had the ball in his hands. ... Harris was able to break tackles and is a more-than-willing blocker. ... Was the go-to player when the Pirates needed to convert on third down. He wasn't afraid to take his route inside and fight for the ball, which reminds me of Patrick Crayton. ... Threw a touchdown pass out of the slot against North Carolina. ... There was a lot of talk at the Senior Bowl that he wasn't an explosive player and struggled with his hands. I agree that he won't blow you off the line of scrimmage and into
his route, but his hands are his best trait. He shows skill and vision to be a dependable punt returner when called on.
June, 1, 2011
6/01/11
8:00
AM ET
WR DWAYNE HARRIS
Ht.
5-10
Wt.
200
School –
East Carolina
Round (overall) -
Sixth (176th)
To learn more about Cowboys draft pick Dwayne Harris, we talked with East Carolina inside receivers coach Donnie Kirkpatrick. Here's what he had to say:
Harris' statistics improved every year. How did he develop over his time at East Carolina?
Kirkpatrick:
He was a high school quarterback, which is not an uncommon deal because so many high schools play their best player at quarterback so they can get the ball the most. He came to us as a kid wanting to play quarterback and could've played quarterback at a lot of places. He was not the type of drop back type of thrower we were probably looking or as much be he could've played in the spread offense. He was determined so he stayed at quarterback through his freshman year and redshirted. So we have a practice and we're like, 'Wow, we've got to find a place for this kid. He can really run with the ball.' The defensive coaches were constantly saying he's running the scout team and we can't tackle him. We looked at him as a running back and I think he could've been a great running back but we had Chris Johnson, who was pretty good. He was going to be a backup to Chris, then we started to move him to the slot and we looked at some of that Wildcat at quarterback. He was good but he had to learn to be a receiver. He was good with the ball. He was good in the return game. At the same time we had Chris and he was our main return guy. He was the other guy. Once he got a taste of it, he liked it. I think he said, 'You know what I have a chance to maybe play at the next level as a wide receiver but probably not as a quarterback. He bought into it and worked. He's a very talented kid and loves playing football. I think his best football is ahead of him.
[+] Enlarge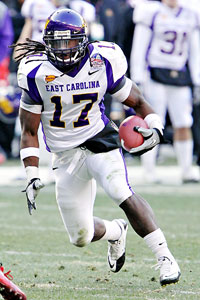 Mitch Stringer/US PresswireDwayne Harris played quarterback in high school, but took a liking to playing wide receiver at East Carolina. "He's a guy that can make guys miss but he's also willing to run them over," said Donnie Kilpatrick, ECU's inside receivers coach.
Why?

Kirkpatrick:
Because he did get better every year and he's still not played much wide receiver. We switched our offense this year when the guys came over from Texas Tech. I was the one holdover. We were a drop back and throw it team but it was power run and play-action pass. We didn't throw it nearly as much as we did this year. We started putting him outside at receiver, put him in a lot of different places. It's still new to him but he took to it quickly.
Does he see the game through a quarterback's eyes?

Kirkpatrick:
My favorite guys to recruit at wide receiver are the high school quarterbacks because they're the guys that kind of understand coverages a little more. They have a higher football IQ many times. Guys that play wide receiver at the high school level, the coaches just don't get them involved enough or have the time to have them learn [coverages]. But with their quarterbacks, when they do get to college, they have spent time doing it. They have a little better feel for finding throwing lanes, what a quarterback likes, what a quarterback sees and what a quarterback wants them to do.
Did you think he would be an NFL player?

Kirkpatrick:
I knew with him being able to catch punts as well and being fearless like that, he'd have a chance. There's always questions. He's not a burner. He's not a real tall guy, so he's not the prototype big outside wide receiver with the great 40 time. But I knew he's faster than everybody thought. And I knew he had great hands. Quarterbacks, they throw it but you've got to throw it back to them and they develop great hand-eye coordination. He's fearless in traffic. He's a guy that can make guys miss but he's also willing to run them over. Just after his first year here he was the best blocking receiver I've ever been around. He's unselfish and realizes that's a big part of the game. We emphasize that too.
What makes him a good blocker?

Kirkpatrick:
The first thing is want to and attitude. That's why a lot of them are not good blockers because they don't have the attitude ot want to. But he's really, really strong -- therefore he doesn't get overmatched if he has to block a linebacker or a safety or for sure a cornerback. He's a strong guy and just fearless. He loves contact. He will take you out and enjoys that part of the game. A lot of wide receivers don't. They like the basketball part of it, the shaking and baking. He really enjoys the blocking part.
There were some who knocked his hands. What kind of hands does he have?

Kirkpatrick:
Some of those statements are funny. We'd go out recruiting and people ask, 'Why did you take this kid over that kid? It's the same deal with the NFL. I have a lot of close friends that coach in the league and it's obvious why some win and some never really win because they don't know how to get the right talent in there personnel-wise. He has great hands. He played more as an outside receiver this year and the only reason that was ever written has to be because there were a couple of deep balls down the field over his shoulder that would've been really, really good catches that he didn't make. It's something he's worked on. I mean he caught 80 something balls as a junior and 101 the next and it's not like everybody didn't know we were throwing it to him. They knew who he was. This is not an exaggeration. There were times there were three guys covering him and he was still able to get open. Not by much, but he can catch the ball in a crowd.