April, 11, 2014
Apr 11
12:00
PM ET
IRVING, Texas -- Part 1 of the
Dallas Cowboys
' Twitter mailbag is ready.
In it we discuss the best way for the Cowboys to win, the apparent plans at safety, finding a future quarterback, rebuilding and
Ed Reed
. Ed Reed? Yep.
Away we go:
April, 10, 2014
Apr 10
10:45
AM ET
IRVING, Texas -- We had another lively
Dallas Cowboys
chat on Wednesday with a wide range of topics.
We touched on the Cowboys possibly trading down in the first round if a player like
Aaron Donald
was not available, the non-issue (to me anyway) of
Tony Romo
,
Jason Witten
and
DeMarco Murray
in Jerry Jones' suite at the NCAA title game, if the scheme change was just an excuse for some of the poor defensive play in 2013 and, as always, drafting a quartrerback.
If you want to read the whole chat,
click here.
If you have more questions, send me one on Twitter (@toddarcher) and use the #cowboysmail hashtag. The mailbag posts will go up Friday and Saturday.
But Geno in Plano asked a question I'd like to expand upon.
Church
Thomas
Geno:
the Cowboys seem to undervalue the safety positions- always seem to back fill or try a stop-gap; any chance of signing a more proven commodity this year pre- or post- draft?
Todd Archer:
I don't think so, Geno. There's not a real proven guy worth it right now. Look at Marinelli's safeties in Chicago. They were solid players but hardly stars. Maybe they look in the draft, but I really think they try to see what they have in
J.J. Wilcox
,
Jeff Heath
and
Matt Johnson
.
To expand, I have received a ton of questions about the safety spot this offseason because there is no doubt the play was poor in 2013 next to
Barry Church
. The Cowboys have not expressed interest in any veteran safeties that I have been able to determine, so it looks clear they will go with Wilcox, Heath and Johnson, as I stated in the answer. Personally, I'd take a look at
Steve Gregory
, but they are not about to take me up on that suggestion.
Jimmie Ward
is among the pre-draft visitors, so they could look at him as well.
But the notion is that the Cowboys have to have an
Earl Thomas
to succeed in today's NFL. Sure, but how many teams have an Earl Thomas? Five years ago everybody was saying the Cowboys needed to get a safety like
Troy Polamalu
or
Ed Reed
. Sure, but how many of those guys are rolling around?
They are rare players. I think the Cowboys would have selected
Kenny Vaccaro
last year if he wasn't scooped up by the
New Orleans Saints
before Dallas picked in the first round. He was gone, so they traded down.
In his three years with the
Chicago Bears
, [Rod] Marinelli's safeties were
Danieal Manning
and Chris Harris in 2010, with
Chris Conte
and
Major Wright
handling the duties in 2011-12. The Bears let Manning walk as a free agent when the
Houston Texans
offered him a big deal. Conte and Wright were third-round picks in the 2011 and 2010 drafts, respectively.
Wilcox was a third-round pick last year by the Cowboys.
Since 2000, the winning Super Bowl teams have had five All-Pro safeties: Rodney Harrison (New England), Polamalu (twice), Darren Sharper (New Orleans) and Thomas.
You can get by with functional safeties. Marinelli did it in Chicago. He will try to do it here as well.
The question should be do the Cowboys have a functional safety next to Church, not whether they can get a Thomas.
November, 12, 2013
11/12/13
4:00
PM ET
IRVING, Texas -- Considering the
Dallas Cowboys
' woes at safety,
Ed Reed
would seem to make sense to join a defense in crisis mode. But he's not the Ed Reed from the
Baltimore Ravens
days.
The Cowboys can be criticized for picking
Roy Williams
over Ed Reed in 2002, but if -- or when -- they pass on Reed this time, it makes more sense. And a source told
ESPNDallas.com's Calvin Watkins the Cowboys
will not sign Reed.
Reed played in only seven games for the
Houston Texans
. Hip surgery knocked him out of the preseason and the first two games of the regular season. He started five of the seven games he played and had 16 tackles with no interceptions. He criticized Wade Phillips' coaching.
Oh, and he is 35 years old.
Jeff Heath
has struggled and was responsible for three touchdowns in the loss to the
New Orleans Saints
.
J.J. Wilcox
has missed three games with a knee injury but had yet to make impact plays. Reed might want to go to a team with a better chance of making a playoff run at this point in his career. At 5-5, the Cowboys currently share the NFC East lead with the
Philadelphia Eagles
, but look far from a contender.
The Cowboys could claim Reed, who earned $6 million this year from the Texans, and pay him $411,000 for the final six weeks. They have the salary-cap room to do it, but is it worth it?
November, 12, 2013
11/12/13
3:05
PM ET
IRVING, Texas -- The Cowboys worked out 16 players Tuesday, with the biggest name among them being safety
Michael Huff
.
Others who worked out: Defensive backs
Jordan Pugh
, Nick Saenz, George Baker,
T.J. Heath
and
Brandon Hughes
.
The offensive linemen were
Chris DeGeare
,
Brandon Keith
,
Ryan Miller
,
Eric Olsen
, Wayne Tribue and John Wetzel.
Defensive linemen included Logan Harrell,
Corvey Irvin
,
Ogemdi Nwagbuo
and
Torell Troup
.
The Cowboys don't have an interest in signing Huff or veteran safety
Ed Reed
, who is
expected to be released by the
Houston Texans
today.
March, 5, 2013
3/05/13
8:56
AM ET
IRVING, Texas – After the Cowboys released
Gerald Sensabaugh
on Monday,
I wrote that the move was risky
, considering the Cowboys do not have a known commodity currently under contract.
PODCAST
Randy Galloway and Matt Mosley discuss the Cowboys putting the franchise tag on Anthony Spencer and releasing Gerald Sensabaugh.

Listen

After checking out the comments section, I soon realized Sensabaugh was the worst safety in NFL history and was responsible for the current sequester. Maybe I'm stubborn, but I believe Sensabaugh is solid. Great? No. Good enough? Sure.
Another reason why the move is risky is that the Cowboys have not been able to find a long-term safety since
Darren Woodson
.
And everybody believes the Cowboys struggle to identify quality offensive linemen?
Roy Williams
had a good run for a few years but then tailed off badly.
Ken Hamlin
had one good season with the Cowboys, signed a big contract and then didn't seem to like playing much again.
Keith Davis
was a special teamer turned starter out of necessity. At the prices the Cowboys paid Sensabaugh, I think they did OK with him for four years.
Abram Elam
lasted one season as a starter, which is better than
Brodney Pool
, who didn't last a week in training camp.
(UPDATE: The original version forgot
Lynn Scott
, an undrafted player in 2001 that the Cowboys had hopes for early.)
Since 2001, the Cowboys have drafted nine safeties and the best has been Williams, and he was the eighth overall pick in 2002. People will remind you that
Ed Reed
is a Hall of Famer and went later to Baltimore.
Tony Dixon
(second, 2001) never panned out. Justin Beriault (sixth, 2006) was hurt and never played.
Pat Watkins
(fifth, 2006) was tall and an OK special teamer.
Alan Ball
(seventh, 2007) was drafted as a corner, became a forgettable starter at safety and moved back to cornerback.
Mike Hamlin
and
DeAngelo Smith
were fifth-rounders in the forgettable 2009 draft and didn't make an impact.
Akwasi Owusu-Ansah
(fourth, 2010) was hurt when drafted, came from a small school and made switch from corner to safety – and never made an impact.
Barry Church
and
Danny McCray
were undrafted players in 2010 that have made an impact. But Church, as close to an incumbent the Cowboys have at the position, is coming off an Achilles tear, and McCray showed he's a special-teamer with the more work he got on defense last season.
Matt Johnson
was a fourth-round pick last year and never played a snap because of recurring hamstring injuries. Judgment should be withheld until he actually gets on the field, but let's just say history is not on his side.
The Cowboys needed to look at the safety spot before Sensabaugh's release and now they must really look at it.
But do you trust they will find the right safety even in a draft that is considered rich at the position?
March, 4, 2013
3/04/13
12:43
PM ET
IRVING, Texas – The Cowboys' decision to cut safety
Gerald Sensabaugh
on Monday pushes safety to the top of the team's offseason needs. (
Click here for the story
.)
PODCAST
ESPN Dallas' Todd Archer joins Fitzsimmons & Durrett to discuss the Cowboys cutting Gerald Sensabaugh in a salary cap move.

Listen

Without Sensabaugh, the Cowboys are banking on the return of health
Barry Church
, who tore his Achilles in the third game of the season and ...
As the Cowboys move to the 4-3 under new defensive coordinator Monte Kiffin, they don't have a
John Lynch
-type that worked so well in Tampa for years. They don't have much of anything at the spot really.
"We upgraded safety when we brought in Kiffin relative to what we're going to need the safety to do," owner and general manager Jerry Jones said at the NFL scouting combine.
Danny McCray
is a restricted free agent and showed last year he is a backup as the more he played the more he got exposed. The Cowboys like
Eric Frampton
, who started the final two games, is an unrestricted free agent. As is
Charlie Peprah
, who started one game.
Matt Johnson
did not play a game as a rookie because of hamstring injuries.
As the names of free agents like
Charles Woodson
,
Ed Reed
and other veterans pop into your minds as possible signings, one of the strengths of the draft is the safety position. At the NFL scouting, Texas safety Kenny Vaccaro said he will visit with the Cowboys before the draft. Chicago general manager Phil Emery said there could be five or six starting safeties in the draft.
It's a risky move for the Cowboys, especially with so little in reserve.
October, 16, 2012
10/16/12
12:16
PM ET
IRVING, Texas – With like
Brandon Carr
and
Morris Claiborne
, as well as
Mike Jenkins
, the Cowboys believe they have cornerbacks who can excel at press coverage.
On Sunday at Baltimore, the Cowboys played full press coverage eight times. They were full off 13 times and played half press 20 times.
Carr's strength is his ability to press, but he played off far too much.
On the first drive he was off twice on
Jacoby Jones
and was beaten for first-down catches of 5 and 8 yards. On Anquan Boldin's 20-yard catch in the second quarter he was off and went for the ball and missed. In the fourth quarter he played press-bail on Boldin's 13-yard catch and on the 31-yarder he jammed Boldin at the line but slipped.
Boldin is not going to run by any defensive backs, but why not get on him at the line and disrupt the timing. Flacco and Boldin played pitch and catch way too much.
** Let's take a look at the pressure the Cowboys used Sunday. They had three-man pressure four times and it resulted in the only sack of Flacco by
DeMarcus Ware
. They rushed four players 15 times and were able to get four pressures or hits on Flacco. They rushed five or more six times and had two
Sean Lee
pressures.
** The longest play the Cowboys allowed was a 43-yard dump off to
Ray Rice
. I wonder if Lee was supposed to go after the quarterback or just make sure Rice did not get off into a route on that play. Rice almost appeared to let Lee scrape by him, knowing the middle of the field was open. With the corners in man coverage there was not a defender within 15 yards of Rice. Jenkins had the first attempt on Rice at the Dallas 48 and missed.
Here's a three pack of special teams' observations:
** The Jacoby Jones' kickoff return. It's difficult to blame the placement of the kick when it's 8 yards deep, but Jason Garrett mentioned it on Monday. Bailey's kick was down the middle of the field and gave Jones a lot of room.
Dan Connor
got his arm on Jones at the 11 but the returner was not touched after that.
Alex Albright
was caught too far inside.
Andre Holmes
was double-teamed (possibly held).
Danny McCray
was blocked well, too, leaving a big alley.
** Do hashmarks matter for a kicker? Bailey said no but his field goal attempts from 42 and 34 yards in the same direction came from the right hash and the wind pushed them over to the middle of the uprights or middle left. His 51-yard attempt came from the left hashmark and the wind caught it and blew it left two feet. From the right hashmark, that kick is good.
** Field position is a huge part of the game and the Cowboys missed a chance for better field position after the Ravens punted from their 9 in the third quarter. But cornerback
Orlando Scandrick
did a miserable job on blocking gunner
Chykie Brown
, giving him a free shot on
Dwayne Harris
. If Scandrick blocked even a little, then Harris has a chance to take the return into plus territory. He didn't and the drive started at the Dallas 45.
**
Phil Costa
played a great game in his return from a three-game absence with a back injury. You can't help but wonder if there were some different calls made by Costa that newcomer
Ryan Cook
didn't make. The line was downhill all day at Baltimore. But Costa made one error that led to Tony Romo's pick. The Ravens brought five rushers at Romo on the play.
Nate Livings
was beaten by linebacker Dannell Ellberbe but Costa was slow to react to his left, giving Ellerbe the chance to hit Romo as he was throwing to
Kevin Ogletree
. Romo wasn't able to stick the throw and was inaccurate, leading to Cary Williams' pick.
** On Felix Jones' 22-yard TD run, Costa did a great job of turning tackle Ma'ake Kemoeatu to create a hole. Livings ate up
Ray Lewis
and
Jason Witten
and
Tyron Smith
sealed the left edge. That left Jones on safety
Bernard Pollard
alone and Jones made him miss. That old Jones' burst also appeared down the sideline and he was able to run through
Ed Reed
at the 2 before crossing the goal line. If the Cowboys can get that Jones to show up again, then DeMarco Murray's absence might not be that bad.
October, 16, 2012
10/16/12
10:30
AM ET
IRVING, Texas – While I'm still wondering how the Cowboys can run one offensive play in the final 26 seconds of a game like they did Sunday at Baltimore, it's time to move on to the weekly Five Wonders feature as Carolina awaits.
** I wondered at the time whether the Cowboys were making the smart move in improving their cornerback situation in the offseason instead of improving the pass rush. After five games, it seems pretty clear that in the long debate of whether a pass rush makes a secondary or vice versa, that the former is true. Five games into the season the Cowboys are waiting for their first interception by a defensive back. Last year, at least they had two in the first five games and those players,
Terence Newman
and
Alan Ball
, are gone. The defensive backs have only 13 pass deflections so far against 130 pass attempts. Blame the defensive backs if you want, but if a quarterback is not under duress, then he's not going to throw a ball up for grabs.
** I wonder if those who thought
Jason Witten
had lost it with his poor start to the season are starting to feel a little bit queasy. In the last two games Witten has 19 catches for 200 yards on 21 targets from
Tony Romo
. He is on pace for 86 catches for 883 yards, which puts the first three games in which he dropped five passes into some different light. If he caught the passes against Seattle and Tampa Bay, especially those down the field, Witten would be on pace for more than 1,000 yards again. If Witten had lost it, then he would not have been as open as he was getting. It was simply a case of the drops. In the last two games, he has been nearly flawless. The lone time he and Romo did not hook up on a pass came on Lance Briggs' interception return when Romo was hit as he attempted to flip the ball free. The only miss against Baltimore was on an overthrow on a waggle in which safety
Ed Reed
was lurking.
** Jason Garrett had a particularly strong comment about penalties on Monday and what he can do to rectify the issue. He finally mentioned playing time. "Certainly you have the option of saying, 'OK, if you continue to get penalized like this you're going to be out of the lineup or you're going to be of the football team," he said. Strong. But I wonder what action he can take. Yes,
Doug Free
had some penalties again, but do you want to see
Jermey Parnell
on a full-time basis? Parnell has played a handful of snaps this season in short-yardage situations and has a penalty and two missed assignments.
Kevin Ogletree
had some illegal shift troubles and his playing time might be in trouble going forward. But do you want to see more
Dwayne Harris
? If you're asking me, I'm putting
Cole Beasley
on the field in the slot and keeping
Miles Austin
outside all the time.
** The Cowboys dodged a bullet of sorts with DeMarco Murray's sprained foot. There was an initial fear that he had a Lisfranc injury that would have ended his season. He is not expected to play this week at Carolina and will be viewed as week to week after that. I wonder if the Cowboys look for a more experienced runner to help
Felix Jones
through however long this stretch is. The Cowboys signed
Sammy Morris
late last season after Murray was lost for the year and they were already without
Phillip Tanner
. On Sunday Tanner and
Lance Dunbar
did a nice job filling in when Jones needed to get an IV after Murray's day ended. But there is a trickle-down effect on special teams because if Tanner has to run more, then they might have to cut back on his special teams' snaps. Dunbar maybe as well. I don't think they'll go that route, but just something to think about.
**I wonder if we saw on Sunday a little bit of how the Cowboys would like to work their cornerbacks in the base defense.
Morris Claiborne
started and played the first two series.
Mike Jenkins
was in on the third series and I'd suspect he would have played the next series if he didn't need to get his right shoulder examined. Injuries, I think wrecked the plan altogether. Claiborne twisted his knee on the Ravens' last series of the first half and was called for a pass interference penalty that just defies logic. With Jenkins and Claiborne hurt to start the second half,
Orlando Scandrick
was in with the base defense. If Claiborne and Jenkins are healthy and the Cowboys are playing a team that does not use a lot of three wides, like Baltimore, I'm betting that rotation will return.
October, 9, 2012
10/09/12
11:30
AM ET
IRVING, Texas -- It's a quick turnaround for Five Wonders after pushing the series back last week because of the bye, but now it's back to original programming with its Tuesday spot.
So here we go, on to the Week 6 wonders:
** I wonder if the Cowboys watched some of the games over the bye and came away with different ideas in running the ball. Or at least looked at the statistics. When the Cowboys have three wide receivers on the field, they have picked up 100 yards on 23 carries. When they have two tight ends on the field, they have 68 yards on 35 carries. Try as people might to say
DeMarco Murray
was at his best with
Tony Fiammetta
as his lead blocker, he's actually been better without a fullback and the field is spread. This year he has 70 yards on 16 carries in three-wide packages. Last year he had 224 yards on 22 carries, including the 91-yard touchdown vs. St. Louis with three wides on the field. Garrett wants to be known as a power running team, but it's just not happening right now. I wonder if they would be better served to run more out of 11 personnel going forward.

** I wonder how much more patience Jason Garrett will have with the offensive line. Executive vice president Stephen Jones said on KRLD-FM on Monday that he felt the line was coming together and that it played OK against Chicago. I don't think he was being polite, but the bar was so low at the start of that Bears' game that it did not have to go that high. The Cowboys can't view the possible return of
Phil Costa
as a game changer. He might know what to do, but can he do it? Coaches tell us the offseason matters and training camp matters. Well,
Mackenzy Bernadeau
had none of the former and a little of the latter because of injury. Does he get time to get comfortable or does Garrett look at
Derrick Dockery
sooner rather than later? At some point in his accountability preaching Garrett will have to take the game away from somebody and not just the threat of taking it away. He has not made lineup changes for reasons not related to injury. We'll see if he does it soon.
** At some point Sunday I wonder if Cowboys owner and general manager Jerry Jones will look at Baltimore safety
Ed Reed
and wonder, what if? In 2002, the Cowboys picked
Roy Williams
with the No. 8 overall pick. The Ravens took Reed with the No. 24 overall pick. Reed is still playing. Williams is enjoying his second year of retirement. This isn't to rip the Cowboys for taking the wrong safety because they weren't the only team to skip over Reed, who some might say is among the best safeties to ever play the game. For a few years, it looked like both teams hit on their picks with Williams making the Pro Bowl from 2003-07 and earning one All-Pro honor. But then it just fell apart for him for reasons that remain a mystery to some at Valley Ranch. But Reed has been made to the Pro Bowl eight times and is a five-time All-Pro. He has 59 career interceptions. What I like most is 1,506 return yards in those picks. He is a threat to score when the ball is in his hands. He might freelance some but he sure makes a ton of plays and the Cowboys have not seen that from the safety position in a long time.
**
Brian Moorman
is likely to be the Cowboys' punter Sunday at Baltimore, but he's on borrowed time once
Chris Jones
returns from a knee sprain. Let's say this is his last game for argument's sake. How do the Cowboys fill that roster spot? They need some safety help, as has been documented in the past. But finding help is difficult, which is what led the team to special teamer
Eric Frampton
a few weeks ago. Offensive line is another possibility. But I wonder if it's not too early to start the poaching process and look at other teams' practice squads for help. Usually teams do that later in the year with their eyes on the future but the Cowboys might want to kick start that process now.
** I wonder if there is another team in the league with two offensive players as their leading special teams' tacklers like the Cowboys. Tight ends
James Hanna
and
John Phillips
lead the unit with four tackles apiece. Running back
Phillip Tanner
is tied for fourth with three. How teams record tackles is up to the coaches, but I wonder if the Cowboys can be happy that so many offensive players are at the top of that list considering, you know, they generally aren't good tacklers because, you know, they play, umm, offense.
May, 24, 2011
5/24/11
12:31
PM ET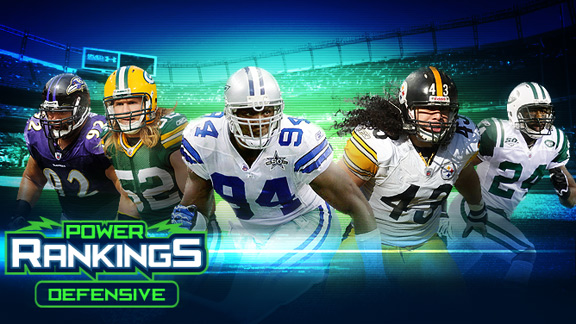 ESPN.com IllustrationTroy Polamalu (43) was the unanimous choice among our bloggers as the NFL's top defensive player.
During the unprecedented offseason of 2011, ESPN.com has ranked the top
pass-rushers
in the NFL. We've ordered
linebackers
, rated
cornerbacks
and chosen the league's top 10
safeties
as well. Now it's time to start putting it all together.
This week's challenge: Meld those four ballots into a single list of the NFL's 10 best defensive players. The subtle shift in parameters required us to consider not only a player's individual impact, but the overall importance of his position to the game.
Both in the draft and in the free-agent market, NFL teams place premium value on pass-rushers and interior defensive linemen. Other positions, most notably safeties, are relegated to secondary priorities. So in that sense, it's both remarkable and telling that
Pittsburgh Steelers
safety
Troy Polamalu
was the unanimous top choice of our committee.
"Troy has a skill set that I've never seen from the safety position," said AFC North blogger James Walker, who has covered Polamalu for years. "He has the hands, coverage skills and acceleration of a corner, but the instincts and timing on the blitz and against the run like a linebacker. When I've asked coaches to draw a comparison to another safety, they struggle to come up with a name, because there's really no one like him. [Steelers defensive coordinator] Dick LeBeau also deserves credit for building his defense around Troy, because that's really hard to do for a safety."
To what extent do NFL teams typically value safeties? Consider that in last month's draft, the first safety wasn't selected until midway through the second round (UCLA's
Rahim Moore
, by the
Denver Broncos
, at No. 45 overall). And in determining franchise tag numbers for a potential 2011 market before the lockout, the league was set to assign safeties the third-lowest figure among all positions, ahead of only tight ends and kickers.
One other safety made our list:
Ed Reed
of the
Baltimore Ravens
. But for the most part, the list was dominated by players known for getting to the quarterback. Our top pass-rusher,
Dallas Cowboys
linebacker
DeMarcus Ware
, ranked second.
Green Bay Packers
linebacker
Clay Matthews
, Pittsburgh Steelers linebacker
James Harrison
and
Chicago Bears
defensive end
Julius Peppers
were among our top eight.
NFC East blogger Dan Graziano rated Ware No. 7 overall and is braced for the wrath of his new readership, but I thought it was healthy and important to add a fresh view that didn't participate in our individual position rankings.
"Guys like Harrison and [Ravens defensive tackle Haloti] Ngata made more of an impression on me," Graziano said. "I certainly don't think calling someone the seventh-best defensive player in the league is any kind of insult. But from what I watched the past couple of years, I felt guys like that impacted the games in which they played more completely than did Ware. If I made a mistake, I'm certainly happy to own up to it and listen to the reasons why I was wrong."
In this debate, right and wrong mattered less than philosophy. Graziano, for example, rated
New York Jets
cornerback
Darrelle Revis
No. 2 overall and also included
Oakland Raiders
cornerback
Nnamdi Asomugha
at No. 8. On the other side of the spectrum, I joined NFC West blogger Mike Sando in choosing only one cornerback (Revis) and one safety (Polamalu). Sando, in fact, ranked Revis No. 9.
Neither one of us has any argument with the skills of Asomugha or Reed. But on a ranking of overall defensive players, we found it difficult to include more than two defensive backs.
"I moved down Revis and cornerbacks in general," Sando said, "for the same reason
Patrick Peterson
went fifth in the draft despite being arguably the best player available. It's just tougher for a cornerback to affect offenses the way a great front-seven player affects them. Quarterbacks can throw away from them."
Along those lines, Sando gave the highest vote for the player who topped our linebacker rankings,
Patrick Willis
of the
San Francisco 49ers
, placing him at No. 2. Willis finished No. 4 with votes ranking anywhere from No. 2 to No. 8
"Willis has no weaknesses and there is no avoiding him on the field," Sando said. "I've seen him return an interception 86 yards for a touchdown, knock out wide receivers with crushing hits, punish quarterbacks on blitzes and scrambles, lift a Pro Bowl offensive lineman off the ground in run support and just generally dominate. He was a serious candidate for the No. 1 spot on my ballot."
Matthews also received a wide range of votes, finishing No. 5 despite three ballots that placed him No. 2, including mine. Most of us considered Ware the top pass-rusher a few months ago, but a few believe Matthews is the better all-around player from the 3-4 outside linebacker position.
"Clay Matthews makes as many game-changing plays as any defender in the league," said NFC South blogger Pat Yasinskas, who joined the AFC South's Paul Kuharsky and myself on the Matthews bandwagon. "That makes him one of the league's best defenders in my eyes. And it doesn't hurt that his team has the Lombardi trophy at the moment."
Said Kuharsky: "Matthews is so dynamic and energetic it made it very difficult for me not to constantly circle back to him as I consider the highest-impact defenders in the league. That Seifert and Yasinskas also rate him second just goes to prove that what everyone says about those two is dead wrong."
A backhanded compliment from Paul Kuharsky? I can't think of a better line to close on.
June, 17, 2010
6/17/10
2:04
PM ET
The rest of the NFL agreed with the Cowboys' decision this spring.
Ken Hamlin
isn't worth big money.
Hamlin settled for a one-year deal with the
Baltimore Ravens
,
ESPN's Adam Schefter reports
. He'll be insurance behind
Ed Reed
, who is coming back from hip surgery.
It's a wise move by the Ravens. Hamlin won't hurt them if he's pushed into the starting lineup. He just won't make many plays, which is why the Cowboys cut him before the third season of a six-year, $39 million deal.
Hamlin took a one-year deal when he came to Dallas in 2007 and responded with his only Pro Bowl season, convincing the Cowboys to pay him like an elite safety. Two years later, he couldn't find a team willing to commit to him as a starter, but he at least landed with a contender that he can help.