Dallas Cowboys:

Emmanuel Sanders
December, 24, 2012
12/24/12
1:50
PM ET
IRVING, Texas -- Every week teams ask the NFL to review plays they deem to be questionable, and the Cowboys will ask about Walt Coleman's overtime review of Marques Colston's 9-yard catch and fumble that led to New Orleans' game-winning field goal attempt Sunday.
PODCAST
Coach Jason Garrett talks about the Cowboys' overtime loss to the Saints and Jason Witten's remarkable season.

Listen

"That probably will be one of the ones we send in," coach Jason Garrett said.
The Cowboys were hurt by replay reviews in back-to-back weeks on similar plays that led to different conclusions.
Against Pittsburgh, referee Clete Blakeman reversed a fumble by Pittsburgh's
Emmanuel Sanders
after it appeared he got two feet down before losing the ball on a hit from safety
Eric Frampton
. On Sunday,
Morris Claiborne
punched the ball free from Colston after he got two feet down and turned upfield.
In the scramble, tight end
Jimmy Graham
was able to recover the fumble at the Dallas 2, and the Saints kicked the field goal for the winner.
"He had two feet down, had possession of the ball, and turned upfield and got hit as his third step was coming down," Coleman said to a pool reporter after the game. "He had possession and time enough to do something with the football -- a football move."
The Cowboys just want clarification on the difference in plays, not that it will change the outcome.
December, 23, 2012
12/23/12
5:59
PM ET
ARLINGTON, Texas -- Last week against Pittsburgh, the Cowboys lost a turnover after an officials' review. In overtime Sunday against New Orleans, the Cowboys had a similar play again not go in their favor.
Saints receiver
Marques Colston
was ruled to have made a 9-yard catch, which he then fumbled down to the Dallas 2. Referee Walt Coleman confirmed the call on replay.
"He had two feet down, had possession of the ball and turned up field and got hit as his third step was coming down," Coleman said to a pool reporter. "He had possession and time enough to do something with the football -- a football move."
The Cowboys lost a turnover against the Steelers when referee Clete Blakeman ruled wide receiver
Emmanuel Sanders
did not have possession or make a football move as he was being hit by Cowboys safety
Eric Frampton
.
Saints tight end
Jimmy Graham
was able to recover the fumble to set up the game-winning field goal attempt.
"I thought it was an identical play," coach Jason Garrett said. "That was something I tried telling the officials. It didn't go in our favor."
Cowboys owner and general manager Jerry Jones said he believed it was a catch and fumble.
Said Coleman, "He doesn't have to tuck it. So long as he has possession of it and moving it from one and to the other, he doesn't have to tuck it away. He just has to have possession of the ball to be able to do something with it, like a normal football act. But he doesn't have to tuck it against his body."
As for the ball being placed at the 2, Coleman said fourth-quarter rules are in place for overtime, so the ball does not go back to the spot of the fumble outside of the final two minutes of the extra session.
December, 17, 2012
12/17/12
6:08
PM ET
IRVING, Texas -- Cowboys coach Jason Garrett isn't one to criticize the officials, but he made note of a play in the first quarter of Sunday's overtime victory over Pittsburgh.
PODCAST
Coach Jason Garrett talks about the Cowboys' overtime win against the Steelers.

Listen

Steelers wide receiver
Emmanuel Sanders
fumbled after taking two hits.
Alex Albright
recovered what the officials ruled a fumble. But the play went under review and it was overturned.
"I was shocked," Garrett said of the reversal of the call. "IF it was ruled the other way, I would say OK, there wasn't enough evidence to overturn it to make it a turnover. But it was ruled a turnover on the field and then we thought the evidence was overwhelming. Then he goes under the hood and then he overturns it. I couldn't believe it. I don't know how you guys saw it but that is how I saw it."
After Sanders made the catch, he took two steps before
Gerald Sensabaugh
hit him first, then
Eric Frampton
's jolt knocked the ball loose.
"I thought there were three steps on the (field) and a football move," Garrett said.
January, 24, 2011
1/24/11
10:01
AM ET
Longtime Cowboys tackle Flozell Adams' return to JerryWorld with the Steelers will be the top local angle among Super Bowl stories.
[+] Enlarge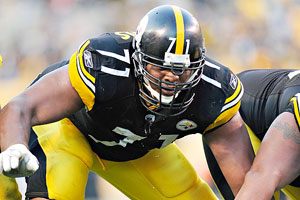 Icon SMIFormer Cowboys lineman Flozell Adams will be returning to Cowboys Stadium, but this time with the Pittsburgh Steelers for Super Bowl XLV.
Adams, who made five Pro Bowls in 12 seasons with the Cowboys before being cut last offseason, is one of several Steelers and Packers with Metroplex ties. In fact, it can be argued that he isn't even the former Cowboys draft pick who made the biggest impact in his team getting to this point. A quick rundown of those players:
Steelers K Shaun Suisham:
Suisham has had three stints with the Cowboys, the most recent coming after they cut
Nick Folk
in 2009. The Cowboys opted not to re-sign him last offseason, and he spent most of the season out of football. The Steelers signed him in November after cutting longtime kicker
Jeff Reed
. Suisham is 16-of-18 on field goals for Pittsburgh, including 2-of-3 in the playoffs.
Steelers LT Jonathan Scott:
He was an All-American at Carter High in Dallas and played for Texas. Scott, a fifth-round pick by the Lions in 2006, has been a starter most of his first season in Pittsburgh because of injuries.
Steelers WR Emmanuel Sanders:
The Steelers selected Sanders in the third round in April, making him the highest draft pick out of SMU since before the NCAA-induced Death Penalty. He made significant contributions as a rookie, catching 28 passes for 376 yards and two touchdowns and averaging 25.1 yards per kickoff return.
[+] Enlarge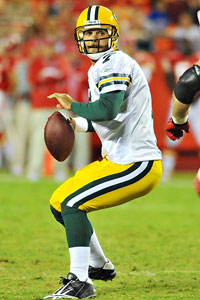 Denny Medley/US PresswireEnnis product Graham Harrell will be returning home as the Packers come to Arlington for Super Bowl XLV. The former Texas Tech QB was promoted to the Packers' active roster after starter Aaron Rodgers was injured last month.
Packers OLB Erik Walden:
He was the Cowboys' only draft pick in 2008 not to make the team. The sixth-round pick is now starting opposite
Clay Matthews
, although Walden's status for the Super Bowl is in question after he injured his ankle in the NFC championship game. He played primarily special teams in stints with Kansas City and Miami and signed with the injury-plagued Packers in October after the Dolphins waived him. He's earned his playoff checks. Walden was named the NFC defensive player of the week after the Packers' playoff-clinching win over Chicago in the season finale, when he had 12 tackles and the first three sacks of his career. He also had a sack and forced fumble in the Wild Card win over the Eagles.
Packers QB Graham Harrell:
The Ennis and Texas Tech product holds a long list of Texas high school and NCAA passing records, but he had to get into the NFL the hard way. He didn't even get an invitation to an NFL training camp in 2009, which he spent in Canada. He spent most of this season on the Packers' practice squad, getting promoted to the active roster when
Aaron Rodgers
was injured last month.
Packers S Charlie Peprah:
The Plano East product moved into the starting lineup when rookie
Morgan Burnett
suffered a season-ending knee injury in Week 4. Peprah, 27, played the first three seasons of his career for the Packers before getting cut last year after a knee injury and signing with Atlanta. He returned to Green Bay for the veteran's minimum salary and produced 63 tackles and two interceptions this season.
Packers RB Dimitri Nance:
Nance rushed for more than 3,000 yards during Euless Trinity's first state championship season. He has yet to crack triple digits in the NFL. He rushed for 95 yards on 36 carries this season for the Packers, who signed Nance off of Atlanta's practice squad.
April, 1, 2010
4/01/10
10:56
AM ET
When it comes to roster moves involving wide receivers, Jerry Jones ought to be considered the opposite of E.F. Hutton.
When Jerry talks, don't bother listening.
He's fibbed – or maybe just changed his mind – too many times when talking about receivers. Recent examples include raving about the impact Terry Glenn would make before releasing him as training camp opened, shooting down Roy Williams trade rumors before pulling the trigger on the blockbuster deal and all but guaranteeing the return of T.O. before breaking up with him via tablecloth.
So when Jerry said the week after the season ended that he'd sleep well if the Cowboys didn't draft a receiver, it was reasonable to believe that receiver ranked near the top of the team's list of priorities.
Judging by the Valley Ranch visits, that certainly seems to be the case. Four of Scouts, Inc.'s top 10 receivers – Oklahoma State's
Dez Bryant
, Illinois'
Arrelious Benn
, Ohio's
Taylor Price
and LSU's
Brandon LaFell
– were guests of the Cowboys this week. Two more in the top 15 – Kansas'
Dezmon Briscoe
of Cedar Hill and SMU's
Emmanuel Sanders
– are expected to contribute in Dallas Day at Valley Ranch next week.
And if Georgia Tech's
Demaryius Thomas
is still available at No. 27, don't be surprised if the Cowboys grab him.
This has nothing to do with Miles Austin's status as a restricted free agent. The Cowboys plan to keep Austin for a long time. When was the last time Jerry failed to lock up a guy he was determined to keep in Dallas? The Austin deal will get done, whether it happens before the season or not.
Using a premier pick on a receiver is about providing Tony Romo with an array of weapons throughout his prime. It's also about preparing for the departure of Roy Williams.
Jerry has publicly and repeatedly expressed confidence that Williams will morph into the star they thought they were getting from Detroit. Once again, believe anything Jerry says about receivers at your own risk.