Dallas Cowboys:

Frank Gore
September, 5, 2014
Sep 5
12:15
PM ET
IRVING -- Three thoughts on the
Dallas Cowboys
, who open the season Sunday against San Francisco.
1) Tony Romo played one half and 14 plays in the preseason.
Yes, he took a pretty good beating against Miami, but that was only a half.
Romo
He will get the full game against San Francisco's defense, which remains a physical group even though it's missing several starters because of injury or suspension. He will get hit and hit hard on a regular basis.
This is the truest test for Romo's back that we will see. If he survives and has no issues getting ready for Tennessee next week, then you should be able to take a deep breath and relax, because it means Romo is really ready to go.
2) We will get a good feel this week for the Cowboys' alleged commitment to the run.
San Francisco did not allow a 100-yard rusher last season and finished fourth in the NFL in run defense (95.9 yards per game).
"The one thing you notice about San Francisco's defense is that everyone does his job," Dallas center
Travis Frederick
said. "There's no hero ball. If they're supposed to be in a gap, they're in it.
"This is a week where it's going to be ugly. They don't give up big plays in the running game. A four-yard run is a good play this week."
When the running game isn't dominant, the Cowboys have a tendency to give up regardless of the score. We will see if play-caller Scott Linehan takes a new approach.
3) Middle linebacker Rolando McClain will get a strong test this week.
San Francisco is a physical running team without a lot of frills. Running back
Frank Gore
won't be hard to find. He will be between the tackles, which is where McClain does his best work.
The Cowboys need McClain to be a dominant presence against San Francisco's running game or the 49ers' offense will score 35 points.
Key number: 48
Since Jason Garrett took over the Cowboys' offense, they have usually been among the leaders in completions of 20 yards or more.
Last season, the Cowboys had 48 completions of 20 yards or more, tied for only 17th in the NFL. In 2012, they were 9th with 55.
You could certainly argue that last season's play-caller Bill Callahan, brought up in the West Coast offense, and his dink-and-dunk approach contributed to the lack of big plays in the passing game
Linehan likes going deep. He will challenge San Francisco's secondary.
Player to Watch: Morris Claiborne
The No. 6 overall pick in the 2012 draft is only starting at cornerback because
Orlando Scandrick
has been suspended for the first four games after violating the league's substance-abuse policy.
Claiborne missed the entire preseason with knee and shoulder injuries, so he will make his debut in the opener.
Claiborne doesn't have to be great, but the Cowboys need him to be a solid player against a really good group of receivers. Otherwise, the defense is really going to struggle.
October, 27, 2011
10/27/11
9:05
AM ET
Five-star question:
Will
DeMarco Murray
gain 100 yards against Philadelphia' 23rd-ranked run defense?
This does not mean DeMarco Murray will be a one-hit wonder, but he will not reach the century mark Sunday at Philadelphia a week after setting the franchise record for rushing yards in a game with 253 against St. Louis.
Philadelphia is allowing 4.8 yards per carry and is allowing 123.8 yards a game on the ground. Atlanta's
Michael Turner
(114), San Francisco's
Frank Gore
(127) and Buffalo's
Fred Jackson
(111) put up more than 100 yards against the Eagles. St. Louis
Cadillac Williams
had 91 yards.
Leaky does not begin to describe the run defense.
But Washington's leading rusher was
Ryan Torain
, who had 22 yards on 10 carries, in Philadelphia's last game. Maybe, just maybe the Eagles are beginning to figure out how to play this "wide nine" scheme, although they did not practice during the bye week.
Murray was amazing against the Rams and I don't care that the Rams had the worst-ranked run defense. That many yards in any game against any team in any league is a terrific feat. He deserves all of the accolades he has received.
But this is a road game and the Cowboys have had one 100-yard rusher in their last 18 road games.
Tashard Choice
had 100 yards against Indianapolis last year. They did not have a 100-yard rusher away from home in 2009.
I'm sensing a trend, which is why Murray will not reach 100 yards Sunday.
October, 13, 2011
10/13/11
1:07
PM ET
IRVING, Texas -- Tom Brady, Tom Brady, Tom Brady.
Whenever a team prepares for New England, Brady is the focus of the week and for good reason.
But what gets lost when talking about the Patriots offense is the running game. It's not too shabby either. Just ask the
New York Jets
.
The Jets geared up to stop Brady and
BenJarvus Green-Ellis
ran for 136 yards on 27 carries and two touchdowns.
"Brady gets the recognition because the run game is successful too," defensive end
Marcus Spears
said. "You don't want him to throw for 475 yards on you so you play nickel with a lot of defensive backs and those big linemen get to the secondary and get on the little guys creating space. We have to be real good up front when they want to run the ball."
That has not been a problem this year. The Cowboys have the best ranked run defense in the NFL, allowing only 61.8 yards a game on the ground. San Francisco's
Frank Gore
and Detroit's
Jahvid Best
have had the most yards with 47 yards.
September, 18, 2011
9/18/11
9:16
PM ET
SAN FRANCISCO -- The Cowboys defense has taken on two opponents that are strong running teams and held them to fewer than 100 yards.
In Week 1, the Cowboys held the
New York Jets
to 45 yards rushing.
Sunday afternoon, the
San Francisco 49ers
rushed for 74 yards on 24 carries. Lead rusher
Frank Gore
carried 20 times for 47 yards, and his longest run was for 9 yards.
"They ran a lot of 13, 12 personnel," outside linebacker
DeMarcus Ware
said. "They have a lot of tight ends in the game. Frank Gore is their guy. That's the guy. They have that ground-and-pound offense, really physical. We had to be able to make them one dimensional and stop Frank Gore."
September, 16, 2011
9/16/11
11:56
AM ET
IRVING -- In the season opener,
San Francisco 49ers
running back
Frank Gore
gained just 59 yards on 22 carries in the victory over the
Seattle Seahawks
.
Gore is considered one of the top backs in the league. In his six seasons, Gore is third in the NFL among running backs with a 4.6 yards per carry average.
Now while he didn't perform well vs. the Seahawks, that had more to do with them stacking the line to stop the run. The Cowboys did stop the
New York Jets
running game in their Week 1 loss, holding them to a 2.8 average.
"I think it's outstanding and it has been outstanding the last couple of years," coach Jason Garrett said of the 49ers run game. "There's certainly a commitment to running the ball out there they have some young offensive linemen, who are big, strong and powerful guys and Frank Gore is really one of the elite runners in the NFL. Just been a very productive player for a long time."
Gore seems to have recovered from a hip injury that curtailed his 2010 season to 11 games. Gore hasn't rushed for 100 yards since getting 118 in a Week 8 victory over Denver last season.
"They will give him the ball and give him opportunities, no question about that," Garrett said. "We need to be ready to stop him."
September, 16, 2011
9/16/11
8:00
AM ET
By
Bryan Broaddus
| ESPNDallas.com
Something I learned a long time ago when I was starting out as a young scout with the Packers was that when you lost a game in the NFL, there is no one in the league that felt sorry for you. You study the tape, make the corrections, and you move on to the next week.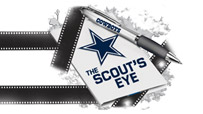 As hard as that loss against the Jets was to take, this team must move on. What awaits the Cowboys in Week 2 is a trip to San Francisco against a 49ers team that smothered the Seahawks on defense and then made them pay for their inability to cover on the punt and kickoff return with reserve wide receiver
Ted Ginn
returning one of each for a touchdown to put the game away.
The 49ers have some nice talent in some key spots, but I would not say that quarterback is one of those spots.
Alex Smith
was selected with the first overall pick in the 2005 draft, the same draft with
Aaron Rodgers
who went some 22 picks later. Rodgers has thrown for over 8,000 yards his first two years as a starter and has a Super Bowl MVP to his credit, while Smith is working with his third head coach in the last seven years.
Breaking down Smith, he stands tall in the pocket, keeping his feet active. When he feels pressure, he will slide to safety. If receivers are covered down the field, he will check the ball down to the backs underneath.
Smith did a nice job in the Seattle game of keeping his eyes down the field but running with the ball to convert third downs or put his offense in a positive position. The Cowboys have to be careful with Smith if Rob Ryan plays man coverage chasing receivers all over the field and Smith takes off running to try to make a play.
The ball comes off his hand with some velocity with an overhand throwing motion. Smith will try to look off receivers then come back the other way with the ball.
Head coach
Jim Harbaugh
is the play caller, so he really tries to run the offense to give Smith the best opportunity to make an easy throw in the passing game. Harbaugh will move the pocket with waggles or boots giving Smith high/low reads with receivers.
In the Seattle game, Harbaugh mixed his formations throughout, lining up in one look then shifting pre-snap to try to create confusion. Harbaugh went unbalanced several plays, then ran the ball weak side with
Frank Gore
, which was a different wrinkle.
Along with tight end
Vernon Davis
, Gore is the 49ers' best offensive player. Gore doesn't have explosive speed, but what he does have is the ability to keep coming at you. He is a physical back.
There were times where Harbaugh was able to start Gore one way then bring him back with misdirection with a pulling tackle and a backside tight end. Gore has the vision to see the creases and holes. Again, he just isn't a burner.
The Seahawks had some success against Gore making him stop and have to restart. Gore is one of those backs that builds up speed as he runs. The Seahawks were able to get some defenders into the backfield, causing him problems getting going again.
This will be the second week that the Cowboys defense will have to face an athletic tight end. Last week, it was the Jets'
Dustin Keller
. This week, it's Davis, who has freakish speed down the field. If I am Ryan, I do not allow him free access in the route.
Davis is similar to
Jason Witten
in that he is too athletic for a linebacker to cover and too big for a defensive back to deal with. Unlike Witten, Davis wants nothing to do with the run blocking side of the game. Harbaugh will line Davis up all over the formation and Smith looks for him in route first.
Last week against the Jets, Ryan took
DeMarcus Ware
and moved him to the left side to rush against right tackle
Wayne Hunter
. This week, look for Ryan to potentially have the same plan moving Ware over 49ers right tackle
Anthony Davis
.
Was not impressed at all with Davis' work. He is heavier than Hunter and his feet are slower. Ware and the other rushers should be able to attack Davis to the outside then work some underneath moves as well. Look for Harbaugh to try to use that misdirection I mentioned earlier to slow Ware down in his rush.
Last week, the Cowboys did a nice job in their front seven of coordinating their linemen with linebackers and creating pressure on
Mark Sanchez
. Smith will likely face the same pressure from Ryan with multiple looks and pressure. Again, Harbaugh will try and give Smith easy throws and he will also try and move the pocket to keep the pressure off his quarterback as well.
On the defensive side of the ball, the 49ers have a nice front seven. It's a group of players that are high effort and motor types. Ends
Justin Smith
and
Ray McDonald
are relentless rushers and active against the run.
The Seahawks had trouble blocking this front because they were unable to sustain blocks. If you don't keep a hat on Smith, McDonald,
Ahmad Brooks
and
Isaac Sopoaga
, you are going to struggle to move the ball.
The inside linebackers on the 49ers are outstanding.
Patrick Willis
and Navorro Bowman are always around the football.
When the Cowboys tried to run the ball last week, they had to deal with the Jets and their run-through inside linebackers. Run-through linebackers read the play quickly, see the gaps and beat the blockers to the spot. When you face run-through linebackers, it throws off your running game because they get into the backfield and it messes with the timing of the play.
These 49ers linebackers are more active than what the Cowboys faced last week, so the zone blocking scheme of the Cowboys will be tested.
When the 49ers blitz, they like to use their inside linebackers in games with the defensive line. In the nickel, Smith and McDonald will move inside and Brooks moves from outside linebacker to rush end. In this look is where you see those blitzes.
The Cowboys will also need to be aware that the 49ers can get good pressure with just a four-man rush.
In the secondary,
Tarell Brown
and
Carlos Rogers
are the corners and
Dashon Goldson
and
Donte Whitner
are the safeties. I really liked the play of Brown more than that of Rogers. Brown is quick footed and also did a nice job of fighting for the ball in the air. Brown is a bit of a gambler and is not afraid to jump routes.
Rogers has faced the Cowboys many times in his career as a former member of the Redskins. Rogers will play in the slot when the 49ers go to the nickel. If the Cowboys can hold up against the front seven pressure of the 49ers, then they will have a chance to make some plays against this secondary that is good but not great.
September, 15, 2011
9/15/11
8:10
AM ET
IRVING, Texas -- There was a moment during a
Michael Crabtree
conference call on Wednesday afternoon that caught some reporters off guard.
Crabtree, a Dallas kid who is playing for the
San Francisco 49ers
, was asked about
Dez Bryant
, the
Dallas Cowboys
wide receiver.
The two teams meet on Sunday.
Crabtree expressed love for Bryant and says they talk from time to time. Bryant nodded when asked about his fondness for Crabtree.
But when another question was asked about David Wells, a bail bondsman who has mentored both men, and his role in forging the relationship between the players, this was Crabtree's answer:
"He didn't help at all. That's my homey. I don't too much talk about Dave. He's not a part of my life. It is what it is. That's my homey and I'm going to keep it like that."
While it's true, Crabtree and Bryant became homeys when the two met on the awards circuit while they were in college, it's surprising that Wells is out of the picture.
"It's cool," Wells said. "He's out there in San Francisco and I'm here in Dallas."
It was interesting to hear this because Wells and Crabtree are cousins. (This is not to say cousins can't get along, though I love mine.) When Crabtree was coming out for the draft in 2009, there were stories about how much of a diva he was.
Wells defended Crabtree.
There was some incident at the ESPN studios in Bristol, Conn., where Crabtree showed up with a posse and acted as if he held the all-time touchdown record in the NFL.
Wells said it wasn't true.
But all these things kept coming out about Crabtree, and yet Wells stood by him. In fact, when Crabtree's name kept going down the draft boards because many thought his foot injury and potential for a holdout were hurting him, Wells was sitting with him in New York at the draft.
The two hugged when the 49ers drafted him 10th overall in the first round. But the talk about whether Crabtree could be difficult didn't end after the draft. Crabtree didn't sign a contract quickly, coming to terms in October 2009.
It was confirmation for NFL teams explaining why they needed to stay away from Crabtree. But Crabtree wanted to be paid like a Top 5 pick, which was his right.
In three seasons, Crabtree hasn't really developed into the player many thought he would be. He's got 104 catches for 1,370 yards and eight touchdowns. You can say the 49ers are a run-oriented team, thanks to
Frank Gore
, or you could say the quarterback problems,
Alex Smith
is running things now, is a reason for Crabtree's problems.
Crabtree's health is still an issue. He dealt with a bad foot coming out of Texas Tech and he recently needed an X-ray on his foot following the 49ers' victory over the
Seattle Seahawks
last Sunday.
"I have been injured in college," Crabtree said. "It's something you have to deal with. Whatever it is, it is what it is. I just try to have fun out there, think about the good times."
And while Crabtree is no longer associating with Wells, Bryant is.
For how long?
Wells, like he's done with Crabtree, has defended Bryant in public for any transgressions, and will get on him in private for mistakes.
Crabtree has ventured on without using Wells as a mentor, and maybe one day Bryant might be without one too.
September, 14, 2011
9/14/11
1:16
PM ET
In this week's installment of Opposing Voice, we talk to Matt Maiocco, who covers the
San Francisco 49ers
for CSNBayArea.com and the television side as well.
Here's our Q&A with Maiocco.
1. Are the 49ers' special teams just that good, or were they lucky on Sunday?
The 49ers certainly can't rely on
Ted Ginn
to bail them out with returns for touchdowns every week like he did in the season-opening win against the Seahawks. Just a week earlier, Ginn had to accept a $1.2 million pay cut just to remain on the roster. And Ginn wasn't even going to be the 49ers' primary kick-returner until the day before the game. That duty was going be the assigned to rookie
Kendall Hunter
. But the 49ers decided to go with Ginn's experience. His 102-yard kick return was exactly what the 49ers needed after Seattle pulled to within 19-17 with four minutes to play. Then, he provided the icing with a 55-yard punt return for a score just 59 seconds later. The 49ers should be improved this season as a whole on special teams based on the hiring of Brad Seely as special teams coordinator.
2. Alex Smith as a quarterback -- getting better?
The thing about Smith is that he has made incremental improvements every season he remained healthy in his career. After spending his first six seasons with defensive head coaches, Smith finally has a head coach who not only has an offensive background but also played quarterback.
Jim Harbaugh
instituted a game plan that did not provide a lot of difficulty for Smith in the opener. Smith completed a bunch of high-percentage passes, connecting on 15 of 20 attempts, for just 124 yards. Smith is getting better, and for the first time he had a coach who will put him in situations where he has a better chance to succeed.
3. What has happened to Michael Crabtree?
Crabtree was going along just fine in his first two NFL seasons — other than a contract stalemate that forced him to miss the first five games of his rookie year. His stats weren't great, but he was producing decent numbers despite being on a team with a bad passing attack. Things took a turn for the worse, however, during the 49ers' offseason workouts at San Jose State when he sustained a left foot fracture. He underwent surgery in July and last week was the first time he practiced. The foot is still very sore, so he played only 13 snaps in the season opener, catching just one pass for 4 yards. Crabtree will probably be limited for a while.
Braylon Edwards
and Joshua Morgan will likely remain as the starting wideouts with Crabtree's contributions coming mostly as a slot receiver until he's healthy enough to push for a starting job.
4. The 49ers had only 2.7 yards per carry. Was it the Seattle defense, or is Frank Gore slowing down?
Because the 49ers offered no real threat with their passing game, Seattle loaded up the box to stop Gore. Of his 22 rushing attempts, Gore was stopped six times for no gain or a loss of yardage. It's difficult to pin much blame on Gore. He simply didn't have any room to run and a 49ers offensive line that prides itself on getting good push was unable to move the Seahawks off the ball.
5. How have the players responded to new coach Jim Harbaugh?
The players weren't too thrilled with the daily three-hour, padded practices during training camp, that's for sure. But there is a level of respect that the players have for Harbaugh because of the fact he played 14 seasons in the NFL. Also, they know this guy can coach. He coaches the finest details. Mike Singletary did very little hands-on coaching. Harbaugh is very involved in practices, blowing his whistle like a drum major and spending a lot of time working with the quarterbacks. He is very demanding, but there is little doubt he has already earned a tremendous amount of respect.