Dallas Cowboys:

fred jackson
August, 16, 2012
8/16/12
3:00
PM ET
With 20 days to go until the regular-season opener between the Giants and the Cowboys, I have decided to embark on a treacherous quest: To rank the top 20 players in the NFC East -- one per day, in reverse order, with the top player revealed on the day before the start of the season. You're going to love this feature and you're going to hate it. You're going to disagree and debate and argue and yell, and it's going to be awesome.
The rankings are mine alone. They reflect my opinion based on a number of factors -- career accomplishments, 2011 performance, performance relative to others at the same position, value to the team ... you name it. I used a number of sources to help form my opinion, but in the end that's what it is -- my opinion, which I expect to differ from yours and those of many others.
You want clues to try and figure out who's on it? The list includes seven
New York Giants
, six
Philadelphia Eagles
, five
Dallas Cowboys
and two
Washington Redskins
. It includes five defensive linemen, four wide receivers, three quarterbacks, three linebackers, two running backs, two offensive linemen and one tight end. (
Jason Peters
, though I consider him the division's best offensive lineman, is not on it since he's out for the year with an Achilles injury.)
It starts today, with one of the two running backs, and ends on Sept. 4, the day before that Cowboys-Giants game. In the meantime, let's have some fun with it.
Bradshaw
No. 20 -- Ahmad Bradshaw, Giants RB
The Giants' running back is often underappreciated for his overall body of work. Not only is he an effective power runner when healthy, he's a vital part of the Giants' passing game as a receiver and a blocker. There's no running back in the league who picks up the blitz better than Bradshaw does, and prior to the recurrence of his foot injuries last season, he was the target of a higher percentage of his team's screen passes than any other player in the league. Pro Football Focus ranked him as the best overall running back in the NFC East and the eighth-best in the league. His grade as a runner was only 24th, but he ranked as the second-best blocking back in the league behind Buffalo's
Fred Jackson
.
Bradshaw's numbers have not ranked with those of the top backs in the league, in part because of those foot injuries of the past few years and in part because he's generally been in some sort of time-share situation in New York. But with
Brandon Jacobs
gone and Bradshaw's feet feeling (he says) better than they have in years, he's poised to be the unquestioned lead back with the Giants and challenge his career-best numbers from 2010. That year, he carried the ball 276 times for 1,235 yards and eight touchdowns and caught 47 passes for 314 more yards.
Bradshaw is tough. He plays through pain. He's motivated and eager to seize the role of No. 1 running back. He's only 26 years old, and if those feet hold up, there's little reason to think big things can't be in store. Bradshaw does all of the little things you need your running back to do, and he does them as well as anyone. All that remains is for his stats to catch up with his ability. Assuming the Giants' offensive line can block the run better than it did in 2011 (which really shouldn't be very difficult), I believe 2012 is the year in which that happens.
November, 30, 2011
11/30/11
8:48
AM ET
IRVING, Texas -- Cardinals running back Beanie Well's franchise-record 228-yard rushing performance against the Rams last week doesn't exactly strike fear in the heart of the Dallas defense.
"I heard he ran the ball well," defensive end
Marcus Spears
said, "but I watched DeMarco [Murray] run for 250-something on that same defense."
Wells' second 100-yard game of the season was at least impressive enough to get the Cowboys' attention.
The Cowboys have played well against the run most of the season, including the last two weeks. But you don't have to go too far back for evidence that this defense can get gashed.
The Cowboys allowed 185 rushing yards to Philadelphia's
LeSean McCoy
, 135 to Seattle's
Marshawn Lynch
and 114 to Buffalo's
Fred Jackson
over a three-week span. They don't want to let Wells add his name to the list of backs to crack triple digits against the Dallas D, and they anticipate he'll get plenty of opportunities.
"Guys play well," Spears said. "If you don't have an answer for them, they'll hurt you. We're not immune to that if we don't go out there and prepare to play. Obviously, it makes you pay attention, because if I was a coach and I ran for 250 one week, I'd probably try to run it the next week."
November, 15, 2011
11/15/11
12:15
PM ET
The Cowboys played their most complete game of the season on Sunday, beating up the Bills, 44-7, at Cowboys Stadium. We review in our weekly Beat Writers Recap.
*In our Stock Report we gave
Bradie James
a stock down for no tackles. A review of the game shows he unofficially didn't get any snaps on defense. James isn't very good in pass coverage and the
Buffalo Bills
like to spread defenses out with four and five receiver sets. Buffalo lines up running backs
Fred Jackson
and
C.J. Spiller
as wide receivers too. The Cowboys used five and sometimes six defensive backs in the game and had
Sean Lee
defend a running back if a DB didn't do it. It was interesting to see
Alex Albright
and
Bruce Carter
in garbage time at inside linebacker and not James. The Cowboys defensive coaches might give James more snaps when they see teams who don't spread them out as much. But no snaps at all vs. the Bills? Wow.
Update:
After another review of the game, we found James played one snap. A third and one with 17 seconds left in the first quarter. James lined up on the strong side as an outside linebacker. He was blocked on the play. Still, one play for James. Wow.
*
DeMarco Murray
does a lot of things we like. He's got great vision and knows how to pick his spots to move up field. When
John Phillips
was blocking linebacker
Nick Barnett
on a run, Murray cut inside to get more yardage because he saw a slight hole develop. When he gets in the open field he seems to need less space than
Felix Jones
to make defenders miss. Murray runs low to the ground and uses his balance well to keep defenders off balance when he runs. He's a smoother runner than Jones.
*
Tony Romo
attempted 26 passes on Sunday but his two best throws were at the start of the game. His third pass of the game went for 25 yards to
Jesse Holley
. Romo let the ball go with Holley's back to him, but he turned around and caught the pass over a shorter corner
Terrence McGee
. Romo's next pass, a 34-yard touchdown, came on a stop and go. Romo made the throw with
Dez Bryant
's back to him, it was almost like a back shoulder fade throw, instead it turned into a jump ball and Bryant made the play look easy when he jumped over
Leodis McKelvin
, another short corner, for the score.
*
Laurent Robinson
is a good receiver, who reminds me of Patrick Cryaton, now in San Diego. Robinson runs the correct routes, catches the ball and unlike Crayton, doesn't talk smack. (We don't mind smack talk, but Jason Garrett isn't a big fan). Here's another thing: Robinson does: He blocks on run plays. Murray's 25 yard run late in the second quarter was a result of him finding no room one side of the field and going to the other. Murray raced down the Cowboys sideline, there was Robinson blocking
Drayton Florence
.
* Best thing about
Terence Newman
's day is not the two interceptions, but how fresh he looked. Cowboys take Newman out from time-to-time to give him a breather. It's not because he's 33 or out of shape, he's in good shape. But a healthy Newman makes the Cowboys secondary so difficult beat agaisnt. The team has three athletic corners with speed and the safeties are strong physical tacklers.
*The return game is bad, just bad right now. Felix Jones is a player the Cowboys can use in this area. He did it his first two years in the league. The problem is the durability factor. Last year was the first where Jones didn't miss any games due to injury. If the Cowboys move Jones to kick returns, it's a risk because of his health but it can reward the Cowboys with a dynamic playmaker on special teams, something they don't have right now.
*Romo has eight touchdown passes and one interception the last four games. ... If James isn't getting any snaps on defense, or maybe one or two, what's the point of keeping him active on gamedays? Special team snaps. ... How come almost everytime Romo throws a pass to Holley he catches it? Can he get more offensive snaps? ... Remember all the discussion about the Cowboys offensive line and how it's struggling? Romo hasn't been sacked the last two weeks. ... Funny how teams forget to block
DeMarcus Ware
. He got a sack on the first play of the game when left tackle
Andy Levitre
blocked down.
November, 15, 2011
11/15/11
9:30
AM ET
By
Bryan Broaddus
| ESPNDallas.com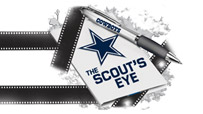 Jason Garrett has received much criticism for his play calling this season. In my view, not all of it has been fair because of the poor execution of the offense at times.
Garrett has struggled the most in the red zone, but on Sunday against the Bills, every play that he dialed up on his call sheet seemed to work just fine.
The DeMarco Murray Effect
I mentioned on 103.3 FM ESPN that not only has
DeMarco Murray
made this offensive line better, he has helped
Tony Romo
and made Jason Garrett a better play caller. The goal of any offensive coordinator is to stay ahead of the chains, no negative plays. Murray has allowed Garrett to calls plays at manageable downs and distances.
When you now study the Cowboys on offense, you do see the same plays: the draw, toss, and power. Garrett and this staff are running the same plays, they just have a back that is doing a better job of using his patience, vision and power to finish runs.
There are still plenty of times where
Montrae Holland
misses when he pulls or
Phil Costa
gets over powered on the front side or
Tyron Smith
doesn't quite get his head across the man on the backside. Murray's running style helps this offensive line when things aren't exactly blocked well or clean.
Something that I also want to point out about Murray that others have failed to mention is his ability as a pass protector. I counted three different times where Murray was asked to pick up a blitzing linebacker and all three times he was a square protector that did his job with solid skill and technique. One of the biggest things you worry about with rookie running backs is their ability to pass protect, but what you really worry about the most is their ability to block the right guy. Murray had no problem doing this.
Great grab: WR Robinson continues to impress
When the Cowboys signed wide receiver
Laurent Robinson
before the start of the season, I can honestly say that I didn't know much about his game or what he could have brought to the team. Robinson has been more than just a reliable third receiver. He functions well as the No. 2 guy.
Robinson has come in, learned the playbook and been super productive. Robinson runs nice routes and adjusts well to the ball on the move. More importantly, he has become a target that the quarterback feels very comfortable throwing the ball to in any situation.
PODCAST
Bryan Broaddus, official scout of ESPNDallas.com, breaks down the film from the Cowboys' impressive win over the Bills.

Listen

On his first of his two touchdowns against the Bills, the Cowboys go empty formation with three wide receivers and two tight ends.
Jason Witten
is lined up in line to the left,
Martellus Bennett
in line to the right.
Dez Bryant
is lined up wide right with
Kevin Ogletree
slot left and Robinson wide left. Romo is lined up in the shotgun, and by the alignment of the Bills defense, he knows that he is going to get pressure from his left side.
At the snap, Robinson is met two yards deep in the end zone by cornerback
Drayton Florence
, who carries Robinson deep into the end zone. Robinson feels himself getting cut off in route by Florence. Robinson, running hard to his left, stops after seeing that Romo has now rolled to his side. Robinson shifts his weight, and comes back to the right. Florence loses Robinson on the adjustment, allowing Robinson to gain space in the back of the end zone.
In the blocking scheme up front for the Cowboys, Witten is staying in to block, but it looks like he doesn't slide down inside with Free to pick up the safety
Bryan Scott
. Instead he is blocking on the outside on linebacker
Arthur Moats
. Scott now has a free run at Romo, who sees what is happening and spins to his left out of the pressure. Romo is able to square his shoulders and deliver the ball to Robinson in the back corner of the end zone with no one around him.
Nice adjust by Robinson, great read from Romo and the first of two touchdowns for a player that was picked up off the street before the season that is making a big difference in this offense.
Nowhere to run: Cowboys defense plugs the holes
There are times when you study an opponent and believe there are potential problems that you will have to deal with throughout the day if you are going to find a way to win that game.
My belief going into this game against the Bills was that they would give the Cowboys problems defensively with
Fred Jackson
running the ball and
Ryan Fitzpatrick
delivering it quickly from the pocket. I had seen the Bills move the ball with a wide-open attack that stretched defenses to their edges to defend the entire field. This is an offense that uses four- and five-wide sets that features screens and crossing routes at different levels.
The more I studied this Bills offense, the less I fully trusted that this Cowboys defense could truly defend them down after down.
On the other side, the Bills defense did not present that much of a problem from what I was able to observe. Sure this was a team that was ranked first in the league in takeaways but I felt that if the Cowboys protected the ball offensively, they could create some problems of their own.
Defensively, the biggest question for the Cowboys was whether the run defense could contain Jackson, who on tape played with impressive power and explosiveness. He was one of those backs that made you pay if you were not in good position to make a wrap-up tackle.
In the previous two weeks, the Cowboys really struggled in the stopping the run. The primary problem was at defensive end, but run fits with their linebackers were an issue as well. When you have outside linebackers like
DeMarcus Ware
and
Anthony Spencer
, they want to get up the field in a hurry. This puts pressure on your ends to hold the point of attack while taking on blocks.
Kenyon Coleman
,
Marcus Spears
,
Jason Hatcher
and
Sean Lissemore
had been getting moved off their spot and not stacking the point of attack.
When the ends are able to hold that point, it makes the jobs of
Sean Lee
,
Keith Brooking
and
Bradie James
much easier to get to the ball and finish plays.
When I studied this Buffalo line, I was not impressed with their ability to get push but was impressed with their ability to stay on their feet and sustain their blocks. The Cowboys had success in the first half against Jackson, not allowing him any room to run or the lanes to make those cutback runs. Jackson is at his best when he can attack the hole and if nothing is there, then bounce the ball outside.
Spears and Coleman were able to hold the point and physically take the game to this offensive line, not allowing any type of movement. The Cowboys defensive ends were physical in this game and that is why the Bills were unable to move the ball in the first half when the game was still in the balance.
In the second half, Jackson was able to hit on some runs that were more a product of spreading the Cowboys out and defenders missing tackles.
Jay Ratliff
had a missed tackle in the hole, Lee was trying to get Jackson down with one arm and was unable to. Carter got trapped inside and out of position, which led to a good gain, and he also had trouble getting off a block on another play that helped Jackson pad his numbers.
After the game, Rob Ryan said not to worry about what we saw from the run defense. I tend to agree because of what I saw in the first half and the way the Cowboys played at the point of attack. As long as Coleman, Spears, Hatcher and Lissemore can hold up on the outside, then you will see a team that was best in the NFL against the run through the first six weeks.
Sean Lee was much more than a cast player
When Lee dislocated his wrist two weeks ago against the Eagles and had to sit out the Seattle game, there was no question in my mind that if the swelling would go down and the pain would lesson, he would attempt to get back on the field as soon as possible. There was not going to be any questions of Lee's toughness. It was a matter of whether trainers Jim Maurer and Britt Brown could fit him with a cast that allowed him to play.
What Lee played with Sunday on his left hand and wrist did nothing more than protect his injury. For a linebacker like Lee who is outstanding at playing with his hands, it truly was a handicap. Without the use of his fingers, Lee was reduced to a one-armed football player.
But what you have to remember about Lee is his incredible desire to get to the ball and also the football smarts that he possesses. A player that doesn't have these two traits would have been no good to his team with the condition he was trying to play under.
Lee had a plan to how he was going to tackle in this Bills game. He is so quick reading the play that it allowed him to almost hesitate just a bit to get his body in position to make the tackle with his shoulder. Once Lee was able to get close enough to the ball carrier, you could see him try to wrap his arms as quickly around the man as he could.
Lee played like he had no fear of using his hands, hurt or not. There were several times where as he was moving down the line, he was able to fire his hands inside, control the blocker, shed and make the tackle.
Watching him drop in his coverage and play in the red zone, you would have never known that he had a club on his hand. I mentioned before that he had one missed tackle of Jackson, but that was the only one that I saw. To his credit, he had an opportunity for several more misses, but it did not happen.
Going into this game, there was so much unknown of how Lee would be able to function in the defense and still be productive. At the end of the day, he was anything but a liability.
One mistake: Only 10 defenders on the field
The only touchdown that the Cowboys defense gave up against the Bills came with only 10 defenders on the field.
With the Cowboys leading 21-0, the Bills break the huddle with four receivers and one running back. Ryan counters with six defensive backs, two defensive linemen and two linebackers, which means there are only 10 players on the field.
In the previous two plays, DeMarcus Ware was not on the field and
Victor Butler
and
Alex Albright
were. At the snap, Lee, Hatcher, Ratliff and Spencer all rush. On the left side of the Cowboys defense, Bills wide receivers
Donald Jones
and
David Nelson
are lined up with Nelson in the slot and Jones outside.
Frank Walker
is lined up over Jones with
Orlando Scandrick
on Nelson and safety
Abram Elam
two yards deep in the end zone.
When the Bills receivers break off the ball, Elam and Scandrick switch responsibilities. Jones carries Walker into Scandrick. Elam has Nelson on the goal line. Fitzpatrick, feeling the rush, sprints to his right. Jones is now open in the back corner of the end zone but Fitzpatrick makes the more difficult throw to Nelson, who is covered well by Elam. Nelson is able to snatch the ball away from Elam and gets into the end zone for the touchdown.
Garrett wouldn't say what happened on the play, but I have to feel like that either Ware or one of the backup linebackers were not on the field when they were supposed to be.
November, 12, 2011
11/12/11
10:30
AM ET
IRVING, Texas -- Buffalo's
Fred Jackson
wears No. 22 in honor of the running back he grew up idolizing,
Emmitt Smith
.
Jackson, who is third in the NFL with 805 rushing yards, has yet to meet the NFL's all-time leading rusher, but he hopes it happens.
"That's something I definitely want to do," Jackson said. "I think that's one of the things I'm going to try to do throughout my career is get in contact with as many of the greatest backs in the league as possible."
Jackson has yet to discuss Smith with his coach Chan Gailey, who said the running backs are different in that Smith had better lateral quickness while Jackson is a bigger back.
"But I'm sure that'll be something at some point at my career I'll definitely want to sit down and talk to him about," Jackson said. "Just to see some of the stuff he did coming to work. You always want to grow as a player. Who better to talk to with than your head coach who's worked with some of the best athletes in the world?"
November, 12, 2011
11/12/11
8:00
AM ET
By
Bryan Broaddus
| ESPNDallas.com
Cowboys run defense vs. Bills RB Fred Jackson:
After leading the league in rush defense through the first six weeks of the season, the Cowboys have done a poor job of playing the run the last two weeks.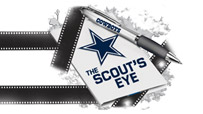 In those first six games, the front seven was rock solid in getting off blocks and tackling. Last week against the Seahawks, the linebackers were better, but still the biggest problem was how defensive ends
Marcus Spears
and
Kenyon Coleman
continued to struggle to get off blocks and play with a physical nature at the point of attack. When Spears and Coleman struggle in the running game, there are going to be problems because they set the edge by holding up blockers and allowing the linebackers to make plays.
Jackson presents a new challenge for the Cowboys' defensive front. When you study Jackson, you see a slasher that is able to make quick, explosive cuts. Jackson has the size to be physical finishing runs and can be dangerous when he takes the ball inside, then quickly bounces it outside. Jackson also shows the ability to run the ball inside with toughness.
The Bills' offensive staff will line him up all over the formation. There have been several plays where Jackson lined up at wide receiver, caught the ball cleanly, then made the defense have to make a tackle in space. Cowboys defensive coordinator Rob Ryan also has to be careful if the Bills spread his defense out and run the ball inside out of the shotgun with Jackson. Last week,
Barry Church
was used as a nickel linebacker and played well in that role, so this could be the answer that Ryan has for when the Bills try to spread out.
The Bills are not a physical offensive line and will struggle with consistent movement up front. If the Bills do have success running the ball, the focus will once again turn to the Cowboys' defensive ends.
Cowboys WRs vs. Bills CB Drayton Florence:
Last week against the Jets, Bills cornerback
Terrence McGee
went all over the field in coverage against
Santonio Holmes
. McGee is the best secondary player the Bills have. The defensive back that struggles the most is Florence, the starter on the right side.
The Cowboys need to try to stay away from McGee, who does a really nice job of running with his man, playing the ball in the air and tackling. Florence is the opposite player of McGee. He doesn't play with the same passion or intensity of McGee.
There is some softness in his game when it comes to defending the pass. Florence tends to give up slants or inside breaking routes. In both the Giants and Jets games he allowed easy access inside.
At one time, Florence had outstanding timed speed, but in the games I studied, players were able to run by him without much effort. Receivers were able to take him on vertical routes.
McGee is a good tackler, but Florence really struggles. Against the Eagles, he really had a problem with bringing ball carriers down in space.
The Bills will play press man, and
Dez Bryant
did a much better job fighting of that coverage last week. I look for the Cowboys to try and attack that side of the field with Bryant and the other receivers against Florence if a play needs to be made.
Cowboys OLB DeMarcus Ware vs. Bills LT Andy Levitre:
Levitre is normally the starter at left guard, but he has had to make the move to left tackle because of the injury to
Demetrius Bell
(shoulder).
This will be Levitre's third start at tackle and probably his most difficult assignment. Levitre likes to use his hands more as placement than as a puncher. The way tackles have had success against Ware is by making him have to restart his rush. Levitre really doesn't have the upper body strength to do that to Ware, but he does have good enough feet to work against him if Ware tries to take him wide.
There are two ways the Bills will try and help Levitre. The first would be what Seattle did -- keep extra blockers in on Ware's side. If that's the case, then
Anthony Spencer
will have to make plays like he did last week. The second and most effective way will be for quarterback
Ryan Fitzpatrick
to continue to get rid of the football quickly.
One of the best traits that Fitzpatrick has is taking the football and quickly firing it to the receiver. There are times where you do see pressure from the defense, but getting Fitzpatrick on the ground has been difficult. The Bills are first in the league when it comes to sacks per attempt.
Levitre is a much better guard than he is a tackle. If the Cowboys are able to get pressure on the Bills, it will most likely come from that left side of the line.
November, 11, 2011
11/11/11
1:54
PM ET
IRVING, Texas – Rob Ryan took a break from raving about Buffalo running back
Fred Jackson
to rip a Texas high school coaching legend.
Actually, Ryan doesn't even know the name of the coach whom he ripped. He just knows that Jackson was a backup at Arlington Lamar.
"They ought to fire that coach, by the way," Ryan said.
Informed that the coach in question is retired, Ryan replied: "He's retired? That's good. Because this guy's special."
We never got around to telling Ryan that Eddy Peach, the longtime Arlington Lamar coach, retired with 309 wins, the most in Class 5A history. Frankly, Ryan wouldn't have cared. He's too busy getting ready for a running back that he respects immensely.
Jackson made his way to the NFL via Division III Coe College and an indoor league. He's become one of the league's most productive backs, ranking third in rushing yards (803) and second in total yards (1,194) this season.
The kid who wasn't big enough to start for a loaded Lamar team has grown into a 6-foot-1, 215-pound bruiser.
"He's really tough. God, this guy is tough, now," Ryan said. "He takes on all comers. We purposely never showed some of the chip blocks he does on defensive ends because he leaves them on the carpet. He just blasts them, literally leaves them out there and getting carted off. So we have to watch out for that besides his great talent of running the football. …
"He runs the ball like Walter Payton used to where he just looks people up and runs them over. But he's also got the fleet feet where he can make people miss. He's a special guy and he's a special kid, too. I really like this guy, respect him and hopefully we can knock the crap out of him."
November, 11, 2011
11/11/11
9:00
AM ET
By
Bryan Broaddus
| ESPNDallas.com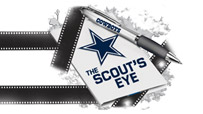 We all play this game in the media where you take the Cowboys' schedule when it comes out and go through it game by game, circling win or loss.
Then when you are done with that you make your prediction for the team's overall record, which is usually wrong. This year I had the Cowboys at 9-7 and not making the playoffs, but the Buffalo game was one that I had circled as a win.
I still believe the Cowboys will defeat the Bills at Cowboys Stadium on Sunday afternoon, but I have a feeling it will be a victory that they will have to fight to get.
Jackson leads versatile Bills offense
Offensively, the Buffalo Bills are led by Ryan Fitzpatrick, who isn't your typical NFL quarterback. He is not the most skillful athlete or passer, but he does a tremendous job of taking the snap and getting rid of the ball quickly.
The Bills' offense is similar to a college offense in the way they get in four- and five-wide receiver sets. They use running backs like C.J. Spiller as a wide receiver or wide receiver David Nelson as a move guy, like an H-back across the formation, and as a blocker.
The strength of this Bills offense is running back Fred Jackson. Jackson is most dangerous when he takes the handoff and attacks the line, then slashes to a hole on the backside.
[+] Enlarge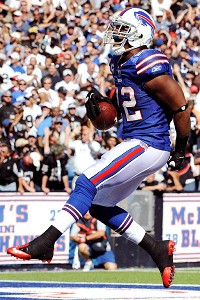 Richard Mackson/US PresswireFred Jackson has been running all over NFL defenses and is the key cog in the Bills' attack.
Jackson is athletic enough to make you miss in the hole. He can spin, cut and dodge defenders with the best of them. I saw plays where defenders had Jackson stopped, but he was able to start, stop, then restart again.
Jackson plays a lot lighter than the 215 pounds he carries. He will bounce the ball to the outside in an instant and has the vision to see where he needs to go and how to get in and out.
Jackson catches the ball with ease. He is used on screens and swings out of the backfield and even split out wide.
There was a nice design of a screen against Washington, where Jackson started his route to the outside from the backfield then planted his outside foot and broke to the middle, which allowed his linemen to set up their blocks. It was an easy throw for Fitzpatrick and a huge gain.
The Bills also can show a college look when they use third quarterback Brad Smith in the "Wildcat" formation. Smith has made a nice career as one of the best kick returners in the NFL, but he can be an effective quarterback throwing and more importantly running the ball out of the shotgun. Cowboys defensive coordinator Rob Ryan has to be careful on third downs with the Bills sneaking Smith into the game to run the scheme.
Receivers are reliable weapons for Fitzpatrick
At wide receiver, I mentioned what Nelson brings to the game with his ability to line up anywhere in the formation. Nelson in my view has the best hands on the team. He catches the ball away from his body and is natural doing it. Nelson is a deceptive route runner, so it looks like he is not running, but he is getting open. His height can make him a mismatch player, so the defensive back who covers him will have to be ready to be physical with him.
If Nelson has the best hands, Stevie Johnson is the best overall receiver when it comes to routes and getting open. Johnson is comfortable whether you play him in press or off coverage. He can get off the jam with nice technique. He's Fitzpatrick's best friend thanks to his ability to adjust to any type of pass that is thrown.
I only saw one drop by Johnson and that came against the Jets when he misplayed a slant. Usually Johnson eats those types of throws up because of the way he can position his body to keep himself between the defender and the ball.
Former Cowboys tight end Scott Chandler has also become a reliable weapon for Fitzpatrick in this offense. Chandler can get up the field, but he lines up more than just inline. The Bills like to flex him outside and try to give him space to operate.
The Cowboys have done a nice job this season when Ryan puts Frank Walker on the tight end. If the Bills try to move Chandler around, look for Walker to try to be right there with him, breathing the same air.
Offensive line misses injured starters
In the games I studied, the Bills' offensive line was struggling to replace injured starters. Andy Levitre was moved from guard to left tackle to replace Demetrius Bell, who has a shoulder problem and hasn't practiced all week. Levitre is not the biggest guy, but he battled the best he could.
Against the Jets last week, Levitre was beaten badly to the inside. He was much better against the Redskins the previous week.
Chad Rinehart was the starter in Levitre's place at guard. He struggled with a man on his nose with power and wasn't all that good as a puller. If Bell is not able to go and Levitre has to play at left tackle, watch the matchup on that left side. Against the Jets, Rinehart failed to adjust to a blitz, twist stunt that caused pressure on Fitzpatrick.
Center Eric Wood is a nice player, as is guard Kraig Urbik. Tackle Erik Pears is a much better pass blocker than run blocker. Pears can be overpowered at times, but his footwork is good.
The ability of Fitzpatrick to get rid of the ball quickly helps this line from giving up pressures and sacks. In the running game, they are not a physical group, but the slightest bit of crease can be taken advantage of by Jackson. It might be hard for Ryan to attack this offense because they like to spread you out. The key to this game will be how physical the Cowboys are with this line.
Defense isn't model of consistency
Defensively, the Bills struggle to get off blocks with any consistency. Rookie Marcell Dareus isn't playing like the explosive player from Alabama I studied on college tape last year. Kelvin Sheppard is a rookie starter from LSU who at times will be good reading the run and filling the hole and fighting the block. He gets into trouble when he doesn't read plays quickly enough.
If the Bills are going to get pressure on an offense in the passing game, it will be when they run twists inside with the defensive tackles in the nickel or inside linebacker cross-blitz stunts.
The Bills have a physical safety in George Wilson who is always around the ball. Wilson is a good tackler and he can cover a tight end. He will also be used as a blitzer off the back side.
Backup safety Bryan Scott is used in a role similar to the one we saw the Cowboys use Barry Church in last week. He will play as a nickel inside linebacker and is much better in coverage than he is against the run, unlike Church, who made his best plays taking on blockers and getting to the ball.
The Cowboys need to take advantage of Scott when he is in the game by running the ball right at him. He doesn't play with the physical style of Church, which hurts the Bills in this area.
In my scouting view, the best defensive player on the Bills is cornerback Terrence McGee. Last week against the Jets, McGee went all over the field covering the Jets' Santonio Holmes. McGee can cover well and does a nice job in the slot. He is solid playing the ball in the air and is a willing hitter.
On the other side, Drayton Florence is not as good as he needs to be and I now understand why the Bills drafted Aaron Williams out of Texas with an early second-round pick. Florence plays way too soft and he will give up routes to the inside. He doesn't do a good job of defending the slant. In the Jets and Giants games, receivers had an easy time getting inside on him.
The Giants' Hakeem Nicks was also able to take him vertically down the field. One other thing noticable about Florence is that he really doesn't like to tackle and he is not that good at it when he gets the chance. Watch for the Cowboys to work the ball to his side of the field and make him play in this game.
In the three games I studied, the Bills had four interceptions. It was amazing the amount of tipped passes they were able to come down with. In the Jets game, Mark Sanchez had one get knocked up in the air off Plaxico Burress that ended up in the defense's hands. Defensive end Alex Carrington tipped a Michael Vick screen that ended up being picked off. On the other two, Sanchez overthrew his man in the end zone, and Chris Kelsay was able to put pressure on Vick to cause a poor, off-balance throw.
Offense will put Cowboys to the test
If the Cowboys are going to win this game, it's going to come down to how well Rob Ryan's crew matches up with the Bills' offense. I believe the Cowboys' offense will be fine, but it's the Bills' offense that I worry about.
The Cowboys have really struggled the last two weeks in run defense when the defensive ends were pushed inside or tied up on blocks. Marcus Spears and Kenyon Coleman will need to play much better than they have the last two weeks.
I don't see the Bills being powerful enough to physically go toe to toe with the Cowboys, but I didn't think that Seattle could, either. Jackson is an outstanding back and is the type of player that will come at you all day. Getting pressure on Fitzpatrick will be tough, but if they don't tackle Jackson, pressure will not matter.
Offensively the Cowboys will make plays against the Bills defense. The key for the Bills is creating turnovers, as it has been in their five victories.
On Sunday afternoon, the Cowboys will need to be the more physical team on both sides of the ball. And I think they will.
November, 10, 2011
11/10/11
10:40
AM ET
IRVING, Texas -- Imagine if you came home one day and your house was replaced by a $1.2 billion football stadium.
Welcome to Fred Jackson's world.
Jackson will play at Cowboys Stadium Sunday as the NFL's third-leading rusher on the very spot he once played touch football as a kid with his friends.
"It was a lot of fun," said Jackson, who did not even star at Arlington Lamar High School. "We were young kids playing football out in the middle of the street. It will be good going back."
He grew up an
Emmitt Smith
fan and wears No. 22 in honor of the NFL's all-time leading rusher. Jackson has 803 rushing yards and 1,194 scrimmage yards. He is the first Buffalo back to average more than 100 yards a game through the first eight games of a season since
Thurman Thomas
in 1993.
"It's a homecoming. I've yet to play there," Jackson said. "I'm excited to play. Growing up in the state of the Texas you either want to play for the Cowboys or play against them. To get the opportunity to go down there and play, we're coming down with a really good team that's doing really well right now and we've got to win this game. You have to show up and play big."
The Cowboys are coming off back-to-back nightmarish games for the run defense. Philadelphia's
LeSean McCoy
ran for 185 yards and Seattle's
Marshawn Lynch
had 135 last week. Defensive end
Marcus Spears
called the work "terrible."
"Whenever a team runs the ball against you you've got to look at it that way," outside linebacker
Anthony Spencer
said. "If you can't stop the run in this league, it's hard to win games. Everybodu on this defense knows that."
It's up to the defense to ruin Jackson's homecoming.
November, 10, 2011
11/10/11
9:09
AM ET
IRVING, Texas -- Sorry for the delay, but this week we bring you Mark Gaughan of the Buffalo News in our weekly The Other Side post to break down the Bills' 5-3 start.
Archer -
Jerry Jones has said he regretted firing Chan Gailey after two seasons, how has Gailey gone about turning things around apparently in his second year with the Bills?
Gaughan -
The Bills had been in a decade-long offensive slump before Gailey arrived. They've finished in the bottom eight in the NFL in yards gained eight straight seasons entering this year. ... Gailey has brought a cohesive offensive philosophy and identity to the team, which was sorely lacking under previous coaches. The Bills have aimed to get bigger and more physical on the offensive line. They've changed personnel to reach that end. They have utilized the spread offense. ... But they're not as much of a pass-happy spread as some teams. They've kept a good commitment to run out of the spread. Gailey has adjusted to his personnel, and he has squeezed great production this season out of unheralded players.
Archer -
Fred Jackson
is coming home this week and I don't know the people in Arlington knew he could be this good. How is he doing it?
Gaughan -
Jackson has been underestimated throughout his career because he's not a "speed" back. But don't be mistaken, he is a big-time talent. He's a big man, and he runs with great strength. He has a great ability to get yards after contact. He has incredible vision.
Archer -
How much of a revelation has
Ryan Fitzpatrick
been and are you surprised at the amount of an extension he received?
Gaughan -
You can't knock the results Fitzpatrick has produced since being paired with Gailey. In his first 16 games as a starting QB in Gailey's offense (through the first 3 weeks of this season), Fitzpatrick passed for 3,841 yards, with 32 touchdowns and 18 interceptions. ... His contract extension makes him the 16th highest paid QB in the NFL. It's very similar to the deal Kansas City gave
Matt Cassel
. ... It's the cost of doing business in the NFL.
Archer -
Dave Wannstedt won a Super Bowl here. What has he meant to the Bills defense?
Gaughan -
The Bills defense is improved this season, so there's no doubt he has helped (as have
Marcell Dareus
and
Nick Barnett
). ... Wannstedt is the assistant head coach and inside linebackers coach. He is Gailey's right-hand man and he helps defensive coordinator George Edwards put together the game plan. So he has a ton of input. Edwards calls the defensive plays.
Archer -
Clearly
Scott Chandler
is doing something right. He couldn't get on the field with the Cowboys. Is it a product of the right time and right place for him?
Gaughan -
Everyone would agree there's no shame in the fact Chandler could not beat out
Jason Witten
. Chandler can move pretty well for such a big man (he's 6-7) and he is a better than average blocker at tight end, too. So that has been a huge addition to the Bills' offense, which has not had a tight end of note since 2001. Chandler is a big target and an asset in the red zone.
October, 27, 2011
10/27/11
9:05
AM ET
Five-star question:
Will
DeMarco Murray
gain 100 yards against Philadelphia' 23rd-ranked run defense?
This does not mean DeMarco Murray will be a one-hit wonder, but he will not reach the century mark Sunday at Philadelphia a week after setting the franchise record for rushing yards in a game with 253 against St. Louis.
Philadelphia is allowing 4.8 yards per carry and is allowing 123.8 yards a game on the ground. Atlanta's
Michael Turner
(114), San Francisco's
Frank Gore
(127) and Buffalo's
Fred Jackson
(111) put up more than 100 yards against the Eagles. St. Louis
Cadillac Williams
had 91 yards.
Leaky does not begin to describe the run defense.
But Washington's leading rusher was
Ryan Torain
, who had 22 yards on 10 carries, in Philadelphia's last game. Maybe, just maybe the Eagles are beginning to figure out how to play this "wide nine" scheme, although they did not practice during the bye week.
Murray was amazing against the Rams and I don't care that the Rams had the worst-ranked run defense. That many yards in any game against any team in any league is a terrific feat. He deserves all of the accolades he has received.
But this is a road game and the Cowboys have had one 100-yard rusher in their last 18 road games.
Tashard Choice
had 100 yards against Indianapolis last year. They did not have a 100-yard rusher away from home in 2009.
I'm sensing a trend, which is why Murray will not reach 100 yards Sunday.
October, 14, 2011
10/14/11
12:30
PM ET
»
NFC Final Word
:
East
|
West
|
North
|
South
»
AFC
:
East
|
West
|
North
|
South
Five nuggets of knowledge about Week 6
:
Third-down monsters:
The first-place Redskins do a variety of things well on defense. For example, they are holding opponents to a 33.3 percent conversion rate on third downs. That's the best mark in the NFL, according to ESPN Stats & Info. Not only do they hold the line in most big passing situations, they've been able to actually move opponents backward. The Redskins have recorded a sack on 9.6 percent of opponents' passing plays this season, second in the league only to the Eagles, who are at 9.8 percent. In a lot of ways, the Redskins are the anti-Eagles -- a team that doesn't have as many big names on the roster but wins by minimizing mistakes and adhering to the basics and fundamentals. You know? Like tackling.
[+] Enlarge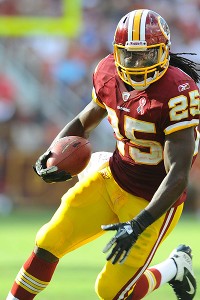 James Lang/US PresswireDon't be surprised if the Redskins use Tim Hightower and their other backs to run up the middle often against the Eagles.
Men in the middle:
How do teams run on the Eagles? Right up the gut. Our Stats & Info group says only the Titans have had to defend more runs up the middle than have the Eagles this season, and Philly is not doing it well. The Eagles have allowed 449 yards, 6.2 yards per carry, 21 first downs and four touchdowns on runs up the middle. Each of those figures ranks them dead last in the NFL. It's still unclear whether the Redskins will use
Tim Hightower
,
Ryan Torain
or
Roy Helu
as their primary running back in this game, but whoever it is, expect him to run right at the middle of the Eagles' defense.
Screened in:
Buffalo Bills
running back
Fred Jackson
has been one of the breakout stars of this NFL season, and one place he has really sparkled is as a pass receiver in the screen game. Jackson has caught 11 balls for 152 yards on screen passes, according to ESPN Stats & Info, which leads all NFL running backs in both categories. However, he's going to face a tougher test than usual this week, as the Giants have allowed just 22 yards to running backs on screen passes this season. Giants linebackers
Michael Boley
and
Mathias Kiwanuka
are likely a big part of this, as each has the speed and instincts to make plays against running backs in space.
Full-strength boys:
This should be the first time since the early portion of the Week 1 game that the Cowboys have had top receivers
Miles Austin
and
Dez Bryant
on the field and healthy at the same time. This should, obviously, be a benefit to Dallas quarterback
Tony Romo
, as six of his seven touchdown passes this season have gone to either Austin or Bryant. Romo has a completion percentage of 57.9 when targeting Austin or Bryant, versus 67.5 when targeting other receivers. But his yards per attempt are 10.7 when throwing to those two, as opposed to 7.7 when throwing to others. Also, three of his five interceptions have come on passes intended for receivers other than Austin or Bryant.
Ryan will be tryin':
The Patriots have scored at least 30 points in 13 straight regular-season games, which is one short of the record held by the 1999-00
St. Louis Rams
. The last team to hold New England under 30 was the
Cleveland Browns
in Week 9 of last season. The Browns' defensive coordinator at that time was Rob Ryan, who is now the Cowboys' defensive coordinator.
October, 4, 2011
10/04/11
1:02
PM ET
»
NFC Stock Watch
:
East
|
West
|
North
|
South
»
AFC
:
East
|
West
|
North
|
South
FALLING
1. The Philadelphia Eagles' playoff chances.
Three straight weeks, three straight blown fourth-quarter leads, and none worse than Sunday's giveaway to the 49ers that dropped the Eagles to 1-3. Now come the major injuries, specifically to
Trent Cole
and
Jason Peters
. Playing without their best defensive lineman and their best offensive lineman for the next couple of weeks could be the thing that does in the Eagles for good. I don't see how their run defense can hope to stop Buffalo's
Fred Jackson
this week, and without Cole, defenses can key on
Jason Babin
and keep the pressure off
Ryan Fitzpatrick
. The Eagles will have to hope to win a shootout in Buffalo, and the following week in Washington, I don't see how they keep
Brian Orakpo
and
Ryan Kerrigan
off of
Michael Vick
. Philadelphia is looking at the very strong possibility of being 1-5 at the bye, and that would mean its season is over.
2. Tony Romo, again.
He's apparently got to be on one half of this list or the other every week, and after he threw three second-half interceptions to cost the
Dallas Cowboys
their game against the Lions, he's back on the fans' bad side. People have asked me if the Cowboys should get a new quarterback, and I say, "Yeah. They should get the guy who played for them in Weeks 2 and 3." The "Romo Coaster" hit a dip this week, but it's sure to be back up (and back down) again several times before the end of this season.
3. Rex Grossman.
As the
Washington Redskins
embark on their bye week, there is understandable concern about their quarterback situation. Grossman seems determined to throw interceptions that keep games closer than they should be -- even when he's given very limited opportunity to do so. The Redskins are a run-first team that looks as though it would be a run-only team if it could be. Grossman is likely to cost them a game at some point, and when he does, don't be surprised to see
John Beck
get some time at the position.
RISING
[+] Enlarge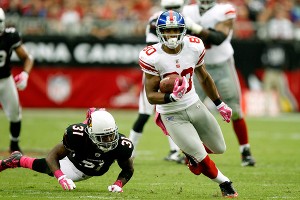 AP Photo/Paul ConnorsVictor Cruz followed up his breakout performance against the Eagles with six catches for 98 yards against the Cardinals.
1. Victor Cruz.
He was an official's rule interpretation away from serious goat status Sunday in Arizona, but the call went his way. And while his two-touchdown effort the week before in Philadelphia was his coming-out party, Sunday may have been even more significant.
Eli Manning
looked his way more, and he caught six passes for 98 yards. Manning has been looking for a receiver he can trust other than
Hakeem Nicks
, and he seems to like what he sees in Cruz. If that continues, and Cruz develops as a reliable threat, the
New York Giants
may have found their answer to Manning's preseason concern about the changes to the receiving corps.
2. Ryan Torain.
Kept stuck to the bench for the season's first three weeks while
Tim Hightower
and
Roy Helu
carried the ball for the Redskins, Torain broke out for 135 rush yards on 19 carries in relief of an injured Hightower on Sunday. Torain's injury history and Mike Shanahan's well-known preference for shuffling running backs keeps you from projecting Torain as a breakout star the rest of the way. But after the way he ran Sunday, it's going to be hard to send him back to the bench.
3. Tyron Smith.
Usually the risers come from winning teams, and Smith did up the sack to Willie Young that killed the Cowboys' final drive. But he'd played a brilliant game to that point, and the way the Cowboys' rookie right tackle has played so far this year deserves a mention. A question mark coming into the season, Smith has handled every one of his assignments with a veteran's skill. He kept the Redskins' pass rush in check in Week 3, and until the very end, he performed admirably Sunday against
Ndamukong Suh
and the Lions' fearsome defensive line. Don't be surprised if Smith and left tackle
Doug Free
end up trading places on that line before long. Smith clearly has all the ability he needs to be a top tackle in the league.