Dallas Cowboys:

Free agency outlook
July, 1, 2011
7/01/11
1:00
AM ET
The final installment of our free agent series looks at strong safety
Abram Elam
, who was with the Cowboys in 2006. Elam finished the 2010 season with Cleveland and could be someone the Cowboys look at when the labor issues settle.
Enjoy.
[+] Enlarge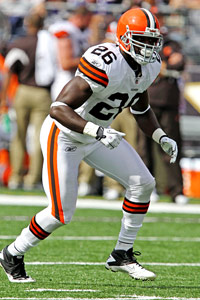 Mitch Stringer/US PresswireIf Gerald Sensabaugh doesn't stick around, the Cowboys could target Abram Elam.
ABRAM ELAM, SS,
CLEVELAND
Why him?
He's played for defensive coordinator Rob Ryan, and the front office and scouts know how he's improved his game from when he first entered the league. Elam was credited with 63 solo tackles, according to the Cleveland coaches' stats, and had 10 pass breakups, two interceptions and two forced fumbles. Elam is good against the run and can cover tight ends if needed. The biggest name among the free agents who play strong safety is
Gerald Sensabaugh
of the Cowboys. Sensabaugh is looking for a big contract, something the Cowboys might not be willing to pay. The team likes Sensabaugh but was slightly frustrated with his lack of coverage skills in 2010. There also seemed to be some communication issues in the secondary, and there was the brief skirmish with
Terence Newman
last year. The two quickly got over the incident. If the Cowboys pass on Sensabaugh, Elam appears to be one of their guys.
Is there anybody else?
Quite a few names. The Cowboys could try to keep Sensabaugh. If not, the Eagles' Quintin Mikell is an interesting option, as is the Jets'
Brodney Pool
. From a financial standpoint, Baltimore's
Dawan Landry
and Sensabaugh are the most expensive selections on the market, followed by Mickell, Elam and Pool. The Ravens could re-sign Landry quickly once the market opens, leaving the others to entertain other teams.
Key stat:
Sensabaugh was tied for the Cowboys team lead with five interceptions last season.
June, 30, 2011
6/30/11
12:15
AM ET
At the halfway point of our free agent series, we look at defensive end
Cullen Jenkins
. The Cowboys have some issues along the defensive line with three of their ends becoming free agents, and it's doubtful the team will re-sign
Marcus Spears
,
Stephen Bowen
and
Jason Hatcher
with a potential new financial system in place. With that, we now take a look at Jenkins.
[+] Enlarge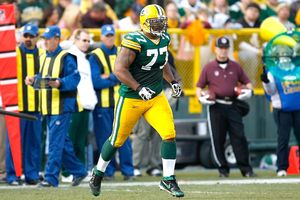 Scott Boehm/Getty ImagesCullen Jenkins had seven sacks for the Packers last season and would fit in the Cowboys' 3-4 defense.
CULLEN JENKINS, DE, GREEN BAY
Why sign him?
Jenkins has shown the ability to play in both the 4-3 and 3-4 scheme. In the Cowboys' 3-4, it wouldn't appear to be a problem to move him into the right or left defensive end spot. Jenkins has battled some injuries in the past, but last season he had seven sacks and was credited with 20 solo tackles according to the
Packers
coaches' review of the film. Signing Jenkins could also mean Bowen (if he stays) remains on the nickel in the defensive front, where he continues to excel. The Cowboys have young players
Clifton Geathers
and
Sean Lissemore
, who will enter their second seasons, as potential backups. Lissemore could use the mentorship of a seven-year veteran like Jenkins to help in his development.
Is there anybody else?
Yeah, but if the Cowboys stay away from getting an end on the open market who can contribute in a 3-4, then making sure they sign Bowen, Spears and or Hatcher is a must. It would seem the Cowboys know what they have in Spears, who has started for them since 2005. But Hatcher has underachieved, and Bowen could command a nice little payday on the open market.
Ray McDonald
of the
San Francisco 49ers
is an interesting possibility. He had five tackles for loss and 26 quarterback hits last season while backing up
Isaac Sopoaga
.
Key stat:
Bowen had four tackles for loss and 12 quarterback pressures last season.
June, 29, 2011
6/29/11
12:20
AM ET
The series you must read continues today with a look at
Philadelphia Eagles
guard
Nick Cole
. The Cowboys' starting left guard, Kyle Koiser, is a free agent, and while he did have a good season, he's 32, and the team might go with a younger player: Enter Mr. Cole.
Here's a look.
[+] Enlarge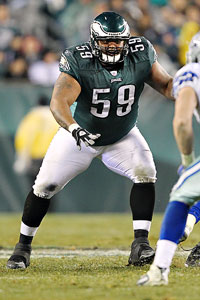 Hunter Martin/Getty ImagesNick Cole can play both guard positions and even center and could be an attractive option for the Cowboys.
NICK COLE, G, PHILADELPHIA EAGLES
Why sign him?
Cole can play both guard positions and even center. He's younger -- turns 27 in July -- and while the team does have fourth-round pick
David Arkin
, the Cowboys haven't done a very good job developing offensive linemen in the past. So who knows if Arkin can play? Cole can not only replace Kosier, who turns 33 in November, but there's a chance he can take over for
Leonard Davis
at right guard. The Cowboys have been frustrated with Davis' play in the past -- he was even benched during a game last year -- but did return and finished 2010 strong. In a pinch, Cole can fill in for center
Andre Gurode
. Cole started one game at center in 2010. The interesting thing about Kosier is the amount of years he would want on a new contract. Do you give Kosier a three-year deal where he'll be 35 at the end of it? Or go for a younger product in Cole?
Is there anybody else?
The Cowboys could stick with Kosier; he might sign a three-year deal. If Arkin develops, the team can always cut Kosier. Cole dealt with knee problems last season and that could be a red flag for the Cowboys, as well. If the Cowboys can't sign Cole or Kosier,
Atlanta Falcons
guard
Justin Blalock
is available on the market. Blalock probably wants a bigger contract than Cole, but he's started every game the last three seasons. He's improved every year he's been in the league and he's a good charatcer guy.
Key Stat:
Kosier has missed 16 games the last three seasons due to injury.
June, 28, 2011
6/28/11
9:08
AM ET
PODCAST
Warren Sapp shares his thoughts on Raiders free safety Michael Huff and new Cowboys defensive coordinator Rob Ryan.

Listen

Our free agent series continue with a look at
Michael Huff
. He's a popular name in the Dallas area because he's from Irving and went to the University of Texas.
And like yesterday's subject
-- Nnamdi Asomugha -- Huff has played for new defensive coordinator Rob Ryan.
MICHAEL HUFF, FS, Oakland
[+] Enlarge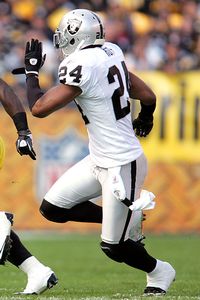 Charles LeClaire/US PresswireMichael Huff made great strides blitzing from the free safety position, finishing with four sacks and seven tackles for loss.
Why sign him?
He's coming off one of his best seasons, finishing third on the team with 84 tackles, four sacks, seven tackles for loss, three interceptions, three forced fumbles and seven pass breakups. Huff made great strides blitzing from the free safety position and improved his cover skills. Signing Huff could be an expensive venture, because one would think the Raiders would like to retain him. If the new salary cap rules take effect, NFL teams have to spend at least 90 percent of the $120 million cap -- and the Raiders are far below that.
Huff seems like an upgrade over
Alan Ball
, who at times looked lost while playing free safety last season, and he'll eventually move back to cornerback. The Cowboys have had problems signing safeties to big money deals in the past.
Roy Williams
and
Ken Hamlin
performed below the Cowboys' standards after inking huge contracts. It would seem Huff is in his prime and could be different.
Is there anybody else?
Eric Weddle
from the
San Diego Chargers
is a possible target. The Chargers coaching staff credited Weddle with 93 tackles, which led the entire secondary and was second on the team to former Cowboys linebacker
Kevin Burnett
(124). Weddle played well against the run this past season and is a good tackler as evident by his seven tackles for loss.
Key Stat:
Ball started the first eight weeks of the season without a pass breakup.
June, 27, 2011
6/27/11
9:45
AM ET
In about three weeks, maybe sooner, the NFL will get its act together, end the lockout and league business -- including a free agency frenzy -- will start immediately.
The Cowboys have several holes, and tried to fix some through the NFL Draft. But free agency will be another another avenue to regroup from last season's 6-10 disappointment.
Over the next five days, we'll look at five potential free agents the Cowboys should try and sign.
NNAMDI ASOMUGHA
, CB, Oakland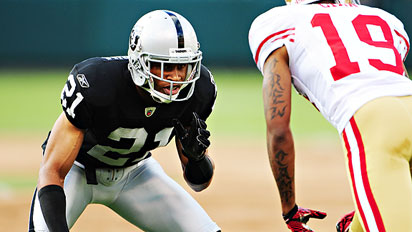 Kyle Terada/US PresswireFree agent cornerback Nnamdi Asomugha had no interceptions and just six pass breakups last year, but that's because opposing teams mostly refused to throw his way while covering their best receiver.
Why sign him?
He's one of the best cover corners in the game. Quarterbacks don't throw his way, as evident of his zero interceptions and just six pass breakups last year. He's a defender who takes out the opponents' No. 1 wide receiver and can work all over the field. If the Cowboys sign him, it's going to cost them as he'll likely command a salary of about $7 million to $8 million a year. To make this happen, the Cowboys will have to let high-priced veteran
Terence Newman
go.
Newman, who turns 33 in September, is coming off a season which wasn't his best on the field. It makes you wonder if he's starting to slow down. Adding Asomugha would put pressure on fellow cornerback
Mike Jenkins
and slot corner
Orlando Scandrick
to produce because offenses will avoid Asomugha. Of course, defensive coordinator Rob Ryan knows all about Asomugha, having working with him for a few years. So if the Cowboys do pursue Asomugha, Ryan has all the knowledge necessary for the front office.
Is there anybody else?
Of course. A cheaper version is
Ike Taylor
, who gave up just one touchdown last season, according to Pro Football Focus. The Cowboys could stay away from this position entirely and just go with their current group. Cowboys owner and general manager Jerry Jones said previous Pro Bowl appearances from Newman and Jenkins gives him hope they can return to their Pro Bowl ways.
Key stat:
Newman and Jenkins combined for 19 pass breakups in 2010.