Dallas Cowboys:

Gabe Carimi
April, 26, 2013
4/26/13
9:30
AM ET
IRVING, Texas – The Cowboys are hoping
Travis Frederick
will continue a tradition set forth by Wisconsin offensive linemen in recent years.
PODCAST
Arkansas head coach Bret Bielema, who coached Travis Frederick at Wisconsin, joins Fitzsimmons & Durrett to discuss what kind of player the Cowboys got with their first-round pick in the NFL draft.

Listen

Joe Thomas
,
Gabe Carimi
,
John Moffitt
,
Kevin Zeitler
and
Peter Konz
have been high picks in recent years and have had different degrees of success.
"I think that having that tradition helps continue that tradition," Frederick said. "That tradition is one of the reasons why I chose to go to Wisconsin, just knowing that such great offensive linemen have come out of there and would probably or hopefully give me the opportunity if I worked as hard as I could to be in the situation that I'm in today. I'm excited to join that long line."
The Cowboys' recent history with Badgers offensive linemen isn't so good.
In 2003, the Cowboys drafted
Al Johnson
in the second round, and they took
Bill Nagy
in the seventh round in 2011. Johnson missed his rookie year because of a knee injury that subsequently cut his career short. Nagy won a starting job in part by default, but he suffered an ankle injury and was cut during training camp last summer.
"You certainly go case by case and evaluate the player," coach Jason Garrett said, "but there is no question there is a tradition of offensive linemen coming out of Wisconsin. There is a long-standing tradition, but there is also a recent tradition. What that does is allow you to talk to people that know these guys well and compare them to people, 'Hey, compare him to this guy, compare him to that guy. You had him two years ago, how does he stack up?' Those conversations are real because guys who've been around these guys day after day after day can make great evaluations."
October, 2, 2012
10/02/12
12:55
PM ET
IRVING, Texas -- Raise your hand if you thought
DeMarcus Ware
would be able to make
Jay Cutler
cuss out his left tackle
J'Marcus Webb
even more than he did a few weeks ago on Monday?
PODCAST
Cowboys LB Sean Lee discusses the play of the defense, focusing on their mistakes during the bye week and more.

Listen

In this week's Look Back,
Chicago
did its best to make sure Ware would be contained.
Of the seven possessions by Chicago (not including the two kneel downs and a three-and-out when the score was 34-10), the Bears made sure they knew where Ware was and mostly made sure Cutler got rid of the ball. The one time he didn't Ware had his sack and fumble by chasing Cutler down from behind.
Ware has seen a backup tackle (Seattle was without
Russell Okung
) and a picked-on tackle in Webb and he has only been OK. His sack/fumble of Cutler on Monday was a huge play that gets lost when
Tony Romo
is intercepted (or fumbled) on the next play and is returned for a touchdown by
Lance Briggs
Ware was singled up with Webb or right tackle
Gabe Carimi
14 times in his pass rush. Seven times they gave some sort of help to the tackles with either a tight end or running back. Four times Ware was in coverage. He was off the field for one of Cutler's passes to take a rest.
On Cutler's long touchdown to
Devin Hester
, Ware was singled up by Webb but Cutler was throwing away from Ware and drifted away from any pressure. On Brandon Marshall's big third-down catch on
Brandon Carr
, Ware was able to pressure up the middle but it was a quick throw. On Marshall's 31-yard touchdown, Ware got caught in the wash as he looped inside.
For those of you wanting to believe Ware doesn't make impact sacks, take a peek at how the Bears made sure they took Ware out of the game with shorter drops and quicker throws.
The secondary struggled to say the least against the Bears. A lot of the attention will go on Carr, but the Bears took advantage of the
Cowboys
' safety play.
They were able to work the middle of the field against the Cowboys' zone coverage to near perfection, especially with Marshall but
Alshon Jeffery
had his moments too.
Gerald Sensabaugh
might not want to look at the first drive of the third quarter.
Jeffery worked underneath for 14 yards against Sensabaugh. Marshall got him for 10 more a play later. And on Hester's touchdown, Sensbaugh jumped an underneath receiver when
Danny McCray
was already apparently in position.
Hester uses a double move to break free from
Morris Claiborne
, but the rookie corner looks like he is playing outside leverage and expecting help inside to the post. It wasn't there.
It wasn't just Sensabaugh either.
Mike Jenkins
was beaten by
Kellen Davis
for a 21-yard pickup on third down with the score 24-10. Davis opened up the corner route by taking Jenkins inside for a few steps. Sensabaugh was in position for that but Jenkins lost contact with Davis, giving up the outside throw.
For those of you wanting Rob Ryan to blitz more, witness Marshall's 31-yard touchdown. The Cowboys sent seven guys at Cutler, including Claiborne off the corner, and could not get home. Carr got caught up with Davis and McCray underneath, giving Marshall the middle of the field for what could have been the easiest touchdown of his career.
As Jean-Jacques Taylor noted this morning, this was another brutal game for the offense.
Jason Garrett was right about one thing: they were able to pick up yards in the passing game. The protection of Tony Romo was not that bad overall but Henry Melton's forced pick/fumble that led to Briggs touchdown was a back breaker.
Right guard
Mackenzy Bernadeau
was beaten to his outside shoulder and caught off balance. He tried to push Melton by as Romo climbed the pocket but Melton was able to poke the ball free. I have a feeling this will be called a fumble after an official review of the play by the league and not an interception even as Romo was looking to flip the ball to
Jason Witten
.
That was a huge play, but the line's pass protection was good enough. The Bears brought five-man or more pressures nine times and Romo completed 8 of 9 passes.
Romo will want a couple of throws back and we're not talking about the interceptions in the second half. We're talking two touchdown throws.
The first came in the second quarter. He missed
Dez Bryant
on a deep ball down the seam on man-to-man coverage after Felix Jones' motioned wide to open up the throw. Romo either did not put enough air under the ball or threw it too early.
The second came in the third quarter with the Bears leading, 24-10. It was another deep ball down the seam, this time to
Miles Austin
. At the snap Austin beat the corner and the safety,
Chris Conte
, was late to cover up. Again Romo either didn't put enough air under the ball or threw it too early.
The running game was non-existent and it wasn't because the Bears were dedicating an extra defender to the box. They had only three eight-man fronts in the first half. The line could not get enough push. Simple as that.
But
DeMarco Murray
will lament a second-quarter toss play to the left. Jason Witten sealed the edge.
Tyron Smith
had Lance Briggs under control.
Kevin Ogletree
had safety Conte blocked and cornerback
Charles Tillman
took himself out of the play.
If Murray catches the toss from Romo, which was a good one, then he has a big gain. Maybe not a touchdown, but certainly a first down and perhaps his second-longest run of the season.
Making that hurt even more? Romo and Bryant had a miscommunication on the next play that led to Tillman's pick six.
April, 21, 2011
4/21/11
3:06
PM ET
»
NFC Draft Watch
:
East
|
West
|
North
|
South
»
AFC
:
East
|
West
|
North
|
South
Each Thursday leading up to the NFL draft (April 28-30), the ESPN.com blog network will take a division-by-division look at key aspects of the draft. Today's topic: Dream scenario/Plan B.
Dallas Cowboys

Dream scenario:
If the Cowboys play things the conventional way and sit tight at No. 9, they'll probably be looking at either defensive end
J.J. Watt
or offensive tackle
Tyron Smith
. Either one would provide good value or fill a big need, and the Cowboys would improve. But Dallas owner Jerry Jones doesn't always do things the conventional way. Although trading up to the top five might be difficult, Jones' imagination could heat up if LSU cornerback
Patrick Peterson
makes it past the first five picks. The entire Dallas secondary had a horrible year last season, and Peterson would provide an instant upgrade. Jones might not be able to sit still if he's within striking distance of Peterson.
Plan B:
If there's no chance at Peterson and the Cowboys aren't excited enough about Watt or Smith, they could reach slightly and take Nebraska cornerback
Prince Amukamara
. He's the second-best cornerback in this draft, and most mocks have him going somewhere in the teens. If the Cowboys like the player enough, it wouldn't be much of a reach to just take him. If another team is looking to move up for another player, the Cowboys could drop down a few spots and still have a shot at Amukamara.
Washington Redskins

Dream scenario:
The Redskins, who need a quarterback perhaps more than any other team on the planet, would love nothing more than for something bizarre to suddenly cause
Cam Newton
or
Blaine Gabbert
to start falling. It's not out of the realm of possibility. Carolina's leaning toward Newton but hasn't made a final decision. Even if the Panthers go with Newton, Buffalo could go with linebacker
Von Miller
at No. 3, and the word out of Arizona is the Cardinals probably are looking more for a pass-rusher than a quarterback. That would put the Redskins within striking distance on Gabbert, and general manager Bruce Allen and owner Daniel Snyder could try to move up to grab him. Or they could just take a chance that he'll be available at No. 10.
Plan B:
If Newton and Gabbert are gone, there's no quarterback worthy of the No. 10 pick. Defensive tackle also is a major need, but the Redskins could fill that in free agency. Snyder enjoys making a splash, and if he can't do it with a quarterback, he might do the next-best thing and take a guy who would catch passes from whoever ends up throwing them. With
Santana Moss
as a free agent and not much else in the receiving corps, Alabama's
Julio Jones
could be a very nice consolation prize.
New York Giants

Dream scenario:
The desperate need is at outside linebacker, but the only player who is really a sure thing is Miller, and he almost certainly will be a top-five pick. So the dream ends there and reality sets in, and the other reality is the Giants have big needs on the offensive line, where everyone but guard
Chris Snee
is starting to get old. Florida center/guard
Mike Pouncey
could really solidify the interior of the line, where the need is greatest. Tackles
Gabe Carimi
and
Anthony Castonzo
also could be possibilities as the Giants could consider moving tackle
David Diehl
to guard.
Plan B:
This may sound a bit off the wall because the Giants have decent running backs in
Ahmad Bradshaw
and
Brandon Jacobs
. But what if Alabama's
Mark Ingram
happens to be available? The Giants might have to consider him. He might be better than Bradshaw and Jacobs. Also, along the same lines, don't rule out the possibility of a defensive tackle like Temple's
Muhammad Wilkerson
if he's available. The Giants appear to be in good shape in the middle of the defensive line, but general manager
Jerry Reese
places a high value on having lots of depth, especially in the middle of the defensive line.
Philadelphia Eagles

Dream scenario:
In a perfect world, the Eagles would package their first pick (No. 23 overall) with quarterback
Kevin Kolb
and trade their way into the top five, where they would aim for cornerback Peterson. The Eagles have a desperate need for a cornerback to play opposite
Asante Samuel
, and Peterson is the only sure thing in this draft. But this is not a perfect world. Unless the lockout somehow ends between now and the start of the draft, they're not allowed to trade Kolb. If they stay put, the Eagles have to hope Amukamara somehow falls to them, or they might have to take a chance on Colorado's
Jimmy Smith
, who comes with some background questions.
Plan B:
The right side of the offensive line needs to be upgraded. Most teams stay clear of guards in the first round. But tackles Castonzo,
Nate Solder
and Carimi all could be available when the Eagles pick. Any one of them could step right into the lineup and start.
April, 6, 2011
4/06/11
8:00
AM ET
GABE CARIMI
Position:
OT
School:
Wisconsin
Scouts Inc. ranking:
No. 22 overall
Bio:
Won the Outland Trophy as a senior, when he was a consensus All-American and the Big Ten offensive lineman of the year. … Replaced No. 3 overall pick Joe Thomas at left tackle as a redshirt freshman. Made 49 starts in his career. … Civil engineering major who was four-time Academic All-Big Ten.
[+] Enlarge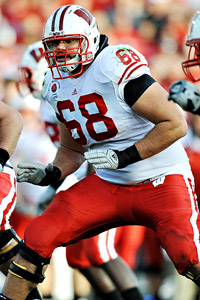 Patrick Green/Icon SMIWisconsin offensive tackle Gabe Carimi won the Outland Trophy largely because of his ability to lock onto and shove aside opposing blockers using his size and strength.
Size:
6-foot-7, 314 pounds
40-yard dash:
5.19
Arm length:
35 inches
Hand size:
10 3/8 inches
225-pound bench press reps:
29
Broad jump:
9-1
Vertical jump:
31 ½ inches
20-yard shuttle:
Did not run at combine.
Three-cone drill:
Did not run at combine.
Broaddus Breakdown (viewed Ohio State, Iowa and TCU games):
Played left tackle for the Badgers but in studying him, feel that he will have to be a right tackle in the league. … Mauler, brawler type of player that is a push/shove blocker. He will try to hammer his man at the point of attack with a physical punch, but there are times where he really lacks sustain to finish the block. Will try to lock onto his man then push him past the hole. … Gets into space but didn't show the balance to consistently strike his target. Did not do a good enough job in space on the screen. Slow to area then unable to finish, ending up on ground. … Thought there was some things that Iowa's Adrian Clayborn and Ohio State's Cameron Heyward were able to do to him with quickness that really gave him trouble. Got called for holding on the backside of a running play against Iowa because he didn't move his feet well enough. Clayborn did a nice job of using his hands to control Carimi, shed him then get in on the play. Was really on the edge of having good enough footwork to handle the speed and quickness of Clayborn's upfield rush. … Is strong enough to where if he does get his hands on you, can stop the defender in his tracks. Like Anthony Castonzo, will get overextended the longer he has to carry his set, but if you rush him down the middle, he will wear you out. Similar player to the Packers' 2010 first-round pick Bryan Bulaga, who started at right tackle for the majority of the season. … Again, see him as a right tackle only. Like the way he tries to physically beat his man up. Nowhere near the athlete of Tyron Smith or Nate Solder, but plays much stronger than any of the top tackles in this draft. If he has a weakness, it's the quickness of his feet.
January, 19, 2011
1/19/11
10:34
AM ET
It's the great Randy Galloway's birthday today. Not sure exactly how old he is, but I believe it's still in the double digits.
As a gift, I've decided to give Galloway the one thing he could never get on his own: a clue about what the
Dallas Cowboys
should do with the ninth overall pick in the NFL draft.
Galloway has been wasting ESPN 103.3 airtime – and space in an old-school medium – lobbying for the Cowboys to draft Auburn quarterback
Cam Newton
. This is proof that experience and wisdom aren't always a package deal.
The Cowboys have way too many holes to reach for a developmental quarterback. They have a franchise quarterback still in his prime in
Tony Romo
. You might make the argument that Romo needs the pressure that comes from competition, but that still wouldn't merit spending a first-round pick on a quarterback, especially one who is at least one or two years away from being ready to play in the NFL.
This is a team with glaring holes in the secondary and on the offensive line. They need to address one of those issues in the first round.
The Cowboys' approach with the ninth overall pick should be simple. If one of the elite cornerbacks slips, stay put and pick the guy, whether it's LSU's
Patrick Peterson
or Nebraska's
Prince Amukamara
. Slide them into the starting lineup and send
Terence Newman
packing, picking up significant salary cap space in the process.
If the corners, who are both in the top five on Scouts Inc.'s board, go as early as anticipated, it's time to trade down. Target the mid- to late teens. That's where the value is for offensive linemen.
Colorado tackle
Nate Solder
is the top lineman on Scouts Inc.'s board at No. 14 overall. There is a cluster after him: USC tackle
Tyron Smith
at No. 16, Florida center/guard
Mike Pouncey
at No. 17, Wisconsin tackle
Gabe Carimi
at No. 19 and Boston College tackle
Anthony Castonzo
at No. 22.
It'd be shrewd of Jerry Jones to pick up an extra pick or two, trade down and make one of those guys the first offensive linemen he's ever drafted with a first-round pick.
Drafting Newton? That's a ridiculous idea, even by the gray-hair, harebrained standards of Randy (and Jerry).
December, 21, 2010
12/21/10
9:00
AM ET
IRVING -- The Vikings' loss to the Bears created a six-team logjam for the No. 7 spot in the 2011 NFL draft.
The Cowboys, Browns, Texans, Redskins, Vikings and Titans are all tied with 5-9 records.
Next up for the Cowboys: The Arizona Cardinals, who are in a three-way tie with the Lions and Bills for the No. 4 spot in the draft.
The more the Cowboys win, the lower they'll draft in the first round. We believe that the Cowboys will be looking to draft a defensive back or offensive lineman -- both pressing needs -- in the first round.
Todd McShay ranked these corners with the highest grades before the start of the year: Nebraska's
Prince Amukamara
(95), Virginia's
Ras-I Dowling
(93) and
Janoris Jenkins
of Florida who got a 92.
Mel Kiper's Big Board, released earlier this month, had Amukamara at No. 5 and LSU's
Patrick Peterson
at No. 4.
At offensive line, McShay has Colorado tackle
Nate Solder
with the highest grade at 93. He's followed by Florida center
Rodney Hudson
(92) and Wisconsin's
Gabe Carimi
(91).
Carimi is No. 21 on the Big Board.
Here's what McShay had to say on our Insider Blog about Carimi:
"He's a better overall player now than the one I saw during preseason film evaluation. Carimi continues to improve his technique, especially his hand use, and he playing more under control and with better balance. In terms of athleticism in pass protection he's a notch below Jake Long when Long came out of Michigan, but Carimi is a very strong run blocker and at the very least will be a starting right tackle as an NFL rookie."
We're not saying the Cowboys can get any of these players, it's just interesting to know what's out there -- especially if the Cowboys finish at 6-10.
Last year, the Bills finished 6-10 and had the ninth pick of the draft and got running back
C.J. Spiller
.
What's available if the Cowboys should win their remaining two regular-season games and finish 7-9? Last year's case example: the Dolphins, Jaguars and Bears.
The Bears gave up their pick in the
Jay Cutler
trade to the Broncos, which picked 18th. The Dolphins would have drafted 12th, but they traded down. The Jags picked 10th.