Dallas Cowboys:

Golden Tate
March, 7, 2014
3/07/14
12:00
PM ET
IRVING, Texas -- It's Friday, so it's time for Part 1 of the
Dallas Cowboys
Twitter mailbag.
In it we talk about the salary cap, possible wide receiver additions in free agency and yoga. Yes, yoga.
Look for Part 2 on Saturday.
Away we go:
February, 19, 2013
2/19/13
11:45
AM ET
There were 31 wide receivers taken in the 2010 NFL draft, with the Cowboys moving up to select
Dez Bryant
out of Oklahoma State with the 24th pick. Looking at the receivers taken in that class and how they've produced, Bryant is emerging as the best of the bunch.
PODCAST
Ben and Skin discuss the hypothetical idea of trading Tony Romo, as outrageous as it sounds, and what impact it would have.

Listen

In three seasons, Bryant leads all the receivers in his class in yards (2,871), catches (200) and touchdowns (27). Denver's
Demaryius Thomas
is closest to him in yards with 2,268 and Tampa Bay's
Mike Williams
is closest in touchdowns with 23.
The Steelers'
Antonio Brown
(2,062 yards and seven touchdowns) has also shown himself to be a dynamic receiverk, and of course you can see the talent in Seattle's
Golden Tate
(1,297 yards and 10 touchdowns). But Bryant's big-play ability, given his increasing understanding of the offense, is making him the cream of the crop.
In terms of becoming one of the best receivers in the game, he's still needs more seasoning before he's mentioned with
Calvin Johnson
,
Larry Fitzgerald
and
Brandon Marshall
.
However, defenses are trying to take him out of game and forcing
Tony Romo
to find other targets. Bryant didn't get as many balls thrown his way as he could have because he was often double-teamed with a safety and a cornerback. Against the
Pittsburgh Steelers
, Bryant had a linebacker drop underneath him in coverage.
Former wide receivers coach Ray Sherman called Bryant a freak in terms of his abilities. Bryant has the best hands on the team and is the most physical receiver of the group.
Miles Austin
is probably more polished because he's played longer, but when it comes time to make big plays, or important plays, Bryant has emerged as a favorite of Romo.
Bryant finished the 2012 season in a three-way tie among receivers for the league lead with five fourth-quarter touchdowns. Minnesota's
Kyle Rudolph
and Marshall also had five fourth-quarter touchdowns.
If the Cowboys can depend on Bryant long term they have an outstanding talent that can become the focal point of the offense.
December, 4, 2012
12/04/12
11:00
AM ET
IRVING, Texas – It's on to the next one, and the next one being Cincinnati. Plenty of things to wonder about as we get ready to see old friends like
Terence Newman
, Mike Zimmer and
Adam Jones
this Sunday at Paul Brown Stadium.
** Jerry Jones said he was hopeful but realistic when addressing the Cowboys' playoff chances the rest of the way. I wonder if he will be realistic and honest about the composition of the roster at the end of the season. If the Cowboys fail to make the playoffs -- or even if they do qualify by a whisker -- he cannot look at a handful of plays and say, "We're close." He did that last offseason and has been convinced for far too long this team is close. Close to what? My belief is that every team is 8-8 at the start of the season and with good breaks you go 10-6 and bad breaks you go 6-10. Jones can't live on the what ifs of Dan Bailey's missed field goal at Baltimore and Dez Bryant's fingertips hitting out of bounds as a reason for optimism. There are too many people inside the building at Valley Ranch willing to tell the truth about a roster that could be blown up to a large degree this offseason. Can Jones, who is now 70, bear himself to make difficult decisions on players he likes and believes can win?
** I asked defensive coordinator Rob Ryan last Friday about why he just doesn't use cornerbacks
Brandon Carr
and
Morris Claiborne
in press coverage almost on every snap. I saw Miami do that with corners
Patrick Surtain
and
Sam Madison
in the early 2000s and eat up receivers. Ryan mentioned the league rules favoring offensive players as a reason why they don't do it more. OK, makes sense. But I wonder why the Cowboys invested $50 million in Carr and moved up to the No. 6 overall pick in Claiborne? The rules didn't change in the offseason. The Cowboys should live with aggressive mistakes on the outside with illegal contact and holding penalties because the way it is going right now is not working. Maybe Carr is banged up, but he's not on the injury report. Maybe the Cowboys worry about Claiborne's confidence, but they say that's not a problem for him. It's not too late. By playing off and soft as much as they are, the Cowboys are not helping the pass rush. Force the receivers to make a move off the line and then the pass rush is better. The way Ryan is playing his corners is further proof that a pass rush makes a secondary and not the other way around.
**
Kevin Ogletree
is about to enter the final four games as a Cowboy. Barring something unforeseen, I can't see the Cowboys signing him to a new deal as an unrestricted free agent, even if he remains a favorite of Jason Garrett and John Garrett, his college coach. I wonder why he remains the No. 3 receiver when there is no future. Ogletree returned Sunday from a concussion suffered against Cleveland and resumed his normal role with
Dwayne Harris
and
Cole Beasley
mixing in. Ogletree has taken too much heat for the offense's woes. As the No. 3 receiver, he is the fifth option at times in the passing game, but wouldn't it serve the Cowboys more to develop Harris and Beasley or mix in newcomer
Anthony Armstrong
in the final month? Harris is showing he can be counted on as a playmaker. Beasley has a niche role in the slot. The Cowboys like Armstrong's speed, which they could use to stretch things more outside in three-wide packages.
** While I'm wondering about the future, I wonder about
Jay Ratliff
's with the team. He's missed as many games as he has played this season because of ankle and groin injuries. He turns 32 in August and barring a major change in the final four games his sack total will go down for the fifth straight season. This is one of the difficult decisions potentially for Jones. Ratliff has been to four straight Pro Bowls but that streak will end this year. He has been one of the best late-round picks in team history. But this team has real cap issues and it is hard to justify a $7 million cap figure. The Cowboys would save $1 million against the cap with a straight release or $5 million with a June 1 release and carry over four million in dead money in 2014. With the way
Josh Brent
has played (at a much, much cheaper price) I wonder if the Cowboys head down this direction and look in the draft for a bigger nose tackle or go to a stop-gap measure in free agency.
** I wonder if the replacement refs will end up hurting the Cowboys by the time the season ends. The Hail Mary touchdown pass from Seattle's
Russell Wilson
to
Golden Tate
against Green Bay looms large in the Cowboys' wild-card hopes. That's why the Seahawks' win in Chicago on Sunday was hurtful to Dallas. They need Seattle to lose games, especially with the head-to-head loss in Week 2. In effect 7-5 Seattle has a two-game lead on the Cowboys with four to play. Had the replacement refs, which Jones showed much love to during their work, gotten the call right, then the Seahawks would not be in such a good postseason position in the final month. If cornerbacks
Richard Sherman
and
Brandon Browner
end up suspended, that will help the Cowboys as well. Of course, it's all moot if the Cowboys don't win their remaining games.
September, 19, 2012
9/19/12
3:50
PM ET
IRVING, Texas --
Seattle Seahawks
wide receiver
Golden Tate
was fined $21,000 for a blindside block on
Dallas Cowboys
linebacker
Sean Lee
, a source said.
Tate was not penalized for the hit, a crackback block that occurred when Lee was in pursuit of scrambling Seattle quarterback
Russell Wilson
.
"Crackback hits, that's not a definition of toughness," Lee said Wednesday. "A definition of toughness is hitting, squaring up, being able to do your job as hard as you can every single play. That's at least what I believe. Anybody can crackback block."
For more on the story,
click here.
September, 17, 2012
9/17/12
5:23
PM ET
IRVING, Texas -- A day after taking a peel-back hit from Seattle wide receiver Golden Tate, Cowboys linebacker
Sean Lee
was moving slowly but felt OK.
"Just game soreness," Lee said. "I'll be ready to roll."
PODCAST
Cowboys LB Anthony Spencer weighs in on the defense's physicality, the crowd noise in Seattle and more.

Listen

Lee was able to return to the game after missing a handful of snaps recovering. He is not concerned with whether Tate is fined by the NFL, but he wants the officials to be consistent with the call during the season.
"They'll deal with it," Lee said of the league. "I'm on to the next game. I'm more worried about how we're going to get better on defense and how we're going to improve on the mistakes we made."
The reactions of Lee's teammates to Tate's hit have come into question. Cornerback
Orlando Scandrick
approached Tate, who celebrated the hit by crawling on the ground and then pointing to the back of his jersey, during the delay in the game.
How would Jason Garrett want the players to react?
"It's a tricky situation," Garrett said. "You obviously want to compete. You want them to have each other's back, but you also have to have poise and composure. It's really important for us how to handle ourselves at the end of a down after a play like that. You don't want to compound a mistake. You don't want to add another 15-yard penalty to that. It's a tricky situation.
"It's a balancing act as a coach to tell them one thing and then tell them something that appears to be something opposite of that. But that's just the reality of it. You have to defend and then defend them in the right way. We have to trust the officials to take care of their job in situations like that and we've got to go play the next play and defend each other within the confines of the rules between the whistles."
September, 17, 2012
9/17/12
12:00
PM ET
SEATTLE -- Numerous Cowboys players said they didn't believe they were beaten up by the
Seattle Seahawks
on Sunday, but there were some questionable plays that might lead you to believe something dirty was going on.
Wide receiver
Golden Tate
's peel-back, blindside hit on linebacker
Sean Lee
in the fourth quarter drew the ire of the Cowboys' sideline. Rookie guard
J.R. Sweezy
was called for a chop block. And in the first quarter, something sparked mild-mannered nose tackle
Josh Brent
into a 15-yard unnecessary roughness penalty as he swung his arms at an opponent.
Several Cowboys players said they knew the Seahawks were a chippy team from film study.
"If you watch football, that's the way they play," defensive end
Jason Hatcher
said. "They cut, they hit you after the play, that's the way they're built. It's not a surprise to us. We knew it was coming. It was a war out there. At the end of the day, they won. So I'm just ready to put it behind us and forget about it and get ready for the next team."
The Cowboys have no choice but to move ahead, but could this setback linger?
"I still have confidence in our team," cornerback
Brandon Carr
said. "This is only our second game, and we're 1-1. We got a chance to look at the film and correct our mistakes and get better for next week."
After losing such a physical game -- more physical than the Giants game -- you have to wonder if the Cowboys underestimated their opponent.
Jerry Jones said he didn't think his team did and had plenty of praise for Seattle afterward.
Still, for the Cowboys to get beat up in this fashion was surprising.
"It didn't surprise me," outside linebacker
DeMarcus Ware
said, who also hit the ground after a blindside hit. "If you add 10 or 11 days to get ready for people and know what's at stake, you know what you're going against. And we knew. ... We were very prepared, and we didn't execute like you should."
September, 16, 2012
9/16/12
9:43
PM ET
SEATTLE -- Cowboys linebacker
Sean Lee
left the game briefly in the fourth quarter after taking a blindside hit to the upper chest by Seattle wide receiver
Golden Tate
.
Lee left his feet when he was knocked to the ground as quarterback
Russell Wilson
scrambled down field.
Cowboys owner/general manager Jerry Jones said he expects the NFL to review the play and possibly issue a fine.
[+] Enlarge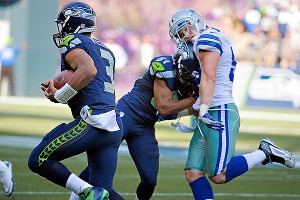 Max Faulkner/Getty ImagesCowboys owner Jerry Jones expects the NFL to review this hit on Sean Lee by Seattle receiver Golden Tate and possibly issue a fine. "I bet you if we went head-to-head and square up, he probably won't be celebrating as much," Lee later said of Tate.
"I'm sure they will," Jones said. "We saw the same thing you saw. That's certainly something we know or expect penalties and fines about. They didn't see the helmet hit or they would have called it."
A penalty was called during the sequence of events, but not against Seattle.
Linebacker
Bruce Carter
was flagged for pushing Wilson out of bounds, a questionable play because replays showed the quarterback with one foot in bounds.
Tate, meanwhile, celebrated the play by crawling on his knees and then pointing to the back of his jersey.
"That's part of the deal," Lee said. "He can celebrate all he wants. I bet you if we went head-to-head and square up he probably won't be celebrating as much. It's part of the deal and part of football, and hits like that happen."
Lee said he was hit in the chest and not the chin. The Cowboys' medical staff cleared Lee to return after he passed concussion tests.
Still, the hit irked the Cowboys because they thought it was questionable.
"It really pissed me off if you want to be honest," linebacker
DeMarcus Ware
said of the hit. "Anybody that sort of retaliates on any of the other players on defense, offense, you sort of got to take that mentality back to them. That's part of this game. It's a brutal game, but we didn't do that."
Tate wasn't asked about the celebration but noted, "I was just trying to hit him a little bit and get him on the ground."
When asked if he thought he would get penalized, Tate said, "I wasn't sure. I knew that I didn't hit him in his helmet. I hit him somewhere down here (Tate pointed to his chest). But the rules change so much that you never really know. I'm happy that it wasn't (flagged)."
Coach Jason Garrett normally isn't critical of the officials, and with the league using replacement refs, he's being extra careful of his comments.
"I didn't get a real complete explanation," Garrett said. "All the referee did was explain to me the penalty was in fact called at the end of the play on our guy on their sidelines. Again, that was a play in the ballgame but it probably had nothing to do with the outcome of this ballgame."
January, 22, 2010
1/22/10
10:32
AM ET
IRVING, Texas -- According to Jerry Jones, wide receiver will not be a draft priority for the
Dallas Cowboys
.
"We've got some receivers, enough where if I left the draft without a receiver, I'd sleep like a baby," Jerry said.
Believe that at your own risk. Jerry has a recent track record of fibbing when it comes to receivers.
You might recall Jerry talking in the spring of '08 about how
Terry Glenn
would play a significant role for the Cowboys. Glenn was cut on the first day of training camp.
You might recall Jerry denying in the middle of the '08 season that the Cowboys were trying to trade for a receiver. He pulled the trigger on a blockbuster deal with Detroit to get
Roy Williams
.
You might recall Jerry essentially assuring
Terrell Owens
' return last offseason. Weeks later, Jerry drew a line in the tablecloth and cut T.O.
Now Jerry says the Cowboys don't need to draft a receiver? It's almost enough to make me think Notre Dame's Golden Tate is going to the Cowboys with the 27th overall pick.