Dallas Cowboys:

Haloti Ngata
January, 19, 2014
Jan 19
10:05
PM ET
IRVING, Texas -- With the
Denver Broncos
earning their way to Super Bowl XLVIII,
Dallas Cowboys
tight end
Jason Witten
has earned a trip to the Pro Bowl.
Witten
Witten will replace Broncos tight end
Julius Thomas
and become the fourth Cowboy to head to Hawaii, joining left tackle
Tyron Smith
, wide receiver
Dez Bryant
and defensive end
Jason Hatcher
, who was added as a replacement for
Baltimore Ravens
defensive tackle
Haloti Ngata
.
While it will be the first Pro Bowl trips for Smith, Bryant and Hatcher, it will be Witten's ninth in 11 seasons. The only years he did not make it to the Pro Bowl came as a rookie in 2003 and in 2011.
Witten ties Randy White for the fourth most Pro Bowl appearances in team history. Only Bob Lilly (11),
Larry Allen
and Mel Renfro, who appeared in 10 each, have been selected to more than Witten.
Witten caught 73 passes for 851 yards and had eight touchdown passes in 2013.
October, 11, 2012
10/11/12
9:21
AM ET
IRVING, Texas – For this week's episode of The Other Side we check in with Aaron Wilson of the Baltimore Sun for his thoughts on the
Baltimore Ravens
as they prepare to get ready for Sunday's game against the
Dallas Cowboys
.
Archer:
Aside from last week's game at KC, it appears as if the Ravens have an offense that can take pressure off the defense. People always ask this nebulous question about the "next step," but has
Joe Flacco
taken the next step? If so, why? How?
Wilson:
What has changed about Joe Flacco is he's been granted greater command of the offense in terms of ability to audible and they implemented a no-huddle offense and have emphasized the shotgun formation, all things he did more of in college at Delaware. His deep-ball accuracy still isn't excellent, but it's much improved. He still has a tendency to stare down his primary read, which is what's happened on virtually all of his four interceptions. While Flacco has definitely improved overall, he still has a tendency to have inconsistency, on the road particularly, and will get into cold streaks where his fundamentals lapse. In Philadelphia, the pass rush of
Trent Cole
and
Jason Babin
affected him to the point where he was throwing off his back foot. Flacco seems to still be in the very good category with all the skills and capability to be great and is knocking on the door of getting to that point. He's just not totally there yet despite better personnel outside than he's had in the past. This isn't on Flacco, but his offensive tackle tandem of
Michael Oher
and
Kelechi Osemele
are holding back the offense a bit. They gave up a total of four sacks and eight quarterback pressures to
Kansas City Chiefs
edge rushers
Tamba Hali
and
Justin Houston
. That could be a problem obviously against
DeMarcus Ware
and
Anthony Spencer
.
TA:
Are we seeing a different Ravens defense? The Chiefs ran all over them. Is
Ray Lewis
slowing down finally? How much do they miss
Terrell Suggs
?
AW:
The defense is much different, and not in a good way. Traditionally stingy against the run, they were gashed by
Jamaal Charles
for 125 yards in the first half primarily through the use of the zone stretch play. Dean Pees' halftime adjustment of walking up the linebackers and shifting the defensive linemen wider was an effective strategy as Charles had only 15 yards on 10 carries after halftime. However, middle linebacker Ray Lewis looked slow in his reactions and got stuck to blocks. He had one hard hit, but that was in the fourth quarter on
Cyrus Gray
. Lewis has had some solid games this year, but he's also 37 years old. And it shows. Although he's lighter at 235 pounds, he's not as explosive as he used to be and doesn't get enough depth on his pass drops, which makes him vulnerable to tight ends' patterns. As tough and smart and great a tackler as Lewis is, he's been getting overpowered at times at the point of attack and beaten to the outside by faster runners like Charles and
Trent Richardson
. Terrell Suggs is definitely missed. The Ravens had no sacks against the Chiefs. Pees creates pressure by blitzing primarily. Other than Pro Bowl defensive tackle
Haloti Ngata
, one of the most disruptive interior forces in the game, hardly anyone is defeating blocks and getting to the quarterback. Ngata is commanding double-team attention regularly and still getting penetration. Without Suggs, this has become a bend-but-don't-break defense that still excels at getting turnovers and being stout in the red zone.
TA:
The Cowboys took
Felix Jones
in 2008. The Ravens took
Ray Rice
. Clearly the Ravens made out on that one, but just how vital is Rice to that offense?
AW:
Ray Rice is the centerpiece of the offense even though the Ravens are transitioning to a passing outfit. Rice is a dynamic open-field runner who plays bigger than 5-foot-8, 212 pounds. He's also a dangerous receiver out of the backfield and has good hands. This guy is tough, durable and fast. The Ravens are trying to preserve him as much as possible and not wear him out, but he rarely takes a hard hit because he's elusive.
TA:
Jason Garrett nearly got the Baltimore job a few years ago. Any idea how close he came to getting it over John Harbaugh?
AW:
The Ravens offered Garrett the job, showed his wife the local real estate listings and it was his for the taking with a fairly high salary offer. However, he declined the offer and it seemed like his tour of interviews was just him going through the motions and he had an arrangement or understanding all along with owner Jerry Jones to become the Cowboys' new head coach. The sense many got from Garrett during his visit is that he wasn't enthralled with the idea of coming to Baltimore. John Harbaugh wasn't the Ravens' first choice, but he impressed owner Steve Bisciotti and general manager Ozzie Newsome during the interview process and was vouched for by Andy Reid and Bill Belichick. They liked his personality and leadership qualities and unconventional special-teams background. He was unproven then and had never been a head coach before, but he has made the playoffs every year and won at least one playoff game and made two AFC championship game appearances. Harbaugh had to win over a tough locker room at first, too. The Ravens are happy with how things worked out, but they definitely respect Garrett and held a high opinion of him to give him that offer before later hiring Harbaugh.
TA:
The Ravens haven't lost at home in a long time. Is it the team? Is it the venue?
AW:
It's loud at M&T Bank Stadium, and the Ravens just seem to play with more confidence at home. On the road, they aren't the same team. They use the no-huddle less. The defense seems more vulnerable. At home, Joe Flacco has been markedly more accurate and efficient. Like most good NFL teams, they seem to thrive on a home-field advantage. It's a matter of intangibles, but the numbers don't lie since they've won 15 games in a row at home, including the postseason.
April, 30, 2012
4/30/12
11:52
AM ET
IRVING, Texas – The award-winning 5 Wonders is back for a post-draft look. Today we talk about
Morris Claiborne
,
Bruce Carter
,
Mike Jenkins
and the missing nose tackle?
** The Cowboys traded up for Claiborne because he was the second player on their draft board and they could not believe he slipped out of the top five. In 2003 the Cowboys drafted
Terence Newman
with the fifth overall pick and said part of the decision was based on Newman's return abilities. In nine seasons, Newman had 38 punt returns for a 7.5-yard average and one touchdown. They never really let him do it. I wonder if the Cowboys will let Claiborne return punts and/or kicks. He averaged 25 yards per kick return last year at LSU and had a 99-yard touchdown. He's not
Patrick Peterson
as a returner, but he could be a good one and the Cowboys' return games need to improve in 2012. Here's a bonus wonder: I wonder if
Dez Bryant
actually becomes more of a full-time returner this season. It's Year 3 for him and I wonder if the team will sign him to a second contract down the road.
** Claiborne's arrival has Jenkins' future in question. Jenkins is in the last year of his contract and is scheduled to make a little more than $1 million. He is also coming off shoulder surgery and as I wrote on Friday, the team is a little concerned at how much rehab time he's spending in Florida and not at Valley Ranch. But I wonder what you could get for Jenkins. The money is palatable but he will be an unrestricted free agent in 2013. And he's coming off major surgery and won't be ready until training camp. Jerry Jones likes to say a player's value is lowest at the draft, so they could not get equal value for Jenkins or close to it. I wonder if the Cowboys let Jenkins play out the year, hope he does well, signs a big contract elsewhere and then hope they can get a compensatory back in 2014. The team doesn't wonder about this (they say) but I wonder if they would like a do-over on Orlando Scandrick's contract.
** I have to take Jones' word for it that
Bobby Wagner
would've been the Cowboys' pick in the second round had the team not made the move up for Claiborne. But I wonder what that means about Carter, last year's second rounder. At every opportunity the Cowboys have said they liked how Carter progressed last season off a torn anterior cruciate ligament, that he met every goal they planned knowing that he was injured. Well, now he's healthy and I wonder if he's really a fit. The Cowboys added
Dan Connor
in free agency to a two-year deal and Jones said they would've taken Wagner, an inside linebacker. That would seem to be a little redundant, unless Rob Ryan is drawing up some sort of special scheme or maybe Wagner could play outside. There will be a lot of eyes on Carter during the organized team activities and minicamp.
** Where's the true 3-4 nose tackle? As good as
Jay Ratliff
has been, many of you want the Cowboys to grab a huge nose tackle and slide Ratliff to defensive end. That's why some fans wanted
Dontari Poe
in the first round or even Alameda Ta'Amu in the third round. I wonder if the need for that type of plugger is as important nowadays. Think about it. The NFL is a passing league and if you have a 330-pound nose tackle to stop the run, he will play about 30 percent of the snaps. Is it worth it? I don't know, but it looks like the Cowboys don't believe so. The good nose tackles in 3-4 defenses now also have some pass rush and flexibility, like
Vince Wilfork
or
Haloti Ngata
. Those guys aren't available all the time and run defense was not the Cowboys' downfall last year. I also wonder this: The Cowboys might be higher on
Josh Brent
than many people know.
** I wonder how many undrafted players make this roster. You can almost lock up Ronald Leary, the Memphis guard, after how Jones talked about him Saturday. Heck, you wonder if Leary could be a candidate to start. Last year four undrafted players made the 53-man roster and a fifth,
Raymond Radway
, would have if not for an injury.
May, 24, 2011
5/24/11
12:31
PM ET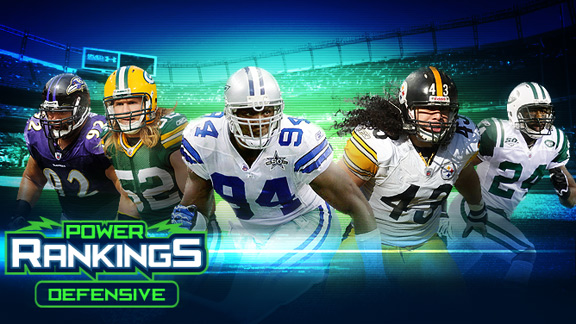 ESPN.com IllustrationTroy Polamalu (43) was the unanimous choice among our bloggers as the NFL's top defensive player.
During the unprecedented offseason of 2011, ESPN.com has ranked the top
pass-rushers
in the NFL. We've ordered
linebackers
, rated
cornerbacks
and chosen the league's top 10
safeties
as well. Now it's time to start putting it all together.
This week's challenge: Meld those four ballots into a single list of the NFL's 10 best defensive players. The subtle shift in parameters required us to consider not only a player's individual impact, but the overall importance of his position to the game.
Both in the draft and in the free-agent market, NFL teams place premium value on pass-rushers and interior defensive linemen. Other positions, most notably safeties, are relegated to secondary priorities. So in that sense, it's both remarkable and telling that
Pittsburgh Steelers
safety
Troy Polamalu
was the unanimous top choice of our committee.
"Troy has a skill set that I've never seen from the safety position," said AFC North blogger James Walker, who has covered Polamalu for years. "He has the hands, coverage skills and acceleration of a corner, but the instincts and timing on the blitz and against the run like a linebacker. When I've asked coaches to draw a comparison to another safety, they struggle to come up with a name, because there's really no one like him. [Steelers defensive coordinator] Dick LeBeau also deserves credit for building his defense around Troy, because that's really hard to do for a safety."
To what extent do NFL teams typically value safeties? Consider that in last month's draft, the first safety wasn't selected until midway through the second round (UCLA's
Rahim Moore
, by the
Denver Broncos
, at No. 45 overall). And in determining franchise tag numbers for a potential 2011 market before the lockout, the league was set to assign safeties the third-lowest figure among all positions, ahead of only tight ends and kickers.
One other safety made our list:
Ed Reed
of the
Baltimore Ravens
. But for the most part, the list was dominated by players known for getting to the quarterback. Our top pass-rusher,
Dallas Cowboys
linebacker
DeMarcus Ware
, ranked second.
Green Bay Packers
linebacker
Clay Matthews
, Pittsburgh Steelers linebacker
James Harrison
and
Chicago Bears
defensive end
Julius Peppers
were among our top eight.
NFC East blogger Dan Graziano rated Ware No. 7 overall and is braced for the wrath of his new readership, but I thought it was healthy and important to add a fresh view that didn't participate in our individual position rankings.
"Guys like Harrison and [Ravens defensive tackle Haloti] Ngata made more of an impression on me," Graziano said. "I certainly don't think calling someone the seventh-best defensive player in the league is any kind of insult. But from what I watched the past couple of years, I felt guys like that impacted the games in which they played more completely than did Ware. If I made a mistake, I'm certainly happy to own up to it and listen to the reasons why I was wrong."
In this debate, right and wrong mattered less than philosophy. Graziano, for example, rated
New York Jets
cornerback
Darrelle Revis
No. 2 overall and also included
Oakland Raiders
cornerback
Nnamdi Asomugha
at No. 8. On the other side of the spectrum, I joined NFC West blogger Mike Sando in choosing only one cornerback (Revis) and one safety (Polamalu). Sando, in fact, ranked Revis No. 9.
Neither one of us has any argument with the skills of Asomugha or Reed. But on a ranking of overall defensive players, we found it difficult to include more than two defensive backs.
"I moved down Revis and cornerbacks in general," Sando said, "for the same reason
Patrick Peterson
went fifth in the draft despite being arguably the best player available. It's just tougher for a cornerback to affect offenses the way a great front-seven player affects them. Quarterbacks can throw away from them."
Along those lines, Sando gave the highest vote for the player who topped our linebacker rankings,
Patrick Willis
of the
San Francisco 49ers
, placing him at No. 2. Willis finished No. 4 with votes ranking anywhere from No. 2 to No. 8
"Willis has no weaknesses and there is no avoiding him on the field," Sando said. "I've seen him return an interception 86 yards for a touchdown, knock out wide receivers with crushing hits, punish quarterbacks on blitzes and scrambles, lift a Pro Bowl offensive lineman off the ground in run support and just generally dominate. He was a serious candidate for the No. 1 spot on my ballot."
Matthews also received a wide range of votes, finishing No. 5 despite three ballots that placed him No. 2, including mine. Most of us considered Ware the top pass-rusher a few months ago, but a few believe Matthews is the better all-around player from the 3-4 outside linebacker position.
"Clay Matthews makes as many game-changing plays as any defender in the league," said NFC South blogger Pat Yasinskas, who joined the AFC South's Paul Kuharsky and myself on the Matthews bandwagon. "That makes him one of the league's best defenders in my eyes. And it doesn't hurt that his team has the Lombardi trophy at the moment."
Said Kuharsky: "Matthews is so dynamic and energetic it made it very difficult for me not to constantly circle back to him as I consider the highest-impact defenders in the league. That Seifert and Yasinskas also rate him second just goes to prove that what everyone says about those two is dead wrong."
A backhanded compliment from Paul Kuharsky? I can't think of a better line to close on.