Dallas Cowboys:

Herb Donaldson
September, 5, 2010
9/05/10
9:02
AM ET
Cowboys coaches, scouts and front-offfice personnel met Saturday night at Valley Ranch to talk about the 53-man roster.
While they officially had to get the roster together with the league by midday on Saturday, things are not over.
The organization could still make a move to the 53-man roster, and it has to put the practice squad together starting at 11 a.m. today.
Here are some moves that could happen.
Sam Hurd could still get traded or released.
Dallas tried to strike a deal for Hurd but just couldn't complete one. It's not over, with several teams looking for depth at wide receiver such as the
Minnesota Vikings
. One would think the Cowboys would not trade Hurd within the division or to a team competing against them for the NFC title. As an example of this, the Cowboys worked a trade with San Diego once they knew Philadelphia gained interest in
Patrick Crayton
.
There are receivers on the market that could be obtained at a cheaper rate than Hurd, who make $1.759 million this season. Whether those players can contribute on special teams like Hurd remains to be seen. If the Cowboys go with just four wide receivers entering the 2010 season, it wouldn't be the first time. In 2008, Dallas had four wideouts --
Terrell Owens
,
Roy Williams
,
Miles Austin
and Crayton -- to start the year. Hurd battled injuries at the start of that season before finally getting put on injured reserve with two months remaining in the season.
Martin Rucker, Junior Siavii and Cletis Gordon could return.
Gordon was the biggest surprise of the cuts on Saturday. He was penciled in as the fourth corner, but the Cowboys decided to go with six safeties and three cornerbacks. Gordon might get picked up by another team. If not, it's possible the Cowboys bring him back. Dallas also went with two tight ends,
Jason Witten
and
Martellus Bennett
, and in doing so had room for two fullbacks --
Deon Anderson
and
Chris Gronkowski
-- to make the roster.
The Cowboys wanted things to work out with Rucker as a third tight end so they could retain just one fullback. Rucker, after he was released by Tampa Bay for failing his physical, had a minimal impact with the Cowboys. He was getting better on the field and in practice but didn't have enough time to showcase himself. Dallas could revisit his status. Siavii was a strong candidate to back up
Jay Ratliff
at nose tackle. Last season, coach Wade Phillips said Siavii desreved more playing time.
The Cowboys drafted
Sean Lissemore
in the seventh round, and he battled a groin injury at the start of camp. He struggled to find a groove until the last preseason game, where he had half a sack and a quarterback hurry. Lissemore beat out Siavii somehow. Also, Josh Brent, who broke his hand early in camp, played with a cast that limited his ability to grab ball carriers and blockers. Brent said if he made the team the cast would come off. Well, Brent beat out Siavii too. In 2006, the Cowboys went with three nose tackles and it appeared they would do so again. They did; it's just not the combination we all thought it would be.
Practice squad bait
Every player cut doesn't want to sign for the practice squad. Players want to be active so they can earn more money. However, several players, including
Travis Bright
,
Teddy Williams
,
Bryan McCann
and
Mike Tepper
, could return to the practice squad. Dallas cut two backup running backs,
Herb Donaldson
and
Lonyae Miller
, and one of those players might go to the practice squad. Dallas can sign up to eight players to the unit.
August, 22, 2010
8/22/10
9:05
AM ET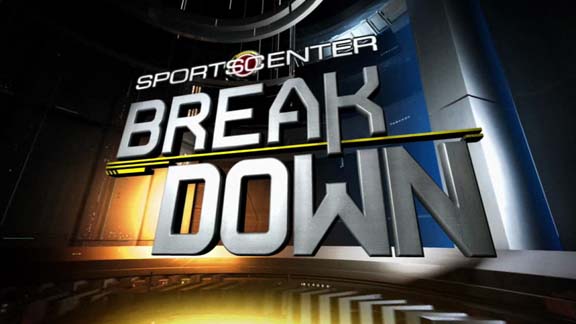 The Cowboys moved to 2-1 in the preseason as a result of their 16-14 victory over San Diego. The Chargers said they came after the Cowboys with blitzes and thought they were more physical than the visitors.
Jerry Jones agreed. There were two injuries, one of which gave someone quality playing time. Here's who played well and who didn't.
Stock Up
Martellus Bennett.
The young tight end is still playing with a swollen left ankle that looks like a softball. Bennett led the Cowboys in receiving yards with 40 on four catches, including a 19-yard touchdown reception.
Robert Brewster.
Who said
Tony Romo
was scared about Brewster starting at right tackle? He had few mental mistakes, but a false start in the fourth quarter was the only glaring mistake. Brewster did have some help on pass plays, but he also moved to left tackle in the second half and performed well.
Terence Newman.
Of the three turnovers by the Cowboys defense, Newman had a nice interception, jumping the route near the goal line on a
Philip Rivers
pass. Newman has performed well in training camp and in the preseason.
Cletis Gordon.
Fighting for a fourth cornerback spot, Gordon struggled at times, but he made a great play on the ball, something he's done all summer, when he picked off a
Jonathan Crompton
pass in the fourth quarter.
Barry Church.
Coaches tell young players that when your number is called, be ready. When
Gerald Sensabaugh
went down with a shoulder injury, Church moved to strong safety. He was credited with five tackles and a fumble recovery that set up the first offensive touchdown of the preseason for the Cowboys. Church ran 80 yards on the return. His status for the 53-man roster just got stronger.
Stock Down
Tony Romo.
He looked bad. He misfired two passes to
Miles Austin
. He threw off his back foot while under pressure, leading to an interception. He was hurt by two drops, by
Jason Witten
and Austin, and threw seven incompletions.
Miles Austin.
Yes, he did catch a touchdown. But he had a drop, and of the five passes thrown his way he caught just two. Austin has done an excellent job in training camp. But for one night, he didn't do so well.
Leon Williams.
If you're looking for linebackers to cut, this is one guy who might not be in Landover, Md., when the season starts. Williams looked lost on defense at times. When
Marcus Mason
scored on a 4-yard run, Williams had a chance to blow him up but he moved behind
Marcus Dixon
, who was engaged with a blocker.
Sean Lee.
The second-round pick looked a little lost out there. He was behind on some passes in the flat and was late in covering the tight ends. He did play a lot and as the game wore on and got better. We thought he was thinking a little too much and not reacting.
Herb Donaldson.
On four carries he gained just 8 yards. Donaldson had a chance to gain a first down by breaking a tackle by
Nathan Vasher
, but he didn't stay in bounds and stumbled out of bounds short of the first down. Donaldson later dropped a swing pass. He's battling
Lonyae Miller
for spot on the practice squad and took a step back.
August, 1, 2010
8/01/10
8:07
AM ET
By
Bryan Broaddus
| ESPNDallas.com
My thoughts from Saturday's practice:
*Off days happen even to the best of them.
In the afternoon session,
Tony Romo
had his worst single practice of camp. Nothing really seemed to be clicking for him. Balls that were usually thrown to receivers and completed were off target. Defensive backs were able to drive on balls and defend them.
In short, Romo didn't have his pinpoint accuracy that we had seen since camp opened last Saturday. Under pressure, where Romo is normally outstanding, there were balls that were short or skipped to receivers. Touch passes on corner routes were misjudged and delivered too long.
Romo had a terrible interception moving to his right then trying to throw a ball into the middle of the field that
Cletis Gordon
read and made the play in the end zone.
There was a play where the ball was thrown so poorly that the first thing that popped into my mind was,
Jon Kitna
had to throw it, but no, standing in the middle of the field was Tony Romo.
The problem with all this to me, was that the offense was working on red zone situations, which is the very area that there were struggles in 2009. In the offseason we were told that special attention would be paid by all parties on offense to correct what needed to be done in the red zone to improve.
Romo's play Saturday was not a step in the right direction.
*As the Hall of Fame Game is just a week away, my prediction for the Cowboys' preseason leading rusher will be
Herb Donaldson
.
With his running style and the quickness he shows, Donaldson will be the favorite of
Jason Garrett
to hand the ball to run out the clock. At 5-foot-11, 211 pounds, he is not a small man but his balance and movement is like that of a much smaller back.
Donaldson has a knack for getting the ball to the corner or he can bang it inside which he has done in 9-on-7 drills. He is a slippery runner that you think is stopped but he keeps moving forward. He makes a nice effort to try and finish runs.
Donaldson will not make this team because the quality and the numbers at his position, but that will not stop him from having a productive camp and potentially playing for a job on another squad.
*Secondary coach Dave Campo wants
Alan Ball
to totally concentrate on being the starting the safety and not worry about working to try to be the fourth corner as well. That's a wise move.
Ball has had a productive camp in the way that he has been able to play with range from his free safety spot.
The preseason games will most likely determine who that fourth corner is, but from what I viewed Saturday, Cletis Gordon appears to be that man over rookies
Jamar Wall
and
Bryan McCann
. Gordon's advantage going into camp was that he was with the team in 2009 and had played for Wade Phillips before.
Earlier in my thoughts, I spoke of the interception he was able to secure off Romo in the red zone by not dropping coverage in the end zone, staying with his man, then driving on the ball. Not just Saturday but overall, Gordon has played with a nose for the ball where Wall and McCann have had their mistakes, which will happen to rookies from time to time.
The most important thing in all of this is that the Cowboys find someone that allows Ball just to be a safety and right now Gordon would get my nod.
January, 18, 2010
1/18/10
2:09
PM ET
IRVING -- The Cowboys signed G Travis Bright, RB Herb Donaldson, DB Marquis Floyd and LB
Donovan Woods
to the reserve/future list on Monday.
All four players finished the 2009 season on the Cowboys' practice squad.
December, 21, 2009
12/21/09
3:08
PM ET
IRVING, Texas -- No, it's not the one that folks are anticipating. Kicker Nick Folk is apparently still a Cowboy.

But the Cowboys did announce a roster move.

They signed running back Herb Donaldson to fill the vacancy on the practice squad. He's an undrafted rookie out of Western Illinois who spent the first few months of the season on the New Orleans Saints' practice squad.
December, 17, 2009
12/17/09
2:50
PM ET
IRVING -- The Cowboys worked out five players on Thursday including veteran cornerback
Chris McAlister
. Running back Herb Donaldson, linebacker
Leon Williams
, defensive tackle Henry Smith and offensive lineman Cliff Lewis also worked out at Valley Ranch.
The Cowboys won't do anything until next week. Donaldson looks like a practice squad candidate because the team lost running back
Chauncey Washington
to the Jets active roster earlier this week.
McAlister would be an interesting move. He signed with the Saints on Nov. 18 and was later cut on Dec. 8. McAlister had four tackles with a forced fumble and fumble recovery.