Dallas Cowboys:

Herschel Walker
February, 27, 2014
Feb 27
10:00
AM ET
IRVING, Texas -- Tuesday marked the 25th anniversary of Jerry Jones' purchase of the
Dallas Cowboys
and Texas Stadium for $140 million.
The highs have been high, but the lows have been low, especially since the Cowboys last won a Super Bowl in the 1995 season.
Here we will look at Jones' top five moments as the Cowboys' owner and general manager while realizing that a large segment of the fandom will not give him any credit for what happened in the early years when Jimmy Johnson was around.
1. How do you like those Super Bowls?
[+] Enlarge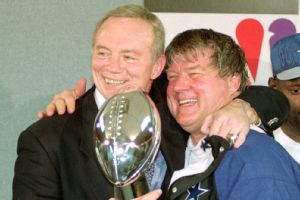 AP Photo/Charles KrupaOwner Jerry Jones and coach Jimmy Johnson celebrate their 30-13 win over Buffalo in Super Bowl XXVIII on Jan. 30, 1994, in Atlanta.
The Cowboys won three titles in Jones' first seven years as owner. They became the first team to win three Super Bowls in a four-year span, becoming the team of the 1990s with the Triplets -- Michael Irvin, Troy Aikman and Emmitt Smith -- becoming household names. The Cowboys beat the
Buffalo Bills
in Super Bowls XXVII and XXVIII by a combined score of 82-30. They claimed Super Bowl XXX with Barry Switzer as coach by beating the
Pittsburgh Steelers
27-17, exacting some revenge for the '70s Cowboys who could not beat Terry Bradshaw & Co.
2. Hiring Jimmy Johnson
Jones expressed regret Sunday about the rushed nature of firing legendary coach Tom Landry, but there is no doubt he made the right decision in bringing his former college teammate Johnson with him to the Cowboys. Johnson was the best coach in college football at the time at the University of Miami and brought a brashness that took the NFL by storm. The Cowboys suffered greatly in 1989 by going 1-15, but by Johnson's second year they were competing for a playoff spot in the final week of the season and winning a playoff game by the third year. By Year No. 4, Johnson had his first of two straight Super Bowl wins. It ended badly between Jones and Johnson, wrecking what could have been a history-making era because of the egos of the owner and the coach.
3. The trade of all trades
This is where the Jimmy and Jerry camps will always be divided. If you were a Jimmy guy, he engineered the trade of Herschel Walker to the
Minnesota Vikings
. If you were a Jerry guy, he had the final say. Regardless of who you want to credit, the moment is in Jones' era as owner and is among his biggest moments. The Walker trade brought about the formation of the Super Bowl teams. The Cowboys received five players and eight picks, turning those picks into Smith, Alvin Harper, Dixon Edwards and Darren Woodson. It might be the best trade in NFL history.
4. A new home
At $2.1 billion, there is no stadium like AT&T Stadium. This will be the monument Jones leaves whenever he is no longer the owner and general manager of the team. To get the stadium built, Jones acquiesced to a degree by bringing in Bill Parcells as coach in 2003 after three straight 5-11 finishes. With Parcells and the coach's two Super Bowl wins, Jones could show people he was serious about winning and changing his ways. The stadium is unmatched in the NFL, if not the world, with its nightclub-type feel, center-hung digital board, retractable roof and sliding doors. The Cowboys might not have the same home-field advantage they had at Texas Stadium, but the stadium has delivered a Super Bowl, an NBA All-Star Game, numerous concerts and the upcoming Final Four.
5. Trading for Charles Haley
Again, this will divide the Jimmy and Jerry camps, but Haley was the piece to the puzzle who got the Cowboys over the top. It weakened the Cowboys' biggest rival at the time, the
San Francisco 49ers
, and brought the Dallas defense an attitude it lacked. The signing of Deion Sanders in 1995 also weakened the Niners, but Haley brought two titles -- if not the third, as well. The drafting of Smith, No. 17 overall, was another top moment with him becoming the NFL's all-time leading rusher. But Haley's arrival brought to Dallas what the fans want most: Super Bowls.
December, 8, 2013
12/08/13
10:10
AM ET
December, 6, 2013
12/06/13
8:00
AM ET
IRVING, Texas -- It's highly improbable, if not virtually impossible, for the
Dallas Cowboys
to pull off a trade for
proud native Texan
tailback
Adrian Peterson
.
So go ahead and debate if whether be worth it for Jerry Jones to give up the
Joey Galloway
package (two first-round picks) or the
Roy Williams
package (a first-rounder, third-rounder and swapping late-round picks) to acquire a 28-year-old who is one of the elite backs in NFL history. Breath has been wasted on sillier discussions.
Such as ... coming up with the terms for the reverse
Herschel Walker
trade.
Dallas shipping the 27-year-old Pro Bowl back to Minnesota in 1989 for five players and a bundle of draft picks might be the most lopsided trade in NFL history. It definitely built a big part of the foundation for Dallas' 1990s dynasty.
What would a similar deal to send Peterson in the opposite direction look like?
First, let's focus on the players, coming up with a comparable current Cowboy for each Viking who was sent to Dallas in 1989.
Bruce Carter/Jesse Solomon:
Sure, hopes remain high for Carter at Valley Ranch despite his regression this season. But Solomon had 124 tackles, four interceptions, 2.5 sacks and two fumble recoveries as a 25-year-old the previous season. The Cowboys are still waiting for Carter, a three-year veteran, to come up with a turnover.
Justin Durant/David Howard:
Howard was a 27-year-old starting outside linebacker who had just lost his starting job in Minnesota. Durant is a 28-year-old who has likely lost his starting job to
Kyle Wilber
.
Miles Austin/Darrin Nelson:
There really isn't a running back on the Cowboys' roster who compares to Nelson, who refused to report to Dallas and was dealt to San Diego. Like Austin now, Nelson's days as a premier playmaker were behind him by the time of the Herschel deal.
Morris Claiborne/Issiac Holt:
Holt wasn't a sixth overall pick who was hyped by the owner and general manager as the best cornerback prospect in a couple of decades. But he was a corner who had lost his starting job before the trade. As much as it might pain Jones to admit it, Claiborne is the millionaire corner on the Cowboys' roster they can most afford to lose by far.
Caesar Rayford/Alex Stewart:
Stewart was a rookie defensive end drafted in the eighth round who was immediately waived by the Cowboys. Rayford is on the Cowboys' practice squad right now, but he's a pretty good equivalent.
Then there's the package of picks, which is complicated a bit later, related deals that turned guaranteed the Cowboys would get picks that were conditional. Without bogging this down with too many details, here are the picks that would be swapped in the reverse Herschel deal.
The Cowboys would get a third-rounder, a fifth-rounder and seventh-rounder (since there isn't a 10th round anymore) in 2014 and a 2015 third-rounder.
The Vikings' hypothetical haul: a first-rounder, second-rounder and sixth-rounder in 2014, first-rounder and second-rounder in 2015, second-rounder and third rounder in 2016 and a first-rounder in 2017.
In this case, maybe it's a good thing for the Cowboys that there's a salary cap. Trader Jerry just might be tempted to pull the trigger.
July, 6, 2013
7/06/13
11:30
PM ET
By
Richard Durrett
| ESPNDallas.com
There are plenty of choices for the
Dallas Cowboys
Mount Rushmore, but we can only pick four. It wasn't easy, but we've narrowed down our list. Does it look like yours? Here's ours:
Tom Landry:
He's the George Washington of our Cowboys Mount Rushmore. Landry, with fedora of course, has to be on any monument dedicated to all-time Cowboys greats. One of the greatest coaches of all time, Landry roamed the sidelines from 1960 to 1988 and won two Super Bowls, five NFC titles and 13 division titles. He was an innovator, creating defensive systems that are still mimicked.
Roger Staubach:
He led the Cowboys to two Super Bowl titles (and four Super Bowl appearances), won a Heisman Trophy and engineered some memorable comebacks. Staubach set the standard by which all quarterbacks of America's Team are measured.
Jerry Jones:
Probably the most controversial of our choices, especially if you consider this club's run of mediocrity since the mid 1990s. But do the Cowboys win three Super Bowls in the 1990s without Jones? He botched the handling of Landry's firing, but he hired Jimmy Johnson as his replacement and watched the team transform back into a champion. He isn't on here as a GM. He's on this monument as an owner.
Emmitt Smith:
An argument could be made for any of the "Triplets" and maybe even more than one being on this Cowboys Rushmore. But we chose Smith, the NFL's all-time leading rusher. The Cowboys' ground game was nearly unstoppable during Smith's prime and he was an iron man, playing through injuries and leading by example.
Others considered (in no particular order):
Troy Aikman:
Won three Super Bowls and led the club's productive offense. He's one of the greatest QBs in franchise history.
Bob Lilly:
The former TCU defensive tackle was the first draft pick in Cowboys history. And it was terrific pick. Lilly was an All-Pro seven times and anchored the "Doomsday Defense."
Michael Irvin:
The wide receiver made big plays, clutch scores and certainly fired up his teammates. A part of the "Triplets," Irvin was dynamic.
Tex Schramm:
The first GM in Cowboys history helped put together a winning franchise -- hiring Tom Landry and Gil Brandt -- not to mention adding the Dallas Cowboys Cheerleaders and adding many key rules to the NFL. He did a lot for not only the Cowboys, but the league.
Tony Dorsett:
If not for Emmitt, he'd be the top running back on this list.
Randy White:
The Hall of Famer played in Dallas for more than a decade as one of the best linemen in league history.
Drew Pearson:
He's the reason No. 88 carries so much meaning for the Cowboys. He made the big catches and was reliable.
Don Meredith:
Dandy Don spent nine seasons with the Cowboys after playing for SMU and was an important leader during the Cowboys' early years.
Jimmy Johnson:
Rebuilt the Cowboys into a champion and won two Super Bowls. Barry Switzer won another Super Bowl with the team that Johnson assembled.
Herschel Walker:
Seems strange, doesn't it? But without the haul the Cowboys received from Minnesota, do the Cowboys win three Super Bowls?
October, 23, 2011
10/23/11
3:55
PM ET
ARLINGTON, Texas -- DeMarco Murray's introduction to Sunday's game against St. Louis could not have been much better. The rookie running back had the second-longest run in team history with a 91-yard touchdown in the first quarter on the third play from scrimmage.
On first-and-19 from the Dallas 9, Murray took a delay handoff from
Tony Romo
up the middle and slithered to his right behind blocks from fullback
Tony Fiammetta
and tight end
Jason Witten
before turning around safety
Quintin Mikell
to go untouched to the end zone.
Only Tony Dorsett's 99-yard touchdown run at Minnesota on Jan. 3, 1983 is longer in team history. Dorsett (Dec. 4, 1977 vs. Philadelphia) and
Herschel Walker
(Dec. 14, 1986 vs. Philadelphia) had the second-longest runs of 84 yards for touchdowns.
Murray's touchdown run is also the longest first career touchdown run by an NFL running back since the 1970 merger.
It was the 11th longest play by a rookie in team history, counting punt returns, kickoff returns and interception returns.
December, 24, 2010
12/24/10
9:30
AM ET
IRVING, Texas -- For the first time, I open up the mailbag with five questions. Here we go:
Q. Your article on how the Cowboys should have called in some "project" to play quarterback after the [Tony] Romo injury is odd to me. Jason Garrett is trying to keep his job as a head coach and you want him to call in an unknown quarterback to help him do it? I don't get it. Anybody in Garrett's position would play Kitna too. And as a Cowboys fan, that's exactly what I want him to do. Give himself the best chance to succeed, not just throw in the towel. I see your point about building for the future, but in a year where the team had Super Bowl expectations, Jerry Jones isn't pulling the plug and giving up no matter what. -- Ryan, Acworth, Ga.

A.
I never said they should play the project quarterback. I don't think they should play
Stephen McGee
. What I wrote was that they missed the chance to look for another quarterback by keeping Romo on the active roster too long. They could have had a guy in here to help in practice, see if he has something for the future. You can play to win the game, in my best Herm Edwards imitation, but you can also have an eye on the future in terms of developing players in practice. I think they missed a chance there to look down the road.
Q. Why don't the Cowboys do a blockbuster Herschel Walker deal. This is going to be a rich player draft and if you make [Jason] Garrett head coach, you know he can make that offense click no matter the QB … The untouchable players on that defense are [DeMarcus] Ware, [Orlando] Scandrick, [Sean] Lee and [Jay] Ratliff. Saying all that, can you consider trading Tony Romo and Jason Witten in a blockbuster package deal with any team in the league? -- Chris, Fort Worth, Texas

A.
This is certainly outside-the-box thinking. I can't see it happening. Romo is the present and future quarterback of this team, and Witten is one of the best tight ends in the NFL. They are part of the solution, not the problem here. You need a quarterback to win, and you would take some steps back for a year or two if you go with a rookie. You don't have a replacement for Witten. There are few tight ends in the NFL that can do what he can do, and I think he'll be a Cowboy for as long as he wants to be.
Q. Jason Garrett has done pretty well, but I am wondering why no one mentions his clock management. He bungled this again on Sunday at the end of the first half when they were using a huddle INSIDE of the 2-minute mark. In the end, [David] Buehler bailed him out with a long field goal, but they constantly waste time in the 2-minute drill since Garrett took over. Happened in the Giants game, too, and I think the Indy game. No one is talking about it. -- Brian Carwana, Guelph, Ontario, Canada

A.
I think it's been OK. Not great, but OK. He has had some head scratchers, but I do like how he manages the game overall as a head coach. Every coach seems to struggle with clock management, especially Andy Reid. Garrett takes into account a lot of circumstances. He'll take a chance when necessary, but he will play more conservatively. Maybe he is a little gun shy from what happened at Washington in the opener. The more experience Garrett gets, the better I think he will be.
Q. Do you think Tony Romo is the right fit for this team because I don't. Will you please explain how Jon Kitna is able to show more drive and better leader skills than Romo. Heck, the team plays harder for an old backup QB who's well past his prime than they do for Romo. And is it me or is Romo not a down the field quarterback? -- Ben, Dallas

A.
Romo is the right fit for this team, sorry to disagree with you, Ben. Romo was 38-17 before this season as a starter, so I don't know how you can say the team plays harder for Kitna than it does Romo. And the leadership thing, to me, is such a non-topic. Romo has improved as a leader over the years. He has taken guys to task more and he has done a better job of taking himself to task. As far as the downfield passing game, you must be seeing a different game than me. Kitna has not taken as many shots down the field in recent weeks. Romo has a career yard per attempt average of close to 8 yards, which ranks up there with the top quarterbacks.
Q. Me and most of my Dallas fans friends think that Igor Olshanky hasn't lived up to his potential, but yet several weeks ago, he called out the offense. Was this the pot calling the kettle black? What do you think? Should he be let go next year in favor of younger talent? -- Jym Concha, Santa Fe, New Mexico

A.
Olshansky was better last year than he has been this year, but I don't think you let him go. You have to look at the rest of the roster.
Marcus Spears
,
Stephen Bowen
and
Jason Hatcher
will be free agents after the season. The Cowboys cannot afford to cut a defensive end until they have some players fill out the position. Olshansky will have to rebound in 2011, like a lot of defensive players in 2011.