Dallas Cowboys:

Howard Mudd
June, 9, 2014
6/09/14
10:15
AM ET
IRVING, Texas -- Former
Dallas Cowboys
offensive coordinator Ernie Zampese was named to the inaugural four-man class as winners of the Paul "Dr. Z" Zimmerman Award by the Pro Football Writers of America.
Zimmerman was a long-time Sports Illustrated writer and loved the X's and O's of the game, spending hours with assistant coaches across the NFL. The award is a lifetime achievement as an assistant coach in the NFL.
Joining Zampese in the class are Howard Mudd, Fritz Shurmur and Jim Johnson.
"I had some great quarterbacks who ran the offense great," Zampese told
Peter King of TheMMQB
. "It comes back to being in the perfect spot so many times. In Dallas, what a great position that was to be in, with such great offensive talent."
Zampese was an NFL assistant coach from 1979-99 with the
San Diego Chargers
, Los Angeles Rams, Cowboys and
New England Patriots
. He was a Don Coryell disciple and was one of Norv Turner's mentors.
From 1994-97, he directed the Cowboys' offense with the Triplets – Michael Irvin, Troy Aikman and Emmitt Smith. He served as a consultant with the Cowboys in 2000-01.
In his Hall of Fame speech, Aikman called Zampese, "one of the best offensive minds and greatest people that this game has ever known."
After clinching a spot in Super Bowl XXX, Aikman said of Zampese, "He's just tremendous the way he prepares for a game. Not very often do we go into a game when a team throws something at us that Ernie hasn't anticipated."
November, 8, 2012
11/08/12
11:14
AM ET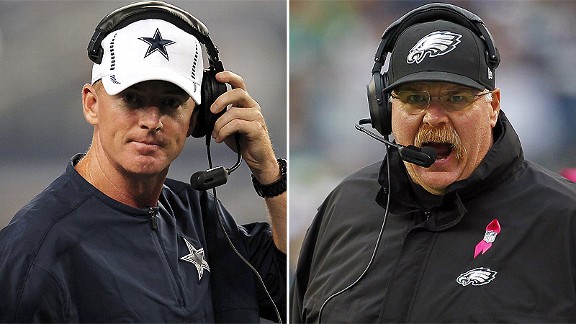 AP Photo/Getty ImagesJason Garrett and Andy Reid's teams are both 3-5, but it's Garrett who's in a stronger long-term position with his team.
Back in August, when they looked ahead to their Week 10 matchup against each other, the
Dallas Cowboys
and the
Philadelphia Eagles
probably envisioned two rivals in the thick of a race for the postseason, hooking up in a game packed with glorious import.
Sunday's game in Philadelphia is not that. It is a game between two 3-5 teams ranked near the bottom of the league in scoring offense that have combined to win exactly one game since September. Let's just say the first-place Giants aren't going to be glued to their televisions sweating this one out.
The winner of the Cowboys-Eagles game on Sunday may plausibly be able to convince itself its season is not over, although the road back to contention will remain difficult. The loser will have the same record as the Redskins and probably will be thinking about offseason plans. But just because both of these teams are in the same leaky Week 10 boat doesn't mean they share a long-range outlook. I don't think either will rebound and reach this year's playoffs, but in the short term and beyond, the Cowboys are the team in considerably better shape. Here's a look at the reasons why:
[+] Enlarge

Josh D. Weiss/US PresswireThe Cowboys are trying to sign Tony Romo to a contract extension, despite the quarterback's uneven play lately.

Quarterback: Tony Romo is not having his best season, this is true. He's thrown a league-leading 13 interceptions against just 10 touchdowns, and his passer rating is just 82.2. He's never finished lower than 90 in a season in that category. After he had his best statistical season in 2011, more was expected, and disappointment is understandable. But Romo still has more of a track record as a top NFL quarterback than the Eagles' Michael Vick does, and the Cowboys are trying to sign him to a long-term contract. Management and the players believe in Romo and are prepared to move into the future with him as their quarterback. The Eagles, assuming they don't make a miracle recovery, are likely to opt out of Vick's contract at the end of this season and rebuild with rookie Nick Foles or look for someone else. The Cowboys have far greater stability at the most important position.

Head coach job status: Obviously, the Eagles' Andy Reid is a better and more accomplished head coach than the Cowboys' Jason Garrett. But his situation is a far greater fiasco. Regardless of any outside perceptions or assumptions, Cowboys owner Jerry Jones has expressed nothing but strong support for Garrett as his head coach. So unless the players choose to read and get caught up in all the Sean Payton speculation, they don't have reason to wonder who's going to be coaching them next year. By contrast, Eagles owner Jeffrey Lurie gave Reid an apparent ultimatum before the season to finish over .500 or lose his job. The players know all about that, and Reid is obviously much more uncomfortable and (justifiably) worried about his job status than Garrett is about his. It's an inescapable issue that hovers over the Eagles right now, and it has to be affecting players. If you don't feel like your coach is going to be around next year, you necessarily have to wonder whether you will be, too.

The offensive line: The Cowboys' offensive line isn't about to win any awards, and it obviously will need upgrades in key places in the offseason. But within the context of 2012, it is showing improvement week over week. The Eagles' line keeps losing starters to injury and disintegrating. The Cowboys also have a franchise left tackle in Tyron Smith around whom they can build. The Eagles don't know whether or when they'll get franchise left tackle Jason Peters back from his Achilles injuries, or whehter he'll be the same player he was before he got hurt. The Eagles' offensive line schemes are specifically tied to the teachings of second-year line coach Howard Mudd, and (see last paragraph) there's no guarantee he's back next year, which means they might need to reconstruct the line in the mold of a new coach. There's more uncertainty in an area that is vital to any kind of success, as the Eagles have seen this season. The Cowboys' line is a mess, but with Smith at left tackle and Bill Callahan coaching it, it at least can see the path forward.

Defensive identity: The Cowboys' defense is one of the toughest in the NFL this year under second-year coordinator Rob Ryan. Led by DeMarcus Ware, Anthony Spencer and Jason Hatcher up front and with Brandon Carr and Morris Claiborne doing what they were brought in to do at cornerback most weeks, Dallas knows what it wants to do and is doing it consistently. The Eagles' defense is on its third coordinator in the past two years and seems unable to get everyone on the same page from quarter to quarter, let alone from game to game. The pass rush has vanished, the coverage schemes are unreliable and the firing of coordinator Juan Castillo for Todd Bowles preceded their worst two defensive games of the year. The Eagles are going to have major decisions to make about their defensive schemes and personnel once this season ends.

The schedule: After Sunday, five of the Cowboys' remaining seven games will be at home, and only one (Week 15 versus Pittsburgh) will be against a team that currently has a winning record. The Eagles also face only one winning team (Week 17 at the Giants), but four of their final seven games are road games and four are division games. If you believe either of these teams can make a run, or that the Giants may yet come back to the pack, the Cowboys' remaining schedule appears more favorable. So their short-term outlook is better, too, for all of those other reasons and this one.
Sunday's matchup may look like a game between two teams with nothing going on. But everything is relative, and in the big picture it's actually a game between two teams moving in somewhat opposite directions. And the Cowboys are the team that looks as though it's trending up.
November, 6, 2012
11/06/12
5:00
PM ET
Amid all of the perfectly justified rip jobs and sky-is-falling coverage of the
Philadelphia Eagles
' latest loss,
this short item by Jeff McLane
caught my eye. He's got someone with the Eagles telling him Andy Reid's bye-week firing of defensive coordinator Juan Castillo was a "miscalculation." This comes as neither news nor a surprise to anyone who's been tracking the Eagles over the past two seasons, during which it appears "miscalculation" has been the hallmark of the front office's game plan.
Yeah, when you watch the Eagles play, it's easy to get caught up in the on-field, in-game issues. Why don't they run the ball more? Why can't
Michael Vick
make pre-snap reads? Have they quit on Andy Reid? Stuff like that. But I think if you look back over the past two years, it's easy to see that the flaws with this team are flaws of construction, and that the miscalculations are myriad and extensive. A partial list, in no particular order:
[+] Enlarge

AP Photo/Brian GarfinkelSigning QB Michael Vick to a $100 million contract appears to be a costly move for the Eagles.

Deciding on Vick as a $100 million franchise quarterback based on the spectacular aspect of the way he played in 2010, ignoring the likelihood that his issues reading the field, making audibles and adjusting on the fly were too ingrained to overcome in his 30s. And no, it's not that they should have kept Kevin Kolb or that they didn't get great value for him in the trade. It's just that tying so much of their 2011-12 success to Vick is going to set them back as they head into 2013 and beyond. And the bust potential that Vick came with at the time of the contract was high enough to make it a questionable decision at best.

Signing Nnamdi Asomugha on the presumption that he'd play like a top shutdown cornerback, then playing him in zone coverage for his first year because they didn't have the guts to move Asante Samuel. This resulted in their having to trade Samuel for nearly nothing a year later, and Asomugha has struggled at times this year in one-on-one coverage against speedy wideouts.

Drafting Danny Watkins in the first round after hiring Howard Mudd to run the offensive line. Mudd found Jason Kelce in the sixth round, identified him as the type of guy who could play his scheme and quickly molded him into a top NFL center. Surely, he could have found a guard in the fifth or seventh that fit his profile and done the same with him, and the Eagles could have used that first-rounder on something more immediately helpful. And no, the Eagles could not have imagined the extent to which injuries would ravage their offensive line this season, but it does seem as though they could have found backup players better suited to adapt quickly to Mudd's blocking schemes. Perhaps if they hadn't been so focused on bringing in high-profile, ultimately useless skill-position backups like Vince Young and Ronnie Brown last year, this could have been more of a point of emphasis.

Designing a defense predicated on the down linemen selling out for sacks, then failing in 2011 to support the defensive line with anything resembling adequate linebacker play.

In 2012, after bolstering the linebacker corps, failing to adjust anything about the defensive line scheme even though the whole league knew they'd be selling out for sacks on every play. The extent to which opposing offensive coordinators have appeared to be ahead of Castillo, Todd Bowles, Jim Washburn or whoever's been in charge of setting up the Eagles' defense on a given week this year is staggering.

Making Castillo the defensive coordinator in the first place, then of course firing him during the bye week just because they felt like they had to do something.
Look, I understand this is an exercise in second-guessing. I fell for it, as did a lot of the people who have been writing about this Eagles team for the past two years. Philadelphia's roster-construction efforts the past two springs and summers looked good as they were going on, and I for one failed to spot the number of flaws that have ultimately manifested themselves. The very good lesson, for those of us who write the NFL, is as usual about waiting for the games to be played before making broad conclusions about how they will go.
As we look back on it now, though, not much the Eagles have done in assembling their roster over the past couple of years has worked. There's the occasional
DeMeco Ryans
or
Fletcher Cox
, sure. The
DeSean Jackson
contract is a good one for them, and I don't think it was necessarily wrong for them to spend resources this past offseason locking up cornerstone pieces like
Trent Cole
,
LeSean McCoy
and
Todd Herremans
for the long-term. But in terms of building a Super Bowl contender in the short term, Reid and the rest of the people who run the Eagles have failed spectacularly. The product they've put on the field simply isn't as good as they believed it to be, and they are likely to pay for their run of miscalculations with their jobs.
September, 12, 2012
9/12/12
10:00
AM ET
One of the in-season features I really liked last year was our weekly, running All-Division Team, where we'd pick the best player at each starting position in the division and continue to update it as the weeks went along. Over the course of the year, some things changed from week to week (I could never seem to figure out cornerback, mainly because very few NFC East cornerbacks were having good years) and some players solidified their positions with consistent excellence (
LeSean McCoy
jumps to mind).
Anyway, it's back. We'll do this every Wednesday. And while it is meant to be an All-Star team based on cumulative season performance to date, each team has so far played only one game. So
for this week only
, yes, this All-Division Team is based only on the performances of the past week. This week's team includes nine Eagles (they did play very well on defense), seven Redskins, five Cowboys, five Giants, one DeMarco, one DeMarcus, one DeMeco and a Dominique.
I'll give you the team and then offer some comments at the end. Enjoy.
Quarterback:
Robert Griffin
III,
Washington Redskins
Running back:
DeMarco Murray
,
Dallas Cowboys
Wide receiver:
Kevin Ogletree
, Cowboys;
Jeremy Maclin
,
Philadelphia Eagles
Tight end:
Martellus Bennett
,
New York Giants
Fullback:
Darrel Young
, Redskins
Left tackle:
Trent Williams
, Redskins
Left guard:
Evan Mathis
, Eagles
Center:
Jason Kelce
, Eagles
Right guard:
Chris Snee
, Giants
Right tackle:
Todd Herremans
, Eagles
Defensive end:
Jason Pierre-Paul
, Giants;
Jason Hatcher
, Cowboys
Defensive tackle:
Rocky Bernard
, Giants;
Fletcher Cox
, Eagles
Outside linebacker:
Ryan Kerrigan
, Redskins;
DeMarcus Ware
, Cowboys
Inside linebacker:
Sean Lee
, Cowboys;
DeMeco Ryans
, Eagles
Cornerback:
Dominique Rodgers-Cromartie
, Eagles;
Josh Wilson
, Redskins
Safety:
Kurt Coleman
, Eagles;
Antrel Rolle
, Giants
Kicker:
Billy Cundiff
, Redskins
Punter:
Chas Henry
, Eagles
Kick returner:
Brandon Banks
, Redskins
Punt returner:
Brandon Banks, Redskins
Quarterback was obviously very close between Griffin and the Cowboys' Tony Romo, who both had excellent games in big road victories. Griffin edged out Romo because of his rushing yards and a little bit of added degree of difficulty for the venue in which he won. Both quarterbacks excelled at keeping plays alive and finding success downfield in difficult circumstances. Each handled the rush well. Could have flipped a coin.
Maclin was a close call over Washington's Pierre Garcon for that receiver spot, but Maclin played more and caught more passes, so he got the nod.
Bennett might or might not continue to catch passes for the Giants, but regardless of whether he does, he's going to merit a look here each week. That guy can seriously block.
Williams' and Kelce's were the only performances among the offensive linemen that I thought were particularly strong. The other three offensive linemen were kind of best-of-a-bad-bunch selections on a week in which none of the lines played very well. The Eagles' linemen do stand out at bit when you watch the games back, though. I wonder how much of that is the difference between Howard Mudd's blocking schemes, which require linemen to push upfield and establish new blocking points, and a more standard scheme. Washington's line played okay, and I thought about Will Montgomery at center over Kelce.
Defensive end was tricky. Pierre-Paul didn't get a sack, but he was clearly the most disruptive player among the 4-3 ends this week and required an overload of attention from the Cowboys. Hatcher gets the other spot over Jason Babin, which I admit is rare -- a 3-4 end beating out a 4-3 end on a team like this. But that word "disruptive" again is the best to describe Hatcher's night against the Giants.
Ditto Kerrigan at outside linebacker. What a game he had.
Rolle played the run very well, which is something the Dallas safeties didn't do in the same game. Now, maybe they weren't asked to. I understand that's possible. But Rolle's individual performance deserves the recognition.
Fine debut for Cundiff, who showed on kickoffs why they got him. Six of his nine kickoffs were touchbacks.
So that's the first one of these. I welcome your thoughts.