Dallas Cowboys:

Isaac Madison
August, 6, 2012
8/06/12
11:14
AM ET
OXNARD, Calif. -- Safety
Brodney Pool
, who was signed during the offseason to help the
Dallas Cowboys
' struggling secondary, was released by the team Monday -- just one week after he failed his conditioning test.
Rookie cornerback
Isaac Madison
also was released Monday. Wide receiver David Little and running back
Javarris Williams
signed contracts and should practice this week.
The Cowboys cutting Pool, who was entering his eighth NFL season, sends a significant message to the team.
Pool eventually passed his conditioning test but worked with the second-team defense while
Barry Church
got snaps with the first team.
For more on this story, click here.
August, 6, 2012
8/06/12
9:00
AM ET
OXNARD, Calif. -- It will be easy to track
Morris Claiborne
for the time being because the rookie first-round pick is recovering from a slightly sprained medial collateral ligament in his left knee.
PODCAST
Is the glass half full or half empty for the Cowboys? Fresh off a trip to Oxnard, Ben and Skin give you five reasons to be optimistic and pessimistic about the Cowboys.

Listen

The hope is that he will be able to return after the first preseason game at Oakland next week. In the meantime, Claiborne will spend his time on the practice field attached to the hip of secondary coach
Jerome Henderson
as he learns the defense.
Claiborne's absence means more work for
Teddy Williams
,
Mario Butler
,
Isaac Madison
and
Lionel Smith
.
"Obviously you like him out there getting the reps when he's not there, missing time," Henderson said, "But this is the NFL. This happens in the league all the time. You can go from the second team to starter or third team to starter in a matter of a second. We've got to be prepared for that. As much as it's a negative, it's also a positive because now we can get other guys filling roles. You've got to shuffle a little bit, but that's the real world for us, so it's good it's happening now to get experience doing it.
August, 5, 2012
8/05/12
9:34
PM ET
OXNARD, Calif. -- Sunday was Blue-White scrimmage day for the second- and third-teamers, but there was plenty of good situation work for the regulars to more than fill out the daily observation deck.
The Cowboys announced an Oxnard record attendance of 9,008 for the scrimmage. Fans piled in for the workout and were delayed in their attempt to get to the fields because a beehive needed to be removed.
Now on to the observations:
** In team red zone drills, TE
Jason Witten
had back-to-back touchdown catches. He ran away from LB
Dan Connor
on an out route then sprinted into the end zone. The next score was the typical Romo-to-Witten play. With the pocket collapsing, Romo moved around to buy some time. Witten also kept moving, finding a spot in the back of the end zone that was free. The throw was to Witten's back shoulder, and the seven-time Pro Bowler showed great body control in making the grab.
** With
Phillip Tanner
and
Lance Dunbar
hurting, rookie RB
Ed Wesley
will get a chance to make an impression. The first thing he must do is catch the ball better on toss plays. He dropped one in the walkthrough and one in the afternoon.
** LB
Sean Lee
was active in the first seven-on-seven period, flinging RB
DeMarco Murray
to the ground after a swing pass in which the tailback attempted to give a bigger hit that expected. Four plays later, he was able to break up a possible touchdown pass at the pylon to rookie TE
James Hanna
, covering a lot of ground.
** CB
Orlando Scandrick
gives up six inches to WR
Andre Holmes
, but he was able to knock away a jump ball from
Tony Romo
to the wide receiver in the end zone.
** It's not easy being a replacement official. They were at practice for the second straight day and heard it from players. Romo wanted a pass interference penalty on Scandrick on the aforementioned play. Witten let his feelings be known when LB
Victor Butler
held him while turning for a pass in a two-minute drill.
**
Kyle Orton
was on fire with six touchdown passes. He had three to undrafted WR
Tim Benford
and one each to
Dwayne Harris
,
Cole Beasley
and
Donavon Kemp
. He could have had two more if Harris held on to a red-zone throw and if
Kevin Ogletree
was able to get his feet inbounds by the back of the end zone.
** K
Dan Bailey
made all of his kicks during situational work in the two-minute drills and in the 20-play scrimmage. He ended the scrimmage with a 20-yard kick.
** If you're looking for two impressive rookies from the scrimmage, look no further than DE
Tyrone Crawford
, who showed exceptional burst off the ball, and LB
Kyle Wilber
. They both recorded sacks of QB
Stephen McGee
. Crawford plays stronger than most rookie defensive linemen. Wilber's best asset is his ability to bend and move, but he can get smothered when he tries to use his power.
** Tough time for rookie CB
Isaac Madison
in the scrimmage. He was beaten by Kemp on a slant and missed the tackle, allowing extra yards. He was beaten down the sideline by Kemp later and was flagged for pass interference on Beasley in the end zone.
** Beasley's return to practice was rather seamless. He returned punts in the scrimmage. He caught a touchdown pass. He worked the slot and even did a nice job as a blocker. It was as if he never left.
July, 31, 2012
7/31/12
8:52
PM ET
OXNARD, Calif. -- Safety
Barry Church
took advantage of his chance to work with the starters Tuesday and had a number of highlights, including an interception of
Tony Romo
during blitz drills.
Romo tried to fit a pass to tight end
John Phillips
but Church stepped up and came away with what would have been a pick six. Earlier he had tight coverage on
Jason Witten
and batted away a check-down to RB
Phillip Tanner
.
Now on to the rest of the observations:
* CB
Morris Claiborne
was targeted three straight times in a team period but gave up only one completion. That came on a quick slant to WR
Dez Bryant
when he allowed Bryant to slip inside. He had solid coverage on a sideline route to WR
Miles Austin
.
* DE
Jason Hatcher
had a good two-play stint in which he was able to track down a scrambling Romo for a sack and then was able to stop RB
DeMarco Murray
for a short gain. Hatcher looks good and after having a solid offseason.
* Witten had his biggest gain of two days when he was able to slide behind ILB
Orie Lemon
in zone coverage to haul in a perfect throw from Romo.
* After three incomplete passes in the first four 7-on-7 drills, Romo let the offense know it needed to get better in a hurry. After that Romo finished the session completing 9-of-12 passes, including a deep ball to Bryant for a touchdown on Claiborne.
* Bryant handled punts with WR
Dwayne Harris
and Murray. Bryant might not have the proper technique all the time while catching punts, but he is sure-handed. Harris dropped his first two punt attempts and hung on for dear life on his third. Harris later dropped a pass.
* How do you teach tackling on special teams when you're not in pads and can't go full speed? Special teams coordinator Joe DeCamillis has his players wrapping up tackling dummies and landing on pads to keep them safe.
* Rookie DE
Tyrone Crawford
is wearing a sleeve on his right calf. He missed most of the offseason with a calf injury. It didn't stop him from pushing the pocket on QB
Kyle Orton
to force an incomplete pass. Undrafted rookie DE
Ben Bass
forced a
Stephen McGee
scramble with a pressure. Unfortunately, McGee broke contain and had a nice pickup.
* Tackling is not allowed by Lemon and LB
Caleb McSurdy
got a little too rambunctious by bringing down John Phillips and
Lance Dunbar
during the practice.
* Rookie CB
Isaac Madison
did a nice job of breaking up a deep pass from McGee to WR
Cole Beasley
down the sideline during the "blue" practice for young players. Beasley did a nice job of slowing down just enough and inching in while knowing McGee's pass was to his outside shoulder, but Madison was able to recover and push his hands through Beasley's to knock away the football.
* K
Dan Bailey
is now 10 of 10 on kicks in camp. He also banged home his situational kick from 42 yards at the close of one team period. P
Chris Jones
had a much better afternoon practice Tuesday than Monday. He was able to hang the ball high and get some distance, although some of it was wind-aided.
July, 26, 2012
7/26/12
2:00
PM ET
IRVING, Texas -- Retired Carter High coach Allen Wilson stopped by Valley Ranch to check on a couple of his former players.
Outside linebacker
Adrian Hamilton
and cornerback
Isaac Madison
are undrafted free agents who have legitimate chances to compete for a spot on the 53-man roster. That comes as no surprise to Wilson, who coached several NFL players throughout his career, including a couple that played with Hamilton and Madison at the south Dallas high school:
San Francisco 49ers
receiver
Michael Crabtree
and
Minnesota Vikings
offensive lineman
DeMarcus Love
.
"It ain't got nothing to do with coaching," Wilson said while watching Thursday's rookie camp practice. "When they were born, they had it. I didn't make Isaac fast. I didn't make Adrian look like he looks. Their parents gave them the genes. We were just at the right place and had the opportunity to coach them."
Hamilton had a twisted road from Carter to Valley Ranch, originally signing with Oklahoma State and spending time at a junior college, Texas Tech and a community college before breaking
Indianapolis Colts
defensive end Robert Mathis' SWAC season sacks record at Prairie View A&M.
Madison had some injury-related bumps in the road during his time at Arkansas.
Here are the scouting reports on the Carter products from their high school coach, who visited with his former players and Dallas defensive coordinator Rob Ryan after practice.
Wilson on Hamilton: "It's just one of those natural things to rush around that edge, rip under a guy or over a guy and go get the passer. Then he had enough speed that when the quarterback is flushed, he can just chase him down. Those are the guys that make a difference. And he's tough, don't back down from a challenge."
Wilson on Madison: "He had world-class speed in high school, and then he had cover ability. He could flip his hips and run. He could change direction. He can do all those things. This is one of those special kids. He's just go to stay with it. He's just had some injury problems that have cost him some days, but outside of that, he's another one of those guys that's a great kid, came to work every day and had the tools it takes to play at the Division I level and at this level. When you look at a corner, the first thing you think of is speed. Can this guy run? That's what he can do. … He's a tough kid. He'll come up and hit you. He ain't one of those guys that shy away."
June, 24, 2012
6/24/12
10:59
AM ET
DeSoto's
Patrick Crayton
is the biggest success story from the Cowboys' Dallas Day workouts, which are held before each day for prospects who attended local colleges or high schools. Dallas Kimball's
Phillip Tanner
is an example on the current roster of a player who caught the Cowboys' eye on Dallas Day and kept impressing after signing as an undrafted free agent.
This year's Dallas Day netted a pretty intriguing haul. The Cowboys signed four undrafted players from those workouts who appear to have legitimate chances to stick, whether it's on the practice squad or 53-man roster. A look at the rookies with local roots:
[+] Enlarge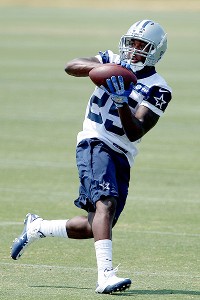 AP Photo/Tony GutierrezLance Dunbar could force his way onto the Cowboys as a fourth running back and kick returner.
OLB Adrian Hamilton:
He took a twisted path from Dallas Carter High to Prairie View A&M, signing with Oklahoma State, playing briefly for Texas Tech and spending some time at a community college, but Hamilton had one the most prolific pass-rushing season in SWAC history last year. His 22 sacks broke the conference record held by Colts defensive end
Robert Mathis
. The knack for getting to the quarterback gives Hamilton a chance to make the team.
CB Isaac Madison:
The 5-foot-10, 173-pound Madison, another Carter High product, started the last three seasons at Arkansas. He performed well enough during offseason workouts to earn some reps with the first-team nickel package with
Mike Jenkins
and
Morris Claiborne
unavailable. Madison will be fighting for the fifth cornerback job during training camp and the preseason and can help his cause by proving he can contribute on special teams.
WR Cole Beasley:
The son of his high school coach at Little Elm, the SMU product is the stereotypical short, quick slot receiver. Beasley won't earn high marks on any eye tests, but coaches can't help but notice his tendency to get open and catch the ball. The Cowboys didn't have a pure slot receiver on the roster last season, moving
Miles Austin
inside in multi-receiver formations. Beasley, who had back-to-back 1,000-yard seasons at SMU, could give them another option.
RB Lance Dunbar:
He's a 5-foot-8, 191-pound scatback who broke North Texas' all-time records for rushing yards (4,224), all-purpose yards (5,375) and touchdowns (49). It will be tough for Dunbar to beat out Tanner for the third running back job, but the Cowboys kept four running backs at the beginning of last season. Dunbar, a Haltom High product, will have a chance to impress on kickoff returns.
June, 20, 2012
6/20/12
1:16
PM ET
IRVING, Texas – The other day Tim MacMahon was gutsy to put out his first 53-man roster prediction for the Cowboys. If you haven't taken a look at it,
click here.
Instead of going forward with my own 53-man roster prediction since most of the names will be the same, I'll just list my differences. And as Tim pointed out, this is ridiculously premature, so don't hold it against us when the team makes the final cuts.
Cornerback:
Tim went with
Mario Butler
as his fifth cornerback. I'm going with undrafted rookie
Isaac Madison
, who was working with the first team sub defenses, which means he is ahead of Butler, who spent last year on the practice squad.
Safety:
Tim went with five safeties:
Gerald Sensabaugh
,
Brodney Pool
,
Barry Church
,
Danny McCray
and
Matt Johnson
. I'm going with four safeties right now and Pool is the odd man out. Again this is fluid and things change, but I'm going with a sixth cornerback and that is undrafted rookie
Lionel Smith
, who took over for Madison on the last day of minicamp, which means he is also ahead of Butler.
Outside linebacker:
Tim went with undrafted
Adrian Hamilton
as the fifth outside linebacker. I can see that happening and you're banking on the future with him as a pass rusher. It makes sense right now, but I'm going with four outside linebackers in order to put defensive end
Clifton Geathers
on the roster. The Cowboys have put almost two years into developing Geathers and I think he might be a Jerry Jones' pet cat.
There are some other possible changes from Tim's roster, but I'm conflicted on it. In other words, I'm giving myself some wiggle room for the future.
Here they are:
Defensive line:
Tim has
Marcus Spears
over
Kenyon Coleman
and notes Coleman's $1.9 million salary as a negative. Marcus Spears makes $2 million and was not as productive as Coleman last year. Plus, Coleman was a Rob Ryan guy in Cleveland.
Offensive line:
I believe
Pat McQuistan
makes it but don't count out
Kevin Kowalski
. The problem is that you're left with only three tackles on the 53 if McQuistan is out. That might be too light, but the Cowboys did it last year. Let's see how the young undrafted guys develop in camp. If they do well enough you might be better served to go with your fourth tackle on the practice squad.
Fullback/tight end:
Tim went with one fullback and three tight ends. I can see either two fullbacks or four tight ends and that could come at the expense of a third quarterback. Undrafted tight end
Andrew Szczerba
is not the most gifted athletically but he could be an in-line blocker they lack as a backup. And here's another thought as a possible blocking tight end: outside linebacker
Alex Albright
. He made the team as an undrafted rookie last year and showed a knack for being in the right spot at the right time. He can also play special teams. It might be worth a look to see if he can block some as well.
Wide receiver:
Don't rule out
Dwayne Harris
. He has changed his body from a year ago and is moving much better. His ability to be a return man might help his cause. If
Kevin Ogletree
is not the No. 3 receiver, I don't know if it would make sense to keep him because he doesn't help enough on special teams.
June, 14, 2012
6/14/12
5:04
PM ET
ARLINGTON, Texas – The
Dallas Cowboys
closed the three-day minicamp at Cowboys Stadium and we will close out the observations for the offseason here with some thoughts. Fear not, the observations will be back when training camp begins.
Here we go:
** If there was an eye-catching player Thursday it was rookie RB
Lance Dunbar
. The North Texas product has speed and took the snaps that had been going to
Phillip Tanner
in the offseason. In one goal line run, Dunbar simply ran away from the defense to the corner of the end zone.
** WR
Cole Beasley
showed some toughness Thursday by practicing after hurting his knee Wednesday. He always made a nice grab down the middle of the field from QB
Rudy Carpenter
, slowing down slightly to use his body to create separation from S
Justin Taplin-Ross
. Maybe a pass interference penalty could have been called, but Beasley showed some savvy.
** Earlier WR
Kevin Ogletree
tried to do the same on CB
Lionel Smith
, but let a
Tony Romo
deep ball bounce off his hands for an incompletion.
** It was a struggle for QB
Stephen McGee
after putting together a pretty good Wednesday workout. McGee held on to the ball too long in red zone drills and was late on some throws down the field. In the two-minute drill he threw five straight passes to WR
Andre Holmes
and completed only one of them. The completion came on a fourth-and-long.
** On a fourth-and-short play, Romo forced a throw to TE
John Phillips
on a bootleg that was intercepted by LB
Sean Lee
. Bad throw? Maybe but given the situation -- they needed to score a touchdown late in the game -- it was an all or nothing play.
** On the third play of the team period, Romo was able to find WR
Dez Bryant
deep while being covered by CB
Brandon Carr
and S
Brodney Pool
. Carr looked to be in decent position but Pool was just off, allowing the completion. It might not have happened, however, in a real game with
DeMarcus Ware
bringing pressure off the edge.
** Rookie TE
James Hanna
seemed to come along well this week in the mini-camp, catching more passes in the three days than he had in the organized team activities.
** LB
Victor Butler
did a nice job of fighting off
Tyron Smith
on a screen pass to Phillips. If Smith makes the block, then the offense would have scored a touchdown.
** With
Isaac Madison
sitting because of a sore shoulder, fellow undrafted CB Lionel Smith worked with the first team nickel and dime packages and did a nice job. He was in position on a number of plays and was able to break up a pass in the end zone from Romo to Holmes in seven-on-seven drills.
** Injured rookie WR
Danny Coale
appeared to be talking about punting steps with kicking coach
Chris Boniol
at one point during practice. Coale did some punting at Virginia Teach. He also worked on some field goal holds, too.
** Secondary coach
Jerome Henderson
played catch with some youngsters who were on the field as part of a tour of the stadium while the players stretched.
June, 13, 2012
6/13/12
7:40
PM ET
IRVING, Texas – You didn't think we'd go without observations off minicamp practice No. 2, did you? Well, sometimes real life gets in the way and after a little bit of a delay, here we go with some Wednesday notes:
** It's difficult to gauge offensive line play without pads on, but LG
Nate Livings
had a nice kick out block of LB
Victor Butler
to propel
Phillip Tanner
for a big gain during a team period. With
Anthony Spencer
missing practice with a knee injury, Butler was the starter on the strong side.
** WR
Dwayne Harris
had a nice day but faded a little bit late with a drop near the end zone in a two-minute drill. He hauled in a touchdown pass from
Stephen McGee
on a delayed route in which he caught CB
C.J. Wilson
sleeping. In seven-on-seven tight red zone drills, he made a bobbling, falling catch of a
Tony Romo
pass in the back of the end zone while being harassed by CB
Brandon Carr
.
** Speaking of Carr, when he gets his hands on receivers they all have a difficult time breaking free.
Raymond Radway
was unable to get off the jam at the line of scrimmage. Carr has been impressive and the coaches believe his press technique will be a help to the receivers when the season starts.
** Romo's best throw might have been a third (or fourth) read to RB
DeMarco Murray
near the goal line. After faking a pitch to Murray, Romo initially looked for
Dez Bryant
on a quick stutter-go but the defense read the play well. Instead, Romo was able to narrowly float a pass just out of DeMarcus Ware's reach to Murray. It was the perfect blend of touch and power, especially close to the goal line.
** DE
Kenyon Coleman
did a nice job of stopping Murray on a power run by slipping through the line. DE
Marcus Spears
also snuffed out a screen to
John Phillips
.
** WR
Cole Beasley
went down in the end zone on a crossing route and suffered what he called a hyper-extended right knee. He was examined by the medical staff and was running later but did not appear to take more snaps.
** CB
Isaac Madison
had two interceptions. The first came when he ripped a McGee pass away from
Saalim Hakim
in seven-on-seven drills. His second came when he came off a deep receiver to come up with a turnover of
Rudy Carpenter
, who was just attempting to get rid of the ball.
** McGee was much sharper Wednesday. He got his second straight day of extended snaps with
Kyle Orton
out with a hamstring injury. He ended the second-team offense's two-minute drill with a perfect throw to Phillips just out of the reach of S
Justin Taplin-Ross
.
June, 12, 2012
6/12/12
4:42
PM ET
IRVING, Texas -- We bring you some observations from the two-hour session on Day 1 of the Cowboys' three-day minicamp:
* If there was an MVP for the day it would go to
Dez Bryant
. The third-year wide receiver was all over the field, catching passes from
Tony Romo
. His most impressive came on a leaping left-handed grab on a bubble screen. That the play picked up all of a couple of yards meant little. It was an impressive play. The best catch was on a back-shoulder throw from Romo, adjusting around the corner to make the play. Unofficially, Bryant had seven catches in the practice.
* Jason Garrett is big on situational play and brought out a late-game situation with the No. 1 offense going against the No. 1 defense. With the defense leading by four points, the offense had four plays to score from the 18 and was unable to come through. Defensive coordinator Rob Ryan, however, had to remind the defenders to protect the goal line.
* WR
Kevin Ogletree
had a "wow" moment with a one-handed grab on a deep ball from Romo. It was made better (depending on the perspective) by the fact that it came against
Brandon Carr
, the Cowboys' No. 1 corner. It was the first deep-ball reception Carr has allowed this offseason.
* OLB
DeMarcus Ware
had two would-be sacks of Romo, both coming from the quarterback's blindside.
* Ryan is preaching to his defense to get turnovers. The No. 3 unit forced back-to-back fumbles, with LB
Caleb McSurdy
punching the ball free from
Darrell Scott
on a pass to the flat.
* The Cowboys have some running backs on their roster even without
Felix Jones
practicing.
Phillip Tanner
continues to show quickness in hitting the holes, and rookie free agent
Lance Dunbar
has some make-you-miss moves, as well. That will be a good battle to watch in training camp.
* CB
Teddy Williams
heard it from the coaches when he had a poor reaction to an out-route throw to
Andre Holmes
. He nearly got beat on the same play on the next snap, but
Donavon Kemp
let Stephen McGee's pass slip through his hands.
* QB
Rudy Carpenter
, practicing for the first time in a month because of an oblique strain, hit
Saalim Hakim
with a nice out route just out of the reach of CB
Isaac Madison
. Hakim had a difficult time catching the ball early in the OTAs but has done a better job lately.
* An interesting note among the players who did rehab work during practice (
Tyrone Crawford
, Felix Jones,
Dan Connor
,
Kyle Wilber
,
Alex Albright
and
Morris Claiborne
): they did so wearing their helmets.
June, 6, 2012
6/06/12
4:02
PM ET
IRVING, Texas – The Dallas Cowboys held their ninth organized team activity of the offseason Wednesday and third open to the media, so we bring you a number of observations from the two-hour workout:
** S
Gerald Sensabaugh
did not practice because of a sore knee. Coach Jason Garrett said the decision to sit the veteran was precautionary.
** Tight ends coach John Garrett was in a walking boot during practice because of Achilles' pain. He ran a 5K over the weekend (winning his age group, he added) and came up sore for the final half-mile.
** WR
Dez Bryant
was slow to get up after landing awkwardly on the ground after stretching for a
Tony Romo
pass. He did not appear to miss any practice time.
** You know
DeMarcus Ware
is ready for action when a team tries to run a toss to the weak side and he does not take a false step. Ware snuffed out such a play to
DeMarco Murray
during team run drills.
**With
Mike Jenkins
and
Morris Claiborne
not practicing, undrafted rookie CB
Isaac Madison
was taking turns with the first-team nickel and dime units.
** Unofficially Romo went 14-of-22 in team and seven-on-seven drills. His best throw came on a go route to Bryant, who sprinted past
Orlando Scandrick
for a would-be touchdown. On the first play of the next team period he hit
Jason Witten
for a touchdown as the tight end pulled away from a linebacker.
** CB
Brandon Carr
ended the first-team offense's two-minute drill with a breakup of a Romo pass to
Kevin Ogletree
on fourth down. In seven-on-seven red zone drills, he broke up a slant to Dez Bryant.
**
Kyle Orton
went 13-of-21 in team and seven-on-seven drills. He was particularly effective in the red zone, hitting
Andre Holmes
for a touchdown on a perfect back-shoulder throw with
C.J. Wilson
in coverage.
** Undrafted rookie WR
Tim Benford
had two touchdowns in red-zone drills from Orton. The first came lined up in the slot and the second was a low throw to the back shoulder.
** Orton was 3-of-8 in the two-minute drill, but had one throw away and was victimized by a
Raymond Radway
drop. His fourth down throw to
Cole Beasley
down the seam was high.
May, 4, 2012
5/04/12
5:27
PM ET
IRVING, Texas -- Making instant evaluations off two rookie minicamp practices can be dangerous to a person's health, but here are some observations from the Cowboys sessions Friday:
**
Kyle Wilber
is active. That's what the Cowboys thought they were getting in the Wake Forest linebacker. He has a quick first step off the ball and was able to track down running back Darrell Scott from behind in the morning practice.
** Defensive end
Tyrone Crawford
had a would-be sack of Nathan Dick in the first workout thanks to being unblocked, but he was able to get up the field in more competitive situations.
** Linebacker
Caleb McSurdy
was able to knock away a
Larry Smith
pass to tight end
James Hanna
but on the next play was not as fortunate, with Hanna getting a step on him on an out cut.
** Troy Woolfolk is listed as a cornerback but he played safety Friday. He intercepted a pass that was tipped by linebacker Adrian Hamilton. On the next play Wilber deflected a pass that Lionel Smith intercepted.
** It was difficult to get a read on the wide receivers and tight ends because the timing of the passing game was a mess.
**Tight end Andrew Szczerba made a nice one-handed grab down the middle of the field in the morning practice but was unable to finish the session because of an injury. He practiced in the afternoon. Wide receiver Donavon Kemp sat out of the afternoon workout.
** Cornerback Isaac Madison made a nice breakup of a deep ball from Smith to Cole Beasley.
** Like he did at training camp and all through last season, Jason Garrett had officials at practice. At different times flags were flying, including a handful for lining up offside.
April, 30, 2012
4/30/12
12:02
PM ET
IRVING, Texas – After the draft ended Saturday, owner and general manager Jerry Jones said the Cowboys would be aggressive in the college free agent market, particularly on the offensive line since the team did not draft a lineman.

He wasn't kidding.

The Cowboys signed six, highlighted by Memphis guard Ronald Leary, whom the team almost drafted in the sixth round but backed off because of concerns over a knee injury. The other undrafted lineman signed were: Columbia tackle Jeff Adams, Oklahoma State tackle Levy Adcock, Notre Dame tackle Taylor Dever, Miami guard Harland Gunn and Idaho tackle Tyrone Novikoff

Here are the additional signings:

Cole Beasley WR Southern Methodist
Tim Benford WR Tennessee Tech
George Bryan TE North Carolina State
Lance Dunbar RB North Texas
Saalim Hakim WR Tarleton State
Adrian Hamilton LB Prairie View A&M
Charley Hughlett LS Central Florida
Donavon Kemp WR UTEP
Isaac Madison CB Arkansas
Darrell Scott RB South Florida
Lionel Smith CB Texas A&M
Andrew Szczerba TE Penn State
Aston Whiteside LB Abilene Christian
Eddie Whitley S Virginia Tech
Troy Woolfolk CB Michigan