Dallas Cowboys:

Jacquian Williams
August, 9, 2012
8/09/12
11:00
AM ET
One big reason cornerback
Terrell Thomas
is important to the
New York Giants
is that the Giants
really
like to use defensive backs. The Giants learned earlier this week that Thomas' latest knee injury would not require surgery and that he should be able to play for them this year. This is good news, because with
Aaron Ross
having left via free agency and second-year cornerback
Prince Amukamara
still developing, the Giants need Thomas. Not just as the starter opposite
Corey Webster
, but in the nickel and dime defensive packages they used more than any other team in the league last year.
According to ESPN Stats & Information, the Giants used five or more defensive backs on 734 defensive snaps last year -- more than any other team in the league. That number accounted for 68.5 percent of their 1,072 defensive snaps. Only the
Green Bay Packers
went with five or more defensive backs on a higher percentage of their plays -- 69.0 percent, or 724 of 1,049.
I know this because our NFC North blogger, Kevin Seifert, recently did a post about
how often the NFC North's teams
were in nickel or dime packages last year, and he passed along the chart he got from ESPN Stats & Info showing how often each team in the league went with extra defensive backs. That's how things work on the ESPN.com NFL blog network. We're a team. A brotherhood. Eight pistons firing as one. It's really quite beautiful to watch sometimes.
Anyway, I looked at the chart and noticed that the NFC East's teams basically lived in nickel and dime defenses. Well, three of them at least. The Giants ranked second in the league in percentage of plays with five or more defensive backs. The
Dallas Cowboys
were fifth, at 59.5 percent. The
Philadelphia Eagles
ranked eighth, at 56.8 percent. And the
Washington Redskins
were the exception, ranking 24th at 43.9 percent.
The Redskins had injury issues at safety, didn't like the job
Kevin Barnes
was doing as their inside corner and have very good linebackers that they don't like to take off the field. But the other three teams in our division ... they love them some nickel.
Back to the Giants for a second. Just because they used extra defensive backs this much last year doesn't automatically mean they'll do it again. They're deeper and stronger at linebacker this year, and they didn't re-sign veteran safety
Deon Grant
. That means, if they go to those three-safety looks they've run the past couple of years, the third safety would have to be someone like
Tyler Sash
or
Will Hill
. With Thomas currently on the shelf, there's a chance they could ask safety
Antrel Rolle
to play the nickel corner position, but that's not ideal.
Michael Coe
is likely the next corner off the bench if Amukamara is pressed into a starting role, and while he's looked good in camp, he lacks experience. The Giants liked linebacker
Jacquian Williams
in coverage late last year and in the postseason, and it's possible they could design more packages this year that use just four defensive backs, since their 2012 strengths may lie elsewhere.
The Cowboys' ideal plan is to start
Brandon Carr
and
Morris Claiborne
at cornerback with
Orlando Scandrick
and
Mike Jenkins
backing them up. Scandrick is good in the nickel spot, and overall this plan would give them enough depth to go to the nickel as often as they like. The issue right now, of course, is that Jenkins and Claiborne are hurt, and even if they expect those guys back for the start of the season, they're probably not getting to practice those nickel looks as much as they'd like to. Or at least, not with the personnel they'd prefer to use.
As for the Eagles, they're similar to the Giants in that they're stronger at linebacker this year and subtracted one of last year's starting corners when they traded
Asante Samuel
. With
Nnamdi Asomugha
and
Dominique Rodgers-Cromartie
as the starters, the nickel spot right now is likely to fall either to veteran
Joselio Hanson
or (more likely) rookie
Brandon Boykin
.
Curtis Marsh
has been getting a lot of work in camp and is the first option off the bench should one of the outside guys get hurt. And undrafted rookie
Cliff Harris
has a chance to make the team and add depth. Given the responsibility the Eagles' linebackers have for run support and gap control in the Wide 9, it's likely the Eagles will lean on their defensive backs as much as they did last year, and play as much nickel.
A lot of this depends on opponents, too. The Giants, Eagles and Cowboys all like to throw the ball a lot, so when they play each other they structure their defenses to stop the pass. And having teams like the Packers, Saints, Falcons, Steelers and Lions on the schedule, as NFC East teams do this year, can make teams go to the nickel more. But if we're basing it on last year alone, our teams like to use extra defensive backs as much as anyone in the entire league.
January, 23, 2012
1/23/12
9:00
AM ET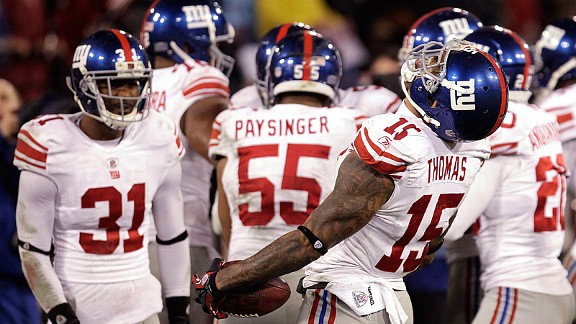 AP Photo/Paul SakumaNew York's Devin Thomas recovered two key fumbles on punt returns by Kyle Williams.
SAN FRANCISCO -- Stuck in traffic on a bus headed for rainy Candlestick Park on Sunday afternoon,
Devin Thomas
had a vision. Thomas is the No. 4 wide receiver for the
New York Giants
, and as such he doesn't get too many chances to make plays. He's a special teams guy, mainly, and not even a return man anymore after flopping in that role earlier this season. So when Thomas has a vision of himself making a huge play to help win a game, it's a special teams play -- a frantic, full-speed crazy play that no one could have seen coming.
"I knew I was going to do it," Thomas said. "I was just thinking today was one of those crazy days where something crazy's going to turn the game. And I had a vision in my mind that I would be the guy who did it."
Thomas made two such plays Sunday. He recovered two fumbles on punt returns by
Kyle Williams
, the 49ers' backup return man. The first set the Giants up for a go-ahead fourth-quarter touchdown at a time when they appeared totally incapable of moving the ball against the San Francisco defense. The second came in overtime, and a few minutes later, after
Lawrence Tynes
kicked the second NFC Championship Game-winning field goal of his career, the Giants had
a 20-17 victory
and a date with the
New England Patriots
in Super Bowl XLVI.
"Our guys never quit, never have any doubts," said Giants quarterback
Eli Manning
, who spent his night being knocked around by fearsome 49ers defenders but never flinched, completing 32 of 58 passes for 316 yards and two touchdowns. "We just keep believing and keep fighting until the very end, no matter what the circumstances are."
These Giants are as improbable a Super Bowl participant as the NFL has seen in some time. Widely predicted (especially here) to miss the playoffs during the preseason, losers of four games in a row in a tough stretch in late November and earlier December, their record stood at 7-7 after a Week 15 loss to the division-rival Redskins. They have not lost a game since. If they had -- if they'd lost even one of the five games they've played since that loss to Washington -- they would not still be playing. The defining aspect of these Giants is their toughness, but out of that over the past five weeks has grown a patience and a discipline that's rooted in intense self-belief and has propelled them to unexpected heights.
"They have grit, now," a beaming head coach Tom Coughlin said of his second Giants Super Bowl team. "We've had five straight single-elimination games. We've played an awful lot of superior football teams this year, and that has certainly helped."
But no one could have seen this coming. Not from 6-6 or 7-7 and certainly not from the preseason, when they were dealing with a major injury per week and everybody was in love with the offseason the Eagles had. Back then, there was no way to know that
Jason Pierre-Paul
would become one of the best pass rushers in the league or that
Victor Cruz
would become one of its best wide receivers. The odds against both of those things happening were astronomical.
"I think we knew, here in this locker room," said rookie linebacker
Jacquian Williams
, who stripped the ball from Kyle Williams so that Thomas could pounce on it in overtime. "You see the talent those guys have on the practice field and you know it's just a matter of when they're going to get their opportunity."
[+] Enlarge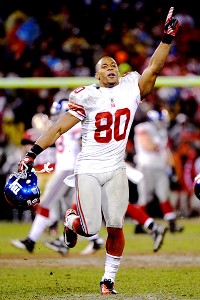 Thearon W. Henderson/Getty ImagesVictor Cruz had 142 yards on 10 catches in the Giants' win.
From October, you couldn't have seen Williams coming. But he's become a critical asset in the Giants' coverage units over the past couple of months, and as he showed Sunday, he's capable of making game-changing plays on special teams. He laughed when I asked him how this was matching up to the expectations he'd had for his rookie season.
"Rookies don't usually have an opportunity to play," he said. "Especially when you got picked in the sixth round."
But this has been an all-hands-on-deck kind of season for the Giants, and opportunities have piled up.
Brandon Jacobs
got an opportunity to be a big part of the running game again when
Ahmad Bradshaw
got hurt. Bradshaw had the bigger game Sunday, but Jacobs has been a key part of the current streak.
Osi Umenyiora
came back from a late-season ankle injury and has elevated the pass rush to teetering heights, terrorizing quarterbacks and forcing fumbles during this run and helping Pierre-Paul and
Justin Tuck
get free to wreak their own havoc.
"I love these guys. They've had my back the whole time," said Umenyiora, who's transformed from cranky contract complainer to peaceful, happy team player in a span of a few months. "So I wasn't going to come back and be selfish. I just wanted to come back and do what they need me to do, whatever that is. That's what I've done and it's had an impact."
This Giants team may have led the league in surprise clutch performances. You may be able to say you thought Cruz would be good, or that Pierre-Paul would come on quickly, or that Umenyiora would put his personal stuff aside for the good of the team. You may be able to say you knew Manning was going to play turnover-free football in the conference title game against a team that forced 43 turnovers in its first 17 games. You may be able to say you knew
Mathias Kiwanuka
was going to change positions and be a critical part of the defense, or even that you believed Williams and Thomas would be making key plays in the biggest game of the season.
But to say you saw all of that coming? You'd have to be crazy to expect anyone to buy that. These Giants represent the reason we watch sports -- to be surprised and amazed, to see human beings push their own limits and achieve things few expected of them. These Giants are overachievers, a team that has found ways to win all year when it didn't appear they should. And you can't be that without getting big-time contributions from every corner of the roster.
"I think we always believed -- in ourselves, in our coaches, in our plan, in each other," wide receiver
Hakeem Nicks
said. "And that's the reason why we're here."
There are so many reasons, and they range from the obvious to the obscure. Nobody picked Thomas to make the plays that won the NFC Championship Game, because Thomas is the kind of guy you have to work hard to remember is still on the team. But as the Giants left their locker room late Sunday night, Thomas carried the ball he'd recovered in overtime and got right back on the bus where he'd envisioned himself doing just that. It may have been a surprise to the rest of us, but it wasn't to Thomas, and it wasn't to the Giants. There are many, many people who are surprised to find the Giants still standing. But the Giants are not among them. They may not have known how they were going to do this, but they always believed they would. And it's quite a varied and remarkable collection of players that has found a way.