Dallas Cowboys:

Jammal Brown
March, 7, 2013
3/07/13
2:00
PM ET
So the Chiefs cut right tackle
Eric Winston
on Wednesday, probably because they've decided to
take a tackle
with the first pick in the draft. But this isn't a Chiefs blog. This is a Cowboys blog, peopled by fans of America's Team. So why are we talking about this?
Winston
Because whenever a player of whom fans have heard gets cut in the middle of his contract, one of the first questions fans immediately ask is, "Should [my team] try to sign [this player that was just cut in the middle of his contract]?" And if you cheer for the Cowboys, and the player in question is Winston, the answer is yes.
It amazes me sometimes, the similarities our four NFC East teams can share. They all need help in the secondary, for instance, and they all need help on the right side of the offensive line. So here's a quickie rundown of why the Cowboys should kick the tires on this 29-year-old offensive lineman who is allowed to sign any time.
Dallas Cowboys
Obviously, the
Doug Free
contract is a huge bust and the Cowboys need a right tackle. They need guard help, too, but a right tackle is a fine place to start. Sadly for the Cowboys, they're too tight up against the cap to really compete for a free agent if that free agent is going to draw interest from multiple teams. I still think they address this in the draft.
August, 20, 2012
8/20/12
12:30
PM ET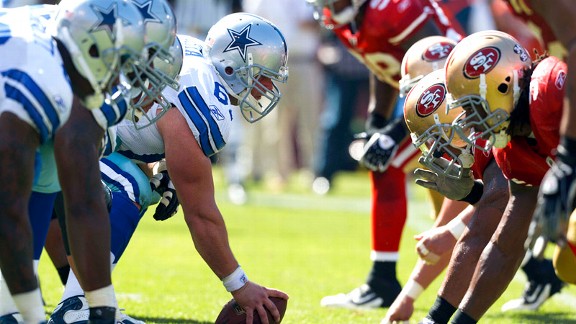 Jason O. Watson/US PresswireLike its NFC East rivals, Dallas is shuffling and searching for ways to solidify its offensive line.
The NFC East leads the league in hype. The huge media markets in which the teams play, the history of success, the rivalries ... all of it combines to create a perception that the NFC East is the best, most competitive and toughest division in the NFL. That the defending Super Bowl champion
New York Giants
play in it -- and are not the clear-cut favorites to win it again this season -- only adds to the perception, as does the growing excitement over an NFL regular-season opener between the Giants and the
Dallas Cowboys
16 nights from tonight.
But while Giants-Cowboys is fun, and each of those teams has something pretty intense going with the division's other two teams -- the Giants' recent struggles with the
Philadelphia Eagles
and the Cowboys' longstanding rivalry with the
Washington Redskins
-- the stats don't back up the NFC East as the league's toughest division anymore. The division is, by many measures, coming off its worst season ever. Last season was the first regular season in NFC East history in which no team won at least 10 games. Only the Giants finished over .500, and they gave up more points than they scored. Their Super Bowl run might have saved the division's honor, but it also disguised the troubling fact that the NFC East is no longer the Beast it used to be.
A large part of the reason for this, I believe, is the state of the division's offensive lines. We all know offensive line play is important, but in the NFC East these days, concern about the lines affects too many things. Teams that are strong on the line can control games. Teams that aren't cannot.
Eli Manning
and the Giants have been talking for months about wanting to not have to come back in the fourth quarter as much as they did last season, and the best way to avoid that is to control games from the start. Given the issues with their offensive line, they could find that a challenge once again.
But they're not alone. As we look ahead to 2012 and start assessing everyone's biggest questions, offensive line stands out as an issue for each of the NFC East's four teams. To wit:
The NFC has no shortage of star power. It has three great quarterbacks and one, Washington rookie
Robert Griffin III
, who's getting as much hype as any of the other three these days. It has some of the great wide receivers in the league in veterans such as
Hakeem Nicks
,
Miles Austin
and
DeSean Jackson
as well as rising stars such as
Victor Cruz
,
Dez Bryant
and
Jeremy Maclin
. The Eagles'
LeSean McCoy
ranks with the game's great running backs. And on defense, of course, the division is known for its great pass-rushers. Each team can rattle off names that give opposing quarterbacks heartburn.
DeMarcus Ware
.
Jason Pierre-Paul
.
Justin Tuck
.
Trent Cole
.
Jason Babin
.
Brian Orakpo
.
All of that makes the NFC East very exciting. But very often in the NFL, excitement and hype can conceal issues of quality. And if the NFC East really wants to be the best division in football again, it's not the quarterbacks or the wide receivers or even the pass-rushers that will bring it there. The NFC East's teams all need to start paying more attention to their offensive lines, because as those continue to erode, so will the division's annual claim to Beastliness.
November, 22, 2011
11/22/11
11:47
AM ET
The Cowboys fought for a 27-24 victory over the
Washington Redskins
on Sunday afternoon. We review the showdown in Landover with our weekly Beat Writers recap.
*The Cowboys did miss fullback
Tony Fiammetta
on Sunday. He's been credited for moving defenders out of the way during this amazing stretch for running back
DeMarco Murray
. However,
John Phillips
lined up at fullback for 33 snaps on Sunday and should receive high grades from the offensive coaches. He didn't miss any blocks and made sure
Felix Jones
and Murray were able to get to the line of scrimmage with little problems. Phillips even caught a pass, for nine-yards, out of the backfield. If the Cowboys don't have Fiammetta for an extended period of time, Phillips is more than capable of handling it. The biggest difference between Phillips and Fiammetta is the tight end has to get lower to the ground to make his blocks which keeps him upright and prevents him from moving defenders. Fiammetta is shorter so he's able to get more power in his legs to move defenders a little better.
*It was a rough day for slot corner
Orlando Scandrick
. He's starting now with
Mike Jenkins
out of the lineup with a hamstring injury. Jenkins hopes to play Thursday vs. Miami. But Scandrick has slumped in his absence. On the Redskins game-tying scoring drive, Scandrick made two critical mistakes. He had a chance to tackle fullback
Darrel Young
in the flat for a short gain, but missed the tackle. Young trots down the field for 27 yards. Scandrick's other poor play came on a third-and-two from the Cowboys 21. Scandrick grabbed the back of receiver Jabar Gafney's jersey after getting beat inside. Scandrick was called for a hold costing the Cowboys five yards.
*The same problems
Akwasi Owusu-Ansah
had last year as a returnman continues in 2011. He doesn't make defenders miss, runs tentativiely out of the end zone and doesn't know what to do on punt returns. In the first quarter, Owusu-Ansah had a chance for a nice punt return but was calling for a fair catch with
Danny McCray
and
Alan Ball
in front of him as blockers.
Kevin Ogletree
also picked up a block. Cowboys either need to challenge him to attack the defenders or find someone else to return kicks.
*
Anthony Spencer
is not playing like a man in his contract year. He's been so up-and-down it drives you crazy. He saw plenty of one-on-one blocking from tackles
Trent Williams
and
Jammal Brown
on Sunday and was left with a four tackle, one tackle for loss and one quarterback hurry efforts. Very good but sometimes you wonder if there is more for Spencer to do. Tight ends
Fred Davis
and
Logan Paulsen
contained Spencer on some plays too. Yes Spencer's job is to contain the edge and stop the run but it seems he's more of a pass rusher. Spencer is an athletic player who maybe doesn't get enough credit for doing the dirty things on the field, the plays we don't see.
*There was an interesting trio of linebackers of
Bradie James
,
Sean Lee
and
Keith Brooking
on Sunday. This group was on the field at the same time for about 10 snaps. It gives the Cowboys some interesting matchups. It allows them to employ two good run stoppers in Brooking and James and someone who is solid vs. the pass in Lee. One thing we like from defensive coordinator Rob Ryan is the creativity he displays. He's not afraid to use different players in different situations.
*
Gerald Sensabaugh
continues to play well. He finished with nine tackles, a team-high seven solos on Sunday. He also forced a fumble and recovered one as well. He's playing much better this season and we've said in the past it's due to
Abram Elam
's work of getting guys lined up before the snap. But Sensabaugh is very aggressive. He's not afraid to mix it up on run plays and breaks to the ball faster and harder this season after catches from receivers.
*From ESPN Stats and Information:
Tony Romo
is tied for second in the NFL with 13 touchdowns when pressured by five or more rushers. ...
Jason Witten
leads the Cowboys in yards-after-catch with 237. ... Cowboys have been penalized 24 times for 204 yards last three weeks.
November, 22, 2011
11/22/11
10:51
AM ET
By
Bryan Broaddus
| ESPNDallas.com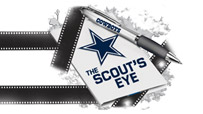 When getting ready for this game, there was no doubt in my mind that the
Washington Redskins
would give the Cowboys their best shot. Defensively, the Redskins were still playing hard despite being put in terrible position by their offense. The Redskins' offense was as bad as any as I've studied this season, and the majority of their struggles had to do with the quarterback play of
Rex Grossman
and
John Beck
.
I really felt the Cowboys defense would be able to take advantage of how poorly Grossman had played since being put back into the lineup after Beck proved he couldn't handle the job. But when you struggle to get consistent pressure and you struggle with communication problems, even poorly playing quarterbacks can enjoy success.
Redskins' receivers had too much room to operate
For the previous two weeks, the Cowboys secondary had been outstanding. Against the Redskins, however, there were too many plays where receivers had room to operate. It all really started to fall apart when
Orlando Scandrick
was flagged for holding after he was beaten off the line because he wasn't in good position and had to grab his man. There was another time where the Redskins spread the Cowboys' defense across the field, forcing
Terence Newman
to play between two receivers on the outside because
Gerald Sensabaugh
failed to get over in coverage and replace Abe Elam, who had blitzed. It resulted in an easy pitch and catch for Grossman.
Scandrick also failed to get his hands on
David Anderson
during an out-and-up route, which resulted in a nice gain for the Redskins. If Scandrick gets his hands on Anderson in the 5-yard zone, he has no shot at getting that ball.
The Redskins drove into the Cowboys' red zone, and Grossman was able to deliver a touchdown pass in the back of the end zone to
Jabar Gaffney
. On the play, Sensabaugh thought he had inside help from
Frank Walker
, who was lined up at the other safety. At the snap, Gaffney runs up, nods to the outside and then gets Sensabaugh to have to try and adjust to him. Sensabaugh got turned and was unable to get back inside, and Walker wound up jumping an across-the-middle route underneath when he should've been helping Sensabaugh with Gaffney.
Loose coverage proves costly for Newman
While Scandrick and Sensabaugh had their struggles, so did Newman. He didn't play near as aggressively as he had against Buffalo or Seattle. Maybe it had something to do with the chopped-up condition of the field and he didn't have confidence in his footing. Nevertheless, he played way too cautious on routes.
There was only one time where he drove on a ball, and that was on a pass over the middle to Anderson. Newman read it well, avoiding Anderson and knocking the ball down. Newman's problems were a result of always being four to five yards off in coverage. On third-and-11, Newman allowed Gaffney to run up the field and turn inside with plenty of room to catch the ball. Newman was a good four yards off.
There was another time where Newman got bumped off coverage when covering Donte Stallworth and couldn't rally to make the play. In previous games, Newman had been played much more physical.
Hatcher, Ratliff stand out on defense
When teams were able to run the ball against the Cowboys, it was mainly because of the poor play of the defensive ends. When the defense had success stopping the run, it was because
Kenyon Coleman
,
Marcus Spears
,
Jason Hatcher
and
Sean Lissemore
did a nice job of holding blocks at the point of attack.
If I had to give a game ball to one of these ends, I would hand it over to Jason Hatcher, who clearly outplayed former teammate and Redskins DE
Stephen Bowen
. Hatcher was able to get pressure several different ways. Ryan used him on twist stunts and over the guards in the nickel. Hatcher was always working his way up the field in the passing game, but he also did a nice job of stacking blockers at the point of attack.
Jay Ratliff
keeps putting outstanding games together as well. He is one of those players that you really don't appreciate until you go into the lab and break his work down. Ratliff was strong at the point in the running game, overpowering center
Will Montgomery
several times, causing problems inside for the Redskins' zone running scheme. Ratliff was able to draw a holding call that brought back a nice gain on a pass play to tight end
Logan Paulsen
in the flat. In this game, the numbers were there for Ratliff, who has played well the last several weeks.
Where was Ware on game-tying drive?
Nobody appreciates the fine work of
DeMarcus Ware
and what he means to this team on a weekly basis more than I do. There is no questioning his talent and passion, but it's my job to point out flaws that I see during my film study. In this game, the defense allowed the Redskins to drive the ball down the field and score the game-tying touchdown. The 12-play drive -- for another weekend -- showed the Cowboys' defense couldn't close the game out, much like they couldn't against the Jets, Lions, and Patriots. On that final drive in regulation, the Redskins only doubled Ware once. On four of the plays, he was matched up against
Jammal Brown
. On the other eight, he went against young LT
Trent Williams
. The result for Ware: Not one sack or even a pressure.
Romo makes most of second-chances
Tony Romo
won this game for the Cowboys, plain and simple, through his abilities to buy a second chance with his feet, think on the move and deliver a play when his team needed it the most.
There was no doubt in my mind that the Cowboys were going to have difficulties running the ball against the Redskins' defensive front. As well as
DeMarco Murray
had been carrying the ball, this was a game where the blocking was less than perfect and he had to fight for every yard.
Romo's reads and execution were spot on. Where he was at his best was his ability to feel the pressure and move to avoid it. Two examples were on touchdown passes to
Laurent Robinson
and
Jason Witten
.
Romo on the run: Example No. 1
Robinson did an outstanding job of getting in position to catch the ball. When the play started, it looked like Robinson was going to be brought in motion to create a bunch formation, but Romo did not bring him inside. At the snap, Robinson had to work up to the goal line and then sprint across to get Romo's attention. On the other side,
Dez Bryant
was jammed at the line.
With the pocket closing around him, Romo moved to his left to buy more time, and Bryant was trying to work himself free in the corner of the end zone. At the same time, Robinson is in the clear but is quickly closing ground to the Redskins corner on the other side of the field.
Romo, moving to his left, pointed to the left corner of the end zone to try and freeze the defender to that side. Bryant tried to work back that way, but Romo really was trying to create space for Robinson along the goal line.
At the moment of truth, Romo, instead of leading Robinson with the ball into the defender, throws the ball behind Robinson so he can brace for the catch. Robinson is able to adjust, make the catch and secure the touchdown.
Romo on the run: Example No. 2
On the TD pass to Witten, it was really a heady play by two veteran players.
Once again, Romo has to deal with pressure, but he's able to spin to his left to avoid the rush. Witten, on the right side of the formation, runs a curl at about 12 yards. When he turns, Witten sees Romo spinning out of the pocket, so he starts across the field to mirror the direction that his quarterback is turning.
Romo doesn't see Witten at first, but Witten makes himself available up and across the field. The Redskins had no safety help in the middle of the field where Witten attacked. Moving to his left and with pressure in his face, Romo delivered a strike to Witten, who was able to finish the play by getting to the end zone.
Less is more for DeMarco Murray
I knew it wasn't going to be easy for Murray, but the way he carried the ball was more impressive than his 250-yard effort vs. the Rams. On fourth-and-1 in the third quarter, with the Cowboys trailing 17-10, Jason Garrett decides to go for it.
On the field, Garrett has three tight ends, one wide receiver and Murray in the backfield.
John Phillips
is lined up as a wing to the left and comes in motion across the formation.
Martellus Bennett
is lined up on the line right, with Witten slightly off the line to his right. WR Robinson is wide left.
At the snap, the Redskins defense pinches down inside on both sides in an effort to clog the middle.
Montrae Holland
pulls from his left guard to the right. On the front side, Witten, Bennett,
Tyron Smith
and
Kyle Kosier
all block down inside to cave the edge.
Holland managed to get around the corner with Phillips out on the support. Holland pulled to block
London Fletcher
, but missed. Murray is now heading for the edge as Phillips loses contact with
DeAngelo Hall
, who is able to grab Murray in space. Murray, however, is much too strong for the cornerback and is able to finish the run by carrying Hall an extra four yards for the first down. The drive later was capped with the game-tying touchdown pass to Robinson.
November, 18, 2011
11/18/11
8:39
AM ET
By
Bryan Broaddus
| ESPNDallas.com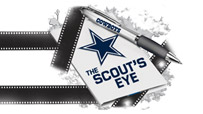 The last time the
Washington Redskins
and
Dallas Cowboys
met, some eight weeks ago, the Redskins were off to a 2-0 start with an impressive opening day win against the
New York Giants
while the Cowboys had just evened their record to 1-1 after
Tony Romo
managed to steal a game in San Francisco despite a broken rib.
Blame quarterbacks for Redskins' slide
Since that meeting, the Redskins have lost five of their last six. A large part of those losses are due to the poor play of the quarterbacks
Rex Grossman
and
John Beck
. When you study the Redskins, the first thing that comes to mind is what we had to deal with during the Dave Campo years here in Dallas when it came to the quarterbacks. During that span we wasted a lot of time trying to get quarterbacks ready to play that gave us no opportunity to win games. I am seeing a lot of the same things in Washington.
Mike Shanahan's inability to successfully identify a quarterback has done a lot of damage to the Redskins. Time, money and draft selections have been wasted on players like
Donovan McNabb
, Grossman and Beck.
Any pro personnel director could tell you without hesitation that McNabb was slipping badly and Andy Reid was more than ready to move on from McNabb with
Michael Vick
. As much as Shanahan wanted to believe that there was still gas left in McNabb's tank, it wasn't the case at all. Everyone knew that except Shanahan.
As the Redskins were going through training camp, Shanahan was still in search of a quarterback and placed a call to the Dolphins about Beck, who have had their quarterback issues as well. The Dolphins were more than happy to ship Beck to the Redskins. Shanahan made his biggest mistake of the off season by not addressing the quarterback situation through the draft when he had the opportunity to do so with a top-10 selection.
Shanahan could have selected
Andy Dalton
,
Jake Locker
or
Christian Ponder
but instead chose to trade down and select linebacker
Ryan Kerrigan
out of Purdue. Kerrigan has been a nice player this season but doesn't help his quarterback situation now or in the future.
Beck has made three starts this season and has yet to win a game. As a matter of fact, Beck has an 0-7 record as an NFL starter. He plays like a quarterback that is afraid to make a mistake. You never see him really push the ball down the field. Everything Beck does is short and underneath.
Beck really struggles because he isn't that accurate when it comes to throwing the ball at any level. He will struggle to hit receivers on the move and he will also struggle to hit them when stationary. The ball doesn't come off his hand with any zip at all; there is no power to his game.
This is also the case of Grossman, who is back after throwing four interceptions in a loss to the Eagles. I have never been a fan of Grossman's game because he really lacks arm strength, but I can't question his toughness. He will stand in there and take shots.
Grossman is not the tallest or most mobile quarterback in the league, but you will see him slide in the pocket to try to help him with throwing lanes. The lack of arm strength appears when the Redskins try to throw the ball down the field.
Cowboys catch a break: No Moss
There have been too many times where
Anthony Armstrong
or
Santana Moss
get a step on a corner but have to wait on the ball because neither Grossman or Beck can get it down the field.
The Cowboys catch a huge break in this game because Moss will miss it due to a hand injury. Moss has punished the Cowboys over the years with his playmaking ability, so the fact that he is out of the lineup is a huge plus for Rob Ryan and this defense.
The Redskins generate offense in two areas.
Tight end
Fred Davis
is the real deal and is someone that nickel back
Frank Walker
and safeties
Gerald Sensabaugh
and
Abram Elam
are going to have to deal with. Davis doesn't play like a traditional in line tight end. Not to say that you won't see him inline, but the majority of his work is in the slot or flexed. Davis likes to work the middle of the field and he will be the go-to guy on third downs. Offensive coordinator Kyle Shanahan likes to move him around the formation and create opportunities.
Redskins also will struggle to run the ball
Shanahan will also try to run the ball against the Cowboys' front seven. Last week against the Bills, Dallas' run defense was outstanding when the game was in the balance. That wasn't the case the previous games against the Eagles and Seahawks.
The Cowboys will need to be ready for running backs
Ryan Torain
and
Roy Helu
in this zone blocking attack. Torain runs the ball hard but he is really straight line and doesn't have many moves. He will attack the hole, then lower his head to finish the run.
The back that I think is the best fit for this offense is Helu. He just plays like he has a better feel for the offense when it comes to reading the blocks, then making the cut. Torain is more about attacking the hole; Helu is more about allowing the blocks to develop then making his cut.
Helu also does a nice job of catching the ball out of the backfield. Solid, dependable hands and does a nice job of getting up the field and gaining positive yards.
I mentioned the issues that the Redskins have at quarterback, which I feel are the most important, but their offensive line -- other than left tackle
Trent Williams
-- really struggle, run or pass.
Left guard
Maurice Hurt
is the weak link of this line. He plays overextended, doesn't adjust to twist stunts and has poor sustain. He has been nursing a knee injury and might not be active for this game. Center
Will Montgomery
would slide over to his spot and
Erik Cook
would take over at center.
Right tackle
Jammal Brown
has had his shares of problems when it has come to pass protection. Have seen defenders get the edge on him without many problems.
Williams can make the cut-off block on the backside and reach the front. Williams had a little trouble in the 49ers game when he and Hurt had to sort out the twist game. Both of them did not adjust all that well. Look for Rob Ryan to throw some movement stunts against this line to see if they have corrected those problems or teams will continue to take advantage of them.
Redskins' defense will create pressure
If the Redskins can ever find a way to build any type of offense, they would have a shot in this division. No matter how bad the offense plays, the Redskins defense is always there to clean up the mess.
Defensive coordinator Jim Haslett and his staff have done a nice job in the games I studied. The pressure that they have able to generate with their front seven, particularly outside linebackers
Brian Orakpo
and Kerrigan, has been impressive.
Orakpo was the first rusher that
Doug Free
faced after the 49ers game, when he struggled so bad with his technique. I was told that Free was really worried about the inside rush from Orakpo and it affected him in the game. Free has been rock solid the last two weeks and appears to once again be playing with confidence.
Both Orakpo and Kerrigan are relentless rushers when coming after the quarterback, but you will also have to deal with them on the backside when running down plays. If the Cowboys' tackles and tight ends don't finish blocks on the backside, then Orakpo and Kerrigan will be right there to make a play.
One of the major reasons for success in this Cowboys running game has been their ability to secure blocks and allow
DeMarco Murray
to use his vision to make cuts when he reads it. Without those backside blocks, this running game wouldn't be as potent.
Watch for safety Landry to key on Cowboys' rushers
In the Buffalo game, safety
LaRon Landry
played more in the box, almost like a linebacker. I have a feeling that Haslett will probably try to do the same to see if he can have some success stopping Murray. Garrett can counter much like he did last week against the Bills -- throw the ball early in the game to get them out of that.
The Redskins have some run players in nose tackle
Barry Cofield
and defensive end
Adam Carriker
. Cofield shows the ability to get up field quickly off the snap and be disruptive in the backfield. Will be interested to see if Cofield lines up over
Montrae Holland
, who has struggled with quickness in the past.
Carriker plays with more brute force and power than great technique. When
Tyron Smith
has had his troubles, it's been against ends that play with power. But to Smith's advantage, this will be the second time that he has faced Carriker, so he can go back and study how he needs to attack him.
Former Cowboys defensive end
Stephen Bowen
is not playing as well against the run as he did when he was here. There is something about Bowen that leads me to believe that he really was an outstanding nickel or backup player, and the more snaps that he has to play, the more he will struggle. Bowen can still generate some pass rush, but he isn't nearly as affective as he was when here.
At inside linebacker, the ageless
London Fletcher
is still around the ball a great deal. When in position to make a tackle, he can get the job done.
I was not impressed with
Rocky McIntosh
at all. I saw too many times where he was beaten in coverage or he missed a tackle. In the 49ers and Bills games, he was really bad in both those areas. McIntosh struggled much more than Fletcher at getting off blocks.
Cowboys should target Barnes in Redskins' secondary
In the secondary, the Redskins will use three safeties when they are all healthy, which at this time they are not. Landry has missed the first two days of practice with an Achilles injury, but he should play. O.J. Atogwe has been dealing with knee and toe problems and
Reed Doughty
has a chest issue.
The best combination for the Redskins is when Atogwe and Landry are the starters. Doughty will try to be physical in the run but doesn't cover all that well.
Of the two corners,
Josh Wilson
knows how to play the fade and doesn't give you much room. He also runs very well.
DeAngelo Hall
likes to bait quarterbacks into throws and will drive on routes. Have been told that he hasn't been playing well this year, but in the games I studied, I didn't see that. The weak link in the group is nickel
Kevin Barnes
, who needs to be attacked.
June, 19, 2010
6/19/10
6:43
PM ET
The Redskins made it official Saturday when they traded for Saints left tackle
Jammal Brown
, who missed all of last season because of injuries.
Adam Schefter has the details of the
deal
.
So what does this mean for the Cowboys?
Well, if Brown starts at left tackle,
DeMarcus Ware
will go up against him. The last few years, Ware faced the Redskins'
Chris Samuels
, but he's gone now.
It's going to be interesting to see how well Brown plays with him being out a year.
We got an
update
on this Brown deal from the Washington Post, which reports Brown could start at right tackle with first round pick Trent Williams getting first-team reps during OTAs and minicamps.