Dallas Cowboys:

Jason Avant
April, 8, 2014
Apr 8
10:15
AM ET
IRVING, Texas -- Two veteran wide receivers went off the market Monday when
Nate Burleson
and
Jason Avant
signed with the
Cleveland Browns
and
Carolina Panthers
, respectively.
Both were linked to the
Dallas Cowboys
by the media (hello, that's me), but sources indicated the Cowboys had some interest in Burleson, who played for their new passing game coordinator, Scott Linehan, with the
Detroit Lions
. The Cowboys just were not willing to pull the trigger on a deal now, continuing their patient approach in free agency.
Could it mean the Cowboys are as content at wide receiver as owner and general manager Jerry Jones has said?
[+] Enlarge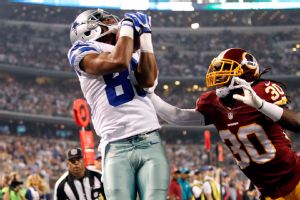 Tim Heitman/USA TODAY SportsTerrance Williams, a 2013 pick, started as the No. 3 receiver and also showed he could handle the No. 2 role. Is Dallas hoping for a repeat in the 2014 draft?
With
Dez Bryant
and
Terrance Williams
, the Cowboys are set at the top two spots.
Dwayne Harris
and
Cole Beasley
would settle in as the No. 3 receiver, splitting the job depending on role. Harris has more big-play ability. Beasley is better in the quick-game routes.
I've long said the Cowboys do not need a true No. 3 receiver over the years because they have tight end
Jason Witten
, and the running backs have always figured prominently in the passing game.
The best performance by a No. 3 receiver for the Cowboys in the past five years has been
Laurent Robinson
, who caught 54 passes for 858 yards and 11 touchdowns in 2011. But mostly the Cowboys need their third receiver to catch anywhere from 30 to 40 passes a season.
Kevin Ogletree
did that in 2012 with 32. Technically Roy Williams might not have been the No. 3 receiver in 2010, but he caught 37 passes. In 2009, Patrick Crayton caught 37 passes for 622 yards and 5 touchdowns.
So you're looking for a No. 3 receiver to catch two or three passes a game when you look at the options available in how the Cowboys have constructed their offense.
But what if Bryant or Williams gets hurt? And there will be injuries. Can Harris be a No. 2 receiver and excel outside? Maybe for a few games. Beasley is just a slot receiver because of his size. That is why I thought Avant or Burleson would have been good fits. Other options remain, such as
Earl Bennett
and even
Miles Austin
, but that would be a long shot.
However, if the Cowboys were not willing to make a play for a free agent Monday, they're not going to get into the market Tuesday.
Last week, I wondered whether
Gavin Escobar
could
be an option as the third receiver.
The Cowboys like his athleticism and saw in glimpses his ability to make plays. His touchdown against the
Philadelphia Eagles
in the season finale was an eye-opener. With the way the tight ends are used these days, Escobar has more receiver skills to him than tight end skills. He needs to get bigger and stronger to be an on-the-line tight end, but that part of his game will never be his strength. His strength will be working the seams and his ability to go get the ball.
But here is a thought: This is considered one of the deeper drafts in memory for wide receivers. Could the Cowboys be looking for their No. 3 receiver, who could be the No. 2 receiver, in the early to middle rounds of the draft?
Williams, a third-rounder last year, caught 44 passes for 736 yards and 5 touchdowns and showed he could handle the No. 2 role when Austin missed games with a hamstring injury. Williams' development played a part in the release of Austin.
If a
Mike Evans
fell, or if a
Marqise Lee
is there in the first round, could they be targets? It sure seems as if the draft is the Cowboys' preferred method to find their No. 3 receiver.
March, 28, 2014
Mar 28
12:00
PM ET
IRVING, Texas -- Part 1 of the
Dallas Cowboys
Twitter mailbag is ready. In it we discuss how the offense will look with
Tony Romo
coming off back surgery, who the real general manager of this team is and whether some offensive line help could be coming in the future.
Part 2 will come out on Saturday. Remember if you have questions for me via Twitter (@toddarcher) use the #cowboysmail hashtag.
Away we go:
March, 11, 2014
Mar 11
9:00
AM ET
IRVING, Texas -- The free-agent shopping starts today at 3 p.m. CT.

If the
Dallas Cowboys
have learned anything, it's that they should use coupons.
From 2006-11, the Cowboys signed 12 players in unrestricted free agency. Only two players who signed multi-year deals reached the end of their contracts:
Kyle Kosier
signed a five-year, $15 million deal with the Cowboys in 2006 and was with the team through 2011.
Keith Brooking
signed a three-year, $6 million deal in 2009 and was a contributor through 2011.
Igor Olshansky
(2009),
Leonard Davis
(2007) and
Akin Ayodele
(2006) are the only other players who made it more than one season on their original deals, and Olshansky and Ayodele made it only two seasons.
The Cowboys signed seven unrestricted free agents in 2012 and three lasted one season (
Dan Connor
,
Nate Livings
and
Lawrence Vickers
) on multi-year deals.
Brodney Pool
signed a one-year deal and barely made it to training camp.
Three members of the 2012 free-agent class remain:
Brandon Carr
(five years, $50 million),
Mackenzy Bernadeau
(four years, $11.5 million) and
Kyle Orton
(three years, $10.5 million). Carr is coming off a disappointing 2013 season, Bernadeau took a pay cut last week and Orton is not sure he wants to play.
Spending money in free agency is hardly ever the answer. The Cowboys will not have a ton of money available to them when the market opens until the
DeMarcus Ware
situation is resolved, and even then they will have to be wise with how they spend it and who they spend it on.
The needs are obvious: defense, defense and more defense. That's what happens when a unit finishes last in the NFL in 2013. But the Cowboys could use a veteran presence at wide receiver (
Robert Meachem
,
Jason Avant
) and a backup quarterback if Orton walks away (
Shaun Hill
).
Finding defensive line help is a must, but the Cowboys will have to be budget conscious. They have had on and off talks with Jordan Woy, who represents free agents
Jason Hatcher
and
Anthony Spencer
, for most of the offseason. Both players could find better financial opportunities elsewhere.
Hatcher turns 32 in July and is coming off a career-high 11 sacks. He was added to the Pro Bowl. Spencer played in only one game in 2013 because of a knee injury that will not be healed enough for him to be 100 percent ready for training camp.
How much of a commitment can the Cowboys make and feel like they will get their money's worth?
Ties to new defensive coordinator Rod Marinelli could help in the pursuit of
Henry Melton
, but he is coming off a torn anterior cruciate ligament.
Value is often the most overlooked part of free agency. The big-money signings lead to the biggest headlines, but do not correspond enough to wins and losses.
The Cowboys found value in Kosier, Brooking,
Gerald Sensabaugh
and Bernadeau but did not or have not received enough bang for the buck in Carr ($26.5 million guarantee) and Davis ($18.75 million guaranteed).
As the Cowboys look to clear this 8-8 bump that has turned into Mt. Everest, they need to spend wisely, but more importantly they need to choose wisely.
March, 10, 2014
Mar 10
10:00
AM ET
Here are the top 15 free agents, followed by their rankings, entering Tuesday's signing period as compiled by NFC East reporters Dan Graziano, Todd Archer, Phil Sheridan and John Keim. There are some strong options at the top, but there is not a lot of depth in the NFC East when it comes to free agency. And if Dallas'
DeMarcus Ware
gets released, he vaults to a top spot on this list. As always, ESPN's free-agent tracker will keep you updated during this period.
1. LB Brian Orakpo, 8.5:
The Redskins used the franchise tag on him, so barring a surprise, he'll be back. It's a controversial move among fans, but the Redskins need his pass rush and promise to unleash him more often. His career best for a single season is 11 sacks.
2. DT Linval Joseph, 8:
A very big, strong and young (25) interior run-stuffer who has also shown the ability to create pressure from the interior, Joseph could be available because of the Giants' depth at defensive tackle and their many needs.
3. DT Jason Hatcher, 8:
He is coming off an 11-sack season, but he turns 32 in July and Dallas doesn't have much cap space.
4. LB Jon Beason, 7:
The Giants are working hard to sign him before free agency opens, as his leadership and high-energy play at middle linebacker helped transform their defense during the 2013 season.

Nicks
5. WR Hakeem Nicks, 7:
This grade is based on talent and past accomplishments, and a feeling that he was being overly careful in 2013 in order to hit free agency healthy. Lacks his early career speed, but knows how to play the position as well as anyone.
6. WR Jason Avant, 7:
For a team in need of a third-down possession guy, the sure-handed Avant will be a great value.
7. P Donnie Jones, 7:
The Eagles are expected to re-sign Jones, who was an underrated contributor to their NFC East title team.
8. DE Anthony Spencer, 6:
He is coming back from microfracture surgery, so the cost won't be high.
9. LB Perry Riley, 6:
The Redskins need to re-sign him because they already have a hole at inside linebacker after
London Fletcher
retired. But they won't break the bank for Riley, who needs to improve in coverage.
10. DE Justin Tuck, 6:
Coming off an 11-sack season that came out of nowhere after two down years, Tuck turns 31 later this month but is a locker-room leader and a 4-3 defensive end who can set the edge against the run.
Vick
11. QB Michael Vick, 6:
With
Nick Foles
' ascension, Vick is looking for a chance to start elsewhere.
12. RB Andre Brown, 5:
He played very well in his first few games back off a broken leg, but faded down the stretch and fumbled too much in the final few games. He is likely not a guy who can be relied on as a starter, but potentially a valuable piece.
13. TE Brandon Myers, 5:
A huge disappointment in New York after catching 79 passes as a Raider in 2012, Myers also contributed little as a blocker. The Giants are likely to let him go. He could fit better with a different system.
14. CB Terrell Thomas, 5:
He played all 16 games after missing the previous two seasons because of ACL tears in the same knee. Thomas believes he can hold up as a starter off a real offseason, and would like to cash in.
15. S Danny McCray, 5:
He is a core special teamer only, so the Cowboys could find value here.
March, 7, 2014
Mar 7
12:00
PM ET
IRVING, Texas -- It's Friday, so it's time for Part 1 of the
Dallas Cowboys
Twitter mailbag.
In it we talk about the salary cap, possible wide receiver additions in free agency and yoga. Yes, yoga.
Look for Part 2 on Saturday.
Away we go:
March, 30, 2013
3/30/13
10:00
AM ET
»
NFC Eight in the Box
:
East
|
West
|
North
|
South
»
AFC
:
East
|
West
|
North
|
South
How do the Cowboys look at wide receiver and what still needs to be done?

Dallas Cowboys
:
Dez Bryant
broke out in a huge way in the second half of his third NFL season and finished the year with 92 catches for 1,382 yards and 12 touchdowns. If he can keep himself in one piece, he's one of the top wideouts in the league.
Miles Austin
is the perfect complement on the other side -- good enough that defenses have to pay attention to him but not the kind of guy who's going to complain if Bryant gets more catches. Austin has to keep his hamstrings healthy, and if he does the Cowboys have a top one-two wide receiver combo.
Dwayne Harris
came on strong last year as a No. 3 wide receiver, and guys such as
Cole Beasley
and
Danny Coale
could provide intriguing depth. Dallas could look to add a veteran wide receiver to its mix heading into training camp in case the young guys don't produce, but it's not a high-priority issue.
To see what the other NFC East teams look like at WR, click here.