Dallas Cowboys:

Jason Campbell
March, 4, 2013
3/04/13
11:30
PM ET
We start a 10-part series breaking down the Cowboys' free-agency needs, position-by-position:
Quarterbacks

Who's on the roster:
Tony Romo
,
Kyle Orton
and
Nick Stephens
.
Analysis:
This is one position the Cowboys are not trying to upgrade in free agency or the draft. Romo will be signed to a long-term deal at some point this offseason, and the team values Orton's ability to play if there is an injury. It would be nice if the Cowboys tried to get a younger quarterback to develop for the future.
Cowboys free agents:
None
NFL free agents of interest:
Matt Moore
,
Jason Campbell
,
Chase Daniel
,
Jordan Palmer
and
John Beck
.
Need Meter: 2.
It will be interesting to see how Stephens, a dropback passer, fits during the organized team activities this spring. Moore was cut by the Cowboys years ago and probably isn't interested in returning as a backup now. If the Cowboys add to this position, it'll be through the draft. Unless Orton wants to be a starter again in this league, he might be Romo's backup for a few more years until a younger quarterback emerges as a better No. 2 option.
January, 20, 2012
1/20/12
10:30
AM ET
IRVING, Texas --
A week ago we brought up the backup quarterback subject
and wondered how the Cowboys will approach that spot in 2012 with
Jon Kitna
retiring and
Stephen McGee
entering the final year of his contract.
On Thursday, Jason Garrett was asked about the possibility of bringing in a veteran backup.
"It's a very important position," Garrett said. "As we all know you want to make sure you allocate the resources necessary to that spot. Jon Kitna was great for us the last three years. He had a chance to play last year and played really well for our team and was a real leader for our team. He's retired now and in Seattle and enjoying life after football and we have to make a decision there. Stephen McGee has gotten some real good experience the last couple of years, playing in games and we'll continue to evaluate his progress. We like what he's done but it's an important decision. We've got to make sure we have enough people for no other reason than guys get hurt and you better have a suitable guy who can go in there and play."
Chicago found out the hard way after losing
Jay Cutler
to an injury. Kansas City's hopes faded after
Matt Cassel
got hurt and led them to
Kyle Orton
, whom the Cowboys also claimed on waivers.
Orton will be an unrestricted free agent and the most interesting possibility, however, he could get the chance to be a starter somewhere else (maybe even the Chiefs), which would hurt the Cowboys' chances of going after him.
The other free-agent names are less palatable (
Jason Campbell
,
Shaun Hill
,
Brady Quinn
) but Garrett's history here has shown he prefers the veteran.
Brad Johnson
was 39 when he came to the Cowboys in 2007. Kitna was 37.
January, 13, 2012
1/13/12
10:00
AM ET
IRVING, Texas -- Jon Kitna's retirement should not come as a surprise. That was the plan when the 2011 season started and that remained the plan when it was cut short because of a back injury.
What will the Cowboys do at their backup quarterback position?
Stephen McGee
ended the year as the No. 2 and played all but one series of the Dec. 24 Philadelphia game after
Tony Romo
bruised his hand. McGee completed 24 of 38 passes for 182 yards and a touchdown in the loss to the Eagles.
He will be entering the final year of his rookie contract in 2012.
Would the Cowboys be comfortable with him as Romo's backup?
The Cowboys could look to the draft as a possibility. Romo will turn 32 in April and he has suffered injuries in three of the last four seasons, although he has missed just 13 games with 10 coming in 2010 because of the broken collarbone.
It might be wise to look for his potential successor but the quarterback class was thinned out some by the decisions of Matt Barkley and Landry Jones to remain in school. Plus, this team has a number of defensive needs it must address, especially early in the draft.
Then there is free agency.
If you look at Jason Garrett's history with the Cowboys he has preferred an elder statesman to be Romo's backup.
Brad Johnson
was 39 when he joined the Cowboys in 2007 and started 122 games in his career. He played for Norv Turner and had an idea of what Garrett would want. Kitna was 37 when he joined the Cowboys and started 115 games in his career. He played for Mike Martz, whose offense is from the same Don Coryell scheme Garrett employs, in Detroit and was in Cincinnati with Garrett's brother, John.
The free-agent market does not appear to have a quarterback with the same credentials and connections. Maybe Detroit's
Shaun Hill
. Maybe
Sage Rosenfels
. Maybe
Jason Campbell
.
Executive Vice President Stephen Jones said last month that the team would feel comfortable with McGee as the No. 2 in 2012. They may not have another choice.
October, 3, 2010
10/03/10
10:43
AM ET
It's trendy to crack jokes about counting this weekend as a win for the Cowboys, a dig at Wade Phillips for comments made about the 2007 playoff bye being the equivalent of a win.
Phillips' point would have been much better taken if it hadn't been made in the wake of a home playoff loss to the Giants. Now, it's just a punchline.
OK, so the Cowboys won't be 2-2 by the end of their weekend off. But it's a pretty solid bet that they'll climb to .500 after hosting the Titans a week from today.
If the trends continue, Tennessee's offense will have a lot of trouble during its trip to JerryWorld.
The Cowboys are 3-0 the weeks after their regular-season byes under Phillips. The Cowboys' opponents – Donovan McNabb's Eagles, Jason Campbell's Redskins and Matt Ryan's Falcons – averaged only 16 points and 280.7 total yards during those games. The Cowboys had 10 sacks and forced seven turnovers in those victories.
Phillips will have two full weeks to create and implement a game plan to befuddle
Vince Young
. I like his odds.
March, 1, 2010
3/01/10
10:05
PM ET
Thursday is the deadline for the Cowboys to offer tender contracts to their 13 restricted free agents. As of Monday night, we've been told nothing has happened.
The
San Francisco 49ers
tendered contracts to guard
David Baas
and linebacker
Ahmad Brooks
. The
Washington Redskins
are expected to tender a contract to quarterback
Jason Campbell
.
The
New Orleans Saints
announced contract tenders to at least 13 players, including Irving native and former Cowboys defensive tackle
Remi Ayodele
.
Here are the Cowboys restricted free agents: WR
Miles Austin
, DT
Stephen Bowen
, CB
Cletis Gordon
, DE
Jason Hatcher
, WR
Sam Hurd
, T
Pat McQuistan
, C/G
Duke Preston
, G
Cory Procter
, S
Gerald Sensabaugh
, DT
Junior Siavii
, DE
Marcus Spears
, K
Shaun Suisham
and S
Pat Watkins
.
December, 27, 2009
12/27/09
10:25
PM ET
LANDOVER, Md. -- In the 100th meeting between the Cowboys and Redskins, something nice happened for Dallas.
The Cowboys clinched a playoff berth.
The Cowboys' 17-0 victory over the Redskins on Sunday night at FedEx Field will not go down as one of the greatest games seen on national television.
In fact, it should go down as a game in which the Cowboys gave themselves a chance to win the NFC East title.
Next Sunday afternoon at Cowboys Stadium, Dalls will face Philadelphia in the regular-season finale with so much on the line. Win the division and the Cowboys can host a playoff game the following weekend. The Cowboys also have a chance to get the No. 2 seed.
Jerry Jones said a few weeks ago that in order for Wade Phillips to keep his gig he would have to get to the postseason and most likely win a playoff game. Jones also said a home playoff game would be nice. Well the Cowboys have a chance to do it.
The Cowboys took care of things pretty quickly against this inept Redskins team.
Cornerback
Terence Newman
picked off a
Jason Campbell
pass and that later set up a
Tony Romo
4-yard touchdown pass to
Roy Williams
.
The other score came on a
Marion Barber
three-yard run to push the lead to 14-0 with 8:00 left in the second quarter.
Both offenses struggled for the rest of the night and when
Shaun Suisham
made a 23-yarder with 7:44 to play the fans at FedEx Field headed to the exits.
There was a concern coming out of this game.
Williams had one catch and two drops. He's not looking like an elite receiver. Maybe he isn't.
Miles Austin
, meanwhile, is looking like an elite receiver. He had nine catches for 92 yards and he didn't have one of those 35 or 40 yard completions.
Some of Austin's catches were for 12, 7, 10 and 17 yards. He was a grinder and something you need to do that to become an elite receiver.
When the Pro Bowl team is announced on Tuesday night, expect Austin's name to get called.
It would be hard to talk about this victory without mentioning the defense.
Wade Phillips' 3-4 posted a shutout for the first time for a Cowboys' defense since Dec. 14, 2003. Dallas won that day, 27-0 here. That was Bill Parcells' first year with the club.
On the night,
Igor Olshansky
and
Anthony Spencer
were credited with a half-a-sack and
Jay Ratliff
got two sacks.
December, 27, 2009
12/27/09
9:44
PM ET
LANDOVER, Md. -- The third quarter has ended here at FedEx Field with the score 14-0 Dallas.
The Cowboys need to win this game to clinch a playoff berth, thanks to the Giants getting beaten up on Sunday afternoon at home to Carolina.
Everyone is going through the motions in this third quarter.
The Cowboys turned the ball over on downs twice and gained 82 yards on 18 plays.
Marion Barber
couldn't get a first down on a fourth-and-one near the end of the quarter.
Washington. Well, let's just say of the nine plays they held the ball, they gained 40 yards.
Both offenses are just waiting for this entire thing to end.
Now, if the Cowboys win, and it appears they will, forget about style points. Just give the Cowboys credit for winning the ball game.
Best play of the quarter came when Cowboys cornerback
Orlando Scandrick
hit Redskins quarterback
Jason Campbell
on a blitz forcing an incompletion.
If you missed it, the Cowboys had next Sunday's game with the Eagles moved to 3:15 central time.
One last thing,
Roy E. Williams
has just one catch for four yards and two drops. Nice performance.
December, 27, 2009
12/27/09
8:12
PM ET
LANDOVER, Md. -- A tipped pass that was intercepted by Cowboys cornerback
Terence Newman
set up the first score of the game between the Cowboys and Redskins.
Newman's pick, his third of the season, came with 12:12 left in the first quarter. Redskins quarterback
Jason Campbell
sent a pass toward the Cowboys' sideline that bounced off a Redskins' receiver.
Newman was right there and his return to the Redskins 39 gave the Cowboys good field position to start the game.
The Cowboys took advantage as quarterback
Tony Romo
found wide receiver
Roy E. Williams
in the back of the end zone with 8:33 to play to give the Cowboys a 7-0 lead.
The score ended a brief, seven play drive, that completed when Romo scrambled from danger and found Williams for the score.
Redskins kicker
Shaun Suisham
, who made the point-after-attempt, was booed by the home crowd here. Suisham used to play for the Redskins before he was cut earlier this month.
Redskins fans believe Suisham cost them two games, they're right.
December, 23, 2009
12/23/09
12:42
PM ET
IRVING -- Redskins quarterback
Jason Campbell
is a little sore today. Campbell was roughed up by the Giants defense on Monday night where he was sacked five times and hurried 12 other times.
Campbell left the game, but later returned, with a left (non-throwing) shoulder injury. Campbell said he will play against the Cowboys on Sunday night.
"Yeah, I'll be ready to go," he said on a conference call with reporters on Wednesday. "Right now, I got a black eye, so my Christmas pictures won't look that good. But my body, after a couple of massages, will be alright."
November, 20, 2009
11/20/09
9:29
AM ET
IRVING -- Of
DeMarcus Ware's
60 ½ career quarterback sacks, three have come against Redskins quarterback
Jason Campbell
, who the Cowboys play on Sunday.
This season, Campbell has been sacked 28 times, including 14 times the last three weeks.
"To be honest, it's really hard to get to him because they keep in extra guys," Ware said. "They might have some guys on the front line so they do a lot of split backs and a lot of protection schemes to keep the guys off Campbell to make sure he's effective in the pass."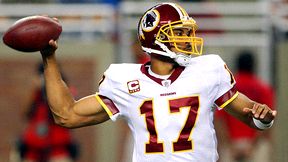 Hunter Martin/Getty ImagesWashington Redskins quarterback Jason Campbell has been sacked 28 times this season.
Changes to the offensive line have hurt Campbell this season. Left tackle
Chris Samuels
is out for the season with a neck injury, his career is also in dobut. The Redskins have started
Stephon Heyer
and
Levi Jones
at left tackle since Samuels' departure. Washington also started four different right guards and two different right tackles.
But Ware still believes it's hard to get to Campbell.
"He's a great pocket passer," said Ware, who has seven sacks, tied for 10th in the NFL. "He makes sure he has confidence in his line and the guys around him so he can step up in the pocket to make plays."