Dallas Cowboys:

Jason Pociask
September, 3, 2011
9/03/11
10:18
AM ET
Fullback
Chris Gronkowski
became the sixth starter from last season's offense to be released.
Gronkowski, who made the team as an undrafted rookie last season, will be best remembered in Dallas for a mental bust on a blitz pickup that resulted in Giants linebacker
Michael Boley
breaking Tony Romo's collarbone. Gronkowski had five carries for 17 yards and seven catches for 35 yards and was inconsistent as a lead blocker, the fullback's primary role.
The Cowboys could opt to go without a fullback. Tight ends
John Phillips
and
Jason Witten
have shown the ability to serve as a lead blocker out of the backfield.
If the Cowboys do keep a fullback, it is likely to be converted tight end
Jason Pociask
instead of seventh-round pick
Shaun Chapas
. If Chapas clears waivers, the Cowboys will try to sign him to the practice squad.
August, 30, 2011
8/30/11
9:59
AM ET
IRVING, Texas --
Martellus Bennett
is out for 2-4 weeks with a high ankle sprain and his injury will impact decisions the Cowboys make in regards to the 53-man roster.
"We'll have to see how we can kind of make those work for the short term and for the long term," coach Jason Garrett said when asked about the injuries of Bennett and cornerback
Josh Thomas
. "We've had some general discussions on those issues, but we'll get more specific after this game on Thursday."
For a few weeks we've talked about the possibility of the Cowboys going without a true fullback on the final roster.
Jason Witten
, Bennett and
John Phillips
are the locks at tight end, but Bennett's injury could open up a position for
Jason Pociask
.
Pociask was a tight end at the start of training camp but was switched to fullback during the practices inside the Alamodome. Last Saturday at Minnesota the Cowboys rotated
Chris Gronkowski
,
Shaun Chapas
and Pociask to give them all work with the first-team offense.
Of the three Pociask gives them the most position flexibility. He was on the first-team punt coverage unit vs. the Vikings, but Gronkowski and Chapas were on the first-team kick return team.
August, 27, 2011
8/27/11
9:24
PM ET
MINNEAPOLIS -- Martellus Bennett's evening is over because of a right ankle injury.
Bennett suffered the injury with 2:55 left in the third quarter and needed help to get to the sideline. He was taken by cart for X-rays.
If the injury is serious,
John Phillips
would move to the backup role behind
Jason Witten
.
Martin Rucker
is the only other tight end on the roster, however, fullback
Jason Pociask
is a tight end by trade. The Cowboys could look for tight end help once teams begin to cut players.
There was a feeling the Cowboys could carry four tight ends on the 53-man roster and not have a true fullback. Bennett's injury could tinker with those plans.
August, 23, 2011
8/23/11
7:13
PM ET
ARLINGTON, Texas -- The Cowboys have three fullbacks on their roster and no one has emerged as the favorite to make the 53-man roster.
Chris Gronkowski
, last year's starter, seventh-round pick
Shaun Chapas
and
Jason Pociask
, who was moved from tight end, are competing for most likely one spot on the roster.
"We got to get a lot better," running backs coach Skip Peete said. "We got to get a lot more physical at the point of attack when it comes to lead blocking or when it comes to pass protection. Still a big competition there. We've actually given them all an opportunity to perform. It's not strictly like one guy is running [with the first team], they're all getting their share of reps."
The knock against Gronkowski is that while he's a good runner, he continues to have problems holding blocks.
"You got to understand what is out there," Peete said. "The difference between now and 15 and 20 years ago is college football was a two-back system. Now it's a spread out, throw the ball all over the place. So you don't have a whole lot of true fullbacks coming out of college now. There's different types of fullbacks now. There's fullbacks who will go up and blow you up, there are fullbacks who will go up and just block you. To me if you block the guy and he doesn't make the play, that's a successful play to me."
All three fullbacks have done good things, but it wouldn't be a surprise if the Cowboys don't have a fullback on the roster and instead use one of their tight ends in a fullback role.
August, 16, 2011
8/16/11
6:03
PM ET
ARLINGTON, Texas --
Isaiah Greenhouse
is a linebacker by trade, but the Cowboys moved him to fullback on Tuesday.
"I've never done it in a game situation, but I was on the practice squad with Houston last year and did a little bit of it there," Greenhouse said. "That's pretty much the only experience I have at the position."
Greenhouse said backup quarterback
Jon Kitna
asked him if he ever played fullback and once he said yes the coaches switched his position. He is the second player the Cowboys have moved to fullback after tight end
Jason Pociask
switched earlier in camp.
Chris Gronkowski
and
Shaun Chapas
are the only true fullbacks on the roster.
"It's wherever I can help the team out the most," Greenhouse said. "If they feel I can be the most productive at the fullback position why not give it a shot?"
August, 10, 2011
8/10/11
2:51
PM ET
SAN ANTONIO -- We gave you the
defensive thoughts
, so let's move to the offensive side of the ball after 14 days in San Antonio:
**
Tony Romo
said earlier in camp that he was throwing the ball as well as he ever had in his career, but the results were mixed. Over the last five days, however, he was on fire. He had a great scrimmage and was great the next day.
** Dez Bryant's best play of camp was not any catch or run, even if he had a few of them. Bryant's best play was his reaction after
DeMarcus Ware
picked off Romo near the goal line and sprinted to catch up to the All-Pro linebacker and punch the ball free for a fumble.
** While Bryant draws oohs and aahs from onlookers,
Miles Austin
went somewhat unnoticed. I'm not sure he had a drop inside the Alamodome, and he looked
Terry Glenn
-like with some of his grabs down the middle of the field. Tremendous body control.
**
Lonyae Miller
could force the Cowboys to keep four tailbacks. The best part of his camp? According to
Jason Witten
, Miller has not yet missed a blitz pickup -- and against this defense, that is saying something. With the Jets looming in the opener, that means a lot.
**
Tyron Smith
will benefit greatly from having
Kyle Kosier
next to him. Several defensive players said once Smith gets his hands on them, they can't break free. But he has to figure out whom to block in a hurry. This was a good move by the coaches to flip Kosier to right guard.
** Not sure there is a leader in the fullback race between
Chris Gronkowski
,
Shaun Chapas
and
Jason Pociask
. I'd like to see all of them keep their feet moving as they block. Chapas is probably the best athlete but this could drag on until the final cuts.
** I can say the same about the kicking battle, too. You can hear the difference between how
David Buehler
hits his kicks and how rookie
Dan Bailey
hits his. Buehler also hits them higher. But if he can't be more consistent between 35-40 yards, then I don't know how the coaches trust him. It's maddening because he will bang it from 50 yards and hook it from 36. Bailey has been more consistent.
August, 6, 2011
8/06/11
2:34
PM ET
SAN ANTONIO -- With
Jason Witten
,
Martellus Bennett
and
John Phillips
ahead of him on the depth chart, the chances of
Jason Pociask
making the Cowboys' roster as a tight end would be difficult.
Now, Pociask is trying to make it as a fullback after being switched earlier in the week where his competition is
Chris Gronkowski
, who is in his second year, and rookie
Shaun Chapas
.
"Pociask is a little bit like the other tight ends," coach Jason Garrett said, "He has the versatility to where he can play the true 'Y' position, the 'F' tight end position and we think he can be valuable at the true fullback spot. We want to give him the best chance to put his best foot forward and show some versatility in playing some different position, and we want to see if we can create some competition on our football team."
Because the Cowboys ask the tight ends to do some fullback work, Pociask said the position was not completely foreign to him but that it requires more focus because it is new. He even got a carry in a practice the other day.
"I think I saw it right," said Pociask, who said his only other carry came on a tight end reverse in high school, "but they said I've got to keep my pads lower."
July, 6, 2011
7/06/11
1:00
PM ET
ESPNDallas is providing a daily breakdown on how the lockout has affected the individual position groups.
Position:
Tight ends
[+] Enlarge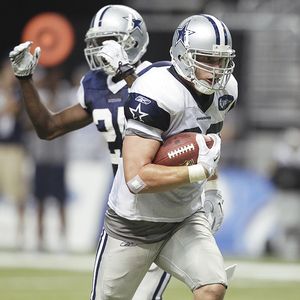 AP Photo/Tony GutierrezA knee injury wiped out John Phillips' 2010 season, but he could play a key role in 2011 if healthy.
Depth chart:
Jason Witten
,
Martellus Bennett
,
John Phillips
,
Martin Rucker
,
Jason Pociask
Not under contract:
N/A
Player hurt most by lockout:
Phillips
Player with most to gain:
Phillips
Analysis:
Phillips is coming off a torn anterior cruciate ligament suffered in last year's Hall of Fame Game, and his value grew last year. His best asset is his versatility. He can line up on the line as a true tight end and he can play fullback.
But how healthy is he? He took part in the player-run workouts and was said to be moving well, but he would be better served to have his rehab monitored by the Cowboys' athletic training staff.
If he can return to the form he was showing last summer, then he could take away from the snaps Martellus Bennett receives or make the former second-round pick expendable. With how much the Cowboys like to use multi-tight end spots, Phillips' return to health will help Jason Garrett's playcalling. He is smart and tough and can catch the ball better than was expected.
For Bennett, this is a huge season. He is in the final year of his contract. He has not put up huge numbers, but no tight end would behind Witten. He can be a devastating blocker, but he needs to be more consistent in his routes and his hands.
August, 18, 2010
8/18/10
2:18
PM ET
OXNARD, Calif. -- The Cowboys' first two-a-day practice was marred by the loss of starting left tackle
Kyle Kosier
. During the middle of practice the Cowboys took off their shoulder pads and conducted things at a slower tempo.
PODCAST
Cowboys safety Danny McCray joins the show to discuss training camp, how he will impact the special teams unit, and how he matches up with the other safeties.

Listen

*Injury report: Kosier left with a sprained right knee and an MRI is scheduled to determine the his long-term status. Also linebacker
Jason Williams
left practice briefly with a leg injury, but returned.
Martellus Bennett
missed the morning practice, but said he should return for the afternoon. He's coming back from an ankle injury.
Keith Brooking
also missed the morning session, but will be back in the afternoon.
Stephen Hodge
(knee),
Marcus Spears
(knee),
Jesse Holley
(hamstring),
Alex Barron
(ankle),
Marc Colombo
(knee),
Scott Sicko
(concussion) and
Dez Bryant
(ankle) missed practice. Holley and Sicko were doing some heavy running. For the second consecutive practice,
Pat Watkins
did individual drills.
*Backup tight end DjLeon Farr had a long morning practice. He was called for two false starts and he dropped a touchdown in the end zone. The pass hit him in the chest. Meantime,
Jason Pociask
was looking pretty good. He caught a touchdown pass in the corner for
Jon Kitna
and was blocking and running his routes well.
*It may be nothing, but it's worth noting that fullback
Chris Gronkowski
is getting plenty of reps with the first-team offense.
Deon Anderson
is doing a nice job when he's in there, but the coaches want to see Gronkowski become physical at the point of attack. Running backs coach Skip Peete said he wants Gronkowski to seek out defenders to wack them instead of just waiting for them to come to him.
*The Cowboys ran a Razorback play for the fourth time in training camp.
Tashard Choice
took the snap up the middle and ran for about five yards.
Tony Romo
was lined up as the wide receiver.
*
Terence Newman
did a nice job on a high throw from Kitna to intercept a pass.
*
Montrae Holland
did a nice job blocking
Anthony Spencer
on a run by
Herb Donaldson
.
*
Victor Butler
had a strong practice. He made a nice tackle for loss on
Marion Barber
and he sacked Tony Romo. Romo was so mad at the sack he threw the ball up in the air.