Dallas Cowboys:

Jeff Backus
October, 1, 2011
10/01/11
8:00
AM ET
By
Bryan Broaddus
| ESPNDallas.com
Cowboys OG Kyle Kosier vs. Lions DT Ndamukong Suh:
I have this listed as a matchup of Kosier against Suh, but it really could become a matchup of Suh against Kosier and center
Phil Costa
.
Suh can be a dominant player inside. The traits that make him so impressive are his ability to get pressure and push inside with sheer power and strength. When you study Suh, you always see him attacking the blocker with a wide variety of moves. He is relentless in his effort and pursuit. He plays with quickness with his hands and feet. There is explosiveness to his game.
The Cowboys have to be careful if the scheme or the situation requires that Costa has to help Kosier with Suh, and that leaves left guard
Bill Nagy
one-on-one with
Corey Williams
or Sammie Hill. When Nagy struggles, it is with bigger players. Both Williams and Hill go 320-plus pounds and can get inside push.
In the running game, look for the Cowboys to try to down- or angle-block Suh, working to his outside. The Vikings had success some success against Suh when they didn't try to block him straight up in the running game and allowed him to run up the field.
The plan for the Lions will be simple: use their four man line, get push in the middle with Suh and close the edges with
Kyle Vanden Bosch
and
Cliff Avril
, giving
Tony Romo
no room to operate. The Cowboys could counter by doubling Suh when they can to control, while but making sure Nagy doesn't have to fight Williams and Hill one-on-one for many snaps.
Cowboys CBs Terence Newman and Mike Jenkins vs. Lions WR Calvin Johnson:
This matchup appears better for the Cowboys with Newman in the lineup than it would have two weeks ago with
Alan Ball
potentially making a start. Newman and Jenkins will have an all-day fight on their hands with one of the most physical and dynamic receivers in the game.
What makes Johnson so difficult is his outstanding hands and his ability to use his body to go get the football. He has legitimate speed down the field and can eat up a corner's cushion quickly. He is the type of player that is on you right now. You feel him when he runs his routes. He attacks the ball whether it's in the open field or in the red zone.
He has a quarterback in
Matthew Stafford
that is not afraid to throw it to him on any point in the drive. Johnson is most dangerous when he is able to get separation because he can cover some serious ground when he catches the ball on the move.
Both Jenkins and Newman have the speed to run with Johnson, and I like Jenkins' more physical style to match up better than Newman when fighting for the ball in the air. Stafford is an accurate quarterback, but Newman and Jenkins need to make those throwing windows as tight as possible and not allow Johnson to take this game over.
Cowboys OLB DeMarcus Ware vs. Lions OTs Jeff Backus and Gosder Cherilus:
Rob Ryan has done an outstanding job of taking his pressure players and putting them in a situation where they can take advantage of weaker opponents. This week, the Cowboys face an offensive line that has issues.
At tackle, Backus and Cherilus aren't good enough to block Ware -- or
Anthony Spencer
, for that matter. I don't see the Lions being able to run the ball against the Cowboys, but they can make plays in the passing game. The key will be how much pressure Ware and Spencer can get on Stafford.
Look for Ryan to really try to attack the pocket and force this Lions' offensive line to have to pick up blitzes. Ryan will have to try to get rushers home before the ball gets out of Stafford's hand. Ware can cause problems over Backus, who can't bend and adjust, much-like the broken-down version of
Marc Colombo
we watched all last season. Ware is just too athletic for Backus, and if the Lions do not try and help him, the left tackle could be in for a long day.
If the Lions do help Backus, look for Ryan to continue to move Ware around until he finds the matchup he likes. If not over Backus, then Cherilus is an option, too.
September, 30, 2011
9/30/11
8:00
AM ET
By
Bryan Broaddus
| ESPNDallas.com
After gutting out a difficult victory over the Redskins, the Cowboys face a new challenge of a short week to prepare to play one of the league's most talented teams in the
Detroit Lions
.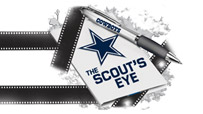 The Lions will present problems on both sides of the ball. If you follow the NFL, we all know the names of
Calvin Johnson
,
Ndamukong Suh
and
Matthew Stafford
, who have helped this team to get off to a fast start. But there is more to it than just those three players.
Detroit defense
The Lions play a true 4-3 front, which will be the first time this season that the Cowboys faced this kind of look. Suh will mainly line up over right guard
Kyle Kosier
and will work across from
Tyron Smith
when the Lions go to a three-man line.
There will be times where Suh will move to the right side, but usually that spot is manned by
Corey Williams
or Sammie Hill. The problem for the Cowboys in that look is that
Bill Nagy
, who struggles with power players now, has to deal with two players that go 320-plus pounds. Nagy's primary weakness is his technique against the down linemen that have size and power.
Kosier will have another set of problems in dealing with Suh, who plays with power and quickness. Suh has outstanding technique as a pass rusher with a wide variety of moves. Kosier has had to deal with power players before in his career, but the way that Suh uses swims, slaps and rips makes him hard to handle because he is playing with this technique as he is working his way to the quarterback.
Most teams like to sub their two down players inside, but the Lions keep their big bodies in the game and will push the front of the pocket then squeeze from the outside with
Kyle Vanden Bosch
and
Cliff Avril
.
The last two weeks
Doug Free
hasn't played some of his better football. I have talked before that I felt that it was more technique problems than any other area. When Free gets in trouble, it's when he is playing over the top of his left foot and he gets overextended. When Free gets overextended, his feet stop and rushers are able to get pressure.
In the Redskins game, it looked like Free was worried about
Brian Orakpo
taking him on the inside rush. This week, Free will line up over Vanden Bosch, who plays in a wide 9 technique and doesn't quit on a play. He is relentless, run or pass.
Free will need to beware of not finishing his blocks against Vanden Bosch, because there will be times where Vanden Bosch looks like he is out of the play but will fight his way back into the picture. Vanden Bosch likes to fight wide and slap the tackles hands down, then work for the corner. Vanden Bosch, like Suh, is able to do this without slowing down or stopping his rush.
Tony Romo
spoke of his receivers having to find a way to win on routes. Guys like
Miles Austin
and
Jason Witten
can win, but it is a little tougher is guys like
Dez Bryant
and
Kevin Ogletree
. They will match up against corners
Chris Houston
and
Aaron Berry
, who like to play press man and be physical at the line of scrimmage.
The Lions played more man coverage against the Bucs than they did against the Vikings. I believe that they will line up and force these Cowboys receivers to beat them off the line. If Romo has to hold the ball against this Lions defense, it will be a struggle for his line. This group can get four-man pressure and it's more intense than what they faced against the 49ers and Redskins.
Where the Vikings and Bucs had some success was running receivers down the field on vertical routes when the Lions did play zone. There also were two nice opportunities for tight ends to make plays against Cover 2 working between the safeties down the field.
The game plan for Garrett against the Lions running the football will be similar to what he had against Washington. He will need to take advantage of how aggressive this front seven will be.
The Vikings had success running the ball against the Lions by getting the ball on the edge but using down or angle blocks to handle the power and quickness of the Lions. Look for the Cowboys to try to shield the Lions from the ball more than trying go toe to toe with them. The Vikings were able to make plays on the edge with
Adrian Peterson
by taking advantage of the way that the Lions chase the ball.
Detroit offense
The challenge for Rob Ryan and his defensive staff in this game will be trying to dial up pressure against Matthew Stafford when he gets in the shotgun. The Lions have had their share of blocking problems, but the answer for those issues has been Stafford's ability to get rid of the football quickly.
Stafford has major weapons with Calvin Johnson and
Brandon Pettigrew
, and the Lions also have a nice screen package with running back
Jahvid Best
, who catches the ball well out of the backfield.
Stafford is an impressive quarterback to study because he never looks like he doesn't know where to go with the ball. He is mobile to a point and can buy time with his ability to move. The trait that is the most impressive about Stafford is his ability to be an accurate passer. Rarely do you see his receivers have to work for the ball. Has touch with the ability to lead his receivers down the field.
Stafford has a real understanding of the strengths of his skill players. Can make all the throws and puts the ball in position that they can go get it.
If there is a knock on Stafford, it has been his ability to stay healthy. When he does not play, the Lions are a very ordinary team on offense even with all the talented players.
If the Cowboys are going to win this game, it won't be about stopping the run but more how they will be able to limit the number of big plays that the Lions can make. Johnson will make his share of plays because he always does no matter how outstanding the coverage is. Stafford knows that he can throw the ball down the field and Johnson will find a way to go get it. If Johnson gets separation, he is going to make the play.
Last week,
Terence Newman
and
Mike Jenkins
played well against the Redskins. They will need a similar effort against Johnson and
Nate Burleson
.
Safeties
Gerald Sensabaugh
and
Abram Elam
will also be a factor in this game, not only because of their responsibilities of helping carry Johnson deep in coverage, but also having to deal with tight end Pettigrew. This is the fourth game where this defense has had to deal with an athletic tight end that can get down the field.
Fred Davis
and Chris Cooley did not kill the Cowboys last week.
The Cowboys have to be careful is putting so much attention to Johnson and allowing Pettigrew or even Burleson to make plays.
If the Lions have a real weakness, it is with this offensive line. Despite their 3-0 record, the Lions have issues at offensive tackle. Longtime veteran left tackle
Jeff Backus
is on his last legs as a pass protector and a run blocker. There is nothing that he really does well anymore. It's not as bad as watching
Marc Colombo
playing last season, but there are some similar traits that you are now seeing.
At right tackle, Gosder Cherilus was replaced in the Minnesota game by Corey Hilliard because he couldn't even get out of his stance to handle the edge. Cherlius once again will be in the starting lineup and it is a road game for the Lions, so keep an eye on him to see if he struggles again.
Through the first three weeks of the season, Ryan has done a nice job with his scheme, in finding those offensive players that will struggle against his pressure players. Look for Ryan to continue to move
DeMarcus Ware
and
Anthony Spencer
around to attempt to make Stafford uncomfortable in the pocket.
September, 29, 2011
9/29/11
9:05
AM ET
Five-star question:
Will the Cowboys hold Detroit quarterback Matthew Stafford under his average of 325.6 yards passing per game?
Last year the Cowboys made superheroes out of middle-of-the-road quarterbacks, including
Shaun Hill
, who started for the Lions in last year's meeting. Hill completed 32 of 47 passes for 289 yards and two touchdowns.
With the way Stafford has started in 2011, he has been anything but middle of the road. He has thrown nine touchdown passes and two interceptions in leading the Lions to a 3-0 start.
But he has not faced a pass defense that is better than 21st in the first three games, beating Tampa Bay, Kansas City and Minnesota.
The Cowboys have the 12th-ranked pass defense and lead the NFL with 13 sacks. A similar argument can be made against Dallas' decent rating. The New York Jets'
Mark Sanchez
, San Francisco's
Alex Smith
and Washington's
Rex Grossman
are hardly elite passers.
So what gives on Sunday?
If we learned anything from 2010, it is that pressure makes a secondary better. The Cowboys will pressure Stafford, who has been sacked five times this season, into quicker throws. Left tackle
Jeff Backus
struggled last week vs. Minnesota's
Jared Allen
, and the Lions have not seen such a diverse pass rush yet.
Stafford might throw for big yards with
Calvin Johnson
having an advantage on the Cowboys' cornerbacks, but he will not reach his average.
June, 14, 2011
6/14/11
1:00
PM ET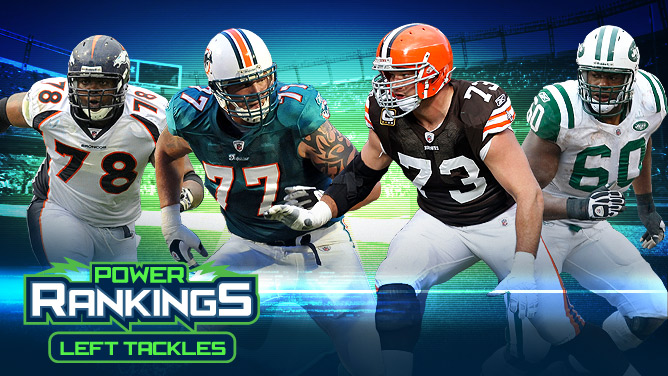 ESPN.com IllustrationOur bloggers say Joe Thomas and Jake Long are the NFL's best left tackles by a wide margin.
ESPN.com ranks the NFL's top 10 at left tackle, one of the most important positions in the league. Next week: Top up-and-coming assistants.
Take a quarter out of your pocket and look at its width. That's basically the difference between the top two left tackles in the ESPN.com Power Rankings.
Cleveland's
Joe Thomas
received 76 points from our eight-person panel of voters. Miami's
Jake Long
received 75. That put them way ahead of the rest of our top 10 list of the NFL's best blindside pass protectors.
Our panel of division bloggers gave Thomas five first-place votes, and Long received three.
"It was pretty much a coin flip for me,'' said NFC East blogger Dan Graziano.
If Graziano's quarter had landed on the other side, we might have had a different outcome. I think the same can be said for some of the other voters. I gave Thomas my top vote only after some strong consideration for Long.
But let's cut to the chase and point out the man who ultimately decided this election. It's AFC South blogger Paul Kuharsky. Every other voter had Thomas and Long in the top two spots. Kuharsky threw things off a bit by putting Long at No. 1 and Tennessee's
Michael Roos
at No. 2. He had Thomas at No. 3.
Let's turn to Kuharsky for his rationale.
"I've seen Long more, which helped him,'' Kuharsky said. "Also, frankly, I knew there could be close to a consensus for Thomas. He's very good. But we're not talking
Orlando Pace
or Jonathan Ogden. The groundswell for Thomas as top left tackle is, in my eyes, more a media creation than the view of players, scouts and coaches. I wanted to note and reflect that.''
Point taken, and I agree that we're not talking the same level as Pace and Ogden -- at least not yet. Thomas and Long are young and it's too early to put them in the category of surefire Hall of Famers. But, aided largely by Kuharsky, Roos did finish No. 6 overall.
Ryan Clady
,
Jordan Gross
and
D'Brickashaw Ferguson
rounded out our top five at Nos. 3, 4 and 5 respectively. After Roos, the rest of the top 10 was filled out by
Jason Peters
(No. 7),
Marcus McNeill
and
Donald Penn
, who tied for No. 8, and
Matt Light
at No. 10.
Let's work our way back toward the top, with one more quick stop at Roos. I had him at No. 8 on my ballot, and James Walker and Kevin Seifert didn't even vote for him. I've had a couple of scouts tell me Roos is a good left tackle, but seemed to take a step backward last season.
Kuharsky heard otherwise.
"I've had a coach and two scouts tell me Roos is as good or better than Thomas and Long,'' Kuharsky said. "I obviously see Roos a lot and think he's quite good, certainly better than he wound up here.''
Roos or ruse? Take your pick, but let's head right back to the top of the voting and back to the argument between Thomas and Long. They were drafted one year apart with Thomas entering the league in 2007 and Long coming in for the 2008 season. Each has made it to the Pro Bowl in every season played.
Kuharsky mentioned the "media creation'' about Thomas. In Cleveland? That's not where you usually turn to find guys to top Power Rankings, so our vote has to say something pretty strong about Thomas. Let's turn to the guy who covers Thomas.
"Thomas has always been focused on doing his job,'' Walker said. "You can't tell whether the Browns are 16-0 or 0-16 with the way he plays, and that's why he's been to four straight Pro Bowls. The NFL has gone the way of speed pass-rushers, and Thomas is the prototype to combat that. He's lean with very good feet and agility, but still strong enough to dominate in the running game. There's really no weakness in his game."
None of our panelists saw a weakness in Long's game.
"I thought Long's run-blocking ability put him a little bit ahead of Thomas,'' Grazianzo said. "I think he's shown improvement every year and is likely to pass Thomas soon if he hasn't already (and for me, these lists are about which guy I'd pick right now, so a guy I think is going to get better is going to get a long look from me). And he earned a bonus point or two from me for playing the last six games of 2010 in a shoulder harness and still being incredible.''
The best news is, these guys are so young we can have this same argument every year for the next decade. Now, let's move on to some other notes about the voting in the Power Rankings for left tackles.
Turn off the Light.
As we mentioned, Light came in at No. 10. That surprised me a bit because he's a big name with three Super Bowl championships and three Pro Bowl selections. I had Light at No. 6 and Walker had him at No. 4. But Light didn't even appear on four ballots, including the one from AFC East representative Tim Graham.
"Matt Light is a quality player, but Stats Inc. blamed him for 10 sacks allowed and four penalties last season, more in each category than his previous two seasons combined,'' Graham said. "I've always thought Light got more recognition simply from being
Tom Brady
's left tackle. Once you name the three or four elite tackles and you rack your brain for the next group, it's easy to understand people sorting through the great quarterbacks and asking, 'Who is so-and-so's left tackle?' Light made the Pro Bowl last year, but as an alternate. Light's reputation also is enhanced by his involvement in the union and being a truly rare species: the gregarious Patriot.''
Also-rans.
Andrew Whitworth
,
Chad Clifton
,
Doug Free
,
Russell Okung
and
Jeff Backus
didn't make the top 10, but each received votes.
"I don't think there are 10 elite or even complete left tackles in the NFL,'' NFC West blogger Mike Sando said. "I list Okung on a very short list of players with the talent and makeup to be elite at that position. Okung hasn't played enough to this point, but I think he'll join that group this season. Listing someone with considerably less ability was the alternative.''
The longest shot.
Somewhere, former Tampa Bay general manager Bruce Allen and coach Jon Gruden are smiling at Penn's name appearing on this list. It's true, they headed the regime that signed Penn as a free agent in 2007 after he was cut by Minnesota in 2006. Then again, they were also the ones who signed Luke Petitgout, and Penn only got a chance to play because Petitgout turned out to be washed up. I used to subscribe to the theory that you needed to use a first-round pick to get a good left tackle. But Penn has shown that's not necessary. In his case, he simply made the most of his shot at playing time and turned it into a $48 million contract as training camp started last year.