Dallas Cowboys:

Jeff Ireland
June, 14, 2013
6/14/13
10:16
AM ET
IRVING, Texas – The Cowboys are shuffling their scouting department and will promote Will McClay to assistant director of player personnel to work alongside Tom Ciskowski, who will be named the director of scouting, according to sources.
PODCAST
Ed Werder joins Fitzsimmons & Durrett for his weekly visit and you won't believe who he says is the Cowboys' best player.

Listen

McClay has worked in the Cowboys' pro personnel department for the last 11 years and added the director of football research title in 2012. He was the head coach of the Dallas Desperados of the AFL from 2004-08.
Ciskowski was named the Cowboys' director of pro and college scouting in 2008 and had the title change to assistant director of player personnel in 2011.
Over the last two seasons, McClay played a part in the Cowboys finding veteran players off the street that helped win games, such as
Tony Fiammetta
,
Ernie Sims
,
Eric Frampton
and
Laurent Robinson
. As the director of football research, McClay used advanced statistical and analytics in helping with scouting of players and other teams.
Stephen Jones carries the chief executive officer, executive vice president and director of player personnel titles.
According to sources, the Cowboys denied Cleveland and Kansas City permission to speak with McClay about front-office jobs in those organizations this offseason. McClay was Jacksonville's assistant director of pro scouting in 2001.
Ciskowski joined the Cowboys as a scout in 1992 and from 2001-07 was the assistant director of college scouting. When Jeff Ireland left for Miami after the 2007 season, Ciskowski was promoted.
February, 28, 2013
2/28/13
2:28
PM ET
This scouting combine story
from Todd Archer
tells us that the
Dallas Cowboys
were planning a switch from a 3-4 defense to a 4-3 defense even before the 2012 season ended. According to coach Jason Garrett, they believe they have the right kind of personnel to make the switch:
"You just go through all those scenarios and at the end of it we felt good about, 'Hey, we can do this and it won't take us three years to do this,'" coach Jason Garrett said. "And we certainly want to continue to add pieces to it and make that defense better, but we felt good about the flexibility and versatility of the guys we already have."

Monte Kiffin and defensive line coach Rod Marinelli agreed with Garrett's analysis after they joined the staff. They used players such as Simeon Rice, Warren Sapp, Derrick Brooks and Brian Urlacher as frames of reference for DeMarcus Ware, Jay Ratliff, Sean Lee and Bruce Carter.
Well, yeah. I mean, if all of those guys at the end of that sentence play like all of the guys at the beginning of that sentence, then yeah, the Cowboys will really have something. But there are some "ifs," and most of them are tied to health. For instance, I think Lee can be a brilliant playmaking middle linebacker in a 4-3. But he has to stay on the field, and he's had trouble doing that. And then there's this later in the story from former Cowboys exec Jeff Ireland, comparing Ware to
Cameron Wake
, who moved from a 3-4 outside linebacker to a 4-3 end last year for Ireland's Dolphins:
"We felt like when Wake was in a three-point stance he probably was a better rusher than he was in a two-point stance," Ireland said. "I don't know that about DeMarcus. I'd have to study that, but I'm sure he's equally efficient in a three-point or two-point stance, so I don't think it will be that tough."
Ware is a very interesting part of all of this. Again, I don't think it's a question of his ability to perform effectively in a 4-3 but rather his ability to hold up physically while playing closer to the ball and mixing it up more directly with bigger offensive line bodies. Ware has shown some signs the past couple of years that his body could be beginning to break down, and if that is a trend and not an aberration, then a move like this isn't going to help with it.
This transition to the 4-3 is one of the very interesting stories of the Cowboys' offseason, so we'll continue to examine it as it goes along. I think they have the right kinds of players to pull it off, but a lot depends on who goes, who stays and who shows up to play it once the salary cap is straight and free agency and the draft have settled.
September, 2, 2010
9/02/10
6:32
PM ET
ARLINGTON, Texas – Dez Bryant and Miami general manager Jeff Ireland shook hands and chatted briefly about an hour before Thursday's preseason game at Cowboys Stadium.

Ireland angered Bryant by asking the first-round pick whether his mother had been a prostitute during a pre-interview at the Dolphins' complex. Ireland apologized in a statement after the question was reported, and he was widely criticized for a lack of tact.

Bryant said during training camp that he would have no problem shaking Ireland's hand and putting the incident in the past.

Ireland, a former Cowboys employee, patted Bryant on the chest in a friendly manner at the end of their brief conversation on the field.
September, 1, 2010
9/01/10
8:34
AM ET
There's a story in the Miami Herald today
saying
Dolphins GM Jeff Ireland will seek out Cowboys wide receiver
Dez Bryant
to make sure things are cool between them.
Cowboys meet the Dolphins Thursday night at Cowboys Stadium in the last preseason game.
It was Ireland who offended Bryant in a predraft meeting when he asked whether his mother was a prostitute.
Bryant said she wasn't and it set off a storm of questions across the league about the context of the conversation and if it was appropriate.
Ireland hasn't spoken to the media about the meeting, but Bryant said he has no issues with the Dolphins GM.
"I'm pretty sure if I see [Ireland] on the field I will shake his hand and Coach Sparano's hand. Everything is good; [it's] just a lot of misunderstanding in that situation," Bryant said August 18 from Oxnard, Calif.
April, 30, 2010
4/30/10
1:18
PM ET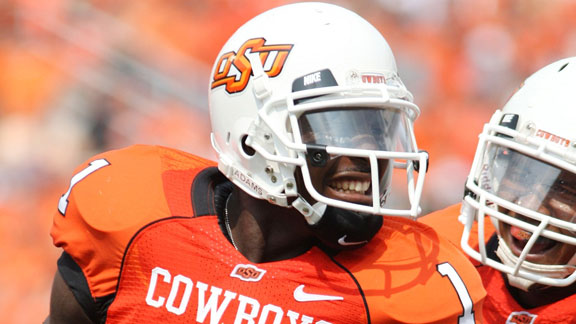 Dallas Cowboys
rookie receiver
Dez Bryant
has denied that a question from
Miami Dolphins
general manager Jeff Ireland in a predraft interview asking if his mother was a prostitute was prompted by something Bryant said.
"No, I didn't tell him my dad was a pimp," Bryant said in a text message to ESPN's Ed Werder on Thursday.
For more on the reported context of the conversation between Bryant and Ireland,
click here.
April, 29, 2010
4/29/10
11:08
AM ET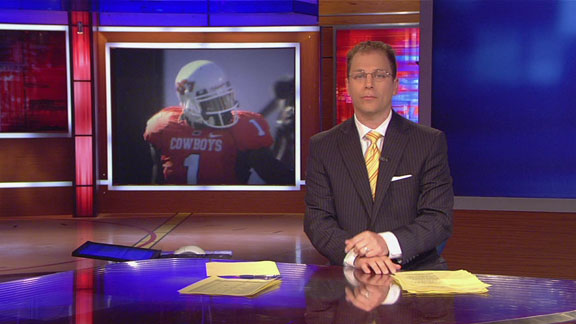 The Jeff Ireland-Dez Bryant story has captured the nation's attention, and analysts are lining up to give their thoughts on the subject. And here's our lineup:
ESPN NFL analyst Marcellus Wiley:
The former Cowboys player shares his story of his interview with Bill Parcells and the Dallas Cowboys in 2004 and compares it to Jeff Ireland's interview of Dez Bryant. His take: The Dolphins may have wanted to help Bryant.
Click here.
NFL on Fox analyst Brian Billick:
The former NFL coach says teams have to find out about these young players if they are going to give them so much money to play.
Click here.
Miami Herald's Dan Le Batard:
The columnist believes this will blow up to become something ugly on the legal side in the long run for Jeff Ireland.
Click here.
ESPN's Chris Mortensen:
Mort weighs in on the controversial question.
Click here.
ESPN NBA analyst Bruce Bowen:
What? Yep, the former NBA player shares a view from the non-NFL perspective -- and gives his thought on Game 6 between the Mavs and Spurs.
Click here.
April, 28, 2010
4/28/10
2:16
PM ET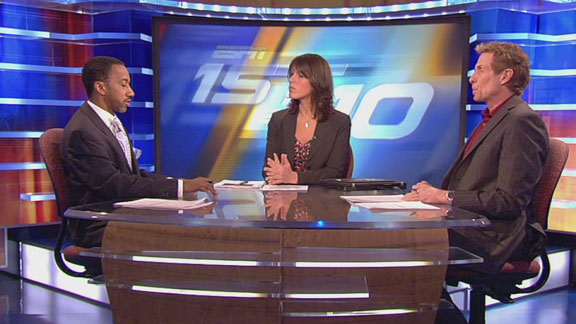 Former NFL scout
Bryan Broaddus
joined Ben and Skin on ESPN 103.3 FM to discuss the turmoil surrounding Dolphins GM Jeff Ireland and Cowboys first-round draft pick Dez Bryant. To hear his take,
click here.
Colin Cowherd
also examined the controversial question. To hear what he had to say,
click here.
April, 28, 2010
4/28/10
11:18
AM ET
Mike Greenberg and Mike Golic
discussed the controversy
surrounding Miami Dolphins GM Jeff Ireland and Dallas Cowboys WR Dez Bryant. Ireland asked Bryant if Bryant's mother was a prostitute in a meeting the two had before the NFL draft. Adam Schefter, Erik Kuselias and ESPN VP of Human Resources Doug Adkins also weigh in on the issue.
April, 27, 2010
4/27/10
5:04
PM ET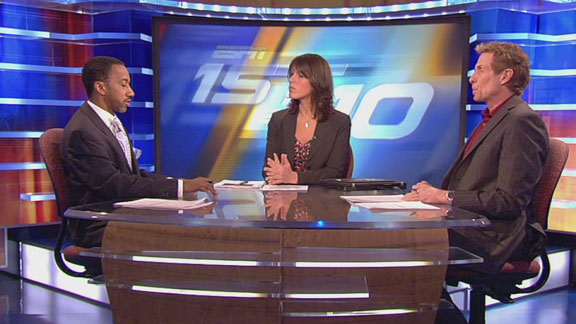 Miami Dolphins GM Jeff Ireland apologized Tuesday for using "poor judgment" when asking Dez Bryant prior to the NFL draft if his mother was a prostitute.
For more,
click here.
April, 23, 2010
4/23/10
11:34
AM ET
Over the course of a few hours on Thursday night, the Cowboys talked trade with several teams, including the
Miami Dolphins
.
But nothing transpired.
The Dolphins did trade, but with San Diego, leaving the No. 12 for the No. 28.
Dallas also traded, but with New England, moving from No. 27 to No. 24.
Did the Dolphins come close with the Cowboys on a deal?
"I would say we talked to probably four or five teams. I would say there were two very serious [teams]," Dolphins GM Jeff Ireland said.
There were several veteran players on the trading blocks for the Cowboys such as
Marcus Spears
,
Martellus Bennett
and possibly
Bobby Carpenter
.
When Jerry Jones was asked if did he come close to trading a veteran player he said, "not close."
Maybe Friday night the Cowboys and Dolphins will make a move.
April, 1, 2010
4/01/10
9:17
PM ET
Oklahoma State wide receiver
Dez Bryant
said he enjoyed his Wednesday evening visit with Cowboys owner and general manager Jerry Jones.
Bryant, who is projected as the first wide receiver to get drafted, might not be around when the Cowboys select at 27. However Jones has over 50 draft day trades druing his time as owner.
Could the Cowboys be moving up?
"To be honest, I really don't know," Bryant said Thursday night from South Florida, where he was visiting the Miami Dolphins. "I think they're interested in me a lot. I think Miami is too."
During his visit to Valley Ranch, Bryant said he met with quarterback
Tony Romo
and wide receiver
Roy E. Williams
.
"They were nice guys, fun people to be around," Bryant said of Romo and Williams. "We just had a introduction during my visit and they seemed down to earth."
Thursday night, Bryant had dinner with Dolphins coach Tony Sparano and general manager Jeff Ireland. But on Friday, Bill Parcells, the executive vice president of football operations, meets with Bryant.
Bryant has visits scheduled with Tampa Bay, Denver, Seattle and Cleveland.
So far Bryant liked talking to Jones.
"He seemed like he's about business," Bryant said. "He comes across as a person who wants to win and I'm the exact same way."
February, 5, 2010
2/05/10
4:17
PM ET
FORT LAUDERDALE, Fla. -- We're not sure if you read our story on the
Ayodele brothers
.
Akin, who plays for the Dolphins and Remi, who is playing for the Saints in Sunday's Super Bowl are sharing in this experience.
"I'm proud, very proud of him," Akin said of his younger brother on Friday. "It's very deserving."
Remi said he's got 15 tickets to the game and asked his brother Akin to become his ticket broker.
"Man, I got all kinds of requests, still need tickets," Akin said.
As far as the future, Akin is in the final year of his deal with the
Miami Dolphins
and the team has a roster bonus on him due in March.
"I have no idea, you have to ask [general manager] Jeff Ireland," Ayodele said. "I have one year left on my deal and I have a bonus coming up. I want to be a Dolphin and I don't see why I wouldn't be here."