Dallas Cowboys:

JFK Remembered
November, 21, 2013
11/21/13
7:04
PM ET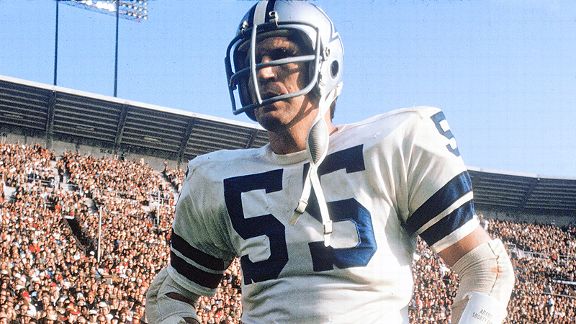 James Flores/Getty ImagesFormer Cowboys linebacker Lee Roy Jordan was a rookie at the time of President Kennedy's death.
The former Cowboys linebacker reflects on the 50-year anniversary of the assassination of President John Fitzgerald Kennedy:
"I came out and got in my car that morning and started to go to the training room and it was all over the news. They're chasing Lee Harvey Oswald downtown. He shot the president. It was just an unbelievable shock and feeling that you had when you hear something like that. I wasn't at [the facility] yet because I had been injured two or three weeks before and I was just going in for rehab and stuff. I was on my way to the training room to get rehab work done on my body. I had punctured a kidney two or three weeks before and was out for the rest of the season.
"Everybody was just in shock that it could happen. Coach [Tom] Landry was the same way. He just couldn't believe this could happen in our country, much less our city.
"We were all so caught up with the tragedy. That's what it was. We were all just in shock I think through the meetings and through practice also. Coach Landry was very calm but I think he was very stressed out by this thing happening here in the city of Dallas. I think emotionally he was disturbed by it but he was calm, which is what you would expect from Coach Landry.
"I didn't make the trip to the game. I had to stay here. I watched it on television but we kept thinking that it would be canceled or they would cancel the entire schedule that week, but that didn't happen. I think there were mixed emotions. Maybe, well, if we go on it might take people's minds off the bad thing that happened here. I still don't know if it was a bad or good thing. I think the commissioner [Pete Rozelle] thought later on he wished he had not made the decision to play that weekend.
"I don't remember them having not talked about it on television. I'm sure it was mentioned that the president had been shot in the city of Dallas, but he was already dead and Jack Ruby, I guess he shot Lee Harvey Oswald by then. It all happened so quick.
"The next few years when we played out of the state in Philadelphia or New York or Los Angeles, they treated us like we had done the assassination. Some not-so-pretty things we had to listen to, the name-calling going on in the stadiums as we'd go on the field and come back with the people at the overhangs of the tunnel. They weren't nice to the Dallas Cowboys. They blamed the city of Dallas and the Cowboys and everything with it. I think once we started winning in '65, '66 and '67, I think it started to take some of that energy out of those people and get them back. Maybe they were like, 'They're not only a good football team, but we need to give them a little respect for that, too.'
"I still think it's such a tragedy and we had to deal with it. I guess we all wished we would've been somewhere else in another state when it happened. That wasn't the case. We couldn't opt out and say we wanted to be somewhere else. We had to go on being with the Dallas Cowboys and living in Dallas and raising our families in Dallas. That was important. We all stuck together and worked hard to overcome the stigma Dallas had for the assassination of the president.
"It was a tough situation. I was a rookie, but I had some really good friends and some really good teammates, so we were able to share it together and not let anyone deal with it alone."
--Jordan, 72, as told to ESPN.com Cowboys reporter Todd Archer
November, 21, 2013
11/21/13
7:04
PM ET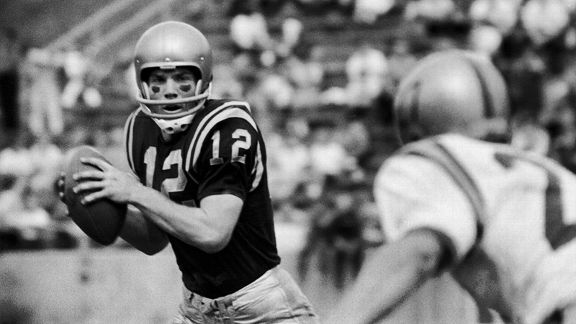 AP PhotoRoger Staubach reflects on the 50-year anniversary of the assassination of President Kennedy.
The former Cowboys Hall of Fame quarterback and Naval Academy Heisman Trophy winner reflects on the 50-year anniversary of the assassination of President John Fitzgerald Kennedy:
"We had a very good connection. We met him [President Kennedy] when he would go up to Nantucket. We used to train at Quonset Point and he would come up in the helicopter, and he was a Navy guy, PT 109, so I think he liked us better than Army. But he couldn't say that. He switched sides.
"He was at the '62 Army-Navy game. That was one game I played and it was a really great Army-Navy game for Navy, and he was there and he was going to be at the '63 game. Obviously, the game was played on his behalf, and it was very emotional -- heck of a game actually. The Army quarterback, Rollie Stichweh, was fantastic. We've become good friends. Rollie and I talked about that game and what it meant to the country, just to see the servicemen and women at the game. Honoring the president at our game is what took place. That's why it was such a big deal, the '63 game. The family asked the game to be played on his behalf, so it was a special game.
"My mother heard I was going to be on the cover of Life that week. They destroyed most of them and brought them back and redid the whole cover. I was getting ready to go to class, a thermal dynamics class, and when I got to class, I found out he was killed. The game was supposed to be a week from that Saturday, but it was delayed another week. It was just a lot of circumstances that are related to that football game and the president's death. It's hard to believe it's been 50 years. Time flies."
-- Staubach, 71, as told to ESPN.com Cowboys reporter Todd Archer and ESPNDallas.com reporter Calvin Watkins
November, 21, 2013
11/21/13
7:03
PM ET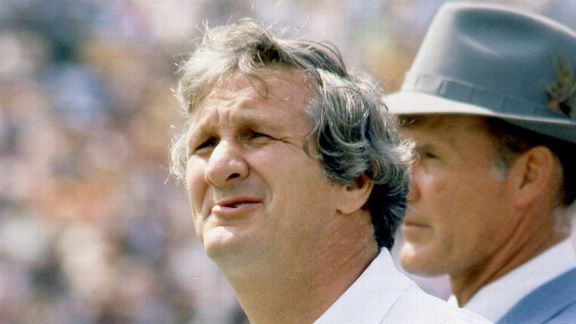 AP Photo/NFL PhotosFormer Cowboys vice president of player personnel Gil Brandt remembers Tom Landry's leadership.
The former Cowboys vice president of player personnel reflects on the 50-year anniversary of the assassination of President John Fitzgerald Kennedy:
"We were in the office working because the draft that year, I think it was maybe Dec. 2. We were trying to do it the Monday after the Army-Navy game, so I was in the office and we had the scouts in there and we had what at that time was our board up. That's what we were trying to do. And Tex Schramm's office is right next to mine and he came in and says, 'The President has just been assassinated. I've got a call into Pete Rozelle now to see what we're going to do.' A little while later he came back and said, 'I talked to Pete and he has talked to [Pierre] Salinger, who was his roommate at the University of San Francisco, and he's going to talk to Bobby Kennedy and find out what Bobby thinks.' A little while later he returns and says, 'We're going to play on Sunday. Bobby says with all of the problems we're experiencing in the country, he would want us to play.' So we played. That's what happened.
"Now, did we have nine Secret Service guys or anything like that? Honest to gosh, I don't remember anybody on the airplane going to Cleveland other than the usual crew is what it was. Then when we got there, we had a list of dos and don'ts and one was don't go out and say you're from Dallas. Everybody went out in small groups to eat but it was not the Dallas Cowboys. If anything, it was the Cowboys but not the Dallas Cowboys. Then on Sunday, the only difference we did was we used to travel with three buses -- two for the players and let's say that left at 12 o'clock, one we called the deadhead bus. That was for [Tom] Landry's wife or Schramm's wife and the flight attendants would be on there, coming from the hotel to the game before they would go out to the airplane. Instead of the usual procedure where the deadhead bus would leave 30 minutes after the players' bus, in this case, we all went at the same time. There was no staggering of the buses.
"When we got to the stadium, there were no boycotts or anything like that, Go home Dallas, or anything like that that I can remember. We went out to warm up and in Cleveland you had to go through the dugout. So we come back and go through the dugout and then went upstairs. Outside the locker room on a chair they had this security person. We'd gone out and came back in for that 20-minute or so period where everybody got re-taped and so forth. About 10 minutes before we leave to go on the field, Tom's starting to write the first play. It's going to be 'slant' and this security guy opens the door and says, 'Coach, the guy that shot the President, they just killed him in the jailhouse.' Landry is his unflappable self and said, 'Thank you,' and, 'Let's not worry about this. I'm sure the powers that be are deciding what to do.' I think we started maybe 10 minutes late is what we did.
"... We were fortunate in that we had somebody like Tom there and somebody like Tex there that's not running scared and would be proactive. I think Tom and Tex did a good job informing everybody of what was going on and I think Tom did a good job of telling the players why."
--Brandt, 80, as told to ESPN.com Cowboys reporter Todd Archer