Dallas Cowboys:

Jim Haslett
October, 12, 2013
Oct 12
2:00
PM ET
IRVING, Texas -- Last December,
Washington Redskins
defensive coordinator Jim Haslett had the
Dallas Cowboys
' number.
He dialed up several blitzes involving the strong-side and middle linebackers that threw the Cowboys' offense for a loop.
As a result,
Tony Romo
had a season-low in completion percentage (54.1), a season low in yards (218) and was intercepted three times. The Redskins had only two sacks, but the pressure was bothersome all night.
"I know how good this defense is," Romo said. "It's a great challenge for us. Tough to score points on. We've got to be able to do some things that they're not prepared for. I know they're going to have new pressure packages. They're going to be ready to bring it after us. We're going to hopefully have some things up that will give them some trouble."
The Cowboys spent a good chunk of the offseason trying to protect Romo better against blitz looks. The biggest change came on the interior of the line, with three new players in
Ronald Leary
,
Travis Frederick
and
Brian Waters
.
The return of
Brian Orakpo
changes some of the Redskins' defense, but they still expect a lot of pressure from Haslett to slow down a passing game that went off for 506 yards last week.
"You go back a couple of years ago, when the game was on the line, I think it was a third-and-23 and he still brought the house," tight end
Jason Witten
said. "That's the mentality of the way that defense plays. They bring pressure, they have success bringing pressure and they bring pressure with a lot of different guys. It's not just all [Brian] Orakpo and [Ryan] Kerrigan. They bring it with secondary players and corners. Just stay on top of it and be alert so that you can have answers when they do bring it."
December, 29, 2012
12/29/12
10:00
AM ET
»
NFC Season Wraps
:
East
|
West
|
North
|
South
»
AFC
:
East
|
West
|
North
|
South
Five things to know and my 2012 all-division team:
Division MVP:
Interesting word, "value." The
Washington Redskins
decided that fixing their problem at quarterback by drafting
Robert Griffin III
was worth three first-round picks and a second-round pick. That's the "value" they assigned to Griffin as their short-term and long-term solution at the game's most critical position -- willingly not having another first-round pick until 2015. The first-year result is the current six-game winning streak that has delivered the Redskins' first winning season since 2007 and a shot Sunday night at their first division title since 1999.
[+] Enlarge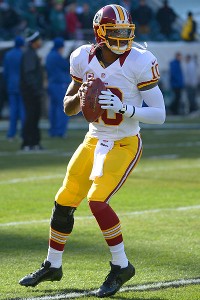 Jonathan Newton/Getty ImagesThe Redskins paid a steep price to acquire Robert Griffin III, but the move has paid off handsomely.
A number of things have gone right to help the Redskins to this point, but at the center of it all has been Griffin, who has delivered big plays with his arm and his legs, has thrown just five interceptions and piloted a Redskins offense that has the most rushing yards and the fewest turnovers in the league through 16 weeks. In their wildest dreams, the Redskins couldn't have imagined Griffin performing at this level in his first year, but the fact that he has is the biggest reason they're where they are at this point. Cowboys quarterback
Tony Romo
is having a big year, as are Cowboys wide receiver
Dez Bryant
and Redskins rookie running back
Alfred Morris
. But the award is for the Most "Valuable" Player, and the upgrade Griffin has provided for the Redskins at the most important position on the field has a value that surpasses anything anyone else in the NFC East has provided this year.
Biggest disappointment:
This one isn't hard. The 2011
Philadelphia Eagles
were a disappointment. That word isn't strong enough to describe what the 2012 Eagles turned out to be. They went into training camp with Super Bowl expectations and a chip on their collective shoulder after last year's flop, and they out-flopped even themselves. There was promise in their 3-1 start, in spite of the turnovers and the fact that they were barely winning. The defense was playing well,
Michael Vick
was leading them from behind in the fourth quarter and it made some level of sense to believe that they would play better and start winning more comfortably.
Instead, it went the other way. The eight-game losing streak that followed that 3-1 start doomed the Eagles to a sub-.500 season, and the 11 losses they already have with one game to go ties the most Andy Reid has ever had as a head coach. (He lost 11 in his first season there.) Injuries were a huge part of this, as 10 of the Eagles' Week 1 starters on offense have had to miss at least one game and the offensive line hasn't been together all year. But the problems go much deeper, and center on a poorly constructed roster that failed to adequately address holes at positions such as safety and a dysfunctional coaching staff mismanaged by the man in charge. Reid appears certain to pay with his job for failing to make good on his mulligan, and big changes are around the corner in Philadelphia.
No defense:
The NFC East hasn't had a repeat champion since the Eagles won it back-to-back in 2003-04, and it won't have one this year either. The
New York Giants
opened November with three more wins than any other team in the division, but their collapse following a 6-2 start has eliminated them from the division race with a week to go. The winner of Sunday night's game between the Redskins and the
Dallas Cowboys
will be division champs. If it's Dallas, it'll be the team's second title in four years and would be the second year in a row (and ever) that the division didn't produce at least one 10-win team. If it's Washington, it'll be its first division title in 13 years and would mean four
different
division champs in four years. This may not be the dominant, monster, "Beast" division it's been in some years past, but the intensity of the rivalries and the closeness of the quality of the four teams keep it the league's most competitive and entertaining year in and year out.
Each NFC East team had a turn in the spotlight this year. The Cowboys flashed greatness in their nationally televised victory over the defending Super Bowl champion Giants in the season opener. The Eagles got out to that 3-1 start. The Giants at one point stood 6-2, and their victories over San Francisco and Green Bay had folks talking about them as the best team in the league. The Redskins are on a six-game winning streak right now and one of the hottest stories in sports. Say what you will about this division or any of its teams, but you can't say it's not fun.
Better "corner" the market:
Looking ahead to the 2013 offseason, expect each of the NFC East's teams to make the secondary a high priority. The Cowboys like their corners, and they may be OK at safety if
Barry Church
comes back healthy, but they'll probably lose
Mike Jenkins
to free agency and could look to maintain their depth back there. The Giants need to figure out whether this is just a bad year for
Corey Webster
or if he's a player in decline, and at safety there are questions about
Kenny Phillips
' long-term status with the team after his injury-plagued season. The Redskins need all kinds of help in the secondary, where
Josh Wilson
has been fairly consistent but not great at corner,
DeAngelo Hall
is clearly in decline and they're getting by with backups at safety. And the Eagles have to figure out whether to keep one, both or neither of their veteran cornerbacks and whether it's time to cut bait with safety
Nate Allen
.
This division includes the No. 21, No. 28 and No. 30 pass defenses in the NFL, and the only NFC East team in the top half in the league in that category (Philadelphia, No. 11) has major question marks at cornerback and especially safety. Once known for its fearsome pass rushes, the NFC East learned this year that you can't always count on even that to be consistent, and it's time for this division's teams to prioritize their last lines of defense.
[+] Enlarge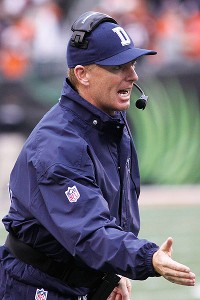 AP Photo/Tom UhlmanJason Garrett's Cowboys, winners of five of their past seven, can win the NFC East with a victory over the archrival Redskins on Sunday.
The men in charge:
You can expect wholesale coaching staff changes in Philadelphia, of course. But what of the division's other three teams, at least one and likely two of which won't make the playoffs? Head coaches Tom Coughlin and Mike Shanahan are clearly safe in New York and Washington, and Jason Garrett appears safe as well in Dallas after a year in which he's admirably led the Cowboys through injury and off-field tragedy into another Week 17 division title game. But that doesn't mean there can't or won't be changes at the coordinator level.
Dallas defensive coordinator Rob Ryan and Washington offensive coordinator Kyle Shanahan are both whispered about when head-coaching jobs come up, and the success of Griffin and the Redskins' offensive system could make Kyle Shanahan an especially hot candidate this offseason. Would he jump ship, or stay to see things through and possibly succeed his father down the road in D.C.? Redskins fans clamor for the head of defensive coordinator Jim Haslett, and I guess you never know, but I think Haslett's got this Washington defense overachieving, and I've heard nothing to indicate that the team is dissatisfied with the job he's doing. As for the Giants' Kevin Gilbride and Perry Fewell ... Fewell's no longer the head-coaching candidate he used to be for some reason, so it's likely a matter of whether they want to keep those guys around. The Giants tend to value organizational stability, and Gilbride and Fewell were coaching in and winning a Super Bowl less than 11 months ago, so it's hard to imagine they're in trouble. But I think the Giants are surprised at the way the last couple of weeks have gone, and I doubt they've seriously considered yet whether changes on the staff are warranted or necessary.
ALL-DIVISION TEAM
We do this every week, so you're used to a lot of these names in a lot of these places. There are some close calls, including at quarterback, where the Cowboys' Romo is as hot as anyone in the league and has thrown just three interceptions in his past eight games after throwing 13 in his first seven. Romo is third in the league in passing yards, and his responsible play and leadership are central reasons for the Cowboys' second-half surge. And if he beats Griffin and Washington on Sunday night, you can make the argument that he deserves the spot. I think it's that close right now. But Griffin's had the more consistent season and, as detailed above, the more dramatic impact. So he holds the spot.
The only other very tough call is at fullback, where
Darrel Young
and the Giants'
Henry Hynoski
are both excellent and worthy. Hynoski, for me, has been the slightly better blocker, but the Giants' recent struggles have hurt his case and Young, who actually touches the ball every now and then, takes the spot away from him. ... Kicker is a good race, as all four have had good seasons. And yes, I know
Kai Forbath
hasn't missed, but he's kicked barely half as many as
Dan Bailey
has. ... Philadelphia's
Brandon Graham
has made a strong case at defensive end with his second-half play, but
Jason Hatcher
's been a rock all season as a 3-4 end for Dallas. ... Dez Bryant and Alfred Morris are no-brainers as the division's best wide receiver and running back. What kind of odds could you have got on that in early September?
December, 13, 2012
12/13/12
11:58
AM ET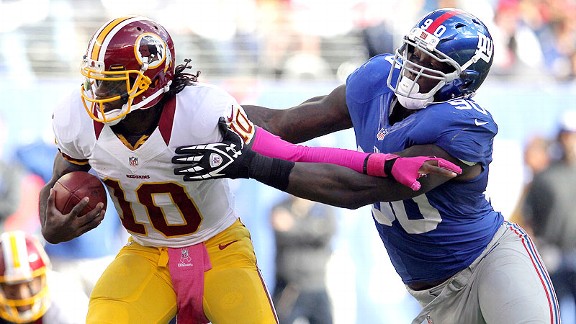 Brad Penner/US PresswireNew York's title hopes may depend on Jason Pierre-Paul and a Giants pass rush that has been underwhelming this season.
Can the
New York Giants
' pass rush perk up and help a Big Blue defense that held the Falcons offense scoreless during the playoffs last season repeat that performance Sunday in Atlanta?
Can the two men the
Dallas Cowboys
brought in to be shutdown cornerbacks keep the Steelers receivers covered while
Ben Roethlisberger
scrambles to keep plays alive?
Can the
Washington Redskins
scheme, adjust and work around their defensive personnel shortages for another week, keeping
Trent Richardson
in check and daring
Brandon Weeden
to beat them in Cleveland?
These are the key storylines Sunday as the NFC East race spins into its final weeks. Amend them with different opponents, and they are likely to remain the key storylines in this division the rest of the way. Although the quarterbacks get all the attention in this division and statistically there's not a top-10 defense in the bunch, the team that plays the best defense in these final three games is the one most likely to emerge with the division title.

The NFC East race is a jumble. The defending champion Giants hold a one-game lead, but they have road games the next two weeks in Atlanta and Baltimore and are far from assured of winning out. The Falcons and Ravens are a combined 11-1 at home this season and 65-11 the past five. Sure, New York is a defending Super Bowl champion that has shown it can win anywhere, but there's not a team out there that could safely assume it would go 2-0 in those games. The Giants are going to have to play the way they played in January, not the way they've played for most of the past month and a half, if they're going to keep control of the division. To do that, they need to be more ferocious on defense.
The Giants have 31 sacks -- tied for 12th most in the league.
Jason Pierre-Paul
leads them with 6.5.
Osi Umenyiora
has six.
Justin Tuck
has only three.
The numbers are fine, but they're not
Giants
numbers. This is a pass rush that took out
Matt Ryan
,
Aaron Rodgers
and
Tom Brady
en route to its second Super Bowl title in five years. Unless someone gets more than one sack a game the rest of the way, they're going to finish the regular season without anyone in double figures. That doesn't compute, and it has as much to do with why the Giants haven't already put away this division as anything.
It's possible that seeing Ryan and the Falcons will rekindle memories of how dominant they were up front 11 months ago, and if that's the case, the Giants could be the team that gets on the defensive run that gives them the division title.

The Cowboys sit one game back of the Giants, tied with the Redskins for second place. Statistically fine for much of the season, the defense has endured a brutal rash of injuries. Both starting inside linebackers, a starting safety, a starting defensive lineman and their nickel cornerback are on injured reserve. This week, star pass-rusher
DeMarcus Ware
(elbow) and starting cornerback
Morris Claiborne
(concussion) have already missed practice. Nose tackle
Jay Ratliff
remains in doubt, and his backup,
Josh Brent
, is out because of his
well-publicized issues
. The Cowboys are running short of players on defense, which could take them right out of this picture if it continues.
But they've made it this far in spite of their deficiencies. They've won four of their past five games. Running back
DeMarco Murray
is back in the fold, red-hot wide receiver
Dez Bryant
apparently
is determined to play
in spite of a broken finger, and the offense is humming.
The defense has to hold it together, and the key is in that secondary. Ware and
Anthony Spencer
are playing well at outside linebacker, and the defensive line is average and going to stay that way. The defense is counting on Claiborne and fellow corner
Brandon Carr
to shut down receivers, especially in a game such as this Sunday's against Pittsburgh's receivers. If Claiborne can't go, the responsibility falls to
Sterling Moore
, who has looked good in his short time in Dallas.
Carr and Claiborne have been occasionally brilliant but generally inconsistent in coverage this season. The price the Cowboys paid for Carr in free-agent money and for Claiborne in draft picks says they're big-time talents who need to play that way. If they can shut down opposing receivers the next three weeks, the Cowboys' chances of coming from behind and stealing this division are a lot better.

In Washington, all eyes are on rookie quarterback
Robert Griffin III
, who has a knee injury and may not play Sunday in Cleveland.
But the Redskins aren't really worried about their offense. They can run the ball with
Alfred Morris
,
Pierre Garcon
can get open down the field for backup
Kirk Cousins
, and they can score enough points.
Defense has been the Redskins' issue all season. They rank 28th in total defense and 31st against the pass. A secondary that didn't look all that great to begin with is now missing two starting safeties and a starting cornerback. The defense is also missing its best pass-rusher,
Brian Orakpo
, and starting defensive lineman
Adam Carriker
. It has been a struggle.
Yet the Redskins, which have managed to win their past four games to move within a game of the Giants, have a real chance. They have looked bad on defense for long stretches during the streak -- the second half against Dallas on Thanksgiving, the first half against Baltimore last week -- but they've managed to hold on. Coordinator Jim Haslett is doing an excellent job of changing up the game plan from week to week and half to half to maximize any advantage he can find. Outside linebacker
Rob Jackson
can be a disruptive pass-rusher for a half.
DeAngelo Hall
can be a decent cover corner for a couple of drives.
They mix, match and patch it together, and so far it's not falling apart. The key will be for the Redskins to keep walking that tightrope, and if they can do it for three more games, they absolutely have a chance.
So if you're trying to make sense of this NFC East race as it hits the home stretch, look not to the big-name quarterbacks and receivers but instead to the defenses. If one of these three teams can do something on defense it hasn't been able to do so far, that could make enough of a difference to decide the division.
November, 21, 2012
11/21/12
10:29
AM ET
Thursday's Thanksgiving Day game between the
Washington Redskins
and the
Dallas Cowboys
is a significant opportunity for both teams. A win for the Cowboys would move them within a half-game of the first-place
New York Giants
, who have a tough game Sunday against the Packers. A win for the Redskins would put them in a position to really make a mess of the division race with the Giants coming to town in Week 13.
But as Jason Reid points out in
this piece of pregame analysis
for the Washington Post, the Redskins aren't going to find this week's opponent as accommodating as they found the dead-in-the-water Eagles on Sunday. And they'll have to hope that the improvement their pass rush showed Sunday is repeatable against
Tony Romo
and a more dynamic Cowboys offense:
This past Sunday against Cleveland, Romo made just enough plays (he passed for 313 yards) to lead Dallas to a 23-20 overtime victory, but he was sacked seven times. The lesson for the Redskins, which I'm certain defensive coordinator Jim Haslett learned from past frustrating experiences against Romo, is that you have to keep Romo guessing with different blitzes. And rushing the passer had better result in quarterback hits and sacks.

The Redskins tied their season high with four sacks against Philadelphia, which should bolster the confidence of a unit that hasn't had much to celebrate this season.

The Redskins' pass rush disappeared after outside linebacker Brian Orakpo, the Redskins' sack leader the past three seasons, and defensive end Adam Carriker, who had a career-high 5.5 sacks in 2011, suffered season-ending injuries. The team is tied for 23rd in the league with 18 sacks.
The difficulty for the Redskins on Thursday, as I see it, won't be in getting through the Cowboys' permissive offensive line. The key difference this week will be that, once they get into the backfield, the Redskins' pass-rushers will be confronted with a more mobile quarterback than
Nick Foles
. Romo is as skilled as anyone in the league at sidestepping pressure and extending plays that can result in big downfield gains. He's had to be, the way his line has played the last couple of seasons. If the Redskins' pass rush is to impact this game Thursday -- and I agree with Jason that it must if the Redskins are to win -- then the key will be the ability of those pass-rushers to finish plays once they have a chance.
August, 22, 2012
8/22/12
10:00
AM ET
In the final 20 days before the start of the regular season, we are counting down the top 20 players in the NFC East. For a full explanation, see this post.
No. 14 -- Brian Orakpo, Redskins LB
In another division, one not overstuffed with so many of the game's elite pass-rushers, Orakpo likely would be more appreciated. He's racked up 28.5 sacks in his first three years in the league -- years that have seen him transition from a college linebacker to a professional defensive end and back to a professional 3-4 outside linebacker. He's one of the few holdovers in Washington from the pre-Mike Shanahan days, and he's one of the leaders of a group that's emerging as one of the better young defenses in the NFL.
Sacks aren't the only part of Orakpo's game. He's shown disruptive ability in pass coverage (which is where he was when he got injured in Saturday's preseason game), breaking up passes and forcing fumbles. He's been a sure tackler in the open field. He has the versatility to do whatever's asked of him in Jim Haslett's scheme. But he'll make his mark in the pass rush, and last season he graded out as fifth-best 3-4 outside linebacker in the league in that area. He can fight through a double-team or absorb blockers while
Ryan Kerrigan
gets free on the other side, and there are and will continue to be times when Kerrigan looks like the better player. The pair will, in the Redskins' ideal scenario, feed off of each other and excel as a team for years to come.
But Orakpo's the one who's been doing it longer, and while his stats may not rank him among the pass-rushers above him on this list, this is a very tough division in which to stand out as a pass-rusher. Orakpo is a dirty-work guy whose numbers are fine and poised to get better. And the complete package of what he brings to his defense makes him worthy of his spot in the NFC East Top 20.
Rankings so far:
15.
Jason Witten
, TE, Cowboys
16.
Dez Bryant
, WR, Cowboys
17.
DeSean Jackson
, WR, Eagles
18.
Osi Umenyiora
, DE, Giants
19.
Evan Mathis
, G, Eagles
20.
Ahmad Bradshaw
, RB, Giants
November, 18, 2011
11/18/11
8:39
AM ET
By
Bryan Broaddus
| ESPNDallas.com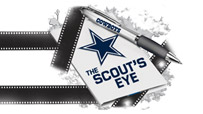 The last time the
Washington Redskins
and
Dallas Cowboys
met, some eight weeks ago, the Redskins were off to a 2-0 start with an impressive opening day win against the
New York Giants
while the Cowboys had just evened their record to 1-1 after
Tony Romo
managed to steal a game in San Francisco despite a broken rib.
Blame quarterbacks for Redskins' slide
Since that meeting, the Redskins have lost five of their last six. A large part of those losses are due to the poor play of the quarterbacks
Rex Grossman
and
John Beck
. When you study the Redskins, the first thing that comes to mind is what we had to deal with during the Dave Campo years here in Dallas when it came to the quarterbacks. During that span we wasted a lot of time trying to get quarterbacks ready to play that gave us no opportunity to win games. I am seeing a lot of the same things in Washington.
Mike Shanahan's inability to successfully identify a quarterback has done a lot of damage to the Redskins. Time, money and draft selections have been wasted on players like
Donovan McNabb
, Grossman and Beck.
Any pro personnel director could tell you without hesitation that McNabb was slipping badly and Andy Reid was more than ready to move on from McNabb with
Michael Vick
. As much as Shanahan wanted to believe that there was still gas left in McNabb's tank, it wasn't the case at all. Everyone knew that except Shanahan.
As the Redskins were going through training camp, Shanahan was still in search of a quarterback and placed a call to the Dolphins about Beck, who have had their quarterback issues as well. The Dolphins were more than happy to ship Beck to the Redskins. Shanahan made his biggest mistake of the off season by not addressing the quarterback situation through the draft when he had the opportunity to do so with a top-10 selection.
Shanahan could have selected
Andy Dalton
,
Jake Locker
or
Christian Ponder
but instead chose to trade down and select linebacker
Ryan Kerrigan
out of Purdue. Kerrigan has been a nice player this season but doesn't help his quarterback situation now or in the future.
Beck has made three starts this season and has yet to win a game. As a matter of fact, Beck has an 0-7 record as an NFL starter. He plays like a quarterback that is afraid to make a mistake. You never see him really push the ball down the field. Everything Beck does is short and underneath.
Beck really struggles because he isn't that accurate when it comes to throwing the ball at any level. He will struggle to hit receivers on the move and he will also struggle to hit them when stationary. The ball doesn't come off his hand with any zip at all; there is no power to his game.
This is also the case of Grossman, who is back after throwing four interceptions in a loss to the Eagles. I have never been a fan of Grossman's game because he really lacks arm strength, but I can't question his toughness. He will stand in there and take shots.
Grossman is not the tallest or most mobile quarterback in the league, but you will see him slide in the pocket to try to help him with throwing lanes. The lack of arm strength appears when the Redskins try to throw the ball down the field.
Cowboys catch a break: No Moss
There have been too many times where
Anthony Armstrong
or
Santana Moss
get a step on a corner but have to wait on the ball because neither Grossman or Beck can get it down the field.
The Cowboys catch a huge break in this game because Moss will miss it due to a hand injury. Moss has punished the Cowboys over the years with his playmaking ability, so the fact that he is out of the lineup is a huge plus for Rob Ryan and this defense.
The Redskins generate offense in two areas.
Tight end
Fred Davis
is the real deal and is someone that nickel back
Frank Walker
and safeties
Gerald Sensabaugh
and
Abram Elam
are going to have to deal with. Davis doesn't play like a traditional in line tight end. Not to say that you won't see him inline, but the majority of his work is in the slot or flexed. Davis likes to work the middle of the field and he will be the go-to guy on third downs. Offensive coordinator Kyle Shanahan likes to move him around the formation and create opportunities.
Redskins also will struggle to run the ball
Shanahan will also try to run the ball against the Cowboys' front seven. Last week against the Bills, Dallas' run defense was outstanding when the game was in the balance. That wasn't the case the previous games against the Eagles and Seahawks.
The Cowboys will need to be ready for running backs
Ryan Torain
and
Roy Helu
in this zone blocking attack. Torain runs the ball hard but he is really straight line and doesn't have many moves. He will attack the hole, then lower his head to finish the run.
The back that I think is the best fit for this offense is Helu. He just plays like he has a better feel for the offense when it comes to reading the blocks, then making the cut. Torain is more about attacking the hole; Helu is more about allowing the blocks to develop then making his cut.
Helu also does a nice job of catching the ball out of the backfield. Solid, dependable hands and does a nice job of getting up the field and gaining positive yards.
I mentioned the issues that the Redskins have at quarterback, which I feel are the most important, but their offensive line -- other than left tackle
Trent Williams
-- really struggle, run or pass.
Left guard
Maurice Hurt
is the weak link of this line. He plays overextended, doesn't adjust to twist stunts and has poor sustain. He has been nursing a knee injury and might not be active for this game. Center
Will Montgomery
would slide over to his spot and
Erik Cook
would take over at center.
Right tackle
Jammal Brown
has had his shares of problems when it has come to pass protection. Have seen defenders get the edge on him without many problems.
Williams can make the cut-off block on the backside and reach the front. Williams had a little trouble in the 49ers game when he and Hurt had to sort out the twist game. Both of them did not adjust all that well. Look for Rob Ryan to throw some movement stunts against this line to see if they have corrected those problems or teams will continue to take advantage of them.
Redskins' defense will create pressure
If the Redskins can ever find a way to build any type of offense, they would have a shot in this division. No matter how bad the offense plays, the Redskins defense is always there to clean up the mess.
Defensive coordinator Jim Haslett and his staff have done a nice job in the games I studied. The pressure that they have able to generate with their front seven, particularly outside linebackers
Brian Orakpo
and Kerrigan, has been impressive.
Orakpo was the first rusher that
Doug Free
faced after the 49ers game, when he struggled so bad with his technique. I was told that Free was really worried about the inside rush from Orakpo and it affected him in the game. Free has been rock solid the last two weeks and appears to once again be playing with confidence.
Both Orakpo and Kerrigan are relentless rushers when coming after the quarterback, but you will also have to deal with them on the backside when running down plays. If the Cowboys' tackles and tight ends don't finish blocks on the backside, then Orakpo and Kerrigan will be right there to make a play.
One of the major reasons for success in this Cowboys running game has been their ability to secure blocks and allow
DeMarco Murray
to use his vision to make cuts when he reads it. Without those backside blocks, this running game wouldn't be as potent.
Watch for safety Landry to key on Cowboys' rushers
In the Buffalo game, safety
LaRon Landry
played more in the box, almost like a linebacker. I have a feeling that Haslett will probably try to do the same to see if he can have some success stopping Murray. Garrett can counter much like he did last week against the Bills -- throw the ball early in the game to get them out of that.
The Redskins have some run players in nose tackle
Barry Cofield
and defensive end
Adam Carriker
. Cofield shows the ability to get up field quickly off the snap and be disruptive in the backfield. Will be interested to see if Cofield lines up over
Montrae Holland
, who has struggled with quickness in the past.
Carriker plays with more brute force and power than great technique. When
Tyron Smith
has had his troubles, it's been against ends that play with power. But to Smith's advantage, this will be the second time that he has faced Carriker, so he can go back and study how he needs to attack him.
Former Cowboys defensive end
Stephen Bowen
is not playing as well against the run as he did when he was here. There is something about Bowen that leads me to believe that he really was an outstanding nickel or backup player, and the more snaps that he has to play, the more he will struggle. Bowen can still generate some pass rush, but he isn't nearly as affective as he was when here.
At inside linebacker, the ageless
London Fletcher
is still around the ball a great deal. When in position to make a tackle, he can get the job done.
I was not impressed with
Rocky McIntosh
at all. I saw too many times where he was beaten in coverage or he missed a tackle. In the 49ers and Bills games, he was really bad in both those areas. McIntosh struggled much more than Fletcher at getting off blocks.
Cowboys should target Barnes in Redskins' secondary
In the secondary, the Redskins will use three safeties when they are all healthy, which at this time they are not. Landry has missed the first two days of practice with an Achilles injury, but he should play. O.J. Atogwe has been dealing with knee and toe problems and
Reed Doughty
has a chest issue.
The best combination for the Redskins is when Atogwe and Landry are the starters. Doughty will try to be physical in the run but doesn't cover all that well.
Of the two corners,
Josh Wilson
knows how to play the fade and doesn't give you much room. He also runs very well.
DeAngelo Hall
likes to bait quarterbacks into throws and will drive on routes. Have been told that he hasn't been playing well this year, but in the games I studied, I didn't see that. The weak link in the group is nickel
Kevin Barnes
, who needs to be attacked.
November, 17, 2011
11/17/11
9:20
AM ET
By
Bryan Broaddus
| ESPNDallas.com
Five-star question:
Will the Cowboys hit their average of 177.0 yards rushing per game since
DeMarco Murray
became the starter?
There is no doubt that Murray has made a huge difference in not only the way the Cowboys run the ball, but also how he's helped
Tony Romo
, the offensive line, Jason Garrett as a play caller and even the defense.
From what I've studied this week, the Redskins can play good run defense -- at times -- with their front seven. Linebackers
Rocky McIntosh
and
London Fletcher
are always around the ball and play off blocks well. Nose tackle
Barry Cofield
and end
Adam Carriker
can be stout at the point of attack. Then you have the speed from the edge with
Ryan Kerrigan
and
Brian Orakpo
, who can run down plays from the backside.
The last five games, the Redskins have allowed 149.2 yards a game rushing -- but two of those games were against Carolina and Philadelphia, who have mobile quarterbacks who help pad those yardage totals.
Redskins defensive coordinator Jim Haslett knows that the Cowboys' success begins with Murray and what the offense is able to generate on the ground. The Cowboys have already had to deal with eight-man boxes this season and have had some success.
This really is the Redskins' last stand on a season that started out with so much promise. The defense hasn't been the problem, and I don't think it will be again this week. Murray will get his 100, but I can also see Jones chipping in with 40 or 50 as well -- but that's really all the Cowboys will be able to manage.
So, no, the Cowboys won't reach their average. However, the Cowboys will reach the most important total -- a six in the win column.
December, 21, 2010
12/21/10
12:15
PM ET
By
Bryan Broaddus
| ESPNDallas.com
In a contest of two teams going in the opposite direction, the Cowboys were able to hold onto a victory against a Redskins squad that many thought would roll over and quit after Mike Shanahan made the Friday quarterback switch to go with
Rex Grossman
over the popular
Donovan McNabb
.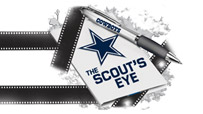 Some of the Redskins' problems on offense could be blamed on McNabb, but not all of them. In studying their last two games against the Giants and Bucs, the offensive line has had more of their share of problems protecting McNabb.
The matchup of rookie left tackle
Trent Williams
and
DeMarcus Ware
was one that drew my interest. Williams made his first career start against Ware on opening day and to this point has progressed nicely. In this matchup, Williams was athletic enough to handle Ware's ability to rush the passer and play the run, but throughout the contest, Ware was able to put the talented tackle in some bad positions with his rushes.
Ware was able to use his power on the bull rush and drive Williams back into Grossman. He was able to explode off the snap, get the edge of Williams and get around him for a sack. On his second sack when he also caused a fumble, he worked Williams wide, got his balance off and weight going up field, then worked inside for the sack on Grossman.
On Victor Butler's sack, he is going to work a game where Butler picks Williams and Ware comes inside. At the snap, Butler and Ware start to work together on the game, Williams fans outside and guard Kory Lichtensteiger works down inside, leaving a gap for Butler to rush through. To Butler's credit, he sees this and takes the opportunity to rush inside and get the sack.
* Along the defensive front,
Jay Ratliff
started off the game slowly, not getting off Casey Rabach's blocks in the running game, but as the game wore on Ratliff did a better job of creating pressure in the middle of the pocket.
Stephen Bowen
started the game missing a tackle on the screen to Moss but rebounded to play well.
Bowen has a feel for how to get pressure inside by getting push. The more you study Bowen, the more you realize truly what a valuable player he really is. Physically he is not the most impressive player, but he is relentless and his technique causes blockers problems.
Of the three Cowboys defensive ends that are playing under one-year contracts (
Marcus Spears
,
Jason Hatcher
and Bowen), Bowen is the one player that I would try to re-sign because of what he brings as a nickel rusher and spot starter.
To me, Bowen has more value than Spears, who is a two-down player, and Hatcher, who has been way too inconsistent in the opportunities given to him.
* In the secondary, nickel back
Orlando Scandrick
played well. Scandrick did a nice job of playing the routes of
Santana Moss
and
Roydell Williams
. Scandrick understands how to keep leverage in the route and has the quickness and awareness to play the ball in the air.
As a blitzer, Scandrick is developing his timing and technique to gain results when his number is called. This has become a go-to blitz for Paul Pasqualoni in the weekly game plan. Scandrick also is the most consistent and effective tacklers in the open field of all the defensive backs.
With the injury to
Gerald Sensabaugh
in the game,
Barry Church
took over at safety and really had a mixed bag of a game.
There were times where he missed tackles, whether he lunged and missed or he didn't wrap up and bring his feet. He ran around going to the ball instead of taking a direct path to the ball. On the two-point play to tight end
Chris Cooley
, he had too much depth in the route and didn't react quickly enough to the pass. He also struggled with Cooley on another two-point play where Cooley drives outside, then back inside causing Church to have to grab him and getting the holding call.
After the game, Church commented that the speed of the game was much different than what he had experienced in the preseason, which is okay. Despite his struggles, Church playing in these games are not a bad thing because it gives the front office and coaches the opportunity to really see what they have there at safety, which will be an area of concern during free agency and the draft.
*The Cowboys were short-handed at receiver with
Dez Bryant
and
Kevin Ogletree
on injured reserve and Roy Williams missing the game with a groin injury. With
Sam Hurd
starting on the outside and Manny Johnson seeing action as the third, the Cowboys still managed to have another 30-point game.
One of the main reasons that Jason Garrett can get away with playing without key players is the play of tight end
Jason Witten
. In this offense, Witten's ability to break down defenses is impressive. His route running has never been better and his understanding of the game and what he needs to do on "hot" routes allows this offense to maintain drives.
We often talk about Witten as this mismatch player. He is too big for safeties to deal with and too athletic for linebackers to carry around the field. Witten's ability to swim defenders, work up field, nod to the outside, then work back inside to create space is a nightmare for safeties like
Reed Doughty
. He also can line up on the far right of the formation as a receiver against
DeAngelo Hall
, run up the field then work outside, use his body to shield Hall from the ball, make the catch, shake a tackle, then get into the end zone.
Running back
Tashard Choice
continues to make the most of his opportunities -- not just in the running game, but as a pass blocker. Choice did have a nice touchdown run following the block of
Kyle Kosier
off the edge, but where Choice helped this team the most was his ability to know his assignment, read the defensive scheme and execute his assignment.
The Redskins really struggle to create pressure with their base rush, so defensive coordinator Jim Haslett had to try to create pressure with different looks and bringing pressure from the secondary. There were several plays where Choice had to sort out the rush and step up to make a clean pick up. To his credit, he was successful in his job, which allowed
Jon Kitna
to make successful throws down the field.
As a group, this was one of the better games for the offensive line. There have been too many games this season where four guys manage to do their jobs and one fails on each play.
Doug Free
had the toughest task of dealing with
Brian Orakpo
. Until Orakpo went out in the third quarter, Free played technique wise as good as you could play. His feet, sets, punch, angles were all in line. He played without much panic or stress. In the running game, his down blocks and sustain were outstanding.
Kosier had a solid game adjusting on the edge when he pulled, working to the linebackers on the second level on backside blocks.
The line was successful sorting out what the Redskins where trying to deal to them when it came to the passing game.
The one flaw in the game was the fourth-and-1 play on the goal line. Garrett puts
Montrae Holland
in the backfield as the blocking fullback but at the snap, the front side or the left side of the line gets no push. On the back side,
Leonard Davis
and
Marc Colombo
get beat inside and linebackers Rocky Mcintosh and
London Fletcher
go over the top. Choice has no opportunity to even start into the line because the Redskins front is now on the Cowboys side of the line of scrimmage, which led to the play being stuffed.
September, 7, 2010
9/07/10
9:48
AM ET
IRVING, Texas – The Cowboys can't just pop in tape of the Redskins to prepare for the season opener.
The coaching staff has watched film from at least four teams as they try to figure out how the schemes used by the new Washington coaching regime will work with the Redskins personnel.
They've studied Mike Shanahan's old Denver teams. They've looked at recent
Houston Texans
film to see what kind of twists offensive coordinator Kyle Shanahan, Mike's son, came up with. They watched the
Pittsburgh Steelers
defense from the late '90s, when it was run by Redskins defensive coordinator Jim Haslett. And, of course, they studied the Redskins again.
Defensive players might also want to pop in some recent Eagles games to brush up on the tendencies of
Donovan McNabb
.
The Redskins have the element of surprise on their side, as the Cowboys attempt to figure out the jigsaw puzzle of how Shanahan and Co. will fit their schemes to their personnel. But the Cowboys have the advantage in most individual matchups, and it's on Wade Phillips and his staff to maximize that.
At least the Cowboys had plenty of time to prepare. The coaching staff has been working on Washington for weeks.