Dallas Cowboys:

Jim Maurer
March, 4, 2014
3/04/14
9:00
AM ET
IRVING, Texas -- One of the Dallas Cowboys' homework assignments in the offseason has been to figure out a way to avoid hamstring injuries.

Twelve players suffered strains of varying levels and missed either game or practice time in 2013:
Miles Austin
,
Morris Claiborne
,
Sean Lee
,
Justin Durant
,
Dwayne Harris
,
Bruce Carter
,
Danny McCray
,
Barry Church
,
Dez Bryant
,
Lance Dunbar
,
Gavin Escobar
and
Terrance Williams
.
The shortened offseason conditioning program could play a factor in the increase in injuries, but it has not affected every team. The Cowboys have studied other teams' approaches and injury numbers to come up with a solution.
Coach Jason Garrett said one possibility is cutting back on the time spent on the field, especially early in the offseason.
"It is valuable to do the football stuff. We don't feel like there's a lot of football stuff right now," Garrett said. "We want to be careful about how much we take away from that. But there's a couple weeks prior to all that stuff starting. We've talked about tweaking the daily schedule and what we're doing those first couple weeks as we start to lay the foundation for the offseason."
While many players train on their own before the official offseason program starts in April, there is only a two-week period of training before players get on the field for teaching sessions.
"[Strength and conditioning coach Mike Woicik] I know is certainly not happy with it," executive vice president Stephen Jones said. "[Athletic trainers] Jim Maurer and Britt Brown0 are not happy. I know Jason's not happy with it and I damn sure know Jerry [Jones] and I are not happy with it. So we're looking at ways to try to work on that."
One way might be doing less instead of more.
February, 24, 2013
2/24/13
4:54
PM ET
INDIANAPOLIS –
Dallas Cowboys
associate athletic trainer Britt Brown was named the winner of the NFC's assistant trainer of the year award, given out by the league's athletic trainers.
Head athletic trainer Jim Maurer presented Brown, who has been with the team for 17 years, the award at the NFL scouting combine. The award takes into account the athletic trainer's work and his contributions to the Professional Football Athletic Trainers Society. Since 1995, Brown has coordinated the PFATS Ethnic Minority Scholarship.
"We have a great staff and so for me to win that, there's so many guys that deserve the award that it easily could've done to (assistant athletic trainer Greg Gaither) too," Brown said. "It's a staff thing I feel like."
Brown said the award did not have to do with the season. The Cowboys had a number of injuries in 2012 that led to 11 guys being placed on injured reserve, including five defensive starters.
Jay Ratliff
had late-season sports hernia surgery and was not placed on injured reserve. Nose tackle
Josh Brent
finished the year on the non-football injury list.
Brown serves as the Cowboys' director of rehabilitation and the players often joke that a session with Brown is worse than practicing.
"A love-hate relationship? It is," Brown joked. "But I think ultimately they feel like I'm taking care of them because I've got their best interests. Like it or not they have to go through me to get back to practice. If I'm not looking out for them and requiring them to prove to me they're OK, they'll just get thrown back out there. Guys know in order to get back to practice they have to show they can do it. I think they feel like there's checks and balance there."
October, 19, 2012
10/19/12
11:38
AM ET
IRVING, Texas – Just when it looked like
Matt Johnson
was set to make his season debut after missing the first five games with a recurring hamstring problem, the rookie safety left the practice field Friday during special teams' work.
It's not clear whether Johnson got hurt or just needed a quick break before the full practice began but he did leave with head athletic trainer Jim Maurer. He left the practice field last week but returned after the open part of practice ended.
In his Friday morning press conference, coach Jason Garrett said Johnson was doing a good job in practice the last two weeks, and "hopefully we can inch him along and get him some opportunities this week."
Johnson has had hamstring troubles since June and missed most of training camp. He played in one preseason game before hurting his other hamstring, which kept him out of practice until last week.
Running back
DeMarco Murray
(foot), center
Ryan Cook
(hamstring) and defensive end
Sean Lissemore
(ankle) did not practice for the third straight day.
Outside linebacker
Anthony Spencer
(pectoral) was on the practice field for the third straight day, which is an indication he will be able to return Sunday at Carolina after missing the previous two games. Center
Phil Costa
(knee) is also practicing.
November, 15, 2011
11/15/11
9:30
AM ET
By
Bryan Broaddus
| ESPNDallas.com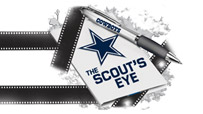 Jason Garrett has received much criticism for his play calling this season. In my view, not all of it has been fair because of the poor execution of the offense at times.
Garrett has struggled the most in the red zone, but on Sunday against the Bills, every play that he dialed up on his call sheet seemed to work just fine.
The DeMarco Murray Effect
I mentioned on 103.3 FM ESPN that not only has
DeMarco Murray
made this offensive line better, he has helped
Tony Romo
and made Jason Garrett a better play caller. The goal of any offensive coordinator is to stay ahead of the chains, no negative plays. Murray has allowed Garrett to calls plays at manageable downs and distances.
When you now study the Cowboys on offense, you do see the same plays: the draw, toss, and power. Garrett and this staff are running the same plays, they just have a back that is doing a better job of using his patience, vision and power to finish runs.
There are still plenty of times where
Montrae Holland
misses when he pulls or
Phil Costa
gets over powered on the front side or
Tyron Smith
doesn't quite get his head across the man on the backside. Murray's running style helps this offensive line when things aren't exactly blocked well or clean.
Something that I also want to point out about Murray that others have failed to mention is his ability as a pass protector. I counted three different times where Murray was asked to pick up a blitzing linebacker and all three times he was a square protector that did his job with solid skill and technique. One of the biggest things you worry about with rookie running backs is their ability to pass protect, but what you really worry about the most is their ability to block the right guy. Murray had no problem doing this.
Great grab: WR Robinson continues to impress
When the Cowboys signed wide receiver
Laurent Robinson
before the start of the season, I can honestly say that I didn't know much about his game or what he could have brought to the team. Robinson has been more than just a reliable third receiver. He functions well as the No. 2 guy.
Robinson has come in, learned the playbook and been super productive. Robinson runs nice routes and adjusts well to the ball on the move. More importantly, he has become a target that the quarterback feels very comfortable throwing the ball to in any situation.
PODCAST
Bryan Broaddus, official scout of ESPNDallas.com, breaks down the film from the Cowboys' impressive win over the Bills.

Listen

On his first of his two touchdowns against the Bills, the Cowboys go empty formation with three wide receivers and two tight ends.
Jason Witten
is lined up in line to the left,
Martellus Bennett
in line to the right.
Dez Bryant
is lined up wide right with
Kevin Ogletree
slot left and Robinson wide left. Romo is lined up in the shotgun, and by the alignment of the Bills defense, he knows that he is going to get pressure from his left side.
At the snap, Robinson is met two yards deep in the end zone by cornerback
Drayton Florence
, who carries Robinson deep into the end zone. Robinson feels himself getting cut off in route by Florence. Robinson, running hard to his left, stops after seeing that Romo has now rolled to his side. Robinson shifts his weight, and comes back to the right. Florence loses Robinson on the adjustment, allowing Robinson to gain space in the back of the end zone.
In the blocking scheme up front for the Cowboys, Witten is staying in to block, but it looks like he doesn't slide down inside with Free to pick up the safety
Bryan Scott
. Instead he is blocking on the outside on linebacker
Arthur Moats
. Scott now has a free run at Romo, who sees what is happening and spins to his left out of the pressure. Romo is able to square his shoulders and deliver the ball to Robinson in the back corner of the end zone with no one around him.
Nice adjust by Robinson, great read from Romo and the first of two touchdowns for a player that was picked up off the street before the season that is making a big difference in this offense.
Nowhere to run: Cowboys defense plugs the holes
There are times when you study an opponent and believe there are potential problems that you will have to deal with throughout the day if you are going to find a way to win that game.
My belief going into this game against the Bills was that they would give the Cowboys problems defensively with
Fred Jackson
running the ball and
Ryan Fitzpatrick
delivering it quickly from the pocket. I had seen the Bills move the ball with a wide-open attack that stretched defenses to their edges to defend the entire field. This is an offense that uses four- and five-wide sets that features screens and crossing routes at different levels.
The more I studied this Bills offense, the less I fully trusted that this Cowboys defense could truly defend them down after down.
On the other side, the Bills defense did not present that much of a problem from what I was able to observe. Sure this was a team that was ranked first in the league in takeaways but I felt that if the Cowboys protected the ball offensively, they could create some problems of their own.
Defensively, the biggest question for the Cowboys was whether the run defense could contain Jackson, who on tape played with impressive power and explosiveness. He was one of those backs that made you pay if you were not in good position to make a wrap-up tackle.
In the previous two weeks, the Cowboys really struggled in the stopping the run. The primary problem was at defensive end, but run fits with their linebackers were an issue as well. When you have outside linebackers like
DeMarcus Ware
and
Anthony Spencer
, they want to get up the field in a hurry. This puts pressure on your ends to hold the point of attack while taking on blocks.
Kenyon Coleman
,
Marcus Spears
,
Jason Hatcher
and
Sean Lissemore
had been getting moved off their spot and not stacking the point of attack.
When the ends are able to hold that point, it makes the jobs of
Sean Lee
,
Keith Brooking
and
Bradie James
much easier to get to the ball and finish plays.
When I studied this Buffalo line, I was not impressed with their ability to get push but was impressed with their ability to stay on their feet and sustain their blocks. The Cowboys had success in the first half against Jackson, not allowing him any room to run or the lanes to make those cutback runs. Jackson is at his best when he can attack the hole and if nothing is there, then bounce the ball outside.
Spears and Coleman were able to hold the point and physically take the game to this offensive line, not allowing any type of movement. The Cowboys defensive ends were physical in this game and that is why the Bills were unable to move the ball in the first half when the game was still in the balance.
In the second half, Jackson was able to hit on some runs that were more a product of spreading the Cowboys out and defenders missing tackles.
Jay Ratliff
had a missed tackle in the hole, Lee was trying to get Jackson down with one arm and was unable to. Carter got trapped inside and out of position, which led to a good gain, and he also had trouble getting off a block on another play that helped Jackson pad his numbers.
After the game, Rob Ryan said not to worry about what we saw from the run defense. I tend to agree because of what I saw in the first half and the way the Cowboys played at the point of attack. As long as Coleman, Spears, Hatcher and Lissemore can hold up on the outside, then you will see a team that was best in the NFL against the run through the first six weeks.
Sean Lee was much more than a cast player
When Lee dislocated his wrist two weeks ago against the Eagles and had to sit out the Seattle game, there was no question in my mind that if the swelling would go down and the pain would lesson, he would attempt to get back on the field as soon as possible. There was not going to be any questions of Lee's toughness. It was a matter of whether trainers Jim Maurer and Britt Brown could fit him with a cast that allowed him to play.
What Lee played with Sunday on his left hand and wrist did nothing more than protect his injury. For a linebacker like Lee who is outstanding at playing with his hands, it truly was a handicap. Without the use of his fingers, Lee was reduced to a one-armed football player.
But what you have to remember about Lee is his incredible desire to get to the ball and also the football smarts that he possesses. A player that doesn't have these two traits would have been no good to his team with the condition he was trying to play under.
Lee had a plan to how he was going to tackle in this Bills game. He is so quick reading the play that it allowed him to almost hesitate just a bit to get his body in position to make the tackle with his shoulder. Once Lee was able to get close enough to the ball carrier, you could see him try to wrap his arms as quickly around the man as he could.
Lee played like he had no fear of using his hands, hurt or not. There were several times where as he was moving down the line, he was able to fire his hands inside, control the blocker, shed and make the tackle.
Watching him drop in his coverage and play in the red zone, you would have never known that he had a club on his hand. I mentioned before that he had one missed tackle of Jackson, but that was the only one that I saw. To his credit, he had an opportunity for several more misses, but it did not happen.
Going into this game, there was so much unknown of how Lee would be able to function in the defense and still be productive. At the end of the day, he was anything but a liability.
One mistake: Only 10 defenders on the field
The only touchdown that the Cowboys defense gave up against the Bills came with only 10 defenders on the field.
With the Cowboys leading 21-0, the Bills break the huddle with four receivers and one running back. Ryan counters with six defensive backs, two defensive linemen and two linebackers, which means there are only 10 players on the field.
In the previous two plays, DeMarcus Ware was not on the field and
Victor Butler
and
Alex Albright
were. At the snap, Lee, Hatcher, Ratliff and Spencer all rush. On the left side of the Cowboys defense, Bills wide receivers
Donald Jones
and
David Nelson
are lined up with Nelson in the slot and Jones outside.
Frank Walker
is lined up over Jones with
Orlando Scandrick
on Nelson and safety
Abram Elam
two yards deep in the end zone.
When the Bills receivers break off the ball, Elam and Scandrick switch responsibilities. Jones carries Walker into Scandrick. Elam has Nelson on the goal line. Fitzpatrick, feeling the rush, sprints to his right. Jones is now open in the back corner of the end zone but Fitzpatrick makes the more difficult throw to Nelson, who is covered well by Elam. Nelson is able to snatch the ball away from Elam and gets into the end zone for the touchdown.
Garrett wouldn't say what happened on the play, but I have to feel like that either Ware or one of the backup linebackers were not on the field when they were supposed to be.