Dallas Cowboys:

Jim Washburn
November, 6, 2012
11/06/12
5:00
PM ET
Amid all of the perfectly justified rip jobs and sky-is-falling coverage of the
Philadelphia Eagles
' latest loss,
this short item by Jeff McLane
caught my eye. He's got someone with the Eagles telling him Andy Reid's bye-week firing of defensive coordinator Juan Castillo was a "miscalculation." This comes as neither news nor a surprise to anyone who's been tracking the Eagles over the past two seasons, during which it appears "miscalculation" has been the hallmark of the front office's game plan.
Yeah, when you watch the Eagles play, it's easy to get caught up in the on-field, in-game issues. Why don't they run the ball more? Why can't
Michael Vick
make pre-snap reads? Have they quit on Andy Reid? Stuff like that. But I think if you look back over the past two years, it's easy to see that the flaws with this team are flaws of construction, and that the miscalculations are myriad and extensive. A partial list, in no particular order:
[+] Enlarge

AP Photo/Brian GarfinkelSigning QB Michael Vick to a $100 million contract appears to be a costly move for the Eagles.

Deciding on Vick as a $100 million franchise quarterback based on the spectacular aspect of the way he played in 2010, ignoring the likelihood that his issues reading the field, making audibles and adjusting on the fly were too ingrained to overcome in his 30s. And no, it's not that they should have kept Kevin Kolb or that they didn't get great value for him in the trade. It's just that tying so much of their 2011-12 success to Vick is going to set them back as they head into 2013 and beyond. And the bust potential that Vick came with at the time of the contract was high enough to make it a questionable decision at best.

Signing Nnamdi Asomugha on the presumption that he'd play like a top shutdown cornerback, then playing him in zone coverage for his first year because they didn't have the guts to move Asante Samuel. This resulted in their having to trade Samuel for nearly nothing a year later, and Asomugha has struggled at times this year in one-on-one coverage against speedy wideouts.

Drafting Danny Watkins in the first round after hiring Howard Mudd to run the offensive line. Mudd found Jason Kelce in the sixth round, identified him as the type of guy who could play his scheme and quickly molded him into a top NFL center. Surely, he could have found a guard in the fifth or seventh that fit his profile and done the same with him, and the Eagles could have used that first-rounder on something more immediately helpful. And no, the Eagles could not have imagined the extent to which injuries would ravage their offensive line this season, but it does seem as though they could have found backup players better suited to adapt quickly to Mudd's blocking schemes. Perhaps if they hadn't been so focused on bringing in high-profile, ultimately useless skill-position backups like Vince Young and Ronnie Brown last year, this could have been more of a point of emphasis.

Designing a defense predicated on the down linemen selling out for sacks, then failing in 2011 to support the defensive line with anything resembling adequate linebacker play.

In 2012, after bolstering the linebacker corps, failing to adjust anything about the defensive line scheme even though the whole league knew they'd be selling out for sacks on every play. The extent to which opposing offensive coordinators have appeared to be ahead of Castillo, Todd Bowles, Jim Washburn or whoever's been in charge of setting up the Eagles' defense on a given week this year is staggering.

Making Castillo the defensive coordinator in the first place, then of course firing him during the bye week just because they felt like they had to do something.
Look, I understand this is an exercise in second-guessing. I fell for it, as did a lot of the people who have been writing about this Eagles team for the past two years. Philadelphia's roster-construction efforts the past two springs and summers looked good as they were going on, and I for one failed to spot the number of flaws that have ultimately manifested themselves. The very good lesson, for those of us who write the NFL, is as usual about waiting for the games to be played before making broad conclusions about how they will go.
As we look back on it now, though, not much the Eagles have done in assembling their roster over the past couple of years has worked. There's the occasional
DeMeco Ryans
or
Fletcher Cox
, sure. The
DeSean Jackson
contract is a good one for them, and I don't think it was necessarily wrong for them to spend resources this past offseason locking up cornerstone pieces like
Trent Cole
,
LeSean McCoy
and
Todd Herremans
for the long-term. But in terms of building a Super Bowl contender in the short term, Reid and the rest of the people who run the Eagles have failed spectacularly. The product they've put on the field simply isn't as good as they believed it to be, and they are likely to pay for their run of miscalculations with their jobs.
August, 27, 2012
8/27/12
12:00
PM ET
In the final 20 days before the start of the regular season, we are counting down the top 20 players in the NFC East. For a full explanation, see this post.
Babin
No. 9 -- Jason Babin, Eagles DE
Babin's game is pretty simple. Once he arrived in Tennessee for the 2010 season and teamed up with defensive line coach Jim Washburn, he was able to strip away everything he didn't do well and focus on the one thing he does extremely well -- get after the quarterback. Babin picked up 12.5 sacks that year with the Titans, and when Washburn jumped to Philadelphia in 2011, Babin followed and collected 18 more sacks last year for the Eagles. Only Minnesota's
Jared Allen
and Dallas'
DeMarcus Ware
had more.
A perfect fit in Washburn's Wide 9 defensive line scheme, which asks its ends to be fast and aggressive enough to speed around blockers and pursue the quarterback on every play, Babin has turned himself into one of the great sack artists in today's game. It's a passing league, as I'm sure you've heard, and of the eight players ahead of Babin on this list, only one is not strictly a passing-game player. It may well be that Babin doesn't play the run as well as some of his peers, or that he's not the same kind of all-around player that some of the other pass-rushers in his division are. But that misses the point.
Babin is a lethal pass-rusher at a time when rushing the passer is perhaps more important than it's ever been in NFL history. He's a lethal pass-rusher in a defense that can't function unless its ends are wreaking havoc on the backfield. He's a man for his time and his team, and because he's as great as he is at what he does, he deserves this spot on this particular list.
Rankings so far:
10.
Victor Cruz
, WR, Giants
11.
London Fletcher
, LB, Redskins
12.
Michael Vick
, QB, Eagles
13.
Tyron Smith
, T, Cowboys
14.
Brian Orakpo
, LB, Redskins
15.
Jason Witten
, TE, Cowboys
16.
Dez Bryant
, WR, Cowboys
17.
DeSean Jackson
, WR, Eagles
18.
Osi Umenyiora
, DE, Giants
19.
Evan Mathis
, G, Eagles
20.
Ahmad Bradshaw
, RB, Giants
May, 18, 2012
5/18/12
12:29
PM ET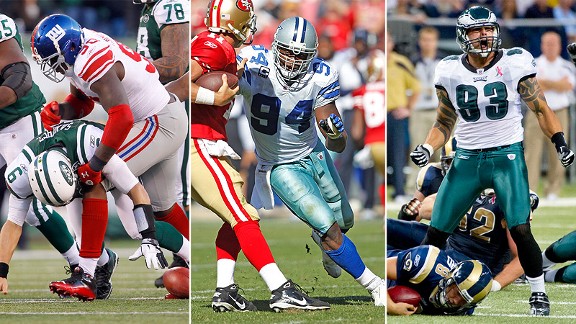 Getty Images, US PresswireJason Pierre-Paul, DeMarcus Ware and Jason Babin had 54 of the NFC East's 181 sacks in 2011.
The 2011 season was not the most, well, beastly season in NFC East history. It was the first time in a full, 16-game season that no team in the division won at least 10 games, and for much of the year the talk around the division was that it wasn't what it used to be.
Buncha baloney if you ask me. Even forgetting for a second that an NFC East team won the Super Bowl, this division still does one very important thing better than any other: rush the passer. The NFC East's 181 sacks led all NFL divisions in 2011, and by quite a bit. (The AFC North, which had three playoff teams, was second with 160). The Eagles tied for the league lead with 50. The Giants tied for third with 48. The Cowboys tied for seventh with 42, and the Redskins tied for 10th with 41.

Look deeper, into the film-based, number-crunching stats from Pro Football Focus -- stats that take into account more than just sacks when evaluating the extent to which teams rushed, hassled and affected opposing quarterbacks, and the division still rules. The Eagles rank No. 1 in PFF's 2011 team rankings, the Cowboys No. 3, the Giants No. 6 and the Redskins No. 9. No division prizes this critical aspect of the game more than the NFC East does, and it shows up in the numbers.
So, as we slug our way through a slow news month in the NFC East, I thought it'd be a good idea to check in on the pass rushes of our four teams and see how they're doing -- what they've done to get better or worse, what their 2012 prospects look like from this far out and yes, how they rank against each other. You guys asked for more polls, and I promised I'd listen, so there's one right here for you to vote on. After you finish reading, of course. I'm addressing them in order of how many sacks they got in 2011, in case you're wondering how I decided. Seemed fair.

Philadelphia Eagles
Key contributors:
DE
Trent Cole
, DE
Jason Babin
, DT
Cullen Jenkins
. PFF ranked Cole the No. 1 overall 4-3 defensive end in the league last year. Babin ranked 10th overall and third in pass rush, finishing third in the league with 18 sacks. Jenkins ranked as the No. 4 pass-rushing defensive tackle, and
Derek Landri
was No. 10. Defensive line coach Jim Washburn and defensive coordinator Juan Castillo, each of whom is entering his second season in his current position with the Eagles, believe the front four is responsible for the pass rush. And while they got a lot of publicity for how wide they like to line up their defensive ends, they like to get pressure from the defensive tackles as well.
Newcomer:
DT
Fletcher Cox
. The Eagles traded up in the first round to pick Cox because they believed he could be an impact pass-rusher from one of those interior spots right away. They need to toughen up against the run, and that will have to be part of Cox's game. But what appealed to them was his ability to get to the passer. Rookie linebacker
Mychal Kendricks
could conceivably factor in here too, but the Eagles don't ask their linebackers to rush very much in the new scheme.
Stock watch:
UP. The addition of Cox, as well as the possible return to full health of
Mike Patterson
and 2010 first-round pick
Brandon Graham
, give the Eagles incredible depth at a position at which they were already very strong in 2011. It's possible they'll rush the passer even better in 2012.

New York Giants
Key contributors:
DE
Jason Pierre-Paul
, DE
Justin Tuck
, DE
Osi Umenyiora
, DE/LB
Mathias Kiwanuka
. No one's roster goes as deep as the Giants' does in terms of star-caliber defensive ends. Pierre-Paul was fourth in the league with 16.5 sacks in just his second NFL season. Umenyiora had nine in just nine games. Tuck turned it on at the end and in the playoffs, and Kiwanuka is a defensive end playing linebacker. The Giants believe a strong pass rush is their heritage and their key to being an annual contender.
Newcomer
: DT
Marvin Austin
. The Giants didn't really bring in anyone this offseason who looks like a 2012 pass-rush contributor, but their 2011 second-round pick missed all of last season due to injury, so we'll call him a newcomer. The Giants would like to get more help from inside.
Linval Joseph
was their best pass-rushing defensive tackle in 2011, according to PFF's rankings. A healthy Austin could be a difference-maker.
Stock watch:
DOWN. Not by much, but a little, because of the loss of reliable, underrated reserve DE
Dave Tollefson
. If Tuck and Umenyiora have injury problems again, or if Umenyiora holds out, they could get kind of thin at defensive end pretty quickly without Tollefson there to fill in this time. Now, this is the Giants, and they'll probably figure it out. The addition of linebacker
Keith Rivers
could allow them to move Kiwanuka back to end in case of injury. But it's worth pointing out that they did lose a somewhat important piece of the pass rush and didn't replace him.

Dallas Cowboys
Key contributors:
LB
DeMarcus Ware
, LB
Anthony Spencer
, DE
Jason Hatcher
, NT
Jay Ratliff
. There's no one like Ware, who rang up another 19.5 sacks in 2011. That's nearly half the team total, and the conventional wisdom says he needs more help. But PFF ranked Spencer its 11th-best 3-4 outside linebacker in the pass rush and Hatcher as its eighth-best 3-4 pass-rushing defensive end. Add in Ratliff, who can generate pressure up the middle, and the Cowboys look better in this area than we tend to think.
Newcomer:
DE
Tyrone Crawford
. Dallas' third-round pick is looked at by many as a project, but as one that can eventually help with the pass rush whether he ends up as a 3-4 end or standing up as an outside linebacker. Whether he can help in 2012 remains a question, but the Cowboys didn't see a first-round or second-round pass-rusher they liked better than Spencer, so they focused on the secondary instead and picked up some down-the-road guys for the pass rush.
Stock watch:
EVEN. They're bringing back basically the same group, and while there's a theory that the improvements at defensive back will help the pass rush by giving it extra time to get sacks, we have yet to see that in action. Spencer must play with more aggressiveness if this unit is to take a step forward into the upper tier with the Eagles and Giants.

Washington Redskins
Key contributors:
LB
Brian Orakpo
, LB
Ryan Kerrigan
, DE
Stephen Bowen
. The Redskins' pass rush is all about those young outside linebackers, and they are fearsome. But with only 16.5 sacks between them in 2011, their numbers have a ways to go to get into the big-time stratosphere we're talking about in the NFC East. PFF did rank Orakpo fifth and Kerrigan ninth among pass-rushing 3-4 OLBs in 2011, so they do a lot of things well in that area. Bowen had six sacks and DE
Adam Carriker
came up with 5.5.
Newcomer:
DE
Jarvis Jenkins
. Just as we did with the Giants, we'll go with a 2011 second-round pick who missed his rookie season due to injury. Jenkins may not be a pass-rusher, but adding him to the defensive line rotation could help free up more room for the linebackers and maybe help the other linemen get to the passer more often as well.
Stock watch:
EVEN. This is really all about how much and how quickly Orakpo and especially Kerrigan continue to develop as elite pass-rushers. They've both shown flashes of incredible raw ability, and they have to continue to hone their craft so they can play at the level of the other pass-rushers in their division. Ware, Cole, Pierre-Paul and the rest of these guys are setting a high bar, and the Redskins know they have to have their own pass-rush monsters if they want to hang with them year in and year out.
October, 28, 2011
10/28/11
10:36
AM ET
IRVING, Texas --
Tony Romo
has started eight games in his career against Philadelphia with a 5-3 record. He could tell you anything you wanted to know about the Eagles' defense that was run by Jim Johnson and his successor,
Sean McDermott
.
He knew he would see a variety of blitzes and the middle linebacker in the A gap most of the time.
With Juan Castillo running the defense, Philadelphia has altered its scheme.
"You have to watch more and more tape," Romo said. "We started right after the game last week and we're just trying to get comfortable with what they like to do and some different things like that. But it's definitely a little bit different from the way they used to be. They still have some things that are similar to what they used to do, so I think the stuff they were successful with in the past they're going to keep incorporating."
The Eagles use a "wide 9" technique with their defensive ends. They are aligned outside the tight end, similar to the look Detroit used this year and Tennessee used last year. Eagles defensive line coach Jim Washburn was with the Titans last year and worked with Lions coach Jim Schwartz in Nashville.
"I think there's a different overall defensive schematic structure there, but they still play a 4-3 defense," coach Jason Garrett said. "They don't seem to be pressuring as much as they have in the past, which was a trademark of those Jim Johnson defenses, but they provide pressure because they have a really outstanding front four."
October, 20, 2011
10/20/11
1:44
PM ET
We all know that if the
San Diego Chargers
had hired Rex Ryan instead of Norv Turner to be their head coach in 2007,
they'd have two Super Bowl rings by now
. This is headline news today, in large part because Ryan has become a prominent head coach at a time when no one in the NFL can seem to take a joke.
But the hubbub over all of this got me thinking about another Ryan -- Rex's brother,
Dallas Cowboys
defensive coordinator Rob Ryan, and whether the
Philadelphia Eagles
might have been better off hiring him as their defensive coordinator last winter instead of promoting offensive line coach Juan Castillo to the position.
[+] Enlarge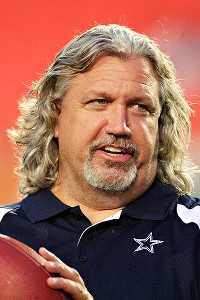 Ronald C. Modra/Getty ImagesIn his first season with the Cowboys, Rob Ryan has helped turn the defense around.
Now, up front, let me say that I don't know that this was possible. Rob Ryan was officially hired by the Cowboys 10 days after the Eagles' playoff loss to the Packers, so it's likely his deal with Dallas was done before the Eagles ever knew they'd be firing defensive coordinator
Sean McDermott
. So this isn't a column that says the Eagles made a mistake by not getting Rob Ryan. I don't know if they ever could have.
But there's a point to be made here about the value and importance of coaching in the NFL, and the difference between the way the Cowboys' defense and the Eagles' defense have played this season helps make it.
Both defenses needed help. Both underachieved in 2010 -- the Cowboys to devastating levels and the Eagles just enough to cost them down the stretch. Both teams needed to overhaul things on the defensive side of the ball, and they went in different directions to do it. The Cowboys believed they had the player personnel in place to have a good defense if they could just get 2009 stars, such as
Anthony Spencer
and
Mike Jenkins
, to play the way they'd played in 2009. Add a safety here, a 3-4 defensive end there, promote
Sean Lee
to starter, and they felt like they weren't far off. What they needed was somebody who could bring it all together, and so they brought in Rob Ryan, who'd coached the
Cleveland Browns
' defense to respectability in 2009 and 2010 and clearly knew what he was doing.
The Eagles needed to change personnel, so they decided to overhaul everything. Not only did they switch Castillo from offensive line to defensive coordinator, they brought in respected defensive line coach Jim Washburn. They decided they would play a completely different style of defense, built on linemen who get upfield and harass quarterbacks. They went out into the trade and free-agent markets and brought in two new cornerbacks and two new defensive linemen and built it all up from scratch, and they gave all of this responsibility to a guy who'd been coaching the offensive line for the previous 13 years.
The results? Well, the Eagles have struggled, and the scheme and its administration have come under fire. Washburn's "Wide-9" defensive front appeared to leave the Eagles vulnerable to the run through the first five games, especially because they underspent at linebacker and don't have the players at that position to support the hyper-aggressive line in run defense. For some reason, they're playing their new cornerbacks in zone coverage when they've excelled in the past as man-to-man cover guys. Castillo has shown an ability to adjust and fix things during games, but the Eagles' defense often seems unprepared at the start of games, getting run over early by everybody from
Steven Jackson
to
Fred Jackson
to
Victor Cruz
.
There was a lot to bring together here in a short period of time, and they took a big risk by handing that responsibility to a first-year defensive coordinator. The results are mixed. The Eagles rank 14th in the league in total defense as measured by yards allowed per game, but their struggles in the run game prior to last week and their susceptibility to big plays early in games has cost them dearly.
The Cowboys, who were one of the league's worst defenses in 2010, currently rank fifth in the NFL in total defense. Only the Steelers, Bengals, Ravens and Chargers have allowed fewer yards per game. No team has been tougher against the run. And Dallas has played two of the league's highest scoring teams in its past two games. The Cowboys added
Abram Elam
at safety and
Kenyon Coleman
at defensive end -- two guys who'd played for Ryan in Cleveland -- and they let Ryan at the holdovers. The result is that guys such as Lee, Jenkins, Spencer and
Terence Newman
are playing lights-out. The Cowboys eschewed major personnel changes in favor of a new, stronger voice -- an experienced and accomplished defensive coordinator -- and it appears to be paying off. They're 2-3, but most of that is on the late-game failings of the offense. And with the schedule about to soften up, Dallas' improved defense could be a key to a huge second half.
Two different approaches to similar problems. And the year isn't even halfway over yet, so it's too early to say for sure whose solution was the better one. But the early returns indicate that the Cowboys' decision to emphasize coaching as a way of improving on defense was a smart one, and that the risk the Eagles took by underemphasizing it may prove costly.