Dallas Cowboys:

Jimmy Garoppolo
May, 1, 2014
May 1
11:30
AM ET
Over the last nine days, we have focused on one position in the NFL draft by highlighting a prospect in Rounds 2-7 who might fit for the Dallas Cowboys. With so much attention placed on the first round in mock drafts, "Beyond the first round" focuses on lesser-publicized options beyond the first 32 picks. Today we look at quarterbacks.
Second round –
Jimmy Garoppolo
(Eastern Illinois): Why not go after another Eastern Illinois QB after the success the Cowboys had with
Tony Romo
? Garoppolo completed 66 percent of his passes and threw for 5,050 yards with 53 touchdowns and nine picks as a senior. He performed well at the Senior Bowl against better competition with a quick release and feel for his throws. He can move defenders with his eyes.
Third round –
Zach Mettenberger
(LSU): He will need some time coming off a torn ACL, but he improved greatly with one year of work with former LSU coach Cam Cameron. He is the prototype (6-foot-4, 227 pounds) but he does not move very well. He can make all of the throws. His decision making was much better in 2013 with just eight picks and 64.9% percent completion rate. He's tough, will take a hit to make a play.
Fourth round –
Aaron Murray
(Georgia): Like Mettenberger he will need some time coming off a torn ACL. He is not the biggest (barely 6 feet) but no quarterback in SEC history has more touchdown passes (121). He completed 64.8 percent of his throws and improved his decision making. He has moxie and seems to play his best when the pressure is greatest.
Fifth round –
Logan Thomas
(Virginia Tech): His best season was his sophomore year when he threw 19 touchdowns and 10 picks but he never progressed the way some had hoped, which might have been due to coordinator changes. He can spin it like no other QB in the draft. He is big (6-6, 248) and moves well enough but pocket presence needs work. He completed only 56.5 percent of his passes last season.
Sixth round –
David Fales
(San Jose State): His senior season was not as good as his junior year when he played for former Cowboys assistant Mike McIntyre but he still threw for 4,189 yards with 33 TDs and just 13 picks. He has great accuracy and anticipation that can make up for an arm that is not the strongest.
Seventh round –
Jeff Matthews (Cornell): A Princeton coach going after a Cornell QB? Keep it in the Ivy League. He looks the part but has some awareness issues in the pocket. He can make all of the throws but doesn't have the strongest arm. He threw for 2,953 yards with 22 TDs and 13 picks in 2013. He won just 12 of 37 career starts.
April, 22, 2014
Apr 22
12:45
PM ET
IRVING, Texas -- Before people get carried away with
Kyle Orton
's absence from the
Dallas Cowboys
' offseason program, two factors need to be put out there: the workouts are voluntary and he missed just one day.
But the Cowboys should not look at Orton's absence as a one-day deal. They should take a worst-case scenario look at it. They need to determine whether Orton really wants to play football in 2014, despite what they heard from the player's agent and the fact Orton would be walking away from $3.25 million.
[+] Enlarge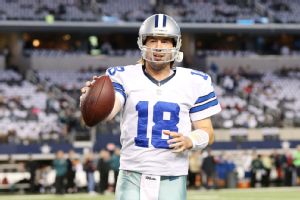 Matthew Emmons/USA TODAY SportsGiven some of the current uncertainty surrounding backup Kyle Orton, should the Cowboys look to select a quarterback in next month's draft?
It could be as simple as him not wanting to play anymore. He is the second-highest paid backup quarterback in the NFL behind
Matt Moore
($4 million) of the
Miami Dolphins
, so money wouldn't seem to be an issue. He has been content in his role as a backup to
Tony Romo
, so opportunity wouldn't seem to be an issue.
Undoubtedly the Cowboys have spoken directly to Orton this offseason with the whispers of him thinking about retirement. What was discussed is not known. Did he tell them he would play or not play?
Orton holds the cards here because he does not have to show up until the mandatory June minicamp. If he does not report for that, then he would face fines up to close to $70,000. If he does report, what kind of condition is he in?
The Cowboys can trade him or release him. What kind of return would they get for a player who may or may not report to a new team? If they release him, then they would forfeit the right to pick up $3 million of the $5 million signing bonus he received in 2011. After the
Jeremiah Ratliff
fiasco, you would think the Cowboys would be more vigilant in these kinds of cases.
They could keep him and hope he arrives at the June minicamp in good shape and is ready to go when the team reports to Oxnard, Calif., for training camp. Hope, however, should not be their strategy.
Yet there is a more immediate question raised from Orton's absence. Does it push quarterback up the ladder when it comes to the draft?
The Cowboys signed
Brandon Weeden
to a two-year deal in the offseason with no signing bonus. They liked him coming into the 2012 draft, but not as much as the
Cleveland Browns
liked him. He had more interceptions than touchdown passes, but the Cowboys have taken a no-risk look at him.
What can they learn about Weeden before the draft? Not much. Coaches are not allowed on the field with the players until Phase 2 of the offseason program, which comes the week of the draft.
The Cowboys attended
Aaron Murray
's workout at Georgia last week. They talked with
Jimmy Garoppolo
and
David Fales
at the NFL scouting combine. They had a number of quarterbacks at their Dallas Day workouts last week in
Garrett Gilbert
,
Casey Pachall
and
James Franklin
, but they did not have a quarterback among their national visitors.
The Cowboys aren't exactly being held hostage by Orton, but his decision (or indecision) could go a long way in how they plan to attack the draft.
April, 11, 2014
Apr 11
2:30
PM ET
As of now, the
Dallas Cowboys
don't have plans to visit with some of the top quarterbacks coming out for the NFL draft.
You can view this in several ways:
The Cowboys are not tipping their hand on which quarterbacks they actually like.

Maybe the Cowboys don't like any of the quarterbacks in this draft.

The Cowboys are comfortable with the three quarterbacks on their roster -- Tony Romo, Kyle Orton and Brandon Weeden.
Since 2000, the Cowboys have drafted three quarterbacks --
Quincy Carter
(2001),
Isaiah Stanback
(2007) and
Stephen McGee
(2009).
[+] Enlarge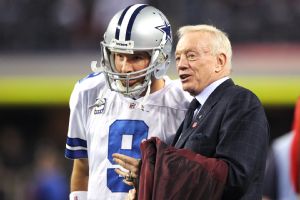 Richard Rowe/USA TODAY SportsJerry Jones seems to be squeezing as much as he can out of Tony Romo, but the quarterback's title window may already be shut.
Carter became the starter, but his off-field problems knocked him out of the league. Stanback was moved to receiver, and McGee never developed.
In free agency this offseason the Cowboys snagged 2012 first-round pick Weeden, a 30-year-old quarterback whose pro baseball career enabled him to play college football at a later age. The Cowboys like Weeden's mental maturity and feel they can improve his skill set with help from head coach Jason Garrett and quarterbacks coach
Wade Wilson
, among others.
It's a good plan because Romo, who is coming off back surgery, can't play forever. But if you listen to owner and general manager Jerry Jones sometimes, you can come away thinking that he will.
Jones said you can't rebuild with Romo as the starter. Based on Jones' thoughts, the time to win a championship with Romo is now. However, he's been chasing a title with Romo since he became the full-time starter in 2006.
Windows open and close in the NFL all the time, so it's interesting to note, Romo's. In 2006, he came on like gangbusters for
Drew Bledsoe
and led the Cowboys to the No. 1 seed in the NFC the next season. After a playoff win in 2009, however, the franchise has been stuck in mediocrity. Three consecutive 8-8 seasons span from 2011-13.

Regardless of whether Romo is still a quality quarterback, the window for him to win a championship might be closed.
He's had all the pieces in place the last few years and still hasn't won a title. Just look at the talent base on offense.
Jason Witten
,
Dez Bryant
,
Terrell Owens
,
Marion Barber
,
Flozell Adams
,
Andre Gurode
,
Miles Austin
,
Tyron Smith
,
DeMarco Murray
all earned Pro Bowl berths with Romo under center.
Some of the names have changed at some positions: Bryant for Owens, Murray for Barber, Smith for Adams. But Romo remains.
The Cowboys don't want to waste a first-round pick on a quarterback, but it would be nice to see
Jimmy Garoppolo
selected at No. 16 next month. At some point, the Cowboys have to think about the future.
Not bringing in
Teddy Bridgewater
,
Blake Bortles
or even
Johnny Manziel
for a visit to Valley Ranch isn't the end of the world. Manziel and Garoppolo met with team officials during the scouting combine and the Senior Bowl. But the lack of personal visits and workouts, which are readily available with the draft pushed to early May, is disappointing.
The secondary is a need this draft. So is tin he defensive line, despite what the Cowboys did in free agency. If you can find an upgrade at quarterback, don't you need to do it?
The answer seems obvious depending on your point of view.
February, 28, 2014
Feb 28
10:00
AM ET
IRVING, Texas -- There is no question
Johnny Manziel
will be the most-talked about player of this year's NFL draft, and there has been some connecting of the dots of the Texas A&M quarterback and the
Dallas Cowboys
.
Manziel
The Cowboys talked with Manziel at the NFL scouting combine as a way of doing their homework, but owner and general manager Jerry Jones squashed any dream for those wanting the Cowboys to select Manziel.
"We'll never see him," Jerry Jones said Tuesday on 105.3 The Fan. "We couldn't get there if we traded three drafts to get him. But he's an outstanding player. The area I feel the best about our chances in is at our quarterback. And I feel that way for the next several years. The only exception to that being injury."
But who could really be in play for the Cowboys in the May draft?

According to a source, the Cowboys also met with Eastern Illinois'
Jimmy Garoppolo
and San Jose State's
David Fales
at the combine.
While Garoppolo's status is rising -- Bill Polian sees him as a first rounder -- he could be on the Cowboys' radar in the second or third rounds. The Eastern Illinois tie with
Tony Romo
is intriguing. Both players won the Walter Payton Award as seniors. Garoppolo threw for more than 5,000 yards and 50 touchdowns in 2013.
Fales was a two-year starter at San Jose State, playing for former Cowboys assistant Mike MacIntyre in 2012. He had 66 touchdown passes in his two seasons and had a strong showing at the Senior Bowl. He could be a possibility in the middle rounds.
February, 8, 2014
Feb 8
12:00
PM ET
IRVING, Texas -- Here is Part 2 of the
Dallas Cowboys
' Twitter mailbag.
In it we discuss a draft philosophy, the Cowboys' move to the 4-3 and a possible quarterback to draft.
Away we go: