Dallas Cowboys:

Joe Gibbs
July, 27, 2013
7/27/13
10:54
PM ET
OXNARD, Calif. -- Jerry Jones isn't quite ready to admit he made a mistake by insisting that Jason Garrett called plays the last two seasons.

But the Cowboys' owner/general manager hopes the error of his ways will be clear after this year, now that Garrett has given up play-calling duties to offensive coordinator Bill Callahan.

"The answer is, if it works and we break out of this 8-8 cycle on a positive basis, then I will wish that we'd have done it a couple of years earlier," Jones said.

Jones realized after consecutive 8-8 seasons in Garrett's first two full years as a head coach that his long-held belief that a head coach should have play-calling duties needed to be reconsidered. Suddenly, Jones decided that employing a "walkaround" head coach wasn't such a bad idea.

Jimmy Johnson, the most successful Cowboys head coach in Jones' tenure, tried convincing Jones and Garrett into delegating play-calling duties after Garrett's promotion. However, Jones valued former Redskins coach Joe Gibbs' opinion over Johnson's.

"I felt that when he did become the head coach, the head coach being the coordinator on one side of the ball or the other [was best for the team]," Jones said. "And I've said that, and I got that really as much as anybody from Joe Gibbs. But we've got a game today that has expanded the scope of things to concentrate on. It's just more than it was in years past, and we'll benefit from that [change]."

So, in hindsight, was Jones wrong?

"Not really, because he knew that part of it," Jones said. "That's the most comfortable he was in his shoes. I could see where that would be the most comfortable he was, is having and being with the team in an offensive [role], using his knowledge and his background on offense.

"He still uses it, though. He still is obviously in real command of what we're doing, so we benefit from that. Usually, a head coach has expertise on one side or the other and to some degree is a little bit reliant on the side of the ball that he didn't spend his position coaching career. He's usually, I'm not going to say hostage, but he's counting on that other side of the ball to be pretty much delegated.

"To the extent that Jason with his skills can have better knowledge over on the other side of the ball, we'll benefit from. And I see that. That's what I see as our benefit, is that he'll have and is and will have more attention to the whole picture, and certainly I think that'll pay off for us in game-planning, game management, all of those areas."

If it works this season, it's fair to wonder whether the Cowboys could have made the playoffs the last two years if the owner/general manager – and head coach, for that matter – wasn't so stubborn on the issue.
December, 28, 2012
12/28/12
2:15
PM ET
An open letter to the fans of the Dallas Cowboys and the Washington Redskins:
Get excited.
You might not need my permission, or my urging. You might already be there -- as excited as you've been about a professional football game in a very long time. And if that's the case, good. You should be. Sunday night's game at FedEx Field for the NFC East title has everything any of you could possibly want. And while some of you will end your night deeply disappointed in the result while others celebrate a playoff appearance you couldn't possibly have imagined two months ago, these next 53 hours are your time to feel like kids on Christmas Eve. Get excited.
[+] Enlarge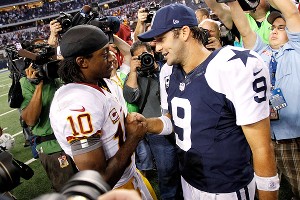 Rodger Mallison/Getty ImagesRobert Griffin III and Tony Romo lead their respective teams in the most important game in the Redskins-Cowboys rivalry in years.
Regardless of which team you root for, think about how far you've come to get to this point. It started on the day before free agency, when the NFL took a huge chunk of salary-cap money away from each of these two teams and redistributed it among the others for what to this day continues to look like no good reason. The owner who most vocally championed and reveled in that punishment for your teams' spending during a season that featured no official spending rules was John Mara, the owner of the division-rival and Super Bowl champion
New York Giants
. His team can't win the NFC East. Yours can. His team needs a minor miracle Sunday just to get into the playoffs. Your team has control of its own destiny. If you want to cackle in glee about that particular irony, that's your right. Get satisfaction.
If the Cowboys are your team, you were 3-5 on Election Day, losers of two straight heartbreakers to the Giants and Falcons and wondering when anything was ever going to change. Defensive starters were dropping like flies,
DeMarco Murray
was out with a foot injury that refused to heal and
Tony Romo
was throwing interceptions around as though they were "I Voted" stickers. You were two-and-a-half games out of first place behind the team that took the division from you last December, and you wanted everybody gone. If you want to look back over the last seven games and wonder what made Romo stop throwing picks or marvel at the way Jason Garrett has managed the second half or tell everyone it's about time
Dez Bryant
turned into one of the best receivers in the league, go ahead. Get amazed.
If you are a Redskins fan, you were 3-6 heading into the bye week. Your coach, Mike Shanahan, was defending comments he made after a miserable loss to Carolina about using the rest of this season for evaluations. You were pleased, obviously, with the brilliance of rookie quarterback
Robert Griffin III
, and of the belief that the future looked bright. But you were still staring at a second half of the season that was going to feel too sadly familiar -- watching from the sideline while the teams you hate fought it out for the division title. If you want to slap your friends on the back and shout, "Did you ever think we'd win six in a row after the bye and be in first place in Week 17?", be my guest. Get proud.
Whichever of these teams is your favorite, you have to be happy that this rivalry means something again. Cowboys-Redskins is one of the most historically intense rivalries the NFL has. Popular wisdom holds that the reason the Cowboys were kept in the NFC East when the divisions realigned, in spite of good geographic reasons to move them elsewhere, was to preserve the Cowboys-Redskins rivalry by allowing them to continue playing each other twice a year. So if this week gives you reason to think about Tom Landry and Joe Gibbs and Jimmy Johnson and John Riggins and
Michael Irvin
and
Darrell Green
and
Troy Aikman
and Joe Theismann ... good. It's time to hate again -- time to remember why that star bugs you so much, time to get outwardly indignant about a politically incorrect team nickname that wouldn't bother you otherwise. Get trash-talking.
Get jacked. Get geeked. Get fired up. This is a big, big game, folks -- the kind of game that justifies every kind of the silly, overblown enthusiasm sports fans can muster. If you're a Redskins fan or a Cowboys fan, Sunday is your night. And the days leading up to it are for getting excited.
December, 28, 2012
12/28/12
11:39
AM ET
IRVING, Texas -- After Sunday's loss to New Orleans,
DeMarco Murray
was asked if he knew much about the
Dallas Cowboys
' rivalry with the
Washington Redskins
.
"Nope," he said matter-of-factly.
It's not Murray's fault. After all, he is only 24 years old.
"Players are young," Cowboys coach Jason Garrett said. "
Tyron Smith
was born in 1990. You've got to keep in mind of that. But there is always a great sense of tradition when you play these games in the NFC East. These games go back a long way. A lot of great teams, a lot of great coaches and players have been involved in these rivalries, so, again, we are excited to be part of this one."
Sunday's game at FedEx Field will be for the NFC East championship and a home playoff game, and it could rekindle a rivalry that was among the NFL's best.
The Cowboys and Redskins have not played such a meaningful game since the 1982 NFC Championship Game.
There have been moments -- the only win in Jimmy Johnson's first season in 1989, the victory in '91 that ended the Redskins' undefeated run and kick-started the Cowboys' playoff push that year, the return of Joe Gibbs to the sideline, the Redskins' comeback when the Triplets were inducted into the Ring of Honor -- but nothing quite as sustainable as the 1970s and '80s.
Is the rivalry back?
Click here for the rest of the story.
November, 9, 2011
11/09/11
3:57
PM ET
IRVING, Texas -- Jason Garrett respectfully disagrees with his former head coach on the subject of the Cowboys' need for an offensive coordinator.

Garrett has served as the Cowboys' head coach and offensive coordinator for the last 16 games. Jimmy Johnson believes Garrett would do a better job in the former role if he hired someone else to do the latter.

"He needs to become a head coach," Johnson said on Fox's pregame show Sunday. "It may be time to think -- not for this year but for next year -- hire an offensive coordinator to call the plays and be the head coach."

Garrett made it clear Wednesday that he has no intention to consider hiring an offensive coordinator.

"That can be an opinion that he might have and other people might have, but right now we feel good about the structure of our staff and that's what we'll do going forward," Garrett said.

Owner/general manager Jerry Jones wouldn't want it any other way. He has said several times in recent years that he wants a head coach who is in charge of one side of the ball.

"Jimmy was what I call a walk-around coach." Jones said Tuesday on KRLD-FM. "[Bill] Parcells was a walk-around coach. [Former Redskins coach] Joe Gibbs is a guy who believes that the head coach needs to be in charge of either the offense or the defense and needs to be the coordinator. It brings you stature, it involves you in the game and gives you more respect with the players.

"It's different schools of thought. I've always thought that Jason Garrett could handle coordinating as well as being the head coach."

The most successful Cowboys coach of the Jerry era has a different opinion. Just like old times for Jimmy and Jerry, huh?

By the way, does anybody think Johnson or Parcells had any problems with their "stature" during their Valley Ranch reigns?